Supermarkets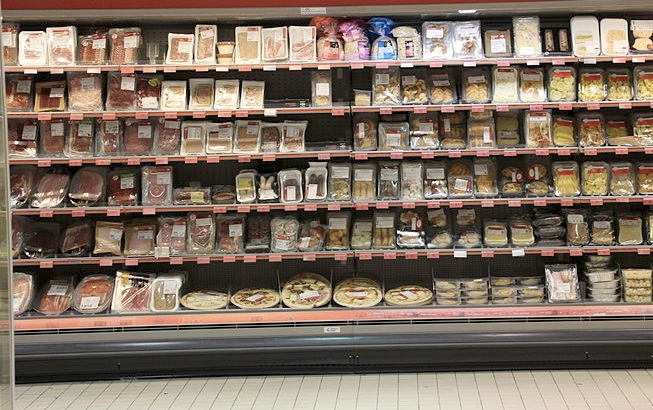 New food labelling regulations come into force
On 13th December, the new Food Information to Consumers' (FIC) regulations came into force. They cover provision of mandatory information regarding...
UK farmer confidence falling, according to new survey
Falling farmgate prices and market price volatility have contributed to a drop in farmer confidence, a new survey by the NFU has revealed. After th...
Co-Op makes £1.5bn investment in UK farming
The Co-operative Food will be investing £1.5bn to source own-brand British meat, produce and dairy products from the UK. The business will increase th...
US steak cut innovation in focus at EBLEX Conference
Latest developments on cutting methods in the US beef sector to enhance carcase utilisation will be highlighted at the EBLEX Processor Conference. ...
Food hygiene rating scheme extended
From 28 November 2014, trade to trade food businesses in Wales come within the scope of the Food Hygiene Rating (Wales) Act. Under this extension t...
Make more of mutton: New energy to promote meat
New energy has been put into the promotion of quality mutton in a renewed initiative from National Sheep Association (NSA) and the Royal Academy of Cu...
Lincolnshire chicken plant reconstruction 'deeply depressing', says animal group
The reconstruction of two farms which, last year, were destroyed by a tidal surge and led to the deaths of 700,000 chickens has been described as 'dee...
MEPs call for moratorium on cloned meat labelling
Draft plans to encourage food innovation via a new, authorisation procedure for novel foods have been approved by the Environment Committee. The d...
Fraud costing UK produce £11bn a year
UK food and drinks companies are losing more than £11.2bn a year to fraud and error, according to a new report. The research reviewed data from 73 ...
Dairy industry needs to find ways of coping with market volatility
Pembrokeshire dairy farmers voiced their concerns regarding severe farmgate milk price cuts during a well-attended Pembrokeshire NFU Cymru on-farm mee...
UK beef farmers 'should be in bullish mood'
British beef farmers should be in 'bullish mood' after the famous French butcher Yves-Marie le Bourdonnec, declared that British breeds were a cut abo...
Firmer beef prices next year, report says
UK beef prices should firm up next year amid tighter supplies, according to the latest forecasts from EBLEX. The latest outlook for the UK beef mar...
Proceed with caution on new labelling laws, NSA urges
The National Sheep Association (NSA) welcomes the concept of new meat labelling laws that differentiate between animals that are stunned at slaughter ...
Irish beef protests intensify over UK price gap
Speaking in Clonee, Co Meath this afternoon at the beginning of IFA's nationwide 48-hour beef protest, IFA President Eddie Downey said the refusal of ...
Supermarket competition on prices 'risks quality'
As retailers continue to participate in a highly competitive race to the bottom in price wars, industry experts have warned that food quality may be j...
Parents say schools should serve more British food
Parents want to see more British food served up in schools and more lessons on food and farming, according to a new NFU survey. A YouGov poll comm...
Organic market continues to boom
Proving small changes can add up to a big difference, new Nielsen figures released today show sales of organic products in excess of a staggering £100...
Dairy Crest recalls milk on contamination fears
Dairy Crest Ltd has recalled certain date codes of Morrisons and Supervalu from Budgens Whole British Milk on a precautionary basis, because the produ...
Irish beef farmers 'have had enough' as they begin protests
Irish beef farmers are set to protest the prices they are being paid for their cattle, arguing that they are well below the UK and EU averages. IFA...
Supermarket price battles causing 'grocery deflation'
The grocery market is entering deflation as new share figures released today show that like-for-like prices have declined. Fraser McKevitt, head of...
NFU urges retailers over falling milk prices
With mounting concern over the falling milk price on global markets, NFU dairy board chairman Rob Harrison has issued a call to retailers both in the ...
British food production 'under threat', says new report
The availability of iconic British foods could be drastically reduced according to an independent report released today. The report, commissioned b...
Why is the price of milk falling?
British consumers say they want to back dairy farmers after learning that the price they are paid has dropped significantly in the past few months. Bu...
Retailers 'taking advantage of dairy volatility' - NFU
Dairy farming businesses are feeling the pain following a downturn in global dairy commodity prices being translated into damaging farmgate price cuts...
Morrisons search for more Beef Shorthorn
The search is on for more Beef Shorthorn sired cattle with a 30p/kg premium at stake to meet with demand from Morrisons for its Traditional Beef Schem...
Meat consumption growing, opportunities for British farmers 'enormous'
Since the global media picked up on the EU horsemeat scandal, the British meat market suffered quite a severe blow. Despite the fact that the majo...
Retailers urged to support British dairy farmers
Support for British dairy farmers from retailers and the government is 'vital' after farmgate milk prices have plummeted following the trend on world ...
Retailers must support dairy farmers after price slump, NFU says
Many dairy farmers are feeling financial pain following a downturn in global dairy commodity prices and retailers have been urged to look for ways to ...
UK organic sales outperforming non-organic
The UK's organic grocery market is showing accelerated growth and outperforming non-organic sales in supermarkets, according to new figures released b...
Pressure on milk prices: Dairy Crest to cut 260 jobs
Dairy Crest will close two factories, in what it calls a 'challenging trading environment', which will put 260 jobs at risk. "Our Dairies operation...
Vets prefer to buy British meat
Vets across Britain really care about where their meat, fish, dairy products and eggs come from, with an overwhelmingly majority buying British. To...
Farmers concerned over lack of lamb promotion
NFU Cymru and Welsh sheep farmers said they were concerned that some retailers are still failing to back Welsh farming and are not giving Welsh lamb p...
Retailers urged to back British lamb
The National Farmers' Union have said retailers must do more to promote British lamb in its peak season. The NFU and British sheep farmers are con...
Dairy crisis meeting planned after price crash
In the wake of very gloomy times ahead for British dairy, Farmers for Action have organised a series of crisis meetings which senior figures in the NF...
EU suspends Russian trade ban emergency measures
The European Commission has today suspended the emergency market measures for perishable fruit and vegetable markets announced on August 18 in the wak...
Minister's back Food Crime Unit after horsemeat scandal
The UK is to have a Food Crime Unit to fight fraudulent food trade after the recommendations in the Elliott report, commissioned after the horse meat ...
German supermarkets demand return to GMO-free poultry
Germany's top supermarkets have delivered a blow to the biotech industry by forcing the German poultry industry to return to the use of non-GMO feed. ...
Red Tractor joins food festival celebrations
Red Tractor Assurance (RTA) joined thousands of hungry festival goers last week as The Big Feastival opened its gates. Hosted by Alex James and Ja...
EU announces emergency support after Russian ban
The European Commission has announced today that it will open Private Storage Aid for butter, Skimmed Milk Powder (SMP) and certain cheeses in order t...
NFU extends monitoring of Russian ban impact
NFU Scotland is to extend its regular monitoring of retail shop shelves to examine any impact that the Russian trade ban may have on prices or demand ...
Store cattle prices up, prime beef set to follow
The price store cattle are attracting at auction marts has improved by around £50 per animal over the last two weeks, according to reports from the Li...
Livestock farmers' 'confidence in jeopardy'
An excellent turnout of Monmouthshire livestock farmers attended an on-farm meeting held in Llansoy to raise their concerns on the future of the beef ...
Co-op announces £5m boost for producers
The Co-operative has announced a £5m boost for British farmers who supply its own-brand fresh meat, poultry and milk. The premiums will go to membe...
HCC boosts demand for Welsh Lamb
Hybu Cig Cymru - Meat Promotion Wales (HCC) - launches a new trade and consumer marketing campaign this September. The new catchline for the market...
Union slams retailers' short-term vision for beef
Scottish farmers' share of the retail price of beef is at its lowest level for almost five years. Farmgate prices for beef cattle hit record levels...
Scottish lamb 'filling up shop shelves' ahead of campaign
With a major Scotch Lamb promotion due to be launched this month, NFU Scotland's latest look at supermarket shelves has shown that they are finally st...
Beef price top topic at Anglesey Show
Day one of the Anglesey Show is underway and the current beef price situation is putting the future of the Island's beef farmers' in jeopardy, NFU Cym...
Support an end to non-stun slaughter, vets urge party leaders
Party leaders in the United Kingdom have been urged to support a veterinary campaign to end non-stun slaughter. Writing to party leaders, Robin Har...
UK 'not self-sufficient' in food production, NFU warns
Britain would run out of food if it relied only on home-grown produce, the National Farmers' Union have warned. In 2013 the UK was 55 per cent self...
Country of origin of foods study published
The Food Standards Agency is today publishing the results of a study to look at the origin of foods claiming to be from the UK and Ireland. The study ...