Sheep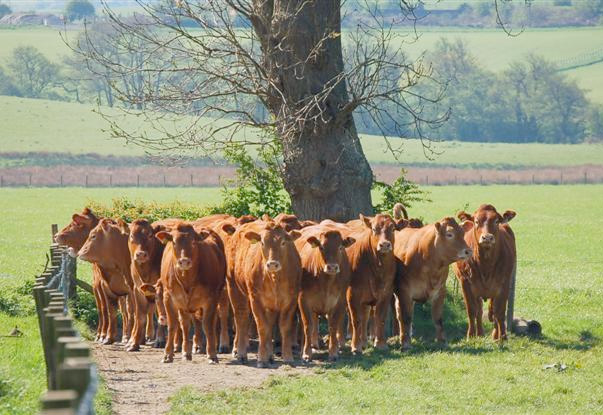 Arable and livestock co-operation 'needed this spring'
Arable producers struggling to get crops drilled should take advantage of the forage shortage in the livestock sector and grow maize, suggests James T...
Prince of Wales recognised for contribution to sheep farming
The National Sheep Association has announced the Prince of Wales as the winner of the 2012 George Hedley Memorial Award, which is presented annually t...
Schmallenberg disease confirmed on a Dumfriesshire farm - Calf born to suckler herd
The first confirmed case of Schmallenberg Disease has been identified on a Dumfriesshire farm. The birth defects in the calf, born into a suckler herd...
Financial pledges made as farmers remove perished livestock
Up to £250,000 will be available to reimburse farmers for the cost of removing sheep killed in freak snow in England last month, Farming Minister, Dav...
Farm groups call for livestock burial extension
The Country Land and Business Association has called for the temporary exemption for burying livestock perished by the recent extreme weather conditio...
Producers urged to check returning sheep for scab
Farmers are being urged to check stock returning to their farms for the presence of sheep scab. This is the time of year when ewe hoggs traditional...
Union discusses weather impacts with Scottish banks
The National Farmers' Union has met with representatives of Scotland's banks to highlight the impact that the March snowstorms have had on affected bu...
FUW condemns Minister's response to lamb losses
The Welsh Government is offering 'a few crumbs of comfort' in response to the crisis facing farmers from the knock-on effects of the recent Arctic wea...
Livestock farmers urge government help in clean-up
Livestock farmers left to deal with large numbers of dead sheep and lambs following the cold weather have said the government has failed to enact meas...
Perished livestock must be disposed of free of charge, says NFU
Ewes and lambs that have perished in the snow drifts that unexpectedly hit the south coast line of West Cumbria should be taken away by the National F...
ASA rejects complaints against ad campaign
The Advertising Standards Authority (ASA) has dismissed a complaint against a food hygiene advertising campaign aimed at getting consumers to check hy...
Livestock burial relaxation 'a slight help'
A relaxation of a strict EU rule will allow farmers in Wales to bury their dead animals after they perished in recent extreme weather conditions. S...
Sheep producers urged to vaccinate against pasteurellosis
With lamb prices climbing on weaker sterling during March and an early Easter, sheep producers are being urged to realise full value for the 2013 crop...
Government urged to support struggling farmers
The National Farmers' Union has urged the government and landlords to support struggling farmers who have lost livestock due to the extreme weather. ...
Buy British to support snow-hit livestock farmers, urge NFU
The National Farmers' Union has urged the public to 'buy British' to support livestock farmers affected by the recent extreme weather conditions. T...
Spring season 'will bring high parasite risks' for livestock
According to the NADIS Parasite Forecast, the spring season from April will bring high parasite risks for sheep and cattle, particularly affecting new...
Schmallenberg confirmed on Scottish farm
Confirmation that the Schmallenberg virus (SBV) has been discovered in Scotland for the first time has come as a 'disappointing blow' to Scottish catt...
Sheep and cattle perishing in freeze
Unseasonable snow and icy conditions are causing thousands of sheep and cattle to perish along with added fears of disruptions in feed and fuel delive...
Scottish farmers battling 'worst March weather on record'
Farmers in Dumfries and Galloway and parts of Argyll and the Islands are battling through some of the worst March weather on record. Heavy drifting...
RSPCA 'disappointed' at judicial review refusal
The RSPCA has vowed 'to keep fighting' after a High Court judge backed an earlier decision to refuse a judicial review into the regulation of live ani...
Scotland sees decrease in livestock numbers
Scotland's Chief Statistician today published results from the 2012 December Agricultural Survey, covering winter sown crops, hay and silage productio...
EU sheep tag legislation 'unworkable' say Scottish farmers
Scottish farmers have been at the European Court of Justice in Luxembourg supporting German farmers in their case challenging the rules that require t...
Lamb prices and Schmallenberg 'worrying farmers'
Adverse weather conditions and cheap imports are suppressing the domestic lamb market and ruining margins, according to the NFU. The union recently...
RSPCA has questions to answer over Ramsgate, says NFU
The publication of a report into the incidents that led to the deaths of over 40 sheep last year still leaves unanswered questions, the NFU said today...
More robust checks needed for imported meat
A more robust system is needed to ensure imported food meets British standards, according to Agrantec. Following the recent scandals over horsemeat...
EU farming unions 'must stand together' on lamb price
The impact of the fall in lamb prices is being felt by farmers across Europe and EU organisations must 'act as one to tackle it', the NFU has urged. ...
Schmallenberg figures grow as farmers wait on vaccine
New government figures have revealed the Schmallenberg virus has spread to more than 1,500 farms in the UK with the disease moving progressively north...
Schmallenberg vaccine proposed amid fresh fears
The Veterinary Medicines Directorate (VMD) has said it is considering an application by MSD Animal Health for its Scmallenberg virus vaccine Bovilis S...
Sheep sector confidence 'at rock bottom'
Livestock representatives from the UK farming unions have been meeting in London to discuss the on-going challenges facing the sheep industry. The...
Liver fluke 'increasing exponentially' as lambing approaches
Confirmed cases of liver fluke disease have been increasing exponentially and farmers are being warned to check ewe body condition as lambing season a...
Farmers opt for euro subsidy payment as sterling falls
As the UK economy continues to falter, UK farmers face another challenging year brought on by adverse weather conditions, soaring costs and a weak eur...
Environmental Stewardship derogations continue due to bad weather
Natural England will be continuing to make its Environmental Stewardship scheme derogations available due to recent wet weather and snowfall. They ...
Farm forecasts predict decline in profitability
Farmers in the UK have highlighted the importance of CAP after the industry suffered in the wettest year on record and other problems affecting farm p...
MEPs reject sheep EID cross compliance
The latest round of Common Agricultural Policy reform discussions has lead to the removal of electronic identification, or EIDs, from the cross-compli...
Farmgate price is 'great lamb robbery' says NFU
The National Farmers' Union has said it will 'do all it can' to help sheep farmers in the UK who are struggling with a collapse in the farmgate price ...
Tenfold increase in fluke with more to come, says NADIS
There has been a tenfold increase in acute liver fluke cases in sheep in the last quarter of 2012 compared to the same period in 2011, according to AH...
FUW stresses vigilance over sheep rustling
A number of sheep thefts have been reported in the Swansea area. According to the West Glamorgan Commoners' Association, seven of its members have los...
New system ups mill output by 25 per cent
A new process control and information system is streamlining production and boosting daily output by over 25 per cent at Ufac-UK's specialist livestoc...
Schmallenberg vaccine must be available, warn NFU
The National Farmers' Union has warned a vaccine must be available to help combat the spread of the Schmallenberg virus this year. Recent reports h...
Retailers need to back struggling UK lamb, says union
The National Sheep Association has claimed supermarkets are not stocking UK lamb as it is 'out of season' and instead opting for New Zealand meat. ...
FUW attacks Asda over lamb supplier switch
The Farmers' Union of Wales has criticised supermarket chain Asda for dropping a Welsh lamb processing plant from its list of suppliers. The union ...
Sainsbury's raises lamb price for farmers
Sainsbury's has pledged to increase the amount it pays for lamb until the end of February at more than 60p/kg above the market rate. The announceme...
Disease fears blight early lambing season
Recent reports have confirmed farmers' worries over a return of the Schmallenberg virus in sheep and cattle with figures indicating up to 60% loss bei...
Farmers losing £29 on every lamb sold, figures show
Farmers are losing £29 on average for every lamb they sell at market after new figures revealed farm gate prices have dropped by a fifth in the past y...
Farming groups warn of losses to liver fluke disease
Liver fluke is causing havoc in many parts of the UK, recent reports show. Peter Baber, Chairman of SCOPS (Sustainable Control Of Parasites in Shee...
Marginal Areas can Drive Farm Profitability
The Government and farmers must do more to unlock the potential of marginal areas in the UK, it has been claimed. Anaerobic digestion (AD) speciali...
Record year for Rugby Farmers Mart
A livestock market formed by 250 local farmers has brought the hammer down on its most successful year. The Rugby Farmers Mart (RFM) at Stoneleigh ...
Sheep sector must retain confidence, NFU warns
Confidence must be maintained within the sheep industry if it is to exploit global demand for British lamb, the National Farmers' Union has said today...
Defra warns of 2013 Schmallenberg return
The Department for Environment, Food and Rural Affairs (Defra) has warned the animal health sector that the Schmallenberg virus could return by 2013. ...
Fluke season is 'just as bad as expected'
Recent heavy rains across the UK have maintained the high risk of liver fluke in sheep and cattle, and SCOPS Chairman Peter Baber has stressed the nee...