Sheep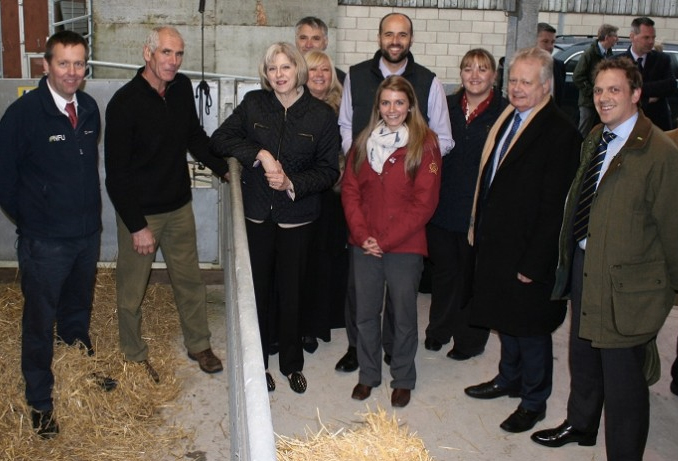 Regulation tops farmers' concerns for 2014
A new survey has revealed regulation, high input costs and the impact of CAP reform top the list of things farmers' believe will have negative impacts...
Look after UK suppliers as imported lamb drops, NSA urges
Retailers in the UK are being urged to create stronger trading relationships with domestic lamb suppliers to prevent reliance on New Zealand imports. ...
Supermarkets step up to the mark after Horsegate
Two surveys researching the amount of British meat on supermarket shelves has shown retailers have increased their support for UK-farmed pork, lamb an...
New shearing record set near Clevedon
Five shearers have today claimed a World record by shearing 2638 lambs in eight hours in a woolshed near Clevedon, south of Auckland. The individua...
Stage is set for shearers to set world record
The stage is set for five shearers to set a new World record in a unique day of lamb shearing barely three quarters of an hour from the heart of Auckl...
Retailers stocking more British beef but 'more needs to be done'
Latest figures released by EBLEX have revealed the average percentage of British beef and lamb on supermarket shelves has shown a 'marked improvement'...
Livestock movement simplifications welcomed by NFU Cymru
NFU Cymru has welcomed Welsh Government's proposals that will potentially deliver significant simplification to livestock movement rules from 2015. ...
New Zealand sheep industry faces similar challenges as UK
The New Zealand sheep industry is tackling many of the same issues that the UK industry faces, according to NFU Livestock Board Chairman, Charles Serc...
Focus on lightweight lambs, NFU members told
"In a World market, influencing market price is difficult, particularly in the peak season for Welsh lamb." That was the opening message from Hybu Cig...
Sheep association 'bitterly disappointed' over EID plans
The National Sheep Association has said it is 'bitterly disappointed' over Defra's decision to implement full EID in England and said the body had tak...
New US meat labelling rules take effect Saturday
This Saturday, new regulations are scheduled to take effect that will require meat producers to list many details on their packaging, such as the coun...
Lamb tagging changes could cost producers £1.8million, says NFU
Defra's decision to outlaw non-electronic batch tags for slaughter lambs is disappointing and could cost primary producers up to £1.8 million, the NFU...
Treat any lame sheep before winter housing
Wet and muddy underfoot conditions are exacerbating sheep foot problems and flockmasters are being urged to implement the five-point disease reduction...
NFU urges shelf life extensions for lamb
Extending the shelf life of lamb will allow the UK to compete effectively with markets in New Zealand and Australia, according NFU's Sion Aron Jones w...
Wool prices on an upward trend, BWMB annual conference told
An increasing level of confidence in the economic outlook across both Europe and the rest of the world is having a positive impact on wool prices, acc...
Light lamb marketing tops the agenda at NFU Cymru meeting
Siôn Aron Jones from Hybu Cig Cymru (HCC) will be addressing Meirionnydd NFU Cymru members at the next county meeting on Thursday, 14 November at the ...
Fluke disease 'could be more widespread than anticipated'
Overwintered fluke disease is forecast to be significant in all regions of the UK, except eastern England and the Midlands, according to the November ...
Coster wins as Open shearing returns to Ellesmere show
New Zealand representative Tony Coster celebrated Open-class shearing's return to the Ellesmere A and P Show in Canterbury on Saturday with his fourth...
NFU voices concerns over EID legal challenge
The National Farmers' Union has voiced disappointment that a legal challenge lodged by German shepherds regarding Europe's unpopular sheep identificat...
Subdued lamb prices causing concern
Concerns about the subdued trade in lamb this autumn have been expressed by NFU Cymru Meirionnydd Chairman, Trefor Hughes who was acting on behalf of ...
NSA Wales seeks to recognise young person in the sheep industry
NSA Cymru/Wales Region in inviting nominations and applications for its annual Achievement Award, presented each year to recognise the contribution of...
Global sheep market requires confidence, says NFU
The global sheep market requires more confidence for the long term, according to NFU livestock board chairman Charles Sercombe. Sercombe, who also ...
Sheep association calls for 'urgent' meeting with Tesco chief
The National Sheep Association chief executive has requested an 'urgent' face-to-face meeting with Tesco chief Philip Clarke after comments made by cu...
New shearing season set to start
The new competition shearing and woolhandling season starts with the New Zealand Merino Championships this week in Alexandra, Central Otago. Attach...
Major cuts of greenhouse gas emissions from livestock within reach
Greenhouse gas emissions by the livestock sector could be cut by as much as 30 percent through the wider use of existing best practices and technologi...
Sheep EID proposals 'will cost industry'
Proposals in the latest Government consultation on sheep EID could cost the industry an extra £1.8million a year and add little to protect the industr...
NSA Wales and Border Ram Sale caters for strong commercial demand
A Texel ram that sold for 8,000 guineas topped the NSA Wales & Border Main Ram Sale, held at the Royal Welsh Showground on Monday. It was a buoyant sa...
Farm college students learn how to buy rams fit for purpose
A genetics showcase and field day for lamb producers organised by Farmers' Union of Wales Carmarthenshire county chairman Catherine Nakielny at Gelli ...
Russia ends ban on British beef with trade deal
A beef and lamb trade deal expected to be worth up to £100 million over three years has been finalised in Moscow by Russian Deputy Prime Minister Arka...
Sheep farmers urged to take 'buyer beware' approach to protect their flocks
Hundreds of thousands of breeding and store sheep will move around the UK every month this autumn, taking with them a number of serious threats to the...
Cameron refuses to return red meat levy to Scotland
In a letter to First Minister Alex Salmond, Prime Minister David Cameron has refused to return to Scotland the levy income paid by Scots livestock pro...
Government strategy 'will not stop excessive farm use of antibiotics'
The rapid spread of multi-drug resistant bacteria means everyday infections or diseases may be harder to prevent or treat, according to a new report s...
Sheep Association 'extremely alarmed' over Monbiot's comments
The National Sheep Association said it was 'extremely alarmed' by recent comments from campaigner George Monbiot that iconic areas of the UK have been...
FUW supports ram information day
A genetics showcase and field day for lamb producers organised by Farmers' Union of Wales Carmarthenshire county chairman Catherine Nakielny will take...
Farm group 'disappointed' over level of lamb imports to Tesco and Asda
The lamb season needs more retailer support according to the National Farmers' Union who found 'disappointing' levels of imports in Tesco and Asda sto...
Liver fluke treatment re-introduced by MSD
The flukicide drench ZANIL has been re-introduced into Great Britain by MSD Animal Health as a treatment against chronic liver fluke in cattle and she...
Top flock for growth and muscle development
A flock of Texel sheep — established just over 20 years ago by Yorkshire pig-breeder Stephen Curtis — has come top out of over 200 Signet-recorded Tex...
No room for complacency over Schmallenberg, says NFU
Livestock farmers have been warned against complacency after the ongoing surveillance for Schmallenberg virus (SBV) found new cases this year. NFU ...
Foundations for next food scandal being laid as retailers move away from shorter supply chains
The foundations for the next food scandal are already being laid by some retailers as they edge away from shorter supply chains that were promised fol...
Compassion to march against live exports in London
A march is expected to go ahead in London on the 10th of August held by Compassion in World Farming against the live export of farm animals. Over ten ...
Liver fluke project backed by Scottish government
A pilot project aimed at preventing and controlling liver fluke in sheep and cattle is being backed by the Scottish Government. The disease causes ...
Shropshire ram bought at auction for Prince of Wales' farm
A Shropshire breed shearling ram was purchased on behalf of the Prince of Wales at the fourth annual Traditional, Native and Rare Breeds Livestock Sho...
Humid conditions bring further blowfly warnings
New and emerging diseases, parasite epidemics, blowfly strike and the wet and humid conditions are causing concern within the sheep industry, accordin...
Lack of grass concerns beef and sheep producers
The hot July weather has burnt off many pastures and supplementary feed manufacturers are experiencing a surge of enquires from cattle and sheep produ...
Environmental boost at Royal Welsh Show
The welfare of livestock exhibited in heat-wave conditions at this year's Royal Welsh Show was given a boost by a £15,000 project to improve ventilati...
Sheep farmers frustrated over lamb price volatility
Sheep farmers across the country are feeling frustration at the current volatility in the lamb market, according to NFU livestock board chairman Charl...
Performance recording and EID focus of Texel Society event
Maximising sheep flock margins through use of performance recorded rams and associated technologies will come under the spotlight at a joint British T...
Welsh triumphant in historic win over NZ shearers
New Zealand has lost a shearing test series in Wales for the first time in a decade of annual tours in the Northern Hemisphere. The latest defeat c...
Kiwi shearers face the odds in Wales
New Zealand shearers Rowland Smith and Tony Coster are faced with bouncing back from two losses to Wales as they try to square the ledger at the end o...
Ragwort: Advice on control and disposal
Farmers are being reminded that they need to stay vigilant to ensure livestock isn't exposed to the risk of ragwort poisoning. Grazing land 'should...