Sheep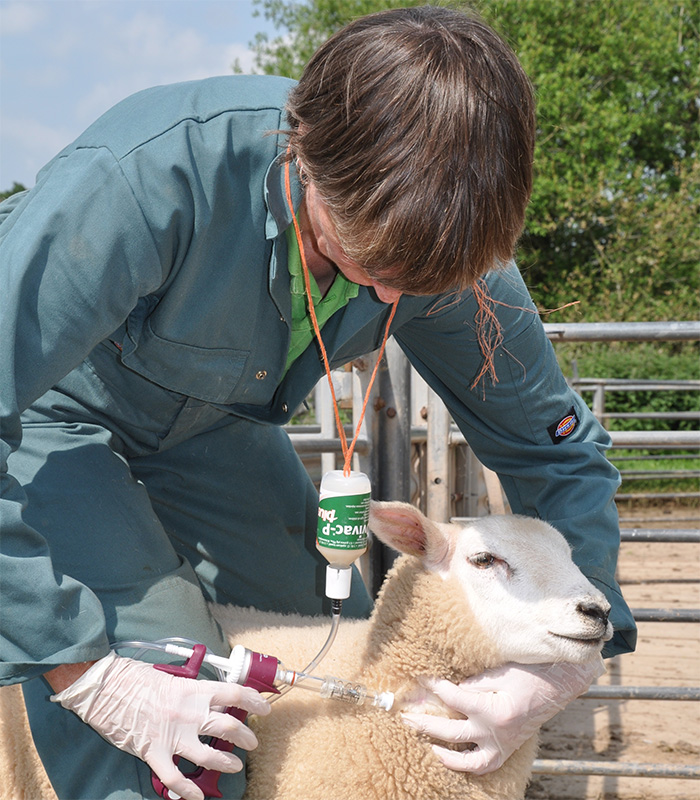 No sign of British wool demand slipping, says BWMB
High clearance rates at the British Wool Marketing Board's wool auctions in the first half of 2013 means the organisation is heading into the new wool...
Experts to help farmers save time and money at North Sheep
SAC Consulting experts will be on hand to offer advice on coping with this year's severe grass shortage at North Sheep near Harrogate this week. Sheep...
Nemotodes still an issue across the Country
The weather continues to remain colder than average, with rainfall dampening the expectations of better weather in the spring. The June Parasite Fore...
Sheep farmers warned to check for tax implications
As the shearing season approaches, sheep farmers are being advised to check for any tax implications when selling wool outside the BWMB scheme. Liv...
NSA Welsh Sheep 2013 attracts more than 9,000 farmers
The event at Beili Ficer, Llansawel, Llandeilo, brought together cutting edge innovation, a platform for discussion and dissemination, an inspirationa...
NSA 'expresses delight' over Schmallenberg vaccine
The National Sheep Association (NSA) has said it is 'delighted' that the Veterinary Medicine Directorate (VMD) has granted a licence for MSD Animal He...
Schmallenberg vaccine ready for use this summer
UK farmers will be the first in the EU with access to a vaccine to help protect sheep and cattle against birth defects caused by the Schmallenberg Vir...
NSA urges farmers to use new online tool in battle against fly strike
As temperatures begin to rise and blowflies become more of a nuisance to sheep, the National Sheep Association (NSA) urges farmers throughout the UK t...
Top FUW bursary students plan sheep breeding careers
Two 16-year-olds studying at the same North Wales agricultural college who both run their own sheep flock have been chosen as the first winners of the...
Dog attacks on livestock rise across the UK
Dog owners are still not acting responsibly enough to prevent a high number of injuries and deaths to livestock according to the National Sheep Associ...
Tough times ahead for farmers, says Quinney
The next 12 months are going to be 'tough for farmers' as the adverse weather conditions continue to have a knock on effect according to NFU Vice Pres...
Fallen stock red tape 'unnecessary gold plating', says FUW
The Farmers' Union of Wales today branded the Welsh Government's failure to heed its warnings to make a fallen stock burial derogation more workable -...
Vital vaccine shortfall for hill farmers
Hill farmers may struggle to control tick-borne diseases in their flocks this season after it emerged that supplies of vital vaccine have been disrupt...
Cheshire Show's efforts to raise awareness of rare breeds receive backing from rural TV star
The Cheshire County Show is supporting the Rare Breed Survival Trust (RBST), which celebrates its 40th anniversary this year, by giving the public the...
Farmers urged to address soaring cost of fluke
The rise of liver fluke incidence throughout the UK has prompted NSA and the National Farmers' Union to bring animal health experts and Government off...
Mega farm fears threatening UK livestock production
Growing urbanisation of the British countryside is threatening national food production, says the National Pig Association. There are concerns tha...
Arable and livestock co-operation 'needed this spring'
Arable producers struggling to get crops drilled should take advantage of the forage shortage in the livestock sector and grow maize, suggests James T...
Prince of Wales recognised for contribution to sheep farming
The National Sheep Association has announced the Prince of Wales as the winner of the 2012 George Hedley Memorial Award, which is presented annually t...
Schmallenberg disease confirmed on a Dumfriesshire farm - Calf born to suckler herd
The first confirmed case of Schmallenberg Disease has been identified on a Dumfriesshire farm. The birth defects in the calf, born into a suckler herd...
Financial pledges made as farmers remove perished livestock
Up to £250,000 will be available to reimburse farmers for the cost of removing sheep killed in freak snow in England last month, Farming Minister, Dav...
Farm groups call for livestock burial extension
The Country Land and Business Association has called for the temporary exemption for burying livestock perished by the recent extreme weather conditio...
Producers urged to check returning sheep for scab
Farmers are being urged to check stock returning to their farms for the presence of sheep scab. This is the time of year when ewe hoggs traditional...
Union discusses weather impacts with Scottish banks
The National Farmers' Union has met with representatives of Scotland's banks to highlight the impact that the March snowstorms have had on affected bu...
FUW condemns Minister's response to lamb losses
The Welsh Government is offering 'a few crumbs of comfort' in response to the crisis facing farmers from the knock-on effects of the recent Arctic wea...
Livestock farmers urge government help in clean-up
Livestock farmers left to deal with large numbers of dead sheep and lambs following the cold weather have said the government has failed to enact meas...
Perished livestock must be disposed of free of charge, says NFU
Ewes and lambs that have perished in the snow drifts that unexpectedly hit the south coast line of West Cumbria should be taken away by the National F...
ASA rejects complaints against ad campaign
The Advertising Standards Authority (ASA) has dismissed a complaint against a food hygiene advertising campaign aimed at getting consumers to check hy...
Livestock burial relaxation 'a slight help'
A relaxation of a strict EU rule will allow farmers in Wales to bury their dead animals after they perished in recent extreme weather conditions. S...
Sheep producers urged to vaccinate against pasteurellosis
With lamb prices climbing on weaker sterling during March and an early Easter, sheep producers are being urged to realise full value for the 2013 crop...
Government urged to support struggling farmers
The National Farmers' Union has urged the government and landlords to support struggling farmers who have lost livestock due to the extreme weather. ...
Buy British to support snow-hit livestock farmers, urge NFU
The National Farmers' Union has urged the public to 'buy British' to support livestock farmers affected by the recent extreme weather conditions. T...
Spring season 'will bring high parasite risks' for livestock
According to the NADIS Parasite Forecast, the spring season from April will bring high parasite risks for sheep and cattle, particularly affecting new...
Schmallenberg confirmed on Scottish farm
Confirmation that the Schmallenberg virus (SBV) has been discovered in Scotland for the first time has come as a 'disappointing blow' to Scottish catt...
Sheep and cattle perishing in freeze
Unseasonable snow and icy conditions are causing thousands of sheep and cattle to perish along with added fears of disruptions in feed and fuel delive...
Scottish farmers battling 'worst March weather on record'
Farmers in Dumfries and Galloway and parts of Argyll and the Islands are battling through some of the worst March weather on record. Heavy drifting...
RSPCA 'disappointed' at judicial review refusal
The RSPCA has vowed 'to keep fighting' after a High Court judge backed an earlier decision to refuse a judicial review into the regulation of live ani...
Scotland sees decrease in livestock numbers
Scotland's Chief Statistician today published results from the 2012 December Agricultural Survey, covering winter sown crops, hay and silage productio...
EU sheep tag legislation 'unworkable' say Scottish farmers
Scottish farmers have been at the European Court of Justice in Luxembourg supporting German farmers in their case challenging the rules that require t...
Lamb prices and Schmallenberg 'worrying farmers'
Adverse weather conditions and cheap imports are suppressing the domestic lamb market and ruining margins, according to the NFU. The union recently...
RSPCA has questions to answer over Ramsgate, says NFU
The publication of a report into the incidents that led to the deaths of over 40 sheep last year still leaves unanswered questions, the NFU said today...
More robust checks needed for imported meat
A more robust system is needed to ensure imported food meets British standards, according to Agrantec. Following the recent scandals over horsemeat...
EU farming unions 'must stand together' on lamb price
The impact of the fall in lamb prices is being felt by farmers across Europe and EU organisations must 'act as one to tackle it', the NFU has urged. ...
Schmallenberg figures grow as farmers wait on vaccine
New government figures have revealed the Schmallenberg virus has spread to more than 1,500 farms in the UK with the disease moving progressively north...
Schmallenberg vaccine proposed amid fresh fears
The Veterinary Medicines Directorate (VMD) has said it is considering an application by MSD Animal Health for its Scmallenberg virus vaccine Bovilis S...
Sheep sector confidence 'at rock bottom'
Livestock representatives from the UK farming unions have been meeting in London to discuss the on-going challenges facing the sheep industry. The...
Liver fluke 'increasing exponentially' as lambing approaches
Confirmed cases of liver fluke disease have been increasing exponentially and farmers are being warned to check ewe body condition as lambing season a...
Farmers opt for euro subsidy payment as sterling falls
As the UK economy continues to falter, UK farmers face another challenging year brought on by adverse weather conditions, soaring costs and a weak eur...
Environmental Stewardship derogations continue due to bad weather
Natural England will be continuing to make its Environmental Stewardship scheme derogations available due to recent wet weather and snowfall. They ...
Farm forecasts predict decline in profitability
Farmers in the UK have highlighted the importance of CAP after the industry suffered in the wettest year on record and other problems affecting farm p...
MEPs reject sheep EID cross compliance
The latest round of Common Agricultural Policy reform discussions has lead to the removal of electronic identification, or EIDs, from the cross-compli...