Organic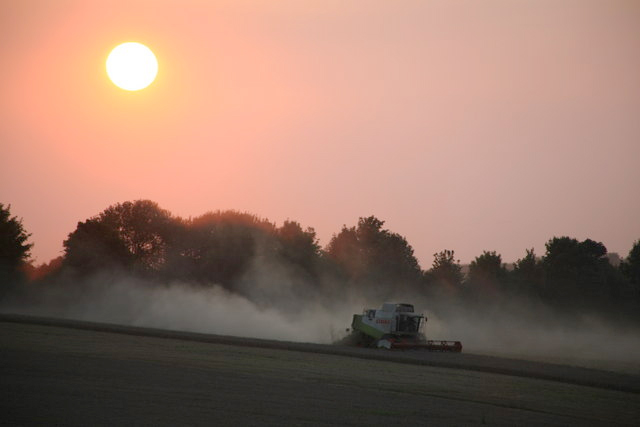 UK farmer confidence falling, according to new survey
Falling farmgate prices and market price volatility have contributed to a drop in farmer confidence, a new survey by the NFU has revealed. After th...
Soil threat undermining our current way of life
The world's soils face a wide range of threats that could undermine the very basis to our current way of life. Recently Europe has seen flooding that...
Organic support moves welcomed by industry body
DEFRA's decision to pay organic farmers lower conversion rates but increase maintenance rates has been described as 'the right move for the UK organic...
Fraud costing UK produce £11bn a year
UK food and drinks companies are losing more than £11.2bn a year to fraud and error, according to a new report. The research reviewed data from 73 ...
Dairy industry needs to find ways of coping with market volatility
Pembrokeshire dairy farmers voiced their concerns regarding severe farmgate milk price cuts during a well-attended Pembrokeshire NFU Cymru on-farm mee...
New grocery box reduces waste and keeps produce fresh
Goplasticpallets.com has launched a new perforated, rigid pallet box in the UK – the GoBox 1210 BBE – which is ideal for the storage and transportatio...
NFU concerned over new organic regulations
NFU Cymru has expressed deep concern at EU proposals for a new Regulation governing organic food production in Wales. Presenting evidence to Assemb...
Organic market continues to boom
Proving small changes can add up to a big difference, new Nielsen figures released today show sales of organic products in excess of a staggering £100...
Supermarket price battles causing 'grocery deflation'
The grocery market is entering deflation as new share figures released today show that like-for-like prices have declined. Fraser McKevitt, head of...
Organic producers urged to apply for new Glastir scheme
Organic producers are being reminded by NFU Cymru that they need to apply for the new Glastir Organic Scheme if they wish to receive financial support...
UK organic sales outperforming non-organic
The UK's organic grocery market is showing accelerated growth and outperforming non-organic sales in supermarkets, according to new figures released b...
Organic cotton can play role in 'feeding the world'
Organic cotton can help farmers feed their families and local communities around the world, according to a new Soil Association briefing. The Soil ...
NFU spells out priorities ahead of 2015 General Election
A Government that understands farm businesses, wants agriculture to grow and has the policies that send the right signals to farmers, are the key mess...
What will be the impact of the Russian ban?
On August 7, 2014, Russia announced the introduction of an import ban, applicable from August 8, on certain meat, dairy, fruit, vegetable and processe...
Can 100% organic diets work for poultry?
Jason Gittins, ADAS Organic diets for poultry may need to be formulated without any non-organic materials in future. This has focused attention on...
Forum discusses the Organic Future
The Scottish Organic Forum held an open workshop on the 10th of July at SAC Craibstone, to discuss the future of the organic sector in Scotland. Many ...
Significant differences between organic and non-organic food, study shows
Organic crops and crop-based foods are up to 69% higher in a number of key antioxidants than conventionally-grown crops, according to a team of resear...
Organic farming can help save bees
New evidence is already showing that the loss of bees and other pollinators is affecting farmers. New studies suggest that crops like field bean, ...
Eating organic food doesn't lower risk of cancer
Women who always or mostly eat organic foods have the same likelihood of developing cancer as women who eat conventionally produced foods, according t...
Commission proposals for new rules for organic farming
The European Commission has published new proposals for a new Regulation on organic production and the labelling of organic products. Consumer and pro...
Organic sales see growth for first time in four years
The Soil Association's annual Organic Market Report today reveals that the organic sector has seen growth of 2.8% in 2013: the first time the organic ...
Approve GM crops, adviser urges Cameron
Climate disruption, population growth and rising costs of food staples means the UK must start producing more from the land, the Prime Minister was ur...
Farming industry sets out low-carbon food agenda
Reducing greenhouse gas emissions in the future should go hand in hand with producing food for a growing population and delivering for the environment...
Pressure on big four supermarkets 'intensifies'
The latest grocery share figures from Kantar Worldpanel show new records set by Waitrose and Aldi as pressure on the big four supermarkets intensifies...
Harper Adams conference links farming, science and nutritional food value
Harper Adams University is set to host the 2014 Frank Arden Memorial Conference on 24 April, supported by the Nuffield Farming Scholarships Trust. ...
Leading organic body appoints new CEO
The new chief executive of one of the UK's leading organic bodies has been revealed. Roger Kerr has taken the reigns (reins) at Shropshire-based Or...
Agricultural accountants concerned over EC organic rules
The European Commission could be taking 'financial risks' over farmers and growers with their new organic proposals, say agricultural accountants. ...
Organic investment fund launched
The investment division of sustainable bank Triodos has launched a new investment fund, investing in leading, privately owned organic food and sustain...
Organic farms support more species, says research
On average, organic farms support 34% more plant, insect and animal species than conventional farms, say Oxford University scientists. Researchers ...
End uncertainty for organic producers - NFU
The Welsh Government must end the uncertainty for organic producers in Wales and support the sector in developing viable, profitable markets for Welsh...
EnviTec Biogas Takes On Apprentice
With the renewables energy sector on a growth curve, EnviTec Biogas UK has taken on its first apprentice to support its service delivery for farmers, ...
Organic predicted to do much better in 2014 as supermarkets report shortages
Organic egg sales could do much better in 2014 if they get the support of major retailers. That is the view of Soil Association trade director Finn Co...
Former champion Tomos returns for young butchers showdown
Former champion Tomos Hopkin returns to action to try and win the Welsh Young Butcher Competition for the fourth time next month. Hopkins, 20, fro...
EnviTec Biogas reports record numbers at Nextgen 2013
Farmers and landowners are becoming increasingly aware of the range of options to produce renewable energy on their sites, according to feedback from ...
Soil degradation is 'the biggest potential disaster' facing us all
"The biggest potential disaster that is facing us all is the degradation of our soil. That should be at the core of our thinking," said the Soil Assoc...
Organic farming contributes to climate change mitigation
The results of a new meta-analysis published in the Science of the Total Environment journal 1reveal that organically farmed lands emit less nitrous o...
Rooftop farms in cities could help ensure future food security
Delegates at an international environment conference were introduced to the concept of urban agriculture in Edinburgh yesterday. The event – organised...
What you can say about benefits when selling organic food
The Soil Association is issuing a new report containing positive statements in support of organic food and farming having sought guidance from the Com...
Tesco accused of 'breaking promises' on GM feed
Anti-GM group GM Freeze have accused Tesco of breaking a promise to phase out GM animal feed, thereby 'breaking commitments made in the company's soci...
Supermarket watchdog powers come into force
The powers of a new independent supermarket watchdog have come into force and has been welcomed as a 'dawn of a new chapter of fairer dealing', accord...
Supermarkets not doing enough for farmers, group says
Supermarkets should do a lot better to support farmers who have been troubled by this year's cold spring coupled with last year's wet seasons, accordi...
GM will revolutionise UK agriculture, says Paterson
GM crops offer a 'wonderful opportunity' to benefit human health as they are a safer alternative to conventional plants, according to the Environment ...
Rural planning specialists warn of dramatic changes
European scrutiny of fungicides and pesticides could change the British farming landscape according to a team of rural planning specialists. The Fa...
English farmers at risk, CAP coalition warns government
The largest ever coalition of British farming organisations has today warned the Government that English farmers could be treated unfairly under new C...
Hidden viral gene revealed in GMOs
Claims that GM technology is 'predictable and safe' has been shaken by the discovery of viral gene sequences in many GM crops according GM Freeze. ...
Tacon appointed as new supermarket adjudicator
Former Co-operative farms managing director Christine Tacon has been appointed by the government to head the first Groceries Code Adjudicator. The ...
Global organic land area expands threefold
Despite a slight decline between 2009 and 2010, since 1999 the global land area farmed organically has expanded more than threefold to 37 million hect...
Organic eggs 'still declining'
Recent statistics indicate that demand for organic eggs is still declining. Figures compiled by Kantar Worldpanel for the 52 week period up to Oct...
What does 2013 hold for free range producers?
Britain's biggest free range egg producer has warned that the free range egg sector needs to keep control of bird numbers to prevent supplies of eggs ...
Eggs could improve health of unborn babies
Mothers could improve the health of their unborn babies by eating eggs during pregnancy, according to new scientific research. A research team in t...