News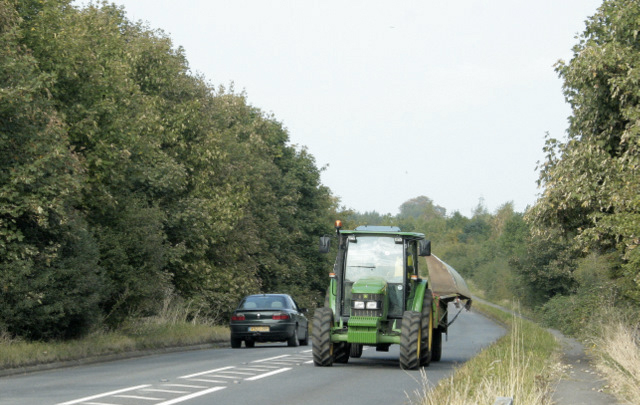 Government announces increase in tractor speed limit
The Government has announced an increase in the maximum speed limit for tractors from next March. The Country Land and Business Association said th...
Firm cattle trade as Morris family wins Tom Gittins Cup
An entry of 750 strong store cattle was sold at Bishops Castle Auction on Thursday last week as the trade held firm from start to finish supported by ...
Animal psychology in focus at agricultural workshop
Agricultural workers can get an insight into animal psychology as part of efforts to improve farm safety while handling cattle. Agriculture continu...
Supermarket price battles causing 'grocery deflation'
The grocery market is entering deflation as new share figures released today show that like-for-like prices have declined. Fraser McKevitt, head of...
John Deere to unveil new sprayer at CropTech 2014
Aimed at arable farms, speciality crop growers and contractors, the new John Deere R4040i self-propelled sprayer replaces the current 5430i model for ...
Radiant barrier benefits now spanning the globe
New orders from Uganda and Fiji bring to 16 the number of countries now adopting the energy-efficient lining Valéron AVA to improve poultry house envi...
Longest serving FUW staff member retires
The longest serving member of the Farmers' Union of Wales staff, Llanrwst-based Gwyn Williams, is retiring at the end of this month after more than 39...
UK farmers 'more active in selling wheat'
EU grains closed higher. Nov 14 Paris wheat again posted better gains than the deferred contracts, as seemingly more shorts get squeezed out. The Nov ...
Farmers threaten further protests as meetings held in Westminster
Further protests on falling milk prices have been announced today as the President of Farmers for Action attends a meeting with MPs in the House of Co...
Businesses to receive funding to solve food security challenges
Businesses will receive £5 million of funding to develop innovations to solve some of the world's greatest agriculture challenges such as food securit...
FUW welcomes retention of TB compensation system
The Farmers' Union of Wales today welcomed deputy farming and food minister Rebecca Evans' announcement that Welsh TB compensation rates for compulsor...
US farmers concentrating on soybean over corn; wheat closes lower
Soycomplex Beans closed lower, but towards the middle of the day's trading range. The USDA reported that the 2014 US soybean harvest was 53% done, ...
NFU urges retailers over falling milk prices
With mounting concern over the falling milk price on global markets, NFU dairy board chairman Rob Harrison has issued a call to retailers both in the ...
Gaia-Wind Opens Japanese Market with Entry Standard for Turbine: Short Listed for Export Award.
World leading farm scale wind turbine manufacturer Gaia-Wind has today achieved Japanese certification for its GW 133 turbine, allowing it to enter th...
British food production 'under threat', says new report
The availability of iconic British foods could be drastically reduced according to an independent report released today. The report, commissioned b...
NFU Cymru supports Future Farmers of Wales
Members of Wales' rural group, Future Farmers of Wales, were delighted to receive a donation for £500 from farming union, NFU Cymru, recently. On p...
Bayer commences wheat testing in the UK
Bayer CropScience has announced that it has commenced testing wheat varieties in the UK for the first time. UK Seeds Manager, Adrian Cottey, said: ...
Badger cull poll: Nine out of ten want culling to end
Results from a new poll on the controversial badger cull show that nine out of ten people who express an opinion (89%) want the UK government to stop ...
New badger culls are a 'miserable failure' as target missed
The pilot badger culls in Gloucestershire have 'failed to achieve even the minimum number of badgers to be shot,' and have been condemned as a 'misera...
Truss attacks on solar farms 'misguided'
Comments made by Environment Secretary Liz Truss about solar farms are 'misguided', according to the Country Land and Business Association. The org...
EU promotion aims to encourage people to cook lamb
A £6.17m campaign to encourage more people to cook with lamb across six European countries is to be launched thanks to a co-promotion deal EBLEX has s...
Ministers to meet dairy representatives after milk price crash
Environment Secretary Liz Truss has said she will meet with members from the dairy industry this week after recent milk price falls have caused a numb...
Farmers can double tax benefits by choosing renewables?
Farmers yet to take full advantage of their Annual Investment Allowance (AIA) should consider renewables as a way of doubling the potential benefits, ...
New GrowHow farm adviser for South West and South Wales
Hefin Llywd has joined GrowHow UK as the company's newest field-based Farm Adviser. He took up his new position on 13 October and will cover the South...
Can Galera be used this autumn?
Growers have been asking the Dow AgroSciences' Hotline whether the herbicide Galera (clopyralid + picloram) can be used this autumn where broad-leaved...
Government to cut subsidies to solar farms
Farmers will lose their right to claim subsidies for fields filled with solar panels under new plans to ensure more agricultural land is dedicated to ...
Flooding video shows plight of farmers
A video of a farming couple from the Somerset Levels coming to terms with being flooded last winter highlights why the Government must urgently invest...
Proposed weight increases 'need to go further'
Weight increases proposed today by the Department for Transport (DfT) need to go further in the next phase to realise the maximum improvement in farm ...
New Holland regains Guinness title for harvesting
New Holland Agriculture has reclaimed the Guinness World Records title, harvesting 797.656 tonnes of wheat in eight hours with the world's most powerf...
Dairy Council attacks Daily Express article on cancer
An article by the Daily Express linking dairy consumption to cancer have been branded as 'unfounded and inaccurate' by the Dairy Council today. Dr ...
Potato supply chain 'in focus' at November conference
'From seed to ware', this year's Seed Industry Event (SIE14) on 25 November, at the Crieff Hydro in Perthshire, widens its' appeal to the whole supply...
Wheat closes with double digit gains
Soycomplex Beans closed higher on short-covering, although there was a general lack of fresh news to get excited about. US weather leans friendly f...
UK wheat plantings up 20%
EU grains closed mixed, but mostly a little easier - doing their best to resist pressure from falling outside markets. Nov 14 London wheat finished...
New McCormick tractor ranges to make their debut at AgriScot
Four new McCormick tractor designs are set to make their AgriScot debut at the 2014 event on November 19 at Ingliston, Edinburgh. Manufacturer Argo...
Farmers have their say on dairy crisis as prices show slight rise
"We need to keep it up and we need to intensify the protests, if we are to stop any further price cuts and start to get farmgate prices up as fast as ...
FUW's Brecon and Radnor day is a first for Westminster
Taking Brecon and Radnor's agriculture, food and rural economy to the heart of the corridors of power in Westminster will be the aim of a Farmers' Uni...
Farmers quiz MEP about over-regulation
The Flintshire branch of the Farmers' Union of Wales has enjoyed an excellent turnout of members at its annual general meeting held at the Village Hal...
Court ruling on land sale 'encouraging for others'
In a recent appeal to the Upper Tribunal (Lands Chamber) over the issue of apportionment for Capital Gains Tax purposes, the Tribunal has found in fav...
FUW backs 'Joint Opportunities Platform' proposal
Delegates at the Farmers' Union of Wales autumn conference heard how a new 'Joint opportunities platform' could pave the way for successful joint farm...
FUW holds Thanksgiving Gymanfa Ganu
The Farmers' Union of Wales will be holding a farmers' Thanksgiving 'Gymanfa Ganu' on Sunday October 26 at the Seion Chapel Aberystwyth in an effort t...
'Exciting opportunities' for Turkey's developing dairy market
Turkey's developing dairy market offers exciting opportunities in its emerging export industry with access to markets that western players have previo...
EU pork faces tough times with health scares and Russian ban
The global pork market will likely begin to cool down as the buoyent market circumstances from the first three quarters are now disappearing. With ...
NFU releases new video: "Back British Farming: How farmers protect the environment"
The NFU releases a new video today to show how much farmers across England do to protect wildlife and the environment. 98 per cent of farmers say that...
Cat excavators get new HD hydraulic system
Three Cat E2 Series Mini Hydraulic Excavators— The 305E2, 305.5E2 and 308E2 will be produced at Caterpillar's new 78,968 square metre (850,000 square ...
Princess Royal to attend Royal Welsh Winter Fair
The Princess Royal has accepted an invitation to attend the 25th Royal Welsh Winter Fair which will be celebrating the silver jubilee. It will be h...
Dairy Crest signs collaboration contract with Harper Adams
Dairy Crest and Harper Adams University have signed a collaboration contract which will see 'Food Innovation Centre's' being built on campus. Dairy...
Wet weather delaying Brazil harvest; US corn crop ratings unchanged
Soycomplex Beans closed sharply higher on what looks like fresh speculative buying. The seasonal lows are in, that seems to be what the market is t...
Sterling weakness supporting London wheat
EU grains traded higher, with sterling weakness particularly supporting London wheat. At the end of the day Nov 14 London wheat was up GBP2.30/tonn...
Farmland 'outperforming major assets' as values increase further
The average value of farmland has increased by 12% so far in 2014, a 10-year increase second only to gold, according to new figures. The average va...
British farming 'must be more ambitious', says Oxford Farming Chairman
For the British farming industry to thrive we must be more ambitious, according to Richard Whitlock, chairman of the Oxford Farming Conference who was...