News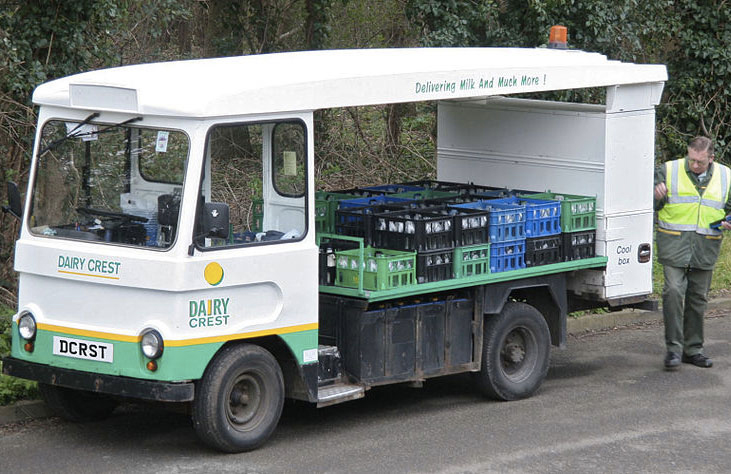 Organic market continues to boom
Proving small changes can add up to a big difference, new Nielsen figures released today show sales of organic products in excess of a staggering £100...
Dairy Crest recalls milk on contamination fears
Dairy Crest Ltd has recalled certain date codes of Morrisons and Supervalu from Budgens Whole British Milk on a precautionary basis, because the produ...
Government needs action on fly-tipping, Countryside Alliance warns
The Countryside Alliance has called on the government to address the 20% increase in fly-tipping incidents on public land last year. Local authorit...
New Defra farm figures 'underline volatility'
New farm business income data from Defra, which focus on income from March 2013 to February 2014, show some significant swings in farm profitability a...
Agriculture remains one of UK's most dangerous industries
Agriculture has remained one of the industries in which workers are most likely to be injured, according to new figures released today. Injury and ...
EU grains stage another day of decent gains
EU grains staged another day of decent gains. "Some of the (recent) support has come from a later than usual US maize harvest and drier than normal co...
All is not well with Russia wheat prospects; corn market with strong gains
Soycomplex Beans and meal closed sharply higher once more. "Logistic woes getting meal via railcar into eastern processor market has the feeder dou...
Caution urged over Swedish milk study
A diet rich in milk is promoted to reduce the likelihood of bone fractures but a high intake may have undesirable effects, according to new research. ...
Future of Scottish dairy to be debated at AgriScot
The future direction of the Scottish dairy sector will be debated at next month's AgriScot event, being staged on Wednesday 19 November at Ingliston, ...
New Reform Metrac H8X to be introduced to the UK market
Reform Werke have announced the imminent introduction to the UK market of their compact Metrac H8 X tractor, which the company say, delivers the combi...
NFU urges farmers to understand new CAP payment scheme
NFU's series of CAP roadshows gets underway in the East Midlands, next week with a strong message from NFU to all farmers and growers: read, understan...
25 things you might not have known about the Royal Welsh Winter Fair
1. The Winter Fair was initially only going to run as a trial event for three years, to see if it would be viable. However it has been a resoundi...
John Deere's HarvestLab wins innovation award
John Deere's HarvestLab sensor system won the Highly Commended prize in the Award For Innovation category at the 2014 Farm Business Cream Awards, whic...
Soil Association requests changes to TB compensation bill
Following discussions with licensees and members, the Soil Association has submitted a proposal to request changes to the Cattle Compensation (England...
Badger cull is legal as Trust loses appeal
The Court of Appeal has rejected the Badger Trust's appeal concerning the legality of the government's badger cull. The trust's appeal was based on...
Support local farmers and butchers in Sausage Week, says FUW
The Farmers' Union of Wales today called on people to support their local farmers and butchers by tucking into wonderful Welsh bangers during next wee...
Starting gun fired on union elections
NFU Scotland is now taking nominations for the positions of President and Vice President as current President Nigel Miller's four years in office come...
Inspiring the next generation of sheep farmers
Young people keen to get ahead in the sheep sector are encouraged to attend a free one-day event in Gloucestershire on Wednesday 12th November. Th...
Scottish farmers disappointed over EU calf scheme
The European Union has ruled out Scotland front-loading payments made under the new Beef Calf Scheme that would have supported smaller beef producers,...
Stop brome creeping into winter barley fields
In parts of Scotland, winter barley growers have been struggling to stop sterile brome creeping further and further into the fields and becoming a sig...
Former FUW director takes top Carmarthenshire farming award
Former Farmers' Union of Wales director of agricultural policy Mary James has received this year's FUW/United Counties Agricultural & Hunters Society ...
Farmers call for reassurances as Defra publishes new CAP scheme
More details have been unveiled today about how the new CAP will be implemented in England. The latest leaflet, which will also be posted to farmer...
UK farmland prices see 'substantial growth'
Prime arable land in the UK has seen a substantial year-on-year growth in prices of around 17.9%, according to a Q3 report. The average rate of gro...
Results of Natural Nitrogen Fixation Trials
Azotic Technologies, the developer and producer of natural Nitrogen-fixation for increased agronomic benefit, today announces the results from the Com...
NFU sends out plea to retailers over falling milk prices
With mounting concern over the falling milk prices on global markets, NFU Cymru Milk Board Chairman, Aled Jones, sent out a plea to processors, retail...
Local farmers meet MP on farm in Monmouthshire
The burden of red tape, the downturn in milk prices and practical implications from the latest round of CAP reform were all issues raised when a deleg...
HS2 uncertainty leaves farmers frustrated
Farmers are left frustrated as further work requested by Sir David Higgins has caused a delayed decision on the final route of HS2 Phase 2. The NFU...
East Yorkshire farm diversification businesses win national award
Directors and staff at Hunmanby Grange's three farm diversification businesses are celebrating after winning a prestigious award in a national farming...
Irish beef farmers 'have had enough' as they begin protests
Irish beef farmers are set to protest the prices they are being paid for their cattle, arguing that they are well below the UK and EU averages. IFA...
Satellites to help farmers pinpoint disease and pests
A new mobile app for farmers able to pinpoint and identify disease, pests and weeds within fields, and then integrate this data with precision farming...
Solar can transform agricultural businesses, seminar will urge
Agricultural businesses are being urged to attend a free seminar to learn how solar power can transform their operations and cut their fuel bills. ...
Important label update for users of AstroKerb
Dow AgroSciences is pleased to inform growers and advisors that CRD has granted an approval for AstroKerb to allow the straw from oilseed rape crops t...
Wetland is more valuable than arable, new study shows
New research has calculated that each hectare of land at Wicken Fen in Cambridgeshire is worth almost £130 more per year as wetland than as arable far...
Farmers 'a major target' for fraudsters
Farmers are being warned they are a major target for criminals trying to defraud them out of hundreds of thousands of pounds. Financial Fraud Action U...
NFU concerned over future rural cuts in letter to Chancellor
NFU President Meurig Raymond has written to Chancellor George Osborne outlining how he thinks agriculture would benefit from next year's budget. "A...
NFU 'dismayed' at Defra rejection of EU aid package
Government Ministers have decided not to take advantage of an EU aid package for fruit and vegetable producers impacted by the Russian trade ban, the ...
Finns study finer points of ventilation
How do you ventilate a piggery in a country that can have extremes of temperature ranging from – 30° C to + 30°C (-22°F–+86°F)? Ventilation expert Hug...
Massive saving from small increases in feed conversion efficiency
A total of 2.463 million tonnes of feed. That's the amazing estimated saving that could be made if the feed conversion of all the 246.3 million pigs f...
Concerns over Russian crop quality; US harvest running late
EU grains closed mixed, but mostly higher. Front month Nov 14 Paris wheat closed at a EUR0.75/tonne premium to the Jan 15 contract. A week ago, and th...
Ex-hurricane delivers record windfall for UK 'energy farmers'
The stormy tail end of ex-hurricane Gonzalo might have dampened the start of the week across the UK, but for many diversifying farmers the weather bro...
Landini rallies to the cause!
A six-day endurance event to celebrate the 130th anniversary of Landini ended after 130 hours and 992km of round-the-clock driving on a car rally cour...
Move to ban pesticides 'a threat to UK food security'
Scientists have cast doubt on the European Union's aim to restrict the use of a range of pesticides. They have voiced this view in response to a r...
Adverse weather having affect on Australian crop
Soycomplex Beans closed with small losses, despite the USDA reporting the sale of 419 TMT of US soybeans to China, along with 113 TMT to unknown de...
Kuhn to display new range at AgriScot
The latest Axis fertiliser spreader and PolyLonger hedgecutter will be among the machines being displayed by Kuhn Farm Machinery at this year's AgriSc...
Dairy farmers will pay for the price of milk, warns NFU
With mounting concern over the falling milk prices on global markets, the NFU have issued a call to retailers and processors to safeguard the future o...
'Extremely worrying times' ahead for farmers, says NFU
With farmers facing significant challenges heading into the winter, the Government is being urged to come forward with proposals for how they intend t...
Grain markets 'unlikely to see significant rally'
EU grains finished higher across the board, with both London and Paris wheat managing their best closes in 6 weeks. However "although particular facto...
Cattle pneumonia could cause long-term costs for farmers
Cattle farmers could have increased costs due to ineffective treatment of calf pneumonia, according to Merial Animal Health. "Past research has sho...
Government announces increase in tractor speed limit
The Government has announced an increase in the maximum speed limit for tractors from next March. The Country Land and Business Association said th...
Firm cattle trade as Morris family wins Tom Gittins Cup
An entry of 750 strong store cattle was sold at Bishops Castle Auction on Thursday last week as the trade held firm from start to finish supported by ...