News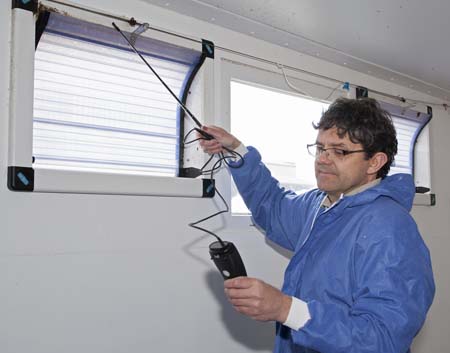 New environmental health check for piggeries
A new 'MOT' service for buildings to help pig farmers run their controlled-environment houses more efficiently is being introduced by Staffordshire-ba...
Survey shows farmers are cautiously optimistic about investing
Despite the recent extreme weather, farmers remain cautiously optimistic about the future according to a recent survey carried out by Lloyds Bank Comm...
FarmingUK Renewable Special 2014 goes live
The FarmingUK Renewable Energy Special 2014 digital magazine was launched on-site today, full of information on how you can turn your surplus land int...
Meirionnydd farmers in Welsh food and EU membership boost
A visit to Brussels this week by a delegation of Farmers' Union of Wales national leaders and Meirionnydd members was an "excellent opportunity" to pr...
Defra announces consultation on pollinators
Defra has announced a consultation on the proposed national pollinator strategy. Pollinators are essential for biodiversity and pollination of essenti...
Leading organic body appoints new CEO
The new chief executive of one of the UK's leading organic bodies has been revealed. Roger Kerr has taken the reigns (reins) at Shropshire-based Or...
Embrace technology to maintain food security - CLA
The CLA has told the Environment, Food and Rural Affairs (Efra) Select Committee that the UK must invest in technology to protect food security. Gi...
Paterson announces plans to protect Somerset
Homes and businesses in Somerset will be better protected from the risk of flooding under a new action plan outlined by Environment Secretary Owen Pat...
Keeping watch over yellow rust
The mild, wet winter has raised concerns that yellow rust may be a problem in 2014 and the disease is not just a concern in this country. UK scientist...
Exceptional dairy trade at Shrewsbury Auction Centre
An exceptionally strong trade from start to finish was reported by auctioneers Halls as 145 dairy cattle went under the hammer in front of a good comp...
Co-Operative Group's Good Chicken award withdrawn
Compassion in World Farming is withdrawing the Co-Operative Food's Good Chicken Award following its decision to increase the stocking density of its b...
New John Deere balers unveiled at Grassland
A new John Deere 800 Series mower-conditioner plus three new 400 Series fixed chamber round balers, including a wrapping baler model, can be seen work...
NFU raises 'three crop rule' concerns at county meeting
Concerns over the three crop rule, which will be a requirement of the next Common Agricultural Policy regime, were raised at a recent NFU Cymru Monmou...
No evidence of grain disruptions out of Ukraine region
Soycomplex Beans closed with generally modest losses, consolidating from the recent rally, as the USDA announced China had cancelled 245,000 MT of ...
Edinburgh Prisons chicken loving inmates open 'Henitentiary'
Edinburgh Prison has become the first jail in Scotland to set up its own free range egg production unit. The unit, nicknamed the Henitentiary by ch...
Mole Valley Farmers farms out windscreen repairs to National Windscreens
As the UK's largest independently owned windscreen repair and replacement specialist, National Windscreens' expertise is not just limited to cars, van...
Ploughing the only way forward to repair flood damaged soil
Flood-repair is one situation that will benefit more from full tillage of the soil rather than no-tillage (or direct drilling), says the New Zealand s...
Risk of flooding from groundwater remains
Water levels continue to fall on the Somerset Levels as the country's largest ever pumping operation continues, but one severe flood warning remains i...
Eight strategies for efficient and sustainable livestock farming
Eight strategies to make cows, sheep and other cud-chewing, or ruminant, livestock a more sustainable part of the food supply are outlined by Rothamst...
Muller Wiseman formula price set at 3ppl
Müller UK & Ireland Group has confirmed that its opening 'Müller Wiseman Formula Price' from April 1st 2014 will be 33.00ppl. In a letter to all no...
Supermarkets urged not to 'devalue food' with price wars
Supermarkets have been urged not to 'devalue food' by entering into price wars which have the potential to undermine British farmers, according to agr...
Fund money coming 'back into agriculture'
EU grains finished mostly steadier, but off the day's highs, with Mar 14 London wheat ending GBP0.70/tonne firmer at GBP162.20/tonne, and with new cro...
Reports show decline in US wheat rated 'good'
Soycomplex Beans finished a choppy session with gains of 10-15 cents. Early trade showed evidence of this being an infamous "Turnaround Tuesday" as...
Scientists sex chicks in the egg as Germany threaten ban
Genetic scientists believe they have found a way of sexing chicks whilst they are still in the egg. The research work, which has been conducted at ...
New Man Hoisted on Board for Gaia-Wind
Leading UK small wind turbine manufacturer Gaia-Wind Ltd, today announced the appointment of Sales & Marketing Director John Gallacher to the Board of...
Sheep farmers flock to electronic database meetings
National Sheep Association's series of six open meetings with SouthWestern, the provider of the new electronic sheep movement reporting database in En...
Government must invest to close food gap, says NFU
Consistent and long-term investment allowances, and better taxation tools are just some of the key areas the NFU is urging the Chancellor of the Exche...
Openfield Group turnover decreases
Openfield Group, the farmer-owned grain marketing and farm inputs business, has reported an 8% decrease in turnover on the back of higher than average...
Diversification can help farmers increase income
Three free events are being staged next month to highlight how diversifying into horticulture can help farmers increase their income and meet a rising...
Banking crisis may still impact farmland prices
The banking crisis may still have a further and unforeseen impact on the UK's farming industry, according to accountants. With news that the Co-ope...
Indonesia to establish itself as top 3 global wheat importer
Wheat consumption is on the rise in Indonesia, driven by economic growth and convenience. Wheat provides an economical and nutritious alternative ...
Female sexed semen has higher value than previously thought
Using sexed female semen has gained significant momentum across the UK's dairy herds where the prospect of a valuable replacement heifer and the likel...
Andrew Burgess receives award for services to agriculture
Andrew Burgess of Produce World has received the award of Associate of the Royal Agricultural Society for his outstanding contribution to the agricult...
Get your grassland performing in 2014
Across the whole of the UK 2013 proved to be a much kinder year than 2012, with a much dryer summer and still to date a very mild but very wet winter....
Drilling underway on SESVANDERHAVE trial sites
The first trial plots for the 2014/15 sugar beet crop are in the ground as leading sugar beet breeder SESVANDERHAVE UK drills its early sown bolting t...
'Excellent trade' for quality store cattle at Bishops Castle
An excellent trade was reported by auctioneers Halls at just under 250 store cattle went under the hammer at Bishops Castle & District Quality Cattle ...
Wheat market jumps higher over Ukraine crisis
Soycomplex Beans closed mixed, after trading sharply higher in earlier overnight trade. That seems to have been linked to the unwinding of long bea...
Thompson's tip: Spring check on bin hygiene
With spring just around the corner, it is a good time for pig producers to check up on feed bin hygiene, advises ACMC veterinary consultant, Paul Thom...
Sainsbury's reject retender rumours
Rumours that the supermarket group Sainsbury's was preparing to re-tender part of a shell egg contract lost by Noble Foods are not true, according to ...
Centurion MAX adds to black-grass control in sugar beet
Sugar beet is very sensitive to weed competition early on and a planned approach to weed removal is the best and the most common approach. More recent...
Threat of halt to Ukraine corn exports gets market nervous
EU grains closed sharply higher as tensions between Ukraine (and the West) and Russia scaled up a level or two over the weekend. This is the biggest c...
Perthshire flooding 'underlines need for action plan' - NFU
The NFU has used a visit to a flood-hit farmer in Perthshire to renew its call for key stakeholders to get round the table and start planning to minim...
Where next for large-scale livestock production?
The potential effects of large-scale livestock systems on animal health and welfare are set to come under the spotlight during a special workshop look...
Old Versus New to raise funds for flood-hit farmers
The mightiest of modern tractors will line up against their vintage counterparts this Sunday, 9 March, when Glamorgan NFU Cymru members put the wheels...
Price increase for farmers on Dairy Crest formula contract
Dairy Crest and Dairy Crest Direct (DCD) have jointly announced the launch of two new contract options for the start of the milk year. Delivering on D...
Major BVD initiative launched in England and Wales
A major new initiative concerning one of the most devastating diseases affecting the cattle industry, BVD, Bovine Viral Diarrhoea - has been launched ...
Avadex Granules – well worth considering in spring crops
Avadex Granules (tri-allate) are increasingly used in winter sown crops, but they are well worth considering in spring crops too. With label recommend...
Be Neosporosis aware, says FUW
Neosporosis infection remains a major cause of abortion in UK cattle, farmers were warned at a meeting in Aberystwyth of the Farmers' Union of Wales a...
Easy all round quality for mushroom pest control
All round quality are the watchwords for mushroom production – quality in produce and also in pest solutions, says Aneeta Gupta of BASF Agricultural S...
Addition of oats and spring barley to PGR Canopy label
The recent approval of Canopy on spring barley, oats and rye brings not only a safer PGR option, but reassurance to growers as Canopy works across a r...