Meat Processing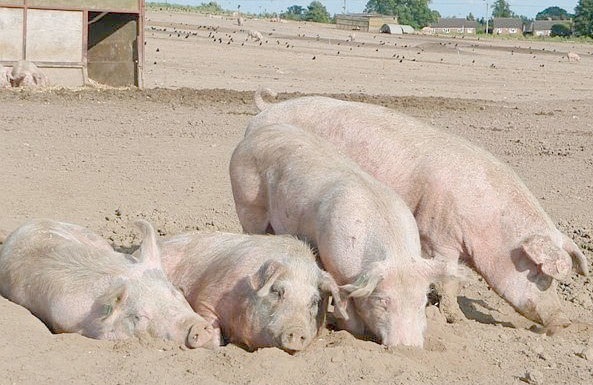 EU votes to 'modernise' pig inspection laws
European member states have voted for new legislation to modernise the inspection system in pig slaughterhouses. The new legislation aims to improv...
Iceland recalls its 4 Chinese pork quarter pounders
Iceland is recalling packs of its 4 Chinese Pork Quarter Pounders because the product contains soya, which is not mentioned on the label. This mak...
Pasture-fed livestock group grows after horsemeat scandal
The Pasture-Fed Livestock Association (PFLA) has experienced a surge in interest since horsemeat DNA was confirmed in some processed foods on sale in ...
Asda withdraws burgers due to sulphites
Asda has withdrawn more packs of its Little Eat Beef, Cheese and Tomato Burgers, because the product contains sulphites, which are not mentioned on th...
British pig industry to monitor illegally farmed EU meat
The British pig industry will this week start checking that pork from illegal European Union farms is not entering the British food chain. Nationa...
FSA to review its response to horsemeat scandal
The FSA Board today agreed that a review will be carried out into the Agency's response to the recent incidents of adulteration of processed beef prod...
More robust checks needed for imported meat
A more robust system is needed to ensure imported food meets British standards, according to Agrantec. Following the recent scandals over horsemeat...
Morrisons trialling world first technology
Morrisons, Britain's 4th largest retailer, is trialling prototype technology in its Aberdeenshire meat plant which will see Scottish farmers become th...
New food production grant welcomed
A new £15 million fund to aid research into improving the efficiency of food production in the UK has been welcomed by agricultural accountants. G...
New judge for Beef Expo National Spring
Hotly contested competitive cattle classes will once again be an important part of the National Beef Association's Beef Expo 2012, held this yea...
UK public have 'dismissed' negative red meat stories
The National Beef Association (NBA) believes the UK general public has largely dismissed claims published yesterday linking red meat to higher mortali...
US moves on UK beef 'positive', say NFU
Moves by the US Government to end the long-running ban on beef imports from the UK are a 'positive development', the NFU said today. Th...
NBA optimistic that USA will open to British beef
The National Beef Association (NBA) is hopeful that a draft law published in the USA will make its way through the system and result in the United Sta...
Worldwide co-operative members total 1 billion
The United Nations has designated 2012 as the International Year of Cooperatives, providing a great opportunity to raise the profile of an important o...
Anglesey slaughterhouse future on the agenda
Farmers in Anglesey are to get an insight into progress on a variety of issues that affect them directly, including the future plans for the Welsh Cou...
Welsh sheep liver condemnations due to fluke
Sheep liver condemnations at a leading Welsh abattoir due to fluke are nearly three times that of its English counterpart, according to statistics pro...
Will euro fears spark export drive?
Farmers are being urged to look into new export potential for their beef and lamb which could help to make up for the uncertainty over the future of t...
R&J Butchers unveils new look and signature meats range after major rebrand
R&J Catering Butchers, one of the north of England's leading breeders and suppliers of meat products to the Yorkshire-wide hospitality sector, h...
West Midlands Project invites Farmers to Add Value
A West Midlands based Farming and Food Enterprise Development Project is hosting a variety of one day workshops across the West Midlands region, to in...
BASC in new deal with Chudleys
The UK's largest shooting organisation, the British Association for Shooting and Conservation (BASC), has renewed its partnership with Chudleys ...
Welsh farmers call for standardisation of carbon accounting
Welsh meat producers and land owners have called for the standardisation of carbon accounting, following fears that figures being published by differe...
Volanic Ash Crisis: 'Shows food producers the value of packaging'
LINPAC Packaging, the leading European multi-material food packaging company, is asking food producers and packers to review their packaging choices i...
Further growth for Peak Choice Farmers Co-operative
Peak Choice, the Peak District beef and lamb farmer owned co-operative inspired by HRH The Prince of Wales, has signed a distribution agreement with s...
A Butchery? - Granted!
Tenant farmers from a Kent farm are absolutely delighted with the recent completion of their development plans for a livestock building and butchery f...
Farmer Palmers Products Launches Facility to Benefit Kentish Farmers
Farmer Palmer's Products Ltd, run by enterprising Kent farming couple Graham and Miranda Palmer, are launching a combined butchery and productio...
Cherkizovo OJSC elects new members to the board
Cherkizovo OJSC (LSE: CHE), one of Russia's leading integrated and diversified meat producers, today announces that, further to the Company&rsqu...
Renderers put technical competency at core
UK Renderers' Association (UKRA) is to restructure management operations in order to better serve the needs of its 21 members and their food-cha...
OJSC Cherkizova Group comissions a new line and introduces marketing initiatives
One of Russia's leading integrated and diversified meat producers, announces the commissioning of a slicing line at its Cherkizovsky meat-proces...