Machinery and Spares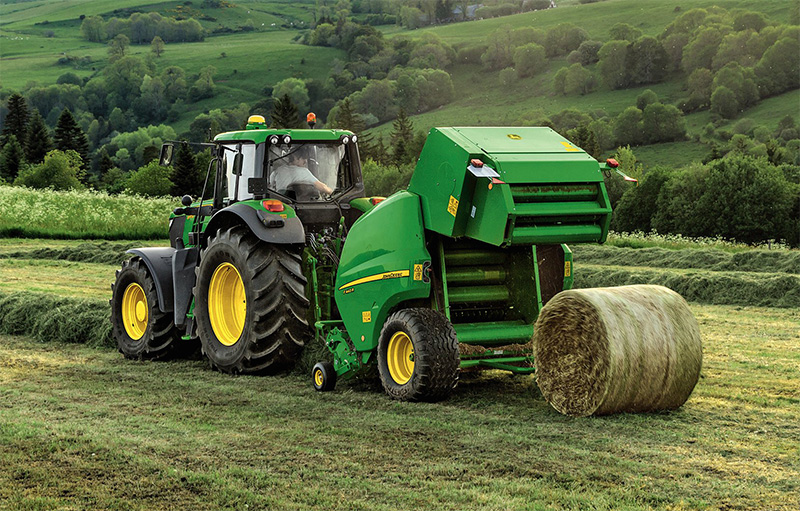 Tractor expedition to reach South Pole in 2014
An expedition that will attempt to reach the South Pole in 2014 using modern day tractors has been announced at SIMA 2013, the agri-business show held...
Dealers work together to bolster services
When two businesses have similar interests but complementary skills, locations and product lines it often makes sense to work together. And that is...
New Holland launches T6 Auto Command
New Holland's range of T6 tractors has been enhanced by the addition of three Auto Command variable models. The four cylinder T6.140, T6.150 and T6...
McCormick on show at SIMA
ARGO Tractors will present a special edition of its popular McCormick X60 four-cylinder tractor at the SIMA agricultural machinery show. Finished i...
Gwent farmers see JCB production first hand
Members of the Farmers' Union of Wales Gwent branch recently visited the JCB production factory at Rocester, Staffordshire. "The trip attracted tre...
Bauer irrigation reels: Compact design
Innovative and easy to handle, optimal for small irrigation areas and equipped with state-of-the art technology: These are the main characteristics of...
UK manufacturer spots Brazil opportunity
TMAT Ltd, manufacturer of acoustic components for tractors and excavators whose customers include Case, New Holland, JCB and Volvo, is planning to ope...
Tillerstar cultivator-separator made available in Ireland
A unique implement that combines the work of a bed tiller and stone/clod separator in one machine is now available to growers throughout Ireland after...
JCB to supply new engines for Magni
JCB has signed a long-term agreement to supply engines for a range of rotating telescopic handlers to be launched by an Italian manufacturer. MAGNI...
Bosch Rexroth launches 'most powerful' hydraulic drive
After many years of research and development testing, Hägglunds CBM is a range of very large heavy-duty hydraulic motors that eliminate the need for g...
Transport covers protect Massey Ferguson combines
Massey Ferguson is the first and only manufacturer in the industry to protect its new combines with an exclusive weatherproof cover during winter ship...
Nursery fined after dumper truck injures worker
An Essex horticultural nursery has been fined after a worker suffered serious leg injuries when a dumper truck overturned. Grzegorz Krzyzak, 32, su...
Landini show new cab for Landpower tractors
The four-post structure of the Master Class cab for the Landini Landpower replaces a more compact design with six pillars, Paul Wade of AgriArgo said....
Branson compact tractors launched in the UK
Korean built Branson tractors, new to the UK and imported by Hampshire company Riko are designed 'to give the operator a safe, comfortable ride'. S...
London farm machinery display raises £65,000
A display of farming machinery in the centre of London helped raise more than £65,000 in aid of farmers in crisis. The equipment was showcased outs...
New Holland BigBaler recognised at Good Design awards
New Holland's BigBaler large square baler has been awarded the 2012 Good Design accolade. This award was conferred on the BigBaler range by the Chi...
New cab for John Deere 5E Series tractors
John Deere's 5E Series three-cylinder utility tractors will be available from this spring with a new John Deere designed cab. A 5055E model was sh...
Award success for Massey Ferguson MF5600 at LAMMA
The Massey Ferguson MF 5600 Series was honoured with an Award of Merit for the Best New Product or Innovation at the LAMMA show 2013. The tractors,...
McCormick exhibit new x50 tractor series at LAMMA
The McCormick X50.50 Power Plus exhibited on the LAMMA show stand of GB distributor AgriArgo UK is the most powerful of four new McCormick X50 Series ...
John Deere wins SIMA gold and silver awards
Following a gold medal won by the 900 Series round baler at the SIMA 2011 show, John Deere has been awarded gold and silver for two of the company's l...
LAMMA 2013: Bauer to launch 'Green Bedding' system
A new source of bedding material for dairy cow cubicles that promises cost savings over alternatives such as sand and sawdust will be launched at LAMM...
LAMMA 2013: Micron to launch new Varidome sprayer
Micron Group will use its stand 156 (Hall 1A) at Lamma 2013 as a launch pad for its largest to date Varidome S5 band sprayer. Building on its Varid...
LAMMA 2013: Launch pad for new Massey Ferguson machines
A wide range of new Massey Ferguson tractors, combines and equipment will be making its UK debut at the LAMMA show on January 16th and 17th 2013 on AG...
HMRC clears way for red diesel winter use
HM Revenue and Customs has relaxed the rules governing the usage of red disel to allow farmers to help grit and clear snow from public roads. Red d...
LAMMA 2013: Kuhn to exhibit new machinery
KUHN will exhibit a 4.5 metre hydraulic folding model from its Venta NCR pneumatic drill combination range at LAMMA 2013, a machine that folds in tran...
Chancellor should have gone further over fuel say farmers
News that the Chancellor cancelled next January's planned 3p fuel duty rise was welcomed by farming associations but they said a cut was needed. "...
Houghton Parkhouse bring expertise to livestock transport
The Platinum T35 is a new 4x4-drawn livestock trailer from Houghton Parkhouse - a company with over 60 years of experience in the design and manufactu...
Kverneland expands cultivator range at LAMMA
Kverneland is using the Lamma Show to introduce a new version of its tined cultivator, the CLC Pro. Where the traditional CLC Pro uses three rows o...
DirectDrive transmission 'sets benchmark for fuel efficiency'
Following an extensive road test conducted by technical experts from the Schleswig Holstein Chamber of Agriculture in Germany on behalf of John Deere,...
UK John Deere dealers merge
John Deere dealer Claytons of Carlton has announced that it has merged with Yorkshire and Humberside based Ripon Farm Services, as of November 2012. ...
Agricultural machinery 'must innovate' to meet food demand
Companies in the agricultural machinery supply chain will need to change their business models to meet the growing global demand for food, according t...
Robot 'feed waiter' to be presented at Agromek 2012
A robot waiter that feeds cows automatically at the feeding table, will be presented at the Agromek 2012 Agricultural Exhibition in Herning, Denmark o...
New Holland appoints new Network Development Manager
New Holland has appointed a new Network Development Manager for the UK and Ireland. Michael Staunton joins New Holland after 14 years with Hyundai ...
Massey Ferguson unveils MF 5600 tractors
Massey Ferguson has unveiled the new MF 5600 Series tractors which will replace the previous steep nose models. The three cylinder, 3.3 litre capac...
Landini 7 series being produced in Italy
Production of a Landini 7 Series heavy-duty tractors has begun at ARGO's headquarters assembly plant in Italy. The five tractors – ranging from th...
New Holland wins Tractor of the Year with T4060F
New Holland has won the prestigious Tractor of the Year 2013 award in the Best of Specialized category with the T4060F. The T4060F is part of the ...
Case IH release new LB 4 balers
A redesign and new innovations characterise the newest generation of large square balers from Case IH: the LB 4 series. The new four-model range c...
New tractor fleet purchases for Scottish businesses
When you are running a mixed fleet of ageing tractors and decide it is time to invest in some new power units, the field is wide open – there is no lo...
Potato equipment innovation on show
Many of the leading potato machinery manufacturers will be exhibiting their latest developments at the ADAS Syngenta Potato Conference and Exhibition ...
JCB plans Indian expansion
JCB has unveiled plans to expand its manufacturing operations in India by investing £62 million in a new construction equipment factory on a 70 acre s...
Bryce Suma Powershift wins awards
A compact self-propelled post driver added to the Bryce Suma range is designed as a one-man machine to handle fencing operations in the most challengi...
'Strong' demand for farm machinery at Shrewsbury auction
Auctioneers Halls reported strong demand for farm machinery at their bi-monthly plant and agricultural machinery collective auction at Shrewsbury Auct...
John Deere to release new 6m tractors
The newly styled 6M Series includes tractors from 115hp to 170hp (EC 97/68), and a 140hp model featuring the highest power level yet from a John Deere...
John Deere release new 900 series baler
John Deere's new 900 Series round baler with Fast Release System (FRS), which can lead to savings of up to an hour a day during harvest, has had a tho...
T-T Pumps supplies separator system for pig producers
Pump manufacturer T-T Pumps in partnership with Filpumps of Aberdeen has recently supplied a separator system for Pig producer DW Argo in Scotland. ...
One-pass Tillerstar to feature at BCGA demo day
A unique British-built implement that reduces root crop establishment costs will be a star turn at the British Carrot Growers' Association annual demo...
Clean up with BroomEx
Here's an extensive range of pedestrian power brooms that is tailor-made for hire outlets, private estates, equestrian centres, the agricultural and c...
Unique Tillerstar in series production
It's a rare event when a genuinely new idea for a farm implement comes along – new products are often variations on an existing theme. But the intr...
John Deere sells 1000th sprayer
John Deere has sold its 1000th sprayer in the UK and Ireland, to Hertfordshire arable farmer Jimmy Hunter. A full-specification 5430i self-propelled m...
New Holland to launch new fixed chamber balers
The new Roll Baler range of heavy duty fixed chamber round balers is set to be introduced by New Holland. The three model line-up, featuring the stand...