Machinery and Spares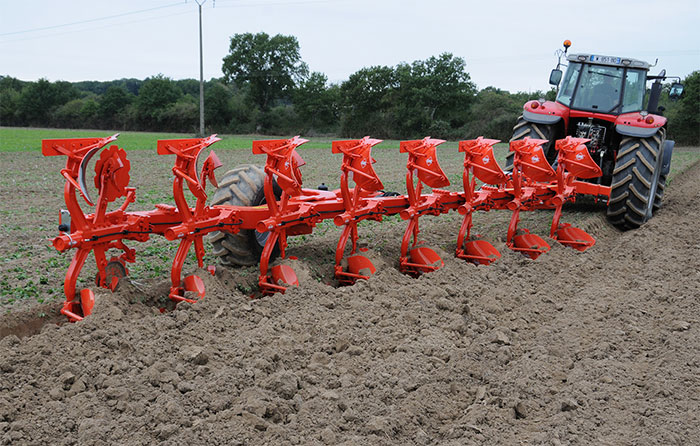 Perkins targets Ag sector with new compact four cylinder engine
Improved performance, installation flexibility and dependability are the major benefits delivered to customers by the new Perkins 854F-E34TA engine. D...
Police recover stolen loader in Holland
A JCB farm loader stolen by thieves in the UK was traced and recovered less than 24 hours later in Holland after an international police pursuit. T...
Farm tech strategy 'may create mega-farm dominated countryside'
The Government's new Agri-Tech Strategy needs to avoid the mistakes of the past when it comes to introducing new agricultural technology to increase f...
New 100 HP Bobcat track loader widens scope
Lee Innes Limited, a building company based in Banff in Aberdeenshire, Scotland has purchased a new Bobcat T870H compact tracked loader from Inverurie...
Government to invest £160m in farming technology
Agricultural technology in the UK is to receive a £160m investment following the launch of a new strategy to deliver sustainable and affordable food f...
Teenager lands dream role at JCB
A teenager whose childhood nickname was 'Digger' has landed his dream role – as an apprentice at JCB. He has joined the company this week as part of a...
Royal Welsh Show: Kuhn to focus on machinery finance
Zero percent finance schemes offering farmers opportunities to spread new machinery investment costs were a focus on the Kuhn exhibit at Royal Welsh S...
Good performance against the odds for tractor maker
Despite challenging market conditions and the trauma of an earthquake in 2012, the manufacturer of Landini, McCormick and Valpadana tractors continued...
New Vredo overseeder is finalist at Livestock Event 2013
The new Vredo DZ Agri Air overseeder from JC Machinery made its debut at the Livestock Event and was celebrated by being awarded a certificate for rea...
New McCormick dealer for south Midlands
An enthusiastic new team at Rollason Engineering, a farm and garden machinery retailer that also undertakes service and repairs, is getting behind the...
JCB to create 300 jobs with logistics hub
JCB today announced plans to open a new facility in North Staffordshire in a move which will create hundreds of new jobs. The company - which curre...
First Holmer Terra variant chaser for UK sugar beet
The first Holmer Terra Variant systems tractor sugar beet chaser has been sold in the UK to Wickham Beet Harvesters of Bredfield near Woodbridge. The ...
Livestock 2013: John Deere at Livestock
John Deere's latest tractors and Gator utility vehicles are being shown at the Livestock Event 2013, where the company is once again sponsoring the ad...
JCB's Mud Run raises £40k for charity
Hundreds of competitors made a big splash for charity by digging deep to take on the challenge of the JCB Mud Run. The highly-popular event, now ...
Farmers urged to do homework on new generation urea fertilisers
Arable farmers who have traditionally shunned urea fertilisers should look again when covering next season's nitrogen requirements. New-generation ...
Livestock 2013: T4 debut tops off New Holland display
New Holland's brand new T4 tractor range will be making its eagerly-awaited debut at the Livestock Event next week. It will join an impressive line...
Precision guidance for all from John Deere
John Deere has established a new partnership with Leica Geosystems to provide mobile phone network RTK (NRTK) corrections via the company's dealers in...
'Dream job' showcases New Holland career opportunities
The great-grandson of a Leicestershire dairy farmer is showing the world he truly has agriculture in his blood as he lights the way for those standing...
Krone baler shows biomass benefits
A trial on a Scottish farm as part of the commissioning process for a new biomass boiler has shown the benefits of creating high density bales using a...
New Holland dealers celebrate awards success
New Holland has celebrated the success of its extensive dealer network awarding four accolades recognising excellence in performance and service quali...
Farm machinery in demand at Shrewsbury auction
Used farm machinery was in great demand at a successful collective auction at Shrewsbury Auction Centre on June 7. Auctioneers Halls were 'delighte...
Cereals 2013: Home built double press cultivator
There was considerable interest among the visitors to Cereals 2013 who saw the double press which Matt Brown designed and made to work the 500 arable ...
Graduation day celebrations for New Holland apprentices
It was the turn of a fresh cohort of apprentices to celebrate their graduation this year from New Holland's specialist training course. 26 graduate...
Farm drone spots game on the fields
Thousands of deer, hares and pheasants die annually in agricultural fields when large farm machinery are harvesting. It is especially so during summer...
Sumo's tillage seeder in action at Cereals 2013
The Sumo DTS (Deep Tillage Seeder) is a one-pass drill that can work straight into previous crop residues and cover crops, as part of integrated conse...
CBI call for more funding for the UK's innovation agency
The Confederation of British Industry (CBI) has today called for the Government to allocate more funding for the UK's innovation agency – the Technolo...
JCB announces successor to CEO Alan Blake
JCB has announced a successor to Chief Executive Officer Alan Blake who is to retire at the end of the year. Alan, 63, joined JCB in 1989 and becam...
Young farmer tells FUW leaders about his globetrotting tractor work
Following in the footsteps of Hollywood actress Angelina Jolie after she visited war-ravaged refugees in a camp near Turkey's border with Syria is jus...
BDA best in CLAAS for preventing harvest disruption
The time critical logistics of one UK company will play a vital part in minimising harvesting machinery downtime this spring, as farmers in UK and Ire...
Vintage tractors on display at South West festival
The Gloucestershire Steam & Vintage Extravaganza, now in its 39th year, will take place once again at South Cerney Airfield, Cirencester. From Friday ...
AgriArgo invests in parts support - new area manager appointed
An ambition to work for a leading tractor manufacturer has been fulfilled with the appointment of Tony Hinks as area manager for service parts at Agri...
Knight announces major expansion of cultivator range
Knight Farm Machinery announces a major expansion of its cultivation machinery range as the result of a marketing agreement with Bednar FMT sro, based...
Tillerstar more than a match for conventional potato bed preparation
Growers at the Cereals Event will get to see the unique Tillerstar one-pass implement for potato bed preparation in action in the live working area fo...
New Bobcat loader helps landscape centre keep up with demand
Essex-based The Landscape Centre Ltd has purchased a new Bobcat S530 skid-steer loader for the company's Chelmsford branch at Does Corner outside Hatf...
Fendt launch Katana 65 forage harvester
Fendt is launching the Katana 65 self-propelled forage harvester in the UK and Eire, following its introduction in France and Germany. Earlier this mo...
Portable space heaters in agriculture
Portable air heaters are commonly used in many areas of agriculture. Quick installation, low running costs as well as high efficiency make them the id...
Mitas signs up AGCO for four years
The manufacturer of agricultural machinery AGCO has signed a four-year agreement with Mitas to supply farm tyres to Fendt, Massey Ferguson, Valtra, Ch...
Yorkshire compact specialist adds McCormick X10 tractors
Big power farm tractors tend to catch the limelight yet their little counterparts with modest power but great manoeuvrability play an important role i...
Researchers collaborate on unique cow monitoring system
COWTrack is the name of a new research project between livestock researchers at Aarhus University and logistics and integratorvirksomheden Lyngsoe Sys...
Contractor reduces combine harvester width with Michelin
Abbey Farm Contractors Limited, a Lincolnshire-based agricultural contractor, has reduced the track width of its John Deere combine harvester by 600mm...
First Branson tractor sold in the UK
Joe Gathercole has been in farming since 1976 and reckons his new Branson 4520R compact tractor is "the best compact tractor I've ever used." He to...
McCormick MC130 is a repeat choice for Yorkshire farm
The first customer to take delivery of a tractor from new McCormick dealer Yorkshire Handlers put it to work getting land ploughed and spring barley s...
The Italian connection comes to market
A UK based agricultural machinery distributor has announced it is bringing a top class range of Italian manufactured machinery including tedders, rake...
Three year 0% finance schemes now running on Kuhn drill range
Two new three year finance schemes have been introduced on all Kuhn drills and drill combinations from May 2013, each offering autumn payment periods ...
New John Deere FarmSight dealer services
John Deere's newly established FarmSight service packages are now available from participating dealers in the UK and Ireland, and will be featured for...
Peter Leech retires from John Deere
Peter Leech has retired from John Deere, after a career with the company spanning nearly 42 years. Leech joined John Deere Limited at Langar, Notti...
High capacity venturi unit for rapid pesticides loading
A high capacity venturi unit that sucks pesticides out of induction hoppers at a rapid rate during chemical loading has been developed by Pentair for ...
EU to support promotion of agricultural products
The European Commission has approved 22 programmes to promote agricultural products in the European Union and in third countries. The total budget...
Twin outlet spray nozzle for faster spraying
A new 035 size for the Hypro GuardianAIR Twin range will be shown for the first time at Cereals 2013. The versatile drift-reducing nozzle with the fin...
Case IH to unveil revisions to Axial Flow combines at Cereals 2013
A redesigned cab which creates the ultimate in operator environment, together with new unloading technology that incorporates a folding auger and indu...