Machinery and Spares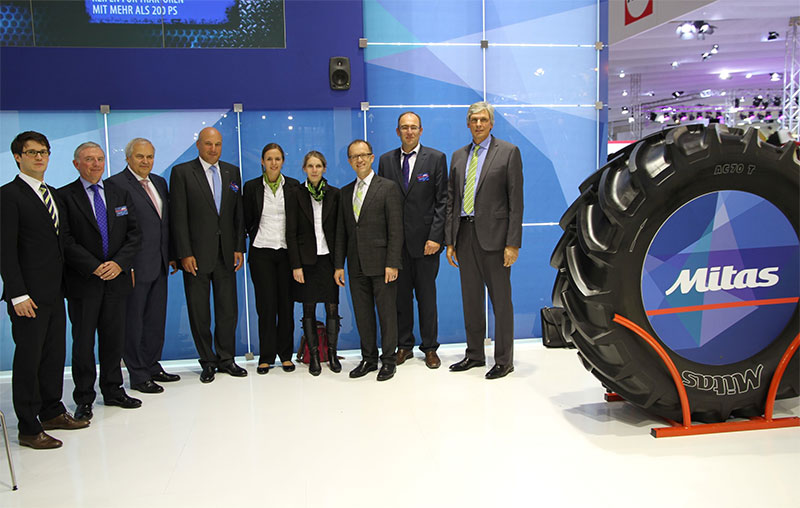 JCB plans Indian expansion
JCB has unveiled plans to expand its manufacturing operations in India by investing £62 million in a new construction equipment factory on a 70 acre s...
Bryce Suma Powershift wins awards
A compact self-propelled post driver added to the Bryce Suma range is designed as a one-man machine to handle fencing operations in the most challengi...
'Strong' demand for farm machinery at Shrewsbury auction
Auctioneers Halls reported strong demand for farm machinery at their bi-monthly plant and agricultural machinery collective auction at Shrewsbury Auct...
John Deere to release new 6m tractors
The newly styled 6M Series includes tractors from 115hp to 170hp (EC 97/68), and a 140hp model featuring the highest power level yet from a John Deere...
John Deere release new 900 series baler
John Deere's new 900 Series round baler with Fast Release System (FRS), which can lead to savings of up to an hour a day during harvest, has had a tho...
T-T Pumps supplies separator system for pig producers
Pump manufacturer T-T Pumps in partnership with Filpumps of Aberdeen has recently supplied a separator system for Pig producer DW Argo in Scotland. ...
One-pass Tillerstar to feature at BCGA demo day
A unique British-built implement that reduces root crop establishment costs will be a star turn at the British Carrot Growers' Association annual demo...
Clean up with BroomEx
Here's an extensive range of pedestrian power brooms that is tailor-made for hire outlets, private estates, equestrian centres, the agricultural and c...
Unique Tillerstar in series production
It's a rare event when a genuinely new idea for a farm implement comes along – new products are often variations on an existing theme. But the intr...
John Deere sells 1000th sprayer
John Deere has sold its 1000th sprayer in the UK and Ireland, to Hertfordshire arable farmer Jimmy Hunter. A full-specification 5430i self-propelled m...
New Holland to launch new fixed chamber balers
The new Roll Baler range of heavy duty fixed chamber round balers is set to be introduced by New Holland. The three model line-up, featuring the stand...
New John Deere forage harvesters for 2013
Innovative kernel processing technology is a major feature of John Deere's new 7080 Series self-propelled forage harvesters, which will be available f...
McCormick X70 Series makes public working debut
As sales of McCormick XTX and TTX six-cylinder tractor ranges draw to a close after a successful run, their replacement in the 150hp to 230hp sector –...
New Holland confirms emissions reduction strategy
New Holland Agriculture has confirmed its Tier 4B strategy for its entire model line-up, which will provide tailored emissions technology. This is ...
At Livestock 2012: Broadwood International
Broadwood International bring Hustler Chainless Balefeeders and SweepEx push brooms to Livestock 2012. The Livestock Event is Europe's leading eve...
John Deere tops innovations medal table
According to research conducted by Eichberg Consulting, a German market strategy consultant for agribusiness and trade shows, John Deere leads the lis...
Kubota B2420 at Kelsey Farm
After a four year search to find the perfect tractor for the top fruit growing operation at Kelsey Farms in Kent, Jon Holt-Rix has been so impressed w...
Challenger launch new MT700 series
Three new models in the Challenger MT700D Series have been launched by combining advanced engines and leading Mobil-Trac systems. The MT700D Series...
EU must re-think science based agriculture, CPA warns
The EU must re-think its stance on modern, science-based agriculture or risk a food crisis with 'potentially devastating humanitarian consequences', t...
New venture for machinery dealership supplying McCormick tractors
An established farm machinery dealership that helps farmers with their equipment needs has started a new venture supplying McCormick tractors. Rich...
First McCormick customer for Read's new venture
Dairy farmer Nick Hutton and his brother Ben have become the first McCormick customer since Read Agriservices started their new venture by taking the ...
McCormick dealer Hilton Machinery strengthens after-sales service
Two key staff appointments at Hilton Machinery, the Market Drayton-based dealer for McCormick tractors, will strengthen its after-sales service to cus...
JCB celebrates engine production milestone
JCB has celebrated a significant manufacturing milestone – the production of the 200,000th JCB Dieselmax engine. The first JCB engine rolled off t...
New McCormick enterprise for Scottish machinery dealer
McCormick tractors are being re-introduced into the Scottish Borders with the appointment of G Marshall (Tractors) Ltd at St Boswells as the sales and...
Hire firm Hawk orders McCormick six-cylinder tractors for 2012 fleet
A consignment of 20 new McCormick tractors is being handed over to one of Britain's leading tractor rental companies. Hawk Tractors will supply the...
Report highlights role of hi-tech agriculture
The importance of agricultural science and technology in meeting the world's burgeoning demands on food, feed and fuel have been highlighted in a majo...
Lincs businesses join forces to strengthen McCormick tractor sales and support
JPM Agricultural acquires the assets and takes on staff of MW Shepherd, appointed McCormick tractor sales and service dealer for north-east Lincs, Mar...
Sprayer manufacturers quick to adopt ProClean two-nozzle container rinsing system
A number of crop sprayer manufacturers have adopted a unique two-nozzle pesticide container rinsing system. The combination of Hypro's ProClean rot...
New VPTech inclined nozzle is the ideal choice for autumn grassweed spraying
The new VPTech nozzle assembly introduced by Hypro is designed to provide the ideal spray configuration for pre-and post-emergence autumn sprays. It d...
Quad-X top the field
Quad-X, UK manufacturer based in Co Antrim, have spent the last few years liaising closely with a number of farmers and contractors to develop an inno...
MF tractor stars at world premiere of Tortoise in Love film
A shiny red Massey Ferguson tractor graced the red carpet at the world premiere of the new movie, Tortoise in Love, at London's Leicester Square on 24...
June machinery auction breaks records
Auctioneers Halls reported their best ever plant and agricultural machinery collective auction result at Shrewsbury Auction Centre on June 1. The ...
Cornish inventor reveals Bag Lifter and wins gold
Trenona Limited were almost "blown away" by winning this year's Machinery Competition - Gold Medal Award for the Trenona Bag Lifter. Despite the h...
Sorting arable and grass tasks
Investment in a purpose-designed grassland subsoiler can be more easily justified if the implement is versatile enough to also handle arable tasks, ac...
Farm tech firms to integrate systems
Two leaders in the farm information technology market have integrated their systems to form CropWalker Mapping. Patchwork Technology and Muddy Boot...
Precision drilling world record broken
Claas and Horsch set a new world record on 26th April by drilling 448.29 ha in 24 hours with the Maestro 24 SW drill and the Claas Xerion 5000 Trac tr...
New tractor a delight for North Yorks farmer
Whether farming fifty acres or five hundred, no-one working the land can do without a tractor. So it's little wonder that Colin Boocock, who run...
New Holland to launch baler at Cereals
New Holland has chosen the forthcoming Cereals Show at Boothby Graffoe, Lincolnshire to mark the global launch of the successor to the BB9000 big bale...
ARGO report increased profits
ARGO Tractors SpA achieved a 16 per cent increase in sales revenues in 2011 as greater demand for its Landini, McCormick and Valpadana products was me...
No margin of error with Enviromist sprayers
Eliminating weeds in the crop and weed seed free crop yield are not the only priorities in contemporary arable farming. Farmers are increasingly mindf...
New quad potato planter from Standen-Pearson
As year on year demand continues to increase for Standen-Pearson potato planters, a new 3-bed model has been introduced. The new SP644-RT model is ...
McCormick X70 series to debut at Grassland and Cereals events
A new five-model range of six-cylinder tractors will be unveiled at Grassland UK and the Cereals Event as McCormick distributor AgriArgo UK prepares t...
Global metals production increases
The global production of key metals increased more than 14 percent in 2010 marking a robust recovery from the sharp decline spurred by the 2009 global...
CNH tractors to be developed at new Argentine plant
CNH, part of Fiat Industrial, today announced further investments to its facility in Cordoba, Argentina. The new investments, which are in addition to...
Records broken at Stone collective auction
Auctioneers Halls' March collective machinery auction at The Gallops, Stanklyn Lane, Stone, near Kidderminster was a record breaker. A record...
New Holland small tractor range set for first UK showing
New Holland's new T5 range will make its UK debut at the upcoming Grassland UK event at the Bath and West Showground in Shepton Mallet. The ...
Robots set to transform agriculture
With reported agricultural labour shortages all over the world and demographics showing the average age of farmers steadily climbing, complacency abou...
New Holland dealership expands
North Wales based New Holland dealership Malpas Tractors has launched a new depot in Denbigh. Opened in January, the Denbigh branch has already so...
Top resources for innovative vegetable cultivation and harvesting equipment
The new owners of a British-built range of field equipment for potato and root crops promise to raise engineering standards and shorten production lea...
Micro-system wins gold at Polagra exhibition
Micro-system has won a Gold medal at Polagra-Premiery agricultural exhibition in Poland with its T430Osza sprayer. The Micro-system T430Osza spraye...