Machinery and Spares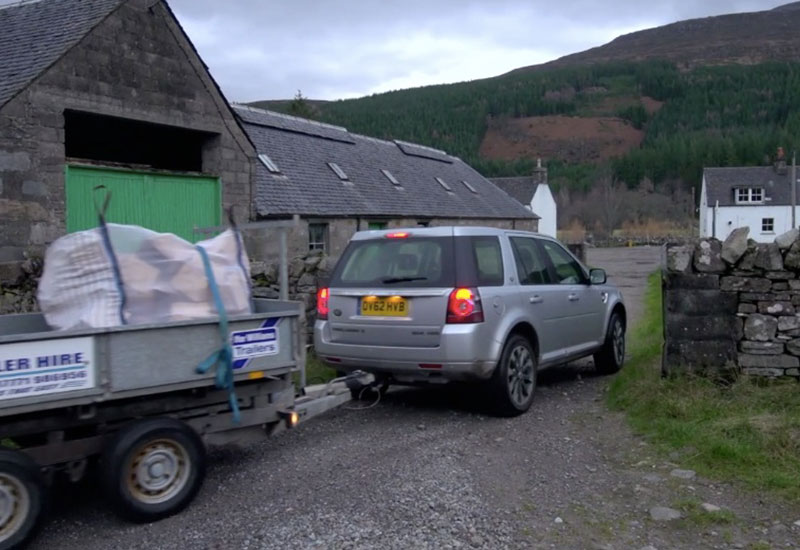 New Holland sets the pace at BBC Harvest
Is it feasible that agriculture should step back one hundred years to try and regain a little of the romanticism that seems to have embraced harvest t...
JCB announces next stage in engine development
JCB today announced the next stage of its engine strategy with the news it has forged a partnership with a leading global manufacturer to produce engi...
Optimising livestock production with Precision Technology
Throughout October and November, the Royal Agricultural Society of England is hosting a series of farm visits and workshops across the country specifi...
Knight shows latest machines at cultivation events
Knight Farm Machinery had their new Bednar cultivators out in force at the Power in Action and Tillage-Live events this month, along with a new sub-so...
Mitas row-crop tyres fitted to leading vegetable grower's Claas fleet
A fleet of 13 new 140hp, four-wheel-drive Claas Arion 610C tractors have had their original factory-fit tyres replaced with Mitas row-crop tyres befor...
Deere dealer Ben Burgess acquires Anker of Coates
John Deere's longstanding eastern counties dealership Ben Burgess & Co Ltd has taken over the trading activities of Anker of Coates. With its headq...
Chief Financial Officer appointment at Fiat Industrial
Fiat Industrial S.p.A. and CNH Global N.V. today announced that Chief Financial Officer (CFO), Pablo Di Si, has resigned to pursue other interests. ...
Landini launches 'new-look' 5-H tractor
A new version of the Landini 5-H Series tractor has been launched with a more fuel-efficient engine, new power options and a refreshed cabin interior ...
Case IH launches the new Quadtrac series
This new Case IH Quadtrac series sets the industry benchmarks in terms of lugging power, traction, protecting the ground and fuel efficiency, apprecia...
Case IH extends round baler range
Harvesting green forage, silage and straw is subject to increasing harvest material prices, wider swath widths and tight time frames for working in th...
Improved support for McCormick users through acquisition
Farmers on the Llyn Peninsular and surrounding areas in North Wales will have easier access to the McCormick tractor parts and other after-sales servi...
New Knight-Bednar cultivators in action this autumn
The Power in Action and Tillage-Live events this autumn will give UK farmers their first opportunities to see the Czech-built Bednar cultivators, now ...
Fullwood appoints new milking machinery dealer on Isle of Man
UK based milking equipment manufacturer, Fullwood Limited, has announced the appointment of a new installation and service dealer based on the Isle of...
Bigger McCormick territory and new salesman for HJR Agri
A farm machinery business set up just five years ago is already expanding thanks to the standard of parts and service back-up it provides customers. ...
Fruit Focus welcomes to new Boomer 50 from New Holland
New Holland's brand new Boomer 50 compact tractor got a warm welcome both from the weather and visitors when it was introduced to this year's Fruit Fo...
New venture for McCormick tractors in Aberdeenshire
Two independent agricultural engineers hope that taking on a new tractor franchise for the first time will give a significant boost to their businesse...
Combine and Round Baler tour showcases New Holland technology
Farmers across the UK will be able to get to grips with the latest New Holland harvest technology during a debut tour of the newCX8080 Elevation combi...
Don't risk compromising machine performance by fitting budget tyres, warns Mitas
Replacing premium-brand tyres fitted by leading farm machinery manufacturers as original equipment with 'budget' alternatives will compromise performa...
New JCB wheeled agri loader launched at Cereals
A new version of the UK's most popular high performance wheeled loader is launched at the Cereals Event by JCB Agriculture to put greater productivity...
JCB 435S Agri sets new standards for agricultural loader
A new version of the UK's most popular high performance wheeled loader has been developed by JCB Agriculture to put greater productivity in the hands ...
New Holland tractors star in Top Gear tribute
Tractors built at New Holland's factory in Basildon, Essex, starred in a tribute to British manufacturing staged by BBC Two's 'Top Gear' team outside ...
World ploughing champ tyre goes to Mitas
Barbara Klaus, an Austrian driving a New Holland tractor mounted with Mitas tyres, took first place in the conventional ploughing world championship h...
Trelleborg launches new tyre solution for sugar cane applications
Trelleborg, global developer and supplier of tyres for the agricultural industry, has launched its 710/70R38 TM800 SugarCane specifically engineered f...
Case IH appoints new Harvesting Sales Manager
Case IH has appointed Robin McArd as Harvesting Sales Manager for the UK and ROI. In his new role Robin has responsibility for sales of Case IH combin...
Massey Ferguson set to launch MF 8700 tractor series
With Power Management generating up to 400hp, the new MF 8700 Tractor Series includes the most powerful tractors from Massey Ferguson ever built. S...
New Holland launches latest generation of combines
New Holland has launched the latest generation CX7000 and CX8000 Elevation super conventional combines. In just over a decade, over 10,000 CX combines...
Micron to showcase specialist horticultural sprayers
Micron Group, manufacturers of precision spraying equipment, will be exhibiting at the Four Oaks show on 3-4th September 2013. The company showcase it...
Agri-tech strategy 'does not go far enough', say engineers
The Institute of Agricultural Engineers have said the government's £160m Agri-tech strategy 'still has some way to go' before engineering is properly ...
Agility in and around buildings makes new McCormick X60 a hit
What's a few extra degrees steering angle worth on a tractor working amongst cattle yards? A good 20 minutes knocked of feeding time, reckons Powys fa...
HRN Tractors opens new dealer outlet
John Deere agricultural dealer HRN Tractors Limited has opened a new outlet at Muir of Ord in Ross-shire, joining the existing HRN group outlets at In...
JCB secures £53m order for 900 telescopic handlers
JCB today announced that it had won one of the biggest single orders in its history after securing a deal for 900 machines worth more than £53 million...
Perkins targets Ag sector with new compact four cylinder engine
Improved performance, installation flexibility and dependability are the major benefits delivered to customers by the new Perkins 854F-E34TA engine. D...
Police recover stolen loader in Holland
A JCB farm loader stolen by thieves in the UK was traced and recovered less than 24 hours later in Holland after an international police pursuit. T...
Farm tech strategy 'may create mega-farm dominated countryside'
The Government's new Agri-Tech Strategy needs to avoid the mistakes of the past when it comes to introducing new agricultural technology to increase f...
New 100 HP Bobcat track loader widens scope
Lee Innes Limited, a building company based in Banff in Aberdeenshire, Scotland has purchased a new Bobcat T870H compact tracked loader from Inverurie...
Government to invest £160m in farming technology
Agricultural technology in the UK is to receive a £160m investment following the launch of a new strategy to deliver sustainable and affordable food f...
Teenager lands dream role at JCB
A teenager whose childhood nickname was 'Digger' has landed his dream role – as an apprentice at JCB. He has joined the company this week as part of a...
Royal Welsh Show: Kuhn to focus on machinery finance
Zero percent finance schemes offering farmers opportunities to spread new machinery investment costs were a focus on the Kuhn exhibit at Royal Welsh S...
Good performance against the odds for tractor maker
Despite challenging market conditions and the trauma of an earthquake in 2012, the manufacturer of Landini, McCormick and Valpadana tractors continued...
New Vredo overseeder is finalist at Livestock Event 2013
The new Vredo DZ Agri Air overseeder from JC Machinery made its debut at the Livestock Event and was celebrated by being awarded a certificate for rea...
New McCormick dealer for south Midlands
An enthusiastic new team at Rollason Engineering, a farm and garden machinery retailer that also undertakes service and repairs, is getting behind the...
JCB to create 300 jobs with logistics hub
JCB today announced plans to open a new facility in North Staffordshire in a move which will create hundreds of new jobs. The company - which curre...
First Holmer Terra variant chaser for UK sugar beet
The first Holmer Terra Variant systems tractor sugar beet chaser has been sold in the UK to Wickham Beet Harvesters of Bredfield near Woodbridge. The ...
Livestock 2013: John Deere at Livestock
John Deere's latest tractors and Gator utility vehicles are being shown at the Livestock Event 2013, where the company is once again sponsoring the ad...
JCB's Mud Run raises £40k for charity
Hundreds of competitors made a big splash for charity by digging deep to take on the challenge of the JCB Mud Run. The highly-popular event, now ...
Farmers urged to do homework on new generation urea fertilisers
Arable farmers who have traditionally shunned urea fertilisers should look again when covering next season's nitrogen requirements. New-generation ...
Livestock 2013: T4 debut tops off New Holland display
New Holland's brand new T4 tractor range will be making its eagerly-awaited debut at the Livestock Event next week. It will join an impressive line...
Precision guidance for all from John Deere
John Deere has established a new partnership with Leica Geosystems to provide mobile phone network RTK (NRTK) corrections via the company's dealers in...
'Dream job' showcases New Holland career opportunities
The great-grandson of a Leicestershire dairy farmer is showing the world he truly has agriculture in his blood as he lights the way for those standing...
Krone baler shows biomass benefits
A trial on a Scottish farm as part of the commissioning process for a new biomass boiler has shown the benefits of creating high density bales using a...