Machinery and Spares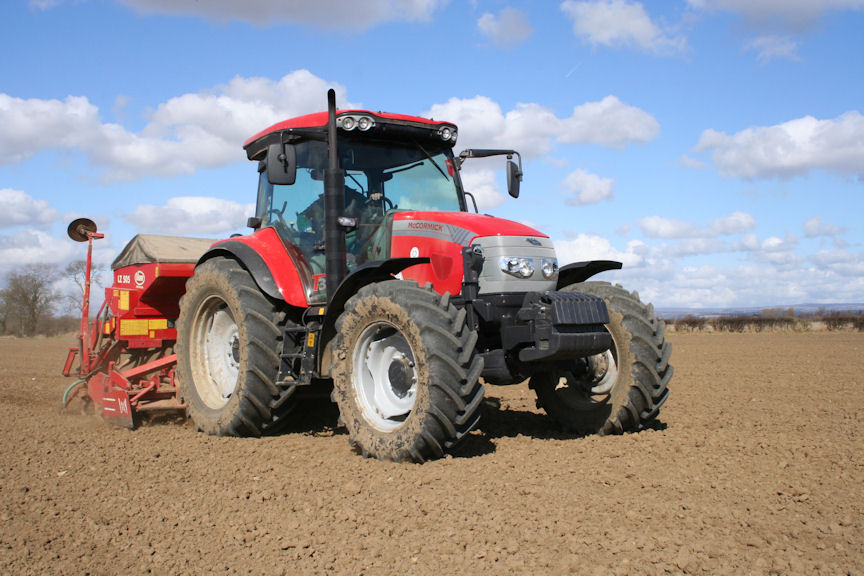 Cornish inventor reveals Bag Lifter and wins gold
Trenona Limited were almost "blown away" by winning this year's Machinery Competition - Gold Medal Award for the Trenona Bag Lifter. Despite the h...
Sorting arable and grass tasks
Investment in a purpose-designed grassland subsoiler can be more easily justified if the implement is versatile enough to also handle arable tasks, ac...
Farm tech firms to integrate systems
Two leaders in the farm information technology market have integrated their systems to form CropWalker Mapping. Patchwork Technology and Muddy Boot...
Precision drilling world record broken
Claas and Horsch set a new world record on 26th April by drilling 448.29 ha in 24 hours with the Maestro 24 SW drill and the Claas Xerion 5000 Trac tr...
New tractor a delight for North Yorks farmer
Whether farming fifty acres or five hundred, no-one working the land can do without a tractor. So it's little wonder that Colin Boocock, who run...
New Holland to launch baler at Cereals
New Holland has chosen the forthcoming Cereals Show at Boothby Graffoe, Lincolnshire to mark the global launch of the successor to the BB9000 big bale...
ARGO report increased profits
ARGO Tractors SpA achieved a 16 per cent increase in sales revenues in 2011 as greater demand for its Landini, McCormick and Valpadana products was me...
No margin of error with Enviromist sprayers
Eliminating weeds in the crop and weed seed free crop yield are not the only priorities in contemporary arable farming. Farmers are increasingly mindf...
New quad potato planter from Standen-Pearson
As year on year demand continues to increase for Standen-Pearson potato planters, a new 3-bed model has been introduced. The new SP644-RT model is ...
McCormick X70 series to debut at Grassland and Cereals events
A new five-model range of six-cylinder tractors will be unveiled at Grassland UK and the Cereals Event as McCormick distributor AgriArgo UK prepares t...
Global metals production increases
The global production of key metals increased more than 14 percent in 2010 marking a robust recovery from the sharp decline spurred by the 2009 global...
CNH tractors to be developed at new Argentine plant
CNH, part of Fiat Industrial, today announced further investments to its facility in Cordoba, Argentina. The new investments, which are in addition to...
Records broken at Stone collective auction
Auctioneers Halls' March collective machinery auction at The Gallops, Stanklyn Lane, Stone, near Kidderminster was a record breaker. A record...
New Holland small tractor range set for first UK showing
New Holland's new T5 range will make its UK debut at the upcoming Grassland UK event at the Bath and West Showground in Shepton Mallet. The ...
Robots set to transform agriculture
With reported agricultural labour shortages all over the world and demographics showing the average age of farmers steadily climbing, complacency abou...
New Holland dealership expands
North Wales based New Holland dealership Malpas Tractors has launched a new depot in Denbigh. Opened in January, the Denbigh branch has already so...
Top resources for innovative vegetable cultivation and harvesting equipment
The new owners of a British-built range of field equipment for potato and root crops promise to raise engineering standards and shorten production lea...
Micro-system wins gold at Polagra exhibition
Micro-system has won a Gold medal at Polagra-Premiery agricultural exhibition in Poland with its T430Osza sprayer. The Micro-system T430Osza spraye...
JSR launch 'Faster Finishing' Boar
Pig and Poultry Fair 2012 will see the launch of a keenly anticipated new Sireline, the 'faster finishing' JSR Geneconverter 800m Boar, by...
Cold weather brings fuel theft risks
NFU Mutual, a leading rural insurer, is advising those who live and work in the countryside to protect their heating oil and red diesel in light of th...
New Holland discusses sustainable agriculture in Brussels
The group, led by Chief executive Franco Fusignani, was invited by Paolo De Castro, Chair of the Committee on Agriculture and Rural Development, to at...
Agri-seeders sold into Ireland for grassland rejuvenation
Louth based grass seeding contractor Fergie O' Neill has purchased a Vredo Agri Seeder which is specifically designed for stitching grass into e...
Golden MF 7624 celebrates award-winning design
Massey Ferguson is celebrating the remarkable award-winning success of the MF 7600 Series by unveiling a special 'Golden' MF 7624 at the T...
Four new models join MF 7600 series
Massey Ferguson is extending its award-winning MF 7600 Series with the addition of four new, six cylinder, medium power tractors from 140hp to 175hp (...
ForFarmers Group to acquire BOCM PAULS
BOCM PAULS has announced today that ForFarmers Group, which has its Head Office in The Netherlands, is to acquire BOCM PAULS through the acquisition o...
Spaldings expand Tungsten replacement parts range
Spaldings today announced the expansion of their Tungsten replacement parts with new additions to many of their ranges including Plough, Cultivator an...
Take care when switching to row-crop tyres
Farmers should exercise caution when switching from conventional wheels and tyres to row-crop equipment this spring, advises the UK's leading of...
Gov't to cut red tape for farming industry
The Government have announced a raft of measures to free farmers from 'unnecessary burdens' to help their businesses become more efficient...
Record results for Deutz
The 2011 financial year was one of the best in DEUTZ AG's history even though the global economy increasingly deteriorated, particularly in the ...
Farmers urged to involve their spreading contractor
A specialist in field application of farm slurry and biogas plant digestate has appealed to farmers to involve their contractor when planning new or u...
Kuhn expands forage harvesting range
Kuhn's new FB 2130 fixed chamber round baler is the latest model to be introduced to the company's comprehensive forage harvesting range. ...
CNH Announces partnership with Orkel AS
CNH, the agricultural and construction equipment business, today announced a long term strategic partnership with Orkel AS, the Norwegian market leade...
Research reveals rise in GPS vehicle thefts
New research from the Sentinel consortium reveals a rise in vehicle thieves using jammers in an attempt to outsmart the police. Criminal gangs can eas...
Fendt launches new 300 Vario range
With its quality, reliability and ease of operation, the 300 Vario range from Fendt has found many enthusiastic users since 2006. In light of the emis...
Specialisation suits Sumo's newest dealer
Focusing on selling and supporting farm equipment without the distraction of a tractor or combine franchise is proving to pay dividends for the latest...
Farmers face fine for lack of broadband
Government plans to push for more online farming registration will penalise farmers in rural Wales, according to Annette Burgess of eXwavia. Farmer...
Tractor dealership re-launches with open day
An open day being held at a Bucks agricultural engineering firm will give farmers, contractors and other rural businesses a flavour of improvements to...
Farm tractor dealership re-launches with open day in April
An open day being held at a Bucks agricultural engineering firm will give farmers, contractors and other rural businesses a flavour of improvements to...
Tractor choice gamble turns out to be a winner
Dairy farmer Ian Barker admits to being a bit apprehensive about buying his first Landini tractor two years ago; he felt it was a big gamble changing ...
John Deere dealers in acquisition agreement
The boards of P Tuckwell Ltd and J E Buckle Ltd have today, 1st March 2012, announced that an agreement has been reached for the acquisition of Buckle...
Award winning TONI at Precision Farming
On their stand at this year's Precision Farming Event, CLAAS UK will be profiling their new TELEMATICS on IMPLEMENT (TONI) system, which is set ...
Farming event demonstrates new technology
The latest farming technology will be demonstrated at Soil, Water and Precision Management – being held at Easton College on 15 March. This new CCA t...
GEA Farm Technologies engineers automatic milking success
Ben Morris, 24, and Ed Whately, 25, joined GEA Farm Technologies in February as part of a major programme to raise the profile and support to its firs...
1,900 lots sold at Stone machinery auction
A large crowd enjoyed the winter sunshine as 1,900 lots went under the hammer at Halls' successful monthly collective machinery auction at The G...
John Deere's FarmSight 'main focus' of 2012 events
John Deere's new global suite of advanced technologies under the name FarmSight, designed to help optimise machinery and farm operations, will b...
Calls for CAP greening common sense
Common sense must be injected into the European Commission plans to green the single farm payment, the NFU has told the EU's leading policy make...
New Holland appoints Waldron as Area Manager
New Holland has announced the appointment of Joe Waldron as After Sales Area Manager for its dealer network in the South West region. Joe brings w...
Farmers get lessons in health and safety
More than 100 farmers from across Devon and Cornwall have taken part in a series of practical workshops to highlight health and safety and cut the num...
John Deere innovations recognised at Spanish trade fair
A number of innovative John Deere solutions have been recognised with awards at this year's FIMA fair in Zaragoza (14-18 February 2012), Spain&r...
Gov't push on metal theft 'welcome' - CLA
The CLA today welcomed the confirmation by two Government ministers of a clampdown on metal theft by taking the cash out of the system and introducing...