Machinery and Spares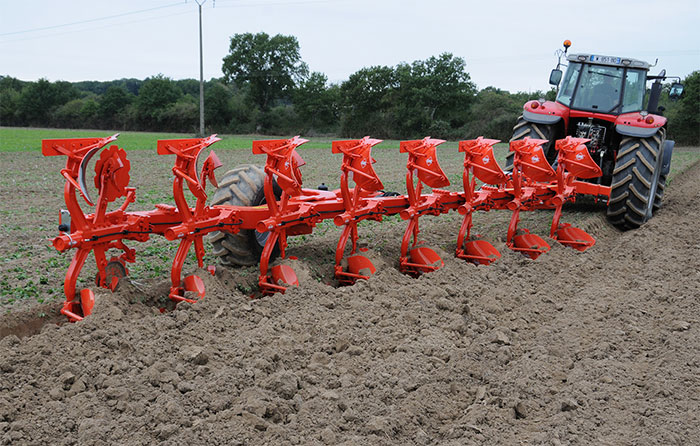 Knight to show cultivator range at Cereals
Knight Farm Machinery will be showing two new additions to the Bednar range of cultivators at Cereals 2014. Last year the company was appointed the...
Agility makes Powerfarm a welcome ally
The agility and fuel efficiency of his new tractor impressed Will Hornsby during the silage-making campaign last year – and it impressed his friends a...
New Holland grain header to debut at Cereals
Cereals 2014 will be the stage for the UK debut of the Varifeed 41-foot grain header for the New Holland CR combine harvester. On display at New Ho...
New John Deere trailed sprayers at Cereals 2014
John Deere's new mid-specification M-Series trailed sprayer range makes its working debut at Cereals 2014, in the Sprays & Sprayers demonstration aren...
Micron to unveil its latest innovations at Cereals
Micron Group, precision spraying specialists, are set to unveil a whole host of product innovations at this year's Cereals event. Specifically, visito...
Case launch new orchard and vineyard tractors
Case IH has launched two new specialist models, the Quantum F for use in orchards, together with the ultra-narrow Quantum V for use in vineyards and s...
Claydon Drills to exhibit crop technology at Highland Show
Claydon Drills, which manufactures the patented Claydon Strip Seeding System, will be exhibiting the latest in its crop establishment technology at th...
Propeller Mixer with trolley for homogenised slurry
For the mixing of pig slurry under slats or in covered slurry silos, Landia's Propeller Mixer with Trolley is highly effective in homogenizing layers ...
Case IH to exhibit every model at Royal Highland Show
Case IH will exhibit almost every model in its comprehensive range at the 2014 Royal Highland Show, including Quadtrac, Magnum CVX, Puma CVX, Maxxum C...
European Patent Office upholds Claydon Drills' patent
Claydon Drills has successfully defended and upheld a challenge to the patent on its twin-tine seeding system following proceedings at the European Pa...
Scottish farmers move back to fertiliser placement
Arable farmers in Scotland are changing back to combination drilling in a big way due to better crop establishment, enhanced plant nutrition, improved...
Spray nozzle selection easier to manage with Duo React
A new spraying system developed by Pentair Hypro makes it possible for operators to change from one nozzle to another at the flick of a switch. The...
New Holland fundraiser cycles over land and sea
A New Holland employee raised over £8,000 on a charity cycle ride that crossed the Irish Sea to thank two hospitals for their support when his son tra...
Tributes paid as link with JCB's past dies aged 87
Tributes have been paid to one the first ever people to work at JCB who has died at the age of 87. John Wheeldon was the 6th person recruited by comp...
Muscle for cleaning out 17th Century farm buildings
Farming the picturesque fields around Buttermere in the midst of the Cumbrian Fells has its appeal but also its challenges – not least coping with the...
Fastracs come to aid of flood hit farmers
The Environment Agency is spearheading massive flood relief efforts in the Somerset Levels with the help of a fleet of six JCB machines. Two of the Br...
Leading figure in Shropshire equipment sales sets up new McCormick dealership
A new farm machinery dealership has started trading near Shrewsbury to service the tractor and equipment needs of farmers and contractors in southern ...
Farmers alerted after muddy roads cause peak in accidents
Farmers and landowners have been issued advice on how to prevent excessive mud being left on roads, which can cause serious accidents. Prompted by ...
Agricultural vehicles given MOT exemptions in EU Parliament
The EU Parliament has given exemptions for agricultural vehicles from MOT testing following a vote and lobbying by farming groups. After a 'trilogu...
Prince's Countryside Fund and Land Rover join forces again to support rural Britain
Following the success of the inaugural Prince's Countryside Fund and Land Rover Bursary in 2013, the two organisations are once again combining forces...
Shrewsbury collective machinery auction draws large crowd
Auctioneers Halls reported one of the largest ever crowds for its bi-monthly collective plant and agricultural machinery auction in Shrewsbury last mo...
Embrace technology to maintain food security - CLA
The CLA has told the Environment, Food and Rural Affairs (Efra) Select Committee that the UK must invest in technology to protect food security. Gi...
New John Deere balers unveiled at Grassland
A new John Deere 800 Series mower-conditioner plus three new 400 Series fixed chamber round balers, including a wrapping baler model, can be seen work...
Drilling underway on SESVANDERHAVE trial sites
The first trial plots for the 2014/15 sugar beet crop are in the ground as leading sugar beet breeder SESVANDERHAVE UK drills its early sown bolting t...
Old Versus New to raise funds for flood-hit farmers
The mightiest of modern tractors will line up against their vintage counterparts this Sunday, 9 March, when Glamorgan NFU Cymru members put the wheels...
Cornish farm open day showcases advanced wind turbine
Cornish farmer Matthew Rowe, who has the UK's most advanced wind turbine on his Liskeard dairy farm, is hosting a second open day for the benefit of o...
Plumpton College Open Day
Plumpton College has an Open Day on Saturday 10th May 2014. There will be courses and careers advice, apprenticeships information, business trainin...
New Hypro spraying system at Precision Farming Event
A practical, affordable and reliable means of selecting different spray nozzles at the flick of a switch will be launched at the Precision Farming Eve...
John Deere receives two awards at FIMA
Two John Deere innovations have won awards at the 2014 FIMA show, one of Europe's leading agricultural equipment trade fairs held in Zaragoza, Spain i...
Massey Ferguson farm equipment now available in Russia
AGCO-RM, the joint venture between AGCO, a worldwide manufacturer and distributor of agricultural equipment, and Russian Machines, one of the leaders ...
Massey Ferguson tractors scoop awards at machinery show
Honours have gone to Massey Ferguson farm equipment at AGROmashExpo in Hungary and the Polagra-Premiery International Fair in Poland. The MF 5611 t...
Massey Ferguson and CEJA discuss future joint activities
As a newly-announced partner of CEJA (the European Council of Young Farmers), farm machinery specialists Massey Ferguson met in January with Matteo B...
AGCO releases major updates to its AgCommand fleet management technology product
AGCO, Your Agriculture Company (NYSE:AGCO), a worldwide manufacturer and distributor of agricultural equipment and infrastructure, released several ma...
John Deere receives two awards at FIMA 2014
Two John Deere innovations have won awards at the 2014 FIMA show, one of Europe's leading agricultural equipment trade fairs held in Zaragoza, Spain i...
New Holland enjoys a triple success at FIMA awards
The 2014 edition of FIMA, the International Fair of Agricultural Machinery in Spain, was a success for New Holland. The brand one the most prizes for ...
Inscapes acquires New Holland dealership
Inscapes, the Bridgend based sports ground engineering organisation, has acquired New Holland dealership JG Plant Ltd as a part of its growth and deve...
Micron presents latest innovations at LAMMA
One of UK's leading manufacturers of specialist spraying equipment, Micron Group, has presented its latest innovations at this year's Lamma event. The...
NFU seeks higher tractor speed limits
Farmers in Montgomeryshire have welcomed the opportunity, provided by the Department of Transport, to review the maximum speed limit for tractors on p...
JCB loans £750,000 fleet of machines to flood zones
Digger manufacturer JCB is to deploy a fleet of machines and operators to help families affected by the flood disaster zones. The company announced...
New Holland Agriculture enjoys a successful start to 2014: three FIMA and six AE50 innovation awards
New Holland Agriculture has confirmed its position as the leader in agricultural innovation with three awards from the FIMA jury. Opti-Grape™ technolo...
Knight announces high-performance cab option
Knight Farm Machinery used the 2014 LAMMA Show to announce that Category 4 cabs, giving drivers the highest standard of protection against hazardous s...
Kuhn Group to acquire Montana
Kuhn has announced that it has signed a principal understanding for the acquisition of Montana Indústria de Máquinas, headquartered in São José dos Pi...
New McCormick X7 tractor to debut at Yorkshire machinery show
The first Yorkshire Agricultural Machinery Show, being held on Wednesday, February 5 at York Auction Centre, Murton, will see the county's debut of th...
Case to show world's largest combine header at LAMMA
Developed to match the requirements of 12m Controlled Traffic Farming (CTF) systems, the use of which is increasing on farms throughout Europe, the ne...
Case IH exhibits Platinum Edition Puma at LAMMA
Case IH is celebrating the production of the 40,000th Puma tractor at its St Valentin factory in Austria by launching a new Platinum Edition Model, wh...
New Holland celebrates 50 years at Basildon
New Holland's Basildon plant will celebrate half a century of continuous tractor operations in 2014. Exclusive Golden Jubilee editions of the T7.270 A...
Rea Valley tractors opens doors for annual Open Day
John Deere and JCB Agricultural machinery dealers Rea Valley Tractors (RVT) are opening their doors on Tuesday 4th February for their annual Open Day ...
Kuhn announces management changes
Agricultural machinery group Kuhn has announced that Michel Siebert will retire at the end of September 2014, and that Thierry Krier, the long-term Pr...
Suzuki starts off year by exhibiting at LAMMA
Suzuki GB is preparing to start 2014 by exhibiting the full range of Suzuki ATVs at the upcoming LAMMA show. LAMMA, the UK's largest farm machinery, e...
New McCormick X6 series to be unveiled at LAMMA
Farmers and contractors who seek out the McCormick tractor display at the LAMMA show this month will see the new X7 Pro Drive tractors for the first t...