Machinery and Spares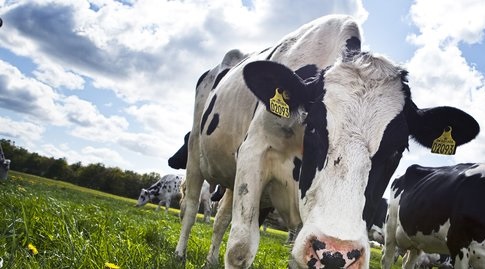 McCormick exhibit new x50 tractor series at LAMMA
The McCormick X50.50 Power Plus exhibited on the LAMMA show stand of GB distributor AgriArgo UK is the most powerful of four new McCormick X50 Series ...
John Deere wins SIMA gold and silver awards
Following a gold medal won by the 900 Series round baler at the SIMA 2011 show, John Deere has been awarded gold and silver for two of the company's l...
LAMMA 2013: Bauer to launch 'Green Bedding' system
A new source of bedding material for dairy cow cubicles that promises cost savings over alternatives such as sand and sawdust will be launched at LAMM...
LAMMA 2013: Micron to launch new Varidome sprayer
Micron Group will use its stand 156 (Hall 1A) at Lamma 2013 as a launch pad for its largest to date Varidome S5 band sprayer. Building on its Varid...
LAMMA 2013: Launch pad for new Massey Ferguson machines
A wide range of new Massey Ferguson tractors, combines and equipment will be making its UK debut at the LAMMA show on January 16th and 17th 2013 on AG...
HMRC clears way for red diesel winter use
HM Revenue and Customs has relaxed the rules governing the usage of red disel to allow farmers to help grit and clear snow from public roads. Red d...
LAMMA 2013: Kuhn to exhibit new machinery
KUHN will exhibit a 4.5 metre hydraulic folding model from its Venta NCR pneumatic drill combination range at LAMMA 2013, a machine that folds in tran...
Chancellor should have gone further over fuel say farmers
News that the Chancellor cancelled next January's planned 3p fuel duty rise was welcomed by farming associations but they said a cut was needed. "...
Houghton Parkhouse bring expertise to livestock transport
The Platinum T35 is a new 4x4-drawn livestock trailer from Houghton Parkhouse - a company with over 60 years of experience in the design and manufactu...
Kverneland expands cultivator range at LAMMA
Kverneland is using the Lamma Show to introduce a new version of its tined cultivator, the CLC Pro. Where the traditional CLC Pro uses three rows o...
DirectDrive transmission 'sets benchmark for fuel efficiency'
Following an extensive road test conducted by technical experts from the Schleswig Holstein Chamber of Agriculture in Germany on behalf of John Deere,...
UK John Deere dealers merge
John Deere dealer Claytons of Carlton has announced that it has merged with Yorkshire and Humberside based Ripon Farm Services, as of November 2012. ...
Agricultural machinery 'must innovate' to meet food demand
Companies in the agricultural machinery supply chain will need to change their business models to meet the growing global demand for food, according t...
Robot 'feed waiter' to be presented at Agromek 2012
A robot waiter that feeds cows automatically at the feeding table, will be presented at the Agromek 2012 Agricultural Exhibition in Herning, Denmark o...
New Holland appoints new Network Development Manager
New Holland has appointed a new Network Development Manager for the UK and Ireland. Michael Staunton joins New Holland after 14 years with Hyundai ...
Massey Ferguson unveils MF 5600 tractors
Massey Ferguson has unveiled the new MF 5600 Series tractors which will replace the previous steep nose models. The three cylinder, 3.3 litre capac...
Landini 7 series being produced in Italy
Production of a Landini 7 Series heavy-duty tractors has begun at ARGO's headquarters assembly plant in Italy. The five tractors – ranging from th...
New Holland wins Tractor of the Year with T4060F
New Holland has won the prestigious Tractor of the Year 2013 award in the Best of Specialized category with the T4060F. The T4060F is part of the ...
Case IH release new LB 4 balers
A redesign and new innovations characterise the newest generation of large square balers from Case IH: the LB 4 series. The new four-model range c...
New tractor fleet purchases for Scottish businesses
When you are running a mixed fleet of ageing tractors and decide it is time to invest in some new power units, the field is wide open – there is no lo...
Potato equipment innovation on show
Many of the leading potato machinery manufacturers will be exhibiting their latest developments at the ADAS Syngenta Potato Conference and Exhibition ...
JCB plans Indian expansion
JCB has unveiled plans to expand its manufacturing operations in India by investing £62 million in a new construction equipment factory on a 70 acre s...
Bryce Suma Powershift wins awards
A compact self-propelled post driver added to the Bryce Suma range is designed as a one-man machine to handle fencing operations in the most challengi...
'Strong' demand for farm machinery at Shrewsbury auction
Auctioneers Halls reported strong demand for farm machinery at their bi-monthly plant and agricultural machinery collective auction at Shrewsbury Auct...
John Deere to release new 6m tractors
The newly styled 6M Series includes tractors from 115hp to 170hp (EC 97/68), and a 140hp model featuring the highest power level yet from a John Deere...
John Deere release new 900 series baler
John Deere's new 900 Series round baler with Fast Release System (FRS), which can lead to savings of up to an hour a day during harvest, has had a tho...
T-T Pumps supplies separator system for pig producers
Pump manufacturer T-T Pumps in partnership with Filpumps of Aberdeen has recently supplied a separator system for Pig producer DW Argo in Scotland. ...
One-pass Tillerstar to feature at BCGA demo day
A unique British-built implement that reduces root crop establishment costs will be a star turn at the British Carrot Growers' Association annual demo...
Clean up with BroomEx
Here's an extensive range of pedestrian power brooms that is tailor-made for hire outlets, private estates, equestrian centres, the agricultural and c...
Unique Tillerstar in series production
It's a rare event when a genuinely new idea for a farm implement comes along – new products are often variations on an existing theme. But the intr...
John Deere sells 1000th sprayer
John Deere has sold its 1000th sprayer in the UK and Ireland, to Hertfordshire arable farmer Jimmy Hunter. A full-specification 5430i self-propelled m...
New Holland to launch new fixed chamber balers
The new Roll Baler range of heavy duty fixed chamber round balers is set to be introduced by New Holland. The three model line-up, featuring the stand...
New John Deere forage harvesters for 2013
Innovative kernel processing technology is a major feature of John Deere's new 7080 Series self-propelled forage harvesters, which will be available f...
McCormick X70 Series makes public working debut
As sales of McCormick XTX and TTX six-cylinder tractor ranges draw to a close after a successful run, their replacement in the 150hp to 230hp sector –...
New Holland confirms emissions reduction strategy
New Holland Agriculture has confirmed its Tier 4B strategy for its entire model line-up, which will provide tailored emissions technology. This is ...
At Livestock 2012: Broadwood International
Broadwood International bring Hustler Chainless Balefeeders and SweepEx push brooms to Livestock 2012. The Livestock Event is Europe's leading eve...
John Deere tops innovations medal table
According to research conducted by Eichberg Consulting, a German market strategy consultant for agribusiness and trade shows, John Deere leads the lis...
Kubota B2420 at Kelsey Farm
After a four year search to find the perfect tractor for the top fruit growing operation at Kelsey Farms in Kent, Jon Holt-Rix has been so impressed w...
Challenger launch new MT700 series
Three new models in the Challenger MT700D Series have been launched by combining advanced engines and leading Mobil-Trac systems. The MT700D Series...
EU must re-think science based agriculture, CPA warns
The EU must re-think its stance on modern, science-based agriculture or risk a food crisis with 'potentially devastating humanitarian consequences', t...
New venture for machinery dealership supplying McCormick tractors
An established farm machinery dealership that helps farmers with their equipment needs has started a new venture supplying McCormick tractors. Rich...
First McCormick customer for Read's new venture
Dairy farmer Nick Hutton and his brother Ben have become the first McCormick customer since Read Agriservices started their new venture by taking the ...
McCormick dealer Hilton Machinery strengthens after-sales service
Two key staff appointments at Hilton Machinery, the Market Drayton-based dealer for McCormick tractors, will strengthen its after-sales service to cus...
JCB celebrates engine production milestone
JCB has celebrated a significant manufacturing milestone – the production of the 200,000th JCB Dieselmax engine. The first JCB engine rolled off t...
New McCormick enterprise for Scottish machinery dealer
McCormick tractors are being re-introduced into the Scottish Borders with the appointment of G Marshall (Tractors) Ltd at St Boswells as the sales and...
Hire firm Hawk orders McCormick six-cylinder tractors for 2012 fleet
A consignment of 20 new McCormick tractors is being handed over to one of Britain's leading tractor rental companies. Hawk Tractors will supply the...
Report highlights role of hi-tech agriculture
The importance of agricultural science and technology in meeting the world's burgeoning demands on food, feed and fuel have been highlighted in a majo...
Lincs businesses join forces to strengthen McCormick tractor sales and support
JPM Agricultural acquires the assets and takes on staff of MW Shepherd, appointed McCormick tractor sales and service dealer for north-east Lincs, Mar...
Sprayer manufacturers quick to adopt ProClean two-nozzle container rinsing system
A number of crop sprayer manufacturers have adopted a unique two-nozzle pesticide container rinsing system. The combination of Hypro's ProClean rot...
New VPTech inclined nozzle is the ideal choice for autumn grassweed spraying
The new VPTech nozzle assembly introduced by Hypro is designed to provide the ideal spray configuration for pre-and post-emergence autumn sprays. It d...