Machinery and Spares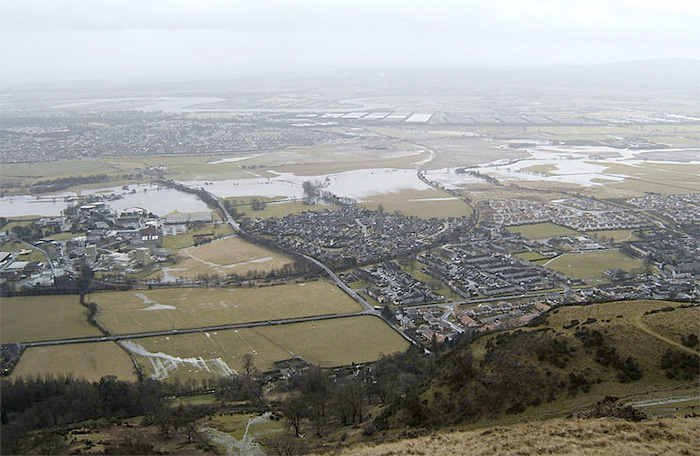 Kuhn announces management changes
Agricultural machinery group Kuhn has announced that Michel Siebert will retire at the end of September 2014, and that Thierry Krier, the long-term Pr...
Suzuki starts off year by exhibiting at LAMMA
Suzuki GB is preparing to start 2014 by exhibiting the full range of Suzuki ATVs at the upcoming LAMMA show. LAMMA, the UK's largest farm machinery, e...
New McCormick X6 series to be unveiled at LAMMA
Farmers and contractors who seek out the McCormick tractor display at the LAMMA show this month will see the new X7 Pro Drive tractors for the first t...
Eurotrack releases new high specification AG tracks for European market
With the ever increasing pressure to get cultivations completed in a diminishing seasonal window, while protecting soil structure, larger working widt...
Plant hire company in £11m JCB order
Expanding plant hire company Boels Rental is investing in a fleet of JCB machines worth more than £11 million in their third major order in three year...
JCB appoints new Chief Executive after Patterson retires
JCB Group's Chief Executive John Patterson has retired after 43 years. His retirement sees Arjun Mirdha take up the position of President and CEO of J...
Improved service and parts support from new McCormick dealer
Farmers in south Somerset have increased sales, service and parts support following the appointment of Mark Baker's engineering business, based at Ash...
JCB CEO retires after 25 years
Colleagues have bid a fond farewell to JCB Chief Executive Officer Alan Blake who is retiring from the company after almost a quarter of a century of ...
Farming unions lobby over EU tractor proposals
New EU proposals on tractor and trailer testing look to have been defeated in the European Union after intensive lobbying from farming unions. The ...
John Deere and BASF partner to develop sustainable yield
John Deere and BASF today announced plans to jointly develop a suite of integrated precision farming and farm management solutions for improved execut...
Large crowd anticipated at cattle auction
Auctioneers Halls are expecting a large crowd at Shrewsbury Auction Centre on Friday for an important dispersal sale of over 200 predominantly dairy c...
Farmers in Cumbria, Lancs and North Yorks are first to see new McCormick tractors
Farmers in Cumbria, Lancashire and North Yorkshire had an exclusive first drive of new tractors from the McCormick stable when newly-appointed dealer ...
Mitas signs long-term agreement with CLAAS
At Agritechnica, Mitas signed a long-term agreement with CLAAS, one of the major manufacturers of agricultural machinery. Mitas will supply Continenta...
'Agriculture today faces new global challenges'
New Holland Agriculture took part in the 2013 Agrievolution Forum, held on December 5 and 6 in New Delhi, India, which focused on global food security...
JC Machinery to show new products at LAMMA 2014
The new Vredo DZ Agri Air series of overseeders are specifically designed for small areas which may have slopes or undulating terrain. It features a p...
New Holland dealers celebrate success with national awards
New Holland has celebrated the success of its extensive dealer network awarding five accolades recognising excellence in dealer standards and performa...
Chancellor welcomes JCB investment plans
JCB will today announce plans to invest £150 million to expand its operations in Staffordshire and create an additional 2,500 jobs by 2018. To mark...
Heavy duty bed tiller launched at potato event
Potato equipment specialist George Moate Ltd has become best known for the Tillerstar one-pass cultivator-stone separator but the business is returnin...
Knight to show Bednar cultivators at LAMMA 2014
LAMMA 2014 gives farmers and contractors the first opportunity of the new year to take a close look at Knight Farm Machinery's expanded range of culti...
McCormick to launch new X7 Pro Drive tractors at LAMMA
A new range of McCormick tractors will be launched at the LAMMA show. The McCormick X7 Pro Drive series represents an important shift in design, sp...
Uralchem to develop new technology for urea production
Uralchem, a leading Russian producer of nitrogen fertilizers, signed a joint technology development agreement for the synthesis of urea with Stamicarb...
New potato nozzle technology gets sprays on target
New Syngenta potato application trials have identified potential innovative design features that could further enhance consistent spray deposition thr...
Kuhn to show latest models at LAMMA
Latest models from across Kuhn Farm Machinery's range will be on show at LAMMA 2014, which takes place at the East of England Showground, Peterborough...
Case to show new tractors, loaders and balers at LAMMA
A host of new Case IH products will be making their first appearance at LAMMA in 2014. They include the latest Farmall U Pro with cab suspension and i...
JCB set to showcase new loaders at LAMMA
JCB will have its biggest ever stand at the LAMMA show in January to showcase some of the new Loadall, Farm Master and skid steer materials handling m...
Two new appointments for New Holland's marketing team
New Holland has appointed two new members to its UK and ROI marketing team with the dual appointments of Nicolas Ferrara and Mark Crosby. Nicolas ...
Case IH goes large at LAMMA
Case IH's stand at LAMMA 2014 will feature the world's most powerful tractor in series production, the 692hp Quadtrac 620, together with the world's l...
Fastrac's smooth ride welcome over rough ruts
With many fields left rough and rutted after last year's appalling autumn weather, Graham Lawman has come to really appreciate the value of a tractor ...
Award-winning Horsch technology at LAMMA 2014
Horsch has picked up a host of awards from Agritechnica 2013 and will displaying its new models and technology to UK customers at LAMMA 2014. In addit...
John Deere supports BASF farming campaign
John Deere has announced its support for BASF's national 'Farming, the Biggest Job on Earth' campaign. "As a leading company in providing advanced ...
Tractor test drives prove popular at AMES
Trade stand bookings are flooding in for the Agricultural Machinery and Equipment Show, which this year will allow farmers to test drive tractors for ...
AgriScot 2013 debuts for New Holland machines
A pair of high new machines from New Holland are making their debuts at this year's AgriScot show. Showcased on the stand run by the local dealers...
Agritechnica preview of new McCormick tractors
The Agritechnica show in Germany not only provided a platform for previewing the 143-175hp McCormick X7 VT Drive stepless tractors (see separate story...
Case IH Quadtrac awarded machine of the year
The Case IH Quadtrac 620 has been awarded the "Machine of the Year 2014" in the XXL tractor category on the third evening of this year's Agritechnica ...
New tractors for Landini range in 2014
Italian agricultural engineering firm Argo Tractors presented its biggest ever collection of new models at the Agritechnica exhibition in Germany as a...
Horsch win Agritechnica Machine of the Year 2014
Horsch's new range of Leeb sprayers has been awarded the coveted Machine of the Year 2014 award at this year's Agritechnica show. The sprayers were...
Argo Tractors previews first CVT model at Agritechnica
The McCormick tractor line-up is set to be transformed in 2014 with the introduction of new ranges across the power spectrum that bring new designs an...
Tractor speed move will cut red tape, says CLA
The CLA has said it welcomed the Department for Transport's decision to open a consultation to raise the maximum speed for tractors and increase the m...
Kuhn appoints J Riley Agri as new Norfolk dealer
J Riley Agri has been appointed as the Kuhn Farm Machinery (UK) Ltd dealership for Norfolk with immediate effect. Based at purpose-built premises ...
Agritechnica preview for new JCB Fastrac
One of the most significant developments in the JCB Fastrac tractor range since its launch 23 years ago was previewed at Agritechnica with the unveili...
JCB launches new machines at Agritechnica 2013
A new engine delivering increased performance, fuel efficiency and cleaner exhaust emissions without additional servicing or running cost burdens make...
New Kuhn baler wins silver medal at Agritechnica
Technology introduced on Kuhn's new LSB 1290 iD baler for increased density bales has earned it a Silver Medal for Innovation at Agritechnica where it...
Silver medal for Fendt: Hydraulic coupling convinces jury
Fendt has received a Silver Medal at this year's Agritechnica for its newly developed modular flat-sealing hydraulic coupling, which was awarded by th...
AGCO/Fendt optimises the Katana 65 forage harvester
Since its launch in 2012 the Fendt Katana 65 forage harvester has gained an 8% share in Germany, Europe's largest market. Now, following its successfu...
New Fendt 800 Vario and 900 Vario tractors
The Fendt 800 and 900 Vario series tractors, with a 33% share, are the market leaders in Western and Central Europe. With these new models Fendt is...
Two new Katanas join the Fendt forager line-up
Fendt is extending its forage harvester fleet with the addition of two new models – the 850hp, Katana 85 and 500hp, Katana 50. Both build on the well-...
Suzuki concludes case on illegal imports
Suzuki GB PLC (SGB) has recently concluded a case putting a stop to sales of illegal grey market Suzuki ATVs being imported and sold within the UK mar...
Top UK vegetable grower in New Holland deal
32 New Holland tractors has been delivered in a major deal with one of the UK's biggest growers of carrots and parsnips. Cambridgeshire dealership...
John Deere & Babcock set another training record
John Deere's award winning apprenticeship programme has set yet another record for the new training season's intake, for the third year running since ...
Mitas prolongs trademark agreement with Continental
Off-road tyre manufacturer Mitas will continue to be able to produce Continental tyres under licence until the end of 2019. MITAS a.s. has extende...