Machinery and Spares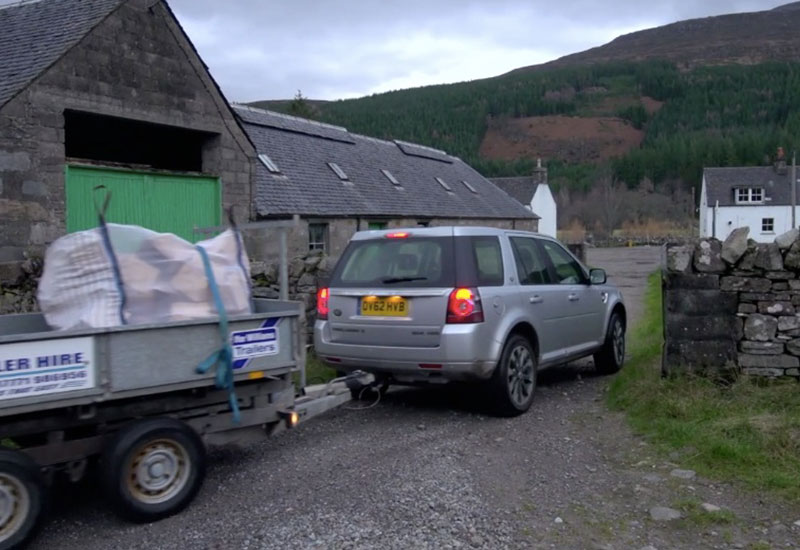 Kuhn to show latest models at LAMMA
Latest models from across Kuhn Farm Machinery's range will be on show at LAMMA 2014, which takes place at the East of England Showground, Peterborough...
Case to show new tractors, loaders and balers at LAMMA
A host of new Case IH products will be making their first appearance at LAMMA in 2014. They include the latest Farmall U Pro with cab suspension and i...
JCB set to showcase new loaders at LAMMA
JCB will have its biggest ever stand at the LAMMA show in January to showcase some of the new Loadall, Farm Master and skid steer materials handling m...
Two new appointments for New Holland's marketing team
New Holland has appointed two new members to its UK and ROI marketing team with the dual appointments of Nicolas Ferrara and Mark Crosby. Nicolas ...
Case IH goes large at LAMMA
Case IH's stand at LAMMA 2014 will feature the world's most powerful tractor in series production, the 692hp Quadtrac 620, together with the world's l...
Fastrac's smooth ride welcome over rough ruts
With many fields left rough and rutted after last year's appalling autumn weather, Graham Lawman has come to really appreciate the value of a tractor ...
Award-winning Horsch technology at LAMMA 2014
Horsch has picked up a host of awards from Agritechnica 2013 and will displaying its new models and technology to UK customers at LAMMA 2014. In addit...
John Deere supports BASF farming campaign
John Deere has announced its support for BASF's national 'Farming, the Biggest Job on Earth' campaign. "As a leading company in providing advanced ...
Tractor test drives prove popular at AMES
Trade stand bookings are flooding in for the Agricultural Machinery and Equipment Show, which this year will allow farmers to test drive tractors for ...
AgriScot 2013 debuts for New Holland machines
A pair of high new machines from New Holland are making their debuts at this year's AgriScot show. Showcased on the stand run by the local dealers...
Agritechnica preview of new McCormick tractors
The Agritechnica show in Germany not only provided a platform for previewing the 143-175hp McCormick X7 VT Drive stepless tractors (see separate story...
Case IH Quadtrac awarded machine of the year
The Case IH Quadtrac 620 has been awarded the "Machine of the Year 2014" in the XXL tractor category on the third evening of this year's Agritechnica ...
New tractors for Landini range in 2014
Italian agricultural engineering firm Argo Tractors presented its biggest ever collection of new models at the Agritechnica exhibition in Germany as a...
Horsch win Agritechnica Machine of the Year 2014
Horsch's new range of Leeb sprayers has been awarded the coveted Machine of the Year 2014 award at this year's Agritechnica show. The sprayers were...
Argo Tractors previews first CVT model at Agritechnica
The McCormick tractor line-up is set to be transformed in 2014 with the introduction of new ranges across the power spectrum that bring new designs an...
Tractor speed move will cut red tape, says CLA
The CLA has said it welcomed the Department for Transport's decision to open a consultation to raise the maximum speed for tractors and increase the m...
Kuhn appoints J Riley Agri as new Norfolk dealer
J Riley Agri has been appointed as the Kuhn Farm Machinery (UK) Ltd dealership for Norfolk with immediate effect. Based at purpose-built premises ...
Agritechnica preview for new JCB Fastrac
One of the most significant developments in the JCB Fastrac tractor range since its launch 23 years ago was previewed at Agritechnica with the unveili...
JCB launches new machines at Agritechnica 2013
A new engine delivering increased performance, fuel efficiency and cleaner exhaust emissions without additional servicing or running cost burdens make...
New Kuhn baler wins silver medal at Agritechnica
Technology introduced on Kuhn's new LSB 1290 iD baler for increased density bales has earned it a Silver Medal for Innovation at Agritechnica where it...
Silver medal for Fendt: Hydraulic coupling convinces jury
Fendt has received a Silver Medal at this year's Agritechnica for its newly developed modular flat-sealing hydraulic coupling, which was awarded by th...
AGCO/Fendt optimises the Katana 65 forage harvester
Since its launch in 2012 the Fendt Katana 65 forage harvester has gained an 8% share in Germany, Europe's largest market. Now, following its successfu...
New Fendt 800 Vario and 900 Vario tractors
The Fendt 800 and 900 Vario series tractors, with a 33% share, are the market leaders in Western and Central Europe. With these new models Fendt is...
Two new Katanas join the Fendt forager line-up
Fendt is extending its forage harvester fleet with the addition of two new models – the 850hp, Katana 85 and 500hp, Katana 50. Both build on the well-...
Suzuki concludes case on illegal imports
Suzuki GB PLC (SGB) has recently concluded a case putting a stop to sales of illegal grey market Suzuki ATVs being imported and sold within the UK mar...
Top UK vegetable grower in New Holland deal
32 New Holland tractors has been delivered in a major deal with one of the UK's biggest growers of carrots and parsnips. Cambridgeshire dealership...
John Deere & Babcock set another training record
John Deere's award winning apprenticeship programme has set yet another record for the new training season's intake, for the third year running since ...
Mitas prolongs trademark agreement with Continental
Off-road tyre manufacturer Mitas will continue to be able to produce Continental tyres under licence until the end of 2019. MITAS a.s. has extende...
Large crowd at Rock Farm dispersal auction
A dispersal sale of tractors and farm machinery at Coningswick Farm, Rock, near Kidderminster attracted a large crowd of potential purchasers on Satur...
John Deere awarded two silvers at Agritechnica 2013
Two John Deere innovations have been awarded silver medals at Agritechnica, the world's leading agricultural equipment trade fair being held in Hanove...
New Holland wins Agritechnica silver medals
Innovations by New Holland for its combine harvesters have gained the manufactuerer two Agritechhnica silver medals. The Opti-Speed strawwalker sys...
Largest entry for two years at machinery auction
Around 1,200 lots, including a good selection of tractors, telehandlers, loadalls harvesting and cultivation equipment and accessories, went under the...
FUW issues farmers with HGV drivers' advice
Farmers were advised today to check if they need a certificate of professional competence to drive heavy goods vehicles (HGVs) following new advice fr...
Bryan Hoggarth dealership switches to McCormick
The launch of new high horsepower tractors and a preview of several new ranges to come have convinced Lancs-based dealer Bryan Hoggarth to switch bran...
New John Deere tractors make UK show debut
John Deere's new 6100MC and 6110RC tractors will make their public debut at AgriScot in November, alongside the new F440R fixed chamber round baler fo...
Farmers warned to plan combine purchases carefully
Harvest is complete for another year, and many farmers will be considering replacing their combine – but timing is critical if they are to minimise ta...
Farmers get power bonus with the new McCormick X50
Livestock farmers in the market for a lively yard and field-work tractor will get a power bonus if they opt for the power shuttle version of the new M...
CNH Industrial merges with Fiat
CNH Industrial N.V. has announced that the merger of Fiat Industrial S.p.A. with CNH Industrial N.V. was complete. Upon closing CNH Industrial issu...
Shropshire blacksmith's 'strange' auction attracts more than 2,000 people
Well over 2,000 people from across the UK attended a fascinating dispersal auction as a diverse collection of vintage cars, tractors, implements and m...
More than 1,000 lots entered for plant and machinery auction
More than 1,000 lots, including a good selection of tractors, telehandlers, loadalls harvesting and cultivation equipment and accessories, will be goi...
Sales of robotic milkers soar at Dairy Show
Sales of robotic milkers are rocketing, with more and more farmers seeking to improve cow welfare and productivity, while cutting back on labour. ...
McCormick dealer celebrates with Powys organic dairy farmer
Organic dairy farmers Merfyn and Beryl Edwards will raise a glass to their local tractor dealer following a presentation to celebrate a sales landmark...
Winter servicing key to optimising combine performance, says Case
Winter servicing of combine harvesters by an approved dealer with the experience, knowledge and equipment to do the job correctly and efficiently will...
Keenan to launch MF380 at Irish Ploughing Championship
The new Keenan MF380 was developed to fill the gap between the current MF360 and MF400 models; it has a nominal rating of 24 m3 capacity and a maximum...
Massey Ferguson launches new machinery line-up in Eastern Europe
Massey Ferguson is set to relaunch the brand into Eastern Europe with a new product line-up of tractors, harvesting machinery and materials handling e...
Fiat Industrial confirmed as sector leader
For the third consecutive year, Fiat Industrial has been named Sector Leader in the Dow Jones Sustainability Indices (DJSI) World and Europe. Based on...
JCB launches new wheeled loaders at Agritechnica
JCB will launch four new compact telescopic and industrial-scale wheeled loaders at Agritechnica – bringing new levels of power and performance to its...
New heavy-duty XUV Gators from John Deere
Reflecting the growing popularity of crossover utility vehicles, John Deere's latest heavy-duty Gator line-up features two new four-wheel drive models...
Strip till cultivator demonstrated at Tillage Live
A strip till cultivator with versatility to operate in a range of UK arable farming situations was demonstrated by Kuhn Farm Machinery at Tillage-Live...
New disc cultivator makes demonstration debut at Tillage live
A new deep tine disc cultivator from Kuhn Farm Machinery made its worldwide demonstration debut at Tillage-Live at West Hall Farm, Welton in Lincolnsh...