Veterinary News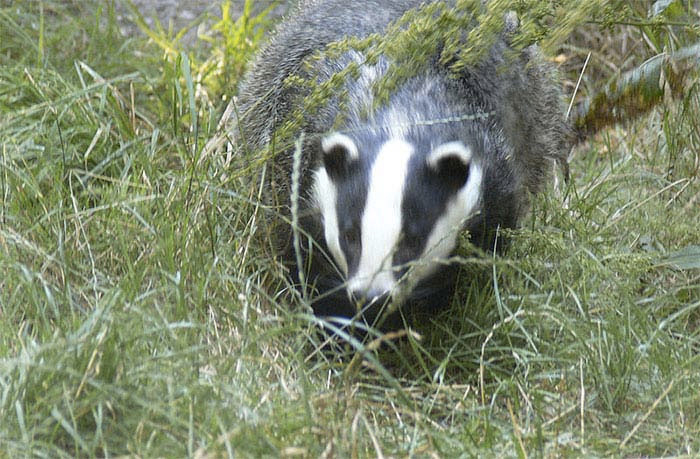 Soil Association requests changes to TB compensation bill
Following discussions with licensees and members, the Soil Association has submitted a proposal to request changes to the Cattle Compensation (England...
Badger cull is legal as Trust loses appeal
The Court of Appeal has rejected the Badger Trust's appeal concerning the legality of the government's badger cull. The trust's appeal was based on...
NFU concerned over future rural cuts in letter to Chancellor
NFU President Meurig Raymond has written to Chancellor George Osborne outlining how he thinks agriculture would benefit from next year's budget. "A...
Badger cull poll: Nine out of ten want culling to end
Results from a new poll on the controversial badger cull show that nine out of ten people who express an opinion (89%) want the UK government to stop ...
New badger culls are a 'miserable failure' as target missed
The pilot badger culls in Gloucestershire have 'failed to achieve even the minimum number of badgers to be shot,' and have been condemned as a 'misera...
Liver fluke 'remains a risk for cattle farmers'
Despite a relatively dry summer and early autumn, liver fluke infection remains a risk for cattle and sheep and farmers are being urged to remain vigi...
Badger Trust to challenge legality of new culls
The Badger Trust has said it will challenge the legality of the government's badger culls currently being undertaken in Somerset and Gloucestershire. ...
Balance ewe diets to optimise lambing success
With variable grazing conditions this autumn, sheep farmers should be vigilant when assessing body condition of breeding ewes before tupping. The p...
Testing for TB in the cattle herd
Bovine TB is one of the most complex animal health problems currently facing the farming industry in England and Wales. It is a chronic, infectious di...
New cattle TB controls come into force in England and Wales
New rules for controlling bovine TB in England and Wales have come into force today, the government opened a consultation to develop cattle controls a...
Vets warn farmers about lungworm
Farmers are warned to be on their guard for lungworm this year. SRUC Veterinary Services is reporting that diagnostic submissions to its disease surve...
Plans to scrap badger cull a 'populist move', says Hargreaves
On so many welfare issues politicians are 'in danger of taking the view that if it's not popular it's got to be wrong,' said the outgoing British Vete...
TB devastating farming families, say NFU as Labour pledges scrap
The Labour Party would abandon the badger cull should it win the next General Election in May, according to their Shadow DEFRA Minister Maria Eagle. ...
Half of farmers have not tested herd for BVD, survey shows
Results from the Farming Against BVD survey have been presented by an independent expert panel at Novartis Animal Health headquarters, giving insight ...
NFU spells out priorities ahead of 2015 General Election
A Government that understands farm businesses, wants agriculture to grow and has the policies that send the right signals to farmers, are the key mess...
Farmers remain on guard over liverfluke
After last year's fierce fluke challenge and with the wet and warm conditions having continued this year, farmers are right to remain on their guard a...
Pig industry introduces confidential reporting service
A confidential reporting service will be introduced to maintain animal welfare standards on British pig farms, the National Pig Association has reveal...
Farmers reminded of changes to Bovine TB rules
Farmers were reminded of impending changes to rules on Bovine TB pre-movement testing of cattle moving to and from premises within Sole Occupancy Auth...
Badger cull expected to begin 'as soon as tonight'
Badger culling in west Somerset and west Gloucestershire is expected to begin as soon as tonight, according to Humane Society International UK. Und...
Dairy farmers risking cows' health with feeding, research says
Dairy farmers are potentially risking their cows' health, fertility and production by inadvertently feeding rations containing mycotoxins and bacteria...
Calving at 2 Years? – Yes say the National Beef Association
"In the modern day beef industry there is little room for calving at 3 years old." This is the message from Charlie Maclaren, newly appointed board me...
Vets warn farmers over common health concerns
The British Veterinary Association (BVA) is encouraging farmers to work proactively with their vet to avoid common health concerns such as musculoskel...
Beef Association gives 'guarded' welcome to vaccination scheme
Bill Harper of the National Beef Association TB Committee has given a guarded welcome to the recently announced Badger Edge Vaccination Scheme (BEVS)....
Culling badgers 'not the answer' as vaccination scheme launched
A new badger vaccination scheme has been launched as part of the government's comprehensive strategy to make England bovine TB free. Vaccination sc...
Pig breeders warned over virus
Pig breeding companies are being urged to keep free from a virus that has had a devastating impact in the United States and Canada. As many as thre...
Wildlife trusts urge badger vaccination schemes
Vaccination schemes are being demonstrated as a 'practical, cost-effective option' in dealing with bovine tuberculosis, an animal trust is claiming in...
Defra urged to extend badger vaccination scheme ahead of cull
With this year's badger cull rumoured to start in the coming weeks, DEFRA has been urged by the Humane Society International to expand its limited Bad...
Innovative feeder proven as badger deterrent
A recent trial undertaken at the Royal Agricultural University (RAU) revealed how limiting badger access to mineral licks, blocks and tubs with a feed...
New elite short gestatiuon Angus sire joins Sterling Sires
A new British-bred Aberdeen Angus bull offering minus 4.9 days gestation length has joined the Sterling Sires line up. Oakchurch Duke N121 has calving...
Farmers warned over production losses to lungworm
Treating lungworm infection swiftly and effectively in beef and dairy cattle is vital to help prevent major losses in productivity, according to Meria...
Support an end to non-stun slaughter, vets urge party leaders
Party leaders in the United Kingdom have been urged to support a veterinary campaign to end non-stun slaughter. Writing to party leaders, Robin Har...
Vaccination of badgers: Review of risks
A badger vaccine has the potential to reduce infection of cattle and a vaccination could also have a role in protecting uninfected badger populations...
First IBQX vaccine for the UK and Irish poultry industry
Zoetis today announced the availability in the UK and Ireland of the first specific vaccine against the QX strain of the infectious bronchitis virus —...
Skull shape risk factors could help in the welfare of toy dog breeds
New research has identified two significant risk factors associated with painful neurological diseases in the skull shape of the Cavalier King Charles...
Further reports of African Swine Fever in Europe
There have been three further reports of African Swine Fever (ASF) in domestic pigs in Lithuania, Latvia and Poland. In all three countries statutory ...
August brings lungworm risks to unvaccinated cattle
Unvaccinated calves during their first grazing season are most at risk of lungworm infection this August, according to the NADIS Parasite Forecast. ...
North Yorkshire farm hosts sheep lameness trial
The issue of antibiotics versus trimming as a means of controlling lameness in sheep is often debated, so a new trial at Marrick Abbey Farm in North Y...
Government urged to act as MRSA found in British pig
The government is being called on to carry out a full MRSA survey of the UK pig industry to determine how widespread the superbug is after the first-e...
TB ranked as greatest constraint for dairy farmers
The initial findings of the most comprehensive survey of dairy farmers were released at the Royal Welsh Show today with responses indicating a 20% ris...
BVA will support second year of badger cull pilots in England
The British Veterinary Association (BVA) supports the second year of the pilot culls in England. This follows Defra's response to BVA's call for impro...
Study highlights potential to reduce long term antibiotic usage for sheep lameness
Sheep farmers could reduce antibiotic treatments for lameness by as much as 92% within two years of implementing the practical FAI Farms Five-Point Pl...
Welfare of farm animals can be improved 'by planting trees'
Sheep farmers are being invited to discover how the health and welfare of their animals, and productivity of land, can be improved, by planting trees....
Farming family journey 'to hell and back' over positive TB test
A farmer whose herd of pedigree Jersey cows was established 110 years ago by his great-grandfather has told how his family has been "to hell and back"...
Select Committee 'fails to tackle antibiotic use in livestock'
With the publication today of a major report by the Science and Technology Committee, there is an admission that antibiotics are routinely used on hea...
Antibiotics in livestock farming 'is killing people and must stop'
In response to David Cameron's announcement, the Alliance to Save Our Antibiotics says the urgent reduction of antibiotic use in farming must become g...
Royals speak out on working horses
The Princess Royal attended yesterday this year's colloquium on working horses to discuss the impact these animals have on humans in developing countr...
Porcine epidemic 'jeopardizing the livelihoods of farmers'
2014 has seen a devastating epidemic of porcine epidemic diarrhoea (PED) in the USA, affecting more than 30 states and driving up the price of pork pr...
First national model for Bovine TB calls for more focus on cattle
In a study published in Nature this week, a team of researchers based at the University of Warwick has produced the first national model to investigat...
A sheep's early life experiences can shape behaviour in later life
New research has found that a sheep's experiences soon after birth can shape its later behaviour and also that of its offspring. The study led by ...
New Anglo-German student exchange to investigate viruses in badgers
An exchange of undergraduate students between Plymouth University Peninsula Schools of Medicine and Dentistry and the Robert Koch Institute in Berlin ...