Veterinary News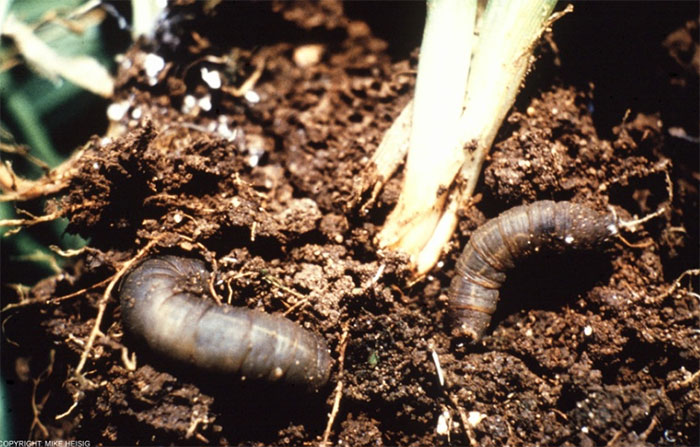 Action needed to beat 'unprecedented' leatherjacket threat
Exceptional numbers of leatherjackets in crops this winter will cause significant damage to yields if left unchecked, warns leading agronomy firm Hutc...
Livestock sector at risk from animal health cuts, Royal College warns
Plans to reduce farm animal health surveillances could put the health of cattle, sheep and pigs at risk, according to the Royal College of Pathologist...
Farm welfare rising up the business agenda, says report
A report on farm animal welfare, which assessed 70 leading companies from across Europe and the USA, have noted marked improvements made in their welf...
Improved approach to detecting animal disease welcomed
The needs of Wales have been recognised by the Animal Health and Veterinary Laboratories Agency (AHVLA) with regards to its new approach to scanning s...
Improved approach to surveillance for animal disease threats
The Animal Health and Veterinary Laboratories Agency has announced an approach to scanning surveillance to better detect new and re-emerging animal di...
University secures grant for bovine tuberculosis research
A collaborative project between academics in the UK and India aims to develop a revolutionary new control strategy for bovine tuberculosis (TB), with ...
Increased risk of scour in cattle this winter
The dry summer followed by significant rain in October and November has led to a large late gutworm challenge. The NADIS December Parasite Forecast, h...
Badger cull operations to cease in Gloucestershire
The cull company in west Gloucestershire and Natural England have agreed to end culling operations tomorrow. In October, Natural England granted an...
AHVLA wins Gates Foundation grant for brucellosis research
AHVLA, in collaboration with the University of Alberta (Edmonton, Alberta, Canada), have been awarded a research grant from the Grand Challenges Explo...
Coccidiosis treatment can support heifer development, research says
Coccidiosis is often not treated until clinical signs are evident; but new research shows that long term implications can be avoided by carefully timi...
Safeguard antibiotics for animal health, says veterinary association
The British Veterinary Association (BVA) is reminding animal owners that the rules for safeguarding antibiotics in humans also applies to animals. ...
Scientists in 'call for action' on farm antibiotic use
A newly published report has highlighted for the first time the link between the overuse of antibiotics in agriculture and the bigger issue of overuse...
Farmers warned over treating liver fluke infection
Treating cattle for liver fluke infection at or soon after housing is the best strategy to increase feed conversion rates and improve productivity ove...
Veterinary association supports BVD eradication plans for Scotland
The British Veterinary Association (BVA) has given full support for the new control measures being introduced as part of the Bovine Viral Diarrhoea (B...
Treat any lame sheep before winter housing
Wet and muddy underfoot conditions are exacerbating sheep foot problems and flockmasters are being urged to implement the five-point disease reduction...
Badger cull extensions 'justified', says veterinary association
The pilot badger cull in Somerset ended on Friday 1st of November. An extension period for the Gloucestershire badger cull granted by Natural England ...
Commission welcomes US BSE legislation
The European Commission has welcomed the United States Department of Agriculture's (USDA) announcement to bring the US legislation in line with intern...
Phytase can add value to European poultry production
In a recent presentation made during this year's Union of Poultry Breeders of Ukraine annual conference, which took place in Sudak, Ukraine, between 2...
Minster Veterinary Practice take over Lanes Vet Group Poultry Division
From today, Lanes' well established and successful poultry division is under new ownership. The expansion of Minster Veterinary Practice sees them mov...
Badger cull extension granted as welfare charity writes to Paterson
Natural England confirmed on Wednesday that it had granted an extension to the Gloucestershire badger cull for a period of eight weeks. Animal welfare...
30 percent of local badgers removed, says Defra
As the badger cull in Gloucestershire ended this week, the cull company has applied for an extension to Natural England. In the six weeks of the pi...
Farming unions back Paterson as cull extensions sought
The Country Land and Business Association has welcomed Environment Secretary Owen Paterson's commitment to the badger cull extension as the pilot prog...
Split in responsibilities 'led to confusion' at height of horse meat scandal, says report
A report by the National Audit Office has found that, while arrangements for identifying risks to food safety are effective, similar arrangements for ...
Put vets at heart of expansion, says Veterinary Association
Vets must be at the heart of initiatives to expand the food supply chain in Northern Ireland, according to the President of the British Veterinary Ass...
Irish livestock markets support BVD eradication programme
Ireland's programme to eradicate BVD from the cattle industry has received a positive response from the country's livestock markets. Following a v...
New project will deliver bTB-resistant breeding for dairy cows
Dairy farmers will be able to genetically select for bovine tuberculosis (bTB) resistance within two years, due to a new joint research project funded...
E. coli cattle vaccine could cut human cases by 85%
E. coli vaccinations for cattle could cut the number of human cases of the disease by up to 85%, but they are being delayed by conflicting responsibil...
High risk from liver fluke in cattle this autumn
Farmers should be alert for liver fluke disease in their cattle according to the latest Parasite Forecast from NADIS. The September forecast warns...
Badger cull 'failing' says veterinarian
Following the news that shooters involved in the badger cull in Somerset are failing to kill the numbers of badgers required to fulfil their quotas, M...
New project aims to end tail docking
A project which aims to end tail docking of pigs was launched this month. A group of seven European research institutions, including Scotland's Rural ...
Government strategy 'will not stop excessive farm use of antibiotics'
The rapid spread of multi-drug resistant bacteria means everyday infections or diseases may be harder to prevent or treat, according to a new report s...
Heath accused of misleading MP about badger cull
The Humane Society International UK has accused Farming Minister David Heath of 'misleading' a Member of Parliament about the transparency of badger c...
England's water vole population declines 'by a fifth' since 2011
England's population of water voles could have declined by a fifth since 2011, the Environment Agency and the Wildlife Trusts have revealed. New ma...
Public come out in numbers to protest Gloucestershire badger cull
Members of the public and the media descended on parts of rural Gloucestershire following the confirmation by police that badger culling was scheduled...
Gloucestershire police confirms badger cull go-ahead
Police in Gloucestershire have confirmed that the government's badger cull has commenced in the designated cull zone, following a week after shooting ...
Lifting ban on waste feed for pigs 'risks causing next FMD epidemic'
Environmental activists who want to see a lifting of the European Union ban on feeding catering waste to pigs may be sending confusing signals to hobb...
Trial shows potential of active live yeast to alleviate acidosis
Supplementing dairy cows fed an acidosis-inducing diet with an active live yeast improved dry matter intake (DMI), milk yield and rumen pH, according ...
Liver fluke treatment re-introduced by MSD
The flukicide drench ZANIL has been re-introduced into Great Britain by MSD Animal Health as a treatment against chronic liver fluke in cattle and she...
RSPCA says badger cull farmers will not be named after NFU complaint
Farmers involved in the badger cull will not be named and shamed by the RSPCA as a result of an investigation by the Charity Commission. The NFU r...
Gloucestershire police deployed as badger cull begins
Police have been deployed in parts of Gloucestershire to provide 'reassurance' to communities at risk of disruption as the badger cull pilot schemes a...
No room for complacency over Schmallenberg, says NFU
Livestock farmers have been warned against complacency after the ongoing surveillance for Schmallenberg virus (SBV) found new cases this year. NFU ...
Now's a good time to start 'stamping out lameness'
The current post-weaning period is the perfect time to start culling out persistent lameness offenders from sheep flocks. That's the message from shee...
Research shows how to boost lameness treatment success
Applying a foot block and using anti-inflammatory drugs have proven benefits when treating lame cows with a sole ulcer, sole haemorrhage or white line...
Heath announces new rules to halt spread of bovine TB
New rules to stop the spread of bovine TB, including more targeted support for badger vaccination are being introduced. Stamping out infection in a...
Cameron makes badger cull pledge
A fresh commitment has been made by Prime Minister David Cameron to eradicate bovine tuberculosis (bTB) at the North Devon Show. Speaking at the sh...
Liver fluke project backed by Scottish government
A pilot project aimed at preventing and controlling liver fluke in sheep and cattle is being backed by the Scottish Government. The disease causes ...
Vet associations cautious as TB tendering plans revealed
Veterinary associations have reacted cautiously to the announcement by AHVLA outlining details of a new model for the supply of veterinary services to...
Scientists quantify human deaths due to antibiotic use in chickens
Approximately 280 people are dying every year in the UK from blood infections caused by a highly antibiotic-resistant E. coli superbug, acquired from ...
Humid conditions bring further blowfly warnings
New and emerging diseases, parasite epidemics, blowfly strike and the wet and humid conditions are causing concern within the sheep industry, accordin...
Wildlife trust to attempt badger vaccination programme
The Hampshire and Isle of Wight Wildlife Trust will begin staff training in August and September to prepare for a programme of badger vaccinations on ...