Veterinary News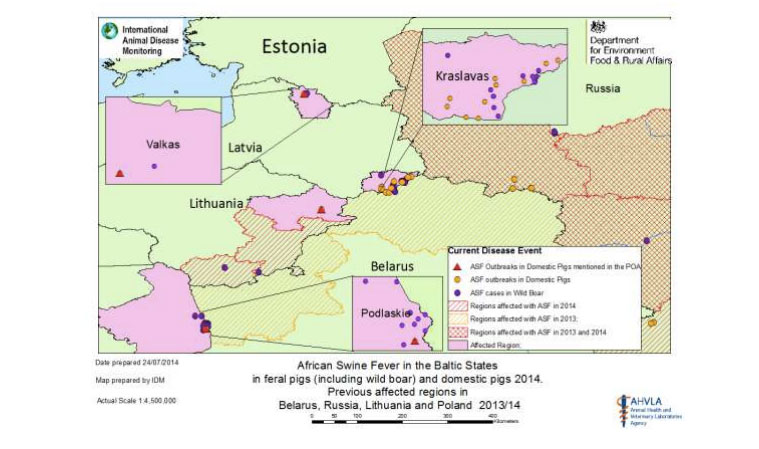 Further reports of African Swine Fever in Europe
There have been three further reports of African Swine Fever (ASF) in domestic pigs in Lithuania, Latvia and Poland. In all three countries statutory ...
August brings lungworm risks to unvaccinated cattle
Unvaccinated calves during their first grazing season are most at risk of lungworm infection this August, according to the NADIS Parasite Forecast. ...
North Yorkshire farm hosts sheep lameness trial
The issue of antibiotics versus trimming as a means of controlling lameness in sheep is often debated, so a new trial at Marrick Abbey Farm in North Y...
Government urged to act as MRSA found in British pig
The government is being called on to carry out a full MRSA survey of the UK pig industry to determine how widespread the superbug is after the first-e...
TB ranked as greatest constraint for dairy farmers
The initial findings of the most comprehensive survey of dairy farmers were released at the Royal Welsh Show today with responses indicating a 20% ris...
BVA will support second year of badger cull pilots in England
The British Veterinary Association (BVA) supports the second year of the pilot culls in England. This follows Defra's response to BVA's call for impro...
Study highlights potential to reduce long term antibiotic usage for sheep lameness
Sheep farmers could reduce antibiotic treatments for lameness by as much as 92% within two years of implementing the practical FAI Farms Five-Point Pl...
Welfare of farm animals can be improved 'by planting trees'
Sheep farmers are being invited to discover how the health and welfare of their animals, and productivity of land, can be improved, by planting trees....
Farming family journey 'to hell and back' over positive TB test
A farmer whose herd of pedigree Jersey cows was established 110 years ago by his great-grandfather has told how his family has been "to hell and back"...
Select Committee 'fails to tackle antibiotic use in livestock'
With the publication today of a major report by the Science and Technology Committee, there is an admission that antibiotics are routinely used on hea...
Antibiotics in livestock farming 'is killing people and must stop'
In response to David Cameron's announcement, the Alliance to Save Our Antibiotics says the urgent reduction of antibiotic use in farming must become g...
Royals speak out on working horses
The Princess Royal attended yesterday this year's colloquium on working horses to discuss the impact these animals have on humans in developing countr...
Porcine epidemic 'jeopardizing the livelihoods of farmers'
2014 has seen a devastating epidemic of porcine epidemic diarrhoea (PED) in the USA, affecting more than 30 states and driving up the price of pork pr...
First national model for Bovine TB calls for more focus on cattle
In a study published in Nature this week, a team of researchers based at the University of Warwick has produced the first national model to investigat...
A sheep's early life experiences can shape behaviour in later life
New research has found that a sheep's experiences soon after birth can shape its later behaviour and also that of its offspring. The study led by ...
New Anglo-German student exchange to investigate viruses in badgers
An exchange of undergraduate students between Plymouth University Peninsula Schools of Medicine and Dentistry and the Robert Koch Institute in Berlin ...
New research on the influence of phytase on calcium at European Poultry Conference
AB Vista's Research Director, Dr Mike Bedford, will be presenting new research data at the XIVth European Poultry Conference (EPC) on the practical li...
Badger cull breaches wildlife convention, say charities
Potential negative impacts on protected wildlife caused by the badger cull are in breach of the Bern Convention, claim wildlife protection groups. ...
Shotguns will be allowed in badger culls
Natural England has confirmed that the use of shotguns will continue to be permitted during this year's badger culls, despite the Independent Expert P...
Cattle farmers should be alert to lungworm
The June NADIS Parasite Forecast has advised cattle farmers to be alert for signs of lungworm in their herds this summer. Symptoms may appear in unvac...
Small-scale badger cull risks spreading TB further, scientists warn
A pilot scheme to selectively cull badgers that test positive for tuberculosis risks spreading the disease further, according to scientists. The sc...
New panel to advise on animal health and welfare in Wales
Natural Resources Minister, Alun Davies, has appointed a group of specialists to support the introduction of a new Animal Health and Welfare Framework...
Defra 'breaching its own badger cull policy', says charity
The government is failing to comply with its own badger cull policy commitments by refusing to assess how badger cull populations were affected by sev...
Farmer workshops aim to tackle Johne's disease in cattle
Paratuberculosis (Johne's disease) is of welfare and production concern for cattle farms. A series of QMS funded workshops are being held across Scotl...
Pig welfare: EFSA updates its scientific advice
EFSA has published an opinion on the issue of tail docking in pigs. Tail docking is a procedure carried out to reduce the risk of tail biting, one of ...
Calf testing initiative aims to eradicate BVD
Nationwide eradication of Bovine Viral Diarrhoea (BVD) - one of the most profit-draining infectious diseases of cattle - moved a significant step clos...
Liver fluke affecting one in four cattle
Liver fluke in cattle is on the rise according to the latest official data released by the Food Standards Agency. The figures for 2013 show that nearl...
Innovative machinery receives recognition at Cereals
The Surface primary seedbed cultivator developed by machinery experts Cousins and Crop protection specialists Hutchinsons has been awarded a medal in ...
Vets 'will not support' Badger Trust's judicial review
The Badger Trust has made an application for judicial review at the High Court to challenge the legality of the DEFRA Secretary of State's decision of...
Call for stronger TB surveillance for camelids
The NFU has called on government to strengthen TB controls for camelids to help stop the spread of bovine TB. In its response to a Defra consultati...
Two veterinary pioneers combine to bid for bTB testing delivery role
A new national service company has been formed to bid for appointment as a Delivery Partner for bovine TB and other farm animal disease testing under ...
TB outbreak on discussion at NFU meeting
The devastating effect that a TB outbreak has on a farming business, alongside the Welsh Government's proposals to move to a system of tabular valuati...
Anti-badger cull march to take place in Dorchester
A march against the badger cull on Saturday 17 May has been organised by the Dorset for Badger and Bovine Welfare (DBBW). The group said the march ...
Disease causing pork shortages around the world, report says
Pork shortages will be a key concern in many countries in the coming months as the ongoing spread of porcine epidemic diarrhoea virus (PEDv) in the Am...
Thermal imaging cameras to prevent badger cull marksmen
Marksmen could be prevented from targeting badgers in a cull by thermal imaging cameras, according to campaigners against the cull. Local badger ca...
Vets warn farmers over liver fluke risks
Sheep farmers are being warned that while liver fluke epidemics may have failed to hit the headlines during the recent winter, they have not disappear...
Lungworm immunity could be developed without vaccine
Farmers unable to obtain lungworm vaccine for young cattle this spring are being assured that some strategic worming options can allow the development...
TB breakdowns 'have devastating effect on farming businesses'
The effect a TB breakdown can have on farming businesses was the main topic of discussion when a delegation of NFU members met with their local Assemb...
Sheep producers urged to vaccinate against killer threats
With 2014 lamb prices running ahead of 2013 levels, sheep producers are being urged to realise full value for this year's crop by making sure young la...
Lilly to acquire Novartis Animal Health
Eli Lilly and Company today announced an agreement to acquire Novartis Animal Health for approximately $5.4 billion. Upon completion of the acquis...
Pembrokeshire farmers raise TB concerns with Assembly member
The impacts of bovine TB cattle controls on farm businesses in Pembrokeshire was at the forefront of discussions when farmers met with Paul Davies, As...
Farmers face substantial tax bills over TB slaughter
Beef and dairy farmers whose cattle were slaughtered due to TB could face substantial tax bills, according to agricultural accountants. Last year,...
Wet winter causing explosion of worm cases in pig units
The wet and mild winter has been ideal for causing an explosion in the worm population on pig units, making it vital to deworm all pigs on units this ...
Experts warn sheep farmers of Nematodirus risk
Farmers are being warned by sheep experts to act now to protect vulnerable lambs against Nematodirus. The vast majority of cases occur in the spring ...
NFU President: TB destroying farm business and it must be stopped
Today is just one example of what is happening on farms across endemic TB areas, it is a farm with a closed herd; no cattle are brought on to farm. Th...
96% of sheep worrying incidents cause stress of injury
With reported cases of sheep worrying on the rise, the National Sheep Association (NSA) has launched a new online resource providing information and g...
Farmer's despair as nearly a quarter of dairy herd lost to TB
Dorset dairy farmer Paul Gould is facing the prospect of losing nearly a quarter of his closed dairy herd after the animals reacted positively at his ...
Meet EU animal welfare laws, German agricultural ministers urge
The Conference of German State Agriculture Ministers adopted a resolution calling on the German federal government to ensure that International Financ...
Cull must go on, says beef association
Plans for more badger culls in other areas of England this year have been abandoned by Environment Secretary Owen Paterson, who issued a new strategy ...
Farmers 'bitterly disappointed' over badger cull halt
Farmers have expressed great disappointment over Environment Secretary Owen Paterson's plans to abandon a roll-out of the badger cull programme. C...