Supermarkets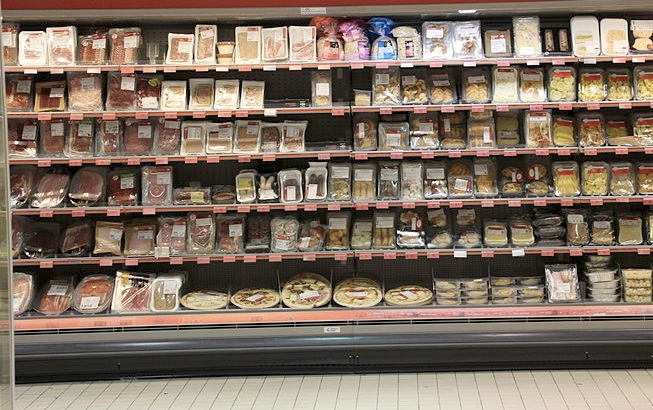 Shoppers want more British food, research says
Customers want to see more British food on supermarket shelves in wake of the horsemeat scandal, according to research. More than 82% of shoppers a...
Cheap food culture has 'become outdated' says beef association
The cheap food culture that has dominated the UK over the past 30 years has become outdated, said the National Beef Association who predicted farmers ...
Products withdrawn as more horse meat found
Testing carried out by Powys County Council has shown three samples of beef burgers made by catering supplier The Burger Manufacturing Company (BMC) h...
Supermarkets adopted 'bullying culture' says Mallon
Supermarkets and the public are paying the price for the purchasing tactics deployed by retailers for decades according to the National Beef Associati...
Retailers to publish more meat testing results
Retailers have confirmed to Environment Secretary Owen Paterson that they expect the majority of their tests on processed beef products to be complete...
Horse meat: don't blame supermarkets, Iceland chief says
Iceland chief executive Malcolm Walker has said the horse meat scandal is a problem created by local authorities and the catering industry, but farmin...
Retailers publish meat testing results
Retailers have carried out over a thousand tests on processed beef products in the last three weeks in the midst of the horse meat scandal, according ...
FUW urges consumers to buy Welsh PGI meat
The Welsh farming industry is 'appalled over the developments surrounding the mis-labelling of horsemeat' that have taken place, a Farmers' Union of W...
Sainsbury's launch pharmaceutical farm survey
A number of free range egg producers who supply eggs for Sainbury's have been informed that the supermarket chain is conducting a survey of pharmaceut...
Police raid slaughterhouse on eve of EU meeting
Police and food standards officials have raided premises in West Yorkshire and Wales on the eve of an EU emergency meeting. Property has been detai...
'Supermarket greed' caused horse meat scandal, says NPA
'Supermarket greed' is to blame for the horse meat scandal while farmers suffer as a result, according to the National Pig Association. Traceabilit...
Contaminated 'beef product' fiasco continues
Traceability standards for beef products are once again the subject of debate as news emerged over the content of Findus' beef lasagne. "This is a ...
Beef farmers press retailers on packaging labels
Beef farmers in Northern Ireland are persuading retailers not to skip product information on retail package labels. The move follows revelations th...
Tacon appointed as new supermarket adjudicator
Former Co-operative farms managing director Christine Tacon has been appointed by the government to head the first Groceries Code Adjudicator. The ...
Beef Association raises labeling concerns
Confirmations that beefburgers sold in Irish and British supermarkets contained up to 29% horsemeat means retailers must pay closer attention to the l...
FUW attacks Asda over lamb supplier switch
The Farmers' Union of Wales has criticised supermarket chain Asda for dropping a Welsh lamb processing plant from its list of suppliers. The union ...
Sainsbury's raises lamb price for farmers
Sainsbury's has pledged to increase the amount it pays for lamb until the end of February at more than 60p/kg above the market rate. The announceme...
Frozen food firms continue buy-and-build strategy
The mature European frozen foods market is characterised by modest growth and challenged by growing consumer preference for fresh products. Still,...
Supermarket adjudicator granted powers to fine retailers
Powers to fine retailers who unfairly treat their suppliers will be given to the new supermarket adjudicator, the government announced today. The ...
Supplier and retailer relationship questioned as food prices rise
Price volatility for food and drink raw materials mean supermarkets and their suppliers 'must work closer together' according to professional services...
Ugly veg rule change means more produce on sale
Over three hundred thousand tonnes of British produce, enough to fill 2,500 Boeing 747-400 freight planes, is estimated to have reached supermarket sh...
Bacon launches with double award success
A brand new Cornish bacon is launched this week having secured two food industry awards. The 'Cornish Sweetheart' streaky bacon, developed by the K...
Morrisons moves away from 100% British poultry meat
Supermarket chain Morrisons is moving away form stocking 100 percent British poultry meat, a decision that has been described as 'disappointing for th...
Vion withdrawal 'will result in farming uncertainty'
Dutch food producer Vion NV, which employs 13,000 people in 38 sites around the UK, is to sell its UK operations. The group runs abattoirs and proc...
Supermarket adjudicator 'must have power to fine'
Farming groups have called for 'improvements' to the Groceries Code Adjudicator Bill as it is set to become law. The Bill had its second reading in...
Dairy costs 'increasing at alarming rate' as union leaders meet
Representatives of UK farming groups met in Cardiff this week to discuss the future of the dairy industry. During the two-day meet, representatives...
Supermarket watchdog must have power to fine, say activists
Activists today will stage a demonstration to highlight the need for the government to ensure the new supermarket watchdog being introduced has the po...
Tesco makes switch as supermarket label campaign launched
A new campaign encouraging people to take photos of poor food labels or merchandising and upload them to Facebook has been launched today. The NFU...
Dairy coalition vows to keep up pressure on retailers
Pressure will be kept on retailers who don't pay dairy farmers a fair price, members of the dairy coalition announced today. The coalition includes...
Current food supply could lead to severe price rises
The latest crisis to hit dairy farming is just the latest of a wider problem in the food industry, according to the Green Party. The party warned t...
Asda moves on milk price
Asda has decided to increase its milk price by 2ppl on August 1 after mounting pressure from farmers and dairy coalition members.   Dairy farmers h...
Farmers agree dairy deal at Royal Welsh
Leaders of the dairy coalition have said they are putting "100 percent effort" into targeting retailers and major milk buyers to ensure dairy farmers ...
Report turns spotlight on supermarket social responsibilities
Major findings into the corporate social responsibility (CSR) policies of the 10 largest UK supermarket chains have been published today after an inve...
Local food networks are 'under-recognised', says report
Despite the importance to the high streets and landscapes, local food markets are 'under-recognised' and poorly supported, a new report says. The ...
NFU heralds Groceries Adjudicator Bill
News that third parties will be able to take complaints from suppliers to the newly created Groceries Code Adjudicator will bring "huge relief&qu...
Farming unions say adjudicator must have teeth
The introduction of a supermarket adjudicator in today's Queen's Speech has been welcomed by farming unions, but they warned major improve...
Supermarket adjudicator 'will make no difference' says report
British Retail Consortium Food Director, Andrew Opie has said that proposals for a supermarket adjudicator will make no difference because few farmers...
Supermarket watchdog will protect against 'bully boy behaviour'
A supermarket watchdog is expected to be introduced in the Queen's Speech which will take place next Wednesday. Members of the Grocery Market...
Asda, Morrisons, Iceland 'worst offenders' for healthy eating
A report launched today names Asda, Morrisons and Iceland as the "worst offenders" for undermining parents' efforts to feed their chil...
Fair play in grocery supply chain needed EU-wide
A new report has backed up calls for an effective adjudicator to police the UK Groceries Supply Chain Code of Practice. It concludes that the inte...
Morrisons ignore customers and pressure farmers - GM Freeze
GM Freeze today said farmers should be very wary of Morrisons' switch to GM feed in poultry. The company's announcement that it will now a...
Morrisons set to be biggest fresh food maker
Morrisons Chief Executive Dalton Philips will set out plans on Wednesday for the food retailer to become the UK's largest fresh food manufacture...
Scrutiny leads to fine for UK salad importer
A Kent-based fresh produce importer has been fined '2,700 after marketing two separate consignments of Spanish tomatoes and cucumbers which were...
Morrisons to highlight provenance of Scottish food
Morrisons will highlight the Scottish provenance of meat, fruit and vegetables through displays in store from this week. The display notices in Mo...
Salad bars coming to US to combat obesity
The United Fresh Foundation is celebrating a successful collaboration with Produce for Kids and Publix Super Markets that raised funds to donate salad...
MP calls on gov't to end supermarkets' 'food fight'
Andrew George, MP for West Cornwall, St. Ives and Isles of Scilly, is today renewing his calls for the Government to stop 'wasting time' i...
New report highlights importance of local food
National charity CPRE publishes a new report into the economic and social value of local food to Ledbury just days before a crunch council meeting to ...
First major supermarket goes cage free
In a first for a major supermarket, eggs used as ingredients in all of Sainsbury's own-brand foods now come from cage-free hens. From the basic...
MPs call for final push to create supermarket watchdog
The MP who chairs the national Grocery Market Action Group (GMAG) Andrew George, has today called on the Government to make the final big push to crea...
Verandas and egg shell examination could improve hen welfare says Morrisons
Poultry experts from Bristol University, funded by The Morrisons Farming Programme, examined health challenges facing the modern free range laying hen...