Supermarkets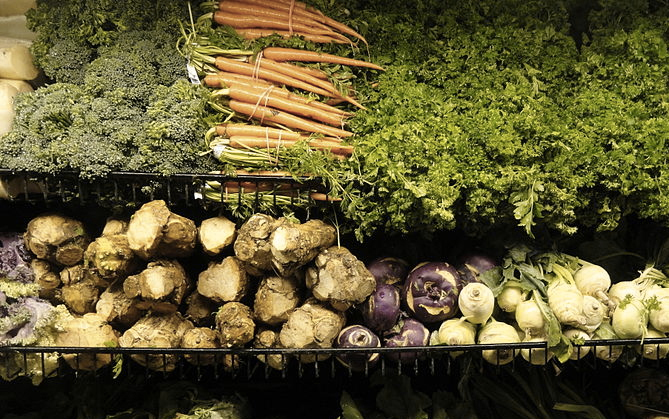 Big four supermarket chains 'under pressure'
The big four supermarkets are 'under pressure' as a result of long-term market polarisation, according to latest grocery figures published today. A...
FUW slams Tesco beef labelling plans
The Farmers' Union of Wales today hit out at Tesco's proposals to introduce an "Irish-born, British-finished" label which will add to consumer confusi...
More businesses displaying top food hygiene ratings, research shows
New research shows the number of food businesses in England, Wales and Northern Ireland displaying Food Hygiene Rating Scheme (FHRS) stickers and cert...
Consumers want to know how their food is produced, study shows
New independent research, published today, shows that eight out of ten UK consumers want to know which farm system has been used to produce their meat...
Cider consumption continues to soar
Consumption of cider has increased by 50% in the past decade. In addition to courting emerging cider markets such as the US, there remains significant...
Food industry needs improved intelligence after horsemeat, FSA warns
Professor Pat Troop has completed her independent review of the Food Standards Agency's response to the adulteration of processed beef products with h...
Fruit and vegetable consumption falls despite gov't efforts
Despite efforts by governments to promote the benefits of a healthy diet, consumption of fruit & vegetables in Western Europe and the US has declined ...
Tesco appoints new agricultural director
Tesco has today announced the appointment of Tom Hind as its new Agriculture Director. Hind, who has more than 15 years of experience working for the ...
Pressure group accuses Tesco of breaking promise on GM Feed
A pressure group has accused supermarket giant Tesco of breaking a promise to customers by abandoning its requirement that egg producers use only non-...
EFSA calls for change to meat inspections
The European Food Safety Authority (EFSA) has made a number of recommendations for improving meat inspection procedures to better protect consumers, a...
Tesco accused of 'breaking promises' on GM feed
Anti-GM group GM Freeze have accused Tesco of breaking a promise to phase out GM animal feed, thereby 'breaking commitments made in the company's soci...
Supermarket watchdog powers come into force
The powers of a new independent supermarket watchdog have come into force and has been welcomed as a 'dawn of a new chapter of fairer dealing', accord...
Supermarkets not doing enough for farmers, group says
Supermarkets should do a lot better to support farmers who have been troubled by this year's cold spring coupled with last year's wet seasons, accordi...
Retailers back new food labelling scheme
Retailers are today pledging strong support to a national pack labelling scheme which offers customers nutritional information on the food they buy. ...
More results of beef product testing published
The Food Standards Agency is today confirming it has received a further 19,050 industry results from testing beef products for horse DNA. The Agency h...
NFU meets with minister to push for effective supermarket adjudicator
As the UK's recently appointed supermarket adjudicator will begin accepting evidence by the end of this month, farming organisations are seeking to en...
Shoppers duped by misleading labelling
Shoppers looking to support local farmers are being misled into buying imported produce as a result of ineffective rules around product labelling. ...
Report seen as 'game changer' for future UK food production
Faced with the need to find a 'game-changing' solution to secure the future competitiveness of UK farming, a number of leading industry organisations ...
Horsemeat scandal causes Tesco sales drop
Food sales at supermarket giant Tesco have seen a fall over the past three months due to the horsemeat scandal. "A small but discernible impact on ...
Muller Wiseman dairies confirm 32.27ppl milk price
Müller Wiseman Dairies has confirmed that its new Müller Wiseman Formula Price, announced last week, will return 32.27ppl in its first quarter, from J...
Intelligence sharing needed as FSA review horse meat scandal
At the Food Standards Agency open Board meeting, Professor Pat Troop presented the key findings of her review of the Agency's handling of the adultera...
EU votes to ban flavouring substance
It has today been decided by the European Commission and European Union member states that the flavouring substance 3-acetyl-2,5-dimethylthiophene sho...
Tough times ahead for farmers, says Quinney
The next 12 months are going to be 'tough for farmers' as the adverse weather conditions continue to have a knock on effect according to NFU Vice Pres...
Iceland recalls its 4 Chinese pork quarter pounders
Iceland is recalling packs of its 4 Chinese Pork Quarter Pounders because the product contains soya, which is not mentioned on the label. This mak...
Pasture-fed livestock group grows after horsemeat scandal
The Pasture-Fed Livestock Association (PFLA) has experienced a surge in interest since horsemeat DNA was confirmed in some processed foods on sale in ...
Asda withdraws burgers due to sulphites
Asda has withdrawn more packs of its Little Eat Beef, Cheese and Tomato Burgers, because the product contains sulphites, which are not mentioned on th...
Dairy farmers urge supermarkets to 'play fair'
Supermarkets must end their resistance to rises in the cheese market or run the risk of dairy processors shifting milk into alternative products, UK d...
UK food firms make pork pledge amid welfare concerns
One hundred of the UK's leading food firms have pledged total traceability for the imported pork products they sell after concerns were raised by farm...
Beef Association urges consumers to check for 'Origin UK'
The National Beef Association has said no-one 'can afford to lower their guard' or consumers could once again be buying contaminated beef products in ...
Buy British to support snow-hit livestock farmers, urge NFU
The National Farmers' Union has urged the public to 'buy British' to support livestock farmers affected by the recent extreme weather conditions. T...
Tesco confirms price rise for dairy farmers
700 farmers who make up the Tesco Sustainable Dairy Group will receive a rise in the price they are paid for their milk to 32.77ppl, the supermarket c...
Hungarian horse meat labelled as beef
Lancashire County Council has identified traces of horse meat imported from Hungary that was labelled as beef, the Food Standards Agency has confirmed...
Bagged salad caused May 2012 infection outbreak
The Health Protection Agency has published findings of an investigation into an outbreak of Cryptosporidium infection that affected around 300 people ...
Food sustainability report launched
A new report has highlighted that the food industry is looking for ways to measure how sustainably its ingredients are grown and produced, providing a...
MEP attacks Paterson for mishandling horsemeat scandal
Environmental Secretary Owen Paterson has been criticised in the European Parliament for his handling of the horsemeat scandal. UKIP MEP Stuart Agn...
NFU and Tesco discuss 'British meat' pledges
The NFU has met with Tesco representatives to discuss its recent pledge to source meat 'closer to home' and to build partnerships with British farmers...
Charity launches European supermarket survey
Welfare charity Compassion in World Farming is extending its supermarket survey across Europe, enabling European retailers to benchmark their farm ani...
More robust checks needed for imported meat
A more robust system is needed to ensure imported food meets British standards, according to Agrantec. Following the recent scandals over horsemeat...
Retail Consortium completes minced beef tests
The British Retail Consortium has reported no new positive results for horse meat in their tests on processed minced beef products from supermarkets. ...
Supermarket adjudicator bill nears completion
MPs have today voted to approve the report stage of the bill to create a Groceries Code Adjudicator. "This is the culmination of fourteen years of ...
Work starts on new meat processing facility
Work has started on a new 8,000 square metre abattoir and meat processing facility in Hortonwood, Telford, which should be operational by July 2013, j...
Tesco makes pledge as Kendall calls for major shift in supply chains
Shorter supply chains and British sourced beef is needed as the horse meat scandal shows failings in the current system according to NFU President Pet...
Shoppers want more British food, research says
Customers want to see more British food on supermarket shelves in wake of the horsemeat scandal, according to research. More than 82% of shoppers a...
Cheap food culture has 'become outdated' says beef association
The cheap food culture that has dominated the UK over the past 30 years has become outdated, said the National Beef Association who predicted farmers ...
Products withdrawn as more horse meat found
Testing carried out by Powys County Council has shown three samples of beef burgers made by catering supplier The Burger Manufacturing Company (BMC) h...
Supermarkets adopted 'bullying culture' says Mallon
Supermarkets and the public are paying the price for the purchasing tactics deployed by retailers for decades according to the National Beef Associati...
Retailers to publish more meat testing results
Retailers have confirmed to Environment Secretary Owen Paterson that they expect the majority of their tests on processed beef products to be complete...
Horse meat: don't blame supermarkets, Iceland chief says
Iceland chief executive Malcolm Walker has said the horse meat scandal is a problem created by local authorities and the catering industry, but farmin...
Retailers publish meat testing results
Retailers have carried out over a thousand tests on processed beef products in the last three weeks in the midst of the horse meat scandal, according ...
FUW urges consumers to buy Welsh PGI meat
The Welsh farming industry is 'appalled over the developments surrounding the mis-labelling of horsemeat' that have taken place, a Farmers' Union of W...