Supermarkets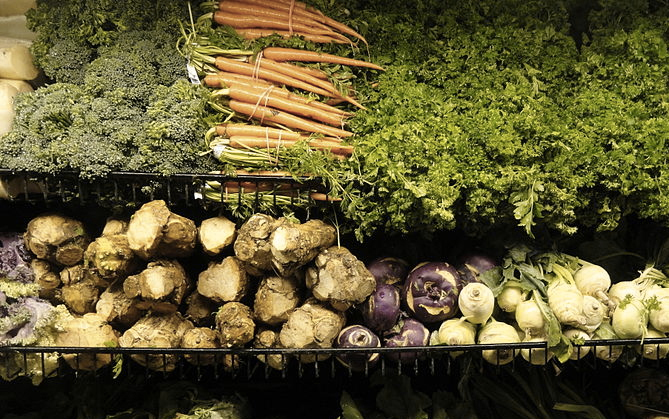 Gap between beef retail and farmgate prices 'cannot continue'
NFU Cymru Livestock Board members have called on the rest of the supply chain to restore confidence and stability to the beef price following the dram...
Gloucestershire farmers launch meat traceability scheme
Two Gloucestershire farmers, Clifford Freeman and Matthew Rymer, have ignited a growing 'Happerley Farmed' movement among producers, butchers and chef...
Supermarkets warned to support British beef
FUW president Emyr Jones has written to UK supermarkets reiterating the need to support Welsh and British beef through loyalty and sustainable prices....
Retailers face anonymous complaints if they breach grocery code of practice
Farmers and growers can now make anonymous reports of retailers suspected of breaching the Groceries Supply Code of Practice (GSCOP) through a new sch...
Halal meat labelling 'could fuel prejudice', says veterinary association
Calls to label meat products with information about animal welfare at slaughter could be hijacked by prejudice, according to the British Veterinary As...
'Beef prices must increase to ensure producer confidence' - FUW
A joint meeting of the Farmers' Union of Wales' livestock, wool and marts and the hill farming and marginal land committees has warned that action mus...
Major retailers forced to change change strategy as growth slows
The British grocery market has grown just 1.9%, the lowest level for at least 11 years, according to latest figures from Kantar Worldpanel. This l...
Dairy-produced beef under the spotlight
Beef production from the dairy herd to benefit the industry as a whole will come under the spotlight at this year's NBA Beef Expo. Beef Expo's the...
Beef industry 'needs long term investment', says NFU
The National Farmers' Union is calling on more people to eat British beef as production falls around four percent in recent times. The union is callin...
FSA confirms new European horse meat tests
The Food Standards Agency (FSA) has confirmed details of a new round of tests of beef products for horse meat contamination. The tests have been reque...
Losses for big four supermarkets, latest figures show
Latest grocery share figures have shown what appears to be a dramatic market slowdown, with growth of only 0.6%. Kantar Worldpanel estimates that E...
NFU urged to encourage farmers to work with restaurants
Angelus Restaurant and Bar's owner Thierry Tomasin is urging for more momentum from the NFU in the driving of local farmers to work more closely with ...
'Buy from local butchers', as National Butcher's Week begins
People are being encouraged to buy from their local butcher as part of National Butchers' Week. This year's awareness-raising campaign focuses on e...
Meat consumption 'in decline' following rising costs and horsemeat scandal
Rising prices and the exposure of the horsemeat scandal in early 2013 have contributed to a declining demand for meat in the UK, according to a new ma...
MEPs object to new labelling rules
Parliament opposed the Commission's proposed definition of "engineered nanomaterials" – tiny particles added to foods – in a vote on Wednesday. MEPs s...
Pressure on big four supermarkets 'intensifies'
The latest grocery share figures from Kantar Worldpanel show new records set by Waitrose and Aldi as pressure on the big four supermarkets intensifies...
Harper Adams conference links farming, science and nutritional food value
Harper Adams University is set to host the 2014 Frank Arden Memorial Conference on 24 April, supported by the Nuffield Farming Scholarships Trust. ...
Supermarkets urged not to 'devalue food' with price wars
Supermarkets have been urged not to 'devalue food' by entering into price wars which have the potential to undermine British farmers, according to agr...
Diversification can help farmers increase income
Three free events are being staged next month to highlight how diversifying into horticulture can help farmers increase their income and meet a rising...
Supermarkets under pressure to sell more British food
Retailers should show more support to British farming by stocking more British food, National Farmers' Union President Peter Kendall said today. A ...
Figures show 'very little' increase in Polish beef imports
With weakening cattle prices of late, many have been quick to point the finger at Polish beef imports. The evidence does not however, back up the s...
Horsemeat scandal triggers local produce boom
Meat producers are reporting a significant increase in sales over the last year as consumers continue to buy locally, one year on from the horsemeat s...
What's changed since the horse meat scandal broke?
One year ago consumers were shocked to find out that what they thought was beef – was actually horse. The horse meat scandal gave charities a chanc...
Yorkshire company sees 20% sales increase after horsemeat scandal
Yorkshire Dales Meat Company has seen a 20% rise in sales of its products in ASDA stores across the North of England since the beginning of the Horsem...
Union builds on consumer demand for Scottish food
NFU Scotland is building on its ShelfWatch campaign to specifically look at the availability of Scottish meat on Scottish retailer shelves. One yea...
UK's protected food names 'boost EU economy'
More than 60 unique British foods have now achieved protected status to help safeguard the products and deliver boosts to the economy. Anglesey Sea...
Meat labelling rules will confuse shoppers, farming groups warn
The NFU and NPA say that new European Commission rules on food labelling may lead to massive confusion for British shoppers keen to buy meat produced ...
Regulation tops farmers' concerns for 2014
A new survey has revealed regulation, high input costs and the impact of CAP reform top the list of things farmers' believe will have negative impacts...
Look after UK suppliers as imported lamb drops, NSA urges
Retailers in the UK are being urged to create stronger trading relationships with domestic lamb suppliers to prevent reliance on New Zealand imports. ...
Sainsbury's announces £1m farming investment
Sainsbury's has announced over £1 million worth of investments to 700 of its farmers and suppliers at an annual farming conference. The 13 allocat...
Supermarkets step up to the mark after Horsegate
Two surveys researching the amount of British meat on supermarket shelves has shown retailers have increased their support for UK-farmed pork, lamb an...
Retailers stocking more British beef but 'more needs to be done'
Latest figures released by EBLEX have revealed the average percentage of British beef and lamb on supermarket shelves has shown a 'marked improvement'...
New US meat labelling rules take effect Saturday
This Saturday, new regulations are scheduled to take effect that will require meat producers to list many details on their packaging, such as the coun...
Tesco launches Future Farmer Foundation
Tesco has launched a project aimed at supporting the next generation of farmers in the UK, called the Future Farmer Foundation, by helping them embark...
Supermarket customers say that Tesco does not care about the food it sells
Two thirds of customers say they think Tesco does not care about the food it sells - an indication of how the horse meat scandal has damaged faith in ...
NFU urges shelf life extensions for lamb
Extending the shelf life of lamb will allow the UK to compete effectively with markets in New Zealand and Australia, according NFU's Sion Aron Jones w...
Horse DNA detected in canned beef from Romania
The FSA has been informed that a batch of canned sliced beef that was found to contain horse DNA has been withdrawn from sale. Horse meat is not i...
Split in responsibilities 'led to confusion' at height of horse meat scandal, says report
A report by the National Audit Office has found that, while arrangements for identifying risks to food safety are effective, similar arrangements for ...
Sheep association calls for 'urgent' meeting with Tesco chief
The National Sheep Association chief executive has requested an 'urgent' face-to-face meeting with Tesco chief Philip Clarke after comments made by cu...
Major supermarket chains 'have to respond to increasing pressure', says report
The latest grocery share figures from Kantar Worldpanel, published today for the 12 weeks ending 15 September 2013, show the big four supermarkets und...
Food testing to be stepped up
Food traceability experts believe that establishing the true geographical origin of products is now essential if consumer confidence in food is to be ...
Salmonella outbreak in England and Wales investigated
An outbreak of an unusual type of salmonella infection, Salmonella Typhimurium, across England and Wales is being investigated by health officers. ...
Food waste harms climate, water, land and biodiversity, says report
The waste of a staggering 1.3 billion tonnes of food per year is not only causing major economic losses but also wreaking significant harm on the natu...
Cameron refuses to return red meat levy to Scotland
In a letter to First Minister Alex Salmond, Prime Minister David Cameron has refused to return to Scotland the levy income paid by Scots livestock pro...
Retailers must back British fruit and veg, says NFU
Retailers must work with growers to ensure consumers have better access to British fruit and vegetables, the NFU said today as it issued a fresh call ...
Farm group 'disappointed' over level of lamb imports to Tesco and Asda
The lamb season needs more retailer support according to the National Farmers' Union who found 'disappointing' levels of imports in Tesco and Asda sto...
Foundations for next food scandal being laid as retailers move away from shorter supply chains
The foundations for the next food scandal are already being laid by some retailers as they edge away from shorter supply chains that were promised fol...
Horse DNA detected in meat pie from Latvia
A frozen meat pie product that was found to contain horse DNA has been withdrawn from sale. The pie is a Galdin Klajies product manufactured in La...
Asda recalls own-brand Curried Chicken Snack
Asda is recalling its own-brand Curried Chicken Snack Pack with a 'use by' date of 17 July 2013 on a precautionary basis because Listeria monocytogene...
Network of fraudulent companies behind horsemeat scandal - MPs
Influential MPs believe a complex and highly organised network of companies fraudulently mislabelling meat is behind the horsemeat scandal. MPs hav...