Shows and Events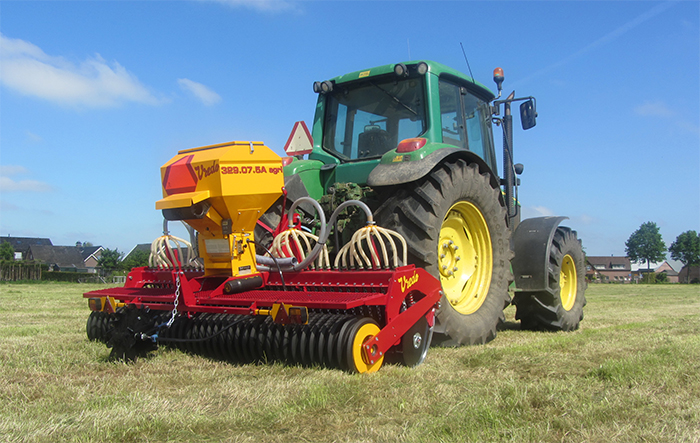 JC Machinery to show new products at LAMMA 2014
The new Vredo DZ Agri Air series of overseeders are specifically designed for small areas which may have slopes or undulating terrain. It features a p...
New Holland dealers celebrate success with national awards
New Holland has celebrated the success of its extensive dealer network awarding five accolades recognising excellence in dealer standards and performa...
Knight to show Bednar cultivators at LAMMA 2014
LAMMA 2014 gives farmers and contractors the first opportunity of the new year to take a close look at Knight Farm Machinery's expanded range of culti...
Farming technology wins top innovation accolade
Aberystwyth University's Institute of Biological Environmental and Rural Sciences (IBERS) has won the Outstanding Contribution to Innovation and Techn...
Young farming couple receive 2013 Welsh Achievement Award
Sion and Claire Williams, a young couple from Llandeilo, Carmarthenshire, were presented with the NSA Cymru/Wales Young Achievement Award at the Welsh...
'High interest' in Shropshire land and woodland auction
Auctioneers Halls have reported a high level of interest in six parcels of pastureland and woodland across Shropshire that will be going under the ham...
Kuhn to show latest models at LAMMA
Latest models from across Kuhn Farm Machinery's range will be on show at LAMMA 2014, which takes place at the East of England Showground, Peterborough...
Case to show new tractors, loaders and balers at LAMMA
A host of new Case IH products will be making their first appearance at LAMMA in 2014. They include the latest Farmall U Pro with cab suspension and i...
Prince of Wales meets farmers reducing antibiotic use in dairy herds
The Prince of Wales has met with a group of farmers involved in the Duchy Originals Future Farming programme, led by the Soil Association. The event, ...
Farmwatch scheme attracts a lot of interest
Police officers working in rural areas of north Powys have linked with colleagues at NFU Cymru to bring a Farmwatch service to local farmers. Set ...
NFU Vice President to address Clwyd County Conference
Adam Quinney, NFU Vice President, will be guest speaker at Clwyd NFU Cymru Annual Conference on Tuesday, 10 December 2013. Starting at 7.30pm the m...
Focus on lightweight lambs, NFU members told
"In a World market, influencing market price is difficult, particularly in the peak season for Welsh lamb." That was the opening message from Hybu Cig...
New partnership secures future for Farm Business Awards
The East of England Agricultural Society has forged a new working partnership with the UK's largest farmer owned central storage co-operative, Camgrai...
New Monmouthshire livestock market update
Monmouthshire NFU Cymru members heard about the new Monmouthshire Livestock Centre which will open next week near Raglan, at their well-attended Annua...
Case IH goes large at LAMMA
Case IH's stand at LAMMA 2014 will feature the world's most powerful tractor in series production, the 692hp Quadtrac 620, together with the world's l...
Halls to hold CAP briefing events
The rural professional team from Halls in Shrewsbury and Kidderminster is inviting farmers and landowners to CAP reform briefing events in December. ...
Mid Wales farmers tuck in to a banquet of bangers
Mid Wales farmers enjoyed a banquet of bangers in a special celebration of British Sausage Week laid on by Farmers' Union of Wales members Ithel and L...
Award-winning Horsch technology at LAMMA 2014
Horsch has picked up a host of awards from Agritechnica 2013 and will displaying its new models and technology to UK customers at LAMMA 2014. In addit...
Tesco launches Future Farmer Foundation
Tesco has launched a project aimed at supporting the next generation of farmers in the UK, called the Future Farmer Foundation, by helping them embark...
AgriScot 2013 debuts for New Holland machines
A pair of high new machines from New Holland are making their debuts at this year's AgriScot show. Showcased on the stand run by the local dealers...
NFU Cymru meets Natural Resources and Food Minister
Following the announcement earlier this month on the division of CAP funding for Pillar 1 and Pillar 2 between the UK administrations, NFU Cymru used ...
Agritechnica preview of new McCormick tractors
The Agritechnica show in Germany not only provided a platform for previewing the 143-175hp McCormick X7 VT Drive stepless tractors (see separate story...
Case IH Quadtrac awarded machine of the year
The Case IH Quadtrac 620 has been awarded the "Machine of the Year 2014" in the XXL tractor category on the third evening of this year's Agritechnica ...
Merseyside farmers agree to help city's shadow farming minister
A host of industries thrive in and around Liverpool but farming isn't one of those that you'd necessarily associate with the city. In the Liverpool...
New tractors for Landini range in 2014
Italian agricultural engineering firm Argo Tractors presented its biggest ever collection of new models at the Agritechnica exhibition in Germany as a...
Horsch win Agritechnica Machine of the Year 2014
Horsch's new range of Leeb sprayers has been awarded the coveted Machine of the Year 2014 award at this year's Agritechnica show. The sprayers were...
Farmers urged to submit their ideas for £6m Nature Fund
Farmers in Carmarthenshire are being urged to share their ideas with the Welsh Government on how it can make best use of a new £6million Nature Fund. ...
Argo Tractors previews first CVT model at Agritechnica
The McCormick tractor line-up is set to be transformed in 2014 with the introduction of new ranges across the power spectrum that bring new designs an...
Farmer- scientist conversation to address food challenges
A pioneering event bringing farmers and scientific experts together to look at ways crop biotechnology can help farming meet global food challenges is...
NFU meets on farm with Derek Vaughan MEP
"The total EU budget has been cut, and we have to accept that, however, we do not want to see the Welsh Government setting a Pillar transfer rate whic...
Agritechnica preview for new JCB Fastrac
One of the most significant developments in the JCB Fastrac tractor range since its launch 23 years ago was previewed at Agritechnica with the unveili...
JCB launches new machines at Agritechnica 2013
A new engine delivering increased performance, fuel efficiency and cleaner exhaust emissions without additional servicing or running cost burdens make...
Welsh food producers celebrate success of 'taking coal to Newcastle'
A group of Welsh food producers who attended the first Food & Drink Show Northern Ireland 2013 recently are celebrating the success of their trade mis...
Agri-food specialists unite to support young talent
Cheshire student Liz Andow has embarked upon a university course, thanks to a scholarship package designed to support emerging UK agri-food talent. ...
New Kuhn baler wins silver medal at Agritechnica
Technology introduced on Kuhn's new LSB 1290 iD baler for increased density bales has earned it a Silver Medal for Innovation at Agritechnica where it...
Three finalists chosen for Zoetis/BPC Poultry Trainee of Year Award
Three of the poultry industry's most promising young workers from Herefordshire, Lincolnshire and Scotland have been chosen as finalists for the Zoeti...
Silver medal for Fendt: Hydraulic coupling convinces jury
Fendt has received a Silver Medal at this year's Agritechnica for its newly developed modular flat-sealing hydraulic coupling, which was awarded by th...
Glamorgan members discuss issues with Police Commissioner
A delegation from Glamorgan NFU Cymru county branch recently met with Alun Michael, Police and Crime Commissioner for South Wales and highlighted the ...
Carmarthenshire NFU Cymru on-farm milk meeting
Stephen James, NFU Cymru Deputy President and Aled Jones, NFU Cymru milk board Chairman, will be guest speakers at the next Carmarthenshire NFU Cymru ...
NFU Cymru Deputy President to address Ceredigion AGM
Stephen James, NFU Cymru Deputy President, will be addressing Ceredigion NFU Cymru members at the Annual General Meeting on Wednesday, 13 November at ...
HGCA launches Grain sampling guide at UK Grain
Copies of HGCA's updated Grain sampling guide will be available for the first time at next week's UK Grain event in Peterborough. The Guide brings...
Livestock chairmen to address NFU members
Two influential livestock board Chairmen will be addressing Glamorgan NFU Cymru members at the Annual General Meeting on Wednesday, 13 November at the...
Suckled calves peak at £1,255 per head at Bishops Castle
Top quality genuine suckled calves sold for more than £1,000 per head and £3 per kilo at Bishops Castle and District Quality Cattle Association's succ...
Agricultural students to benefit from Centenary Award
Three postgraduate agricultural students from across the UK have been selected as this year's recipients of The NFU Mutual Charitable Trust's 'Centena...
Future of grass-weed control at CropTec
Cultural controls are the pinnacle of grass-weed control now and in the future, according to Bayer Crop Science, seminar sponsors of CropTec 2013. ...
Campaign to support Herdwick farmers launched
A campaign to protect Herdwick farming and upland farmers is to be launched with support from the Prince's Countryside Fund. Secured by Taste Cumbr...
NBA Beef Expo 2014 returns to Hexham
The National Beef Association (NBA) is returning to its Northumberland roots for NBA Beef Expo 2014, which is also putting grassroots showing back on ...
UK Grassland farmer of the year announced
Cheshire dairy farmer Mathew Venables has won the UK Grassland Farmer of the Year Award, run annually by the British Grassland Society (BGS). The o...
Large crowd at Rock Farm dispersal auction
A dispersal sale of tractors and farm machinery at Coningswick Farm, Rock, near Kidderminster attracted a large crowd of potential purchasers on Satur...
John Deere awarded two silvers at Agritechnica 2013
Two John Deere innovations have been awarded silver medals at Agritechnica, the world's leading agricultural equipment trade fair being held in Hanove...