Sheep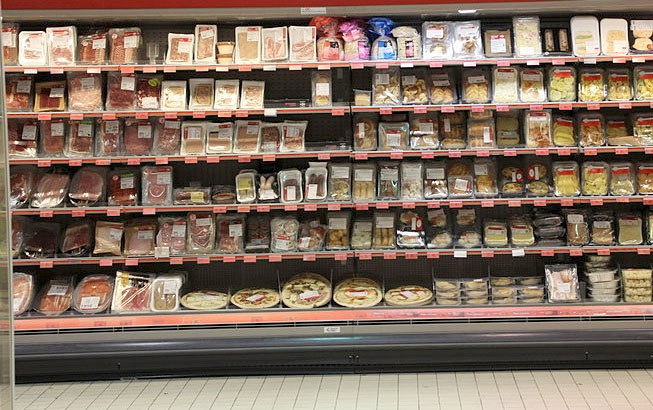 Sheep smash records at Dorset Country Show
Agricultural shows in Dorset are set for a 'best baa none' year after being flooded with record-breaking entries in the sheep classes. ...
Check for VAT on wool sales
Sheep farmers should check for any tax implications when selling wool to Irish merchants, the NFU has advised. It has emerged that livestock keeper...
Ten week cover against ticks
A product used to treat sheep infested with ticks has had its status upgraded to become a licensed preventative that will keep animals clear of the pa...
PhideliFarm Livestock Management Software launched by Phidelios
Phidelios has launched PhideliFarm - Livestock Management Software. PhideliFarm is designed to make management of sheep and/or cattle and their recor...
Sustainable sheep production is key message at NSA event
Dealing with resistance to wormers was one of the key messages at NSA Sheep 2011 held at Hexham, in Northumberland. Novartis was the main sponsor o...
Invest now or pay later
Beef and sheep producers are being urged to maximise cattle and lamb growth rates at grass this summer to avoid the consequences of another expensive ...
New kiwi shears champ pips older bro in UK
New national shearing champion Rowland Smith has hit early winning form on his first international tour in Britain by beating older brother Matthew i...
Parasite medicine hailed a success after first year
A medicine used to combat worms in sheep has been hailed a success after its first year on the market, after more than a million doses were used for t...
British wool launch new photographic competition
The British Wool Marketing Board has joined forces with the National Federation of Young Farmer's Clubs (NFYFC) to launch a photographic competi...
Producers urged to gain value from 2011 lamb crop
The benign March weather has been a godsend for many sheep units entering their peak lambing season, but producers must not become complacent if they ...
Top shears guns head for Easter Show
Shearing giant David Fagan ends a 30th season in open-class shearing competition at the Royal Easter Show in Auckland this week with a new kick in his...
FAWC opinion offers some positives on sheep lameness
The NFU is warning against introducing more laws and inspections to tackle lameness in sheep but says that some positives have been offered by the Far...
FUW member wins wool board election
THE Farmers' Union of Wales' official candidate, Bedwyr Jones of Gwastadanas Farm, Nant Gwynant, near Beddgelert, has won the British Wool...
Vet offers advice on sheep ectoparasite control
Novartis Animal Health vet Thomas Tiley was at the National Sheep Association Winter Fair 2011 at Bakewell Agricultural Centre on 27th January to hold...
New data shows good energy levels in winter grass
Winter grass emerging from a blanket of snow and frost does so with a surprisingly high ME content and the phenomenon can help sheep farmers delay com...
Wool price announcement expected
The British Wool Marketing Board (BWMB) will attend the first NSA Winter Fair in Bakewell (Derbyshire) announcing positive news on prices to wool prod...
Shearing record set in New Zealand
Shearing brothers Doug and Rowland Smith have stamped a mark on shearing history by hammering an 11-year-old record by 80 sheep in a Hawke's Bay...
Subsidised diagnostic service for barren ewes
With sheep scanning well underway in many parts of the country, farmers running a flock with a barren rate greater than 2% can now ask for a subsidise...
Shearer's plea: Rain, rain, go away...
The pre-Christmas wet providing relief for some North Island farmers couldn't have come at a worse time for King Country shearer Stacey Te Huia ...
Shearing raises $12,000 for mine disaster families
A speedshear and charity auction featuring many of the World's fastest shearers in Reefton last night (Saturday) raised more than $12,000 for th...
Combating sheep scab high on agenda
NFU Cymru's Livestock Board is encouraging Welsh sheep farmers to take adequate steps to treat and protect their flocks from one of the most con...
Shear stunner for Pike River mine families
With 18 years behind her as a shepherd in the North of England and setting up a new life running a pub in New Zealand, Sarah Robinson should have been...
SPARC and wool levy pool back Kiwi shears stars
Shearing Sports New Zealand is pleased all six members of its successful World Championships team are targeting repeats of their successes at the next...
Farmers urged to follow Scottish sheep scab regs
The Sheep Scab (Scotland) Order 2010 comes into force from 17 December 2010 and reinstates sheep scab as a notifiable disease in Scotland. Dr David Ba...
Sheep's wool solution to insulated packaging
An exciting new market for sheep's wool is growing with the success of woolcool® insulated packaging as the simple yet revolutionary alternative...
Injector gun to treat sheep against fluke
Merial Animal Health has produced a new injector gun specifically designed for treating sheep with its flukicide Trodax®. The new smaller gun will all...
Southland guns shear Tapanui gold
Former New Zealand representative Nathan Stratford claimed his first win of the 2010-2011 shearing season as Southlanders dominated the open champions...
World champ shows class in Nelson sheep Shears
World champion shearer Cam Ferguson proved a class above the rest when he won the Nelson A and P Shears open final on a flying visit to the South Isla...
UK ministers encouraged by EU meeting on sheep EID
UK agriculture ministers were encouraged by EU Commissioner Dalli's commitment to pragmatism in implementing EU rules on Electronic Identificati...
Fodder wins Butchers' s shop of the year
Fodder, the Yorkshire Agricultural Society's flagship food hall, has won the coveted Butcher's Plus Award at the Butcher's Shop of t...
Farmers put British wool at the top of the agenda
Farmers in North Derbyshire have thrown their support behind efforts to bring British wool back into fashion and encourage industry and consumers to s...
Pharmacist holds egg count to tackle worm issue
Pharmacists and vets in the Welsh border counties have been working together by holding a series of Worm Egg Count Clinics to help farmers identify wh...
North east abattoir to increase meat supply chain
FUNDING is ensuring that the North East will get its first fully EU accredited abattoir which will strengthen the region's red meat supply chain...
Sheep graziers work on scab control
Sheep farmers preparing for the compulsory removal of flocks from common grazing are being encouraged to cooperate in regional sheep scab control init...
Wool week sees major retail backing
Wool Week – the launch of the Campaign for Wool (CfW) has seen major backing from the retail world, aroused amazing interest at consumer level and see...
EC recognizes problems of animal cloning
Eurogroup for Animals welcomes the proposed temporary ban of the use of cloning of animals for food use detailed in the leaked draft report of DG SANC...
Week to help appreciate value of wool
The first ever Wool Week is taking place this week – and has received a warm welcome from the NFU. The week, which will see a variety of wool-them...
What lies ahead for wool producers
"The clear leap that British wool has taken over the last 12 months is good news for both the British Wool Marketing Board (BWMB) and producers, but w...
Wool fans flock to Savile Row
Agriculture Minister Jim Paice will join supporters of Wool Week in Savile Row as it is transformed into a sheep field with Wiltshire Exmoor Horns and...
Novartis is major sponsor of new sheep event
Novartis has re-affirmed its commitment to the sheep industry, and its continued support of the National Sheep Association, with the announcement that...
Hat-trick at Skipton gimmer lamb show
Masham sheep maestros, Nidderdale father-and-son Roland and David Verity, pulled off a remarkable hat-trick when landing the breed championship for th...
Shears legend ponders another southern challenge
King Country shearing legend David Fagan has found the whiff of a few sheep and the competition bug just too much to resist in a snap decision to make...
Stonebridge top price at Skipton Texel highlight
Robust commercial trade, with over 90% clearance of the 445-strong entry, were high spots of the 29th Northern Area Texel Sheep Breeders Association t...
Wet weather brings increased parasite risk
Livestock producers are being urged to keep an eye on the weather, because wet conditions are ideal for fluke to thrive and pose real challenges to ca...
Pre-sale scab treatment certification
Sheep that have been treated for sheep scab and protected against re-infestation beyond their autumn sale date can be formally certified as such follo...
English Shearer of the Year award 2010
England's top sheep shearers battled for the title of English Shearer of the Year 2010 last week at the NSA Sheep Event at the Three Counties Sh...
Electronic tags 'a must' to boost store lamb sales
All Britain's sheep producers who are planning to sell store lambs at livestock auction markets this year are being urged to ensure that their 2...
Calls for EU to ease TSE controls
Consumer safety and confidence will always be paramount to Welsh farmers but NFU Cymru believes the time is now right, 14 years since BSE hit the head...
Efforts to ease EID burden continue
NFU Cymru is using Brecon show to highlight the Union's continued efforts to minimise the burden on Welsh sheep farmers of compulsory EID (Elect...
Sian Wigram wins Hampshire Down Trophy
Mrs. Sian Wigram from Lewdown, Okehampton, was awarded the The Black Farmer Perpetual Challenge Trophy for her magnificent Hampshire Down ram lamb at ...