Sheep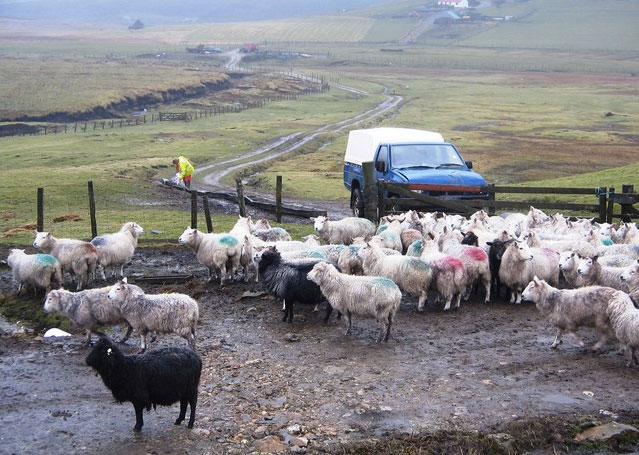 Sheep scab to be a priority following inaugural conference
At the inaugural conference of the Sheep Health and Welfare Group (SHAWG) last week, a clear mandate was given to the group when the 224 attendees vot...
Limited sheep stocking numbers 'putting biodiversity at risk'
UK governments should acknowledge the importance of sheep in conservation management, the National Sheep Association (NSA) has suggested. Limited ...
Competition key to livestock success - LAA chairman
The newly appointed chairman of the Livestock Auctioneers Association says he is looking forward to working hard to ensure livestock producers will co...
Livestock producers are under pressure says NFU
Beef and sheep farming cost pressures mean that most average producers are still making a loss before the single payment, the NFU said today. Lives...
World record sheep dog price at Skipton
Robust trade for quality broken dogs, which averaged over £2,000, was once more evident at the autumn working sheep dog sale at Skipton Auction Mart, ...
Global droughts curb meat consumption
Global meat production rose to 297 million tons in 2011, an increase of 0.8 percent over 2010 levels, and is projected to reach 302 million tons by th...
Large-scale can be sustainable, but industry needs to address perception issues
Large-scale livestock farming can be sustainable, but the UK now needs to take a proactive approach to establish an evidence base and best practice st...
Schmallenberg case 'must be investigated to understand virus'
Following the discovery of the Schmallenberg virus in Dyfed, West Wales, earlier this week, there have been calls for a thorough and rapid investigati...
Census shows need for CAP payments
The latest agricultural census in Scotland highlights the need for continuing Common Agricultural Policy coupled payments. That was the message fr...
Learn from EID mistakes, European policy makers warned
European policy makers have been urged to 'learn from their mistakes' on the law governing the electronic tagging of sheep when implementing new rules...
Price volatility is not going away, livestock farmers warned
Livestock and dairy farmers have been warned to keep a close eye on the costs of production as input price volatility is 'here for the foreseeable fut...
What is the real cost of cheap food?
With increasing public awareness of animal welfare, how much more are people willing to pay for the happiness of the animals they eat? Innovative r...
MEP attempts to change EID rules welcomed
British MEPs have tabled amendments to the Common Agricultural Policy to relax rules governing sheep EID tags. Farming unions such as the NFU and ...
World feed prices continue to pressure producers
Adverse weather conditions in many parts of the World have caused prices for wheat and soya to rise rapidly in recent weeks, putting severe pressure o...
National Sheep Association appoints new communications officer
The National Sheep Association (NSA) has appointed Joanne Pugh as its new Senior Communications Officer. Pugh, who grew up on a livestock farm in ...
Schmallenberg virus circulating, say scientists
Schmallenberg virus could circulate across the UK after the virus has over-wintered according to results uncovered by the Royal Veterinary College and...
Proposed changes to stocktaking rules welcomed
The Accounting Council have decided to make "fair value" for biological assets optional rather than mandatory as the minutes of their July meeting hav...
Countess of Wessex opens new Wool Board offices
Staff and guests welcomed The Countess of Wessex as she officially opened the new British Wool Marketing Board offices on Canal Road, Bradford. Cha...
Kirkpatrick scores again in Scotland
Golden Shears and New Zealand shearing champion John Kirkpatrick has won his second scottish blackface Open title at the 20th Lochearnhead Shears in S...
British Wool Marketing Board's work to be showcased at the Great Yorkshire Show
Next month's Great Yorkshire Show, Harrogate, on July 10-12 will see the British Wool Marketing Board (BWMB) taking time to explain to wool producers ...
High sugar mixture provides boost for sheep systems
A new seeds mixture for extended grazing and comprising exclusively of the Aberystwyth-bred Aber High Sugar Grasses with a compatible white clover ble...
National Sheep Association calls for urgent review of Sheep EID
The National Sheep Association is calling for an urgent review of the regulations on sheep EID following an in depth exploration of the possibilities ...
Shipment of sheep had no water
Welfare checks on animals being shipped out of Ramsgate to France have revealed a lorry load of sheep with no drinking water. RSPCA inspectors joi...
Wool Board work to be shown at Devon County Show
Sheep farmers and visitors to this month's Devon County show will have the chance to gain a full and complete understanding of the work done on ...
New tractor a delight for North Yorks farmer
Whether farming fifty acres or five hundred, no-one working the land can do without a tractor. So it's little wonder that Colin Boocock, who run...
Sheep scab task group launched
An industry led Sheep Scab Task and Finish group has been established to make recommendations to the Animal Health and Welfare Steering Group and Wels...
Farmers want clarity on new sheep EID database
Brecon and Radnor NFU Cymru members have expressed concern that the Welsh Government have made commitments to move forward with a bespoke sheep electr...
Producers urged to vaccinate lambs
The warm and sunny March weather was a godsend for the many UK sheep units lambing during the month, but producers must not become complacent if they ...
Martin Smith joins Ufac-UK
Martin Smith has been appointed area business manager for Ufac-UK. After graduating from the University College of North Wales with a BSc in zoolog...
Wool board members re-appointed
Three members of the British Wool Marketing Board continue their appointment with the Board for a further three-year period. They are: · Malcolm...
Novartis produces sheep parasite protection chart
Novartis Animal Health has published a product usage chart aimed at SQPs and vets that gives guidance on the use of ectoparasites through the seasons....
Lambing Live comes to North East England
Hall Hill Farm, the north east visitor attraction of the year, located near Lanchester, is bringing 'lambing live' to people's homes...
Sheep abortion testing service now available
Sheep producers who have experienced more than 2% of ewes aborting this lambing season are being urged to take advantage of the new subsidised blood t...
Rising number of farm animals 'poses enviromental risk'
The global population of farm animals increased 23 percent between 1980 and 2010, from 3.5 billion to 4.3 billion, according to research by Worldwatch...
NFU highlights research into Schmallenberg
Representatives from the NFU have met with scientists at the leading UK research institute studying livestock diseases to hear of progress in understa...
Easter holidays spark safety warning for children
Children in the West country are being reminded about the potential dangers of farm animals and playing in the countryside ahead of the Easter school ...
UK public have 'dismissed' negative red meat stories
The National Beef Association (NBA) believes the UK general public has largely dismissed claims published yesterday linking red meat to higher mortali...
Concerns rise over electronic sheep database
Genuine concerns and unanswered questions surround an electronic Sheep Database NFU Cymru said today in response to the Deputy Minister for Agricultur...
FUW concern over Welsh sheep statement
Deputy agriculture minister Alun Davies decision to invest in a Welsh EID electronic reporting system raises major concerns and should not have been t...
Sheep lines extended at New Forest show
The sheep section of The New Forest & Hampshire County Show (NFHCS) is a real success story with numbers of entries rising every year. As all the clas...
World shearing champs set for Ireland in 2014
The next Golden Shears World Shearing and Woolhandling Championships will be held near the small market town of Gorey in County Wexford , in May 2014....
The shearing goes on despite storm
The weather bomb across the North Island has wrought havoc through most areas but in Masterton, apart from the noise on the tin roof, there's li...
Concerns rise over Schmallenberg
Welsh livestock farmers have expressed their worries about the potential spread of Schmallenberg Virus (SBV) following the increasing incidence of the...
Brothers chase National Shearing crown
Three brothers from Northland have achieved a possible first in all qualifying for the final stage of one of New Zealand's premier shearing comp...
Sheep farmers shown how BWMB sells wool
A group from Gloucestershire this week got to see exactly what happens to their wool once it leaves their farms thanks to a visit to the headquarters ...
Smith rolls on towards big shears showdown
Northland giant Rowland Smith took a big step forward in the countdown to the Golden Shears when he won the Taumarunui Shearing Jamboree open final la...
Kiwis odds-on to shear World title
New Zealand is taking on the World next week, and will almost certainly win. That's the view of the TAB in its opening book on the World sheari...
World shears team chosen
Waipawa shearer Cam Ferguson has blasted through the pain barrier to win the right to defend his World title, despite a back injury and without a sing...
Henare to go for World champs wool chance
Young woolhandling sensation Joel Henare is on the brink of a chance to add a World title to an amazing list of victories by reaching a cut-throat fin...
New markets opening for Welsh beef and lamb
Exciting new overseas opportunities to market Welsh beef and lamb are on the horizon, Dai Davies, Chair of Hybu Cig Cymru (HCC) has said. Speaking ...