Sheep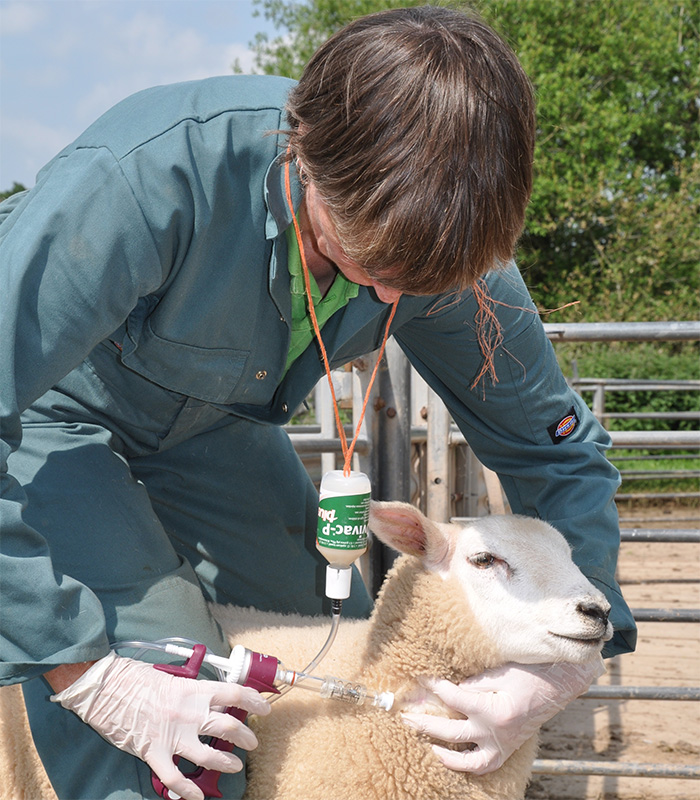 NFU highlights research into Schmallenberg
Representatives from the NFU have met with scientists at the leading UK research institute studying livestock diseases to hear of progress in understa...
Easter holidays spark safety warning for children
Children in the West country are being reminded about the potential dangers of farm animals and playing in the countryside ahead of the Easter school ...
UK public have 'dismissed' negative red meat stories
The National Beef Association (NBA) believes the UK general public has largely dismissed claims published yesterday linking red meat to higher mortali...
Concerns rise over electronic sheep database
Genuine concerns and unanswered questions surround an electronic Sheep Database NFU Cymru said today in response to the Deputy Minister for Agricultur...
FUW concern over Welsh sheep statement
Deputy agriculture minister Alun Davies decision to invest in a Welsh EID electronic reporting system raises major concerns and should not have been t...
Sheep lines extended at New Forest show
The sheep section of The New Forest & Hampshire County Show (NFHCS) is a real success story with numbers of entries rising every year. As all the clas...
World shearing champs set for Ireland in 2014
The next Golden Shears World Shearing and Woolhandling Championships will be held near the small market town of Gorey in County Wexford , in May 2014....
The shearing goes on despite storm
The weather bomb across the North Island has wrought havoc through most areas but in Masterton, apart from the noise on the tin roof, there's li...
Concerns rise over Schmallenberg
Welsh livestock farmers have expressed their worries about the potential spread of Schmallenberg Virus (SBV) following the increasing incidence of the...
Brothers chase National Shearing crown
Three brothers from Northland have achieved a possible first in all qualifying for the final stage of one of New Zealand's premier shearing comp...
Sheep farmers shown how BWMB sells wool
A group from Gloucestershire this week got to see exactly what happens to their wool once it leaves their farms thanks to a visit to the headquarters ...
Smith rolls on towards big shears showdown
Northland giant Rowland Smith took a big step forward in the countdown to the Golden Shears when he won the Taumarunui Shearing Jamboree open final la...
Kiwis odds-on to shear World title
New Zealand is taking on the World next week, and will almost certainly win. That's the view of the TAB in its opening book on the World sheari...
World shears team chosen
Waipawa shearer Cam Ferguson has blasted through the pain barrier to win the right to defend his World title, despite a back injury and without a sing...
Henare to go for World champs wool chance
Young woolhandling sensation Joel Henare is on the brink of a chance to add a World title to an amazing list of victories by reaching a cut-throat fin...
New markets opening for Welsh beef and lamb
Exciting new overseas opportunities to market Welsh beef and lamb are on the horizon, Dai Davies, Chair of Hybu Cig Cymru (HCC) has said. Speaking ...
Sheara black singlet at any cost
It's costing more than $10,000 each, but that's the price New Zealand's top shearers are paying for the chance to represent their co...
Positive future for livestock farmers
"Everyone aspires to eat red meat, it is the protein of choice and we as farmers have an obligation to feed the growing global population." This was t...
Welsh sheep liver condemnations due to fluke
Sheep liver condemnations at a leading Welsh abattoir due to fluke are nearly three times that of its English counterpart, according to statistics pro...
More EID reforms needed, say UK farming unions
Further reform of sheep EID regulations is desperately needed to help farmers already struggling to keep on top of inappropriate requirements. That...
Dog owners warned over sheep deaths
Farmers are urging members of the public walking near farmland to keep their dogs under control following a spate of sheep worrying in which pregnant ...
Competitive trade for in-lamb ewes at Shrewsbury
An excellent entry of 450 quality in-lamb ewes attracted a large attendance of prospective purchasers and a competitive trade on all breeds and ages a...
Hawke's Bay gun wins big in Southland
Hawke's Bay shearer and New Zealand representative Dion King scored an important victory when he won the Northern Southland Community Shears Ope...
Shearing record broken despite slow start
A shearing record which has gone unchallenged for 16 years has been broken in front of a frenzied crowd of over 150 packed into a remote King Country ...
Record bid challenge's shearing's Everest
One of the greatest tallies ever shorn in a New Zealand woolshed will be challenged in a two-man World record bid in the King Country on Wednesday. ...
Ritchey extends product range
Ritchey Ltd is delighted to announce that it has been appointed sole UK distributor for Prattley animal management systems. New Zealand-based Pratt...
Next generation meets with Paice to discuss future
The Minister of State for Agriculture and Food, Jim Paice, will meet with the NFU's Next Generation Policy Forum today to support the crucial ro...
Te Kuiti shearer on target to shatter women's record
Te Kuiti shearer Kerri-Jo Te Huia is on target to smash a World shearing record and possibly become the first woman to shear 500 lambs in eight hours....
Irishman Scott reclaims shearing record
There were some anxious moments in a woolshed near Taupo today, but none handled it better than man-in-the-middle and Irish shearer Ivan Scott as he r...
Halls optimistic about business prospects in 2012
A leading firm of auctioneers, estate agents and valuers, which has 10 offices in Shropshire, Worcestershire and Mid Wales, is looking forward with gr...
UK secures vital extension on costly sheep tagging
Richard Ashworth MEP, Conservative Agriculture spokesman in the European Parliament has hailed a move to delay the implementation of costly individual...
FUW hails DEFRA EID sheep victory
The Farmers' Union of Wales today welcomed Defra's victory on sheep EID in Brussels that has delayed for three years a requirement for ind...
NFU delight as UK secures vital extension on sheep EID
A key vote in Brussels on sheep EID that has delayed a requirement for individual movement recording of the 'historic flock' for three yea...
Currie flavour of the month at Skipton Winter Texel highlight
Dyed-in-the-wool Texel sheep breeders and a young new recruit to their ranks stole the headlines at the 19th annual Northern Area Texel Sheep Breeders...
Roofer reaches apex of shearing world
'He just says 'Yes'. He's the sort of guy that if I ask him to cover a shearing course for me at very short notice, he will j...
Farmers See Fodder Solutions at Open Day
Farmers and livestock managers travelled from around the country to the Fodder Solutions seminar and workshop for the opportunity to see the system in...
NFU praises retailers for stocking British beef and lamb
Latest findings that show more British beef and lamb is being stocked by British supermarkets have been welcomed by the NFU livestock board. The la...
Cropper championship and record price coup at Skipton Beltex highlight
The growing popularity of the Beltex sheep breed, notably among Britain's butchers for the quality, consistency and taste of meat from their pri...
Grass shortage swells entries at breeding sheep sale
A general shortage of grass in the region may have contributed to a huge increase in entries at the annual prize sale of breeding sheep at Bishops Cas...
£1 million loss due to condemned sheep livers
In the whole of 2010, the cash loss in England, Scotland and Wales due to sheep livers condemned for fluke infestation was just over £1 million (£1,04...
Wool Week is Bigger and Better!
The UK looks set to see a massive celebration of wool from North to South as the Campaign for Wool (CfW) gets ready for its second national Wool Week ...
Record turnout expected for Dolphin Sheep Fair
The must-see Dolphin Sheep Fair will be taking place at The South of England Centre, Ardingly on Thursday 15th September. The sale sees farmers co...
Sheep smash records at Dorset Country Show
Agricultural shows in Dorset are set for a 'best baa none' year after being flooded with record-breaking entries in the sheep classes. ...
Check for VAT on wool sales
Sheep farmers should check for any tax implications when selling wool to Irish merchants, the NFU has advised. It has emerged that livestock keeper...
Ten week cover against ticks
A product used to treat sheep infested with ticks has had its status upgraded to become a licensed preventative that will keep animals clear of the pa...
PhideliFarm Livestock Management Software launched by Phidelios
Phidelios has launched PhideliFarm - Livestock Management Software. PhideliFarm is designed to make management of sheep and/or cattle and their recor...
Sustainable sheep production is key message at NSA event
Dealing with resistance to wormers was one of the key messages at NSA Sheep 2011 held at Hexham, in Northumberland. Novartis was the main sponsor o...
Invest now or pay later
Beef and sheep producers are being urged to maximise cattle and lamb growth rates at grass this summer to avoid the consequences of another expensive ...
New kiwi shears champ pips older bro in UK
New national shearing champion Rowland Smith has hit early winning form on his first international tour in Britain by beating older brother Matthew i...
Parasite medicine hailed a success after first year
A medicine used to combat worms in sheep has been hailed a success after its first year on the market, after more than a million doses were used for t...