Sheep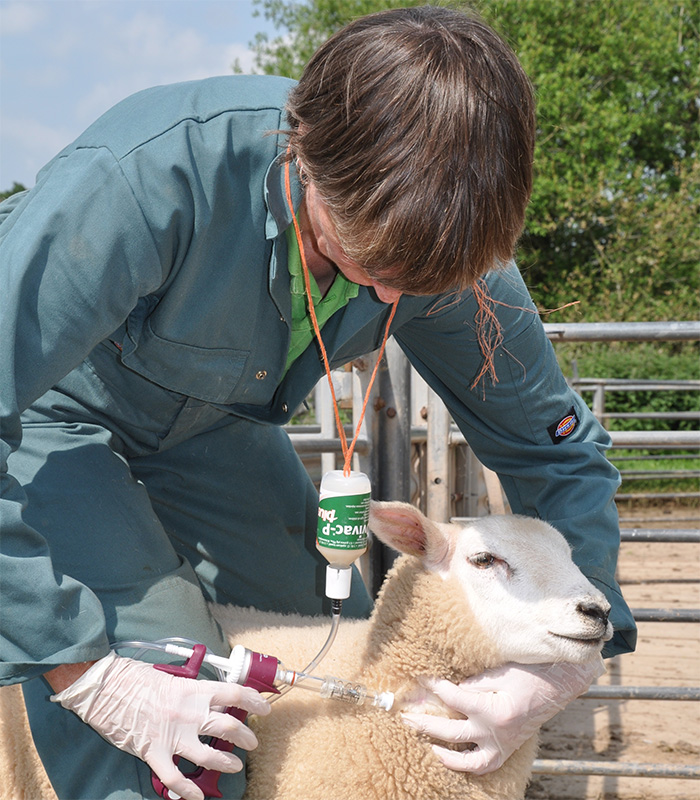 Sheep producers urged to vaccinate against killer threats
With 2014 lamb prices running ahead of 2013 levels, sheep producers are being urged to realise full value for this year's crop by making sure young la...
Sheep EID discussions at Pembrokeshire NFU meeting
Local farmers are invited to the next Pembrokeshire NFU Cymru county meeting, on Thursday, 1 May 2014, at the Agriculture House, Haverfordwest. St...
Association expresses 'disappointment' over lamb meat substitution
The Food Standards Agency has announced additional testing of lamb dishes from takeaway restaurants across the UK following evidence of substitution f...
Auction markets grow as 342,000 sheep sold in 2013
While the national flock is declining, the number of store and breeding sheep, cull ewes and prime lambs sold through auction markets continues to ris...
£90m for centres of innovation: do pigs & poultry want their share?
The Government has made £90 million available for UK centres for innovation as part of its strategy to make UK farming more competitive, productive, r...
Experts warn sheep farmers of Nematodirus risk
Farmers are being warned by sheep experts to act now to protect vulnerable lambs against Nematodirus. The vast majority of cases occur in the spring ...
96% of sheep worrying incidents cause stress of injury
With reported cases of sheep worrying on the rise, the National Sheep Association (NSA) has launched a new online resource providing information and g...
Prince of Wales backs Herdwick breed with visit to auction
The Prince of Wales will attend an auction of prime Herdwick ewes and lamb at the Rural Auction Centre in Cumbria, today. The visit will highlight ...
New Schmallenberg vaccine to offer flexibility for farmers
Options for vaccinating sheep against Schmallenberg have increased, with Merial Animal Health's launch of SBVvax. Spread by midges, SBV was first i...
Report highlights importance of uplands farming
While in the UK we appear to be basking in the luxury of debating re-wilding and de-stocking of our hills and uplands, the most recent United Nations ...
Lambs face production set-back if coccidiosis left untreated
Managing coccidiosis at the right time and with the benefit of veterinary advice is paramount for farmers who want to stay in control of this challeng...
NSA pushes for ANC as a potential lifeline for hill farmers
Ongoing discussions around the implementation of CAP reform in Wales suggest designating farmland above the moorland line as an Area of Natural Constr...
Healthy profits predicted in 2014 lambing season
Sheep farmers had a pretty rough ride in spring last year and this year the wet weather has meant housing for longer, with all the associated costs an...
18% rise in the cost of sheep worrying
Dog owners are being urged to consider the risk of attacks on lambs when walking in the countryside. New figures have revealed an 18% rise in the c...
Live exports must stop now, says Green MEP
One of South East England's Member's of the European Parliament has reaffirmed his stance against live animal exports as the trade restarted at Ramsga...
What are the consequences for livestock farmers after the floods?
With much of the UK having seen record levels of rainfall and extensive flooding of pastures and crops, James Ingles, Head of Agriculture at Barenbrug...
Eight strategies for efficient and sustainable livestock farming
Eight strategies to make cows, sheep and other cud-chewing, or ruminant, livestock a more sustainable part of the food supply are outlined by Rothamst...
Sheep farmers flock to electronic database meetings
National Sheep Association's series of six open meetings with SouthWestern, the provider of the new electronic sheep movement reporting database in En...
Where next for large-scale livestock production?
The potential effects of large-scale livestock systems on animal health and welfare are set to come under the spotlight during a special workshop look...
Plumpton College Open Day
Plumpton College has an Open Day on Saturday 10th May 2014. There will be courses and careers advice, apprenticeships information, business trainin...
UK and Irish unions thrash out livestock concerns
UK and Irish farming unions met this week in Stirling to discuss issues facing the livestock industry. Representatives from NFU, NFU Cymru, Ulster ...
Director prosecuted for Ramsgate sheep deaths
The director of animal export company Channel Livestock was sentenced for causing unnecessary suffering to animals when over 40 sheep died at the Port...
Wool board members re-elected for three years
Three British Wool Marketing Board (BWMB) Board Members have been re-elected unopposed for a further term of three years in recent elections. The ...
Agrantec Launches Farmango Animal Management for Sheep
Agrantec, the British agri-food supply chain management service company, today announced the launch of a version of its animal management system, Farm...
Keep Dogs On Leads During Lambing, Say Bva Vets
Vets are asking dog owners to keep their dogs on leads when walking near sheep as the annual lambing season gets underway. Ewes are particularly vulne...
Sheep association to run meetings with provider of new electronic database
National Sheep Association is delighted to be running a series of six meetings across England over the next four weeks, looking at the upcoming change...
Spring Lambing Day at Walford Campus
The Walford Campus has over 90 different species of animal ranging from a 275 strong dairy herd to Alpacas, Meerkats and Chinchillas. You will have an...
Over 200 lamb farmers sign contracts with Tesco
More than 200 British lamb farmers have entered into direct, two year contracts with Tesco. The contracts represent the first time a major UK retailer...
Upland sheep criticism 'unfounded', says NSA
The National Sheep Association has said it is 'unacceptable' to suggest sheep in the uplands are to blame for any environmental, access or biodiversit...
Texel genetics in demand in southern hemisphere
An Australian Texel ram carrying 50% British Texel genetics is making a splash in the Southern Hemisphere, having notched up impressive performance te...
Chronic fluke disease reaches peak level in cattle and sheep
Farmers should be alert for ill-thrift in animals as levels of chronic liver fluke disease in cattle and sheep peak in late winter/early spring, accor...
Sheep farmers urged to complete annual return
Scottish sheep farmers are being reminded to return their annual inventory before the end of the January deadline. Since 2006, all sheep and goat k...
UK's protected food names 'boost EU economy'
More than 60 unique British foods have now achieved protected status to help safeguard the products and deliver boosts to the economy. Anglesey Sea...
NFU meets minister on sheep EID
NFU livestock board chairman Charles Sercombe and chief livestock adviser Peter Garbutt have expressed concerns over plans to remove all access to the...
Cumbrian MPs back national Herdwick project
The organisation that fed the Prime Minister Cumbrian delights earlier this year has Parliament in its sights again. Taste Cumbria, has launched a ...
The impact of extreme weather this winter on coccidiosis in lambs
If you have been following the long range weather forecasts in the news lately, you would have seen the tabloid papers warning about this winter being...
No magic bullet for improving lamb production, FUW farm visit told
Improving the efficiency of lamb production was the main topic of discussion during a Farmers' Union of Wales-organised visit to independent sheep con...
Farmer's journal entries shed light on challenge of managing Liver Fluke on sheep farms
Large numbers of sheep farmers struggled with the challenge of managing liver fluke in their sheep last autumn and winter – but a new initiative is he...
Shearing personality 'a deserved winner'
David John of Lister Shearing equipment Ltd awarded the Shearing Personality of the Year trophy at the British Isles Shearing Competition Association ...
Regulation tops farmers' concerns for 2014
A new survey has revealed regulation, high input costs and the impact of CAP reform top the list of things farmers' believe will have negative impacts...
Look after UK suppliers as imported lamb drops, NSA urges
Retailers in the UK are being urged to create stronger trading relationships with domestic lamb suppliers to prevent reliance on New Zealand imports. ...
Supermarkets step up to the mark after Horsegate
Two surveys researching the amount of British meat on supermarket shelves has shown retailers have increased their support for UK-farmed pork, lamb an...
New shearing record set near Clevedon
Five shearers have today claimed a World record by shearing 2638 lambs in eight hours in a woolshed near Clevedon, south of Auckland. The individua...
Stage is set for shearers to set world record
The stage is set for five shearers to set a new World record in a unique day of lamb shearing barely three quarters of an hour from the heart of Auckl...
Retailers stocking more British beef but 'more needs to be done'
Latest figures released by EBLEX have revealed the average percentage of British beef and lamb on supermarket shelves has shown a 'marked improvement'...
Livestock movement simplifications welcomed by NFU Cymru
NFU Cymru has welcomed Welsh Government's proposals that will potentially deliver significant simplification to livestock movement rules from 2015. ...
New Zealand sheep industry faces similar challenges as UK
The New Zealand sheep industry is tackling many of the same issues that the UK industry faces, according to NFU Livestock Board Chairman, Charles Serc...
Focus on lightweight lambs, NFU members told
"In a World market, influencing market price is difficult, particularly in the peak season for Welsh lamb." That was the opening message from Hybu Cig...
Sheep association 'bitterly disappointed' over EID plans
The National Sheep Association has said it is 'bitterly disappointed' over Defra's decision to implement full EID in England and said the body had tak...
New US meat labelling rules take effect Saturday
This Saturday, new regulations are scheduled to take effect that will require meat producers to list many details on their packaging, such as the coun...