Property News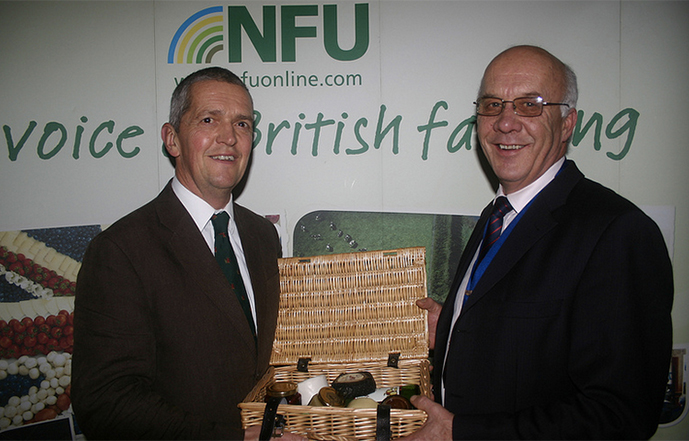 'Unanswered questions' remain over Countryside Scheme
The Countryside Stewardship Scheme will contribute around £900 million to rural businesses to help them improve the countryside environment. Many infl...
Farmers' plea for clearer communication
Farmers are feeling 'increasingly frustrated' by the lack of information they are receiving from the Welsh government with regards to the new A487 Bon...
Farmers warned over tax implications of seasonal activities
Farmers, landowners and rural businesses are being warned to remember the tax implications of moving into other seasonal activities. • Letting lan...
NZ dairy farm prices 'soaring'
New Zealand dairy farm prices have soared recently despite the significant drop in milk prices over the past months. The REINZ Dairy Farm Price Ind...
Farmers face significant tax charges over HS2, NFU warns
Farmers have urged the HS2 Select Committee this week to cater for the hundreds of farm businesses blighted by the construction of High Speed 2. Ev...
Hydro-electric makes benefit out of flooding for Worcestershire farmer
A Worcestershire farming partnership, frustrated by frequent flooding on areas of their land, has turned this to their advantage with the unveiling of...
HS2 compulsory purchases are 'grossly unfair'
MPs have been urged to implement specific protections for rural landowners and businesses in a two-day evidence session held by MPs scrutinising HS2. ...
More investment in agriculture needed to meet future demand
More investment is needed if the agricultural industry is to meet growing demand as increasing urbanisation within an expanding middle class are boost...
You shouldn't have to inherit to get into farming
The agricultural industry needs new blood, and while the industry dates back many centuries, it can be vibrant in the modern era, with many exciting c...
UK's stately home owners 'live in fuel poverty'
As winter arrives, stories of fuel poverty once more hit the headlines highlighting the plight of pensioners, low-income households and those on state...
HS2 landowners must have compensation, NFU warns
Landowners and farmers affected by HS2 must receive acceptable compensation and appropriate accommodation works must be put in place, the NFU will tel...
Prince Charles warns us to value the countryside
Prince Charles writes in a forward to Country Life this week that it's imperative to value what the countryside provides and support the people who li...
Worcestershire farmland to be let on two-year farm business tenancy
A viewing day is being arranged for farmers interested in renting 133.5 acres of arable and grass land on a Worcestershire farm on a two-year farm bus...
Landowners discouraged by 'ill-thought policy', says CLA
The right of communities to bid for so-called 'assets of community value', such as sports fields or village halls, must also be fair to the landowner ...
Think twice about sky lanters, NFU warns
The NFU is reminding the public of the risks associated with sky lanterns, and urging them to think twice about releasing them into the air. Over t...
Sideways loss rules are 'flexible' says tax tribunal
Farmers Mr and Mrs French have been successful in their appeal against Her Majesty's Revenue and Customs (HMRC) to the First Tier Tribunal with regard...
Holiday pay ruling 'will affect rural businesses'
Farming and estate business that rely on their staff to work overtime could be affected to some degree by the Employment Tribunal's ruling yesterday t...
Spending on flood defences has reduced, report claims
Today the National Audit Office has published its 2014 report on flood defence spending. The report claims the underlying spending on flood defences h...
Farmers' deposits under threat?
It is now four months since a new regulation which could have far-reaching effects on the way farmers source new buildings came into force. CE Mar...
Somerset couple grateful to Welsh farmers for flooding aid
A farming couple from the Somerset Levels coming to terms with being flooded last winter thank Welsh farmers for their clean up aid and staggering fun...
Government needs action on fly-tipping, Countryside Alliance warns
The Countryside Alliance has called on the government to address the 20% increase in fly-tipping incidents on public land last year. Local authorit...
Badger cull is legal as Trust loses appeal
The Court of Appeal has rejected the Badger Trust's appeal concerning the legality of the government's badger cull. The trust's appeal was based on...
UK farmland prices see 'substantial growth'
Prime arable land in the UK has seen a substantial year-on-year growth in prices of around 17.9%, according to a Q3 report. The average rate of gro...
HS2 uncertainty leaves farmers frustrated
Farmers are left frustrated as further work requested by Sir David Higgins has caused a delayed decision on the final route of HS2 Phase 2. The NFU...
Wetland is more valuable than arable, new study shows
New research has calculated that each hectare of land at Wicken Fen in Cambridgeshire is worth almost £130 more per year as wetland than as arable far...
Farmers 'a major target' for fraudsters
Farmers are being warned they are a major target for criminals trying to defraud them out of hundreds of thousands of pounds. Financial Fraud Action U...
NFU concerned over future rural cuts in letter to Chancellor
NFU President Meurig Raymond has written to Chancellor George Osborne outlining how he thinks agriculture would benefit from next year's budget. "A...
Ex-hurricane delivers record windfall for UK 'energy farmers'
The stormy tail end of ex-hurricane Gonzalo might have dampened the start of the week across the UK, but for many diversifying farmers the weather bro...
New badger culls are a 'miserable failure' as target missed
The pilot badger culls in Gloucestershire have 'failed to achieve even the minimum number of badgers to be shot,' and have been condemned as a 'misera...
Flooding video shows plight of farmers
A video of a farming couple from the Somerset Levels coming to terms with being flooded last winter highlights why the Government must urgently invest...
Court ruling on land sale 'encouraging for others'
In a recent appeal to the Upper Tribunal (Lands Chamber) over the issue of apportionment for Capital Gains Tax purposes, the Tribunal has found in fav...
Farmland 'outperforming major assets' as values increase further
The average value of farmland has increased by 12% so far in 2014, a 10-year increase second only to gold, according to new figures. The average va...
Is the country house market momentum slowing?
Over the past decade farmland values have risen 187% and annual price growth in the country house market has reached 4.7%, according to new figures pu...
New tax to consider when buying land
On 9 October, the Scottish Government announced the proposed rates for Land and Buildings Transaction Tax ("LBTT") and Scottish Landfill Tax. LBTT ...
Government 'not recognising landowner concerns' over fracking developments
The Country Land and Business Association has written to Energy Minister Mathew Hancock expressing their concern that the government is failing to rec...
More land needed as UK's growing population is 'perfect storm'
By 2030 the UK will need the equivalent of 7 million more hectares of land to support its growing population, according to Agri-Tech Director Dr Belin...
Confusion over Green Belt perpetuates housing crisis, says CLA
The CLA, which represents landowners, farmers and rural businesses, has said the Government's continued practice of associating the Green Belt with en...
Think twice over sky lanterns, CLA urges
The CLA, which represents landowners, farmers and rural businesses, has backed a call by National Parks England to ban sky lanterns. National Park...
Norfolk gamekeeper convicted for illegally poisoning birds
Natural England have welcomed the conviction of a Norfolk gamekeeper for illegally poisoning 11 birds of prey on an estate in 2013. Allen Lambert, ...
Half of homes with planning permission 'have yet to be built'
While 238,000 homes received planning permission last year, only 129,000 units actually started construction in the same period, according to figures ...
Welsh government upland proposals flawed, NFU says
NFU Cymru President Stephen James has expressed deep disappointment at the recent announcement by Deputy Minister for Farming and Food, Rebecca Evans ...
Property investors warned over HMRC levy
Property investors are being warned to be aware of an apparent push by HMRC to levy class 2 National Insurance contributions on rented property income...
Who picks up the pieces if fracking causes damage? asks CLA
The consultation response from the Department of Energy and Climate Change (DECC) on fracking fails to properly tackle the issue of long-term liabilit...
Grazers return to nature reserve
For the first time in many years cattle are roaming the heathland landscape of one of south Devon's top nature reserves. Bovey Heathfield nature r...
Build on brownfield land, CPRE urges
The government should do more to protect green spaces by facilitating house building on brownfield land, according to Campaign to Protect Rural Englan...
NFU spells out priorities ahead of 2015 General Election
A Government that understands farm businesses, wants agriculture to grow and has the policies that send the right signals to farmers, are the key mess...
HS2 addressing landowners concerns 'too late' - CLA
HS2 Ltd has attempted to address the concerns of landowners affected by the rail link by releasing revised plans of the proposed route. The Country...
Raymond to chair meeting on farmers affected by HS2
NFU President Meurig Raymond is chairing a meeting at NFU HQ on Friday for farmers affected by HS2 who have lodged a petition with the HS2 Select Comm...
Winter is coming: British weather set to become more unsettled
British winters are becoming increasingly volatile due to extreme variations in pressure over the North Atlantic according to scientists from the Univ...
Planning loophole causing glut of house building in the countryside
A new research paper from the Campaign to Protect Rural England (CPRE) published today shows that steep targets for the amount of land councils must a...