Poultry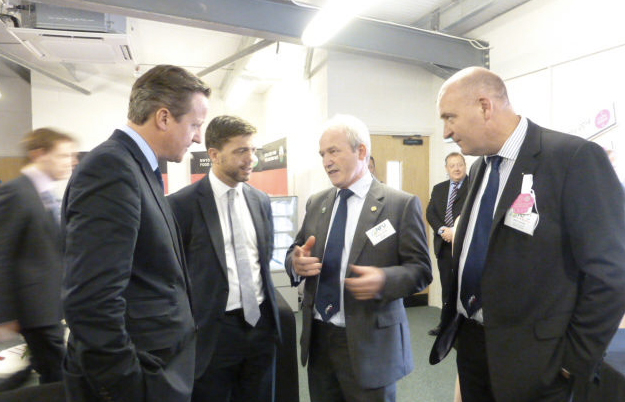 Gafoor invest in halal poultry processor
Gafoor poultry Products Ltd, one of the UK's longest serving halal poultry processors, is reaping the benefits from a substantial investment at ...
Agnew tells commission over 2012 battery cage ban
The East of England MEP, Stuart Agnew (UKIP), in a speech to the European Parliament in Strasbourg today has been giving the European Commission some ...
Lakes aim towards carbon neutral plant
The Lakes Free Range Egg Company aims to become the first UK carbon neutral, sustainable egg packing operation. The company is updating their operatio...
MP challenges beak trimming legislation
Government plans to remove the ban on routine beak trimming of laying hens are under the spotlight this week after a surprise intervention in the Hous...
Organic production tastes good
Organic egg production not only means a better life for the hen; choosing the right breeds and the right feed can provide consumers with a better sens...
Another win for Scottish egg champions
Ayrshire egg producer retailers Jim and Anne Smillie have taken the top honours in the 2010 Scottish Egg Quality Awards competition repeating their su...
New brand image for British Free Range Goose
A new brand identity for the British Free Range Goose is launched this Christmas — highlighting the green field lifestyle enjoyed by geese produced in...
British public talk turkey in new survey
One in five people say that turkeys can fly while one in ten believes the bird originates from Turkey, a new survey reveals. The NFU-commissioned ...
Parsons' Sisters win best pair in show
Poultry enthusiasts and sisters, Rosie (10) and Olivia (12) Parsons were delighted at the National Poultry Show when their Gold Partridge Dutch Bantam...
Live bird markets are 'reservoir of infection'
Disease can be contained through frequent rest days according to infection model Since December 2003 outbreaks of H5N1 Highly Pathogenic Avian Inf...
Turkey entrepreneur Bernard Matthews dies
Norfolk turkey tycoon Bernard Matthews has died at the age of 80, his company has confirmed. He began his business more than 60 years ago - with 20...
Fair price needed for poultry industry say NFU
NFU Cymru is calling for poultry famers to be given a price that covers their increasing costs of production with soaring feed prices leaving some pro...
Lion eggs call on manufacturers to meet demand
A study of consumer shopping habits has revealed that the British Lion mark does really make a difference, with almost half of shoppers, looking to pu...
Scientific first in battle to save black grouse
A major scientific break-through by scientists from the Game & Wildlife Conservation Trust on the fringes of moorland in the Yorkshire Dales has resul...
Poultry farmers demand fair price
Poultry farmers are demanding a fairer price for their poultry, one that covers their increasing costs of production with soaring feed prices leaving ...
No new egg producers until late 2011
Noble Foods has dampened speculation that it is looking to take on new producers. Rumours reaching the Ranger magazine suggested that Noble was loo...
Retailers and farmers look to squeeze the middle
A food retail expert tried to offer some reassurance to hard-pressed egg producers and other farmers involved in the poultry sector when he was questi...
Pullet, chick and vaccines prices set to rise
Some free range egg producers could find themselves paying nearly £4 per bird for pullets come the New Year. Producers have already been hit by lar...
Record delegates expected at BFREPA Conference
This year's BFREPA conference seems set to be bigger than ever, despite recent difficulties in the free range egg market. More than 600 delegat...
Warning of further feed increases
Free range egg producers are being warned to brace themselves for further increases in the cost of feed. Tom Hind, head of economic and internation...
Intra-EU ban needed for 'illegal eggs'??
Three of the EU's largest egg-producing states have conceded that they will fail to meet the deadline for a ban on conventional laying cages. ...
Government lifts beak trimming ban at EPIC
The Government has now taken action to lift the ban on beak trimming due to come into force at the beginning of 2011. Agriculture Minister Jim Paic...
Innovative air cleaning for the poultry industry
Innovative air cleaning launched for the poultry industry New technology to remove micro-organisms from the most crucial areas of poultry producti...
Couple plant trees on land roamed by hens
A couple whose sound environmental values drive their free range egg business are planting an orchard of apple trees on the land roamed by their hens ...
KellyBronze turkeys forge ahead in Scotland
Supplies of the KellyBronze turkey in Scotland are being expanded with the purchase of an Ayrshire farm within easy reach of butchers and consumers in...
Pfizer Trainee of Year Awards for the pig and pou
For the second year running the Pfizer Pig Trainee of the Year is awarded to a female winner while the Pfizer Poultry Trainee of the Year award goes t...
New safeguards for chickens
Agriculture Minister Jim Paice today made it clear that British consumers deserve to see only eggs from hens kept in better welfare cages on supermark...
New chairman for British Goose Producers
Eddie Hegarty, partner in the country's best known gosling hatchery Norfolk Geese, has been elected chairman of British Goose Producers. He...
Don't drop your salmonella guard
A warning against complacency over salmonella control has been issued by Klaus Torborg of Lohmann Animal Health. Mr Torborg said that the recall ...
DEFRA stands by perch interpretation
Defra has told the British Free Range Egg Producers Association that it intends to stand by the way it interprets EU rules on free range perches, desp...
Audit confirms Poland preparation
European Union inspectors have raised doubts over the readiness of Poland to comply with the forthcoming ban on the use of conventional laying cages. ...
Prague hosts IEC Conference
Well over 300 delegates from all over the world visited beautiful Prague in September to attend the four day International Egg Commission (IEC) Market...
Free range the Australian way
A bitter row is running in Australia over the Australian Egg Corporation's plans for a huge increase in the permitted stocking density of free r...
GPs updated on eggs and cholesterol
The British Egg Information Service (BEIS) has been spreading the good news about eggs among GPs this Autumn. A campaign targeting this key group...
Duck egg link to salmonella
An outbreak of salmonella in England and Northern Ireland, which has affected more than 60 people and resulted in one death, is being linked to duck e...
Egg packers raise prices as feed costs increase
Two major packers have raised producer prices following lobbying by the British Free Range Egg Producers' Association, and others may follow. ...
Producer calls for guarantee safety in duck eggs
Responding to the recent, duck-egg linked, salmonella outbreak, Watercress Lane has called for tougher controls to give consumers a guarantee of safet...
EC recognizes problems of animal cloning
Eurogroup for Animals welcomes the proposed temporary ban of the use of cloning of animals for food use detailed in the leaked draft report of DG SANC...
Goose annual farm walk in Worcester
Goose 'champion' hosts annual farm walk in Worcestershire One of the country's largest seasonal goose producers, Judy Goodman, wi...
Top Christmas turkey for fourth year
The KellyBronze has confirmed its place as the premium Christmas turkey by winning the top honour at the British Turkey Awards for the fourth year run...
Noble lead with price increase
BFREPA chairman John Retson has met with representatives of leading packers to press for an increase in producer prices. Shortly after this meeting No...
Finalists for Pfizer Poultry Trainee of Year Award
Three ambitious young poultry workers from Cambridgeshire, Lincolnshire and the Scottish Borders have been chosen as finalists competing for the 2010 ...
Anger at EU cage ban stance
A British Euro MP and free range egg producer has accused the European Commission of burying its head in the sand over the impending ban on convention...
Egg packing centre fined
A company has been fined £10,000 and ordered to pay costs of over £12,000 after it admitted extending the 'best before' dates of eggs it w...
Egg stamping delayed by Lion
The British Egg Industry Council (BEIC) has decided to delay the introduction of on-farm stamping for Lion free range and organic egg producers by six...
Welsh trading standards get tough on fraud
Welsh trading standards bosses have warned that they will get tough with those who mislead the public by falsely labelling eggs. The warning comes ...
Pullets to be reared on organic land
Country Fresh Pullets say they will stop producing pullets for the organic sector if new draft standards for organic rearing go ahead. Steve Carlis...
Feasting on Michaelmas goose all week long
The feast of Michaelmas — a traditional quarter day still associated with aspects of English life today — is being celebrated through goose meals bein...
Energy saving and productivity benefits
A highly durable radiant barrier developed specifically to provide a lining material for improving the environment inside poultry houses is now being ...
Cobb Tennessee project takes shape
A $14 million investment by Cobb in a new production facility including hatchery and quality assurance complex is taking shape at Lafayette in Macon C...