Poultry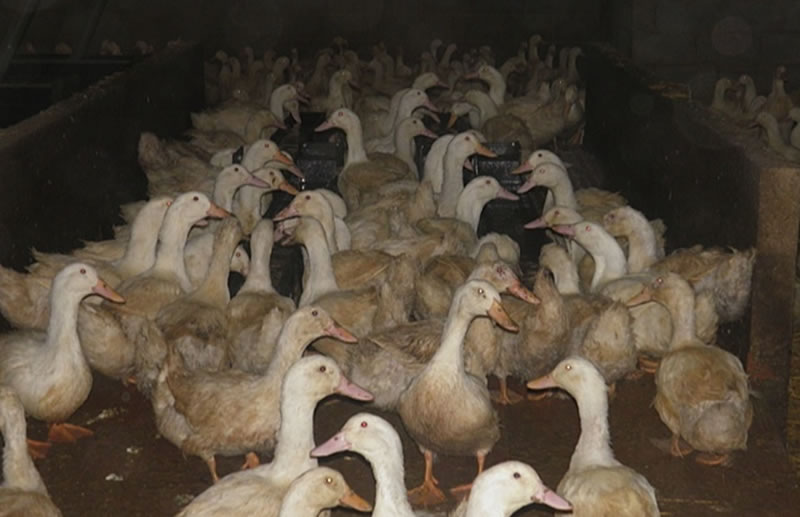 Warning of further feed increases
Free range egg producers are being warned to brace themselves for further increases in the cost of feed. Tom Hind, head of economic and internation...
Intra-EU ban needed for 'illegal eggs'??
Three of the EU's largest egg-producing states have conceded that they will fail to meet the deadline for a ban on conventional laying cages. ...
Government lifts beak trimming ban at EPIC
The Government has now taken action to lift the ban on beak trimming due to come into force at the beginning of 2011. Agriculture Minister Jim Paic...
Innovative air cleaning for the poultry industry
Innovative air cleaning launched for the poultry industry New technology to remove micro-organisms from the most crucial areas of poultry producti...
Couple plant trees on land roamed by hens
A couple whose sound environmental values drive their free range egg business are planting an orchard of apple trees on the land roamed by their hens ...
KellyBronze turkeys forge ahead in Scotland
Supplies of the KellyBronze turkey in Scotland are being expanded with the purchase of an Ayrshire farm within easy reach of butchers and consumers in...
Pfizer Trainee of Year Awards for the pig and pou
For the second year running the Pfizer Pig Trainee of the Year is awarded to a female winner while the Pfizer Poultry Trainee of the Year award goes t...
New safeguards for chickens
Agriculture Minister Jim Paice today made it clear that British consumers deserve to see only eggs from hens kept in better welfare cages on supermark...
New chairman for British Goose Producers
Eddie Hegarty, partner in the country's best known gosling hatchery Norfolk Geese, has been elected chairman of British Goose Producers. He...
Don't drop your salmonella guard
A warning against complacency over salmonella control has been issued by Klaus Torborg of Lohmann Animal Health. Mr Torborg said that the recall ...
DEFRA stands by perch interpretation
Defra has told the British Free Range Egg Producers Association that it intends to stand by the way it interprets EU rules on free range perches, desp...
Audit confirms Poland preparation
European Union inspectors have raised doubts over the readiness of Poland to comply with the forthcoming ban on the use of conventional laying cages. ...
Prague hosts IEC Conference
Well over 300 delegates from all over the world visited beautiful Prague in September to attend the four day International Egg Commission (IEC) Market...
Free range the Australian way
A bitter row is running in Australia over the Australian Egg Corporation's plans for a huge increase in the permitted stocking density of free r...
GPs updated on eggs and cholesterol
The British Egg Information Service (BEIS) has been spreading the good news about eggs among GPs this Autumn. A campaign targeting this key group...
Duck egg link to salmonella
An outbreak of salmonella in England and Northern Ireland, which has affected more than 60 people and resulted in one death, is being linked to duck e...
Egg packers raise prices as feed costs increase
Two major packers have raised producer prices following lobbying by the British Free Range Egg Producers' Association, and others may follow. ...
Producer calls for guarantee safety in duck eggs
Responding to the recent, duck-egg linked, salmonella outbreak, Watercress Lane has called for tougher controls to give consumers a guarantee of safet...
EC recognizes problems of animal cloning
Eurogroup for Animals welcomes the proposed temporary ban of the use of cloning of animals for food use detailed in the leaked draft report of DG SANC...
Goose annual farm walk in Worcester
Goose 'champion' hosts annual farm walk in Worcestershire One of the country's largest seasonal goose producers, Judy Goodman, wi...
Top Christmas turkey for fourth year
The KellyBronze has confirmed its place as the premium Christmas turkey by winning the top honour at the British Turkey Awards for the fourth year run...
Noble lead with price increase
BFREPA chairman John Retson has met with representatives of leading packers to press for an increase in producer prices. Shortly after this meeting No...
Finalists for Pfizer Poultry Trainee of Year Award
Three ambitious young poultry workers from Cambridgeshire, Lincolnshire and the Scottish Borders have been chosen as finalists competing for the 2010 ...
Anger at EU cage ban stance
A British Euro MP and free range egg producer has accused the European Commission of burying its head in the sand over the impending ban on convention...
Egg packing centre fined
A company has been fined £10,000 and ordered to pay costs of over £12,000 after it admitted extending the 'best before' dates of eggs it w...
Egg stamping delayed by Lion
The British Egg Industry Council (BEIC) has decided to delay the introduction of on-farm stamping for Lion free range and organic egg producers by six...
Welsh trading standards get tough on fraud
Welsh trading standards bosses have warned that they will get tough with those who mislead the public by falsely labelling eggs. The warning comes ...
Pullets to be reared on organic land
Country Fresh Pullets say they will stop producing pullets for the organic sector if new draft standards for organic rearing go ahead. Steve Carlis...
Feasting on Michaelmas goose all week long
The feast of Michaelmas — a traditional quarter day still associated with aspects of English life today — is being celebrated through goose meals bein...
Energy saving and productivity benefits
A highly durable radiant barrier developed specifically to provide a lining material for improving the environment inside poultry houses is now being ...
Cobb Tennessee project takes shape
A $14 million investment by Cobb in a new production facility including hatchery and quality assurance complex is taking shape at Lafayette in Macon C...
Wet weather brings increased parasite risk
Livestock producers are being urged to keep an eye on the weather, because wet conditions are ideal for fluke to thrive and pose real challenges to ca...
BFREPA Conference 2010
The British Free Range Egg Producers Association (BFPEPA) has announced that its annual conference will be held on 2 December. The BFREPA Conferenc...
NFU highlights effect of feed price rise
The NFU continues to highlight the effect high wheat prices have had on feed costs and the impact of this on the poultry sector. Over the last month ...
EU unprepared for battery cage ban - MEP
At a meeting of the European Parliament's Agriculture and Rural Development Committee on Monday (30 August), UK Independence Party's agric...
Dalai Lama condemns cage eggs
His Holiness the 14th Dalai Lama has issued a statement in the wake of the largest egg recall in United States history. In a letter, the Nobel Peace P...
Egg producers face hardship as prices tumble
The bad news just seems to keep coming for free range egg producers as the major packers introduce further cuts. Stonegate and Fridays both confirmed ...
Half a billion eggs recalled in US
Half a billion eggs in the US have been recalled in an investigation into a salmonella outbreak, which now includes two farms in the state of Iowa. ...
New poultry specialist joins Wynnstay
The Wynnstay Group has announced the appointment of John Chance as its new poultry specialist in South Wales and the counties of Herefordshire and Wor...
Egg producers urged to deplete early
Free range egg producers are being encouraged to consider depleting flocks early in response to the current over-production in the egg market. Egg ...
LAH and Suguna create a joint venture in India
Lohmann Animal Health, a global major in the Animal Health business with particular emphasis on Poultry Biologicals, and with manufacturing facilities...
Thai chicken preparations flood into EU and Japan
As international trade in frozen chicken falters, Thailand's increase in exports of chicken preparations continues unabated and its own shipment...
Minister calls for more honest labelling
The Food Minister is urging other sectors to follow the good example set in the pig meat sector regarding country of original labelling (COOL). F...
First TV sponsorship for British Lion eggs
British Lion eggs are to return to TV for the first time in three years with the sponsorship of Ten Mile Menus, a new celebrity cookery show airing on...
Tesco attempting to smash egg producers
IFA National Poultry Committee Chairman Alo Mohan has said Tesco's recent change in pricing strategy on eggs is clear evidence of the multinatio...
British Lion eggs crack microwave cooking
A new campaign to promote cooking eggs in the microwave is being launched by British Lion eggs as students prepare for a new term at university. An...
Consumers warned about imported eggs
Consumers are being urged to avoid imported eggs after research discovered high levels of pollutants in free range eggs produced in Taiwan. Both BF...
Funding cut for Sea Eagles plan
Government cuts have brought welcome news for free range egg producers in East Anglia, with the announcement that Natural England has cut funding for ...
Grants help Scottish producers meet regulations
The Scottish Government has handed out substantial grants to egg producers under the Scottish Rural Development Programme. And although the grants ...
Are you still fed up?
In the August 2009 edition of The Ranger, I wrote a detailed article (ARE YOU FED UP?) on what to do if you think that there has been a problem with t...