Poultry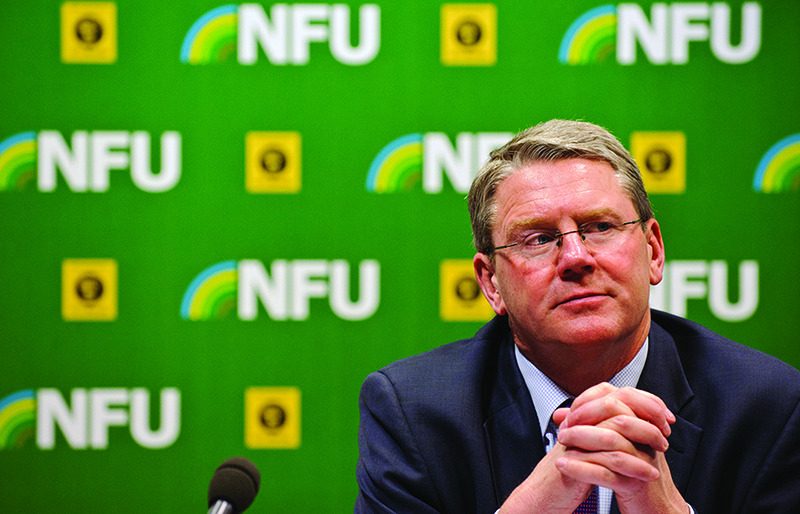 Morrisons confirm free range for all own label eggs
The supermarket chain Morrisons has now confirmed that all of its own-label eggs are completely free range. In December last year the supermarket ...
Red tape reduction thanks to new research by NFU and BPC on broiler emissions
How much ammonia does a chicken produce?A new review of research commissioned by the NFU and the British Poultry Council has shown it is about 32 per ...
Duck eggs get quality logo
Since its reintroduction in 1998, the Lion quality mark for eggs has successfully repaired the damage caused to eggs' reputation by misguided as...
Freedom Food assessment vital before increasing stocking density
The first Freedom Food producers have already taken advantage of the RSPCA's acceptance of increased external stocking densities – and early ind...
Late salmonella tests lead to fines as NCP regulations are enforced
Egg producers could face dire consequences if they are only slightly late with one of their National Control Programme salmonella tests. Some producer...
Margaret Thatcher faced election on an egg
There was a time when we were all exhorted to 'go to work on an egg.' Well we now know that the woman who became arguably Britain's ...
Free Range stocking density derogation to end on 1st January 2012
The British Free Range Egg Producers Association is warning longstanding producers that they need to plan for a reduction in internal stocking density...
Huge turnout for Severn Valley Discussion Group
Seventy poultry farmers and tradespeople braved the snow for the Severn Valley Discussion Group's first meeting of the year, which featured gues...
Goose eggs on target for Easter — despite wintry weather
The hard winter that has delayed the arrival of spring blossoms hasn't held back mother goose — and prospects are that there will be more goose ...
Strong status quo retained in NFU poultry board elections
The NFU held its poultry board elections this week to elect the national board chairman and vice chairmen for eggs, turkeys and broilers. Charles...
Prison sentence for 'Heart of England' egg fraudster
The so called "Heart of England Eggs fraud trial" has been concluded today at Worcester Crown Court.‪ Keith Owen pleaded guilty to three counts ...
EU say no to Polish cage ban delay
EU agriculture ministers have rejected a request from Poland to delay the implementation of the ban on conventional laying cages. The ban is due to ...
EU say no to Polish request for cage ban delay
EU agriculture ministers have rejected a request from Poland to delay the implementation of the ban on conventional laying cages. The ban is due to ...
Slimmers get the Eggs Factor
Thousands of slimmers will be egged on to cook up their best efforts this Easter as British Lion eggs launches a new competition to find the UK'...
NFU applauds less red tape and reduced costs in scheme for pig and poultry producers
The NFU and the Environment Agency have launched a new initiative to cut red tape and reduce costs for farmers. The farm assurance scheme for pig and ...
Egg producer engages with Welsh rugby stars to launch 'The Full Team'
Freedom Eggs, the specialist free-range egg company based in South Wales, has joined together with the Welsh Rugby Union to launch 'The Full Tea...
Irish salmonella outbreak traced to rare strain
The Food Safety Authority of Ireland (FSAI) says a total of six people have been taken ill in the Irish outbreak of salmonella. The FSAI has confi...
Cage ban will not lead to increase in salmonella
Scientists who have been studying the impact of different egg production systems on the incidence of salmonella say that the move away from convention...
Poland ask for cage ban delay
The Polish Government has asked the EU to delay the ban on the use of conventional cages for fives years. The ban is due to come into force on Janu...
Cage ban under threat as Poland request extension of deadline
Poland are applying to the EU for an extension of 5 years on the current deadline for the use of unenriched cages from the 1st January 2012 to the 1st...
'Tremendous perceived value' of farmgate turkeys
Confidence in the long-term future of the traditional Christmas turkey market — with farmgate sales 'ticking all the right boxes for consumers&r...
Government abandon beak trim ban
The Government has announced that it plans to abandon the ban on beak trimming that was due to come into force at the start of 2011 – and the move has...
Entries invited for new ABN Innovation Award
ABN, partner of the Royal Agricultural Society of England's British Pig & Poultry Fair, is offering £1000 in prize money to the winner of an exc...
UK eggs amongst the safest in the World
Figures released by Defra and the European Union show that the United Kingdom has done much better than other leading European egg producing countries...
New EU salmonella report good news for British eggs
The status of UK egg production as among the safest in the world has been reinforced by the results of the latest EU Salmonella report, with 99% of UK...
Lion sponsors parliamentary pancake race
British Lion Eggs and Egg Products have announced that they are to sponsor the Rehab Annual Parliamentary Pancake Race for the third consecutive year....
Norfolk turkey boss Bernard Matthews, 80, retires
Norfolk turkey tycoon Bernard Matthews has retired as chairman of the company he founded 60 years ago. He stepped down from the main board of direc...
Opinions divided in run-up to cage ban
John Retson, the newly appointed chairman of the British Free Range Egg Producers Association, is not alone in his concern that the market could becom...
Poultry farmers win mobile structure appeal
Farmers are able to go ahead with using a mobile poultry structure having received a Certificate of Lawful Use at Appeal. The Planning Office had ...
Mollie Kelly: co-founder of legendary turkey family
Mollie Kelly, who with her husband Derek founded the country's best known traditional Christmas turkey business, has died at home in Danbury, Es...
Watercress Lane duck eggs scramble to meet demand
Foodies will have noticed that towards the end of 2009 duck eggs reappeared on the menus of several top end restaurants and were featured by various c...
Call to boost poultry industry skills
A call was sent out this week to boost skills and training in the British poultry industry. Speaking at the British Poultry Council awards at the H...
Extra security for Asda turkeys
One supplier of Christmas turkeys to leading supermarket, Asda, has put the birds under 24-hour guard. Traditional Norfolk Poultry, the major suppl...
Happy Eggs awarded 'Most successful grocery brand launched in 2009'
The happy egg co., the free-range egg producer has been awarded 'most successful grocery brand launched in 2009' by mySupermarket Insights...
Egg yolks help reduce sight loss
The Researchers from Massachusetts University in the US have proven that by eating egg yolks regularly, people over 60 may be able to reduce the risk ...
Red Tractor–the gold standard for London 2012 games
UK farmers and growers will play a major role at the London 2012 Olympic and Paralympic Games with news that the majority of food will be Red Tractor ...
Europe will 'buckle' as member states fail to meet cage ban deadline
Half of the hens currently in conventional cages in European Union states will fail to make the switch to enriched cages by the January 2012 deadline,...
NFU lobbying maintains exemption for pig and poultry producers
Lobbying by the NFU has seen the Government abandon plans to remove the existing waste exemption for the landspreading of poultry and pig carcass ash....
Lion roars for Noble Foods
Noble Foods has announced that only Lion quality eggs will go into its egg processing facilities from next year. The announcement was made by the c...
BEIC condemns government inaction
British Egg Industry Council chairman Andrew Parker has blasted Government inaction after imported Spanish eggs were linked to two deaths and a spate ...
New marketing appointment
Kim French has been appointed marketing co-ordinator by G. E. Baker (UK) Ltd, where she will be responsible for a wide range of marketing functions. T...
WHO warns of bird flu resurgence
The World Health Organisation (WHO) have warned of a possible resurgence of bird flu amid new cases of the disease in poultry in Egypt, Indonesia, Tha...
Anniversary cookbook with every turkey ordered
Probably nobody has cooked turkey more often than Mollie Kelly — and now she's passing on her lifetime's experiences in a new cookbook rel...
Government seeks protection for UK egg producers
The Minister for Farming and Environment, Jim Fitzpatrick, has re-affirmed his determination to seek protection for UK egg producers from other EU sta...
Pfizer Trainee Awards for pig and poultry industries
Employees on pig and poultry farms in North Lincolnshire — Georgina Cherrill and Andrew Hall — are the 2009 winners of the Pfizer Trainee of the Year...
On-farm stamping to be adopted into the Lion Code
On-farm stamping is to be adopted as part of the Lion code from the end of this year. And the move has been welcomed by BFREPA chairman Tom Vesey. ...
Sea Eagles threat moves counties
Free range egg producers in Norfolk appear to have succeeded in their fight against plans for the introduction of sea eagles. But colleagues further s...
Germany feels impact of cage ban
British egg producers should take extra care to prepare themselves for the new legislation governing the use of cages in advance of an EU-wide ban in ...
Spain and Italy will miss EU cage ban deadline
Spain could be struggling to meet the EU's 2012 deadline for a ban on the use of conventional cages. That was the message coming out of the Inte...
EU should prepare for flood of sub-standard eggs expert warns
Sub-standard eggs will flood into the EU as a result of the European Union's ban on conventional cages. That is one of the conclusions of a new ...