Poultry Veterinary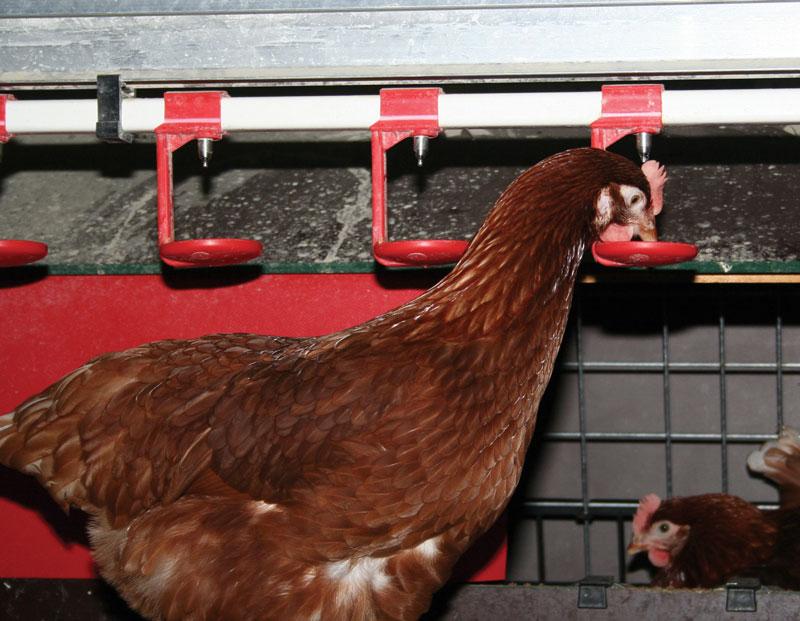 Use of medications in free range laying birds
A common misconception within the Free Range laying sector is that medicating the flock which is suffering from a current disease challenge is the an...
Revise feed programmes for free range hens this winter, farmers warned
With cold weather conditions threatening to inhibit the ability of free range hens to self-regulate their body temperature, nutritional experts at ABN...
Taking a strategic approach to poultry worming could be profitable
It's been a miserable old winter for poultry and their keepers. Many producers are familiar with the idea of regular or routine worming but this sprin...
Positive global outlook threatened by bird flu in China
The positive outlook for the global poultry industry is dependent on a balance in local supply and demand, falling feed costs and ongoing high prices ...
FSA to begin poultry health risk assessment
The Food Standards Agency is putting out a research call to provide a better understanding of public health risks associated with partially eviscerate...
Quantum Blue: The phytase revolution continues in Asia
The VIV Asia 2013 industry event in March will see the first anniversary of the Asian launch of AB Vista's Quantum Blue, an enhanced E. coli phytase d...
What does 2013 hold for free range producers?
Britain's biggest free range egg producer has warned that the free range egg sector needs to keep control of bird numbers to prevent supplies of eggs ...
Egg sector warns on cancelled birds
John Bowler has estimated that nearly half a million pullets have been cancelled recently as the free range egg sector has entered what he says is "un...
Packers warn egg producers of looming storm
Following Peter Thornton's warning to the free range sector at the Pig and Poultry Fair, Noble contract producer and farms director Tom Willings (pict...
Minister bans movement of battery eggs
Minister of State for Agriculture and Food, James Paice MP, has confirmed that eggs being produced in barren battery cages across the EU, and egg prod...
McDonalds drops US egg producer
The fast food giant McDonald's has ditched one of its largest egg suppliers after an undercover investigation by animal rights activists exposed...
ADAS arranges DEFRA funded beak trimming workshops
Each year ADAS arranges a series of Defra-funded stakeholder workshops on pertinent poultry welfare issues. With the proposed review of evidence in 20...
Foot and Mouth outbreak tests vaccine bank
Two of Merial's international foot-and-mouth disease antigen banks were called into action during the holiday period. Over 1 million doses were...
Salmonella testing regulations clarified
Animal Health has clarified the rules covering salmonella testing after one BFREPA member contacted the association to say that some producers were st...
Help! My flock has skin problems
This article was written specifically for the Ranger magazine by Crowshall Veterinary Services. The Ranger is the monthly magazine for free range egg ...
Vaccination protecting your pullets and profits
The Ranger magazine provides a whole host of husbandry and veterinary information to free range egg producers. To receive the Ranger visit www.therang...
New President for British Poultry Veterinary Association
At the Spring Meeting of the British Veterinary Poultry Association in Harrogate, Claire Knott was elected President for the term 2009-2011. Clair...
Emergency (Autogenous) vaccines in Principle and Practice
Bacterial infections can cause major economic and welfare issues in farmed animals and are often controlled through the use of antibiotics. A signific...
Worms - The hidden enemy
This article is taken from www.theranger.co.uk The article and content are copyright of Crowshall Veterinary Services. In the past year, we have se...
How much range for free range layers?
As we know, a new year is always a good time to take stock of what we are doing and why we are doing it. The latter part of last year saw discussio...
The new zoonoses legislation in brief
Since 1st February 2008 - National Control Programme for Laying Flocks Sampling and testing programme at: - day-old and 2 weeks before transfer ...
Salmonella – a look back over the past year and into the future
As 2008 draws to a close we must now review what has happened with Salmonella monitoring and control on farm, how it has affected industry and what im...
Salmonella insurance schemes welcomed by egg producers
Two leading packing companies have prepared schemes to insure egg producers against the threat of salmonella. Noble chief executive Peter Thornton ...
Salmonella excuses delay planning application
A farming family from Berwick has finally won the go-ahead for a free range egg unit following a bitter eight month planning battle. Jonathan Watso...
Foot and Mouth legal case launched
The NFU-backed legal case brought by 14 farmers claiming damages following last year's foot and mouth disease outbreak in South East England has...
Salmonella outbreak linked to meat and poultry
Food standards agencies investigating an outbreak of salmonella in the UK and Ireland have warned food retailers and consumers to be vigilant on food ...
Mareks Disease: Important lessons learnt
Last month's 'Ranger Magazine (www.theranger.co.uk)' took up the contentious issue of Marek's disease. One of the reasons why ...
Keeping the bugs at bay – how to protect your birds
Taken from the Ranger magazine www.theranger.co.uk In previous articles in The Ranger, we have discussed the importance of biosecurity in protectin...
Vaccination of poultry - All you ever wanted to know
(This article appeared in the February issue of the Ranger magazine by Crowshall Veterinary - For more details about free range egg production visit w...
E coli cattle vaccine nearing US approval
The US Department of Agriculture (USDA) recently signaled that a Canadian company is in a good position to secure the conditional license it needs to ...
New cloned vaccine for Newcastle disease
A new live vaccine for the control of Newcastle disease has been launched by German vaccine specialist, Lohmann Animal Health. Known as AviPro ND...
Parasitic Worms
Copyright: www.theranger.co.uk Have you thought about what may be happening within the guts of your hens? If not, they may look like this: Howeve...
Foot and mouth disease export restrictions lifted
The European Commission has now adopted a decision that lifts the remaining Foot and Mouth Disease control measures in Great Britain. Resumption of n...
Foot and mouth disease zone reduced
The foot and mouth disease Risk Area has been reduced from 200km to a restricted boundary of 10km, DEFRA has announced. The new zone (see map belo...
Should Salmonella Typhimurium vaccination be mandatory?
As mentioned above, the Lion Code has been amended. This has been done well in advance of the legislation coming into force, both to prepare producers...
Foot and Mouth Disease Update
In line with Defra's risk-based, staged approach to allow specific animal movements, general licences are now available for limited movements wi...
Foot and Mouth Crisis in Wales
As auction market prices and the fodder situation worsen across Wales NFU Cymru will be meeting Rural Affairs Minister Elin Jones tomorrow for talks t...
Foot and mouth urgent action call
The need to further unwind Foot and Mouth Disease movement restrictions as swiftly as possible has been impressed upon the Minister for Rural Affairs,...
Salmonella egg ban from the autumn
Taken from the Ranger magazine www.theranger.co.uk Eggs from flocks infected with salmonella will be banned from retail sale from November if they ...
E coli...a better strike rate than Beckham!
Escherichia coli (thankfully shortened to E coli!) is an imposing name for an imposing bug! As we have discussed in these columns several times previo...
Infectious bronchitis
Today, as ever, if you ask any producer to name the most significant cause of egg production problems, IB is still likely to top the charts, being riv...
Pasteurellosis (or Fowl Cholera)
Pasteurellosis is an infection caused by the bacteria Pasteurella multocida. This is a very severe infectious disease of poultry. In the days before a...
Water - Friend and Foe!
Water is essential for life. That applies to us as much as to our chickens! Providing ample amounts of fresh clean water is needed to maintain the hea...
Coccidiosis – providing immunity in the laying flock
In this month's Ranger article we are looking at the options available to provide the pullet with good immunity against coccidiosis on the layin...
Infectious Coryza
Cause The bacterium causing this disease is Hemophilus paragallinarum. Transmission The disease spreads from bird to bird and flock to flock by c...
Oral statement by David Miliband on the avian influenza situation in Suffolk
Mr Speaker, with your permission I would like to make a statement about the avian influenza outbreak in Suffolk. Just after 5pm on Thursday 1 Febr...
Oral statement for David Miliband - avian influenza situation in Suffolk
Mr Speaker, with your permission I would like to make a statement about the avian influenza outbreak in Suffolk. Just after 5pm on Thursday 1 Febru...
Salmonella in 3 per cent of imports
More than three per cent of foreign eggs on sale in British shops are contaminated with salmonella, according to a major new study from the Foods Stan...
Vaccinating against coccidiosis
Coccidiosis is estimated to cost the UK's poultry industry £40 million every year, with poor performing chickens the result of intestinal damage...
Pale and Interesting!
First quality eggs must have first quality shells. First the egg must have a strong shell to withstand transportation and packing. Second, a clean she...