Poultry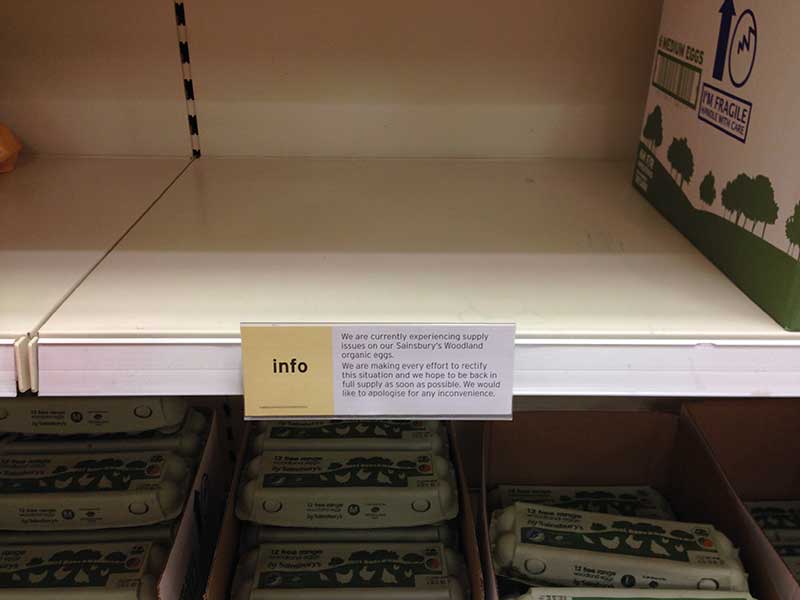 Organic predicted to do much better in 2014 as supermarkets report shortages
Organic egg sales could do much better in 2014 if they get the support of major retailers. That is the view of Soil Association trade director Finn Co...
Top turkey award for Suffolk farmer
Suffolk farmer Jeremy Blackmore missed out on the big moment when his turkey won the top trophy for the first time at the Anglian Turkey Association's...
Scottish poultry producers form new group
Scottish growers, impacted by a recent announcement by 2 Sisters about restructuring of its plants at Letham and Coupar Angus, have formed the Scottis...
Sci-Tech Laboratories acquired by Cawood Scientific
Sci-Tech Laboratories is the latest company to become part of the Cawood Scientific Group, joining the well-known analytical businesses, NRM Laborator...
GEO-GRIT
GEO-GRIT is the new name in animal health and vitality but by no means a new product. This organic and insoluble grit is proving to be beneficial to...
Action points agreed following 2 Sisters meeting
Producers from across the country who have been affected by the restructuring of the 2 Sisters Food Group attended a meeting on Monday to draw up a nu...
Government accused of 'hypocrisy' in egg procurement row
National Farmers Union (NFU) president Peter Kendall has accused the Government of hypocrisy in its procurement policy following the recent omelette-g...
Improvements in genetics could see hens production increase by a third
Improvements in genetics could increase a laying hen's production by more than a third by 2050, delegates at the Egg and Poultry Industry Conference (...
Turkey plant investment opens up new opportunities
A £300,000 investment has been completed at the Kelly Turkeys processing plant enabling it to gain accreditation from the British Retail Consortium. ...
Supermarkets called on to source more chicken from Scotland
In the wake of potential job cuts at 2 Sisters Food Group in Coupar Angus and potential reduction in shifts, NFU Scotland has written to the major ret...
Cost of egg production higher than ever
Roger Gent, chairman of the British Free Range Egg Producers' Association, has said that supermarkets and packers should resist reducing egg prices fo...
MSD Animal Health appoints new poultry business manager
Rosie Booth has been promoted to UK Poultry Business Manager replacing Jonathan Perkins who is moving to take up a Global position within MSD based in...
Supermarket customers say that Tesco does not care about the food it sells
Two thirds of customers say they think Tesco does not care about the food it sells - an indication of how the horse meat scandal has damaged faith in ...
UK free range egg production welfare standards amongst some of the best in the world
Despite the hype this week where comments from a conference about intensive farming were taken out of context, it is worth pointing out that UK free r...
Survey gives insight into egg consumers buying habits
Remarkable statistics suggest that consumers may have been put off buying eggs because they could not find what they wanted in a shop. Nearly 60 pe...
EU pressing for 'sensitive product status' for eggs in US transatlantic trade agreements
The European Commission is understood to be pressing for sensitive product status for eggs in any transatlantic trade agreement with the United States...
Huge potential for poultry industry, NFU President says
The poultry industry has huge potential for the future with a number of exciting opportunities facing the sector, NFU President Peter Kendall said. ...
Printing costs and equipment handed over to free range egg producers
Egg producers supplying Noble Foods will in future have to pick up the bill for on-farm egg stamping after the packer decided it would no longer pay p...
Free range egg association takes the lead in fight against egg fraud
The British Free Range Egg Producers' Association (BFREPA) is on the verge of a deal with a testing company to uncover foreign eggs being sold as Brit...
Chickens to benefit from biofuels bonanza
Chickens could be the unexpected beneficiaries of the growing biofuels industry, feeding on proteins retrieved from the fermenters used to brew bioeth...
Phytase can add value to European poultry production
In a recent presentation made during this year's Union of Poultry Breeders of Ukraine annual conference, which took place in Sudak, Ukraine, between 2...
EU inspectors tell Argentina to improve egg export standards
European Union inspectors have told authorities in Argentina that standards must be improved if they want to continue exporting egg products to Europe...
Thompson's tip: Beef up biosecurity
The on-going cases of African swine fever across Russia and Eastern Europe and the spread of PED in the United States are constant reminders of the ha...
Artificial egg product replacement for eggs?
The man behind an artificial egg product launched recently in the United States wants to take hens out of food production. Josh Tetrick, described ...
Yorkshire leading the way in putting goose on autumn menus
Yorkshire goose producer Stuart Mathison and country hotel Beverley Tickton Grange showed this week how to expand the market for goose by getting more...
EU backs down on Perching row
The European Union seems to have backed down in a row with Westminster over free range perching regulations. Earlier this year the European Commiss...
Cage ban made little difference to the lives of laying hens - Soil Association
The European Union's ban on the use of battery cages has made little difference to the lives of many laying hens, according to the Soil Association. ...
Trade agreement that allows battery eggs into the UK 'morally wrong'
Mark Williams, chief executive of the British Egg Industry Council (BEIC), says it is "morally wrong" that battery eggs outlawed under European Union ...
House of Commons U-turn to include British vaccinated flocks
The House of Commons has moved to avoid another embarrassing rift with egg producers following its earlier omelette-gate row. Both the United Kingd...
It's a free range market as producers breathe again
Competition appears to be increasing in the free range egg market, with contracts changing hands, some packers looking for new producers and suggestio...
Outlook for global poultry industry starting to improve
The outlook for the global poultry industry is improving in most regions of the world, driven by better market balances, ongoing high competitive prot...
Shareholders enjoy bumper payout at Noble Foods Group
Latest financial results released by the Noble Foods Group show that shareholders have enjoyed a bumper pay-out, despite what the company said had bee...
House of Commons British egg ban U-turn
The House of Commons has been forced into a U-turn following outrage at the revelation that chefs in the Commons restaurant have been avoiding fresh B...
Environment Secretary goes on farm to discuss potential impact of the beak trim ban
Members of the British Free Range Egg Producers' Association (BFREPA) say they were encouraged by the reception they received from Environment Secreta...
Foundations for next food scandal being laid as retailers move away from shorter supply chains
The foundations for the next food scandal are already being laid by some retailers as they edge away from shorter supply chains that were promised fol...
Rapid response could halt bird flu outbreak, says research
Researchers at the University of East Anglia (UEA) have identified a rapid response which could help halt infectious diseases such as bird flu, swine ...
Bill Broody - August 2013
Bill Broody is an anonymous column in the monthly Ranger magazine. Every month he writes and sometimes rants about what is happening in the egg indust...
New pedigree hatchery gears up for UK and export growth
The opening of the new pedigree hatchery at Danbury this summer marks the completion of a five-year expansion for FarmGate Hatcheries turkey breeding ...
Poultry theft could cost you more than your birds!
If you are unfortunate enough to have thieves on your farm, the loss of livestock could cost you more than the birds that are stolen. Will White of Cr...
Scientists quantify human deaths due to antibiotic use in chickens
Approximately 280 people are dying every year in the UK from blood infections caused by a highly antibiotic-resistant E. coli superbug, acquired from ...
Freedom Food dismiss accusations of wealthy consumer standards
Freedom Food has rejected the suggestion that its high welfare eggs and other farmed foods are only for wealthy consumers. The accusation was made ...
Report suggests that poultry and egg production will become more intensive to make use of scarce energy resources
The poultry industry will need to become more intensive to make the best use of scarce energy resources, according to a new report. The report, whi...
British farmers call for Fairtrade accreditation
A Welsh free range egg producer has called for Fairtrade accreditation for British farmers. Tony Burgess, who runs Birchgrove Eggs together with hi...
New multi-tier unit improves perfomance for Yorkshire free range egg producer
When fire destroyed one of his units, free range egg producer Mike Wilkinson turned for a replacement to a company virtually unknown in this country. ...
Government warn on illegal unmarked Polish eggs
Government inspectors have taken action following reports that a Polish trader has been offering unmarked eggs for sale on the United Kingdom market. ...
Egg producers view new Multi-tier units at Newquip open day
More than 100 farmers, including egg and broiler producers and pig farmers, attended an open day organised by Newquip in North Yorkshire recently. ...
Fairburn opt for CHEP System
CHEP, the world's leading provider of pallet and container pooling solutions, announced that LJ Fairburn & Son Limited, one of the UK's leading produc...
Newcastle disease - the forgotten pest?
The poultry industry in Cyprus has been devastated by an outbreak of Newcastle disease, which has resulted in the loss of more than 250,000 birds so f...
DEFRA shell egg imports and exports revised after miscalculation
UK shell egg import and export figures have been recalculated by DEFRA after a mathematical conversion error by HMRC revealed that imports and exports...
Egg Market Report - 2nd July 2013
At the time of writing, Monday 1st July, the market continues to be in a weak and unsettled position. Since the start of June the prices have been mo...