Pigs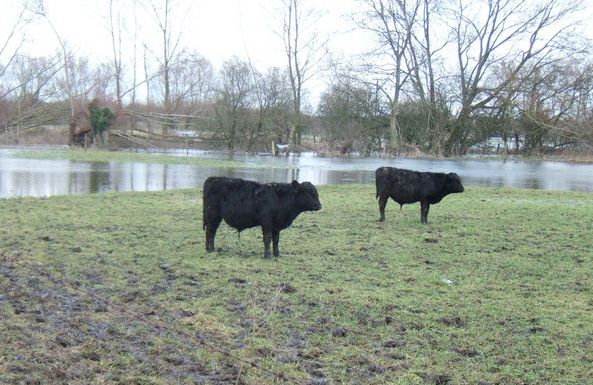 What are the consequences for livestock farmers after the floods?
With much of the UK having seen record levels of rainfall and extensive flooding of pastures and crops, James Ingles, Head of Agriculture at Barenbrug...
Harper Adams conference links farming, science and nutritional food value
Harper Adams University is set to host the 2014 Frank Arden Memorial Conference on 24 April, supported by the Nuffield Farming Scholarships Trust. ...
New environmental health check for piggeries
A new 'MOT' service for buildings to help pig farmers run their controlled-environment houses more efficiently is being introduced by Staffordshire-ba...
Eight strategies for efficient and sustainable livestock farming
Eight strategies to make cows, sheep and other cud-chewing, or ruminant, livestock a more sustainable part of the food supply are outlined by Rothamst...
Thompson's tip: Spring check on bin hygiene
With spring just around the corner, it is a good time for pig producers to check up on feed bin hygiene, advises ACMC veterinary consultant, Paul Thom...
Where next for large-scale livestock production?
The potential effects of large-scale livestock systems on animal health and welfare are set to come under the spotlight during a special workshop look...
Plumpton College Open Day
Plumpton College has an Open Day on Saturday 10th May 2014. There will be courses and careers advice, apprenticeships information, business trainin...
Foot-and-mouth anniversary highlights the risks of feeding swill to pigs
On the 13th anniversary of Britain's most serious outbreak of foot-and-mouth disease, the National Pig Association has reminded the Government of the ...
UK and Irish unions thrash out livestock concerns
UK and Irish farming unions met this week in Stirling to discuss issues facing the livestock industry. Representatives from NFU, NFU Cymru, Ulster ...
Pig association survey hopes to encourage greater investment
National Pig Association is polling pig producers on lorry washes at Britain's abattoirs, with a view to publishing a league table. The association sa...
Winter Olympics pose heightened disease risk for British farms
Border Force officers will be paying special attention to passengers returning from the Winter Olympics in Sochi, in a bid to prevent African swine fe...
Thompson's tip: Review vaccination procedures
It is well worth while periodically reviewing vaccination procedures with the pig farm staff actually giving the injections, including their technique...
Sandy Howie recognised for contribution to Scottish pig industry
The 2014 Ed Rainy Brown Memorial Award has been presented to an inspirational figure in the Scottish pig industry, Sandy Howie. Howie stepped down ...
Pig farmers call on government to improve defences against swine fever
The National Pig Association is calling on Government to step up defences against African swine fever, which is harmless to humans but fatal to pigs. ...
Pork industry positive as declining feed costs lift farmers' margins
The global pork industry had a generally good 2013 with the Rabobank five-nation finished hog price index averaging 151, an increase of 10% on 2012 an...
Organic Diet Mixes for Pigs and Poultry
Defra has commissioned a project which will help to establish whether the current 5% 'non-organic' allowance will continue to be needed in organic pig...
Europe 'failing consumers over animal welfare'
Efforts at enforcing recent animal welfare legislation means that Europe is 'ill-serving' its consumers, according to farming unions. At a European...
UK pig producers urged to review defences against disease
BPEX has urged pig producers to review biosecurity to protect their herds against devastating diseases, including African Swine Fever (ASF) and Procin...
UK's protected food names 'boost EU economy'
More than 60 unique British foods have now achieved protected status to help safeguard the products and deliver boosts to the economy. Anglesey Sea...
New version of easy-to-use recording system
A new version of PigCom, the popular electronic pig recording and herd management system, is available from ACMC. It offers several innovative and ...
Regulation tops farmers' concerns for 2014
A new survey has revealed regulation, high input costs and the impact of CAP reform top the list of things farmers' believe will have negative impacts...
Benefits for all herds in moving to early hyopneumonia vaccination
Early vaccination of pig herds against enzootic pneumonia - as young as seven days of age - is recommended by veterinary surgeon John Hayden, who is s...
Supermarkets step up to the mark after Horsegate
Two surveys researching the amount of British meat on supermarket shelves has shown retailers have increased their support for UK-farmed pork, lamb an...
Livestock movement simplifications welcomed by NFU Cymru
NFU Cymru has welcomed Welsh Government's proposals that will potentially deliver significant simplification to livestock movement rules from 2015. ...
Cold weather semen storage
As the weather turns colder pig farmers should review their storage of semen, says ACMC veterinary consultant, Paul Thompson. It is important to meas...
Thompson's tip: Cold weather semen storage
As the weather turns colder pig farmers should review their storage of semen, says ACMC veterinary consultant, Paul Thompson. It is important to meas...
Mid Wales farmers tuck in to a banquet of bangers
Mid Wales farmers enjoyed a banquet of bangers in a special celebration of British Sausage Week laid on by Farmers' Union of Wales members Ithel and L...
New US meat labelling rules take effect Saturday
This Saturday, new regulations are scheduled to take effect that will require meat producers to list many details on their packaging, such as the coun...
Fluke disease 'could be more widespread than anticipated'
Overwintered fluke disease is forecast to be significant in all regions of the UK, except eastern England and the Midlands, according to the November ...
New Opportunity for Early Protection against Enzootic Pneumonia
New Opportunity for Early Protection against Enzootic Pneumonia A revised licence for the vaccine Suvaxyn™ MH-One will provide a new opportunity for ...
China's festival season drives pork growth
The global pork industry has experienced a positive Q3, according to figures. In line with expectations, the Rabobank five-nation hog price index cont...
Success for new Georgian pig unit
A privately-owned 650-sow Georgian farm, established with genetics from Britain in 2012, is on target to produce over 30 pigs per sow a year, around 2...
Green light for reform of pig inspections
The Food Standards Agency has welcomed the European Parliament's endorsement of proposals to change the regulations governing official controls in pig...
Major cuts of greenhouse gas emissions from livestock within reach
Greenhouse gas emissions by the livestock sector could be cut by as much as 30 percent through the wider use of existing best practices and technologi...
Sturdy pig weighers with functional features
Two new German-made electronic pig and livestock weighers have been introduced by Suffolk-based equipment supplier, Quality Equipment. They incorporat...
Calf disease monitoring system wins first Nick Bird Award
First winner of The Nick Bird Award is Doug Fleming, an agricultural engineering student at Harper Adams University, from Berwick-upon-Tweed. He gaine...
Cameron refuses to return red meat levy to Scotland
In a letter to First Minister Alex Salmond, Prime Minister David Cameron has refused to return to Scotland the levy income paid by Scots livestock pro...
New project aims to end tail docking
A project which aims to end tail docking of pigs was launched this month. A group of seven European research institutions, including Scotland's Rural ...
Government strategy 'will not stop excessive farm use of antibiotics'
The rapid spread of multi-drug resistant bacteria means everyday infections or diseases may be harder to prevent or treat, according to a new report s...
Lifting ban on waste feed for pigs 'risks causing next FMD epidemic'
Environmental activists who want to see a lifting of the European Union ban on feeding catering waste to pigs may be sending confusing signals to hobb...
Foundations for next food scandal being laid as retailers move away from shorter supply chains
The foundations for the next food scandal are already being laid by some retailers as they edge away from shorter supply chains that were promised fol...
Most popular year yet for Natural England grant scheme
From Northumberland to Cornwall, farmers in 79 priority catchment areas of England have submitted more applications than ever before for funding from ...
Concentrate on feed conversion to up financial returns
Feeding herd performance is far more important to a pig unit, financially, than litter performance. While pigs reared per sow per year is not insignif...
Compassion to march against live exports in London
A march is expected to go ahead in London on the 10th of August held by Compassion in World Farming against the live export of farm animals. Over ten ...
Heatwave harms pig performance
Recent heatwave conditions have highlighted problems resulting from wide temperature fluctuations in finishing houses, says Tim Miller, environmental ...
Ban pork imports from farms flouting stall ban, says NPA
Seven months after the European Union introduced a ban on keeping sows in stalls (except for the first four weeks of pregnancy) half of European Union...
Thompson's tip: Hot weather monitoring
Extremely hot weather can pose problems on pig farms. Producers should particularly monitor temperatures in their AI storage cabinets and water flow r...
Quality Equipment makes new appointments
Quality Equipment has strengthened its sales and marketing departments with two new appointments, Bill Diaper and Henry Stark. Bill Diaper, who sta...
Ragwort: Advice on control and disposal
Farmers are being reminded that they need to stay vigilant to ensure livestock isn't exposed to the risk of ragwort poisoning. Grazing land 'should...
East Midlands breeding consultant joins World Wide Sires
World Wide Sires UK has appointed Chris Godfrey as a new breeding consultant in the East Midlands. Godfrey, who has worked in the livestock and dai...