Pigs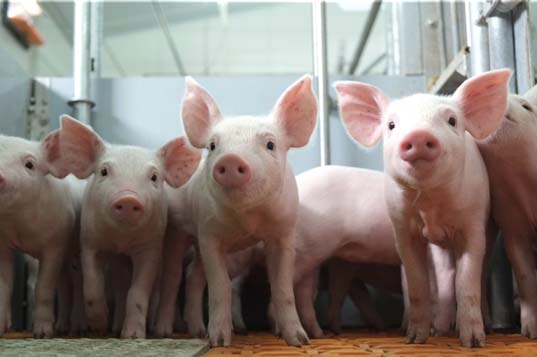 Highly virulent Asian-American pig disease spreads to Europe
The highly virulent Asian-American Porcine Epidemic Diarrhoea virus has spread to Europe. The disease is extremely infectious — a thimbleful of manure...
UK farmer confidence falling, according to new survey
Falling farmgate prices and market price volatility have contributed to a drop in farmer confidence, a new survey by the NFU has revealed. After th...
British pig producers making quantum leap in biosecurity
British pig farmers have made a 'quantum leap' in their defences against foreign diseases this year, reports the National Pig Association. Most hav...
Greater accuracy for pig growth sensor
On-farm development work has resulted in greater accuracy of information retrieval provided by the growth sensor system. This significant development ...
Home Secretary endorses agricultural crime initiative
Home Secretary Theresa May MP has praised an agricultural industry led crime initiative which brings farmers, auctioneers and the police together in a...
Visual imaging to help pork producers improve health
A consortium of academic and animal health industry partners in the UK, led by Zoetis Inc., is embarking on a 42-month project that will develop visua...
Staffordshire pig pen attracts worldwide customer base
A pioneering pig birthing pen designed and created by a Staffordshire farmer is now being sold across the globe, it has been revealed. Orders for t...
Support local farmers and butchers in Sausage Week, says FUW
The Farmers' Union of Wales today called on people to support their local farmers and butchers by tucking into wonderful Welsh bangers during next wee...
'Extremely worrying times' ahead for farmers, says NFU
With farmers facing significant challenges heading into the winter, the Government is being urged to come forward with proposals for how they intend t...
EU pork faces tough times with health scares and Russian ban
The global pork market will likely begin to cool down as the buoyent market circumstances from the first three quarters are now disappearing. With ...
Who are the biggest meat consumers in the world?
Across the globe, meat is a staple food enjoyed by an array of countries and cultures. From tender chicken in traditional Spanish paellas to juicy sau...
Keeping up with the next generation of livestock farmers
The NFU has teamed up with Innovation for Agriculture (IfA) and Warwickshire Rural Hub to focus on the potential that precision agriculture has for th...
Chinese award for pig welfare launched
Compassion in World Farming is helping to move animal welfare higher up the agenda in China with the launch of the Good Pig Production Awards. The...
New portable nursery unit saves thousands of piglets
A portable nursery unit which will enable pig farmers to save thousands of surplus piglets has been launched by Suffolk-based Quality Equipment. Based...
Winter: Preparing livestock's seasonal housing needs
The days are shortening, harvest and autumn sowing is mostly done, so now is the time to turn your attention to the winter and your stock. You must as...
Antibiotic usage in livestock
With the growing problem of bacterial resistance to antibiotics, antibiotics from the fluoroquinolone and 3rd and 4th generation cephalosporin groups ...
NFU spells out priorities ahead of 2015 General Election
A Government that understands farm businesses, wants agriculture to grow and has the policies that send the right signals to farmers, are the key mess...
Pig industry introduces confidential reporting service
A confidential reporting service will be introduced to maintain animal welfare standards on British pig farms, the National Pig Association has reveal...
A health check for your soil
Soil is the basic raw material of farming and fundamental to agricultural productivity. Traditionally soil health has been seen largely as a function ...
Combining solar and livestock farming: New guidance published
A new guidance published today expounds best practice in coupling conventional agriculture and ground-mounted solar electricity generation. The new...
Pig breeders warned over virus
Pig breeding companies are being urged to keep free from a virus that has had a devastating impact in the United States and Canada. As many as thre...
Thompson's tip: Strong case for detergents
Cleaning and disinfection is core to the control of many diseases on the pig farm. However, pressure-washing alone will often leave a thin layer of b...
New project to help pig producers select best mothers
Animal welfare scientists are helping Sainsbury's identify 'good mums' for free farrowing systems on their pig farms. It is hoped the results will enc...
Heatwave puts piggery ventilation systems under pressure
With temperatures recently hitting peaks of up to 32oC (90oF) inside piggeries, ventilation systems have been tested to their limits, says an environm...
Thompson's tip: Effects of heat stress
While the recent hot weather is welcomed by many, the effects of heat stress on pigs can be profound and can compound the effects of seasonal infertil...
Further reports of African Swine Fever in Europe
There have been three further reports of African Swine Fever (ASF) in domestic pigs in Lithuania, Latvia and Poland. In all three countries statutory ...
Government urged to act as MRSA found in British pig
The government is being called on to carry out a full MRSA survey of the UK pig industry to determine how widespread the superbug is after the first-e...
Porcine epidemic 'jeopardizing the livelihoods of farmers'
2014 has seen a devastating epidemic of porcine epidemic diarrhoea (PED) in the USA, affecting more than 30 states and driving up the price of pork pr...
Pig welfare: EFSA updates its scientific advice
EFSA has published an opinion on the issue of tail docking in pigs. Tail docking is a procedure carried out to reduce the risk of tail biting, one of ...
New dawn for Landia's Pig Slurry Pumps and Mixers
"After 21 years, one of our Landia slurry pumps actually got to see daylight" - so said Chris Carter at Strathyre Farm near Preston when his submersib...
National Pig Association appoints chief executive
Having urged its members to pay greater attention to succession planning, National Pig Association is putting its own house in order, by promoting gen...
UK pork exports set new record
Pork exports were just under 18,200 tonnes for March, 13% up on the same month last year and the highest monthly figure since 1998, at a time when Bri...
Evaluating changes to official controls in pig approved slaughterhouses
The FSA is funding new research in pig approved slaughterhouses to understand how the legislative changes that apply from 1 June 2014 are rolling out ...
Worming pigs represents significant return on investment
Farmers are advised to undertake a routine worming programme to reduce any significant drops in performance caused by a worm burden. ABN's National...
Disease causing pork shortages around the world, report says
Pork shortages will be a key concern in many countries in the coming months as the ongoing spread of porcine epidemic diarrhoea virus (PEDv) in the Am...
Thompson's tip: Transport hygiene vital
The role of transport in the potential spread of diseases such as swine dysentery, and PED in the United States, emphasises the need to pay very close...
Pig feeder exports to Japan top £250,000
Suffolk-based pig equipment company, Quality Equipment, has just notched up over £250,000 worth of high-tech exports to Japan. In the last two year...
Efficiency improvements worth £220 million
There is still plenty of scope for pig farmers to improve their efficiency — that's the message that national genetics company, ACMC, will be deliveri...
'Spy in the sty' research yields big benefits
A product heralding a major breakthrough in pig management will be launched at the British Pig and Poultry Fair. The In-pen Voluntary Access Scale — a...
Wet winter causing explosion of worm cases in pig units
The wet and mild winter has been ideal for causing an explosion in the worm population on pig units, making it vital to deworm all pigs on units this ...
£90m for centres of innovation: do pigs & poultry want their share?
The Government has made £90 million available for UK centres for innovation as part of its strategy to make UK farming more competitive, productive, r...
EFSA updates scientific advice on African swine fever
The risk that African swine fever is endemic in Georgia, Armenia and Russian Federation has increased from moderate to high since 2010, when EFSA carr...
Thompson's Tip: Hospital pen management
The purpose of a hospital pen on the pig farm, as its name implies, is to provide a comfortable environment in which to treat ill pigs and give them a...
Producers urged to vaccinate against Swine Influenza
Following an announcement by the AHVLA at the end of 2013 regarding an increase in Swine Influenza diagnoses in the UK, Merial Animal Health is urging...
Anupco turns its focus on UK pig market
A new range of medicines and complementary feeds are available to the UK pig industry from an East Anglian-based company, Anupco, which has just turne...
New trolley for weaners
With sows producing more pigs per litter and farms getting larger, moving and handling weaners can become time-consuming and stressful. In response to...
Landia's New Cost-Saving Dry-Pit Slurry Pump installation
For the Pig Industry, Landia's MPTK Liquid Slurry Pump is very easy to install in a dry pit, available as a complete pump and polyethylene (PE)-pit pa...
Consultation: new rules for pig meat inspection
The Food Standards Agency has started a six-week consultation on new rules for pig meat inspections which come into force in June 2014. The new rul...
Porcine virus to cause shortfall in American hog market
Porcine Epidemic Diarrhea Virus (PEDv) has impacted about 60% of the US breeding herd, 28% of the Mexican herd and is beginning to develop in Canada, ...
Scholarships draw students into pig industry
Four students have won scholarships that should help them forge careers in the UK pig industry. The new BPEX Scholarships at Harper Adams Universit...