Organic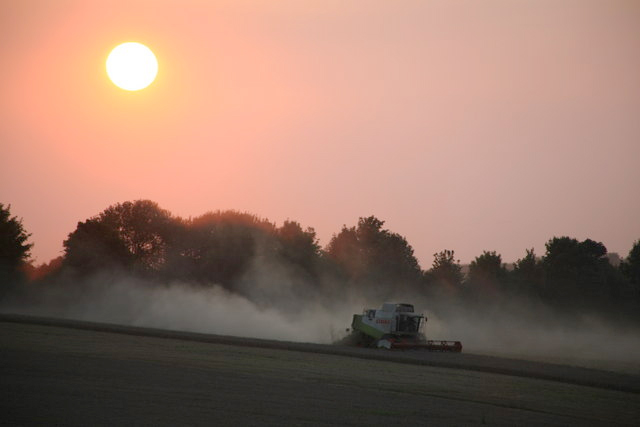 Hold your nerve and trust your supplier
Farmers are being urged to hold their nerve when it comes to fertiliser orders and to work closely with a trusted supplier with strong market knowledg...
Organic farming benefits highlighted
Sales of organic food products in Denmark have almost doubled within the past four years. It's anticipated prior to 2013 sales will double again...
EU set to scrap wonky veg rules
EU agriculture officials were expected to vote this week in favour of scrapping marketing regulations governing the size and shape specifications of 2...
Green move to promote organic farming
A programme to motivate farmers and youth to use organic fertiliser to save money on expensive non-organic fertilisers and insecticides is launched by...
Compostable bags selling like hot cakes
Leading organic certifier, Organic Farmers & Growers, has hailed the introduction of compostable carrier bags as a great success after selling out of ...
Australia in Organic boom
Organic farming in Australia has increased 80% in the last five years, according to figures published last week. There are now 12 million hectare...
Organic farming takes root in China
In recent years, Americans have been concerned about what's in Chinese products, including the food we eat and the toys we buy. In China, a small ...
Organic is still the best for farmers
There's never been a better time to convert to organic agriculture, one of Northern Ireland's leading organic dairy farmers has insisted. ...
No evidence to support 'Organic is best' says SCI
New research in the latest issue of the Society of Chemical Industry's (SCI) Journal of the Science of Food and Agriculture shows there is no evid...
Farmers turn their backs on organic farming
The number of dairy farmers who are adopting organic farming methods has declined as the slowing economy curbs demand for expensive organic produce. ...
Organic food becomes latest casualty of the credit crunch
Dairy farmers are turning their backs on Britain's organic milk market as economic pessimism dents consumers' previously buoyant demand for or...
European Commission launched new Organic Farming Campaign
The European Commission has launched the European Union's new Organic Farming Campaign and has announced a competition to develop a new organic fa...
State to encourage organic farming
The Government is embarking on a major plan to encourage organic farming in the State, and Thursday's budget is expected to have an allocation of ...
Finnish cabinet ministers to start sporty life
The Finnish government may combine cabinet meetings with power walks this autumn, Health Minister Paula Risikko said Wednesday, referring to a plan sh...
Growers angered by toxic manure threat
The Organic Growers Alliance has this week written to the Health and Safety Executive, the Food Standards Agency and the Pesticides Safety Directorate...
Concern over rejections for the Organic Farm Scheme
NFU Cymru has written to the Welsh Assembly Government following a number of rejections for the Organic Farm Scheme, (OFS). The main reason for this i...
Young Producer weekend highlights organic opportunities
12-13 July 2008 - Hankham Organics, Pevensey, East Sussex The Organic Futures 'Young Producer Weekend' in partnership with the Soil Assoc...
Prince Charles visits organic farm
The Prince of Wales continued his annual summer tour of the principality with a solo visit to an organic farm. Looking relaxed and rested after his...
Organic cow manure set to power Wrexham village
A Wrexham village could soon be powered by cow's manure with the commencement of work at a local farm. In January this year, the Evening Leader...
Key players to gather at national organic arable event
Key players in the feed, seed and milling sectors are to gather at a national event aimed at attracting more converts to organic arable production, it...
UK's organic cows are cream of the crop
A new study by Newcastle University proves that organic farmers who let their cows graze as nature intended are producing better quality milkA new stu...
Govt looking to encourage expansion of organic farming
The Tasmanian Government wants to expand the state's organic farming industry. The Primary Industries Minister, David Llewellyn, says it wants ...
Event plans to de-mystify organic arable and attract converts
With organic arable crops in critically short supply a leading organic certifier has announced a major event to focus on the challenges and rewards to...
Gujarat firm to start contract farming of organic banana
DFV to start organic banana cultivation in 80 acres on trial basis. After emerging as the first Indian farming company to export bananas from India...
Sargent sets organic land target of 5%
Mr Sargent said he intends to bring together key industry leaders, opinion makers and agricultural academics, with some of Ireland's top organic f...
Market concerns for booming Welsh organic sector
Boom could turn to bust for Wales' organic producers, the sector has been warned. The amount of organic land in Wales soared 15% last year and ...
Tesco carbon footprint study confirms organic farming's energy efficiency but excludes key climate benefit of organic farming – soil carbon
A study looking at the carbon-footprint of a range of key consumer staples sold through Tesco has reported that the two organic products studied gener...
Organic cod farm shut down after losing £40m
A revolutionary scheme to grow organic cod in Scottish fish farms, touted as the ethical answer to a global crisis in fish stocks, has been shut down ...
Organic farming boost rice production in Davao del Norte
Improved implementation of organic farming and proper land management this year have helped spare Davao del Norte rice farms from pest infestations an...
Bill would assist farmers in switch to organic crops
Farmers trying to make a switch to growing organic crops would get financial help from a state bill proposed by a Berks County lawmaker. "Making fa...
"Cut the EU Logo to save the new organic regulation" says IFOAM
European experts from 21 countries joined together in Plovidiv, Bulgaria, to discuss the future of organic food and farming in the context of the CAP ...
Initiative to reduce organic waste sent to landfill
Encouraging technology that reduces the amount of organic waste sent to landfill is the driving force behind a consultation launched today (Monday) by...
New organic EU logo postponed
The new organic EU logo which should be implemented beginning with the 1st of January 2009 will be postponed. This is the information Organic-Market.I...
On the wing with organics
Twenty feet up in the trees is not where you'd normally look for point-of-lay pullets. But that's where at least some of Ben and Cathy Wether...
Online survey on organic agriculture & Agroecology
Are you a trainer, educator or information provider in agricultural and related sciences at FE or HE level? Do you have an interest in organic farming...
Over 5,000 acres of land comes under organic farming in Punjab
About 5,078 acres of land have been brought under organic farming in Punjab under a scheme sponsored by the Union Government, the State Assembly was i...
Crop planning, organic farming recommended by experts
The need for proper strategy and crop planning for future food security and organic farming practices to reduce problems like global warming due to gr...
What effect will organic food have on your wallet?
Shoppers who have experienced reaching the till with what they thought was a modest basket of organic groceries, only to be faced with an eye-watering...
The Rising Cost of Food
Agricultural and food prices are on the up. Sharp price increases of wheat and oil, and indeed other basic food commodities, all point towards a m...
Organic farming makes a good start in Bangalore
They believe, natural way of living and healthy food habits are mantra to sustain health of the society. They promote natural and organic foods as a m...
Organic marketing group calls for caution in organic conversion
Graig Producers, the Wales-based independent organic livestock marketing group, is calling for extreme caution if conventional farmers think organic l...
Organic sector faces crisis unless milk prices rise significantly
The UK organic livestock sector is on the verge of stagnation or even decline unless prices rise, says Chris Laycock of Kite Consulting. Organic fo...
River Nene organic vegetables
BASED at Sacrewell Farm near Peterborough Nene Valley organic vegetables is a sister operation to Devon based Riverford organic vegetables. Founded by...
Festive Spirit
Hebridean farmers watched the moment their own barely was turned in to whisky at the Bruichladdich Distillery. After decades, Islay farmers are on...
Promising young farmers awarded bursary by Omsco
The Organic Milk Suppliers Cooperative (OMSCo) has awarded a Bursary to four promising, young organic dairy farmers. The Bursary, in its second year r...
Organic growth as partnership between Yeo Valley and The Cheese Company develops
The Cheese Company and one of the biggest organic brands, Yeo Valley, have launched a new range of family sized packs of organic cheddar. The great ta...
Reduce costs using organic concepts
Some of the concepts and practices used by organic dairy farmers can beadopted by conventional farmers to minimise costs of production and improveprof...
Scotland's biggest organic celebration returns to Glasgow's Merchant City
Soil Association Scotland's Organic Food Festival, Old Fruitmarket and City Halls, Candleriggs, Glasgow, 13-14 October Saturday 13 October 10am-...
Organic takeaway goes down a treat in Crewkerne
Youngsters from Perrott Hill School, Crewkerne, had an extra healthy start to the new term, courtesy of local dairy Coombe Farm Organic and a group of...
UK organic sales hit £2bn - up 22 per cent – averaging £7 million growth per week
Organic food and drink sales in the UK nudged the £2 billion mark for the first time in 2006, with a sustained market growth rate of 22 per cent throu...