Organic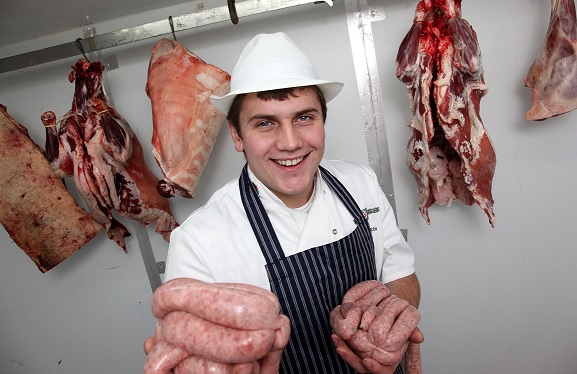 New organic EU logo postponed
The new organic EU logo which should be implemented beginning with the 1st of January 2009 will be postponed. This is the information Organic-Market.I...
On the wing with organics
Twenty feet up in the trees is not where you'd normally look for point-of-lay pullets. But that's where at least some of Ben and Cathy Wether...
Online survey on organic agriculture & Agroecology
Are you a trainer, educator or information provider in agricultural and related sciences at FE or HE level? Do you have an interest in organic farming...
Over 5,000 acres of land comes under organic farming in Punjab
About 5,078 acres of land have been brought under organic farming in Punjab under a scheme sponsored by the Union Government, the State Assembly was i...
Crop planning, organic farming recommended by experts
The need for proper strategy and crop planning for future food security and organic farming practices to reduce problems like global warming due to gr...
What effect will organic food have on your wallet?
Shoppers who have experienced reaching the till with what they thought was a modest basket of organic groceries, only to be faced with an eye-watering...
The Rising Cost of Food
Agricultural and food prices are on the up. Sharp price increases of wheat and oil, and indeed other basic food commodities, all point towards a m...
Organic farming makes a good start in Bangalore
They believe, natural way of living and healthy food habits are mantra to sustain health of the society. They promote natural and organic foods as a m...
Organic marketing group calls for caution in organic conversion
Graig Producers, the Wales-based independent organic livestock marketing group, is calling for extreme caution if conventional farmers think organic l...
Organic sector faces crisis unless milk prices rise significantly
The UK organic livestock sector is on the verge of stagnation or even decline unless prices rise, says Chris Laycock of Kite Consulting. Organic fo...
River Nene organic vegetables
BASED at Sacrewell Farm near Peterborough Nene Valley organic vegetables is a sister operation to Devon based Riverford organic vegetables. Founded by...
Festive Spirit
Hebridean farmers watched the moment their own barely was turned in to whisky at the Bruichladdich Distillery. After decades, Islay farmers are on...
Promising young farmers awarded bursary by Omsco
The Organic Milk Suppliers Cooperative (OMSCo) has awarded a Bursary to four promising, young organic dairy farmers. The Bursary, in its second year r...
Organic growth as partnership between Yeo Valley and The Cheese Company develops
The Cheese Company and one of the biggest organic brands, Yeo Valley, have launched a new range of family sized packs of organic cheddar. The great ta...
Reduce costs using organic concepts
Some of the concepts and practices used by organic dairy farmers can beadopted by conventional farmers to minimise costs of production and improveprof...
Scotland's biggest organic celebration returns to Glasgow's Merchant City
Soil Association Scotland's Organic Food Festival, Old Fruitmarket and City Halls, Candleriggs, Glasgow, 13-14 October Saturday 13 October 10am-...
Organic takeaway goes down a treat in Crewkerne
Youngsters from Perrott Hill School, Crewkerne, had an extra healthy start to the new term, courtesy of local dairy Coombe Farm Organic and a group of...
UK organic sales hit £2bn - up 22 per cent – averaging £7 million growth per week
Organic food and drink sales in the UK nudged the £2 billion mark for the first time in 2006, with a sustained market growth rate of 22 per cent throu...
Organic livestock farmers face serious feed problems
Almost half organic livestock farmers in England and Wales are considering reducing stock numbers, or even leaving organic farming, due to increasing ...
Advisory Committee on Organic Standards to be reviewed
Jeff Rooker, Minister for Sustainable Farming, Food and Animal Welfare, today announced the first independent review of the Advisory Committee on Orga...
Soil Association Organic Village at Food & Drink Expo 2008
The sales of UK organic food and drink is growing at an extraordinary rate so the news that the Soil Association is to work with Food & Drink Expo 20...
Scottish organic horticulture boost as support programme rolled out for second year
A dynamic project to encourage more people into organic horticulture will continue for another year thanks to a second phase of part-funding from Scot...
Organic partners team up for National Organic Dairy Week
The 2007 National Organic Dairy Week (4th – 10th June) aims to highlight the benefits of consuming organic dairy products, as well educating consumers...
M&S Producers Club Brings Organic Farmers Together
The Chitty Food Group, major supplier of Organic beef to M&S, has set up a new producer group in conjunction with M&S, dedicated to bringing the best ...
Organic Marketing Board sweeps board in competition
Graig Producers has swept the board at this year's St Merryn Carcass competition in the organic lamb class, taking the top four winning slots. Thi...
Prices up but organic gloom grows
Organic price rises have done nothing to lift the gloom that now hangs over the future of the sector. As reports grow of producers planning to aban...
A taste of the med from Northumberland
A Northumberland farm which is the centre for organic cereal research in the North of England has created a unique new Ciabatta flour, claimed as an i...
Send a Cow demonstration farm opens in Herefordshire
Are you interested in organic gardening? Or new to smallholder farming? Then why not learn lessons in sustainable agriculture from Africa by visiting ...
OMSCO unveils first ever 'Farmer of the Year'
The Organic Milk Suppliers Cooperative (OMSCo), the UK's largest organic dairy cooperative, has today announced the winner of its first ever '...
Local organic smallholder wins £2,500 award
Organic smallholder Simon Saggers from Bassingbourn, near Royston, has won a £2,500 Queen Elizabeth Scholarship to develop his hurdle making, hedge la...
SAC Hosts Visit By Turkish Organic Specialists
Twenty Turkish organic agriculture specialists visited SAC at its Aberdeen campus, Craibstone Estate in April (20th and 27th) as part of a 15 month Eu...
Organic price rise on its way
Hard-pressed organic producers who have had to absorb unprecedented hikes in feed costs are finally in line for an egg price increase. The developm...
Organic farming debate - Stevenson outlines supports and raises NVZ and pork issues
Speaking in a parliamentary debate on organic farming Banff & Buchan MSP Stewart Stevenson has outlined the merits of organic farming. Mr. Stevenson ...
Executive make belive claims
Scottish Green MSP Mark Ruskell today dismissed the claim by deputy Environment Minister that the Executive had done enough to support organic farmers...
Organic feed hits £300 a ton
Organic feed costs have rocketed to a record high of £300 a ton leaving producers facing a major financial crisis. They are telling packers that th...
'Moo' look for milk as demand for organic grows
Consumer demand for organic milk is continuing to rise and 2006 was a bumper year for Milk Link's organic moo milk. Last year, saw strong sales up...
Organic shutdown "only weeks away"
Organic producers could face losing their certification status within eight weeks unless action is taken to avert the sector's feed crisis. Th...
Polytunnel problems may spell end for UK soft fruit industry
Rural residents' objections to the polytunnels used by farmers all round the country could spell the end of an almost year-round supply of homegro...
OF&G rejects organic slur
Leading organic certification body, Organic Farmers & Growers (OF&G), has hit back at claims of 'loopholes', 'grey areas' and 'ves...
Glowing praise for organic CBTs
Columbian Blacktail organic eggs have been given a glowing accolade by one of the leading organisations in the organic movement. The praise comes i...
Organic livestock farmers fac problems from dry summer
Around a third of organic beef and sheep farmers may be considering reducing stock levels as a result of a lack of forage following this year's dr...
Organic milk price must increase to boost confidence and maximise output
The Organic Milk Suppliers Cooperative (OMSCo) is warning the industry that higher organic milk production costs must be recovered from the market, as...
Positive Financial Outlook for Organic Farmers
Two reports published by the University of Wales, Aberystwyth (UWA) this week show that organic farmers have been achieving good incomes relative to c...
Organic dairy movement must cooperate and remain true to beliefs
- Delegates at first ever Milk Summit look to the future - The organic dairy industry must be careful not to compromise the values on which it was ...
Organic farming is a key to Miliband's vision of socially just 'one planet living'
On the eve of the Labour Party conference, new research from the Soil Association reveals that organic farming delivers 32% more jobs per farm on aver...
Locally produced Organic Food available to Yorkshire Consumers
Something rather strange is happening around the dinner tables of middle England. We are no longer just talking about the weather, or football, or wha...
Organic farmers launch new look brand
Calon Wen, the fast growing Welsh organic dairy co-operative, is launching a new look for its popular branded organic milk at this year's Royal We...
International agricultural investment company purchases prominent UK organic farm
Leading UK organic farm Lower Pertwood Farm, Wiltshire, has been bought and is now being managed by Worldview Investment Ltd, a diversified agricultur...
One thousand organic entry level stewardship applications received
Applications for Organic Entry Level Stewardship (OELS) agreements have reached the landmark 1,000 mark, including 86 which underpin Higher Level Stew...
SAC Estimates Organic Beef, Lamb and Grain Output for 2005-2006
Between July 2005 and June 2006, organic producers in Scotland will produce approximately 4900 head of finished organic cattle, 84000 prime organic ...