Organic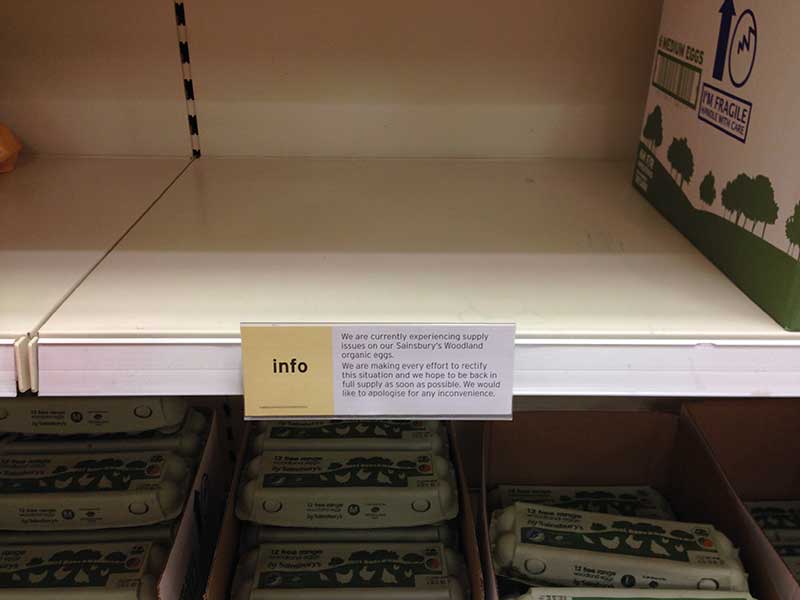 Organic food finalist – five key factors
An Oxfordshire couple, who gave up their conventional way of life to run an organic chicken farm, have been nominated in a prestigious food award. Her...
Tesco reports first signs of organic recovery
UK demand for organic produce is starting to rise again giving growers hope that the recession hit market may be on the way to recovery. After the ...
Early and high Silver Y Moth pressure, try DiPel
A pest that can potentially defoliate brassicas, Silver Y moth has been seen earlier and in higher numbers than normal this season, with growers in th...
DiPel DF a clean, green bioinsecticide
An effective insecticide recommended on a wide range of vegetable, fruit and protected crops, with no maximum number of applications, no harvest inter...
BCPC highlights confusion over EU approvals of organic pesticides
"Surprising though it may seem, there are over 25 chemical pesticides being used in 'organic' production," says BCPC's Chairman, Dr ...
Silico-Sec ticks all the boxes for controlling grain pest
The biophysical grain treatment, Silico-Sec is ticking all the boxes when it comes to treating grain pests in the grain heap, according to Richard Faw...
Importance of pulses in the rotation
With more land available for spring cropping as a consequence of the poor autumn drilling conditions, it is likely that more pulse crops will be grown...
Organic egg production - For how much longer?
During 2008, the financial problems that we are and will be facing have led to a reduction in the sales of organic eggs. Fortunately for the free ran...
Organic holiday floated
An idea to ease the pressure on struggling organic producers has been floated in a consultation document prepared by Organic Farmers and Growers, the ...
Organic farmers dump label in recession bid
Organic farmers may strip themselves of their labels and opt out of their current standards to escape the perils of the recession, with government sup...
Let us bend the rules, say organic farmers
Organic farmers have asked the Government for permission to take a "holiday" from strict organic standards in an attempt to survive the recession. ...
Organic farmers must not kill the goose that lays the golden egg
Responding to news that organic farmers are discussing the possibility of relaxing their rules in the face of the downturn, Neil Parish MEP, Conservat...
Organic farming comes to the rescue of Vidarbha farmers
Unlike many of his less-fortunate peers, Vidarbha farmer Girish Deshmukh is a happy man these days. Less than two years ago, he couldn't have im...
Organic Farming may be the best route to global food security
Methods proven worldwide can sustain farmer profits, address hunger and malnutrition and restore ecological health. To best feed the world, a growing ...
Familys decision to go organic after total farm cull in 2001 pays dividends
The Organic Centre Wales invited would-be converters to one of the largest certified Welsh beef and sheep holdings. Over the last seven years, the...
Changes to organic regulations could leave businesses unprepared
Looming changes to European organic regulations could catch out many businesses in the New Year, UK organic certification body Organic Farmers & Growe...
Pesticide Contamination of Organic Oats
Some batches of oats being sold in the UK as organic have been found to contain one or both of the pesticides Chlormequat and Glyphosate, following ro...
Credit crunch hits sales of organic food
Sales of organic food are plummeting as cash-strapped shoppers switch to cheaper, according to a new report. Once the darling of the supermarket sh...
Living the organic dream
A dream of working in the organic food industry, and being successful, is fast becoming a reality for one couple in Oxfordshire. Paul and Clare Syk...
Hold your nerve and trust your supplier
Farmers are being urged to hold their nerve when it comes to fertiliser orders and to work closely with a trusted supplier with strong market knowledg...
Organic farming benefits highlighted
Sales of organic food products in Denmark have almost doubled within the past four years. It's anticipated prior to 2013 sales will double again...
EU set to scrap wonky veg rules
EU agriculture officials were expected to vote this week in favour of scrapping marketing regulations governing the size and shape specifications of 2...
Green move to promote organic farming
A programme to motivate farmers and youth to use organic fertiliser to save money on expensive non-organic fertilisers and insecticides is launched by...
Compostable bags selling like hot cakes
Leading organic certifier, Organic Farmers & Growers, has hailed the introduction of compostable carrier bags as a great success after selling out of ...
Australia in Organic boom
Organic farming in Australia has increased 80% in the last five years, according to figures published last week. There are now 12 million hectare...
Organic farming takes root in China
In recent years, Americans have been concerned about what's in Chinese products, including the food we eat and the toys we buy. In China, a small ...
Organic is still the best for farmers
There's never been a better time to convert to organic agriculture, one of Northern Ireland's leading organic dairy farmers has insisted. ...
No evidence to support 'Organic is best' says SCI
New research in the latest issue of the Society of Chemical Industry's (SCI) Journal of the Science of Food and Agriculture shows there is no evid...
Farmers turn their backs on organic farming
The number of dairy farmers who are adopting organic farming methods has declined as the slowing economy curbs demand for expensive organic produce. ...
Organic food becomes latest casualty of the credit crunch
Dairy farmers are turning their backs on Britain's organic milk market as economic pessimism dents consumers' previously buoyant demand for or...
European Commission launched new Organic Farming Campaign
The European Commission has launched the European Union's new Organic Farming Campaign and has announced a competition to develop a new organic fa...
State to encourage organic farming
The Government is embarking on a major plan to encourage organic farming in the State, and Thursday's budget is expected to have an allocation of ...
Finnish cabinet ministers to start sporty life
The Finnish government may combine cabinet meetings with power walks this autumn, Health Minister Paula Risikko said Wednesday, referring to a plan sh...
Growers angered by toxic manure threat
The Organic Growers Alliance has this week written to the Health and Safety Executive, the Food Standards Agency and the Pesticides Safety Directorate...
Concern over rejections for the Organic Farm Scheme
NFU Cymru has written to the Welsh Assembly Government following a number of rejections for the Organic Farm Scheme, (OFS). The main reason for this i...
Young Producer weekend highlights organic opportunities
12-13 July 2008 - Hankham Organics, Pevensey, East Sussex The Organic Futures 'Young Producer Weekend' in partnership with the Soil Assoc...
Prince Charles visits organic farm
The Prince of Wales continued his annual summer tour of the principality with a solo visit to an organic farm. Looking relaxed and rested after his...
Organic cow manure set to power Wrexham village
A Wrexham village could soon be powered by cow's manure with the commencement of work at a local farm. In January this year, the Evening Leader...
Key players to gather at national organic arable event
Key players in the feed, seed and milling sectors are to gather at a national event aimed at attracting more converts to organic arable production, it...
UK's organic cows are cream of the crop
A new study by Newcastle University proves that organic farmers who let their cows graze as nature intended are producing better quality milkA new stu...
Govt looking to encourage expansion of organic farming
The Tasmanian Government wants to expand the state's organic farming industry. The Primary Industries Minister, David Llewellyn, says it wants ...
Event plans to de-mystify organic arable and attract converts
With organic arable crops in critically short supply a leading organic certifier has announced a major event to focus on the challenges and rewards to...
Gujarat firm to start contract farming of organic banana
DFV to start organic banana cultivation in 80 acres on trial basis. After emerging as the first Indian farming company to export bananas from India...
Sargent sets organic land target of 5%
Mr Sargent said he intends to bring together key industry leaders, opinion makers and agricultural academics, with some of Ireland's top organic f...
Market concerns for booming Welsh organic sector
Boom could turn to bust for Wales' organic producers, the sector has been warned. The amount of organic land in Wales soared 15% last year and ...
Tesco carbon footprint study confirms organic farming's energy efficiency but excludes key climate benefit of organic farming – soil carbon
A study looking at the carbon-footprint of a range of key consumer staples sold through Tesco has reported that the two organic products studied gener...
Organic cod farm shut down after losing £40m
A revolutionary scheme to grow organic cod in Scottish fish farms, touted as the ethical answer to a global crisis in fish stocks, has been shut down ...
Organic farming boost rice production in Davao del Norte
Improved implementation of organic farming and proper land management this year have helped spare Davao del Norte rice farms from pest infestations an...
Bill would assist farmers in switch to organic crops
Farmers trying to make a switch to growing organic crops would get financial help from a state bill proposed by a Berks County lawmaker. "Making fa...
"Cut the EU Logo to save the new organic regulation" says IFOAM
European experts from 21 countries joined together in Plovidiv, Bulgaria, to discuss the future of organic food and farming in the context of the CAP ...