Organic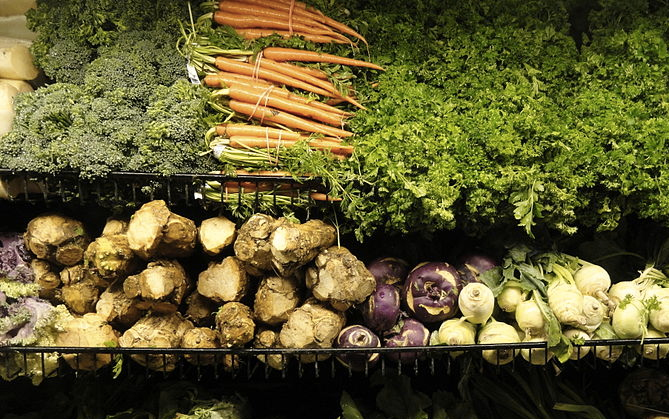 Sustainable farming experts call for change
Bold changes are needed to the way food is produced is we are able to continue feeding the world, according to experts at LEAF (Linking Environment an...
EU approval of Roundup 'based on bad science' says study
The EU approval of glyphosate, the main ingredient of the herbicide Roundup, is based on bad science, according to a new peer-reviewed study. The s...
Sustainable palm oil to be used by 2015
By the end of 2015 all palm oil used in central Government food and catering services will come from environmentally friendly sources, Environment Min...
European changes to biofuel policies are 'ill-conceived', says NFU
The NFU is calling on the EU to forge joined-up policies that support both the production of food and renewable fuel after the European Commission pro...
Supermarket watchdog must have power to fine, say activists
Activists today will stage a demonstration to highlight the need for the government to ensure the new supermarket watchdog being introduced has the po...
Vegetable oil stocks reach 38 year low
Demand for vegetable oils for food and biofuel use is expected to increase by an additional 23 million tonnes by 2016; however supply is expected to s...
Tomato growers gambling with £40m investment
British tomato growers are gambling with an investment of £40million a year in producing crops before they receive any return, according to the Tomato...
Tesco makes switch as supermarket label campaign launched
A new campaign encouraging people to take photos of poor food labels or merchandising and upload them to Facebook has been launched today. The NFU...
US maize and soya prices show decline
As we have whinged previously, it would appear that sometimes the USDA tells the truth, and sometimes…..well, sometimes it fudges the issue. So last w...
Hundreds march to Brussels calling for farming reforms
Protestors from the UK have joined the largest ever rally in Brussels calling for radical farming reform. The activists say the global food system...
Calls to scrap EU biofuel plans 'short sighted'
Calls to scrap the biofuels element of the Renewable Energy Directive have been described as "staggeringly short shighted" by the National Farmers' Un...
European court confirms right to cultivate GM crops
A decision by the European Court of Justice has clarified the legal requirements concerning the cultivation of GM crops within the European Union memb...
Organic category remains resilient
September has been called the organic month by the Soil Association as despite the recession, research has shown there is a positive future for the or...
Growers should 'choose oilseed rape with care'
A new requirement on glucosinolate levels, set by European oilseed crushers, takes full effect for the 2013 crop and growers should pay careful attent...
Quality 'will win battle for US olive oil'
The United States olive oil market – the worlds third-largest for consumption – is poised to become a battleground between historic European producers...
International agreement opens biofuel market for arable farmers
Arable farmers will gain critical access to biofuel export markets after the Red Tractor and Scottish Quality Crops (SQC) schemes gained commercial re...
Global fish production reaches all-time high
Total global fish production, including both wild capture fish and aquaculture, reached an all-time high of 154 million tons in 2011, and aquaculture ...
Cameron accused of failing to address causes of food crisis
David Cameron has been accused by campaigners of 'failing to address the causes of the global food crisis' by suggesting that hunger can be solved by ...
Defra outlines future of pesticides with draft plan
The Department for Environment Food and Rural Affairs have issued a draft plan outlining the future of pesticide use in the UK. The action plan for...
Dairy coalition vows to keep up pressure on retailers
Pressure will be kept on retailers who don't pay dairy farmers a fair price, members of the dairy coalition announced today. The coalition includes...
Proposed changes to stocktaking rules welcomed
The Accounting Council have decided to make "fair value" for biological assets optional rather than mandatory as the minutes of their July meeting hav...
Farmers agree dairy deal at Royal Welsh
Leaders of the dairy coalition have said they are putting "100 percent effort" into targeting retailers and major milk buyers to ensure dairy farmers ...
EU paves way for GM meat and milk
European Union officials are paving the way to bring genetically modified (GM) animals to the European market. European authorities have developed ...
ICM in carrots leads to successful Sclerotinia control
Recent showery weather has encouraged the continuing activity of sclerotia, according to the BASF and ADAS sponsored monitoring system for carrot grow...
Local food networks are 'under-recognised', says report
Despite the importance to the high streets and landscapes, local food markets are 'under-recognised' and poorly supported, a new report says. The ...
Asda, Morrisons, Iceland 'worst offenders' for healthy eating
A report launched today names Asda, Morrisons and Iceland as the "worst offenders" for undermining parents' efforts to feed their chil...
Fair play in grocery supply chain needed EU-wide
A new report has backed up calls for an effective adjudicator to police the UK Groceries Supply Chain Code of Practice. It concludes that the inte...
New organic regulation 'will give producers confidence'
The NFU has successfully lobbied for a new EU regulation on organic feed that will give producers confidence in the sector. The new regulation all...
Natural and Organic Products reports successful show
The sixteenth edition of Europe's leading annual trade show for the natural products, health food and organic sectors has been hailed a huge suc...
Complexity of soil debated at Vegetable Conference
A speaker from expert vegetable grower Produce World has given insight into new developments in soil management at a conference organised by Waitrose ...
Scottish Food Advisory Committee appoints new members
Lord Rooker, Chair of the Food Standards Agency, today announced the appointment of three new members of the independent Scottish Food Advisory Commit...
Price not key factor in organic decline
Falling organic food sales in the UK reflect a growing recognition among British shoppers that benefits for the environment, healthy eating and animal...
Organic produce shows growth in Q4
Overall fresh produce retail prices were higher this quarter compared to Q4 2010, spurring dollar growth, but declining volume sales for some commodit...
Local partnership aids success for organic farmers
A leading player in the UK organic food sector has overcome the headache of finding skilled staff with the help of Midlands-based Network Recruitment ...
New report highlights importance of local food
National charity CPRE publishes a new report into the economic and social value of local food to Ledbury just days before a crunch council meeting to ...
Versadrill practice guide gives advice for soil management
A new soil management guide from Versadrill manufacturer Sumo aims to help farmers avoid the issues that can arise from compacted soils - whether in a...
Fury spring bean gets top marks from growers
As this season's spring sowing season approaches, Fury spring bean is at the top of the list for many pulse growers. It is the fully PGRO-recom...
British seed potato producers gear up for Fruit Logistica
After a busy export season in 2011, the British seed potato industry is set to reach new heights in 2012 by expanding existing and new markets, says P...
Paice gives message of support to Organic Conference
The 6th ORC Organic Producers' Conference at Aston University, Birmingham, opens today (Wednesday) with a strong message of support from Defra&r...
Organic conference to debate key CAP Reform and Food Security issues
The annual ORC organic producer's conference, to be held at Aston University, Birmingham from 18-19th January 2012, will be focusing on the pote...
Potential crisis for organic poultry sector to be averted
Organic poultry farmers are being urged to carry on as normal after the European Commission announced it would not introduce immediate changes to mono...
NFU lobbying secures important changes for organic poultry sector
Proposed regulation changes which would have had a devastating effect for organic poultry farmers have been averted, following extensive lobbying by t...
Organic wheat yields from Tewkesbury hit all time highs
Carl Gray of Grange Farm, Bredon, Tewkesbury, is celebrating all time high organic wheat yields, having yielded 7.3t/ha. (2.96t/acre) of Group 3 wheat...
Decline in organic food sales should lead to a decline in political influence
As sales of organic food in the UK fall for the third year in a row – a 25% drop since 2008 - and organic farmland conversion rates fall by more than ...
Better statistics essential for Organic sector
As the Government releases the latest UK statistics on organic food and farming a leading sector body has criticised the delay in sharing key market d...
Welsh government commit to Organic farming
The leading representative group of UK organic livestock farmers welcomes the announcement this week (26th July) by the new Deputy Minister for Agricu...
Lancashire herd lifts yields by 900 litres despite cutting feed inputs
A big increase in silage dry matter intakes on a Lancashire dairy farm has lifted milk production by 900 litres a cow and enabled feed costs to be cut...
Natural & Organic Awards 2011 Winners announced
The winners of the coveted Natural & Organic Awards were announced on Sunday 3 April at London Olympia's Conference Centre, after the close of b...
Organic food fails the health and taste test
The findings of a two-year trial, published in the March 2011 edition of Which? Gardening magazine, found that there appeared to be few, if any, nutri...
Organic eggs set for testing times
The year ahead could well be another testing one for organic egg producers. The recession has already hit organic egg sales. With the coalition Govern...