Organic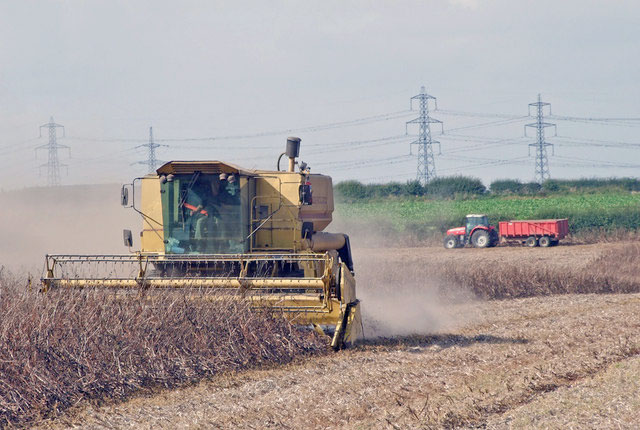 Versadrill practice guide gives advice for soil management
A new soil management guide from Versadrill manufacturer Sumo aims to help farmers avoid the issues that can arise from compacted soils - whether in a...
Fury spring bean gets top marks from growers
As this season's spring sowing season approaches, Fury spring bean is at the top of the list for many pulse growers. It is the fully PGRO-recom...
British seed potato producers gear up for Fruit Logistica
After a busy export season in 2011, the British seed potato industry is set to reach new heights in 2012 by expanding existing and new markets, says P...
Paice gives message of support to Organic Conference
The 6th ORC Organic Producers' Conference at Aston University, Birmingham, opens today (Wednesday) with a strong message of support from Defra&r...
Organic conference to debate key CAP Reform and Food Security issues
The annual ORC organic producer's conference, to be held at Aston University, Birmingham from 18-19th January 2012, will be focusing on the pote...
Potential crisis for organic poultry sector to be averted
Organic poultry farmers are being urged to carry on as normal after the European Commission announced it would not introduce immediate changes to mono...
NFU lobbying secures important changes for organic poultry sector
Proposed regulation changes which would have had a devastating effect for organic poultry farmers have been averted, following extensive lobbying by t...
Organic wheat yields from Tewkesbury hit all time highs
Carl Gray of Grange Farm, Bredon, Tewkesbury, is celebrating all time high organic wheat yields, having yielded 7.3t/ha. (2.96t/acre) of Group 3 wheat...
Decline in organic food sales should lead to a decline in political influence
As sales of organic food in the UK fall for the third year in a row – a 25% drop since 2008 - and organic farmland conversion rates fall by more than ...
Better statistics essential for Organic sector
As the Government releases the latest UK statistics on organic food and farming a leading sector body has criticised the delay in sharing key market d...
Welsh government commit to Organic farming
The leading representative group of UK organic livestock farmers welcomes the announcement this week (26th July) by the new Deputy Minister for Agricu...
Lancashire herd lifts yields by 900 litres despite cutting feed inputs
A big increase in silage dry matter intakes on a Lancashire dairy farm has lifted milk production by 900 litres a cow and enabled feed costs to be cut...
Natural & Organic Awards 2011 Winners announced
The winners of the coveted Natural & Organic Awards were announced on Sunday 3 April at London Olympia's Conference Centre, after the close of b...
Organic food fails the health and taste test
The findings of a two-year trial, published in the March 2011 edition of Which? Gardening magazine, found that there appeared to be few, if any, nutri...
Organic eggs set for testing times
The year ahead could well be another testing one for organic egg producers. The recession has already hit organic egg sales. With the coalition Govern...
Yeo Valley sings success of 'rapping farmers'
The UK's number one organic brand, Yeo Valley, can reveal that it has successfully grown its share of both the Adult Yogurt and Organic markets ...
West Midlands Project invites Farmers to Add Value
A West Midlands based Farming and Food Enterprise Development Project is hosting a variety of one day workshops across the West Midlands region, to in...
Organic milk helps offset climate change
Wetter, cooler summers can have a detrimental effect on the milk we drink, according to new research published by Newcastle University. Researchers...
Britain 6th in European Organic consumption table
When it comes to buying organic, our European counterparts are far more aware of the benefits of organic than we are here in the UK according to a new...
Campaign highlights benefits of organic
The organic industry is launching a high profile 3-year campaign that is set to deliver sales growth by increasing consumer demand for organic food in...
Is globalised organic farming sustainable?
Organic farming can improve the standard of living for small farmers in developing countries but it can be difficult for them to find elbowroom on the...
Organic production tastes good
Organic egg production not only means a better life for the hen; choosing the right breeds and the right feed can provide consumers with a better sens...
Locally grown fodder for organic cows
With the right mix of herbs in roughage for cattle, many organic farmers can satisfy the vitamin and mineral requirements of their animals with home g...
Pullets to be reared on organic land
Country Fresh Pullets say they will stop producing pullets for the organic sector if new draft standards for organic rearing go ahead. Steve Carlis...
Dairy farmer puts organic milk on the map
A Devon dairy farmer has created a giant 2,450 square metre outline of a cow on the side of a hill near Crediton in Devon to remind people of the impo...
How quirky do you have to be to use a biopesticide
Many growers might regard biological products as being a bit quirky, but in many crops, not just specialist crops, they are applied in exactly the sam...
EU implements organic label rules
New EU rules on organic food labeling including the requirement to display the new EU organic logo, enter into force on 1 July, 2010. The so-called &q...
EU urged to act to avoid organic pullet shortage
Organic egg producers could face a shortage of pullets unless EU leaders reach an early decision on new regulations to be applied from January 2012. ...
Organic still declining
Organic egg producers who are hoping for an end to falling demand will find no comfort in the views of Sainsbury's poultry buyer David Whiffen. ...
Improve fruit finish and quality and reduce russeting
With the ever increasing focus on quality and visual appeal, apple growers are able to benefit from the combined activity of two gibberellins GA4 and ...
I've got nothing to wear……!! Alpaca fear leads to new lines
After owning alpacas for nearly five years and my herd now standing at 30 animals it is a shocking fact that I do not possess one single item made fro...
Characterisation of markets for organic goods
A research report commissioned by Defra has concluded that the organic sector needs additional mechanisms to offer technical and marketing support to ...
Campaign to promote Organic
A new marketing campaign is to be launched to promote organic, following further evidence that eggs and other parts of the organic poultry sector are ...
Sunday Express report on organic market just doesn't add up,
The Organic Milk Suppliers Co-Operative (OMSCo), the UK co-operative of 500 organic dairy farms, were dismayed this week at the publication of figures...
Organic farmer scoops top award
Elfyn Davies from Carmarthen, South Wales has been named the winner of the Organic Milk Suppliers Cooperative (OMSCo suppliers) 'Farmer of the Y...
Donna Air brings a cup full of glamour to organic milk campaign
Dedicated Mum, TV presenter, actress and organic food lover Donna Air has given her support to a new campaign from the Organic Milk Supplier's C...
Applied weather information for farmers and growers
WeatherOnline has recently developed an online agricultural weather service, as part of the WeatherOnline's general weather web site (http://www...
On the verge of an organic revolution
As the economic crisis bites and people look to tighten their purse strings, something big is stirring within the organic community that could mean co...
OMSCo Nurtures Organic Farming Careers with £5,000 Bursary
The Organic Milk Suppliers Cooperative (OMSCo) has launched its annual bursary awards scheme to encourage young people carve a career in organic dairy...
Organic food finalist – five key factors
An Oxfordshire couple, who gave up their conventional way of life to run an organic chicken farm, have been nominated in a prestigious food award. Her...
Tesco reports first signs of organic recovery
UK demand for organic produce is starting to rise again giving growers hope that the recession hit market may be on the way to recovery. After the ...
Early and high Silver Y Moth pressure, try DiPel
A pest that can potentially defoliate brassicas, Silver Y moth has been seen earlier and in higher numbers than normal this season, with growers in th...
DiPel DF a clean, green bioinsecticide
An effective insecticide recommended on a wide range of vegetable, fruit and protected crops, with no maximum number of applications, no harvest inter...
BCPC highlights confusion over EU approvals of organic pesticides
"Surprising though it may seem, there are over 25 chemical pesticides being used in 'organic' production," says BCPC's Chairman, Dr ...
Silico-Sec ticks all the boxes for controlling grain pest
The biophysical grain treatment, Silico-Sec is ticking all the boxes when it comes to treating grain pests in the grain heap, according to Richard Faw...
Importance of pulses in the rotation
With more land available for spring cropping as a consequence of the poor autumn drilling conditions, it is likely that more pulse crops will be grown...
Organic egg production - For how much longer?
During 2008, the financial problems that we are and will be facing have led to a reduction in the sales of organic eggs. Fortunately for the free ran...
Organic holiday floated
An idea to ease the pressure on struggling organic producers has been floated in a consultation document prepared by Organic Farmers and Growers, the ...
Organic farmers dump label in recession bid
Organic farmers may strip themselves of their labels and opt out of their current standards to escape the perils of the recession, with government sup...
Let us bend the rules, say organic farmers
Organic farmers have asked the Government for permission to take a "holiday" from strict organic standards in an attempt to survive the recession. ...