News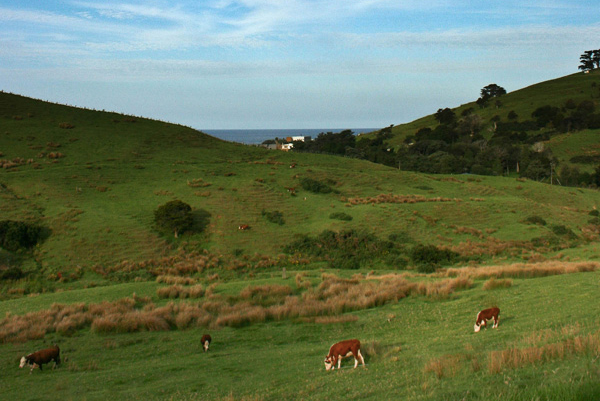 NZ dairy farm prices 'soaring'
New Zealand dairy farm prices have soared recently despite the significant drop in milk prices over the past months. The REINZ Dairy Farm Price Ind...
Corn market closes with double digit losses; not a good week for wheat
Soycomplex Beans and meal fell hard, closing more or less at session lows. "Market sentiment seems to be shifting to one of risk reduction with Dec...
US UK beef inspection anticipated soon
EBLEX has been helping ensure the industry is in the strongest position possible should a trade agreement be reached between the UK and the US for bee...
Farmers face significant tax charges over HS2, NFU warns
Farmers have urged the HS2 Select Committee this week to cater for the hundreds of farm businesses blighted by the construction of High Speed 2. Ev...
JCB GT crowned fastest digger on earth
The JCB GT was today crowned the fastest digger on earth after reaching speeds of more than 70 miles an hour in Australia. The JCB GT - originally ...
Bradford shop owners fined for selling rotten fruit
A HMI investigation has seen Bradford shop owners fined for selling rotten, damaged and incorrectly labelled fruit. The owners of a Bradford shop h...
FUW Christmas card boost for charities
The Farmers' Union of Wales president's chosen charities - Ty Hafan and Ty Gobaith children's hospices - will be the big winners thanks to the union's...
Restrictions lifted in Yorkshire AI zone
Movement licences were set to be issued to egg producers in the Yorkshire avian influenza zone today as authorities confirmed that there had been no n...
Can UK farmers can meet global demand with shale gas?
The development of natural gas from shale will help the UK meet its future food and energy needs, experts suggest. "By giving the go-ahead for the ...
Hydro-electric makes benefit out of flooding for Worcestershire farmer
A Worcestershire farming partnership, frustrated by frequent flooding on areas of their land, has turned this to their advantage with the unveiling of...
John Deere 7R Series tractor 'sets new fluid efficiency benchmark'
After undergoing the demanding Powermix test at the DLG test centre in Groß-Umstadt (Germany), the John Deere 7310R tractor recently set a new fluid e...
Poultry producers urged to remain vigilant
Poultry producers have been urged to remain vigilant following a case of avian influenza discovered at a duck farm in Yorkshire, the NFU have said. ...
Egg producers face stockpiles as AI restrictions start to bite
Free range producers with eggs piling up in the Yorkshire avian influenza zone are desperately awaiting clearance from DEFRA to move their eggs off fa...
Get behind Chip Week 2015
If you are a supplier to the chip shop trade or foodservice sector with quality potatoes for chipping, then it makes sense for you to get behind Chip ...
Farm business innovation expo returns this month
Farm Business Innovation exhibition and conference returns to Olympia London at the end of the month, promising new ways for farmers, smallholders, la...
Solving a drink problem!
Some pig farmers have a drink problem. Despite providing enough drinkers – often exceeding the official recommendations – their pigs are not always g...
FUW welcomes positive first meeting with natural resources minister
The Farmers' Union of Wales has described a first meeting with natural resources minister Carl Sargeant today as extremely positive. The minister ...
Farmer survey highlights loss of azole fungicide fears
A new farmer survey demonstrates that farmers and growers have real concerns regarding the potential loss of azole fungicides. In a recent survey o...
TCBZ resistance could threaten UK cattle
UK producers, animal health advisers, and vets should be on the look-out for signs of resistance to triclabendazole (TCBZ) in cattle according to Meri...
Dairy industry needs to find ways of coping with market volatility
Pembrokeshire dairy farmers voiced their concerns regarding severe farmgate milk price cuts during a well-attended Pembrokeshire NFU Cymru on-farm mee...
UK beef farmers 'should be in bullish mood'
British beef farmers should be in 'bullish mood' after the famous French butcher Yves-Marie le Bourdonnec, declared that British breeds were a cut abo...
HS2 compulsory purchases are 'grossly unfair'
MPs have been urged to implement specific protections for rural landowners and businesses in a two-day evidence session held by MPs scrutinising HS2. ...
Is this the smallest commercial dairy herd?
Milk buyers like big collections, and dairy farmers are getting larger every year. The average British cowman looked after 75 cows in 1996 and tod...
Mansel Raymond re-elected European milk chairman
Welsh dairy farmer Mansel Raymond has been re-elected to lead dairy discussions in Brussels for the next two years. Re-elected Copa Dairy Chairman...
Cull starts at AI infected duck breeding unit
Test results show that the avian influenza that has broken out in Yorkshire is the same strain as the one involved in outbreaks in Germany and the Net...
AI outbreak in duck breeders confirmed as H5N8
Test results show that the avian influenza that has broken out in Yorkshire is the same strain as the one involved in outbreaks in Germany and the Net...
EU grains close mostly mixed; Sterling falls to lowest level
EU grains closed mostly mixed amidst a general lack of fresh news. Sterling weakness was again a supportive factor for London wheat, not that there's ...
New grocery box reduces waste and keeps produce fresh
Goplasticpallets.com has launched a new perforated, rigid pallet box in the UK – the GoBox 1210 BBE – which is ideal for the storage and transportatio...
NFU concerned over new organic regulations
NFU Cymru has expressed deep concern at EU proposals for a new Regulation governing organic food production in Wales. Presenting evidence to Assemb...
Horsemeat scandal detective turns sights on mis-labelling of fish
The food industry is turning to a Scottish-based company in the front line of the UK's defences against food contamination as concerns continue to mou...
Farmers oppose council plans to close recycling centre
Farmers in Montgomeryshire fear that plans by Powys County Council to close Machynlleth's recycling and waste centre will in turn lead to an increase ...
9 out of 10 vets fear antibiotic resistance
The scale of vets' concerns about the threat of antibiotic resistance and what this could mean for their ability to treat infections in pets is reveal...
Beating bovine TB is 'going to hurt', NFU warns
The NFU brought together many leading experts from across the country to discuss the scientific basis for eradicating bovine TB with farmers battling ...
Controlling poppies and grass-weeds across the rotation
Independent agronomist Peter Riley looks beyond this year's arable crops and plans a longer term assault on difficult and obvious weeds such as black-...
Myhealthyherd Launches Free Herd Health Planner
A new version of the popular herd management application myhealthyherd will, say its developers, provide farmers with a much simpler and more extensiv...
Free range egg producers urged to maintain high levels of bio-security as duck breeder unit struck by AI
Part of Yorkshire has been sealed off and restrictions put in place following an outbreak of highly pathogenic avian influenza on a duck breeding farm...
FUW leader welcomes £3.2m boost for Welsh red meat
A project worth well over £3 million to promote Welsh Lamb and Welsh Beef in four European countries over the next three years was described by Farmer...
Sterling weakness helps UK wheat to be more competitive
EU grains were mostly higher on the day and all were higher for the week. At the close Nov 14 London wheat was up GBP0.80/tonne to GBP124.00/tonne,...
Wheat market closes higher and posts decent gains for the week
Soycomplex Beans and meal finished lower on the day, and lower for the week, Nov 14 beans went off the board the best part of 30 cents down. "It se...
Farmers welcome €4 million fund
NFU Cymru members in Meirionnydd welcomed the recent announcement by the Deputy Minister, Rebecca Evans, of a four million Euro fund to Hybu Cig Cymru...
More investment in agriculture needed to meet future demand
More investment is needed if the agricultural industry is to meet growing demand as increasing urbanisation within an expanding middle class are boost...
Bird flu reported on Yorkshire duck farm
An outbreak of bird flu has been confirmed today by Defra on a British duck breeding farm. The Department for Environment, Food and Rural Affairs (...
Firmer beef prices next year, report says
UK beef prices should firm up next year amid tighter supplies, according to the latest forecasts from EBLEX. The latest outlook for the UK beef mar...
Climate change demands greater investment in farming
Climate change will increasingly pose serious challenges to Britain, but addressing climate change will bring significant opportunities for British bu...
Sterling weakness helps London wheat
EU grains traded mostly higher, with wheat pressing on to new highs for the recent move. At the close Nov 14 London wheat was up GBP0.80/tonne to G...
Helping to give poverty in farming the boot!
Harrison Clark Rickerbys takes giant welly on a tour of its four Three Counties' offices, thanks to the help of Gloucestershire business, Green Farm S...
Royal Welsh Agricultural Society is one of the top Welsh businesses
The Royal Welsh Agricultural Society last week saw itself recognised as one of the top businesses in Wales. At the very first Wales Business and E...
Thousands more green jobs a 'missed opportunity'
A new report, released today by renewable energy experts Regen SW, reveals that 16,000 people are employed by south west construction businesses – but...
You shouldn't have to inherit to get into farming
The agricultural industry needs new blood, and while the industry dates back many centuries, it can be vibrant in the modern era, with many exciting c...
Dairy farmers voice market volatility concerns
Falling milk prices and the volatility in global dairy markets were put under the spotlight during a recent meeting of dairy farmers in Carmarthenshir...