News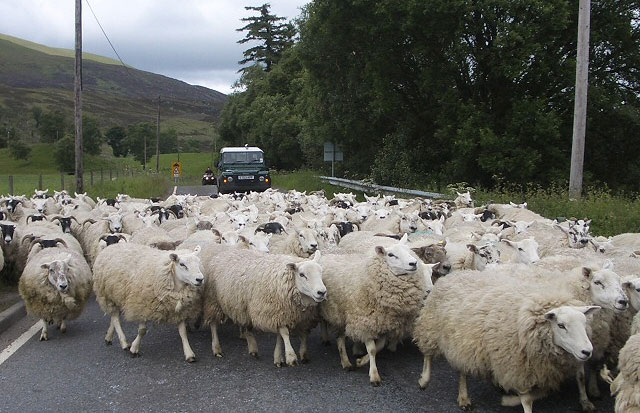 £50k funding awarded to help North Yorkshire farmers
SAC Consulting has won £50,000 of funding from the Prince's Countryside Fund for a two-year project to help Yorkshire Dales farmers get the most from ...
North Yorkshire farm hosts sheep lameness trial
The issue of antibiotics versus trimming as a means of controlling lameness in sheep is often debated, so a new trial at Marrick Abbey Farm in North Y...
EU wheat futures slump to 4-year lows
EU wheat futures slumped to fresh 4-year lows on harvest pressure and rising production estimates coming out of Russia and Ukraine. The day ended w...
Confidence high over US corn record
Soycomplex Beans closed lower as the latest weather forecasts for the Midwest adopted a wetter outlook for the beginning of August, the key month f...
Country of origin of foods study published
The Food Standards Agency is today publishing the results of a study to look at the origin of foods claiming to be from the UK and Ireland. The study ...
Volatile market and low investment fears for future of UK sheep market
The first ever NSA and NFU 'Vision for British Lamb Production' report has been launched at the NSA Sheep Event, identifying the strengths and weaknes...
Investment in rural economy to rise as UK sees positive growth
Employment and investment will rise next year as the rural economy continues to benefit from a more positive UK economy, according to a survey by the ...
Kuhn to exhibit latest machinery at Normac
Kuhn Farm Machinery will exhibit its latest tine disc cultivator and semi-mounted reversible plough at this year's NORMAC cultivation demonstrations a...
JCB secures machine deal as UK market grows
JCB has secured an order for more than 1,000 machines from one of the UK's plant hire companies in a deal worth £35 million. A-Plant has bought a f...
Farmers 'will be the main losers' of pollinator strategy, NFU warns
The NFU has strongly disagreed with the new Environment Audit Committee report on the National Pollinator Strategy which has called for a refocus to d...
New venture with McCormick for Agri-Hire in Suffolk
A successful agricultural equipment hire and manufacturing business in Suffolk is adding a third string to its bow by taking on sales, service and par...
Dry weather damage to Australian wheat; corn market closes higher
Soycomplex Beans closed with strong gains. Weekly soybean export inspections came in at 112,345 MT versus 97,160 MT last week. That takes the 2013/...
Free-range farmer tours Europe, calling for honest labelling
From August 1st, Devon broiler farmer's daughter, Tamsin French, will dress as a chicken called 'Rosa', and embark on a 39-day tour of the European Un...
EU grains closed mixed with trade 'subdued'
EU grains closed mixed with Nov 14 London GBP0.80/tonne lower at GBP125.50/tonne, Nov 14 Paris wheat was down EUR1.50/tonne to EUR178.25/tonn, Aug 14 ...
Veterinary association to support second year of badger culls
The British Veterinary Association (BVA) has said it will support the second year of the pilot culls in England. This follows Defra's response to BVA'...
Yearbook highlights strong year for sheep meat exports
Volume and value of UK sheep meat exports performed strongly again last year, according to the AHDB/EBLEX Cattle and Sheep Yearbook 2014. Volumes i...
Don't let black-grass through the gate
Farmers without black-grass have heard enough stories by now to know it won't be a welcome addition to their rotation plans, nor would those with susc...
NFU selected to lead review of red-tape
The NFU has been selected by the Department for Business, Innovation and Skills (BIS) as one of two trade association and business representative grou...
Agricultural businesses could win a year's free energy
Farmers and agricultural businesses are being offered the chance to win a year's free energy in a competition run by energy consultancy firms Utility ...
Milk price cuts 'must reflect market reality'
Farm gate price for milk must reflect the wider market for milk and dairy products and the performance of milk processors, according to the NFU. It...
Government urged to act as MRSA found in British pig
The government is being called on to carry out a full MRSA survey of the UK pig industry to determine how widespread the superbug is after the first-e...
Accept neonicotinoid ban, Defra warned
The government's draft National Pollinator Strategy needs to be transparent if it is to command public confidence, the Environmental Audit Committee h...
Northern wheats looking good
As one of the highest yielding soft Group 4 wheats on the Recommended List, Limagrain UK's Myriad, was launched last year as a high yielding option fo...
Forum discusses the Organic Future
The Scottish Organic Forum held an open workshop on the 10th of July at SAC Craibstone, to discuss the future of the organic sector in Scotland. Many ...
New John Deere tractor transmission wins IMMA
John Deere's DirectDrive transmission was judged winner of the tractor category in the new International Machinery Manufacturers Awards (IMMA), which ...
Biomass investment slashes drying costs by 70 percent
Angus unit opens its gates next week to show impact of biomass, wind and solar on farm business. With harvest underway, the good news for one Arbro...
Claw launched for better sheep and goat milking
UK milking equipment manufacturer, Fullwood Limited, has announced the launch of a new sheep and goat milking claw which offers improved efficiencies ...
TB ranked as greatest constraint for dairy farmers
The initial findings of the most comprehensive survey of dairy farmers were released at the Royal Welsh Show today with responses indicating a 20% ris...
Quality problems with EU wheat
EU grains markets closed lower on the day, although mixed on the week. The day finished with Nov 14 London wheat down GBP1.45/tonne at GBP126.30ton...
US corn yields at record; Damage to European crop quality
Soycomplex Beans closed mixed, a little stronger nearby and a touch weaker further forward. The USDA announced 360,000 MT of US beans sold to China...
US corn yields at record; Damage to European crop quality
Soycomplex Beans closed mixed, a little stronger nearby and a touch weaker further forward. The USDA announced 360,000 MT of US beans sold to China...
Learning about green energy at Huncote Grange
Professionals, farmers, and landowners were blown away at an event which provided an insight into the benefits of renewable energy technologies. Re...
Farmers looking to the future with confidence
The results of a new survey shows farmers are looking to the future with optimism and planning for growth! This good news is contained in the The ...
Manage stale seedbeds to maximise black-grass kill
Stale seedbeds will be a crucial weapon in the fight against black-grass this season, but they must be actively managed if growers are to maximise the...
EU agrees extension to derogation for organic pullets and feed
A European Union committee has finally acted to avoid a crisis by agreeing to an extension to the derogation covering organic pullets and feed. It ...
CLA Game Fair conservation prize winner announced
An aspiring river keeper is the winner of this year's CLA Game Fair Conservation Saturday Quiz which took place at Blenheim Palace in Oxfordshire on 1...
Campaigners accuse Cameron of hypocrisy on 'Buy British food'
Campaigners claimed today that David Cameron was trying to 'face two ways at once' with his promise that the government would buy more British food on...
Angus event helps growers tackle PCN 'creep'
Potato Cyst Nematode (PCN) was the topic of the afternoon at this new technical event held this July at the family farm of John Reid at Newmill of Bal...
Millington Grange estate sold
Leading national property consultancy Carter Jonas is pleased to announce the sale of the Millington Grange Estate, on behalf of John Weatherill. ...
Wales Woman Farmer Award winner announced
Eleri Lloyd from Ffynonlwyd Farm, Llangynin, Carmarthenshire, has today been crowned NFU Cymru / Principality Building Society Wales Woman Farmer of t...
BVA will support second year of badger cull pilots in England
The British Veterinary Association (BVA) supports the second year of the pilot culls in England. This follows Defra's response to BVA's call for impro...
UK tour dates unveiled for New Holland combines, tractors and balers
A national showcase tour of combines, tractors and balers will let farmers get to grips with the latest New Holland harvest technology. The demonst...
Maris otter barley, the secret plot for quality
It may not have a preservation order, but a particular plot of North Norfolk farmland is, to many brewers, sacred. Four acres in size and bounded by t...
New tractor transmission wins IMMA
John Deere's DirectDrive transmission was judged winner of the tractor category in the new International Machinery Manufacturers Awards (IMMA), which ...
Study highlights potential to reduce long term antibiotic usage for sheep lameness
Sheep farmers could reduce antibiotic treatments for lameness by as much as 92% within two years of implementing the practical FAI Farms Five-Point Pl...
Agri-Tech East to say ancient wheat varieties and latest technology hold key to food security
Global wheat consumption exceeded production in six out of the last eight years. Although increasing yield to meet demand is important, improving resi...
No horse meat found in latest industry and EU testing
The latest round of industry and European Union (EU) testing published today found no horse meat DNA in meat products at or above the 1% reporting thr...
Lib Dems warn over collapsing beef prices
The Welsh Liberal Democrats have warned that the recent collapse in beef and lamb prices could leave the industry in Wales unsustainable. Ahead of...
Farmers 'optimistic for future growth' despite falling prices
The second in a series of agricultural surveys conducted this year reveal that the majority of farmers are optimistic about future growth and are plan...
Dairy Crest announces price cut from September
Dairy Crest has announced a price reduction of 1.1ppl to farmers on standard Liquid and Davidstow contracts from 1 September. Both price changes have ...