NFU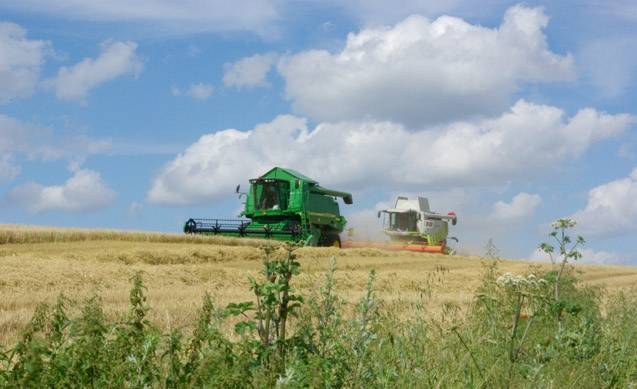 Simplification of CAP 'top priority for 2015'
Simplification of CAP is a 'top priority for 2015' according to farming union leaders who met recently with the new European Commissioner for Agricult...
UK farmer confidence falling, according to new survey
Falling farmgate prices and market price volatility have contributed to a drop in farmer confidence, a new survey by the NFU has revealed. After th...
New apprenticeship scheme to 'promote farming', says Eustice
Horticulture, livestock and arable employers are being encouraged to have their say about future training standards for the agricultural industry. ...
Coastal scheme 'waste of time and money' says NFU
Government plans to invest a further £5.3 million over the next 18 months to speed up public access to the coastline is a waste of time and money, acc...
Autumn Statement: What it means for farmers
The freezing of fuel duty for a further year, exempting apprenticeships from national insurance, and a further extension to small business rate relief...
Farmers warned over Single Payment scams
Farmers are being urged to be cautious to a new twist on an old scam which has seen the farming community lose hundreds of thousands of pounds over th...
NFU Cymru Deputy President to Address Carmarthenshire AGM
NFU Cymru members are invited to the Carmarthenshire NFU Cymru Annual General Meeting (AGM), on Tuesday, 9 December 2014, at 7.30pm, in the Plough, Rh...
Government must stop 'ruthless milk discounting'
Ruthless retail milk discounting is not sustainable, and ultimately will damage the sustainability of the UK dairy industry, NFU dairy board chairman ...
Farmers take dairy concerns to Defra minister
Ways of easing volatility in the milk sector were discussed by Secretary of State Liz Truss and the NFU in a meeting with President Meurig Raymond and...
Think twice about sky lanters, NFU warns
The NFU is reminding the public of the risks associated with sky lanterns, and urging them to think twice about releasing them into the air. Over t...
A 'third rate plan': groups react to pollinator strategy
Organisations such as Network Rail, Highways Agency and the National Trust which manage more than 800,000 hectares of land in England have signed up t...
NFU members plan milk meeting
Aled Jones, NFU Cymru Milk Board Chairman, will be guest speaker at the next Carmarthenshire NFU Cymru on-farm milk meeting on Wednesday, 12 November,...
Experts welcome financial boost for young farmers
Agricultural specialists have welcomed a potential financial boost for young farmers arising from Common Agricultural Policy (CAP) reforms. The Dep...
Parents say schools should serve more British food
Parents want to see more British food served up in schools and more lessons on food and farming, according to a new NFU survey. A YouGov poll comm...
Starting gun fired on union elections
NFU Scotland is now taking nominations for the positions of President and Vice President as current President Nigel Miller's four years in office come...
Scottish farmers disappointed over EU calf scheme
The European Union has ruled out Scotland front-loading payments made under the new Beef Calf Scheme that would have supported smaller beef producers,...
Farmers call for reassurances as Defra publishes new CAP scheme
More details have been unveiled today about how the new CAP will be implemented in England. The latest leaflet, which will also be posted to farmer...
NFU 'dismayed' at Defra rejection of EU aid package
Government Ministers have decided not to take advantage of an EU aid package for fruit and vegetable producers impacted by the Russian trade ban, the ...
Dairy farmers will pay for the price of milk, warns NFU
With mounting concern over the falling milk prices on global markets, the NFU have issued a call to retailers and processors to safeguard the future o...
'Extremely worrying times' ahead for farmers, says NFU
With farmers facing significant challenges heading into the winter, the Government is being urged to come forward with proposals for how they intend t...
British food production 'under threat', says new report
The availability of iconic British foods could be drastically reduced according to an independent report released today. The report, commissioned b...
NFU releases new video: "Back British Farming: How farmers protect the environment"
The NFU releases a new video today to show how much farmers across England do to protect wildlife and the environment. 98 per cent of farmers say that...
Why is the price of milk falling?
British consumers say they want to back dairy farmers after learning that the price they are paid has dropped significantly in the past few months. Bu...
Winner of NFU Dairy Stockperson of the Year announced
Carl Poole, from Meifod, Powys, has been announced as the winner of the 2014 NFU Cymru / NFU Mutual Welsh Dairy Stockperson of the Year Award during t...
Retailers 'taking advantage of dairy volatility' - NFU
Dairy farming businesses are feeling the pain following a downturn in global dairy commodity prices being translated into damaging farmgate price cuts...
Union proposes new farmed environment forum
NFU Scotland has contacted key Scottish politicians this week asking them to consider a new forum to debate environmental matters that have implicatio...
Welsh government upland proposals flawed, NFU says
NFU Cymru President Stephen James has expressed deep disappointment at the recent announcement by Deputy Minister for Farming and Food, Rebecca Evans ...
NFU attends Conservative Party conference
The NFU's Head of Government and Parliamentary Affairs, Matt Ware, says that the Conservative Party Conference is an vital opportunity for the NFU to ...
Tackling food production complacency at a time of climate uncertainty
As the World Farmers' Organisation takes its seat at the table of the UN Climate Summit, NFU Vice President Guy Smith has been selected on to the Advi...
Farmers 'losing out' over CAP uncertainty as NFU heads to Brussels
Lack of detail on CAP implementation and the Russian trade ban will be top of the agenda for the heads of farming unions as they travel to Brussels to...
Bird control decision will help farmers and growers, says NFU
Natural England's decision not to complicate rules for farmers and growers who need to protect their crops from certain bird species is a sensible dec...
NFU spells out priorities ahead of 2015 General Election
A Government that understands farm businesses, wants agriculture to grow and has the policies that send the right signals to farmers, are the key mess...
Europe backs UK dairy but 'more to do'
NFU dairy board chairman Rob Harrison, working with European farmer colleagues, has convinced the European Commission to include the UK's cheese secto...
Farming unions take milk price fight to Brussels
The NFU has taken the battle to protect the UK's dairy farmers to Europe as further price cuts and market volatility risk threatening the industry. ...
John Mercer starts as NFU Cymru Director
John Mercer starts as the new Director of NFU Cymru, following the recent retirement of Mary James. John Mercer started with NFU Cymru in 2004 as a...
NFU urged Welsh Government over fly-tipping
NFU Cymru has welcomed the commitment from Welsh Government to tackle the issue of fly-tipping in its draft Strategy 'A Fly-tipping Free Wales'. In...
NFU launches farmer database to fight rural crime
Livestock and farm machinery theft is on the rise but a new initiative launched by the NFU and Lancashire Constabulary aims to make the county a no-go...
High profile speakers confirmed for independence debate
NFU Scotland has confirmed its speakers for the high profile panel who will be debating the issue of independence in Lanark on Wednesday 27 August. ...
Farming growth plan needed for UK self-sufficiency
The National Farmers' Union is calling for a farming growth plan to halt the backward slide of UK food production self-sufficiency. NFU president ...
NFU President to attend Pembrokeshire County Show
NFU President, Meurig Raymond and NFU Cymru Pembrokeshire County Chairman, Mike Plumb, will start the press briefing with a photo opportunity. They wi...
Gareth Raw Rees Awards
Seven young farmers from across Wales have financially benefited from this year's Gareth Raw Rees Memorial Travel Scholarship. A total of £1,950 has b...
Farmers in lamb protest at Royal Welsh Show
NFU members have staged a demonstration outside the Tesco stand at the Royal Welsh Show in protest at the retailer's failure to back British lamb. ...
Scottish farmers remain frustrated over lack of CAP clarity
With combines starting to roll, thousands of Scottish farmers remain frustrated at the lack of information on how they will be required to meet the gr...
Farmers hit out at Tesco over New Zealand lamb
NFU President, Meurig Raymond, has strongly criticised Tesco's decision to heavily promote New Zealand lamb in the middle of the prime season for Brit...
NFU Cymru President meets new ministerial team
Following Alun Davies AM's departure from the Welsh Government Cabinet earlier this week, NFU Cymru have welcomed the opportunity to meet with Edwina ...
SRUC Honorary Fellowship Awarded to Nigel Miller, President NFUS
Nigel Miller, President of NFUS Scotland, has been awarded an Honorary Fellowship of Scotland's Rural College, in recognition of his outstanding contr...
Farmers threaten protest over falling beef prices
The dramatic fall in the beef price over the past few months is a major concern for the livestock industry and pressure group Farmers for Action have ...
NFU urges members to send clear message on transition
NFU Scotland is urging its members to send a clear message to Scottish Government by demanding a managed transition when new CAP rules come into force...
Deliver fair share to beef producers, NFU warns
The beef sector is being urged to deliver a fair share of the margin back to producers or run the risk of stalling the recovery in Scotland's beef her...
Support for young people is key, says NFU
The need to support young people in rural communities was highlighted at a recent Meirionnydd NFU Cymru county meeting. Lewis Williams, Meirionnydd...