NFU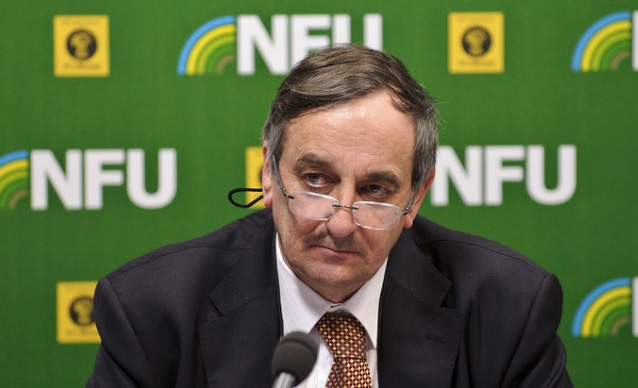 Brecon and Radnor NFU Cymru members to get SAF guidance
NFU Cymru members in Brecon and Radnor will be given guidance on completing this year's Single Application Form (SAF) by Rita Jones, Farm Liaison Offi...
NFU President: TB destroying farm business and it must be stopped
Today is just one example of what is happening on farms across endemic TB areas, it is a farm with a closed herd; no cattle are brought on to farm. Th...
Lack of urgency in cutting farm regulations - NFU
Following recommendations from the Farming Regulation Taskforce report, the government has reduced regulations to help farmers grow their businesses b...
European vote paves the way for Government decisions on CAP
A positive vote by MEPs means the Government is a step closer in making key decisions on implementing the next CAP reform in England and Wales. Th...
New chairman for NFU legal board
Northamptonshire farmer Trevor Foss has been elected the new chairman of the NFU legal board. Mr Foss, who runs a mixed farm of around 200 acres an...
Farmers 'bitterly disappointed' over badger cull halt
Farmers have expressed great disappointment over Environment Secretary Owen Paterson's plans to abandon a roll-out of the badger cull programme. C...
DEFRA abandons badger cull expansion in England
Plans for more badger culls in other areas of England this year have been abandoned by Environment Secretary Owen Paterson, who issued a new strategy ...
NFU presents RDP vision to Welsh Assembly members
NFU Cymru has presented its vision for the Wales Rural Development Plan 2014-2020 to members of the National Assembly for Wales in an event held in Ca...
NFU urged to encourage farmers to work with restaurants
Angelus Restaurant and Bar's owner Thierry Tomasin is urging for more momentum from the NFU in the driving of local farmers to work more closely with ...
Kendall named new President of World Farmers Organisation
Former NFU President Peter Kendall has been named the new President of the World Farmers Organisation (WFO). Mr Kendall was elected during the fina...
Duncan Priestner re-elected as NFU poultry board chairman
South Manchester-based egg producer Duncan Priestner has today been re-elected as chairman of the NFU's national poultry board. Mr Priestner farms on ...
New chairman announced for NFU horticulture and potatoes board
Yorkshire vegetable grower Guy Poskitt has today been elected as the new chairman of the NFU national horticulture and potatoes board. Mr Poskitt ...
Charles Sercombe back in the NFU livestock chair
Leicestershire farmer Charles Sercombe has been unanimously re-elected chairman of the NFU's national livestock board. Mr Sercombe, who has 2,000 shee...
Budget fails to benefit farms, says CLA
The Chancellor's budget speech fails to benefit unincorporated rural businesses such as farms, according to the Country Land and Business Association....
New HS2 report 'raises serious concerns', says NFU
The announcement by the new head of HS2 to fast-track the project has only increased the NFU's serious concerns over the route, raising further the ne...
New Group Secretary in Llanwrst
Sioned Lloyd has this week started as the new NFU Cymru Group Secretary in Llanrwst, following the departure of Paul Williams who left to pursue his a...
Scottish Farmers Put the Heat on UK Energy Minister
Farmers from Caithness to Cornwall are calling on Energy Minister Greg Barker to deliver on his demand that; "The Big Six need to become the Big 60,0...
Agricultural vehicles given MOT exemptions in EU Parliament
The EU Parliament has given exemptions for agricultural vehicles from MOT testing following a vote and lobbying by farming groups. After a 'trilogu...
NFU raises 'three crop rule' concerns at county meeting
Concerns over the three crop rule, which will be a requirement of the next Common Agricultural Policy regime, were raised at a recent NFU Cymru Monmou...
Supermarkets urged not to 'devalue food' with price wars
Supermarkets have been urged not to 'devalue food' by entering into price wars which have the potential to undermine British farmers, according to agr...
Government must invest to close food gap, says NFU
Consistent and long-term investment allowances, and better taxation tools are just some of the key areas the NFU is urging the Chancellor of the Exche...
HS2 underestimates impact on farm businesses, says NFU
Farming unions have claimed the HS2 Environmental Statement 'underestimates' the impact on farm businesses and agricultural operations. The Environ...
NFU lays out CAP priorities to Holyrood Committee
The NFU has used an evidence session in the Scottish Parliament to lay out the many challenges faced by Scottish Government in delivering a new area-b...
Government funds needed to address flood risks - NFU
The Government must review its flooding and coastal defence policies and commit more money into helping to reduce further risks to the British country...
NFU Scottish independence debate secures leading line up
Leading politicians and farming campaigners will be on the platform at NFU Scotland's high-level independence referendum debate in Stirling next month...
NFU report shows farming weathers recession to deliver for the nation's economy
Farming is delivering for the nation's economy and bucking the trend as one of the few success stories during the recession, a new NFU report has reve...
UK and Irish unions thrash out livestock concerns
UK and Irish farming unions met this week in Stirling to discuss issues facing the livestock industry. Representatives from NFU, NFU Cymru, Ulster ...
Union support for Lochhead visit to Brussels
NFU Scotland has written to the Scottish Cabinet Secretary for Rural Affairs, Richard Lochhead, welcoming his visit to Brussels today and urging him t...
Farmers Despair at Government TB Proposals
Montgomeryshire farmers have expressed their disappointment and despair at a Welsh Government decision to look at introducing a system of tabular valu...
Three crop rule is "utter madness", says NFU President
The concerns of thousands of farmers in England over the three crop rule which will be a requirement of the next CAP have again been raised with the E...
NFU President Peter Kendall outlines flooding concerns
Following a visit to flood-hit areas of Somerset, Gloucestershire and Oxfordshire, NFU President Peter Kendall has said Britain needs more resilient a...
Seminar tackles taxation challenges
With new taxation challenges emerging for agricultural businesses, NFU Scotland has teamed up with two top Scottish firms to help guide its members as...
Huge turnout for CAP discussion
"If we say we will do nothing, and simply rely on diminishing resource, we cannot take care of the future or invest in the future," said Alun Davies, ...
Worrying decline in farm incomes - NFU
Farm incomes in Wales have undergone a further, significant decline according to figures released by the Welsh Government today. The figures, which...
Welsh farmers have 'no incentive' to produce food
The incentive to produce food and food security has been 'taken away' from Welsh farmers according to newly elected NFU Cymru Chairman Rhys Jones, aft...
NFU to host summit to discuss crop protection concerns
Leading figures from farming, agricultural chemical manufacturing, and crop protection distribution will hold a summit next week to discuss concerns o...
New Chair for farming union in the Highlands
NFU Scotland's Highland Region has a new chairman. At the recent regional AGM in Nairn, Tain farmer Jim Whiteford stepped up from vice-chairman to cha...
NFU Brussels Director addresses conference
Maeve Whyte, Director of the NFU office in Brussels, will be guest speaker at the NFU Cymru Brecon and Radnor County Conference on Wednesday, 29 Janua...
Flooding Review should also cover river maintenance, says NFU
Welsh Government must carry out a comprehensive review of flooding in Wales looking also at flooding from inland waterways and not just coastal floodi...
NFU meets minister on sheep EID
NFU livestock board chairman Charles Sercombe and chief livestock adviser Peter Garbutt have expressed concerns over plans to remove all access to the...
Further funding vital for river maintenance and flood recovery, says NFU
More funding needs to be directed towards river maintenance to ensure flooding problems do not get worse and land in rural areas recovers as quickly a...
Right CAP is fundamental to food security challenge - Kendall
NFU President Peter Kendall outlined how a refocused CAP could be the driver for a thriving and profitable farming industry in this country. Speaki...
NFU Mutual to offer agricultural student bursaries
In 2014 NFU Mutual, one of the UK's leading rural insurer, is once again offering its Centenary Award for postgraduate students in agriculture. The...
Agriculture Director to address NFU conference
The Welsh Government Director of Agriculture, Food & Marine, Andrew Slade, will be guest speaker at the NFU Cymru Carmarthenshire County Conference on...
NFU President's New Year message: Back British farmers
In his final New Year's message before stepping down as NFU President, Peter Kendall has stressed how farming depends on a healthy, stable environment...
NFU Cymru President's New Year Message
Ed Bailey, NFU Cymru President, delivers his final message for the New Year as President as he will stand down in January after four years in the posi...
Regulation tops farmers' concerns for 2014
A new survey has revealed regulation, high input costs and the impact of CAP reform top the list of things farmers' believe will have negative impacts...
Exciting times ahead for farmers
"British food and farming is now seen in a more positive light and a One Poll survey revealed that 78 per cent of shoppers believe supermarkets should...
NFU to support Bayer neonicotinoid legal challenge
The NFU is to support Bayer's legal challenge on the restrictions of the use of neonicotinoids, it has been announced. NFU Director General Andy R...
HS2 compensation package fails to address blight on farming, says NFU
The NFU have submitted its evidence as part of the latest consultation into property compensation for those affected by the proposed HS2 high-speed ra...