NFU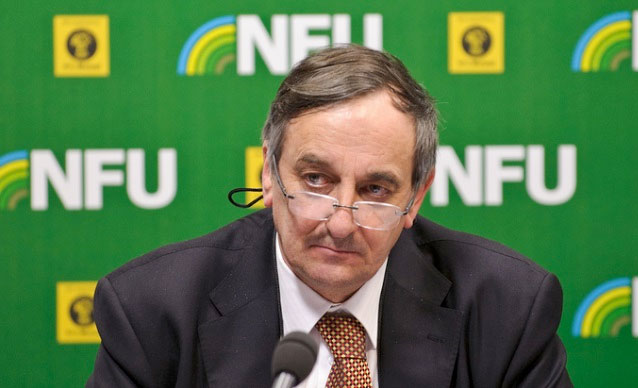 NFU attends Conservative Party conference
The NFU's Head of Government and Parliamentary Affairs, Matt Ware, says that the Conservative Party Conference is an vital opportunity for the NFU to ...
Tackling food production complacency at a time of climate uncertainty
As the World Farmers' Organisation takes its seat at the table of the UN Climate Summit, NFU Vice President Guy Smith has been selected on to the Advi...
Farmers 'losing out' over CAP uncertainty as NFU heads to Brussels
Lack of detail on CAP implementation and the Russian trade ban will be top of the agenda for the heads of farming unions as they travel to Brussels to...
Bird control decision will help farmers and growers, says NFU
Natural England's decision not to complicate rules for farmers and growers who need to protect their crops from certain bird species is a sensible dec...
NFU spells out priorities ahead of 2015 General Election
A Government that understands farm businesses, wants agriculture to grow and has the policies that send the right signals to farmers, are the key mess...
Europe backs UK dairy but 'more to do'
NFU dairy board chairman Rob Harrison, working with European farmer colleagues, has convinced the European Commission to include the UK's cheese secto...
Farming unions take milk price fight to Brussels
The NFU has taken the battle to protect the UK's dairy farmers to Europe as further price cuts and market volatility risk threatening the industry. ...
John Mercer starts as NFU Cymru Director
John Mercer starts as the new Director of NFU Cymru, following the recent retirement of Mary James. John Mercer started with NFU Cymru in 2004 as a...
NFU urged Welsh Government over fly-tipping
NFU Cymru has welcomed the commitment from Welsh Government to tackle the issue of fly-tipping in its draft Strategy 'A Fly-tipping Free Wales'. In...
NFU launches farmer database to fight rural crime
Livestock and farm machinery theft is on the rise but a new initiative launched by the NFU and Lancashire Constabulary aims to make the county a no-go...
High profile speakers confirmed for independence debate
NFU Scotland has confirmed its speakers for the high profile panel who will be debating the issue of independence in Lanark on Wednesday 27 August. ...
Farming growth plan needed for UK self-sufficiency
The National Farmers' Union is calling for a farming growth plan to halt the backward slide of UK food production self-sufficiency. NFU president ...
NFU President to attend Pembrokeshire County Show
NFU President, Meurig Raymond and NFU Cymru Pembrokeshire County Chairman, Mike Plumb, will start the press briefing with a photo opportunity. They wi...
Gareth Raw Rees Awards
Seven young farmers from across Wales have financially benefited from this year's Gareth Raw Rees Memorial Travel Scholarship. A total of £1,950 has b...
Farmers in lamb protest at Royal Welsh Show
NFU members have staged a demonstration outside the Tesco stand at the Royal Welsh Show in protest at the retailer's failure to back British lamb. ...
Scottish farmers remain frustrated over lack of CAP clarity
With combines starting to roll, thousands of Scottish farmers remain frustrated at the lack of information on how they will be required to meet the gr...
Farmers hit out at Tesco over New Zealand lamb
NFU President, Meurig Raymond, has strongly criticised Tesco's decision to heavily promote New Zealand lamb in the middle of the prime season for Brit...
NFU Cymru President meets new ministerial team
Following Alun Davies AM's departure from the Welsh Government Cabinet earlier this week, NFU Cymru have welcomed the opportunity to meet with Edwina ...
SRUC Honorary Fellowship Awarded to Nigel Miller, President NFUS
Nigel Miller, President of NFUS Scotland, has been awarded an Honorary Fellowship of Scotland's Rural College, in recognition of his outstanding contr...
Farmers threaten protest over falling beef prices
The dramatic fall in the beef price over the past few months is a major concern for the livestock industry and pressure group Farmers for Action have ...
NFU urges members to send clear message on transition
NFU Scotland is urging its members to send a clear message to Scottish Government by demanding a managed transition when new CAP rules come into force...
Deliver fair share to beef producers, NFU warns
The beef sector is being urged to deliver a fair share of the margin back to producers or run the risk of stalling the recovery in Scotland's beef her...
Support for young people is key, says NFU
The need to support young people in rural communities was highlighted at a recent Meirionnydd NFU Cymru county meeting. Lewis Williams, Meirionnydd...
Pressure builds on Scottish beef prices
NFU Scotland is to work with the Scottish Association of Meat Wholesalers (SAMW) on a strategy to address the pressure on price and marketing seen dur...
Union backs Defra on Three Crop rule challenge
NFU Scotland has given its full support to Defra plans to tackle Europe over the damaging crop diversification element of new CAP Reform requirements....
NFU Cymru launches manifesto for the European Elections
NFU Cymru has today launched its manifesto for the European Elections, on farm in Monmouthshire. With candidates from all five main political parties...
East Midland farmers to quiz European candidates
Farmers and growers from across the East Midlands will have an opportunity to quiz European election candidates on the policies that affect their farm...
Farmers invited to EU debate
Decisions made by MEPs have a direct impact on UK farms so the NFU said it is important farmers get elected representatives that will protect their in...
Brecon and Radnor NFU Cymru members to get SAF guidance
NFU Cymru members in Brecon and Radnor will be given guidance on completing this year's Single Application Form (SAF) by Rita Jones, Farm Liaison Offi...
NFU President: TB destroying farm business and it must be stopped
Today is just one example of what is happening on farms across endemic TB areas, it is a farm with a closed herd; no cattle are brought on to farm. Th...
Lack of urgency in cutting farm regulations - NFU
Following recommendations from the Farming Regulation Taskforce report, the government has reduced regulations to help farmers grow their businesses b...
European vote paves the way for Government decisions on CAP
A positive vote by MEPs means the Government is a step closer in making key decisions on implementing the next CAP reform in England and Wales. Th...
New chairman for NFU legal board
Northamptonshire farmer Trevor Foss has been elected the new chairman of the NFU legal board. Mr Foss, who runs a mixed farm of around 200 acres an...
Farmers 'bitterly disappointed' over badger cull halt
Farmers have expressed great disappointment over Environment Secretary Owen Paterson's plans to abandon a roll-out of the badger cull programme. C...
DEFRA abandons badger cull expansion in England
Plans for more badger culls in other areas of England this year have been abandoned by Environment Secretary Owen Paterson, who issued a new strategy ...
NFU presents RDP vision to Welsh Assembly members
NFU Cymru has presented its vision for the Wales Rural Development Plan 2014-2020 to members of the National Assembly for Wales in an event held in Ca...
NFU urged to encourage farmers to work with restaurants
Angelus Restaurant and Bar's owner Thierry Tomasin is urging for more momentum from the NFU in the driving of local farmers to work more closely with ...
Kendall named new President of World Farmers Organisation
Former NFU President Peter Kendall has been named the new President of the World Farmers Organisation (WFO). Mr Kendall was elected during the fina...
Duncan Priestner re-elected as NFU poultry board chairman
South Manchester-based egg producer Duncan Priestner has today been re-elected as chairman of the NFU's national poultry board. Mr Priestner farms on ...
New chairman announced for NFU horticulture and potatoes board
Yorkshire vegetable grower Guy Poskitt has today been elected as the new chairman of the NFU national horticulture and potatoes board. Mr Poskitt ...
Charles Sercombe back in the NFU livestock chair
Leicestershire farmer Charles Sercombe has been unanimously re-elected chairman of the NFU's national livestock board. Mr Sercombe, who has 2,000 shee...
Budget fails to benefit farms, says CLA
The Chancellor's budget speech fails to benefit unincorporated rural businesses such as farms, according to the Country Land and Business Association....
New HS2 report 'raises serious concerns', says NFU
The announcement by the new head of HS2 to fast-track the project has only increased the NFU's serious concerns over the route, raising further the ne...
New Group Secretary in Llanwrst
Sioned Lloyd has this week started as the new NFU Cymru Group Secretary in Llanrwst, following the departure of Paul Williams who left to pursue his a...
Scottish Farmers Put the Heat on UK Energy Minister
Farmers from Caithness to Cornwall are calling on Energy Minister Greg Barker to deliver on his demand that; "The Big Six need to become the Big 60,0...
Agricultural vehicles given MOT exemptions in EU Parliament
The EU Parliament has given exemptions for agricultural vehicles from MOT testing following a vote and lobbying by farming groups. After a 'trilogu...
NFU raises 'three crop rule' concerns at county meeting
Concerns over the three crop rule, which will be a requirement of the next Common Agricultural Policy regime, were raised at a recent NFU Cymru Monmou...
Supermarkets urged not to 'devalue food' with price wars
Supermarkets have been urged not to 'devalue food' by entering into price wars which have the potential to undermine British farmers, according to agr...
Government must invest to close food gap, says NFU
Consistent and long-term investment allowances, and better taxation tools are just some of the key areas the NFU is urging the Chancellor of the Exche...
HS2 underestimates impact on farm businesses, says NFU
Farming unions have claimed the HS2 Environmental Statement 'underestimates' the impact on farm businesses and agricultural operations. The Environ...