NFU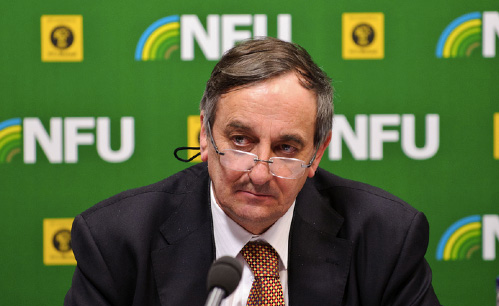 NFU raises 'three crop rule' concerns at county meeting
Concerns over the three crop rule, which will be a requirement of the next Common Agricultural Policy regime, were raised at a recent NFU Cymru Monmou...
Supermarkets urged not to 'devalue food' with price wars
Supermarkets have been urged not to 'devalue food' by entering into price wars which have the potential to undermine British farmers, according to agr...
Government must invest to close food gap, says NFU
Consistent and long-term investment allowances, and better taxation tools are just some of the key areas the NFU is urging the Chancellor of the Exche...
HS2 underestimates impact on farm businesses, says NFU
Farming unions have claimed the HS2 Environmental Statement 'underestimates' the impact on farm businesses and agricultural operations. The Environ...
NFU lays out CAP priorities to Holyrood Committee
The NFU has used an evidence session in the Scottish Parliament to lay out the many challenges faced by Scottish Government in delivering a new area-b...
Government funds needed to address flood risks - NFU
The Government must review its flooding and coastal defence policies and commit more money into helping to reduce further risks to the British country...
NFU Scottish independence debate secures leading line up
Leading politicians and farming campaigners will be on the platform at NFU Scotland's high-level independence referendum debate in Stirling next month...
NFU report shows farming weathers recession to deliver for the nation's economy
Farming is delivering for the nation's economy and bucking the trend as one of the few success stories during the recession, a new NFU report has reve...
UK and Irish unions thrash out livestock concerns
UK and Irish farming unions met this week in Stirling to discuss issues facing the livestock industry. Representatives from NFU, NFU Cymru, Ulster ...
Union support for Lochhead visit to Brussels
NFU Scotland has written to the Scottish Cabinet Secretary for Rural Affairs, Richard Lochhead, welcoming his visit to Brussels today and urging him t...
Farmers Despair at Government TB Proposals
Montgomeryshire farmers have expressed their disappointment and despair at a Welsh Government decision to look at introducing a system of tabular valu...
Three crop rule is "utter madness", says NFU President
The concerns of thousands of farmers in England over the three crop rule which will be a requirement of the next CAP have again been raised with the E...
NFU President Peter Kendall outlines flooding concerns
Following a visit to flood-hit areas of Somerset, Gloucestershire and Oxfordshire, NFU President Peter Kendall has said Britain needs more resilient a...
Seminar tackles taxation challenges
With new taxation challenges emerging for agricultural businesses, NFU Scotland has teamed up with two top Scottish firms to help guide its members as...
Huge turnout for CAP discussion
"If we say we will do nothing, and simply rely on diminishing resource, we cannot take care of the future or invest in the future," said Alun Davies, ...
Worrying decline in farm incomes - NFU
Farm incomes in Wales have undergone a further, significant decline according to figures released by the Welsh Government today. The figures, which...
Welsh farmers have 'no incentive' to produce food
The incentive to produce food and food security has been 'taken away' from Welsh farmers according to newly elected NFU Cymru Chairman Rhys Jones, aft...
NFU to host summit to discuss crop protection concerns
Leading figures from farming, agricultural chemical manufacturing, and crop protection distribution will hold a summit next week to discuss concerns o...
New Chair for farming union in the Highlands
NFU Scotland's Highland Region has a new chairman. At the recent regional AGM in Nairn, Tain farmer Jim Whiteford stepped up from vice-chairman to cha...
NFU Brussels Director addresses conference
Maeve Whyte, Director of the NFU office in Brussels, will be guest speaker at the NFU Cymru Brecon and Radnor County Conference on Wednesday, 29 Janua...
Flooding Review should also cover river maintenance, says NFU
Welsh Government must carry out a comprehensive review of flooding in Wales looking also at flooding from inland waterways and not just coastal floodi...
NFU meets minister on sheep EID
NFU livestock board chairman Charles Sercombe and chief livestock adviser Peter Garbutt have expressed concerns over plans to remove all access to the...
Further funding vital for river maintenance and flood recovery, says NFU
More funding needs to be directed towards river maintenance to ensure flooding problems do not get worse and land in rural areas recovers as quickly a...
Right CAP is fundamental to food security challenge - Kendall
NFU President Peter Kendall outlined how a refocused CAP could be the driver for a thriving and profitable farming industry in this country. Speaki...
NFU Mutual to offer agricultural student bursaries
In 2014 NFU Mutual, one of the UK's leading rural insurer, is once again offering its Centenary Award for postgraduate students in agriculture. The...
Agriculture Director to address NFU conference
The Welsh Government Director of Agriculture, Food & Marine, Andrew Slade, will be guest speaker at the NFU Cymru Carmarthenshire County Conference on...
NFU President's New Year message: Back British farmers
In his final New Year's message before stepping down as NFU President, Peter Kendall has stressed how farming depends on a healthy, stable environment...
NFU Cymru President's New Year Message
Ed Bailey, NFU Cymru President, delivers his final message for the New Year as President as he will stand down in January after four years in the posi...
Regulation tops farmers' concerns for 2014
A new survey has revealed regulation, high input costs and the impact of CAP reform top the list of things farmers' believe will have negative impacts...
Exciting times ahead for farmers
"British food and farming is now seen in a more positive light and a One Poll survey revealed that 78 per cent of shoppers believe supermarkets should...
NFU to support Bayer neonicotinoid legal challenge
The NFU is to support Bayer's legal challenge on the restrictions of the use of neonicotinoids, it has been announced. NFU Director General Andy R...
HS2 compensation package fails to address blight on farming, says NFU
The NFU have submitted its evidence as part of the latest consultation into property compensation for those affected by the proposed HS2 high-speed ra...
MPs urge government not to disadvantage English farmers
MPs are urging the government not to disadvantage English farmers by new CAP rules. The headline recommendation is that if Government is to transf...
Minimise disruption to farming businesses, NFU urge
Minimising disruption to farming businesses the length and breadth of Wales and ensuring Welsh farmers remain competitive in UK, EU and global markets...
Farmwatch scheme attracts a lot of interest
Police officers working in rural areas of north Powys have linked with colleagues at NFU Cymru to bring a Farmwatch service to local farmers. Set ...
NFU Vice President to address Clwyd County Conference
Adam Quinney, NFU Vice President, will be guest speaker at Clwyd NFU Cymru Annual Conference on Tuesday, 10 December 2013. Starting at 7.30pm the m...
Political pressure mounts for fairer CAP deal
A high level delegation from NFU Scotland has been meeting politicians from all parties and both Houses at Westminster following Defra Secretary of St...
Lamb tagging changes could cost producers £1.8million, says NFU
Defra's decision to outlaw non-electronic batch tags for slaughter lambs is disappointing and could cost primary producers up to £1.8 million, the NFU...
Farming unions issue joint statement to welcome CAP allocation
The Presidents of the NFU, NFU Cymru and the Ulster Farmers' Union have welcomed the decision on the allocation of the CAP budget between England, Wal...
Flood alleviation tops agenda at county meeting
NFU members used a meeting this week in Montgokmeryshire to discuss numerous environmental issues including flood alleviation with Tim Jones, who is t...
Huge potential for poultry industry, NFU President says
The poultry industry has huge potential for the future with a number of exciting opportunities facing the sector, NFU President Peter Kendall said. ...
NFU urges better water management for farmers
The National Farmers' Union has called on the government to shape policy to enable farmers to capture water during 'times of plenty' to help the indus...
Union seeks clarification on LFASS
NFU Scotland has written to the European Commission, seeking clarification that the nation's Less Favoured Areas Support Scheme (LFASS) can be re-base...
NFU voices concerns over EID legal challenge
The National Farmers' Union has voiced disappointment that a legal challenge lodged by German shepherds regarding Europe's unpopular sheep identificat...
NFU begins process of electing new President
The National Farmers' Union has started the process of electing its office holder team in 2014 during NFU Council, after its President Peter Kendall c...
Farming unions back Paterson as cull extensions sought
The Country Land and Business Association has welcomed Environment Secretary Owen Paterson's commitment to the badger cull extension as the pilot prog...
NFU warn farmers over bank scam
The National Farmers' Union are urging its members to be alert to a banking scam in which fraudsters appear to be targeting the farming community. ...
Never underestimate the impact of weather on supply chains - NFU
"Many farmers are still working under the shadow of 2012's appalling weather and the knock-on impact this has had," said Phil Bicknell, NFU Chief Econ...
Reverse decline in agriculture spending, NFU warns government
Farmers who battled against the elements to ensure the English wheat crop survived the torrid weather conditions of 2012 have seen high quality from t...
EU must help producers selling milk below production costs, says NFU
The NFU has called on European policy makers to help make the sector more market focused and to provide dairy farmers with the right tools to supply a...