NFU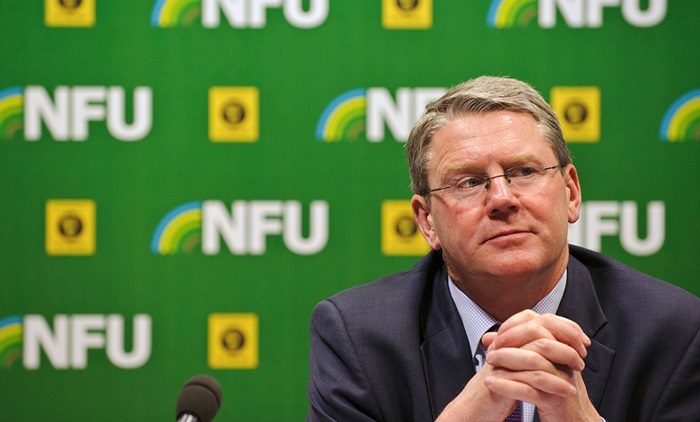 Sercombe elected chairman of sheep and goat advisory group
NFU livestock board chairman Charles Sercombe has been elected chairman of the European Commission Advisory Group for sheep and goat meat. Sercombe...
Challenge your MPs on CAP says NFU
The NFU is urging its members to use the agricultural show season to challenge their MPs on how they want to see the Common Agriculture Policy working...
Replacement to SAWS will help horticulture thrive
The NFU strongly supports a warning issued to Government that British horticulture could suffer immeasurably without access to a reliable, flexible an...
Profitability and welfare essential for pig and poultry sectors
The pig and poultry sectors have invested millions of pounds into new higher welfare systems but it is essential that these farmers can run their busi...
Reject EU dairy proposals that shackle milk supplies, urges NFU
The NFU is calling on CAP reform negotiators to reject proposals from the European Parliament that would see a return to supply controls in the dairy ...
Kelly Watson to quit NFU post
Kelly Watson is leaving her job as chief poultry advisor with the National Farmers' Union (NFU) to take up a position with the supermarket chain Sains...
Demand for national co-financing for funds transferred from P1 to P2
Farmers' organisations from Germany, France, the Netherlands, Belgium, Finland, England, Scotland, Wales, Northern Ireland and Denmark call on the Eu...
NFU Cymru joins European coalition to demand fair treatment
NFU Cymru, alongside the other UK NFUs, has joined a coalition of farmers' organisations from Germany, France, the Netherlands, Belgium, Finland and D...
NFU joins European coalition to demand fair treatment
The NFU has joined a coalition of farmers' organisations from Germany, France, the Netherlands, Belgium, Finland and Denmark to fight against CAP prop...
Seed legislation should protect farmers and consumers says NFU
Claims that the trading of seed on a small scale by amateur gardeners and allotment holders may become outlawed by proposed new EU legislation are mis...
Insecticide restrictions 'will have a catastrophic impact'
The decision on Monday to introduce EU-wide restrictions on neonicotinoid insecticides linked to bee decline is 'likely to have catastrophic impacts f...
Chicago Grain Market Report - 26th April 2013
Soycomplex Strength in outside markets spilled over into the soycomplex, despite net cancellations of 206,300 MT in old crop beans and sales of "on...
NFU backs Great British Beef Week 2013
The NFU is getting behind a series of Host-a-Roast events being held across the country to celebrate Great British Beef Week and to raise money for th...
Agricultural Wage Board abolition a 'step foward' says NFU
The path is now clear towards the abolition of the Agricultural Wages Board following yesterday's clearance in the House of Commons, the NFU said toda...
NFU Cymru meet with William Powell assembly member
NFU Cymru representatives in Brecon and Radnor recently met Liberal Democrat Assembly Member for mid and west Wales, William Powell, on farm near Taly...
Unions split over Agricultural Wages Board abolition
As the abolition of the Agriculture Wages Board nears completion due to a vote in the House of Commons today, the National Farmers' Union has called o...
CAP agreement 'could hit small farmers'
The latest agreements by MEPs on the future of the Common Agricultural Policy could have negative consequences for the UK's smaller farmers, according...
Plant growers report 'catastrophic' spring sales figures
Growers of pansies, primroses and pot plants destined for gardens up and down the country are reporting 'catastrophic' impacts on their businesses fro...
Dog scheme hopes to reduce livestock attacks
A prolonged wet winter and an unseasonably cold start to 2013 has left many farmers facing significant financial problems and now, with the lambing se...
Young farmers meet with MP Jamie Reed
Farmers need 'the right signals from government' if they are to carry on in business, according to young farmers who met with Jamie Reed MP at an even...
English farmers at risk, CAP coalition warns government
The largest ever coalition of British farming organisations has today warned the Government that English farmers could be treated unfairly under new C...
NFU express 'deep concerns' over CAP changes
In an historic vote in Strasbourg on Wednesday, the European Parliament supported a number of changes to the European Commission's controversial Commo...
Figures reveal farm theft increases
Farmers are being warned to review their security following a sharp rise in tractor and quad bike thefts, according to figures. The value of tracto...
Crunch time on future of CAP in European Parliament
MEPs are set to agree their final position on the future of the Common Agricultural Policy in Strasbourg after months of preparation. The amount of...
Lamb prices and Schmallenberg 'worrying farmers'
Adverse weather conditions and cheap imports are suppressing the domestic lamb market and ruining margins, according to the NFU. The union recently...
MEPs gear up for historic CAP vote
Farming groups are urging MEPs to fight for a 'simple, fair, competitive and productive' Common Agricultural Policy (CAP) ahead of a crucial vote on t...
Solar tariffs revealed as PV market stabilises
Official figures for November, December and January show that 50 MW of domestic PV (0-10 kW), less than 9 MW of small-medium projects (10-50 kW), plus...
RSPCA has questions to answer over Ramsgate, says NFU
The publication of a report into the incidents that led to the deaths of over 40 sheep last year still leaves unanswered questions, the NFU said today...
Calls for budget increases to combat flooding
Farmers have called for a 'more effective partnership' between government and the Environment Agency to help protect high value land from flooding. ...
Quad bike thefts prompt NFU warning
Recent thefts of quad bikes in the Brecon area have prompted the NFU to urge people to be on their guard. "This is a timely reminder to farmers to ...
NFU panel discuss current farming issues
The final session of NFU13 not only picked over the bones of the horsemeat scandal but looked at the links between farmers and the food industry, with...
Police raid slaughterhouse on eve of EU meeting
Police and food standards officials have raided premises in West Yorkshire and Wales on the eve of an EU emergency meeting. Property has been detai...
Contaminated 'beef product' fiasco continues
Traceability standards for beef products are once again the subject of debate as news emerged over the content of Findus' beef lasagne. "This is a ...
Less Favoured Area designation in the spotlight after 40 years
Farmers are being urged to take part in a new government consultation on the way Less Favoured Areas (LFAs) are designated or risk having their land c...
European leaders to meet over CAP budget proposals
European leaders will meet in Brussels this week to try and reach a unanimous agreement on the EU's long term budget for the period 2014-2020. The ...
Poultry producers 'need sustainable protein' as feed price rockets
Poultry producers must have access to a sustainable source of protein as the price of feed increases said Dr Michael Lee at the NFU Cymru Annual Poult...
Farmgate price is 'great lamb robbery' says NFU
The National Farmers' Union has said it will 'do all it can' to help sheep farmers in the UK who are struggling with a collapse in the farmgate price ...
EU adopts 'modern and flexible' farm policy
EU farm policy reform must distribute funding more fairly and make 'greening' measures flexible while cutting red tape said the EU Agriculture Committ...
'Significant progress' on European sugar talks
Members of the European Parliament's Agriculture Committee have voted to support an extension of the EU's sugar regime until the 2019/2020 marketing y...
NFU appoint new Cheshire county chairman
Cheshire has a new NFU chairman who will serve a term of two years from 2013 through to 2015. Dairy farmer Richard Fair of Brookside Farm in Poult...
Potato growers could leave industry over contract prices
UK potato growers are facing an uncertain future unless contract prices increase following a 25 per cent drop in production and an increase in costs o...
Commission delays start to new rules on CAP direct payments
A decision to delay the implementation of new rules governing CAP direct payments is the right one, the NFU said today. The European Commission has...
European role for NFU livestock board member
NFU livestock board member Andy Foot has been elected vice chairman of the European agricultural umbrella organisation's beef working party. Foot,...
Long term farming industry 'looks positive' says Bailey
A year of domestic and global weather phenomena alongside last week's news that Vion will be pulling out of red meat and poultry processing in the UK ...
Future of farming: '50 percent more food with less land'
The future of farming needs a 'united approach from government, researchers and industry' in developing new technologies, if it is to meet challenges ...
Supermarket adjudicator 'must have power to fine'
Farming groups have called for 'improvements' to the Groceries Code Adjudicator Bill as it is set to become law. The Bill had its second reading in...
NFU attacks RSPCA over badger warning
The National Farmers' Union has said the RSPCA 'overstepped the mark' over comments made about 'naming and shaming' people involved in the badger cull...
Government remains committed to TB eradication despite vote
Today's backbench business debate was an opportunity for MPs to discuss the government's TB eradication programme, the NFU said today. A vote of 1...
Farming groups call for CAP flexibility
Farming groups are urging ministers to ensure that sufficient time and flexibility is built into the CAP reform package to ensure the impact of change...
Lancashire growers face ruin after drainage floods
Thousands of acres of valuable potatoes, vegetables and salads in the West Lancashire area have had to be written off after drainage ditches overflowe...