Machinery and Spares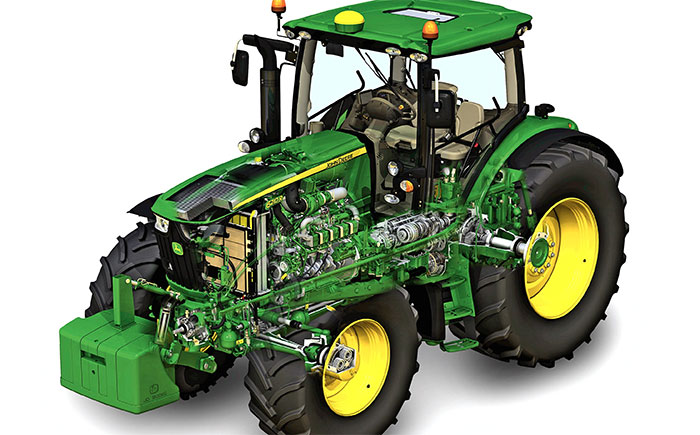 Invest in machinery or lose tax relief, warns Old Mill
Farmers seeking to buy new machinery or equipment this year must act quickly, or face losing £10,000s of tax relief, warns accountant Old Mill. W...
Tracker helps police recover stolen JCB
Surrey police recovered a stolen JCB 3CX digger thanks to the signal emitted from a device fitted by TRACKER, the UK's leading stolen vehicle re...
Back tougher scrap metal regulation - NFU
The NFU is urging the Government to back proposals that will make it harder for stolen metal to be sold at scrapyards. A private members bill publ...
Michelin debuts new tyre for combine harvesters
Michelin is using LAMMA as the platform to exhibit a new size of its innovative CerexBib combine harvester tyre for the first time. CerexBib tyres use...
Lely Astronaut A4 milking robot wins award
The Lely Astronaut A4 milking robot has been acclaimed as 'Agricultural machine of the year 2012' in Poland. This prestigious award, grant...
New tool gives early mastitis infection warning
A simple-to-use tester that takes just five seconds per quarter gives immediate indication of the presence of bacterial infection – sub-clinical masti...
New John Deere Gator at LAMMA
John Deere already manufactures the largest range of utility vehicles in the industry, and the new XUV 550 and XUV 550 S4 Gators extend the range even...
New transmission & Gator at LAMMA
In addition to the new 9R Series tractor, which is making its UK debut at LAMMA 2012, John Deere is showing a 6210R tractor equipped with the newly de...
New Director of Global tractor marketing at Case
Following five successful years as Director of Marketing at Case IH's European headquarters in St Valentin, Austria, Sylvain Blaise is moving to...
Fendt awards four As to Mitas
AGCO has awarded its highest supplier rating to Mitas for deliveries of farm tyres from January to December 2011. The Mitas-produced brand Continental...
Next generation meets with Paice to discuss future
The Minister of State for Agriculture and Food, Jim Paice, will meet with the NFU's Next Generation Policy Forum today to support the crucial ro...
New Fendt 700 Vario models make UK debut at LAMMA Show
The Fendt 714 Vario, which makes its UK debut at the LAMMA Show in January, is one of three new models that join the impressive 700 Vario Series, whic...
Two new dealer appointments for Same Deutz-Fahr
• Bigwood and Partners, Somerset • Taylor & Braithwaite, Cumbria Same Deutz-Fahr has appointed two new dealers both of which are well established ...
Separation is the answer to slurry storage, handling and utilisation issues on West Sussex dairy farm
Separating the constituents of slurry into liquid and solids has transformed management of cattle waste on a West Sussex dairy farm. It not only resol...
Young contractor purchases new tractor fleet to eliminate used tractor repair and fuel bills
A young farmer keen to develop his contracting business has made the switch from using second-hand tractors to new machines to control costs and prese...
A first for New Holland and a major landmark for Townson Tractors
New Holland has sold its first T4040 ROPS tractor. The sale is doubly significant as it's not only a first for the company, but a major landmark...
McCormick tractor highlights rural equipment theft at national seminar
• National seminar reviews rural crime and measures to combat it • Event hosted by Crimestoppers crime-fighting charity and ACPO • McCormick tractor...
New Holland celebrates British agricultural manufacturing at the opening of its new Customer Centre
The company's headquarters in Basildon, Essex, has been firmly rooted at the centre of British tractor manufacturing and agriculture since it wa...
Double festive cheer for JCB UK employees
JCB'S UK employees today received a double dose of festive cheer as the company announced a £500 Christmas bonus and a 5.2 per cent pay increase...
Santa chooses Valtra
Valtra has reached an agreement with the Santa Claus Foundation, making Valtra the official tractor of Santa Claus. Choosing a tractor was easy fo...
Wurzels take on London with Massey Ferguson MF5440
Iconic band The Wurzels brought some West Country sparkle to London last week, with the help of a Massey Ferguson tractor. Arriving in Central London ...
John Deere enhances European parts service
John Deere's European Parts Distribution Center (E-PDC) has officially inaugurated its new deconsolidation and packaging facility, a 23 million ...
NEW THERMAL WEEDING TECHNOLOGY
UK farmers are to be the first to benefit from an innovative weeding technology that provides a cost effective, flexible and natural alternative to ex...
New Holland adopt CESAR for T6 and T7 ranges
Full-line equipment manufacturer, New Holland, has announced that it will be fitting CESAR security systems as standard to machines manufactured in it...
New coilcleaner to be launched at LAMMA 2012
Herbert Engineering, the leaders in handling systems for the agricultural and fresh pack industries, have announced its most innovative coil cleaner y...
JC Machinery launches new Overseeder at LAMMA
Following the success of the Vredo Agri Seeder last year, JC Machinery is launching a new range into the UK - the Vredo Agri Twin Overseeder The V...
UK engine investment set to create hundreds of new jobs
JCB - the world's third largest manufacturer of construction equipment - today announced plans for a new £31 million engine development project ...
Industry approval for Block Stem security system
Users of the Block Stem security system who are insured with JCB Insurance, are now eligible to receive up to 40% reduction in their premiums when it ...
Hi-Spec launch new Bale Strip at LAMMA
Hi-Spec Engineering will be displaying for the first time the new Hi-Spec Bale Strip bale handler at this year's LAMMA show. The new Bale Str...
UK debut for AXION 900 at LAMMA
Making its UK debut at the LAMMA show will be the new CLAAS AXION 900 range of tractors which have power outputs from 320hp up to 410hp. A total of...
New 9R and 9RT Series tractors from John Deere
Designed for heavy-duty, large-scale field operations, John Deere's new 9R and 9RT Series tractors from 410 to 560hp (maximum 451 to 616hp, to 9...
Two new high-power tractors from DEUTZ-FAHR
DEUTZ-FAHR has introduced two new high-power tractors with continuously variable transmissions and new engines capable of producing up to 260 hp. Thei...
When the chips were down, Texel chose Actros
Potato haulier AB Texel UK has harvested a bumper crop of its own in the shape of five new Mercedes-Benz tractor units. All are premium specificati...
New multi-power JAGUAR from CLAAS
CLAAS has developed a unique new engine output control system for its top-end JAGUAR forage harvesters which enables the engine to automatically chang...
The South West Agricultural Mechanic of the Year 2012
Bath and West are looking for the top South West Agricultural Mechanics. Do you have an outstanding mechanic working for you who you would like to no...
Bauer Group ends financial year 2010/11 with best ever results
The Bauer Group, world market leader in irrigation and slurry technology, ended its financial year to September 30, 2011 with the highest sales figure...
Champion farmer contestants vent their frustrations in tractor cab 'diary room'
Welsh young farmers selected to compete for a Farmer of the Year title reflect on their performances and vent their frustrations while sitting in a tr...
AgriArgo extends McCormick T-Max tractor range
Following a good response to the introduction of a single T-Max model to the McCormick range earlier this year, distributor AgriArgo UK has decided to...
Keep construction machinery protected, warns BSIA
Following the latest reports regarding two incidents in Ashford and Snodland, Kent, where criminal gangs employed mini diggers to rip out ATMs, the Br...
Massey Ferguson MF 7600 Series takes top award at Agritechnica Show
The MF 7600 Series has won a prestigious Machine of the Year Award at the Agritechnica Show in Hanover, Germany. The four-model tractor range, which m...
Police urge farmers to focus on security
Stolen vehicle recovery specialist TRACKER is urging farmers to take steps to protect themselves from thieves by looking at their security practices. ...
Polaris to acquire Goupil Industrie SA
MINNEAPOLIS (November 16, 2011) — Polaris Industries Inc. (NYSE: PII) today announced an agreement to acquire Goupil Industrie SA, a privately owned,...
John Deere 7280R awarded Tractor of the Year 2012
John Deere's new 7280R tractor has been chosen as Tractor of the Year 2012 from a group of seven finalists by a jury of 20 European farm machine...
LEXION 770TT smashes World Harvesting record
During an endurance performance test conducted in Lincolnshire, England on September 1st and 2nd, a CLAAS LEXION 770TT established a new Combine Harve...
Fendt on show mounted with Mitas AC 85
At Agritechnica, AGCO displayed a Fendt 210 Vario tractor for row-crop application in vegetable production mounted with Mitas AC tyres, 270/80R32 (fro...
Top design award for MF 7624 Dyna-VT
The Massey Ferguson MF 7624 Dyna-VT has won the coveted Golden Tractor for Design award in the prestigious 2012 Tractor of the Year competition. Th...
NFU Deputy President at home on the Polaris Ranger
Deputy President of the NFU, Meurig Raymond MBE, farms 3000 acres in Pembrokeshire, in partnership with his twin brother and with the help of his elde...
RoGator 600 has healthiest cab on the market
The Challenger RoGator 600 is the first, and only, farm machine ever to achieve a Category 4 rating for its cab air quality. Passing this strict, inde...
Gaia-Wind in Double Awards Triumph
Leading UK farm scale wind turbine manufacturer Gaia-Wind Ltd today announced a winning double: • Listed as one of the fastest growing "Cleant...
New Holland and Oakland hatch new deal
New Holland has broken into the egg industry in a big way. It has joined forces with one of Europe's largest egg producers, Shropshire based Oak...