Machinery and Spares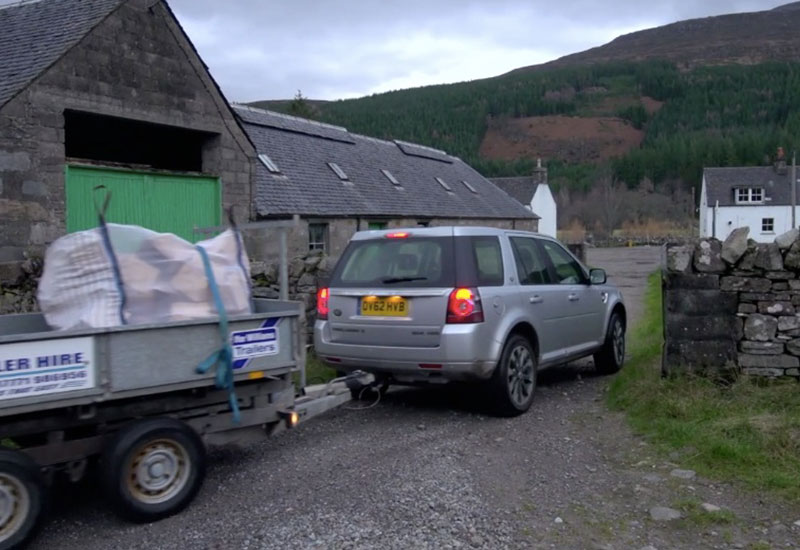 Promise of good parts and service back-up for Landini tractors from new dealer in southern Scotland
Landini users in south-east Scotland have a new source of tractors, replacement parts, workshop repairs and on-farm servicing now that David Walkinsha...
Small wind turbine pioneer breaks 100,000 kilowatt barrier
Farm stables and stud owner Malcolm Bronte-Stewart has become the first Gaia-Wind turbine owner in the UK to generate more than 100kW of energy. Sinc...
Lancashire McCormick dealer hits '100 tractors' milestone with CX110 delivery to dairy farm
Farm machinery dealer John Charnley & Sons has reached a milestone by supplying 100 tractors since taking on the McCormick retail sales and service fr...
Fendt 700 Series sets the new standard
Three completely new 200hp to 240hp tractors in the Fendt 700 Vario Series, will make their world debut at the Cereals Event on Wednesday, 15th June. ...
New dealer appointment for Landini tractor sales and service in Lancashire
A young engineer is returning to his farming roots by taking on the role of sales and service dealer for Landini tractors in Lancashire. Stewart Mo...
The right fit 'vital' for rowcrop tyres, says Mitas
Fitting the wrong size of rowcrop tyres can be as bad as wearing the wrong size of shoes, warns Ron Wood, automotive engineering manager of CGS Tyres,...
Case IH at Cereals 2011
Case IH will be promoting its Efficient Power technology and the cost savings it can offer, and showing the new compact Farmall C tractor, an agile an...
More power, more choice with extended Landini Rex range
As one of the UK's most popular specialist tractors for orchards and soft fruit production, the Landini Rex has already established a reputation...
CLAAS celebrate the combine's 75th birthday
At this year's Cereals event, CLAAS UK will be celebrating the 75th anniversary of the development of the first European combine harvester. F...
Gaia Wind Number One in American Small Turbine Survey
Glasgow based wind turbine company Gaia-Wind, has swept the board in the annual survey of US small wind turbine industry professionals. Less than a y...
New McCormick X60 delivers more power
' McCormick X60 Series ' four models from 92hp to 121hp with boost ' New transmission ' more speeds, smooth adjustable power ...
New Holland delivers tractors to Ghana's Ministry of Agriculture
New Holland Agriculture delivers this week 125 New Holland TD80 straddle mount tractors at a ceremony to be held at the premises of the Agricultural E...
Business venture for young agricultural engineer supplying McCormick tractors
A 28-year old agricultural engineer who used to manage tractor testing and development at the McCormick tractor plant in Doncaster has launched a new ...
New Holland's first dealer saleswoman in the UK joins J&S Lewis
When Alison Shacklady joined New Holland's nationwide dealership network this year, she became the company's first dealer saleswoman. Alis...
Latest Knight sprayers at Cereals 2011
On show at Cereals for the first time from Knight Farm Machinery will be a new vertical folding boom designed for tractor-mounted and demount sprayers...
New Holland Blue Power in the Emerald Isle
Ireland has become home to a special edition New Holland Blue Power T7060: It's the first Blue Power tractor to venture over to the Emerald Isle...
Countdown on to 68th Kenilworth Agricultural Show
One of the Midlands' most popular agricultural shows takes place in Warwickshire on Saturday, June 4. The Kenilworth Show attracts thousands...
Brown launches machinery sales in Poland
Property and business consultants Brown & Co is launching a machinery auction service in Poland where it has been offering a full range of agricultura...
New cereal technology to be demonstrated at Cereals 2011
With a number of technical innovations launched to cereal growers recently, this year's Syngenta stand at the Cereals 2011 Event (incorporating ...
Kubota Take Stand at Grassland and Muck 2011
Visitors to the Grassland and Muck Show will be able to see a full agricultural line-up on Kubota's extensive stand, as well as seeing the machi...
CLAAS celebrate 5,000 UK tractors
In March CLAAS UK had great reason to celebrate: the retailing of their 5,000th CLAAS tractor, a tremendous achievement for a company that is relative...
Momentous Year Starts With a Bang As Gaia-Wind Launch Dedicated Monitoring System
World leading Small Wind turbine manufacturer today launched a revolution for turbine owners: the ability to monitor production from home, in car, or ...
Small Wind Turbines Information Revolution: Owners Can Now Manage Turbines from the Pub
World leading Small Wind turbine manufacturer Gaia-Wind today launched a revolution for turbine owners: the ability to monitor production from home, i...
Power Takes Off with HL 150T
Hardmet Landforce have recently introduced their HL 150T tractor driven PTO wood chipper to the range. The HL 150T is straightforward to tractor mount...
Good trade at Shrewsbury plant and machinery auction
The best entry for two years met with a good trade at auctioneers Halls' successful plant and agricultural machinery collective sale at Shrewsbu...
Barenburg ensign duet is a cut above
A Welsh farmer is reaping the benefits of Barenbrug's Ensign Duet, having taken an impressive four cuts of very high-quality silage since reseed...
New premises will strengthen McCormick sales and service
McCormick tractor dealer Hilton Machinery has moved into new premises in Market Drayton, Shropshire within sight of Hilton's service support par...
Devon landowners offered free course in grassland management
Staff from Devon Wildlife Trust's (DWT) Working Wetlands project, are planning a free training event this month to help local landowners in the ...
John Deere tractor now in two-wheel drive
John Deere has added a new two-wheel drive model to the 5E range of utility tractors. The 55hp open station 5055E is the only model in the range offer...
Smooth finish for outdoor pigs
An East Anglian contractor has come up with a system that can literally smooth out potential areas of conflict between outdoor pig-keepers and arable ...
New Holland and Adam Henson: Flying the flag for Britain
TV presenter Adam Henson has joined forces with New Holland in a bid to give Britain's agricultural industry a boost. Adam has taken deliver...
Everyone's a winner at Royal Cornwall Show thanks to Hydor fans
Hydor Limited, UK specialist in the design, manufacture and supply of fans, controls and systems to the agricultural, horticultural and other industri...
Boomerang Hornsby on show at Carrington Rally
When is a tractor like a boomerang? When it's a Hornsby Oil Engine Tractor that went to Australia and back! Taking its place at the 2011 Carr...
Minister opens state of the art turbine facilities
Production of small wind turbines moves from Denmark to central Glasgow - potential to provide up to 80 Jobs Enterprise Minister Jim Mather today f...
2000th Knight Sprayer is high tech landmark
The 2000th crop sprayer built by Knight Farm Machinery has been delivered to Chapel Farm, Upton, Nottinghamshire, run by Charles Yates and his son Mal...
Three new CLAAS additions at Grassland
At this year's Grassland Event, the CLAAS UK demonstration will include three new additions to the CLAAS grassland products range. • DISCO 31...
New Holland flies the flag for the royal wedding
One of the more creative products being released to celebrate the royal wedding this year has to be from New Holland. The company is offering a com...
Gaia-Wind Turbine has Energy Cashback Certificate
Gaia-Wind's leading edge 11KW turbine wind turbine has achieved Microgeneration Certification Scheme (MCS) accreditation. The turbine, designed...
75 years of combine harvesters in Europe
Combine harvesters make a substantial contribution to food production worldwide – virtually no other invention has had the kind of impact on world foo...
AXION 900 – A new dimension
From 2012 the CLAAS tractor family is set to be joined by an entirely new range. CLAAS gave a sneak preview of the new AXION 900 at SIMA, the first ti...
New Holland extends it's Blue Power range
New Holland has further enlarged its Tier 4A compliant T7 range with three new, prestigious Blue Power models for improved productivity in a visually ...
New Holland T4 Powerstar - Big tractor features
New Holland's completely new T4 PowerStar range is set to redefine farming comfort in this fast expanding segment. The new range of tractors off...
New Holland CX5000 and CX6000 range
New Holland's CX5000 and CX6000 range of conventional combines are set to significantly improve efficiency and productivity for farms of between...
V2V from Case IH – harvest more efficiently
CASE IH is to give a world premiere to its SIMA Innovation Gold Medal-winning V2V wireless technology at SIMA 2011. The V2V system allows agricult...
Case launch Farmall C series tractor at SIMA
The Farmall name is deeply rooted in CASE IH history. Reliability and versatility were hallmarks of the first Farmall tractors, which helped them quic...
Vapormatic Launch new Short Motors
Following the continued demand for Vapormatic's three cylinder Perkins and Ford short motors, Vapormatic has expanded the range and now launched...
Crops fertilised according to needs
An invention by scientists from the Faculty of Agricultural Sciences means crops can be fertilized according to their needs instead of according to a ...
Vapormatic launch new trailer parts catalogue
Vapormatic, the UK's leading supplier of replacement parts and accessories for tractors and agricultural machinery, has expanded its extensive p...
Visitors look at how to combat rising costs
The 'Double Whammy' of a rise in livestock feed costs combined with the hike in the price of compound fertiliser proved a major talking po...
Landini dealer celebrates 10th anniversary
Farm Serve 10th anniversary open day – Wednesday, 2nd March Static display of Landini tractors, plus farm implements, tools, supplies Growing busine...