Machinery and Spares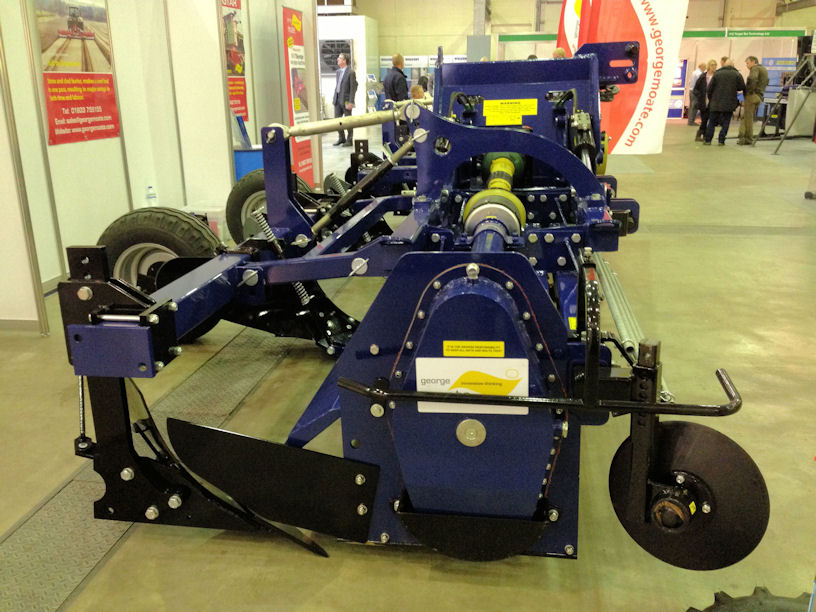 Vapormatic Launch new Short Motors
Following the continued demand for Vapormatic's three cylinder Perkins and Ford short motors, Vapormatic has expanded the range and now launched...
Crops fertilised according to needs
An invention by scientists from the Faculty of Agricultural Sciences means crops can be fertilized according to their needs instead of according to a ...
Vapormatic launch new trailer parts catalogue
Vapormatic, the UK's leading supplier of replacement parts and accessories for tractors and agricultural machinery, has expanded its extensive p...
Visitors look at how to combat rising costs
The 'Double Whammy' of a rise in livestock feed costs combined with the hike in the price of compound fertiliser proved a major talking po...
Landini dealer celebrates 10th anniversary
Farm Serve 10th anniversary open day – Wednesday, 2nd March Static display of Landini tractors, plus farm implements, tools, supplies Growing busine...
Go-anywhere welding on the farm
Welding manufacturer ESAB has introduced a new addition to its Caddy family of welding machines, the Caddy Mig C160i, which is designed for maintenanc...
LAMMA debut for latest Landini tractor
A new more powerful addition to the Landini four-cylinder tractor line-up made its UK debut on the AgriArgo stand at LAMMA 2011. It is the first La...
McCormick T-Max makes debut at LAMMA
Farmers who took in the McCormick exhibit on the AgriArgo UK stand at LAMMA 2011 had their first chance to see the latest newcomer to the range, the 9...
Two product launch for Bomford
BOMFORD will be displaying two new products for the first time at this year's LAMMA Show. • The new FALCON Evo arm mower • The MINILEM rotar...
Kuhn issues rotary tedder range for smaller farms
Kuhn has extended the rotary tedder options for smaller operators with the introduction of three value models at the lower end of its Gyrotedder range...
Spaldings Set to Showcase New Products at LAMMA
As one-thousand new products join the comprehensive Spaldings catalogue LAMMA 2011 provides the perfect platform for their launch. Spaldings, Europ...
Spaldings Launch Universal Air Seeder
Spaldings today announced the launch of a new Universal Air Seeder to their farm machinery range. With a spreading width of 6 metres the Spaldings Uni...
Landini/McCormick tractor deal welcome
New Landini and McCormick tractors resulting from the industrial agreement between ARGO Tractors SpA and Daedong of South Korea will be distributed in...
ARGO Tractors expands with new product families
Argo Tractors SpA announces an important milestone in its product development programme with the addition of a new range of compact and utility tracto...
New Holland look to the future
We recently got the opportunity to interview Franco Fusignani, new President and CEO of New Holland Agriculture Franco Fusignani started with the F...
New Holland's dedication to training
November and December saw the New Holland training programme in full swing. New Holland has always been proud of its commitment to training, not only ...
New screen brings latest technology to New Holland
A new, user friendly, touch screen display has been developed to join the New Holland stable of Precision Land Management products. The new FM750 ...
SCR emissions solution for McCormick tractors
Argo Tractors, the manufacturer behind the McCormick range, has indicated how it intends tackling the next stage of exhaust emissions rules on its big...
Horsch showcases cultivation at LAMMA 2011
Horsch is expanding its UK product range and its latest cultivation models, such as the Tiger and Joker, will be displayed for the first time in the U...
Powerfab Retrenched and Revitalised
The all-new Powerfab TD2 launch once again extends productivity options for mini excavator operators. It brings back rugged performance with the flexi...
Landini 100hp tractor - £72 week plus 36 mth warranty
An exceptional package of finance schemes can put one of the newest Landini tractors on farm for the equivalent of just £72 per week, including three ...
Rural Property Watch new security measures
Rural Property Watch has been developed to support the UK's agricultural and equestrian community with security and anti-theft measures. The ...
Green' Vacu-Lug tyres improve efficiency
Wyboston, Bedfordshire-based H.E. Payne Transport Limited and its customer, potato merchant Greenvale AP, have teamed up with Vacu-Lug Traction Tyres ...
Better-spec McCormick loaders at LAMMA
Farmers viewing the McCormick exhibits on the AgriArgo UK stand at LAMMA 2011 will have their first chance to 'check the spec' on the late...
New Holland appoint new dealership in Lancashire
New Holland has further strengthened its extensive UK dealer network with the addition of J&S Lewis Ltd, a family run business which has been establis...
High performance chemical container wash nozzle
Britain's leading manufacturer of specialist spraying accessories and equipment will launch a unique chemical container rinsing nozzle at the LA...
Five-year fix for McCormick CX finance
Fixing the cost of farm inputs over a significant period of time is all but impossible when oil and fertiliser markets are volatile. But one exception...
Selectivity in weed control for row crops
Selectivity through equipment design was a logical response to some selective post-em herbicides for weed control in minor crops, and especially row c...
Cornwall farmers sells farm machinery business
Cornwall Farmers has completed the sale of its agricultural machinery business, which is now being run by two new John Deere franchises in the county....
John Deere confirm Rea Valley Tractor deal
John Deere has confirmed that Shropshire dealership Rea Valley Tractors has now been acquired by Simon Clarke, the owner of Derbyshire dealer Agricult...
Hypro EU reveals unique spray nozzle at LAMMA 2011
The GuardianAIR Twin air inclusion nozzle being launched at LAMMA 2011 is a new concept in crop spraying nozzle design that produces two low-drift spr...
Same Deutz-Fahr and Lage Landen sign UK agreement
De Lage Landen and Same Deutz-Fahr Group today announce the signing of a national finance program agreement between the two entities in the United Ki...
John Deere's flagship sprayer improved for 2011
A new John Deere 5430i self-propelled sprayer with 36m boom will be seen for the first time in the UK on the company's stand (G30, Avenue B) at ...
Gregoire Besson re-launch new cultivator at LAMMA
Gregoire Besson will exhibit its revised Combimix one pass stubble cultivator, aimed at small to medium sized farms, at LAMMA. The min-till Combimix i...
Clarke and Pulman appointed JCB distributors
Agricultural supplier set for further growth with JCB partnership Lancashire agricultural equipment supplier Clarke and Pulman is set for further exp...
Park House purchase third Kubota machine
With a reputation for rearing strong pheasants that offer excellent sport, Park House Pheasantries needed an all-round workhorse that could help maint...
Kubota's new excavators prove an instant hit
Plant hire firms, builders, contractors, utilities, local authorities and owner operators alike have enthusiastically welcomed the new generation of D...
Knight launches new sprayer at LAMMA
Visitors to LAMMA 2011 will have the first sighting of Knight Farm Machinery's new SP 2050 self-propelled sprayer with 5000-litre tank and booms...
Horsch launches new UK division
Horsch will launch a new business, Horsch UK Ltd, on 1 January 2011 to act as the sole importers of its drilling and cultivation equipment in the UK a...
Handling supply of Bauer irrigation and slurry kit
Crop irrigation and slurry handling equipment specialist Bauer has appointed Adrian Tindall as Sales Manager for the UK and Ireland. Adrian now loo...
New Zealand agritech firm wins design award
Innovative New Zealand agritech company, Simcro, has added another top international design award to its collection. The Hamilton-based company ha...
Landini tractors new and old attract a crowd
A beautifully restored Landini L55 tractor exhibited at the EIMA show in Italy added historic interest to an exhibition focused on the latest in farm ...
Catterick racecourse says Kubota is thoroughbred
The Kubota RTV900 all-terrain utility vehicle has proven to be an odds on favourite with Catterick Racecourse when it comes to which machine it uses t...
John Deere dealer merger in south-west
John Deere dealers C Smart Agricultural Services Ltd and Ashworth Farm Machinery Ltd have agreed to merge their existing businesses to form one new co...
New premises needed to cope with McCormick dealer
Being awarded the McCormick franchise three years ago has helped a fledgling agricultural engineering business blossom into a major dealership supplyi...
Goodyear to spend 43 days at farming shows in 2011
This week the Goodyear Farm Team has released their show programme for 2011. As part of their commitment to the farming industry and to providing ...
Golden Tractor design award for New Holland
• The award was picked up by the new T7.210 Auto Command™ • The T7 proves to be the most award-winning series ever • More performance and less fuel ...
New John Deere 8R Series tractors for 2011
Following the introduction of the new 8R Series range of tractors last year, John Deere has announced five newly styled wheeled models from 260 to 360...
Tracker and New Holland tackle theft head on
TRACKER, the leader in stolen vehicle recovery and vehicle tracking solutions, has signed a major new deal with New Holland, the world-leading manufac...
Tractors: core business of ARGO industrial group
ARGO SpA will devote its resources entirely to the development and production of Landini, McCormick and Valpadana tractors in future as a result of an...