Machinery and Spares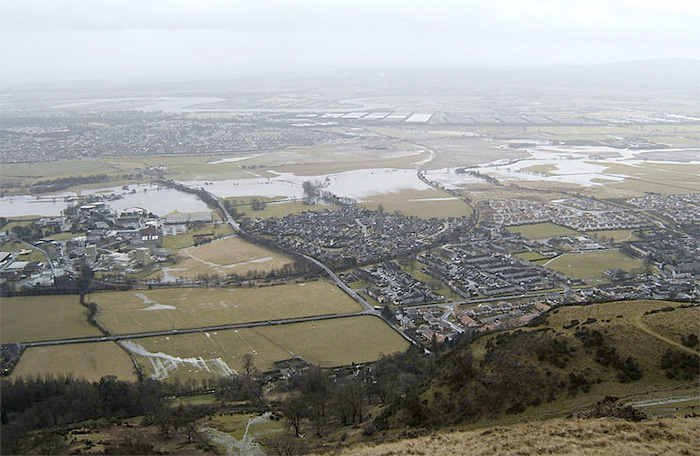 Fendt on show mounted with Mitas AC 85
At Agritechnica, AGCO displayed a Fendt 210 Vario tractor for row-crop application in vegetable production mounted with Mitas AC tyres, 270/80R32 (fro...
Top design award for MF 7624 Dyna-VT
The Massey Ferguson MF 7624 Dyna-VT has won the coveted Golden Tractor for Design award in the prestigious 2012 Tractor of the Year competition. Th...
NFU Deputy President at home on the Polaris Ranger
Deputy President of the NFU, Meurig Raymond MBE, farms 3000 acres in Pembrokeshire, in partnership with his twin brother and with the help of his elde...
RoGator 600 has healthiest cab on the market
The Challenger RoGator 600 is the first, and only, farm machine ever to achieve a Category 4 rating for its cab air quality. Passing this strict, inde...
Gaia-Wind in Double Awards Triumph
Leading UK farm scale wind turbine manufacturer Gaia-Wind Ltd today announced a winning double: • Listed as one of the fastest growing "Cleant...
New Holland and Oakland hatch new deal
New Holland has broken into the egg industry in a big way. It has joined forces with one of Europe's largest egg producers, Shropshire based Oak...
Massey Ferguson franchise for Compass Tractors
Massey Ferguson is strengthening its position in west Somerset and north Devon with the appointment of Compass Tractors for sales and aftersales suppo...
Gaia-Wind shows stability and growth in small wind turbine arena
Scottish wind turbine manufacturer Gaia-Wind Ltd today announced positive results based on continued sales growth and significant operational developm...
Kubota tractors help rejuvenate turf
With a reputation for excellence in the turf care market, two Kubota tractors are now playing a role in the rejuvenation of synthetic grass surfaces. ...
AXION 900 reaches new power level
Previewed at the SIMA Show, the new CLAAS AXION 900 range of tractors will make their official debut at this year's Agritechnica. The introdu...
New Smart Handling prevents SCORPION overload
In order to comply with the EN15000 longitudinal stability technical standard, as from October 2011 all CLAAS SCORPION telescopic handlers will featur...
New combines for New Holland
New Holland's world-record holding CR range of combines has set a new benchmark in terms of grain and straw quality and productivity, and are se...
Scotland gets to see which way the wind blows
With the debate about "Big Wind" farms, raging, the issues surrounding the "Small Wind" (agricultural level turbines), field have ...
New McCormick compact and utility tractors are ideal for yard and paddock work
The first examples of a new range of McCormick compact tractors are reaching dealers. The McCormick X10 Series spans 22hp to 91hp with nine base mo...
Bananas and Sawmills Save the Planet
Mike Hillard owns a company called Tranquility Houses Ltd, in Stroud, Gloucestershire. In his eco-friendly home that costs only £60 to heat per annum,...
Expansion of Landini compact utility tractor range
Livestock farmers wanting a light-weight tractor with plenty of performance for routine yard and field duties have a new option in the top-end models ...
New business to tackle issues over red diesel following legislative changes
A County Durham business has been launched, to help users of red diesel keep their machinery in good order. Ian Currie of Fuel Guard, which is based a...
Bauer appoints McCaskie Farm Supplies in central southern Scotland
Service and parts support for Bauer slurry handling equipment is available 'on the doorstep' of farmers across the central belt of Scotlan...
Bauer solutions to slurry storage pressures
When addressing slurry storage issues, minimising the volume of 'dirty' liquid is a good place to start. Drainage systems can be modified ...
Rush to secure wind turbines as subsidy list slashed
Farmers, small business and home owners with plans to install small wind turbines have been left in limbo as the scheme which determines which turbine...
AtlasFram Group expands machinery scheme to include Amazone equipment
The AtlasFram Group has expanded its highly-successful Machinery Purchasing Scheme, which provides Members with significant rebates on a wide range of...
Micon WeedSwiper conservation action in South Wales
Countryside Council for Wales (CCW) is obtaining good results with its recently acquired Micron WeedSwipers according to Jon Wohlgemuth, a CCW Reserve...
Promise of good parts and service back-up for Landini tractors from new dealer in southern Scotland
Landini users in south-east Scotland have a new source of tractors, replacement parts, workshop repairs and on-farm servicing now that David Walkinsha...
Small wind turbine pioneer breaks 100,000 kilowatt barrier
Farm stables and stud owner Malcolm Bronte-Stewart has become the first Gaia-Wind turbine owner in the UK to generate more than 100kW of energy. Sinc...
Lancashire McCormick dealer hits '100 tractors' milestone with CX110 delivery to dairy farm
Farm machinery dealer John Charnley & Sons has reached a milestone by supplying 100 tractors since taking on the McCormick retail sales and service fr...
Fendt 700 Series sets the new standard
Three completely new 200hp to 240hp tractors in the Fendt 700 Vario Series, will make their world debut at the Cereals Event on Wednesday, 15th June. ...
New dealer appointment for Landini tractor sales and service in Lancashire
A young engineer is returning to his farming roots by taking on the role of sales and service dealer for Landini tractors in Lancashire. Stewart Mo...
The right fit 'vital' for rowcrop tyres, says Mitas
Fitting the wrong size of rowcrop tyres can be as bad as wearing the wrong size of shoes, warns Ron Wood, automotive engineering manager of CGS Tyres,...
Case IH at Cereals 2011
Case IH will be promoting its Efficient Power technology and the cost savings it can offer, and showing the new compact Farmall C tractor, an agile an...
More power, more choice with extended Landini Rex range
As one of the UK's most popular specialist tractors for orchards and soft fruit production, the Landini Rex has already established a reputation...
CLAAS celebrate the combine's 75th birthday
At this year's Cereals event, CLAAS UK will be celebrating the 75th anniversary of the development of the first European combine harvester. F...
Gaia Wind Number One in American Small Turbine Survey
Glasgow based wind turbine company Gaia-Wind, has swept the board in the annual survey of US small wind turbine industry professionals. Less than a y...
New McCormick X60 delivers more power
' McCormick X60 Series ' four models from 92hp to 121hp with boost ' New transmission ' more speeds, smooth adjustable power ...
New Holland delivers tractors to Ghana's Ministry of Agriculture
New Holland Agriculture delivers this week 125 New Holland TD80 straddle mount tractors at a ceremony to be held at the premises of the Agricultural E...
Business venture for young agricultural engineer supplying McCormick tractors
A 28-year old agricultural engineer who used to manage tractor testing and development at the McCormick tractor plant in Doncaster has launched a new ...
New Holland's first dealer saleswoman in the UK joins J&S Lewis
When Alison Shacklady joined New Holland's nationwide dealership network this year, she became the company's first dealer saleswoman. Alis...
Latest Knight sprayers at Cereals 2011
On show at Cereals for the first time from Knight Farm Machinery will be a new vertical folding boom designed for tractor-mounted and demount sprayers...
New Holland Blue Power in the Emerald Isle
Ireland has become home to a special edition New Holland Blue Power T7060: It's the first Blue Power tractor to venture over to the Emerald Isle...
Countdown on to 68th Kenilworth Agricultural Show
One of the Midlands' most popular agricultural shows takes place in Warwickshire on Saturday, June 4. The Kenilworth Show attracts thousands...
Brown launches machinery sales in Poland
Property and business consultants Brown & Co is launching a machinery auction service in Poland where it has been offering a full range of agricultura...
New cereal technology to be demonstrated at Cereals 2011
With a number of technical innovations launched to cereal growers recently, this year's Syngenta stand at the Cereals 2011 Event (incorporating ...
Kubota Take Stand at Grassland and Muck 2011
Visitors to the Grassland and Muck Show will be able to see a full agricultural line-up on Kubota's extensive stand, as well as seeing the machi...
CLAAS celebrate 5,000 UK tractors
In March CLAAS UK had great reason to celebrate: the retailing of their 5,000th CLAAS tractor, a tremendous achievement for a company that is relative...
Momentous Year Starts With a Bang As Gaia-Wind Launch Dedicated Monitoring System
World leading Small Wind turbine manufacturer today launched a revolution for turbine owners: the ability to monitor production from home, in car, or ...
Small Wind Turbines Information Revolution: Owners Can Now Manage Turbines from the Pub
World leading Small Wind turbine manufacturer Gaia-Wind today launched a revolution for turbine owners: the ability to monitor production from home, i...
Power Takes Off with HL 150T
Hardmet Landforce have recently introduced their HL 150T tractor driven PTO wood chipper to the range. The HL 150T is straightforward to tractor mount...
Good trade at Shrewsbury plant and machinery auction
The best entry for two years met with a good trade at auctioneers Halls' successful plant and agricultural machinery collective sale at Shrewsbu...
Barenburg ensign duet is a cut above
A Welsh farmer is reaping the benefits of Barenbrug's Ensign Duet, having taken an impressive four cuts of very high-quality silage since reseed...
New premises will strengthen McCormick sales and service
McCormick tractor dealer Hilton Machinery has moved into new premises in Market Drayton, Shropshire within sight of Hilton's service support par...
Devon landowners offered free course in grassland management
Staff from Devon Wildlife Trust's (DWT) Working Wetlands project, are planning a free training event this month to help local landowners in the ...