Machinery and Spares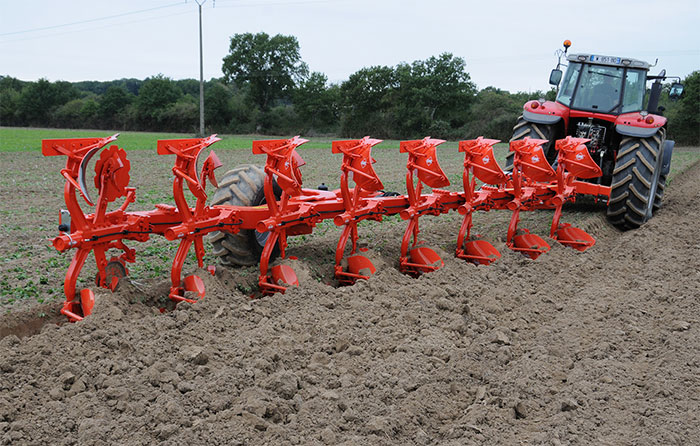 Kuhn to exhibit latest machinery at Normac
Kuhn Farm Machinery will exhibit its latest tine disc cultivator and semi-mounted reversible plough at this year's NORMAC cultivation demonstrations a...
JCB secures machine deal as UK market grows
JCB has secured an order for more than 1,000 machines from one of the UK's plant hire companies in a deal worth £35 million. A-Plant has bought a f...
New venture with McCormick for Agri-Hire in Suffolk
A successful agricultural equipment hire and manufacturing business in Suffolk is adding a third string to its bow by taking on sales, service and par...
New John Deere tractor transmission wins IMMA
John Deere's DirectDrive transmission was judged winner of the tractor category in the new International Machinery Manufacturers Awards (IMMA), which ...
Claw launched for better sheep and goat milking
UK milking equipment manufacturer, Fullwood Limited, has announced the launch of a new sheep and goat milking claw which offers improved efficiencies ...
UK tour dates unveiled for New Holland combines, tractors and balers
A national showcase tour of combines, tractors and balers will let farmers get to grips with the latest New Holland harvest technology. The demonst...
New tractor transmission wins IMMA
John Deere's DirectDrive transmission was judged winner of the tractor category in the new International Machinery Manufacturers Awards (IMMA), which ...
Claydon appoints its first dealers
Claydon Drills has announced its first dealer appointments in the UK as part of an ongoing programme of expansion for the Suffolk-based manufacturing ...
Farmers warned about machinery fires in hot weather
Farmers are being warned to watch for machinery fires during intensive haymaking and harvesting work in the hot weather. Each year thousands of far...
Argo Tractors to build Landini tractors in Brazil
Landini tractors will be produced in Brazil at a new factory being built by the Argo Group of Italy to supply the local market. The new facility wi...
Flexible control with the all-new DICKEY-john IntelliAg MVT Control System
For growers across the UK, knowing what type of product control system to invest in for controlling crop inputs can be a difficult choice with an incr...
New Kuhn farm machinery to be shown at Royal Welsh Show
Kuhn Farm Machinery's new RW 1400 and RW 1600 bale wrappers with e-Twin wrapping functionality will be on display at this year's Royal Welsh Show at B...
Innovation in agriculture 'in the spotlight' at Royal Welsh Show
A series of hi-tech innovations with potential to make Welsh farming more efficient and productive will come together under one roof at this year's Ro...
New Holland presents big Golden Jubilee line-up at Royal Welsh Show
New Holland's stand at the Royal Welsh Show 2014 will be filled with models for visitors to appreciate in the year the company celebrates the 50th ann...
Combine harvester sales drop significantly
Compared to the previous year, sales of combine harvesters have fallen. The market has contracted by significantly more than 10 percent – in particula...
Harvesting equipment in demand at Shrewsbury plant and machinery auction
A large selection of entries for auctioneers Halls' bi-monthly plant and machinery auction at Shrewsbury Auction Centre on June 6 included a good rang...
Large crowd braces rain for Stone machinery auction
A large crowd braved heavy rain showers at auctioneers Halls' successful collective machinery auction at Stanklyn Lane, Stone near Kidderminster last ...
Fleet operators back texting while driving fines
Sixty-six per cent of fleet operators believe fines for texting while driving should be increased, a poll has shown. The seven-day survey was held...
New Holland supports Blue Force 1000
New Holland's latest range of agricultural tractors and machinery both large and small were on display alongside heritage tractors and machines at the...
Direct sales for Bauer high-specification slurry tankers
Bauer is re-launching its high-specification tankers in Britain by supplying contractors and large farm operators direct at more favourable prices but...
Case IH appoints Advanced Farming Systems Specialist
Case IH, which is at the forefront of developments in Advanced Farming Systems (AFS®), has appointed Ross Macdonald as AFS Specialist/Training Coordin...
Glastonbury kicked off with the help of New Holland rhythm and blues
The rhythm of blue New Holland tractor engines helped to kick start Glastonbury this year as a fleet was put into action setting up the world famous m...
James Rebanks, Land Rover & The Prince's Countryside Fund rural bursary
James Rebanks, of Penruddock, Cumbria, was awarded the Bursary to help develop his family's Sheep farm and Sheep School project. James' family-run far...
New Landini 4 Series tractor range launched
An all-new range of Landini tractors, which is set to become a stockmen's favourite, has been launched by national distributor AgriArgo UK. The 4 S...
Suzuki gears up for the Royal Highland Show
Suzuki is gearing up for another great four-day event at the Royal Highland Show this week. The full range of Suzuki ATVs will be on display at the sh...
New McCormick dealership realises a long-held ambition
Agricultural engineer Andrew Downing has realised a long-held ambition to represent a major international tractor manufacturer – his dealership has be...
IMMA silver award for Axial-Flow 9230 combine
Case IH's Axial-Flow 9230 was the only combine to receive an IMMA award at the Cereals event held on the 11th and 12th June. It won a silver award in ...
McCormick range transformation shifts up a gear at Cereals Event
The transformation of the McCormick tractor range shifted up a gear at the Cereals Event where two new ranges were under the spotlight. McCormick d...
New Holland launches upgraded T4 tractor range at Cereals 2014
Launched for the first time in Europe at Cereals 2014, New Holland's popular T4 range has been enhanced with additional transmission options and impro...
Sprayer makers quick to adopt new nozzle system
A new spraying system that gives operators greater control over spray quality and application rate will be demonstrated and exhibited on a number of c...
Kverneland awarded silver medal at Royal Highland
The Royal Highland and Agricultural Society of Scotland (RHASS) has awarded a silver medal to Kverneland for the Exacta TL GEOspread in its 2014 Techn...
Vicon to get silver medal award at the Royal Highland Show
The Royal Highland and Agricultural Society of Scotland (RHASS) has awarded the Vicon iXclean Pro sprayer cleaning system a silver medal in its 2014 T...
Big line-up of New Holland models and dealerships at Welsh Grassland
The depth and strength both of New Holland's range of equipment and its network of dealers will be on display to the crowds at this year's Welsh Grass...
New John Deere tractor to make Cereals 2014 debut
Featuring a Stage IV compliant engine for the first time on a European John Deere tractor, the new 7310R model with e23 transmission will be making it...
Tong Peal to showcase Caretaker at Cereals 2014
Tong Peal, designer and manufacturer of agricultural handling equipment, will be showcasing the latest version of its market-leading Caretaker grader ...
Innovative machinery receives recognition at Cereals
The Surface primary seedbed cultivator developed by machinery experts Cousins and Crop protection specialists Hutchinsons has been awarded a medal in ...
Vicon launch new baler wrapper at Grassland
Grassland and Muck 2014 sees the Vicon baler portfolio extended with the new FlexiWrap, marking a return to baler-wrapper combinations with the grass ...
McCormick to showcase new tractors at Grassland & Muck Event
The all-new McCormick X7 Pro Drive tractor range will be in the spotlight at this year's Grassland & Muck Event – it will be the first outing for the ...
Latest JCB handling options at Grassland & Muck Event
JCB will showcase its market-leading position in agricultural materials handling with working demonstrations of its latest Loadall handlers, Farm Mast...
New Holland continues Golden Jubilee celebrations at Royal Highland
New Holland will be continuing its 50th anniversary celebrations at the Royal Highland Show in June with a comprehensive line-up that will include its...
JCB reports third highest profit
JCB achieved its third most profitable year in its 68-year history in 2013, the company announced today. Earnings stood at £313 million on an EBITD...
Launch date for new Landini tractors
An all-new range of Landini tractors set to become a stockmen's favourite will be launched at the Grassland & Muck Event alongside a new range of four...
Abundance of new machinery at Cereals 2014
An impressive display of the latest machinery is on show at Cereals 2014, much of it for the first time, offering even the most demanding purchaser a ...
Young farmers discuss farming technology at Annual Convention 2014
Preparing for technological changes in farming is critical for the next generation and will be the focus of an agricultural forum at the National Fede...
Landini Powerfarm is a fuel-sipping performer
The agility and fuel efficiency of his new tractor impressed Will Hornsby during the silage-making campaign last year – and it impressed his friends a...
New Vredo Agri Air overseeder at Grassland
JC Machinery will be exhibiting the new Vredo Agri Air Overseeder which now comes with the same large pneumatic seed hopper as the award-winning Vredo...
Crop innovations take centre stage at Cereals 2014
New science and technology that will help deliver better yields and quality and make more efficient use of inputs is in plentiful supply at Cereals 20...
John Deere's flagship combines now produced in Zweibrucken
As of this year John Deere's largest S-Series combines, the 547hp S680 and 626hp S690 and their respective 'i' versions for the European and CIS marke...
20% of vehicle fleets were affected by the floods
Almost 20% of businesses operating vehicle fleets were affected by the floods, a poll has shown. "We received a range of comments from respondents,...
New premises for Landini dealer in Kent
Improved customer support for Landini tractor users in Kent is promised following the move by local sales and service dealer Horsepower UK to more spa...