LAMMA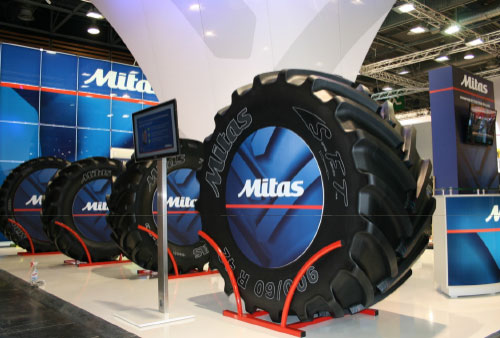 Mitas Tyres to launch its largest agricultural tyre at LAMMA 2015
Farmers who purchase two or more Mitas, Continental or Cultor radial agricultural tyres in a single transaction will be entitled to a rebate worth up ...
Win £1000 off your next fertiliser order
Quality fertiliser is the key to yield and that holds true whether it's applied to grass, other forage or arable crops so this great prize of £1000 to...
LammaXchange - a new way to buy and sell farm machinery
Want to buy or sell farm machinery and equipment? LammaXchange, the new easy-to-use and effective website from the team behind LAMMA Show, allows you ...
Micron presents latest innovations at LAMMA
One of UK's leading manufacturers of specialist spraying equipment, Micron Group, has presented its latest innovations at this year's Lamma event. The...
Spaldings launch a range of new products and 'weigh in' 50 tonne of farmers at LAMMA 2014
Spaldings have reported another successful LAMMA Show, despite the wet weather conditions and change of location. The company displayed a wide se...
Record-breaking attendance at LAMMA
Organisers of the agricultural industry's leading farm machinery, equipment and services event have reported a record-breaking attendance at the show'...
Case to show world's largest combine header at LAMMA
Developed to match the requirements of 12m Controlled Traffic Farming (CTF) systems, the use of which is increasing on farms throughout Europe, the ne...
Case IH exhibits Platinum Edition Puma at LAMMA
Case IH is celebrating the production of the 40,000th Puma tractor at its St Valentin factory in Austria by launching a new Platinum Edition Model, wh...
New Holland celebrates 50 years at Basildon
New Holland's Basildon plant will celebrate half a century of continuous tractor operations in 2014. Exclusive Golden Jubilee editions of the T7.270 A...
Suzuki starts off year by exhibiting at LAMMA
Suzuki GB is preparing to start 2014 by exhibiting the full range of Suzuki ATVs at the upcoming LAMMA show. LAMMA, the UK's largest farm machinery, e...
Discover spring grass weed control options at LAMMA
Dow AgroSciences will be discussing spring herbicide options to tackle grass weeds in cereal crops at LAMMA, on 22 and 23 January. Farmers who hav...
New McCormick X6 series to be unveiled at LAMMA
Farmers and contractors who seek out the McCormick tractor display at the LAMMA show this month will see the new X7 Pro Drive tractors for the first t...
Broadwood at LAMMA 2014
Broadwood will display a selection of models from their Wessex, Hustler, SweepEx and SnowEx ranges. The Hustler range of bale feeders offer simple, re...
JC Machinery to show new products at LAMMA 2014
The new Vredo DZ Agri Air series of overseeders are specifically designed for small areas which may have slopes or undulating terrain. It features a p...
Heavy duty bed tiller launched at potato event
Potato equipment specialist George Moate Ltd has become best known for the Tillerstar one-pass cultivator-stone separator but the business is returnin...
Knight to show Bednar cultivators at LAMMA 2014
LAMMA 2014 gives farmers and contractors the first opportunity of the new year to take a close look at Knight Farm Machinery's expanded range of culti...
McCormick to launch new X7 Pro Drive tractors at LAMMA
A new range of McCormick tractors will be launched at the LAMMA show. The McCormick X7 Pro Drive series represents an important shift in design, sp...
Kuhn to show latest models at LAMMA
Latest models from across Kuhn Farm Machinery's range will be on show at LAMMA 2014, which takes place at the East of England Showground, Peterborough...
Case to show new tractors, loaders and balers at LAMMA
A host of new Case IH products will be making their first appearance at LAMMA in 2014. They include the latest Farmall U Pro with cab suspension and i...
JCB set to showcase new loaders at LAMMA
JCB will have its biggest ever stand at the LAMMA show in January to showcase some of the new Loadall, Farm Master and skid steer materials handling m...
Case IH goes large at LAMMA
Case IH's stand at LAMMA 2014 will feature the world's most powerful tractor in series production, the 692hp Quadtrac 620, together with the world's l...
Award-winning Horsch technology at LAMMA 2014
Horsch has picked up a host of awards from Agritechnica 2013 and will displaying its new models and technology to UK customers at LAMMA 2014. In addit...
New cab for John Deere 5E Series tractors
John Deere's 5E Series three-cylinder utility tractors will be available from this spring with a new John Deere designed cab. A 5055E model was sh...
Award success for Massey Ferguson MF5600 at LAMMA
The Massey Ferguson MF 5600 Series was honoured with an Award of Merit for the Best New Product or Innovation at the LAMMA show 2013. The tractors,...
McCormick exhibit new x50 tractor series at LAMMA
The McCormick X50.50 Power Plus exhibited on the LAMMA show stand of GB distributor AgriArgo UK is the most powerful of four new McCormick X50 Series ...
LAMMA 2013: Bauer to launch 'Green Bedding' system
A new source of bedding material for dairy cow cubicles that promises cost savings over alternatives such as sand and sawdust will be launched at LAMM...
LAMMA 2013: Micron to launch new Varidome sprayer
Micron Group will use its stand 156 (Hall 1A) at Lamma 2013 as a launch pad for its largest to date Varidome S5 band sprayer. Building on its Varid...
LAMMA 2013: Launch pad for new Massey Ferguson machines
A wide range of new Massey Ferguson tractors, combines and equipment will be making its UK debut at the LAMMA show on January 16th and 17th 2013 on AG...
LAMMA 2013: Kuhn to exhibit new machinery
KUHN will exhibit a 4.5 metre hydraulic folding model from its Venta NCR pneumatic drill combination range at LAMMA 2013, a machine that folds in tran...
LAMMA 2013: Pacepacker's award winning packaging on show
Recent winner of six industry awards for high value engineering, company strategy and export growth, visitors to Pacepacker's LAMMA Stand 233, Hall 2 ...
Kverneland expands cultivator range at LAMMA
Kverneland is using the Lamma Show to introduce a new version of its tined cultivator, the CLC Pro. Where the traditional CLC Pro uses three rows o...
Vicon extends sprayer range at LAMMA
Vicon is using Lamma to introduce two new models at the top end of its trailed sprayer range. Called iXtrack C Pro, the 4,000 and 5,000 litre sprayers...
John Deere release new 900 series baler
John Deere's new 900 Series round baler with Fast Release System (FRS), which can lead to savings of up to an hour a day during harvest, has had a tho...
Knight shows 6000-litre sprayer at LAMMA 2012
The biggest sprayer at LAMMA this year was the Knight EUA6000 trailed model, with a 6000-litre stainless steel main tank and 24-metre boom. Like al...
Michelin debuts new tyre for combine harvesters
Michelin is using LAMMA as the platform to exhibit a new size of its innovative CerexBib combine harvester tyre for the first time. CerexBib tyres use...
LAMMA: Growers told - low drift nozzles a must
The 'Chlorpyrifos Say NO to DRIFT,' campaign is calling for growers and spray operators to urgently adopt new nozzle and buffer zone requi...
New John Deere Gator at LAMMA
John Deere already manufactures the largest range of utility vehicles in the industry, and the new XUV 550 and XUV 550 S4 Gators extend the range even...
New transmission & Gator at LAMMA
In addition to the new 9R Series tractor, which is making its UK debut at LAMMA 2012, John Deere is showing a 6210R tractor equipped with the newly de...
ADAS exhibiting at the LAMMA Event in January
ADAS will be attending the LAMMA exhibition on 18th and 19th January 2012 and will be accompanied by solar PV partners, Energi Installations. LAMM...
New Massey Ferguson tractors and combines make LAMMA show debut
The new MF 7600 Series tractor range heads up Massey Ferguson's impressive array of new machinery that is making its UK debut at the LAMMA Show....
New Fendt 700 Vario models make UK debut at LAMMA Show
The Fendt 714 Vario, which makes its UK debut at the LAMMA Show in January, is one of three new models that join the impressive 700 Vario Series, whic...
Bayer discusses rodent gnawing damage at LAMMA
Highlighting the annual cost of rodent damage to farm buildings and equipment, Bayer are quoting figures in the tens of millions at this year's ...
Herbert officially launches two new cleaners at LAMMA 2012
Herbert Engineering will once again be showcasing its latest range of grading and handling equipment at LAMMA 2012. The UK's leading designe...
NEW THERMAL WEEDING TECHNOLOGY
UK farmers are to be the first to benefit from an innovative weeding technology that provides a cost effective, flexible and natural alternative to ex...
New Holland adopt CESAR for T6 and T7 ranges
Full-line equipment manufacturer, New Holland, has announced that it will be fitting CESAR security systems as standard to machines manufactured in it...
New coilcleaner to be launched at LAMMA 2012
Herbert Engineering, the leaders in handling systems for the agricultural and fresh pack industries, have announced its most innovative coil cleaner y...
JC Machinery launches new Overseeder at LAMMA
Following the success of the Vredo Agri Seeder last year, JC Machinery is launching a new range into the UK - the Vredo Agri Twin Overseeder The V...
Industry approval for Block Stem security system
Users of the Block Stem security system who are insured with JCB Insurance, are now eligible to receive up to 40% reduction in their premiums when it ...
Hi-Spec launch new Bale Strip at LAMMA
Hi-Spec Engineering will be displaying for the first time the new Hi-Spec Bale Strip bale handler at this year's LAMMA show. The new Bale Str...
UK debut for AXION 900 at LAMMA
Making its UK debut at the LAMMA show will be the new CLAAS AXION 900 range of tractors which have power outputs from 320hp up to 410hp. A total of...