Grassland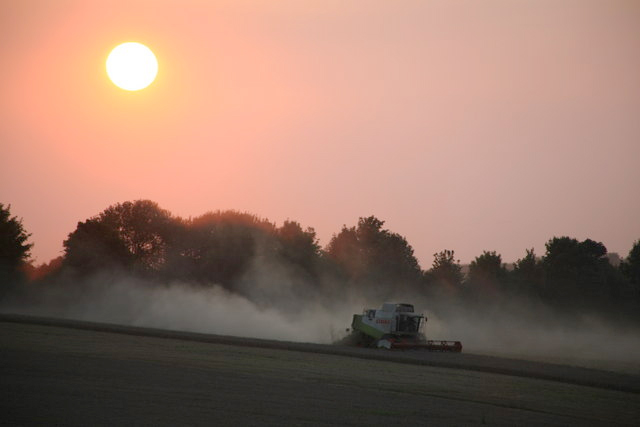 Nature Improvement Areas must not stifle development
The CLA has welcomed the 12 Nature Improvement Areas (NIAs) announced today by Defra, while stressing the plans to create new havens for wildlife and ...
Projects to safeguard UK countryside receive new funding
The Prince's Countryside Fund awards '422,000 to 15 new rural projects Initiatives to save village shops and support the UK's next ...
Gov't challenged on farming policies
Don't just talk about the food and farming challenges; let's match the policies with the rhetoric. This was the challenge thrown down to G...
Drought calls for fair distribution of water to farmers
The CLA today (20 February) called on the Government to ensure agriculture is given priority for scarce water resources to prevent food shortage. ...
Stunning new maps show countryside at risk
The Campaign to Protect Rural England (CPRE) today launches a report with detailed new maps showing that 55 per cent of England's countryside co...
Green farm subsidies 'unworkable' - rural lawyer
A rural legal expert has criticised 'seriously flawed' EU proposals to dramatically alter farm subsidies which she says could significantl...
CLA and NFU broker deal for landowners on HS2 route
Landowners and occupiers affected by the High Speed Two rail line from London to the Midlands and North are to be offered an initial £1,000 access pay...
Plant science critical to planet under pressure
UN experts have called for a transformation of the global economy, based on an 'evergreen revolution' which will double agricultural produ...
Soil and water experts line up for practical event
Soil fertility and tillage systems, controlled traffic farming, abstraction licensing issues and improving irrigation efficiency, are some of the prac...
RASE launches survey to probe soil levels
A nationwide survey of farmers in arable and grassland regions is to be carried out by the Royal Agricultural Society of England as it launches a majo...
New tool puts plant hormone under surveillance
Charles Darwin was the first to speculate that plants contain hormones. His pioneering research led to the identification of the very first and key pl...
Spring barley offers a premium opportunity
Farmers with land available for spring sown arable crops obviously have a number of alternatives to consider before making a final decision on their c...
Cheshire East confirms investment in farming community
While the pressure is on councils to sell off their farms to raise revenue in this time of austerity, one local authority has outlined its commitment ...
Blackgrass Spraying in Winter Wheat - Don't miss the boat!
Exceptionally mild weather conditions over late December and early January saw soil temperatures rising to in excess of 10°C in some parts of the UK (...
FUW SAYS RESEARCH FARM CLOSURE PLANS ARE MAJOR BLOW
Welsh Government plans to sell Pwllpeiran research farm in Ceredigion as separate lots from next autumn was described as a major blow for the Welsh fa...
European seed treatment scheme undergoes UK testing
A pilot assurance scheme for the seed treatment industry, the European Seed Treatment Assurance scheme (ESTA), has been unveiled in the UK. The move c...
PGRO Pulse Crop Bulletin - 02/12/2011
PGRO ANNOUNCES PULSE LEVY FUNDED RECOMMENDED LISTS FOR SPRING PEAS, WINTER BEANS AND SPRING BEANS ...
Agriculture part of climate change solution
As the world tries to agree on its next steps towards managing climate change in Durban, South Africa, the NFU is working with others in the industry ...
Ceredigion Farmers discuss CAP Reform
CAP reform will be the subject of discussion at the next meeting of Ceredigion NFU Cymru members set to take place on Wednesday, 7 December 2011. D...
Cautious welcome to ruling on watercourse buffer zones
NFU Cymru have given a cautious welcome to the recent announcement by Welsh Government that only the minimum standards relating to buffer zones alongs...
UK genetics and support win German franchise
World class genetics, backed by advanced technical support, has clinched a major franchise contract for UK based JSR Genetics, in the form of a new br...
'2.9m investment ready for land-based businesses
A '2.9 million investment in the skills and professionalism of land-based and environmental businesses has been announced as part of the Employe...
EU urged to avoid crop protection 'crunch'
As restrictive new EU pesticide approval rules remove more products from the market than can be developed to replace them, Europe's farmers risk...
AONB decision will stultify farm growth potential
NFU Cymru has expressed disappointment at today's Welsh Government decision to extend the Clwydian Range Area of Outstanding Natural Beauty (AON...
CLA warns Efra of CAP greening risk
CLA President Harry Cotterell gave evidence on the greening of the Common Agricultural Policy (CAP) to the House of Commons' Environment, Food a...
Applications now open to apply more manure to grassland in 2012
Eligible farmers are being reminded that they can ask for permission to apply more manure onto their grassland during 2012. Applications for the ...
Automatic milking research for grass based systems
A new grassland research project, which is being carried out by the Moorepark Animal and Grassland Innovation Centre in Ireland and supported by Fullw...
Growers to discuss herbage seed at Grassland
Farmers visiting Grassland & Muck 2011 to review their business options should consider British-bred herbage seed as a viable alternative enterprise, ...
Common weed has hidden superpowers
A plant that used to be killed as a weed could soon be farmed for essential fatty acids. Innovative research sponsored by Defra shows that Corn Gromwe...
Get the spray window just right for effective control of docks in grassland
Getting the spray window of the amidosulfuron herbicide Squire Ultra just right is important in order to achieve the desired high level of control of ...
How game is your wood
A few days dedicated to woodland management in winter can yield huge rewards for game and other wildlife later in the year. To learn the skills neede...
Pestwatch - Local risk assessment for Leatherjackets required
The focus for Pestwatch moves from Wheat Bulb fly to Leatherjackets and starts with a warning of variable risk of this pest in different parts of the ...
Lancashire herd lifts yields by 900 litres despite cutting feed inputs
A big increase in silage dry matter intakes on a Lancashire dairy farm has lifted milk production by 900 litres a cow and enabled feed costs to be cut...
Maximum productivity per acre
A Scottish farmer's investment in better grasses and grassland management has seen him maximise productivity of his 371-acre livestock enterpris...
Devon landowners offered free course in grassland management
Staff from Devon Wildlife Trust's (DWT) Working Wetlands project, are planning a free training event this month to help local landowners in the ...
Fertiliser prices put grass yields beyond means
High fertiliser prices will put adequate 2011 grass yields beyond beef farmers' means. The National Beef Association has called on fertilise...
BCPC weed review emphasises black-grass problem
At the recent 47th BCPC Annual Weed Review chaired by Mr David Parish, Agronomist, NIAB TAG, and held at the PGRO, Peterborough, a key focus was new h...
Good news potential for woodland owners
Following the Spending Review, West Norfolk farmer Edward Brun, who is chairman of Anglia Woodfuels, welcomes the government's commitment to the...
Frost is no reason to let up on grassweed control
Despite one or two night frosts, grassweeds are still actively growing and farmers will reap yield benefits from autumn post-emergence treatments, say...
Don't delay weed control, growers urged
Growers have been urged to take advantage of the 'best start to weed control for years' and make full speed ahead with their autumn herbic...
Shropshire pastureland to be sold
Two productive blocks of Shropshire pastureland are to be sold by public auction next month. Auctioneers Halls are selling 49 acres of land at Arg...
Weed control needs action say ADAS
In the increasingly tough fight against grass weeds, tackling them early is critical, according to ADAS' James Clarke. In most instances, ea...
Wet weather brings parasite risk
Livestock producers are being urged to keep an eye on the weather, because wet conditions are ideal for fluke to thrive and pose real challenges to ca...
Hedge funds for banking solution
One thousand metres of riverbank are being fenced on waterways which ultimately flow into Bassenthwaite Lake in a bid to stem harmful sediment. Her...
Reseeding delays compromise production
Many leys that should have been replaced two years ago have 'fallen apart' this year, leaving some ruminant livestock producers short of f...
Farms see wild orchids thrive
An array of wild orchid species and a diversity of birds and other wildlife are thriving under a pioneering retailer scheme operating on some of the c...
Welsh grassland societies get support
Demonstrating the strength of its continued commitment to British agriculture, leading manufacturer of Silotite balewrap and Visqueen silage sheeting ...
Cheshire wetlands project grows
Wetland habitats in Cheshire have been restored through work carried out as part of a pilot project spearheaded by the UK's largest shooting org...
Farmers voice concerns over chinese lanterns
This weekend, a Leicestershire farmer's prompt action prevented thousands of pounds worth of damage to a field of wheat straw set alight by Chin...
Be aware of illegally poisoned wildlife warns CAIP
A timely warning for those who enjoy the great outdoors has been issued by The Campaign against Accidental or Illegal Poisoning (CAIP), to look out fo...