Grassland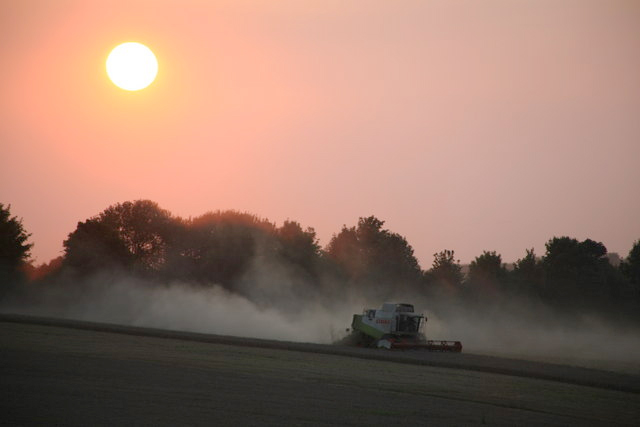 Kill thistles – don't just top them
Thistles are growing vigorously in grassland this summer, causing problems in fields that are grazed or shut up for silage. The two most common sp...
Make the most of slow growing grass
Grass quality may have caught up after months of less-than-ideal growing conditions, but slow growth is keeping optimal feed conversion at the forefro...
EU must reject Monsanto crops, says briefing
The EU must not repeat the mistakes that lead to the emergence of US glyphosate resistant "superweeds", according to anti-GM group GM Freeze in a brie...
Farm drone spots game on the fields
Thousands of deer, hares and pheasants die annually in agricultural fields when large farm machinery are harvesting. It is especially so during summer...
Fquare launch 'distressed farmers' loan
Fquare, a New York-based company, which enables investors to design custom investment portfolios around U.S. farmland online, has announced the launch...
Organisations challenge Rothamsted on GM testing aims
An alliance of 27 organisations today issued a statement challenging Rothamsted Research, the Government and funding bodies 'to be more open about the...
Defra minister backs plant breeding campaign
Defra science minister Lord de Mauley has given the Government's formal backing to an industry-led campaign to highlight the critical role of plant br...
Insecticide restrictions 'will have a catastrophic impact'
The decision on Monday to introduce EU-wide restrictions on neonicotinoid insecticides linked to bee decline is 'likely to have catastrophic impacts f...
Sumo's DTS drill shows its paces on pea acreage
Sumo drill specialist Marcus Ainley sowing Maro marrowfat peas at 320kg/ha into sandy soil over clay near Braintree, Essex in the third week of April,...
A breath of fresh air
Diane Symes, Chair of the AHDB Education Group, shares her passion for teaching children about food, farming and health eating. It's my passion - ...
Control weeds to maximise silage yields and quality
Farmers desperate to replenish empty forage stocks in the next few weeks can increase silage yields and quality by getting rid of broad-leaved weeds l...
Stop pasture turning yellow this spring
Buttercups and dandelions are likely to be a much bigger problem in grass fields this spring according to David Roberts, grassland agronomist for Dow ...
Plant growers report 'catastrophic' spring sales figures
Growers of pansies, primroses and pot plants destined for gardens up and down the country are reporting 'catastrophic' impacts on their businesses fro...
Don't rush repairing damaged grassland, specialist urges
Livestock farmers looking to rejuvenate battered permanent pasture and leys that have been subjected to continual rainfall, livestock trampling, and h...
Rural careers 'inadequate' for young people, says report
The countryside offers inadequate career opportunities for young people, according to a report released today. The findings from NFU Mutual's Count...
Dandelions likely to be 'much bigger problem this spring'
Buttercups and dandelions are likely to be a much bigger problem in grass fields this spring, according to Dow AgroSciences. Buttercups favour wet...
Wet soils create complex soil pest and disease challenge
Potato crops could be in greater danger of PCN attack this season, if soil sampling has failed to identify existing populations and impending risk. ...
Peat-free compost research results 'on right track'
Results from in-depth research on peat-free compost from the UK's largest green waste composter are 'encouraging', according to principal lecturer at ...
New solutions needed to pay for conservation
The Country Land and Business Association (CLA) has urged the government to find new ways to pay for looking after the natural environment. It said...
Earlier first cut silage and quicker livestock turnout
Livestock farmers can enhance the growth rate of their grass, leading to earlier first cut silage, earlier turn out and higher productivity, through t...
Dock control in grassland 'essential' to maintain forage quality
Controlling docks in grassland is important to maintain forage quality and livestock output, but herbicide choice has become more limited and perennia...
Environmental Stewardship derogations continue due to bad weather
Natural England will be continuing to make its Environmental Stewardship scheme derogations available due to recent wet weather and snowfall. They ...
Needham Chalks sold in multi-million pound deal
Needham Chalks has been sold to Bishop's Stortford based Harlow Agricultural Merchants, who also acquired a leading analytical laboratory business fro...
Marginal Areas can Drive Farm Profitability
The Government and farmers must do more to unlock the potential of marginal areas in the UK, it has been claimed. Anaerobic digestion (AD) speciali...
BCPC supports pesticide Action Plan
The consultation period on Defra's draft National Action Plan (NAP) for the sustainable use of pesticides has just ended. Commenting on the draft,...
Green invasion destroying Kent's countryside
A crackdown is taking place in Kent to tackle an invasion of plant species which are destroying river banks and taking over native vegetation. Gian...
Winter and spring beans give potential for blackgrass control
"Winter and Spring Beans give potential for blackgrass control in addition to the other benefits from pulse crops," says Jim Scrimshaw PGRO Principal ...
Cultivation Update - 17th August 2012
Richard Hales, Sumo Grassland Specialist, comments on latest field conditions: What a difference a couple of months make! Many areas have had two o...
2,4-D resistance could limit herbicide future usefulness
Even as crops resistant to 2,4-D herbicide are being developed, populations of weeds are also developing a resistance. A 2,4-D–resistant variety of th...
Renewable Obligation response is 'good news' for wind energy
Developers of onshore wind projects have received welcome news as the government announced a lower than expected reduction in the Renewables Obligatio...
CAP reforms would damage UK competitiveness - NFU
Following a trip to Strasbourg to meet with key MEPs involved with the CAP reform process, farming unions have said the greening measures being propos...
Farming groups lobby over CAP reforms
Farming associations are stepping up the intensity of their lobbying efforts to put CAP reform proposals back on track by holding a series of high-lev...
High sugar extended grazing mixture launched at Grassland
A new seeds mixture for extended grazing and comprising exclusively of the Aberystwyth-bred Aber High Sugar Grasses has been launched at the Royal Wel...
Sorting arable and grass tasks
Investment in a purpose-designed grassland subsoiler can be more easily justified if the implement is versatile enough to also handle arable tasks, ac...
Spring barley demands vigilance following recent rain
Growers are being urged of the need for vigilance in this season's spring barley to ensure a timely start of post-emergence weed control strateg...
Weed control in grassland is imminent
Controlling docks in grassland which contains a white clover component is important to maintain forage quality and livestock output and Jock Logan of ...
Agri-seeders sold into Ireland for grassland rejuvenation
Louth based grass seeding contractor Fergie O' Neill has purchased a Vredo Agri Seeder which is specifically designed for stitching grass into e...
New Weed Identification App from BASF
BASF and ADAS have developed a new and fully comprehensive Weed Identification App for iPhone users to allow accurate identification of arable weed pr...
Planning reform broadly welcomed by farming bodies
The CLA and the Campaign to Protect Rural England have said that the National Planning Policy Framework (NPPF) is a boost for planning in rural areas ...
CPRE attacks Chancellor's planning as 'misguided'
Responding to today's Budget statement the Campaign to Protect Rural England (CPRE) condemned the Chancellor's rhetoric on planning as mis...
Waitrose and NFU to showcase seasonal horticulture
The NFU is teaming up with Waitrose to showcase the best of seasonal British horticulture at two Royal Horticultural Society shows this summer. Wa...
Private water supplies forgotten in drought discussions - CLA
The CLA today said up to one million water users have not been accounted for in government plans for dealing with drought. The Association welcome...
Act now in response to drought, warns Environment Agency
New report warns drought could spread to more areas of the country if dry weather continues Water companies and farmers, as well as businesses and...
Fendt launches new 300 Vario range
With its quality, reliability and ease of operation, the 300 Vario range from Fendt has found many enthusiastic users since 2006. In light of the emis...
Why do plant roots grow down and not up?
It is essential for roots to grow down so they can explore the soil and maximise their water uptake. But how they know that is a question that has fas...
Drought still affecting rural England
To help farmers and growers cope with the drought conditions that continues to affect some parts of the country despite the recent rainfall, Natural E...
Blackgrass plants are stronger than usual this spring
This spring winter wheat growers with blackgrass must tackle both established and newly-emerging weeds, according to Stuart Jackson, cereals specialis...
Spelman urged to reject Danish GM reforms
The Defra Secretary of State Caroline Spelman has been asked to reject the latest draft from the Danish Presidency proposing reform of the EU legislat...
Welsh hill farmers lament ending of Tir Mynydd support
'The Tir Mynydd support payment, which farmers in Less Favoured Areas of Wales have started to receive today, will come as a timely boost to hil...
New mildewicide welcomed after high pressure season
New mildewicide product, Cosine, approved for powdery mildew control in apples and pears will give growers access to much needed new chemistry for use...