Grassland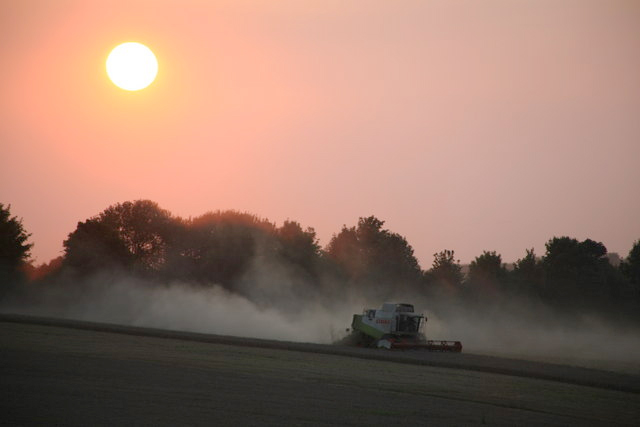 UK farmer confidence falling, according to new survey
Falling farmgate prices and market price volatility have contributed to a drop in farmer confidence, a new survey by the NFU has revealed. After th...
Soil threat undermining our current way of life
The world's soils face a wide range of threats that could undermine the very basis to our current way of life. Recently Europe has seen flooding that...
New flood defence spending 'worrying', says CLA
The government's announcement on how £2.3 billion will be spent on flood defence in England is not enough to stem the risk of future flooding, accordi...
Grassland farmers 'must wake up to changing pesticide rules'
While many farmers who use professional pesticides on grassland are aware of the need to protect water, a significant number remain unaware of the imm...
Results of Natural Nitrogen Fixation Trials
Azotic Technologies, the developer and producer of natural Nitrogen-fixation for increased agronomic benefit, today announces the results from the Com...
Grassland winners celebrate at BGS award evening
Beef and sheep farmer Dafydd Jones has won the coveted British Grassland Society (BGS) UK Grassland Farmer of the year award for 2014. The announc...
Wetland is more valuable than arable, new study shows
New research has calculated that each hectare of land at Wicken Fen in Cambridgeshire is worth almost £130 more per year as wetland than as arable far...
New GrowHow farm adviser for South West and South Wales
Hefin Llywd has joined GrowHow UK as the company's newest field-based Farm Adviser. He took up his new position on 13 October and will cover the South...
Cattle to replace lawnmowers in wildlife havens
Following a successful trial last autumn, a herd of cows will once again replace lawn-mowers to cut the grass at one of Worcestershire's most importan...
Spray grassland weeds now
Warm soils and heavy dews are providing ideal growing conditions for grassland weeds such as docks, thistles and dandelions, so it is a good time to c...
NFU spells out priorities ahead of 2015 General Election
A Government that understands farm businesses, wants agriculture to grow and has the policies that send the right signals to farmers, are the key mess...
A health check for your soil
Soil is the basic raw material of farming and fundamental to agricultural productivity. Traditionally soil health has been seen largely as a function ...
Carbon stored in world's soils more vulnerable to climate change
The response of soil microbial communities to changes in temperature increases the potential for more carbon dioxide to be released from the world's s...
Grassland Farmer of the Year 2014: Final round completed
The judges of the BGS Grassland Farmer of the Year Award criss-crossed the UK last week (18-22 August), visiting the three 2014 finalists at their far...
Make a small change to organic this September, Soil Association urges
The Soil Association is today launching 2014's Organic September campaign – the UK's biggest celebration of all things organic, which takes place in a...
Still chance to spray persistent weeds in grassland
Perennial weeds like docks and thistles are more visible than usual in grass fields at the moment. Dry conditions have slowed down grass growth, but t...
Financial impact of poor grassland management revealed
Figures calculated by Barenbrug UK – a leading supplier of agricultural grass – reveal that farmers who are not reseeding their grassland regularly co...
Manage stale seedbeds to maximise black-grass kill
Stale seedbeds will be a crucial weapon in the fight against black-grass this season, but they must be actively managed if growers are to maximise the...
The Savory Institute - 2014 INTERNATIONAL CONFERENCE
LONDON AUGUST 1-2 Grange Tower Bridge Hotel and Conference Centre Putting Grasslands To Work: Join The Conversation The Institute's prime objec...
New McCormick tractors out in force at Grassland Event
The all-new McCormick X7 Pro Drive tractor range was out in force at the Grassland & Muck Event as the machines made their public working debut. Wo...
Hit grassland weeds after first cut
Docks, nettles and thistles are prolific in grass fields this year after the mild winter and early spring, with strong perennial weed growth since Mar...
New guide for controlling weeds in horse paddocks
Weed experts at Dow AgroSciences have published a new guide to help horse-riders and equestrian business owners get rid of problem weeds in their padd...
Two of the UK's best grassland farmers to open their gates
Andrew Owen of Pantygwiail Farm, Dihewyd near Lampeter won the Welsh Grassland competition in 2013, and was a finalist in the BGS 'UK Grassland Farmer...
McCormick to showcase new tractors at Grassland & Muck Event
The all-new McCormick X7 Pro Drive tractor range will be in the spotlight at this year's Grassland & Muck Event – it will be the first outing for the ...
Latest JCB handling options at Grassland & Muck Event
JCB will showcase its market-leading position in agricultural materials handling with working demonstrations of its latest Loadall handlers, Farm Mast...
Launch date for new Landini tractors
An all-new range of Landini tractors set to become a stockmen's favourite will be launched at the Grassland & Muck Event alongside a new range of four...
New Vredo Agri Air overseeder at Grassland
JC Machinery will be exhibiting the new Vredo Agri Air Overseeder which now comes with the same large pneumatic seed hopper as the award-winning Vredo...
Kuhn to show new harvesting machinery at Grassland
Kuhn Farm Machinery will introduce a new range of twin rotor rakes as it launches a number of new grass harvesting machines at this year's Grassland &...
Don't end up on the wrong side of a 'right of way'
Rights of way have been in the news again. Barely a week seems to go by without landowners heading to the High Court, often spending hundreds of thou...
Reseed grass fields now but follow the 'Ten Commandments'
Many grass fields will benefit from renovation or completely reseeding this spring, or performance may suffer later on according to Lewis Owen, region...
Docks are in the 'starting blocks' and ready to grow
Docks could pose bigger problems than usual for grassland farmers this spring, as the mild winter has encouraged early perennial weed growth, accordin...
Farmers pilot new digital mapping service for RPA
Following successful small-scale initial trials, the Rural Payments Agency (RPA) is now rolling out to 1,000 farmers and agents the chance to test a n...
Approve GM crops, adviser urges Cameron
Climate disruption, population growth and rising costs of food staples means the UK must start producing more from the land, the Prime Minister was ur...
Harper Adams conference links farming, science and nutritional food value
Harper Adams University is set to host the 2014 Frank Arden Memorial Conference on 24 April, supported by the Nuffield Farming Scholarships Trust. ...
New John Deere balers unveiled at Grassland
A new John Deere 800 Series mower-conditioner plus three new 400 Series fixed chamber round balers, including a wrapping baler model, can be seen work...
Ploughing the only way forward to repair flood damaged soil
Flood-repair is one situation that will benefit more from full tillage of the soil rather than no-tillage (or direct drilling), says the New Zealand s...
Fertilisers destabilise grasslands in changing conditions
Fertilisation of grasslands significantly reduces their ability to cope with changing conditions even when they contain a diverse mix of plants, finds...
Catchment Sensitive Farming grant scheme opens February
The Catchment Sensitive Farming Capital Grant Scheme will open for applications on 1 February 2014. The grants scheme supports farmers to undertake...
New Purpose-Built Soil Testing Laboratory Opens in Norfolk
A new state-of-the-art soil testing laboratory was officially opened by Sir Ben Gill last Thursday, 21 November 2013. The new laboratory has been purp...
New GrowHow farm adviser for Eastern region
Mark Riches has joined GrowHow UK as the company's field-based Farm Adviser for the Eastern region. GrowHow is the UK's market leader offering high qu...
UK Grassland farmer of the year announced
Cheshire dairy farmer Mathew Venables has won the UK Grassland Farmer of the Year Award, run annually by the British Grassland Society (BGS). The o...
Search is on for dock-infested grass fields
Dow AgroSciences is on the lookout for grass fields with a high number of docks for a new initiative being launched next year. The aim is to show farm...
Green Belt 'under threat', says rural group
Newly published figures by Campaign to Protect Rural England show that over 150,000 houses are planned for Green Belt sites, an increase of 84% in a y...
Weed control strategy destroys weed seed at harvest
A long-term study in Australia offers a new weed control model for global agriculture. This mechanical method targets weed seeds during harvest, reduc...
Most popular year yet for Natural England grant scheme
From Northumberland to Cornwall, farmers in 79 priority catchment areas of England have submitted more applications than ever before for funding from ...
More of Wales may be included in open access maps
Disappointment was expressed today at Anglesey show by the President of NFU Cymru that more land in Wales is potentially going to be included in the o...
Respect your grass - it's a valuable feed
A clamp filled with 1,000 tonnes of high quality grass silage could be worth up to £40,000, according to independent ruminant nutritionist Hefin Richa...
Lack of grass concerns beef and sheep producers
The hot July weather has burnt off many pastures and supplementary feed manufacturers are experiencing a surge of enquires from cattle and sheep produ...
Managed estates urged to grow revenues with anaerobic digestion
Estate owners are being urged to target income from anaerobic digestion (AD) as tenancies are renegotiated and amalgamated. EnviTec Biogas UK belie...
Increase seed rates to hit beet stand targets
Cold, wet soil conditions at sowing and slow growth in the spring created a 'perfect storm' of conditions that stressed seedlings, leading to all sort...