Forestry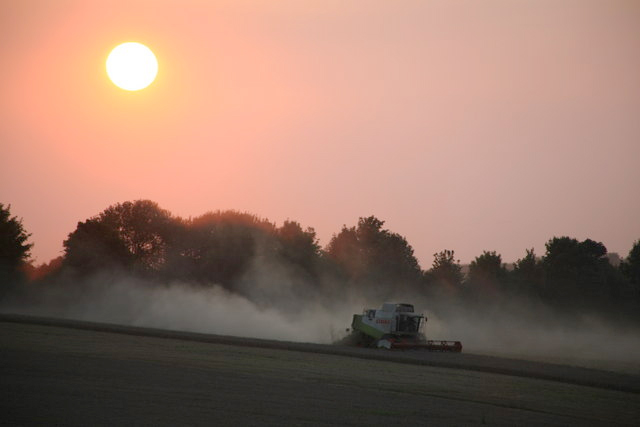 UK farmer confidence falling, according to new survey
Falling farmgate prices and market price volatility have contributed to a drop in farmer confidence, a new survey by the NFU has revealed. After th...
Woodland Trust response to Liz Truss National Pollinator Strategy
The Woodland Trust has welcomed the new National Pollinator Strategy (NPS), launched yesterday by the Secretary of State for Environment and Rural Aff...
Egg producers promote a million reasons to choose free range!
The British Free Range Egg Producers Association (BFREPA) have launched public-facing campaign to publicise the many benefits of free range eggs with ...
Planting trees improves lamb and cow health
Farmers discovered ways of improving the health and wellbeing of livestock at a recent event aimed at highlighting how trees can increase a farm's pro...
Ancient woodland threat now hits Ambridge
It may be fictional but the latest storyline in the BBC's longest running soap opera, The Archers, highlights the very real and growing threat to anci...
Better regulation needed for wood treatment
Better regulation is needed to protect farmers from the risk of rotting fence posts, following a spate of timber failures, according to a Cornish timb...
Wood pellet exports from North America to Europe have doubled in two years
With no slowdown in sight, North American wood pellet exporting companies keep building new facilities to manufacture pellets for the European market....
Global sawlog prices rose in the 4Q/13
Higher demand for lumber and increased global trade of logs pushed sawlog prices upward in many markets during 2013, according to the Wood Resource Qu...
Increases in Russian lumber exports have not compensated for decline in log exports
Increases in Russian lumber exports have not compensated for the decline in log exports that came as the result of the implementation of higher log ex...
Defra urged to back agroforestry
In a letter to Owen Paterson MP, the Secretary of State for Environment, Food and Rural Affairs, the Organic Research Centre joins with 22 other organ...
Safety experts call for tree safety following severe weather
Safety experts are urging East Anglian landowners and local authorities to exercise caution when working with trees. Following the worst winter sto...
China imported lumber for record nine billion dollars in 2013
China imported logs and lumber for a record nine billion dollars in 2013, with North America, Russia and New Zealand being the major suppliers, report...
New Forest trees count the cost of months of storms
Exceptionally wet and windy weather has seen New Forest tree experts inundated with enquiries about damaged and fallen trees. The New Forest Nation...
Sussex fungicides may help fight ash dieback
A new fungicide treatment developed at the University of Sussex is emerging as a weapon in the fight to inhibit growth of Chalara fraxinea, which caus...
Softwood lumber trade 'reaches highest level in five years'
With demand for lumber being in recovery mode in a number of countries in the world in 2013, global trade of both lumber and logs were on track to rea...
Four million trees to be planted next year
The government is planning to invest £30m to support the planting of 2,000 hectares of new woodland with 4 million trees. Two thousand hectares of ...
North American wood pellet exports steadily increase
North American shipments of wood pellets over the Atlantic continued to go up in the 2Q/13 with volumes more than double those in the 2Q/11, according...
Pulp mills and sawmills in Latin America had among lowest wood costs
The wood costs for pulp and lumber manufacturers in the two largest producing countries in Latin America, Brazil and Chile, have fallen during much of...
US lumber production increases in first half of 2013
North American lumber production was up 6.7% during the first seven months of 2013 as compared to the same period in 2012, with all regions on the con...
Global sawlog prices trending upward with the GSPI Price Index
The Global Sawlog Price Index (GSPI) increased for the fourth consecutive quarter in the 2Q/13 to reach US$86.60/m3. The Index, which is based on sawl...
Timber harvests shift from west to east in Central Europe
Harvests of timber in Europe have remained practically unchanged for three years at around 370 million m3 annually, according to the UNECE. A clos...
Wood chip and pulplog prices fall in many regions of the world
Lower prices for pulplogs and wood chips in some major markets, and a strengthening US dollar resulted in lower wood fiber price indices in the 2Q/13,...
Wood fiber costs fall substantially in the West
Wood costs account for between 50-55 percent of the production costs for pulp mills in the US. Historically these costs have often been substantially ...
Woodlands a valuable resource for farmers, says BFT
Farmers in the Scottish Borders will benefit from a new project launched today by Borders Forest Trust (BFT) in association with the Woodland Trust. ...
Global forest industry in the 2Q/2013
Global Timber Markets • In the 2Q/13, the Global Sawlog Price Index (GSPI), which is based on 19 key markets around the world, increased for the fo...
Ash tagging project to unlock secret of disease resistant trees
A new project to help scientists identify species of ash tree that are resistant to Chalara fraxinea or 'dieback' will be launched by the University o...
Chinese expansion of pulp manufacturing capacity
Growing demand for paper in China has not only forced the country to import large volumes of pulp to supply the country's paper machines, but also res...
China importation of lumber and logs roars back to new highs
After a decline in importation of logs and lumber into China in 2012 and early 2013, the country came back roaring in the 2Q/13 with the import value ...
EU funding boost for early warning system for protecting UK's trees
Tree health experts have secured nearly a million pounds of European Union funding to develop an early warning system for pest and disease threats to ...
Public asked to watch for beetle threat to trees and shrubs
Tree health authorities are appealing to the public to be on the alert during August and September for two species of beetle which could damage a wide...
Wood pellet exports from North America up over 50%
Wood pellet exports from North America were up over 50% in the 1Q/13 from 1Q/12 with the United Kingdom being the major export destination, reports th...
Government bans sweet chestnut imports
The Government has brought in a ban on imported sweet chestnut trees from areas affected by blight. The Association said this important move will g...
Log and lumber imports to China up over 10%
China's hunger for wood was less acute in 2012 than in the previous year. In particular, importation of softwood logs fell substantially from the reco...
Wood costs for paper industry declined the past two years
Wood costs for the pulp and paper industry declined the past two years, with the 1Q/13 Wood Fiber Price Indices being down 10% from 2011, reports the ...
Hunt is on for Chalara-resistant ash trees
A major project to find Chalara-resistant ash trees has been announced by Environment Secretary Owen Paterson. The £1.5 million project is part of...
China's demand for wood products fell in 2012
The demand for wood products in China fell in 2012, and as a consequence, exportation of logs and lumber from North America was down 17 percent from t...
New solutions needed to pay for conservation
The Country Land and Business Association (CLA) has urged the government to find new ways to pay for looking after the natural environment. It said...
Chinese log prices reach new record highs
Log imports to China were off to a slow start in 2012 but in the second half of the year, shipments picked up with New Zealand and the US gaining the ...
New body to run UK's public forests
Environment Secretary Owen Paterson has announced an independent body to oversee publicly owned forests in the UK. Alongside the continuing work o...
Ash dieback strategy outlined by government
A new strategy to tackle Ash dieback has been published today by Environment Secretary Owen Paterson alongside the Tree and Plant Health Task Force's ...
CLA urges public to look for dieback in ash trees
The CLA has urged the public to look for cases of ash dieback and is working with the Forestry Commission to compile a spotter's guide. Chalara fra...
Government says fighting tree pests 'absolute priority'
Environment Secretary Owen Paterson told delegates at the inaugural National Forestry Stakeholder Forum yesterday that he had made addressing tree pes...
Shortage of plant disease experts threatens tree health
Job cuts are threatening Britain's ability to combat new diseases of trees and crops, says a report published today. An 'Audit of Plant Pathology ...
Ash tree import ban would not be enough say campaigners
The government's ban on the importation of ash trees, announced today, has been welcomed by farm and conservationist groups. The Action Plan for Tr...
CLA calls for import ban to stop ash tree disease
The CLA has called on the government to ban all imports of ash plants and seeds to halt the spread of an ash tree disease. The disease, Chalara fra...
Sawlog prices in Russia rise 25% despite higher log tariffs
Domestic log prices in Western Russia did not decline long-term as the Russian government had hoped when Russia increased log export tariffs to 25% in...
Log and lumber imports to China down 19%
Log and lumber imports to China were down 19% during first eight months of 2012, y-o-y, with the biggest declines seen of logs imported from Russia an...
US surpasses Canada as largest wood pellet exporter
Pellet exports from the two primary pellet-producing regions on the North American continent, the U.S. South and British Columbia, have continued to g...
Timber and Wood Products market report - 18th September 2012
Chile and Brazil have began to supply Eucalyptus chips to Chinese pulp mills; however Japan continues to be the major destination for Latin American w...
US demand for lumber 'highest seen for May'
Lumber markets in the US improving with higher demand and increasing prices in the 2Q/12; sawlog price trends mixed, reports to the Wood Resource Quar...