Finance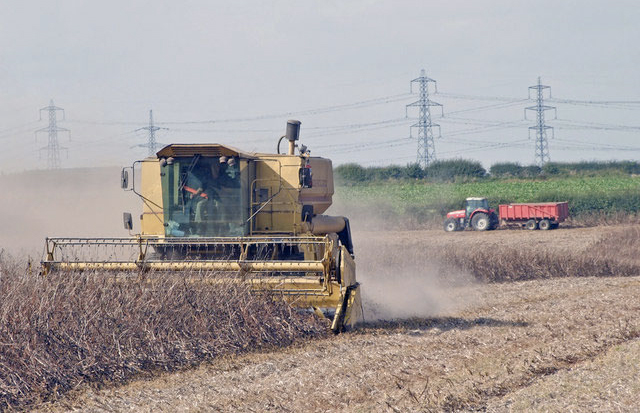 New Defra farm figures 'underline volatility'
New farm business income data from Defra, which focus on income from March 2013 to February 2014, show some significant swings in farm profitability a...
Farmers call for reassurances as Defra publishes new CAP scheme
More details have been unveiled today about how the new CAP will be implemented in England. The latest leaflet, which will also be posted to farmer...
UK farmland prices see 'substantial growth'
Prime arable land in the UK has seen a substantial year-on-year growth in prices of around 17.9%, according to a Q3 report. The average rate of gro...
NFU sends out plea to retailers over falling milk prices
With mounting concern over the falling milk prices on global markets, NFU Cymru Milk Board Chairman, Aled Jones, sent out a plea to processors, retail...
Irish beef farmers 'have had enough' as they begin protests
Irish beef farmers are set to protest the prices they are being paid for their cattle, arguing that they are well below the UK and EU averages. IFA...
Farmers 'a major target' for fraudsters
Farmers are being warned they are a major target for criminals trying to defraud them out of hundreds of thousands of pounds. Financial Fraud Action U...
NFU concerned over future rural cuts in letter to Chancellor
NFU President Meurig Raymond has written to Chancellor George Osborne outlining how he thinks agriculture would benefit from next year's budget. "A...
NFU 'dismayed' at Defra rejection of EU aid package
Government Ministers have decided not to take advantage of an EU aid package for fruit and vegetable producers impacted by the Russian trade ban, the ...
Dairy farmers will pay for the price of milk, warns NFU
With mounting concern over the falling milk prices on global markets, the NFU have issued a call to retailers and processors to safeguard the future o...
Supermarket price battles causing 'grocery deflation'
The grocery market is entering deflation as new share figures released today show that like-for-like prices have declined. Fraser McKevitt, head of...
Farmers threaten further protests as meetings held in Westminster
Further protests on falling milk prices have been announced today as the President of Farmers for Action attends a meeting with MPs in the House of Co...
Businesses to receive funding to solve food security challenges
Businesses will receive £5 million of funding to develop innovations to solve some of the world's greatest agriculture challenges such as food securit...
NFU urges retailers over falling milk prices
With mounting concern over the falling milk price on global markets, NFU dairy board chairman Rob Harrison has issued a call to retailers both in the ...
Farmers can double tax benefits by choosing renewables?
Farmers yet to take full advantage of their Annual Investment Allowance (AIA) should consider renewables as a way of doubling the potential benefits, ...
Government to cut subsidies to solar farms
Farmers will lose their right to claim subsidies for fields filled with solar panels under new plans to ensure more agricultural land is dedicated to ...
Farmers have their say on dairy crisis as prices show slight rise
"We need to keep it up and we need to intensify the protests, if we are to stop any further price cuts and start to get farmgate prices up as fast as ...
Court ruling on land sale 'encouraging for others'
In a recent appeal to the Upper Tribunal (Lands Chamber) over the issue of apportionment for Capital Gains Tax purposes, the Tribunal has found in fav...
'Exciting opportunities' for Turkey's developing dairy market
Turkey's developing dairy market offers exciting opportunities in its emerging export industry with access to markets that western players have previo...
EU pork faces tough times with health scares and Russian ban
The global pork market will likely begin to cool down as the buoyent market circumstances from the first three quarters are now disappearing. With ...
Farmland 'outperforming major assets' as values increase further
The average value of farmland has increased by 12% so far in 2014, a 10-year increase second only to gold, according to new figures. The average va...
Dairy Association to meet with MPs over price crisis
The Royal Association of British Dairy Farmers is entering talks with leading MPs to express its concern over the current farmgate milk price cuts. ...
Why is the price of milk falling?
British consumers say they want to back dairy farmers after learning that the price they are paid has dropped significantly in the past few months. Bu...
New tax to consider when buying land
On 9 October, the Scottish Government announced the proposed rates for Land and Buildings Transaction Tax ("LBTT") and Scottish Landfill Tax. LBTT ...
Scottish CAP details revealed
NSA Scottish Region Development Manager George Milne attended a Scottish Government CAP stakeholders meeting which covered the details of changes unde...
Farmers plan further milk protests
"Further protests are planned for the coming week, members and press will be notified," Farmers for Action said after over 500 people attended the pro...
RPA reminds farmers of entitlements deadline
Farmers have less than two weeks to put themselves in a better position for CAP Reform by transferring entitlements ahead of the deadline later this m...
Retailers urged to support British dairy farmers
Support for British dairy farmers from retailers and the government is 'vital' after farmgate milk prices have plummeted following the trend on world ...
Dairy Code of Practice: 'Risks creating a division within the industry'
The Dairy Industry Code of Practice for Contractual Relations (VCOP) was agreed and introduced in 2012 to replace conflict and divisiveness between pr...
Dairy farmers set for Wednesday milk price protest
Dairy farmers are set to take part in a second milk price protest on Wednesday, in Somerset, Farmers for Action have confirmed. "As predicted the c...
Eight EU member states 'exceed milk quotas'
Eight EU member states exceeded their milk quotas for deliveries in 2013/2014 and must therefore pay penalties. Germany, the Netherlands, Poland, D...
Hogan challenged over future of EU farming
Phil Hogan, Commissioner-designate for Agriculture and Rural Development, was recently challenged by questions from MEPs concerning his plans to suppo...
First Milk confirms November price cuts
With effect from 1st November First Milk will be cutting the price for its manufacturing pool by 0.3 pence per litre and for its liquid pool by 1 penc...
First penalties coming soon for rural businesses under RTI scheme
The first penalties for late real-time PAYE returns will be applied from 6 March next year for businesses with under 50 employees says HMRC, which has...
Adama establishes major foothold in China
Adama Agricultural Solutions and China National Agrochemical Corporation, a strategic business unit of China National Chemical Corporation (ChemChina)...
Single Payment exchange rate a further blow for Welsh farmers - FUW
The fall in the Euro-Sterling exchange rate for Single Payment calculations to its lowest level in seven years could not have come at a worse time, sa...
Exchange rate hits support payments for 2014
The Scottish Government has confirmed that the exchange rate to be used to calculate support delivered through the 2014 Single Farm Payment (SFP) Sche...
Dairy Crest announces milk price cut
Dairy Crest have announced a cut of 1.3 ppl for farmers on standard Liquid and Davidstow contracts from 1st November 2014. The company recently sai...
Milk price crisis: 'Cuts getting more severe with more excuses'
'The cuts keep coming' dairy farmers were warned by Farmers for Action group, 'getting more severe each time with more and more excuses' as a number o...
Received your Single Payment Scheme in euros and haven't fixed the rate?
With the recent success of the Better Together campaign, the pound has strengthened further still against the euro. If the EUR/GBP exchange rate (0.78...
Arla cuts milk price paid to farmers
Arla Foods has announced a cut of 1.67ppl for its milk price paid to UK farmers. In addition, the next quarter's currency exchange rate takes effec...
Minimum wage increase for agricultural workers in Scotland
A rise in the minimum wage rate for agricultural workers has been confirmed by the Scottish Agricultural Wages Board (SAWB). The wage rates agreed ...
Tesco cuts price paid to dairy farmers
Tesco has today confirmed it will cut the price it will pay to British dairy farmers for six months from the 1st November, following an independent co...
Figures show falling farm input costs
The average cost of inputs into agriculture has fallen, the latest AF AgInflation Index figures have shown. The figures for August 2013 - August 20...
Pressure on milk prices: Dairy Crest to cut 260 jobs
Dairy Crest will close two factories, in what it calls a 'challenging trading environment', which will put 260 jobs at risk. "Our Dairies operation...
Extra help unveiled to get farmers online for BPS
The Rural Payments Agency has announced measures to help farmers get online for the new Basic Payment Scheme (BPS). Farmers applying in 2015 for th...
Farmers 'losing out' over CAP uncertainty as NFU heads to Brussels
Lack of detail on CAP implementation and the Russian trade ban will be top of the agenda for the heads of farming unions as they travel to Brussels to...
Financial pressures growing on farmers
The UK farming sector is coming under financial pressures on multiple fronts, an agricultural expert has warned. Farm gate milk prices have been cu...
English sheep exports to China hold 'huge benefits' for industry
Gaining access to the Chinese market for lamb produced in England would be a 'game-changer' for the industry and help manage price volatility, accordi...
Realise ram investment post sale
Farmers who have purchased rams at this year's Cydectin Kelso Ram Sale are reminded to manage their performance post sale to maximise returns from the...
Europe backs UK dairy but 'more to do'
NFU dairy board chairman Rob Harrison, working with European farmer colleagues, has convinced the European Commission to include the UK's cheese secto...