Finance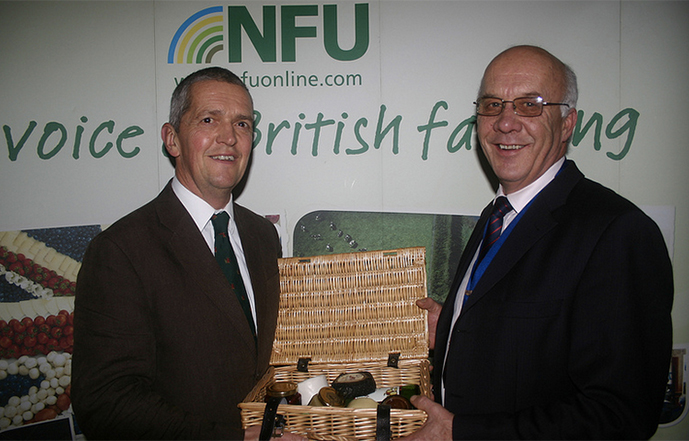 Farmers warned over Single Payment scams
Farmers are being urged to be cautious to a new twist on an old scam which has seen the farming community lose hundreds of thousands of pounds over th...
'Unanswered questions' remain over Countryside Scheme
The Countryside Stewardship Scheme will contribute around £900 million to rural businesses to help them improve the countryside environment. Many infl...
UK farming income rises 15%
New statistics have revealed increased production and prices boosted farm income to £5.6 billion last year. Total income from farming rose by £743 ...
Farmers risk losing out on subsidy due to poor exchange rates
British farmers risk losing out on a vital European subsidy because of poor exchange rates and hidden fees. Single Farm Payments will be made by th...
Government must stop 'ruthless milk discounting'
Ruthless retail milk discounting is not sustainable, and ultimately will damage the sustainability of the UK dairy industry, NFU dairy board chairman ...
Farmers 'should now know the rules' as Defra clarifies CAP issues
Further clarification of some of the more controversial elements of the new Common Agricultural Policy has been issued by Defra ahead of its introduct...
Arla Foods announce further milk price cut
Arla Foods have announced they will cut their milk prices paid to farmers by 1.63ppl from December. This is the second cut the company have announc...
Farmers warned of Christmas fraud risks
Farmers are being warned of the increased threat of fraud in the run up to Christmas as criminals deliberately target the agricultural sector. With th...
Fraud costing UK produce £11bn a year
UK food and drinks companies are losing more than £11.2bn a year to fraud and error, according to a new report. The research reviewed data from 73 ...
UK dairy farmers need to build new markets overseas
Concerns with recent drops in farmgate milk prices and the volatility of global dairy markets came to the fore at a recent meeting of dairy farmers in...
Farmers warned over tax implications of seasonal activities
Farmers, landowners and rural businesses are being warned to remember the tax implications of moving into other seasonal activities. • Letting lan...
Farmers face significant tax charges over HS2, NFU warns
Farmers have urged the HS2 Select Committee this week to cater for the hundreds of farm businesses blighted by the construction of High Speed 2. Ev...
Dairy industry needs to find ways of coping with market volatility
Pembrokeshire dairy farmers voiced their concerns regarding severe farmgate milk price cuts during a well-attended Pembrokeshire NFU Cymru on-farm mee...
Farmers welcome €4 million fund
NFU Cymru members in Meirionnydd welcomed the recent announcement by the Deputy Minister, Rebecca Evans, of a four million Euro fund to Hybu Cig Cymru...
More investment in agriculture needed to meet future demand
More investment is needed if the agricultural industry is to meet growing demand as increasing urbanisation within an expanding middle class are boost...
Firmer beef prices next year, report says
UK beef prices should firm up next year amid tighter supplies, according to the latest forecasts from EBLEX. The latest outlook for the UK beef mar...
Thousands more green jobs a 'missed opportunity'
A new report, released today by renewable energy experts Regen SW, reveals that 16,000 people are employed by south west construction businesses – but...
Dairy farmers voice market volatility concerns
Falling milk prices and the volatility in global dairy markets were put under the spotlight during a recent meeting of dairy farmers in Carmarthenshir...
Greater investment needed in rooftop solar, Savills warns
With news that the International Energy Agency (IEA) expects solar to become the biggest single source of energy by 2050, the expectation is that roof...
Market volatility 'will affect agriculture for the next decade'
NFU president Meurig Raymond warned that falling farmgate prices posed the biggest threat to the long-term prospects of UK agriculture when he spoke a...
HS2 landowners must have compensation, NFU warns
Landowners and farmers affected by HS2 must receive acceptable compensation and appropriate accommodation works must be put in place, the NFU will tel...
GM crops 'good for farmers and the environment', study shows
GM crops are good for the economy and can reduce the amount of pesticides used in agriculture, that is according to a new study by the German Federal ...
Budget cuts to CAP 'will only get worse'
Budget cuts to the Common Agricultural Policy will only get worse in the years to come, farmers were told by the Welsh Government's Director of Agricu...
Irish beef protests intensify over UK price gap
Speaking in Clonee, Co Meath this afternoon at the beginning of IFA's nationwide 48-hour beef protest, IFA President Eddie Downey said the refusal of ...
Make most of milk quota, dairy producers urged
Dairy producers should plan ahead to make the most of capital or trading losses before milk quota is abolished in April 2015, according to rural accou...
Farmers take dairy concerns to Defra minister
Ways of easing volatility in the milk sector were discussed by Secretary of State Liz Truss and the NFU in a meeting with President Meurig Raymond and...
Smaller European markets drive beef export growth
Demand from smaller European markets has helped drive strong growth for UK beef exports, according to EBLEX. Latest data from HMRC revealed that UK...
Dairy Crest to sell operations to Muller for £80m
Dairy Crest has today announced that it will sell its dairy operations to Müller for £80 million. The company had been plagued with problems in the...
A student's farm crowdfunding venture
When Harper Adams University student Jack Stilwell launched a crowdfunding project in a bid to start his own beef farm, he was fully aware that the ve...
Holiday pay ruling 'will affect rural businesses'
Farming and estate business that rely on their staff to work overtime could be affected to some degree by the Employment Tribunal's ruling yesterday t...
Further price falls announced by dairies
Consecutive months of high domestic milk production, combined with the ban on dairy imports to Russia and falling returns from global commodity market...
Yorkshire machinery importer forges links with Polish giant
An East Yorkshire farm machinery importer has been awarded the contract to sell a leading European range of cultivation, spreading and seeding equipme...
NFU members plan milk meeting
Aled Jones, NFU Cymru Milk Board Chairman, will be guest speaker at the next Carmarthenshire NFU Cymru on-farm milk meeting on Wednesday, 12 November,...
Experts welcome financial boost for young farmers
Agricultural specialists have welcomed a potential financial boost for young farmers arising from Common Agricultural Policy (CAP) reforms. The Dep...
First Milk to reduce milk prices from December
With effect from 1st December 2014, First Milk will reduce the price for its liquid pool by 1.4 pence per litre and for its manufacturing pool by 1.8 ...
New Defra farm figures 'underline volatility'
New farm business income data from Defra, which focus on income from March 2013 to February 2014, show some significant swings in farm profitability a...
Farmers call for reassurances as Defra publishes new CAP scheme
More details have been unveiled today about how the new CAP will be implemented in England. The latest leaflet, which will also be posted to farmer...
UK farmland prices see 'substantial growth'
Prime arable land in the UK has seen a substantial year-on-year growth in prices of around 17.9%, according to a Q3 report. The average rate of gro...
NFU sends out plea to retailers over falling milk prices
With mounting concern over the falling milk prices on global markets, NFU Cymru Milk Board Chairman, Aled Jones, sent out a plea to processors, retail...
Irish beef farmers 'have had enough' as they begin protests
Irish beef farmers are set to protest the prices they are being paid for their cattle, arguing that they are well below the UK and EU averages. IFA...
Farmers 'a major target' for fraudsters
Farmers are being warned they are a major target for criminals trying to defraud them out of hundreds of thousands of pounds. Financial Fraud Action U...
NFU concerned over future rural cuts in letter to Chancellor
NFU President Meurig Raymond has written to Chancellor George Osborne outlining how he thinks agriculture would benefit from next year's budget. "A...
NFU 'dismayed' at Defra rejection of EU aid package
Government Ministers have decided not to take advantage of an EU aid package for fruit and vegetable producers impacted by the Russian trade ban, the ...
Dairy farmers will pay for the price of milk, warns NFU
With mounting concern over the falling milk prices on global markets, the NFU have issued a call to retailers and processors to safeguard the future o...
Supermarket price battles causing 'grocery deflation'
The grocery market is entering deflation as new share figures released today show that like-for-like prices have declined. Fraser McKevitt, head of...
Farmers threaten further protests as meetings held in Westminster
Further protests on falling milk prices have been announced today as the President of Farmers for Action attends a meeting with MPs in the House of Co...
Businesses to receive funding to solve food security challenges
Businesses will receive £5 million of funding to develop innovations to solve some of the world's greatest agriculture challenges such as food securit...
NFU urges retailers over falling milk prices
With mounting concern over the falling milk price on global markets, NFU dairy board chairman Rob Harrison has issued a call to retailers both in the ...
Farmers can double tax benefits by choosing renewables?
Farmers yet to take full advantage of their Annual Investment Allowance (AIA) should consider renewables as a way of doubling the potential benefits, ...
Government to cut subsidies to solar farms
Farmers will lose their right to claim subsidies for fields filled with solar panels under new plans to ensure more agricultural land is dedicated to ...