Finance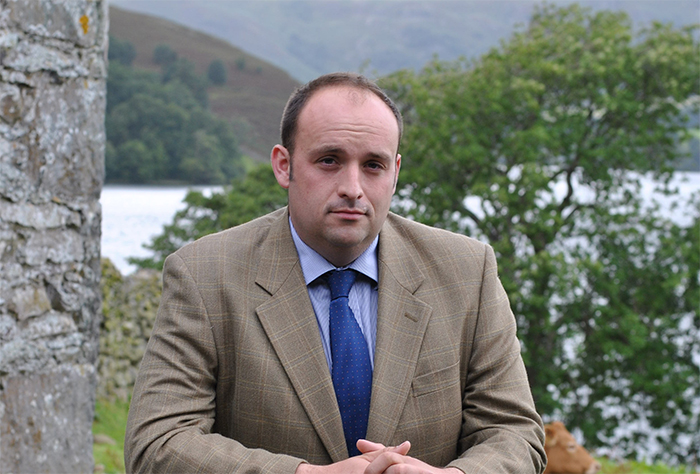 2014: A year of CAP reform preparations and volatile prices
2014 has been a year of learning and preparation for farmers ahead of the introduction of the new Common Agricultural Policy (CAP), which is now almos...
RPA farm grants bolstering UK farm businesses
At a time when prices for farmers' produce is falling, many welcome the support grants made by the Rural Payments Agency, meeting its end of December ...
Suffering dairy market shows signs of recovery
Though the dairy market continues to suffer from low prices, the rate of decline is slowing and could even show a price recovery predicted in the next...
Farmers 'disgusted' by Grocery Adjudicator's lack of teeth
Sharp decreases in the price of commodities, such as milk, lamb and beef, have highlighted the limitations of the Grocery Code Adjudicator. The Ten...
Welsh beef producers under pressure from fragile market
The current fragile state of specialist beef production was highlighted at a recent NFU meeting when it was reported that the number of beef cattle, o...
Starter farm tenants meet to boost their business
Tenants from all seven Forestry Commission Scotland starter farms came together last week for a forum to share their experiences and help to develop t...
Solar delivers a secure income for farmers - NFU vice president
Guy Smith, vice president of the NFU, has backed a new partnership to explore the relationship between solar farms and agriculture. He was speaki...
Upsurge in pulse crop growing prompts further roadshows
An upsurge of interest for pulse crop growing in the spring has prompted the further spread of the popular PGRO Pulse Roadshows for 2015. An addit...
Farmers concerned over abattoir waste charge rises
Farmers are expressing concern that abattoir waste charges have risen by more than 60 per cent in recent weeks. The NFU is now calling on those pr...
Top legal adviser to farmers appointed to RPA appeals panel
Head of the agriculture department at Lodders Solicitors, David Lodder, is to play a part in deciding appeals on Rural Payments Agency (RPA) decisions...
Simplification of CAP 'top priority for 2015'
Simplification of CAP is a 'top priority for 2015' according to farming union leaders who met recently with the new European Commissioner for Agricult...
Public urged to engage in land reform consultation
Anyone with an interest in rural Scotland's future should engage with the Scottish Government's land reform consultation, property groups have urged. ...
UK farmer confidence falling, according to new survey
Falling farmgate prices and market price volatility have contributed to a drop in farmer confidence, a new survey by the NFU has revealed. After th...
Muller announce cut in milk price paid to farmers
Müller UK & Ireland Group has given dairy farmers who supply the business a month's notice that its standard farm-gate milk price from January 10, 201...
MPs call for end of 'unfair tax' on landowners
A group of senior MPs has written to the Treasury backing the CLA's call to reform Capital Gains Tax (CGT) relief on land compulsorily purchased for m...
I want to help dairy farmers, new DairyCo chairman tells delegates
I want to all all I can to help the dairy industry react more quickly to good ideas, Gwyn Jones, the new chairman of DairyCo told attendees at the Nor...
UK agriculture could lose £905m under new pesticide laws
The loss of agrochemical actives as a result of recent EU criteria has the potential to cost UK agriculture over £905 million, according to a new AHDB...
Calf coats reduce feed costs, study finds
Using calf coats on calves born in the winter months can improve growth and reduce feed costs, according to researchers at Harper Adams University. ...
RPA 'must stay focused' as it makes record payments
The Rural Payments Agency (RPA) has already surpassed last year's performance on Single Payment Single (SPS) by making more payments than ever before ...
Beef farmers warned to 'get used to' increasing market volatility
Beef farmers have been warned to 'get used' to an unavoidable increase in volatility and a challenging future market, according to the Anglo Beef Proc...
Remote monitoring: Agri-tech growth market
Entrepreneurs with technologies for remote sensing and monitoring are encouraged to explore the market opportunities offered by the agri-food sector. ...
Autumn Statement blow for renewable energy funding
Buried beneath the headlines of the Autumn Statement the renewables sector will be feeling sore from the announcement from the Chancellor this week th...
Dairy producers urged to cut feed costs
There may be little festive cheer around for dairy farmers operating in a falling milk price environment, but many producers could cut feed costs by b...
Late TB tests mean CAP fines for farmers, Defra announce
Farmers who are late testing their cattle under compulsory TB rules will be fined a proportion of their CAP payments from next month, Defra have annou...
Farmers warned over oil theft rise
With the onset of winter and longer, dark nights, now is the ideal time for thieves to target oil tanks. Farmers are being urged to ensure its fuel is...
Autumn Statement: What it means for farmers
The freezing of fuel duty for a further year, exempting apprenticeships from national insurance, and a further extension to small business rate relief...
Dairy price slash a 'kick in the teeth' for farmers
The chairman of the NFU dairy board has expressed disappointment following the latest round of milk price cuts. Dairy companies First Milk and Dair...
First Milk and Dairy Crest announce milk price cut
Dairy companies First Milk and Dairy Crest will be cutting the price paid to farmers by January, a reduction of 1 pence per litre and 1.25 pence per l...
New flood defence spending 'worrying', says CLA
The government's announcement on how £2.3 billion will be spent on flood defence in England is not enough to stem the risk of future flooding, accordi...
Falling prices rock farm stability as RPA promise early payments
The Rural Payments Agency (RPA) has announced the values of entitlements for the three English regions under the 2014 Single Payment Scheme (SPS). ...
Russia grain tariff 'raises eyebrows'
EU grains opened in the red, following a slump in crude oil values, which staged their own "Black Friday" by falling to to 4-year lows after OPEC's de...
Lincolnshire chicken plant reconstruction 'deeply depressing', says animal group
The reconstruction of two farms which, last year, were destroyed by a tidal surge and led to the deaths of 700,000 chickens has been described as 'dee...
Farmers warned over Single Payment scams
Farmers are being urged to be cautious to a new twist on an old scam which has seen the farming community lose hundreds of thousands of pounds over th...
'Unanswered questions' remain over Countryside Scheme
The Countryside Stewardship Scheme will contribute around £900 million to rural businesses to help them improve the countryside environment. Many infl...
UK farming income rises 15%
New statistics have revealed increased production and prices boosted farm income to £5.6 billion last year. Total income from farming rose by £743 ...
Farmers risk losing out on subsidy due to poor exchange rates
British farmers risk losing out on a vital European subsidy because of poor exchange rates and hidden fees. Single Farm Payments will be made by th...
Government must stop 'ruthless milk discounting'
Ruthless retail milk discounting is not sustainable, and ultimately will damage the sustainability of the UK dairy industry, NFU dairy board chairman ...
Farmers 'should now know the rules' as Defra clarifies CAP issues
Further clarification of some of the more controversial elements of the new Common Agricultural Policy has been issued by Defra ahead of its introduct...
Arla Foods announce further milk price cut
Arla Foods have announced they will cut their milk prices paid to farmers by 1.63ppl from December. This is the second cut the company have announc...
Farmers warned of Christmas fraud risks
Farmers are being warned of the increased threat of fraud in the run up to Christmas as criminals deliberately target the agricultural sector. With th...
Fraud costing UK produce £11bn a year
UK food and drinks companies are losing more than £11.2bn a year to fraud and error, according to a new report. The research reviewed data from 73 ...
UK dairy farmers need to build new markets overseas
Concerns with recent drops in farmgate milk prices and the volatility of global dairy markets came to the fore at a recent meeting of dairy farmers in...
Farmers warned over tax implications of seasonal activities
Farmers, landowners and rural businesses are being warned to remember the tax implications of moving into other seasonal activities. • Letting lan...
Farmers face significant tax charges over HS2, NFU warns
Farmers have urged the HS2 Select Committee this week to cater for the hundreds of farm businesses blighted by the construction of High Speed 2. Ev...
Dairy industry needs to find ways of coping with market volatility
Pembrokeshire dairy farmers voiced their concerns regarding severe farmgate milk price cuts during a well-attended Pembrokeshire NFU Cymru on-farm mee...
Farmers welcome €4 million fund
NFU Cymru members in Meirionnydd welcomed the recent announcement by the Deputy Minister, Rebecca Evans, of a four million Euro fund to Hybu Cig Cymru...
More investment in agriculture needed to meet future demand
More investment is needed if the agricultural industry is to meet growing demand as increasing urbanisation within an expanding middle class are boost...
Firmer beef prices next year, report says
UK beef prices should firm up next year amid tighter supplies, according to the latest forecasts from EBLEX. The latest outlook for the UK beef mar...
Thousands more green jobs a 'missed opportunity'
A new report, released today by renewable energy experts Regen SW, reveals that 16,000 people are employed by south west construction businesses – but...
Dairy farmers voice market volatility concerns
Falling milk prices and the volatility in global dairy markets were put under the spotlight during a recent meeting of dairy farmers in Carmarthenshir...