Feed and Forage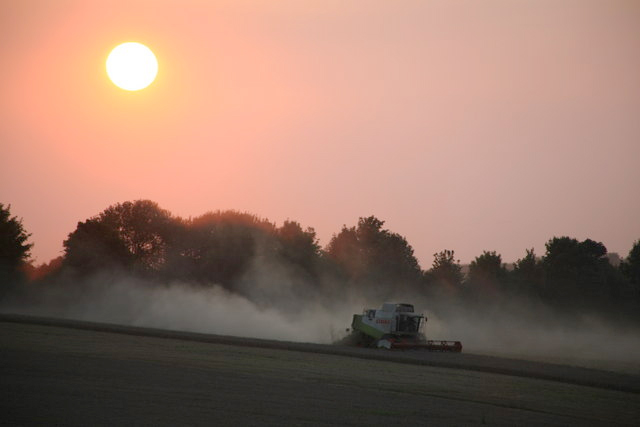 NFU highlights research into Schmallenberg
Representatives from the NFU have met with scientists at the leading UK research institute studying livestock diseases to hear of progress in understa...
Green entrepreneur urges planning process reform
A leading green entrepreneur has warned that delays and red tape in the current planning process are in danger of harming farmers' efforts to di...
Gov't to cut red tape for farming industry
The Government have announced a raft of measures to free farmers from 'unnecessary burdens' to help their businesses become more efficient...
Organisations attack Welsh stance on badger cull
Veterinary associations, the CLA and the NFU have expressed enormous disappointment at the backwards step being taken by the Welsh Government, which h...
New vet meds scheme makes online buying safer for farmers
Farmers can have more confidence in buying livestock medicines online after NFU lobbying resulted in the launch of a new accreditation scheme for vet ...
High lodging risk in winter wheat and winter barley
Thick forward cereal crops this Spring are at high risk from both root and stem lodging making growth regulators essential, according to ProCam UK Agr...
Small businesses take brunt of inspection charges
UK growers and importers will pay more for plant health inspections of fresh produce and cut flowers with swingeing increases in fees and charges to b...
Welsh policy based on conjecture says NFU head
'Devastating' is how the Minister for Environment and Sustainable Development has described the consequences of bovine TB but yet his anno...
Businesses prepare for 80,000 show visitors
Businesses are seizing the opportunity to get their message over to more than 80,000 visitors at the 2012 Kent County Show. Already several promine...
Farmers take control of exchange rates when applying for EU farm payments
Western Union Business Solutions (WUBS) is working with UK farmers to help them manage their annual European Union Single Farm Payment when electing...
Woodland carbon code is a million-tonne winner
Efforts to boost British forests' contribution to tackling climate change reached a key milestone this week. The amount of carbon dioxide predic...
Plant science critical to the health of the nation
Innovation in plant science is essential not only to safeguard the supply of safe, high quality, affordable food, but also to maintain the health and ...
Cross compliance failures cost farmers over £2m
Farm inspections last year revealed more than 2,000 breaches of cross compliance rules costing farmers and food producers over £2m in reductions to th...
Tribunal blow for farmhouse tax relief
Farmers must be careful to keep farmhouses in agricultural occupation following a successful appeal by HM Revenue & Customs in the Atkinson case. ...
Reseeding still pays despite price rise
Despite the increase in the cost of grass seed – up to 50 percent for some cultivars – reseeding remains an excellent investment, according to Barenbr...
Arcade maize scores for yield and early maturity
Barenbrug has launched a new maize variety that unusually combines high DM and starch yields with very early maturity. The variety, Arcade, has a t...
Concerns rise over agricultural anti-avoidance measures
HM Treasury this week announced changes to the rules for losses that can be claimed by a person from a property business with a relevant agricultural ...
Scottish Parliament breached human rights says Court of Session
The Court of Session, in a landmark judgement, has decided that the Scottish Government acted illegally in introducing legislation relating to agricul...
RPA starts 2012 round of payments for hill farmers
For the second year running, beef and sheep farmers working some of the most difficult terrain in England are receiving Uplands Transitional Payments ...
Market Report - 16/03/2012
GRAIN MARKETS - Jonathan Lane, Trading Manager WHEAT Spanish farmers are seen sowing 0.9% more land to winter grains – suffering from driest wint...
Golden chance for black-grass control in maize
Eastern counties arable farmers growing maize crops for AD power plants or livestock feed have the opportunity to target black-grass weeds with an alt...
Drought takes toll on Mexican agriculture
How drought will affect Mexico's demand for U.S. feed grains is hard to assess, but the impact is likely to be felt for two to three years, acco...
Survey identifies challenge of changing rainfall
Climate change, and its disruptive effect on rainfall, is causing problems for crop and grassland farmers across the UK with over a third  of farmers ...
Waitrose and NFU to showcase seasonal horticulture
The NFU is teaming up with Waitrose to showcase the best of seasonal British horticulture at two Royal Horticultural Society shows this summer. Wa...
BASC welcomes Defra snare code revisions
The UK's largest shooting organisation, the British Association for Shooting and Conservation (BASC), broadly welcomes the findings of an extens...
Changes to chlorpyrifos applications 'a must' for season ahead
Fruit growers are being urged to take heed of new chlorpyrifos application requirements ahead of the treatment season and make an immediate and wholes...
Peak district warns dog walkers ahead of spring season
Peak District dog-walkers are asked to keep their pets on short leads to protect young animals during the spring breeding season. Mauled bodies of...
Easter holidays spark safety warning for children
Children in the West country are being reminded about the potential dangers of farm animals and playing in the countryside ahead of the Easter school ...
ASA's Wellman testifies on Soybean Farm Bill priorities
The importance of passing a farm bill this year, a comprehensive and revenue-based safety net, the integrity of crop insurance, and the critical need ...
NFU Vice President to address farming summit
New NFU Vice President Adam Quinney will make his first official speech since taking office at a farming summit in London today (Wednesday). Mr Qu...
Complexity of soil debated at Vegetable Conference
A speaker from expert vegetable grower Produce World has given insight into new developments in soil management at a conference organised by Waitrose ...
US moves on UK beef 'positive', say NFU
Moves by the US Government to end the long-running ban on beef imports from the UK are a 'positive development', the NFU said today. Th...
Morrisons set to be biggest fresh food maker
Morrisons Chief Executive Dalton Philips will set out plans on Wednesday for the food retailer to become the UK's largest fresh food manufacture...
'15m to transform food manufacturing in the UK
From using sound waves to cook, to foods that fill you up faster - up to '15 million is on offer to anyone who can come up with ways to transfor...
Grower competition is 'good news' for consumers
Every grower and marketing desk understands the importance of how improved top fruit storage technology has extended the availability of fruit in the ...
Private water supplies forgotten in drought discussions - CLA
The CLA today said up to one million water users have not been accounted for in government plans for dealing with drought. The Association welcome...
Renewable technology demand remains high
Farmers are showing greater interest than ever before in renewable energy technologies, according to one of the leading companies in the sector. Ec...
Conserving water is now vital - NFU
New measures designed to minimise the impacts of potential water shortages this summer have been met with approval by the NFU. The Environment Agen...
Scrutiny leads to fine for UK salad importer
A Kent-based fresh produce importer has been fined '2,700 after marketing two separate consignments of Spanish tomatoes and cucumbers which were...
Act now in response to drought, warns Environment Agency
New report warns drought could spread to more areas of the country if dry weather continues Water companies and farmers, as well as businesses and...
Sire selection drives Stabiliser breed forward
Access to an elite team of Stabiliser sires has had a major impact on the Stabiliser breed, according to Richard Fuller, technical director of the Sta...
GM law reform fails to find favour
Proposals from the Danish Presidency to reform the EU legislation on approving GM crops for cultivation failed to reach a qualified majority at Friday...
High energy maize drives AD power output
Feeding in high energy maize will deliver the greatest power output from anaerobic digestion systems. And for the most efficient methane gas productio...
TFA warns against damaging NVZ proposals
The Tenant Farmers Association has warned both the English and Welsh Governments that proposals for changes to their Nitrate Vulnerable Zone (NVZ) act...
New beef line considered on Anglesey
Anglesey farmers have been told that a new beef line could be opened at the Vion plant on the island. Members of NFU Cymru Anglesey branch welcomed Mr...
Market Report - 9/3/2012
GRAIN MARKETS - Jonathan Lane, Trading Manager WHEAT Russian 2012/13 grain crop seen only 6-8% in poor condition and indicates country could have ...
Mansion tax proposals concern rural advisors
With the prospect of a new 'mansion tax' being widely reported as a possible measure in the forthcoming Budget on the 21st March, leading ...
Fendt launches new 300 Vario range
With its quality, reliability and ease of operation, the 300 Vario range from Fendt has found many enthusiastic users since 2006. In light of the emis...
New arrival saved at Hall Hill Farm
Mothers Day has an extra special meaning this year at Hall Hill Farm as a newborn calf is reunited with its mother after being found in a ditch shortl...
Farmers meet with police over theft worries
'I fully recognise and appreciate the devastating effect that theft has on the rural, isolated communities of Brecon and Radnor. I do however wa...