Diversification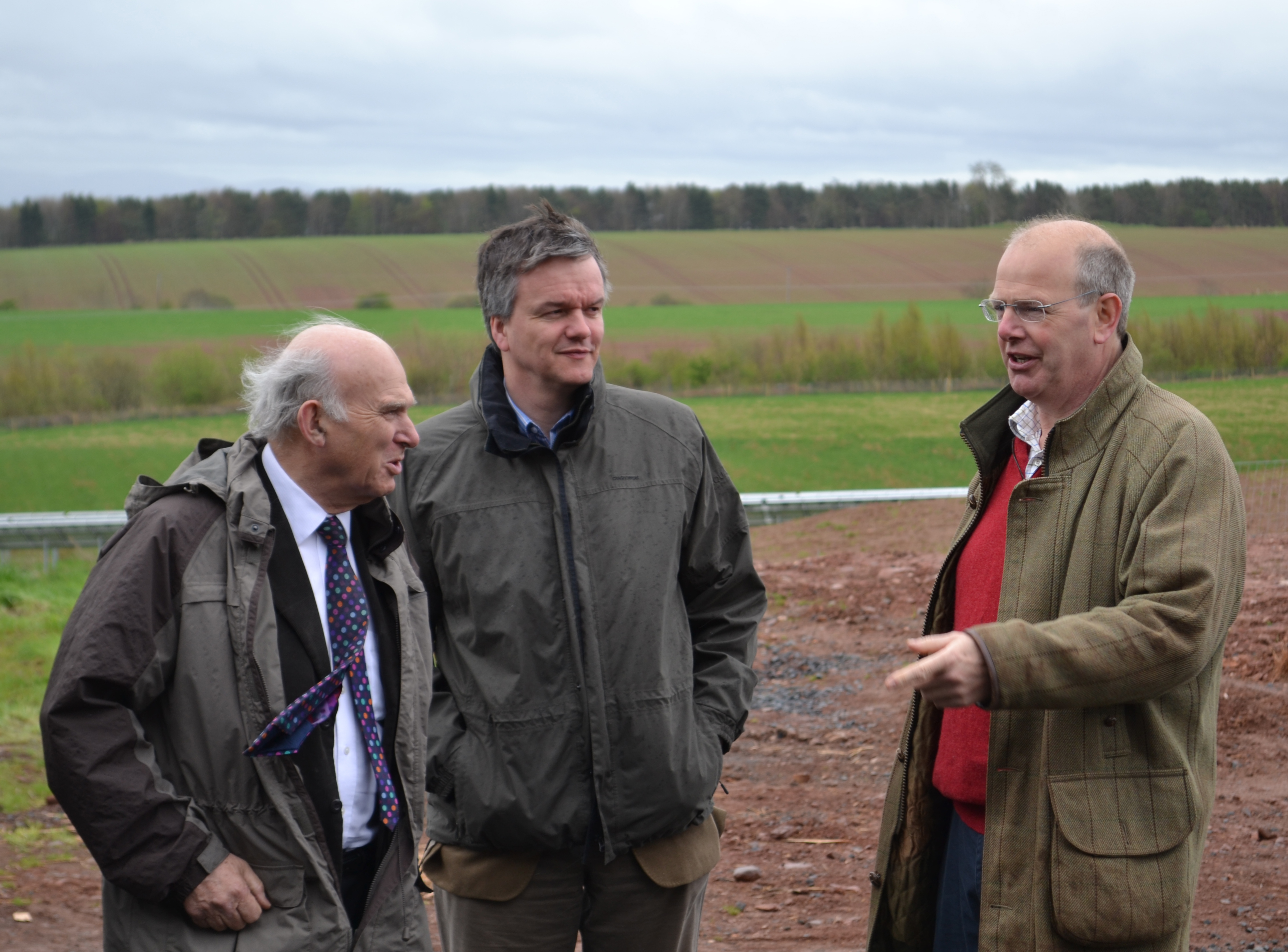 Biomass & Farming Businesses host Business Secretary
Secretary of State for Business, Innovation and Skills Vince Cable MP and Secretary of State for Scotland Michael Moore MP visited a growing farm-base...
Fisher German hunts for 'not spots'
The government has just announced that Arqiva has won the £150 million contract to improve mobile coverage in "not spots" across England, Scotland, Wa...
Rural planning specialists warn of dramatic changes
European scrutiny of fungicides and pesticides could change the British farming landscape according to a team of rural planning specialists. The Fa...
Dairy farm steps up banker education programme
A Wiltshire dairy farm is stepping up its campaign to help the banking industry make agricultural investment decisions. Stowell Farms in Pewsey sec...
Midlands rural business experts launch first book
Julie White and Nick Platt of Growing Rural Enterprise have worked together assisting rural businesses in the UK and overseas for over 14 years, from ...
Needham Chalks sold in multi-million pound deal
Needham Chalks has been sold to Bishop's Stortford based Harlow Agricultural Merchants, who also acquired a leading analytical laboratory business fro...
Marginal Areas can Drive Farm Profitability
The Government and farmers must do more to unlock the potential of marginal areas in the UK, it has been claimed. Anaerobic digestion (AD) speciali...
EnviTec completes three farm AD projects in the South East
Three farms in the South East are now producing their own electricity and exporting the surplus to the grid. EnviTec Biogas has completed the anaer...
EnviTec Biogas opens up natural gas market to UK farmers
New membrane technology means natural gas production is now a viable route to revenue growth on UK farms. The developments mean much smaller plants...
500kW Biogas Plant Unveiled at Melrose Pigs
A 500kW biogas plant has come online at Yorkshire producer Melrose Pigs. Commissioning is underway on the EnviTec Biogas anaerobic digestion projec...
Sustainable dairy industry vital for biogas prospects
The effects of the dairy crisis are being felt in the farm-scale renewables sector, it has been claimed. Anaerobic digestion (AD) specialists have ...
Rush for wind turbines as investors save £50,000 plus
The government's small wind subsidy proposals have created a £50,000 bonus for the 'quickest off their feet', says Glasgow based far...
Versadrill practice guide gives advice for soil management
A new soil management guide from Versadrill manufacturer Sumo aims to help farmers avoid the issues that can arise from compacted soils - whether in a...
Gaia-Wind in Double Awards Triumph
Leading UK farm scale wind turbine manufacturer Gaia-Wind Ltd today announced a winning double: • Listed as one of the fastest growing "Cleant...
Gaia-Wind shows stability and growth in small wind turbine arena
Scottish wind turbine manufacturer Gaia-Wind Ltd today announced positive results based on continued sales growth and significant operational developm...
Farming business F Tindall & Son purchase more land for diversification
F Tindall & Son today announced they have acquired a new site to further expand their farming business. Based in Newark, F Tindall & Son have hist...
Scotland gets to see which way the wind blows
With the debate about "Big Wind" farms, raging, the issues surrounding the "Small Wind" (agricultural level turbines), field have ...
Bananas and Sawmills Save the Planet
Mike Hillard owns a company called Tranquility Houses Ltd, in Stroud, Gloucestershire. In his eco-friendly home that costs only £60 to heat per annum,...
Countrywide Renewable Energy launches
Countrywide have announced the launch of a major new venture within their rural supply business that now gives the Company a prominent position in the...
Rush to secure wind turbines as subsidy list slashed
Farmers, small business and home owners with plans to install small wind turbines have been left in limbo as the scheme which determines which turbine...
Red Poll world tour visits Leicestershire
The Red Poll world conference 2011 has just taken place in the UK, with people travelling from around the world to be part of a 19 day tour learning a...
Fisher German part of NatWest & RBS valuation panel
Fisher German have been appointed as consultants to NatWest and Royal Bank of Scotland (RBS) to assist with due diligence reports and valuations for f...
Gaia Wind Number One in American Small Turbine Survey
Glasgow based wind turbine company Gaia-Wind, has swept the board in the annual survey of US small wind turbine industry professionals. Less than a y...
Hassle free a recipe for farming success
A new business venture combining caravans, camping and coast to coast cycling is proving a sound investment for farmers Robert and Julie Pickthall fro...
Inspiration for Care Farmers at Kingdom Horse project
A new care farming project is set to launch in Worcestershire at the beginning of May with the aim of showcasing innovative care farming projects and ...
Momentous Year Starts With a Bang As Gaia-Wind Launch Dedicated Monitoring System
World leading Small Wind turbine manufacturer today launched a revolution for turbine owners: the ability to monitor production from home, in car, or ...
Small Wind Turbines Information Revolution: Owners Can Now Manage Turbines from the Pub
World leading Small Wind turbine manufacturer Gaia-Wind today launched a revolution for turbine owners: the ability to monitor production from home, i...
Holiday lodge diversification project adds value
Manor House Farm near Wetherby has been a family farm for four generations, but the need to create an additional source of income and provide a secure...
Gaia-Wind Turbine has Energy Cashback Certificate
Gaia-Wind's leading edge 11KW turbine wind turbine has achieved Microgeneration Certification Scheme (MCS) accreditation. The turbine, designed...
West Midlands Project invites Farmers to Add Value
A West Midlands based Farming and Food Enterprise Development Project is hosting a variety of one day workshops across the West Midlands region, to in...
Somerset farm diversifies with three new projects
Aldwick Court Farm (ACF), based in Redhill, near Bristol, offers corporate events and team building activities such as clay pigeon shooting and tank d...
ADAS look for sites for UK's biggest Solar farm
ADAS partners with global Solar PV expert, Enfinity, to build biggest solar parks in the UK Leading UK agricultural and environmental consultancy, ...
Kiotech invests £2m in new plant
Kiotech, the international supplier of natural high performance feed additives to enhance growth, health and sustainability in agriculture and aquacul...
Llama trekking for Staffordshires rural entrepreneurs
A group of female entrepreneurs in Staffordshire will be trekking with llama's and tasting Buzzard Valley wines in a yurt for their next meeting...
Wyre Forest inspire farmers and producers
Businesses in The Wyre Forest are set to showcase their enterprises and share their knowledge with interested farmers and growers from across the regi...
Digestion generates power and fertiliser
Exciting new waste management initiatives instigated by Avonmouth-based waste-to-energy business, GENeco, could see a significant increase in valuable...
Kindling business enthusiasm for wood fuel
Business owners can find out about the incentives and funding available for woodfuelled heating systems, small-scale electricity generation and woodfu...
Fisher German promote renewable energy to over 2000 farmers and landowners
Fisher German is at the forefront of a major drive to inform farmers and landowners of their options when considering renewable energy. This has inclu...
Expand your horizons with New Crop Opportunities
New Crop Opportunities, the electronic farm management aid, developed by the British Crop Production Council (BCPC) has expanded and now describes ove...
Farm consultancy - long lasting solutions are key to keeping on top of today's challenging farm conditions
Farm Consultancy Richard Sanders advises that long lasting solutions are key to keeping on top of today's challenging farming conditions ...
Aviva warns farmers of the risks of diversifying
Diversification brings with it multiple risks as asset-rich farmers seek to enhance their income by making use of dormant outbuildings, says Aviva. ...
North Yorkshire farm diversification business reaches final of national food excellence award
A North Yorkshire real dairy ice cream manufacturer is celebrating after being short-listed in a national food excellence competition within weeks of ...
First landowners benefit from charity grant scheme
Devon Wildlife Trust has this month awarded the first of its capital works grants to a local landowner in North Devon. The awards form an important pa...
Ian expands his milk shake empire
Ian Philpott's enduring passion for milk shakes has brought him the basis of a successful business and provided a fillip for the North East dair...
Flowing with success
Inland marinas next to canal and river networks are one of the most profitable forms of rural diversification. Due to demand, the creation of inland m...
East Yorkshire farm diversification business beats brewing giant to scoop award
A Yorkshire Coast farm diversification business is celebrating after beating an established brewery to win a coveted food and drink award. In a Dav...
The Rising Cost of Food
Agricultural and food prices are on the up. Sharp price increases of wheat and oil, and indeed other basic food commodities, all point towards a m...
Woodfuel Training Courses
Rural Development Initiatives Ltd. (RDI) have announced that the three day 'classic' IGNITE course has been joined by a suite of other courses...
Good for corn, worrying for horn.
Well it has finally happened. Certain London fund managers were predicting it and farmers were hoping it would happen. Agricultural commodities have b...
Storwood firm fuels farmers ambitions!
A York-based bio fuels firm opened its doors recently to a party of farmers from across the region with a mini eco expo! Veg Oil Services (VOS), b...