Dairy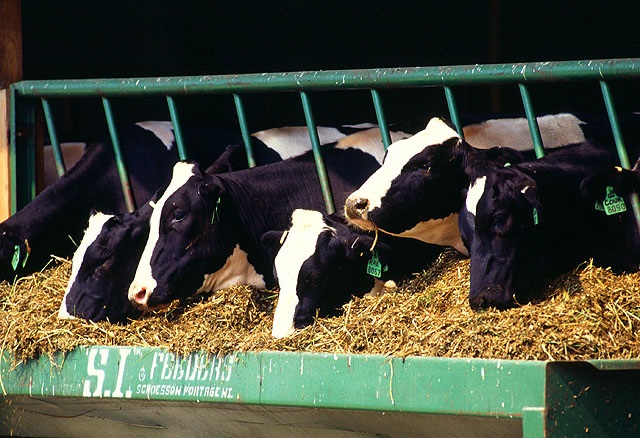 Dairy code must be given time to work - Williams
Ceredigion's Welsh Liberal Democrat MP Mark Williams, a member of the Welsh Affairs Select Committee, has welcomed today's publication of the Committe...
Voluntary Code of Practice report welcomed by NFU
NFU Cymru has welcomed a report published today by the House of Commons Welsh Affairs Committee following its inquiry last autumn in to the voluntary ...
Schmallenberg surveillance results out
The first round of Schmallenberg surveillance testing in Scotland is almost complete with no positive samples identified. NFU Scotland, working wit...
Tough times ahead for farmers, says Quinney
The next 12 months are going to be 'tough for farmers' as the adverse weather conditions continue to have a knock on effect according to NFU Vice Pres...
Call in milk buyers who fail to implement code, dairy coalition warns
The dairy coalition has called on Defra Farming Minister David Heath to call in milk buyers failing to implement the voluntary code. Processors we...
Muller group standard litre milk moves to 31.5ppl
Dairy farmer members of the Müller Wiseman Milk Group (MWMG) who receive the company's standard litre milk price are to benefit from an increase to 31...
Vital vaccine shortfall for hill farmers
Hill farmers may struggle to control tick-borne diseases in their flocks this season after it emerged that supplies of vital vaccine have been disrupt...
Milkmen are the £300m corner-shop on wheels says Dairy UK
Britain's milkmen are delivering more than £300 million worth of dairy products and household necessities. The milkman has become 'the corner shop ...
NFU challenges Tesco to commit to British farming
The National Farmers' Union has called on Tesco to help bring profitability back to British farming after the commercial director for the retailer, Ke...
Welsh milk producers look ahead
Welsh dairy farmers expect their milk buyers to seek markets that maximise in full the value of milk and dairy products in order to secure future supp...
Dairy farmers 'losing confidence,' says survey
DairyCo's Farmer Intentions Survey results for 2013 has reflected the challenging year experienced by dairy farmers across the UK, with a significant ...
Dairy farmers: Your health and safety matters to GEA
In light of recent statistics by the Health and Safety Executive highlighting agriculture as the sector having the highest injury and death rates in t...
Berkshire dairy farm bottles biomass savings
A Berkshire dairy farm has joined the growing number of agricultural businesses who are making the switch to renewable energy, as an effective way to ...
Farm groups lobby MPs over milk price crisis
A former chairman of the Farmers' Union of Wales milk and dairy produce committee is to lobby MPs at Westminster today about imminent cuts in farmgate...
Muller confirms Commercial Director appointment
Dairy products producer Müller Dairy has confirmed the appointment of Bill Mathieson (42) as Commercial Director Currently European Vice President ...
Kenilworth Show to adopt new dairy theme
Coventry and Warwickshire's biggest one-day agricultural show will have a new theme this year – and organisers will be 'milking it for all it's worth'...
Dairy farmers urge supermarkets to 'play fair'
Supermarkets must end their resistance to rises in the cheese market or run the risk of dairy processors shifting milk into alternative products, UK d...
Defra extends dairy fund deadline
More dairy farmers can now benefit from cash in the £5m dairy fund pot after Defra agreed to extend the deadline for applications. The NFU had cal...
Dairy farmers to unite for better deal
Dairy farmers will have more power to get a good deal in the marketplace under changes coming into effect on Monday 8 April, Farming Minister, David H...
Major breakthrough in tackling production disease in dairy cows
This month veterinary practices will have access to a solution designed to reduce the incidence of ketosis in dairy herds by 74% following a single tr...
Tesco confirms price rise for dairy farmers
700 farmers who make up the Tesco Sustainable Dairy Group will receive a rise in the price they are paid for their milk to 32.77ppl, the supermarket c...
Commit to British farmers, says Dairy Coalition
The Dairy Coalition has warned buyers, processors and retailers 'must commit to British farmers' to deliver better market returns as recent reports sh...
Dairy profits drop by 13% as outlook 'remains bleak'
Lower milk prices, falling production and soaring input costs are contributing to falling profitability in the dairy industry, according to rural acco...
DairyCo appoints new board members
The Agricultural and Horticulture Development Board (AHDB) has appointed three members to its DairyCo board. Dairy farmers Janette Prince, David Co...
Dairy farmers urged to place more calves on rearing market
Dairy farmers could secure an important place in the new push to produce large volumes of high quality, high priced beef sired by native breed bulls f...
Dairy industry urged to unite over working strategy
The UK's dairy industry will fall behind in terms of scale and efficiency if it fails to keep up with global growth according to the NFU who are urgin...
Fears for dairy farmers as plant set to close
Plans to close a Carmarthenshire dairy plant will place downward pressure on farmgate milk prices warned the Farmers' Union of Wales today. The da...
Cheese plant closure threatens 70 jobs
A Canadian-owned cheese production plant in Carmarthenshire is set to close, affecting 70 jobs and its local suppliers. The dairy plant in Newcastl...
Earlier first cut silage and quicker livestock turnout
Livestock farmers can enhance the growth rate of their grass, leading to earlier first cut silage, earlier turn out and higher productivity, through t...
Ufac appoints Egyptian distributor
Ufac-UK has appointed Unitrade Egypt Company as a new distributor for their dairy and poultry supplements for the whole of Egypt. This was marked ...
Dairy farm steps up banker education programme
A Wiltshire dairy farm is stepping up its campaign to help the banking industry make agricultural investment decisions. Stowell Farms in Pewsey sec...
Nampak creates lightest four-pint plastic milk bottle
Nampak Plastics, a producer of plastic milk bottles, has created the world's lightest ever four-pint high density polyethylene (HDPE) bottle. Weig...
Milk buyers confirm voluntary code stance
Dairy farmers who supply Müller UK & Ireland Group will now be covered by the Voluntary Code of Practice, the company has said. The first milk supp...
Arla launches direct milk supply contract
The first milk supply contract fully compliant with the new voluntary code of best practice has been launched by Arla Foods. The new Arla Direct de...
Environmental Stewardship derogations continue due to bad weather
Natural England will be continuing to make its Environmental Stewardship scheme derogations available due to recent wet weather and snowfall. They ...
New system ups mill output by 25 per cent
A new process control and information system is streamlining production and boosting daily output by over 25 per cent at Ufac-UK's specialist livestoc...
Use code of practice or face consequences, warns dairy coalition
Milk buyers must implement the dairy industry Code of Best Practice in milk supply contracts or face the consequences, the dairy coalition has warned....
Red Tractor consults on dairy welfare measures
Red Tractor Assurance (RTA) has worked with dairy representatives to develop proposals that would improve the RTA Dairy scheme, by proposing key welfa...
FUW hosts Breakfast Week events to promote Welsh food
Events ranging from a hearty breakfast in a Snowdonia farmhouse kitchen to a prestigious lunch at the House of Lords have been organised by the Farmer...
Dairy UK and WRAP sign commitment to reduce water usage
Dairy UK and WRAP have signed an agreement that will see Dairy UK become an official partner to the Federation House Commitment (FHC). The FHC is ...
Keenan wins Science award with livestock feeding system
An innovative approach to feeding dairy and beef cattle has won the 'Practice with Science' award presented by the Oxford Farming Conference and the R...
Record year for Rugby Farmers Mart
A livestock market formed by 250 local farmers has brought the hammer down on its most successful year. The Rugby Farmers Mart (RFM) at Stoneleigh ...
Heath launches dairy industry scheme
Dairy farmers will have greater clout in the marketplace under plans to boost industry collaboration launched by Farming Minister David Heath. Heat...
Don't spoil next year's summer, dairy farmers warned
Don't let next year's 'glorious summer' be spoilt by this year's awful one said dairy farmers from Ufac-UK. Much nutritional advice directs dairy f...
FUW's guarded welcome to creamery's multi-million pound plans
Leading Welsh dairy co-operative South Caernarfon Creameries is pulling out of the local liquid milk market. But Farmers' Union of Wales milk and d...
GEA Farm Technologies acquires Milfos International
GEA Farm Technologies has completed its acquisition of dairy technology firm Milfos International Group. With its headquarters based in Hamilton, N...
CAP reform presents Dairy with mixed bag
Dairy UK has published a briefing for decision makers and opinion formers on CAP Reform and says that the current round of proposals presents a mixed ...
Black and White sale set to attract elite dairy genetics
The 2012 edition of Harrison and Hetherington's Black and White Sale held at Borderway, Carlisle will be one of the most anticipated events in the Hol...
Dairy costs 'increasing at alarming rate' as union leaders meet
Representatives of UK farming groups met in Cardiff this week to discuss the future of the dairy industry. During the two-day meet, representatives...
Muller Wiseman raises milk producer price
Dairy farmers who supply Müller Dairy and Robert Wiseman Dairies are to see their milk price rise to 30.5 ppl. But Farmers for Action campaign grou...