Dairy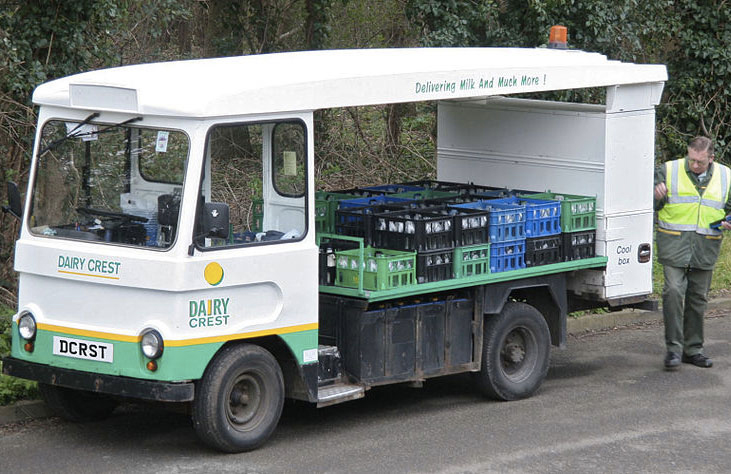 Dairy Crest recalls milk on contamination fears
Dairy Crest Ltd has recalled certain date codes of Morrisons and Supervalu from Budgens Whole British Milk on a precautionary basis, because the produ...
Caution urged over Swedish milk study
A diet rich in milk is promoted to reduce the likelihood of bone fractures but a high intake may have undesirable effects, according to new research. ...
Future of Scottish dairy to be debated at AgriScot
The future direction of the Scottish dairy sector will be debated at next month's AgriScot event, being staged on Wednesday 19 November at Ingliston, ...
NFU sends out plea to retailers over falling milk prices
With mounting concern over the falling milk prices on global markets, NFU Cymru Milk Board Chairman, Aled Jones, sent out a plea to processors, retail...
Dairy farmers will pay for the price of milk, warns NFU
With mounting concern over the falling milk prices on global markets, the NFU have issued a call to retailers and processors to safeguard the future o...
'Extremely worrying times' ahead for farmers, says NFU
With farmers facing significant challenges heading into the winter, the Government is being urged to come forward with proposals for how they intend t...
Farmers threaten further protests as meetings held in Westminster
Further protests on falling milk prices have been announced today as the President of Farmers for Action attends a meeting with MPs in the House of Co...
NFU urges retailers over falling milk prices
With mounting concern over the falling milk price on global markets, NFU dairy board chairman Rob Harrison has issued a call to retailers both in the ...
Dairy Council attacks Daily Express article on cancer
An article by the Daily Express linking dairy consumption to cancer have been branded as 'unfounded and inaccurate' by the Dairy Council today. Dr ...
Farmers have their say on dairy crisis as prices show slight rise
"We need to keep it up and we need to intensify the protests, if we are to stop any further price cuts and start to get farmgate prices up as fast as ...
'Exciting opportunities' for Turkey's developing dairy market
Turkey's developing dairy market offers exciting opportunities in its emerging export industry with access to markets that western players have previo...
Dairy Crest signs collaboration contract with Harper Adams
Dairy Crest and Harper Adams University have signed a collaboration contract which will see 'Food Innovation Centre's' being built on campus. Dairy...
Dairy Association to meet with MPs over price crisis
The Royal Association of British Dairy Farmers is entering talks with leading MPs to express its concern over the current farmgate milk price cuts. ...
Why is the price of milk falling?
British consumers say they want to back dairy farmers after learning that the price they are paid has dropped significantly in the past few months. Bu...
Winner of NFU Dairy Stockperson of the Year announced
Carl Poole, from Meifod, Powys, has been announced as the winner of the 2014 NFU Cymru / NFU Mutual Welsh Dairy Stockperson of the Year Award during t...
Retailers 'taking advantage of dairy volatility' - NFU
Dairy farming businesses are feeling the pain following a downturn in global dairy commodity prices being translated into damaging farmgate price cuts...
Farmers plan further milk protests
"Further protests are planned for the coming week, members and press will be notified," Farmers for Action said after over 500 people attended the pro...
Retailers urged to support British dairy farmers
Support for British dairy farmers from retailers and the government is 'vital' after farmgate milk prices have plummeted following the trend on world ...
Dairy Code of Practice: 'Risks creating a division within the industry'
The Dairy Industry Code of Practice for Contractual Relations (VCOP) was agreed and introduced in 2012 to replace conflict and divisiveness between pr...
UK Dairy Day success promises exciting 2015 event
UK Dairy Day promises to be even bigger and better next year, after enjoying success last month. The inaugural event attracted more than 6200 visi...
Dairy farmers set for Wednesday milk price protest
Dairy farmers are set to take part in a second milk price protest on Wednesday, in Somerset, Farmers for Action have confirmed. "As predicted the c...
Eight EU member states 'exceed milk quotas'
Eight EU member states exceeded their milk quotas for deliveries in 2013/2014 and must therefore pay penalties. Germany, the Netherlands, Poland, D...
First Milk confirms November price cuts
With effect from 1st November First Milk will be cutting the price for its manufacturing pool by 0.3 pence per litre and for its liquid pool by 1 penc...
Retailers must support dairy farmers after price slump, NFU says
Many dairy farmers are feeling financial pain following a downturn in global dairy commodity prices and retailers have been urged to look for ways to ...
Dairy Crest announces milk price cut
Dairy Crest have announced a cut of 1.3 ppl for farmers on standard Liquid and Davidstow contracts from 1st November 2014. The company recently sai...
Cost control 'critical' to dairy farm profits as prices slump
Although dairy farmers' income jumped sharply last year, cost control will be critical if they are to weather this autumn's low milk prices, rural acc...
Milk price crisis: 'Cuts getting more severe with more excuses'
'The cuts keep coming' dairy farmers were warned by Farmers for Action group, 'getting more severe each time with more and more excuses' as a number o...
Arla cuts milk price paid to farmers
Arla Foods has announced a cut of 1.67ppl for its milk price paid to UK farmers. In addition, the next quarter's currency exchange rate takes effec...
Tesco cuts price paid to dairy farmers
Tesco has today confirmed it will cut the price it will pay to British dairy farmers for six months from the 1st November, following an independent co...
Pressure on milk prices: Dairy Crest to cut 260 jobs
Dairy Crest will close two factories, in what it calls a 'challenging trading environment', which will put 260 jobs at risk. "Our Dairies operation...
NFU spells out priorities ahead of 2015 General Election
A Government that understands farm businesses, wants agriculture to grow and has the policies that send the right signals to farmers, are the key mess...
A health check for your soil
Soil is the basic raw material of farming and fundamental to agricultural productivity. Traditionally soil health has been seen largely as a function ...
Win £1000 off your next fertiliser order
Quality fertiliser is the key to yield and that holds true whether it's applied to grass, other forage or arable crops so this great prize of £1000 to...
Dairy crisis meeting planned after price crash
In the wake of very gloomy times ahead for British dairy, Farmers for Action have organised a series of crisis meetings which senior figures in the NF...
FUW welcomes All-Party Dairy Group
The Farmers' Union of Wales has today welcomed the establishment of a new Dairy All-Party Parliamentary Group. The group, which held its first mee...
New Westminster dairy group formed
Members from both Houses of Parliament and across the political spectrum have formed a new Dairy All Party Parliamentary Group. The group will focu...
Europe backs UK dairy but 'more to do'
NFU dairy board chairman Rob Harrison, working with European farmer colleagues, has convinced the European Commission to include the UK's cheese secto...
Arla scheme aims to help farmers' efficiency
A new three-year sustainable dairy farming initiative, involving up to 3,000 British farmers has been launched by Arla Foods. It is part of the com...
Walk over weighing system offers improvements in dairy herd health
UK milking equipment manufacturer, Fullwood Limited, has announced the launch of a walk over weighing system which offers dairy farmers the ability to...
Grass roots approach helps boost milk yields
A seed mixture designed to maximise the grazing period for cows has contributed to an increase in profitability for Andrew and Margaret Smith, who far...
Time running out to enter Dairy Stockperson Award
Time is running out to enter the NFU Cymru / NFU Mutual Dairy Stockperson Award, which recognises dedicated, committed and enthusiastic dairy stock ma...
Dairy farmers risking cows' health with feeding, research says
Dairy farmers are potentially risking their cows' health, fertility and production by inadvertently feeding rations containing mycotoxins and bacteria...
Plaid demands action on milk prices
Shadow Agriculture Minister Llyr Gruffydd AM has called on the Welsh Government to act in response to deepening difficulties in the milk sector. Sp...
Farming unions take milk price fight to Brussels
The NFU has taken the battle to protect the UK's dairy farmers to Europe as further price cuts and market volatility risk threatening the industry. ...
New research aims to improve dairy cow health
An new collaboration has been established to drive the innovative application of sensors to improve dairy cow health and welfare. The collaborativ...
FUW 'frustrated' at latest milk price cuts
A former chairman of the Farmers' Union of Wales milk and dairy produce committee has expressed frustration at the significant cuts in the price farme...
Innovative dairy hygiene products at the UK Dairy Day
For the dairy industry, lameness remains one of the most significant welfare issues affecting productivity, with over half the average dairy herd expe...
Dairy companies cut price paid to farmers
Leading dairy companies Dairy Crest and Müller have announced a cut of 1.75ppl and 29.00ppl respectively for farmers on their milk contracts from the ...
EU announces emergency support after Russian ban
The European Commission has announced today that it will open Private Storage Aid for butter, Skimmed Milk Powder (SMP) and certain cheeses in order t...
Cattle feed or biogas? Bangor study reveals important environmental trade-offs for biogas production on dairy farms
There is increasing interest in on-farm anaerobic digestion (AD) in the UK to manage animal manures and food waste, and to generate renewable electric...