Dairy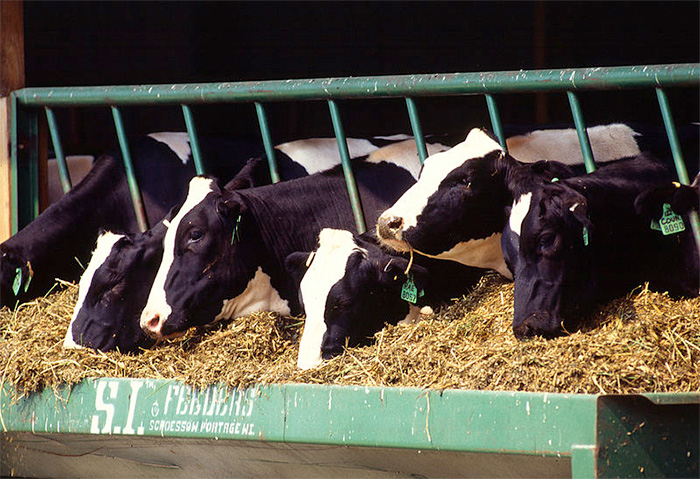 Booming milk production 'could trigger cash flow problems' for dairy farmers
Booming UK milk production could trigger cash flow issues for dairy farmers, an agricultural expert has said. Figures just released show that provi...
Commission launches Milk Market Observatory
A new European Milk Market Observatory is being launched by European Commissioner for Agriculture and Rural Development Dacian Ciolos. In light of...
Australian dairy 'offers best risk returns in global agriculture'
Australian dairy currently offers the highest risk-adjusted return of any sector in global agriculture, according to Aquila Capital. Surging global...
Report reveals positive outlook for Welsh dairy
The Welsh dairy processing sector must capitalise on the current positive market situation to create a more sustainable industry for the future, a new...
Farmer's despair as nearly a quarter of dairy herd lost to TB
Dorset dairy farmer Paul Gould is facing the prospect of losing nearly a quarter of his closed dairy herd after the animals reacted positively at his ...
Tesco increases milk price paid to farmers
Tesco announced the new price it will pay British dairy farmers for their milk. Tesco Sustainable Dairy Group (TSDG) members will receive the new p...
Collaboration is key to take advantage of dairy growth, says Raymond
The agriculture industry needs to work together to take full advantage of the growth in demand in the dairy sector, NFU President Meurig Raymond has u...
Dairy industry shows improvement in energy efficiency
The UK dairy industry has shown a significant improvement in its energy efficiency performance. Data collected by Dairy Energy Savings (DES), which...
Livestock event to stage world's first live robotic demonstration
The world's first combined live robotic milking and feeding system demonstration at an exhibition will be staged at the Livestock Event, to be held at...
Welsh dairy farmers urged to take chance
Dairy farmers are determined to have their say about how their industry develops. The initiative which involves farmers completing a short question...
Docks are ready to grow
Docks have continued growing throughout the winter and are now ready to grow rapidly as soon as the weather warms up. They could start growing earlier...
International dairy pricing 'to ease through 2014'
Global milk pricing is expected to ease from mid to late Q2 2013, according to the Q2 Dairy Quarterly report. Exportable supply rose strongly in Q4...
Muller to offer 33.60ppl from April
Dairy farmer suppliers to Müller UK & Ireland Group are to receive a milk price of 33.60ppl in the new milk year. The move benefits all Müller Wise...
First Milk confirms the payment of its year-end returns
First Milk confirms the payment of its year-end, return on investment, to members. A strong performance over the last six months of the financial ...
Farm groups join dairy growth plan
The Dairy industry sustainable growth plan, Leading the way, took a big step forward this week, as the Royal Association of British Dairy Farmers (RAB...
Voluntary code review evidence timetable extended
The review of the Dairy Industry Code of Best Practice on Contractual Relationships (Voluntary Code) has extended the deadline for evidence. Eviden...
NFU appoints Rob Harrison as dairy board chairman
Gloucestershire farmer Rob Harrison has been elected as the new chairman of the NFU national dairy board. Mr Harrison, who farms 430 acres near Mo...
Optimism in dairy industry despite 'unfair returns'
Dairy farmers are still not getting fair returns from the market – but the expansion of Arla could finally provide transparency, according to agricult...
Harper Adams conference links farming, science and nutritional food value
Harper Adams University is set to host the 2014 Frank Arden Memorial Conference on 24 April, supported by the Nuffield Farming Scholarships Trust. ...
Muller Wiseman formula price set at 3ppl
Müller UK & Ireland Group has confirmed that its opening 'Müller Wiseman Formula Price' from April 1st 2014 will be 33.00ppl. In a letter to all no...
Price increase for farmers on Dairy Crest formula contract
Dairy Crest and Dairy Crest Direct (DCD) have jointly announced the launch of two new contract options for the start of the milk year. Delivering on D...
National Dairy Apprenticeship programme at Plumpton College
National Dairy Apprenticeship programme at Plumpton College Just ahead of National Apprentice Week, Plumpton College and LKL Services Ltd have join...
Plumpton College Open Day
Plumpton College has an Open Day on Saturday 10th May 2014. There will be courses and careers advice, apprenticeships information, business trainin...
Greener pastures for one of the South's leading dairy farms
A leading dairy farm based in Shaftesbury is using the latest heat recovery technology to improve energy efficiencies while retaining high production ...
Unlocking Poland's dairy potential
The dairy industry in Poland provides plenty of investment opportunities to those players who have the right strategy, according to a recent report fr...
Dale Farm buys Ash Manor Cheese
Dale Farm has further boosted its growing British market presence with the purchase of the Ash Manor Cheese business, based in Wrexham, for an undiscl...
Dairy association launches training programme
The Royal Association of British Dairy Farmers has launched a new nationwide training programme designed to enable producers to strengthen their busin...
Best Product award for SAC milking robot
SAC Netherlands, developers of milking equipment for dairy farmers, was awarded Best Product at the Agrofarm exhibition Moscow for its Futureline MAX ...
Dairy Code of Practice review to be chaired by MSP
The inaugural review of the Dairy Industry Code of Best Practice on Contractual Relationships (known as the voluntary code) will be chaired by Alex Fe...
Protein measurement standard expanded
IDF and ISO have joined forces to expand the scope of an international standard used worldwide in the dairy industry to measure the protein content of...
Spring Lambing Day at Walford Campus
The Walford Campus has over 90 different species of animal ranging from a 275 strong dairy herd to Alpacas, Meerkats and Chinchillas. You will have an...
2014: A milestone year for dairy sustainability
The dairy industry will face a new raft of challenges on sustainability during 2014, which will have important ramifications for the supply chain, acc...
Widest choice of bloodlines in Cogent's new Jersey catalogue
Cogent's new Jersey catalogue will be landing on doormats this week and bringing milk producers their widest choice of bloodlines for this Channel Isl...
FSA launches raw milk consultation
The Food Standards Agency (FSA) has published proposals that would continue to allow farmers to sell unpasteurised, or raw, milk to consumers from the...
UK Dairy Day launched at Telford
UK Dairy Day was launched this week at an open day attracting over 60 interested dairy trade suppliers ahead of the event in Telford on Wednesday 17th...
Catchment Sensitive Farming grant scheme opens February
The Catchment Sensitive Farming Capital Grant Scheme will open for applications on 1 February 2014. The grants scheme supports farmers to undertake...
UK's protected food names 'boost EU economy'
More than 60 unique British foods have now achieved protected status to help safeguard the products and deliver boosts to the economy. Anglesey Sea...
UK milk production continues to increase
According to the RPA's Wholesale Milk Production report released on 10th January 2014, December 2013's UK milk production stood at 1.150 billion litre...
Sainsbury's reviews price paid to British dairy farmers
Sainsbury's has set a new price paid to its British dairy farmers through the sustainable Cost of Production (COP) model. Due to the cost decrease ...
Dairy UK appoints new communications manager
Dairy UK announced today it has appointed Caroline Leroux to lead its communications team. Caroline has significant international experience in th...
Chinese demand to drive high dairy prices in 2014
International dairy commodity prices strengthened from already high levels in the three months to mid-December and are expected to remain high at leas...
FUW officer's retirement present is a milk churn!
Loyal workers are often delighted on retirement to receive a memento of their service such as a watch or clock but Farmers' Union of Wales employee Me...
United dairy industry pitches strategy to government
A united dairy industry has presented plans for an industry strategy to government, aimed at joining up plans to strengthen the sector. The NFU, D...
Shropshire dairy herd to be sold at auction in Shrewsbury
The entire milking portion of an unrecorded Shropshire dairy herd is to be sold at auction next week following a family's decision to cease milk produ...
FUW concerned over proposed closure of Whitland dairy
The proposed closure of Dairy Crest's Proper Welsh Milk dairy at Whitland in Carmarthenshire is a major body blow for the region's capacity to process...
Simon Bates to leave Dairy UK
Simon Bates, Director of Communications at Dairy UK, announced today he is to leave the organisation. Bates, who has worked for Dairy UK and predec...
Union meets dairy farmers in Campbeltown and Bute
The issues affecting dairy farmers in more remote areas of Argyll and Bute have been at the forefront of discussions this week. NFU Scotland met wi...
Rising milk production costs continue to squeeze margins
Higher average prices for globally traded dairy commodities have not necessarily brought higher average margins for milk producers, according to a new...
New Purpose-Built Soil Testing Laboratory Opens in Norfolk
A new state-of-the-art soil testing laboratory was officially opened by Sir Ben Gill last Thursday, 21 November 2013. The new laboratory has been purp...
Cow Watch services helps boost dairy farm fertility
A new monitoring service aims to boost herd health, fertility and production by helping farmers make better use of milk recording data. Wynnstay's ...