Dairy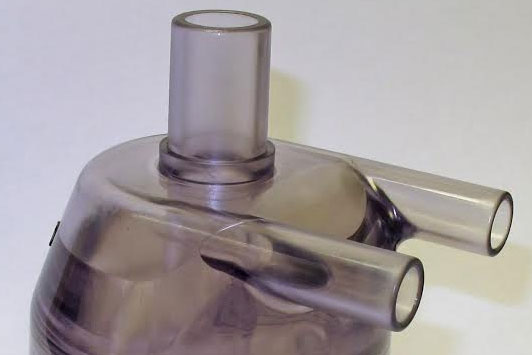 Claw launched for better sheep and goat milking
UK milking equipment manufacturer, Fullwood Limited, has announced the launch of a new sheep and goat milking claw which offers improved efficiencies ...
TB ranked as greatest constraint for dairy farmers
The initial findings of the most comprehensive survey of dairy farmers were released at the Royal Welsh Show today with responses indicating a 20% ris...
Dairy Crest announces price cut from September
Dairy Crest has announced a price reduction of 1.1ppl to farmers on standard Liquid and Davidstow contracts from 1 September. Both price changes have ...
Redesigned claw for better sheep and goat milking
The Fullwood RP1 is a vertical unloading clawpiece, designed for use in parlours where the milking equipment is mounted at a high level – such as the ...
Dairy Crest sales grow compared to first quarter
Dairy Crest is issuing the following Interim Management Statement for the 3 months ended 30 June 2014 at its Annual General Meeting later today. ...
More farmers keen to boost protein value of crops
As the annual cereal harvest looms, alkasystem feed and forage specialist FiveF is reporting a surge of interest from dairy farmers keen to boost the ...
Dairy Crest announces global partnership with Fonterra
Dairy Crest, the leading UK-owned dairy foods company, has announced that it has entered into a partnership with Fonterra, the world's leading dairy e...
Milk price cuts causing 'lack of trust', says NFU
Recent price cuts by milk buyers have caused a lack of trust which must be addressed if the UK is to be competitive in the growing global dairy market...
Muller confirms milk price reduction from August
Müller UK & Ireland Group has confirmed that its August milk price will be reduced by 1.2ppl. In compliance with the Voluntary Code which requires ...
First Milk August milk prices confirmed
From 1 August the milk price for First Milk's liquid pool will reduce by 1.75ppl and the milk price for its manufacturing pool will reduce by 1.25ppl....
Powys mega dairy case dismissed
The building of a controversial factory dairy farm can now go ahead following the High Court announcement. The World Society for the Protection of ...
Pricing models need to be developed for dairy sector, says NFU
Milk buyers are being called on to develop pricing models and a strategic partnership with their suppliers. This is after recent announcements by v...
First Milk cuts price as downward dairy trend continues
From 1 July the milk price for First Milk's manufacturing pool will be cut by 1.15ppl. First Milk chairman Sir Jim Paice MP said: "Unfortunately th...
Dairy Crest cut price paid to farmers
Dairy Crest has announced a price cut of 1.25 ppl for farmers on standard liquid contracts from 1 July. The new price will be 31.2 ppl after the cut. ...
Elanco provides platinum support for dairy industry with 'seminar sandwich'
At a time when driving the dairy industry forward has never been so crucial, Elanco Animal Health is delivering educational support. Its latest com...
Campaign launched to tackle dairy diseases
A new campaign to promote better control of four major diseases affecting the profitability of dairy farming has been launched, led by DairyCo. BVD...
Booths pledges highest milk price for farmers
Booths, a family owned food and drink retailer, launched today a new milk product paying the highest supermarket price of 35.5p per litre to farmers. ...
June milk price reduction for First Milk
As a result of the continued downward trend in commodity markets over the last few months, First Milk will reduce the milk price for its manufacturing...
Leading geneticist recognised for dairy contribution
A leading animal geneticist from Scotland's Rural College has been presented with a prestigious award for her contribution to the livestock industry. ...
Farmers frustrated over milk price cuts
As milk processors begin to cut the price paid to dairy farmers for their milk, farm groups have expressed disappointment that farmers fail to receive...
Muller cuts milk price from June
Müller UK & Ireland Group has confirmed a cut to its milk price to 32.00ppl from June 1. The 1.6ppl adjustment to the Müller Wiseman Milk Group (MW...
Aspiring dairy producer training programme launches
A new business training programme for aspiring dairy producers has been launched by the Royal Association of British Dairy Farmers in collaboration wi...
Dairy industry faces 'unprecedented challenge' to meet demand
The international dairy industry will face an unprecedented challenge to meet future demand, according to Dr Judith Bryans, chief executive of Dairy U...
Booming milk production 'could trigger cash flow problems' for dairy farmers
Booming UK milk production could trigger cash flow issues for dairy farmers, an agricultural expert has said. Figures just released show that provi...
Commission launches Milk Market Observatory
A new European Milk Market Observatory is being launched by European Commissioner for Agriculture and Rural Development Dacian Ciolos. In light of...
Australian dairy 'offers best risk returns in global agriculture'
Australian dairy currently offers the highest risk-adjusted return of any sector in global agriculture, according to Aquila Capital. Surging global...
Report reveals positive outlook for Welsh dairy
The Welsh dairy processing sector must capitalise on the current positive market situation to create a more sustainable industry for the future, a new...
Farmer's despair as nearly a quarter of dairy herd lost to TB
Dorset dairy farmer Paul Gould is facing the prospect of losing nearly a quarter of his closed dairy herd after the animals reacted positively at his ...
Tesco increases milk price paid to farmers
Tesco announced the new price it will pay British dairy farmers for their milk. Tesco Sustainable Dairy Group (TSDG) members will receive the new p...
Collaboration is key to take advantage of dairy growth, says Raymond
The agriculture industry needs to work together to take full advantage of the growth in demand in the dairy sector, NFU President Meurig Raymond has u...
Dairy industry shows improvement in energy efficiency
The UK dairy industry has shown a significant improvement in its energy efficiency performance. Data collected by Dairy Energy Savings (DES), which...
Livestock event to stage world's first live robotic demonstration
The world's first combined live robotic milking and feeding system demonstration at an exhibition will be staged at the Livestock Event, to be held at...
Welsh dairy farmers urged to take chance
Dairy farmers are determined to have their say about how their industry develops. The initiative which involves farmers completing a short question...
Docks are ready to grow
Docks have continued growing throughout the winter and are now ready to grow rapidly as soon as the weather warms up. They could start growing earlier...
International dairy pricing 'to ease through 2014'
Global milk pricing is expected to ease from mid to late Q2 2013, according to the Q2 Dairy Quarterly report. Exportable supply rose strongly in Q4...
Muller to offer 33.60ppl from April
Dairy farmer suppliers to Müller UK & Ireland Group are to receive a milk price of 33.60ppl in the new milk year. The move benefits all Müller Wise...
First Milk confirms the payment of its year-end returns
First Milk confirms the payment of its year-end, return on investment, to members. A strong performance over the last six months of the financial ...
Farm groups join dairy growth plan
The Dairy industry sustainable growth plan, Leading the way, took a big step forward this week, as the Royal Association of British Dairy Farmers (RAB...
Voluntary code review evidence timetable extended
The review of the Dairy Industry Code of Best Practice on Contractual Relationships (Voluntary Code) has extended the deadline for evidence. Eviden...
NFU appoints Rob Harrison as dairy board chairman
Gloucestershire farmer Rob Harrison has been elected as the new chairman of the NFU national dairy board. Mr Harrison, who farms 430 acres near Mo...
Optimism in dairy industry despite 'unfair returns'
Dairy farmers are still not getting fair returns from the market – but the expansion of Arla could finally provide transparency, according to agricult...
Harper Adams conference links farming, science and nutritional food value
Harper Adams University is set to host the 2014 Frank Arden Memorial Conference on 24 April, supported by the Nuffield Farming Scholarships Trust. ...
Muller Wiseman formula price set at 3ppl
Müller UK & Ireland Group has confirmed that its opening 'Müller Wiseman Formula Price' from April 1st 2014 will be 33.00ppl. In a letter to all no...
Price increase for farmers on Dairy Crest formula contract
Dairy Crest and Dairy Crest Direct (DCD) have jointly announced the launch of two new contract options for the start of the milk year. Delivering on D...
National Dairy Apprenticeship programme at Plumpton College
National Dairy Apprenticeship programme at Plumpton College Just ahead of National Apprentice Week, Plumpton College and LKL Services Ltd have join...
Plumpton College Open Day
Plumpton College has an Open Day on Saturday 10th May 2014. There will be courses and careers advice, apprenticeships information, business trainin...
Greener pastures for one of the South's leading dairy farms
A leading dairy farm based in Shaftesbury is using the latest heat recovery technology to improve energy efficiencies while retaining high production ...
Unlocking Poland's dairy potential
The dairy industry in Poland provides plenty of investment opportunities to those players who have the right strategy, according to a recent report fr...
Dale Farm buys Ash Manor Cheese
Dale Farm has further boosted its growing British market presence with the purchase of the Ash Manor Cheese business, based in Wrexham, for an undiscl...
Dairy association launches training programme
The Royal Association of British Dairy Farmers has launched a new nationwide training programme designed to enable producers to strengthen their busin...