Crops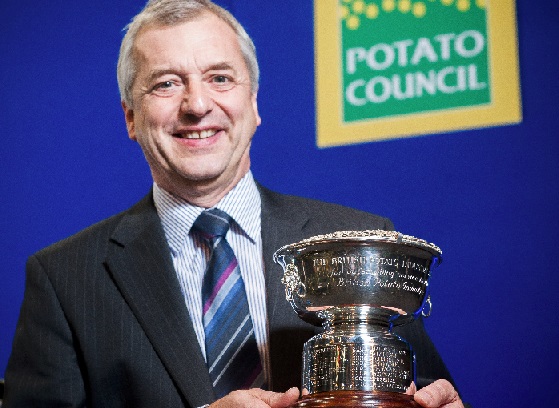 MEPs gear up for historic CAP vote
Farming groups are urging MEPs to fight for a 'simple, fair, competitive and productive' Common Agricultural Policy (CAP) ahead of a crucial vote on t...
A Black-grass control option in spring break crops
Resistant black-grass is the most difficult weed that Agrivice, independent crop consultants in Suffolk and Norfolk, have to deal with in both spring ...
Corn market dragged lower by weaker wheat
Soycomplex Beans closed near session highs with support coming from a Safras e Mercado cut of 2.4 MMT in Brazilian soybean production this year to ...
New industry reps to join Horticulture Development board
Three new industry representatives are to join the Horticultural Development Company (HDC) Board. Marion Regan, a soft fruit grower from Kent, ind...
Stop cleavers early for top yield protection
Early control of cleavers is vital to protect winter cereals against the UK's most competitive weed, advises Dow AgroSciences. Cleavers has a weed...
Calls for budget increases to combat flooding
Farmers have called for a 'more effective partnership' between government and the Environment Agency to help protect high value land from flooding. ...
Reminder of double strength Dow Shield 400
Last spring a new double strength formulation of Dow Shield was launched for post-emergence use in sugar beet, oilseed rape, grassland and a range of ...
Brazil shipping delays see demand switch
Soycomplex Strong weekly export sales of a combined 1.17 MMT were skewed in favour of an already tight old crop balance sheet at 689 TMT, along wit...
US crop conditions improve as rain brings moisture
Jonathan Lane, Gleadell's trading manager, comments on grain markets: Wheat US crop conditions improve in the US plains as snow/rain brings much...
CAP data leaks reveal 10% cut
Gail Soutar of the NFU told delegates that unofficial, leaked data doing the rounds in Brussels had allowed experts to put the possible impact on 'pil...
Dunns certification success helps UK pulse demand
Seed and pulse processors Dunns supply specialist premium quality pulse products for human consumption markets worldwide. They have now been award...
Arable farmers urged to grow forage for livestock
Arable farmers should grow forage on land lying unexpectedly fallow this spring, rather than leaving it un-cropped for six months, according to Rod Bo...
An important herbicide option for spring sown crops
Avadex Granules (tri-allate) are increasingly widely used in winter sown crops, but they are an important herbicide option in spring crops too, includ...
Follow first nitrogen with Galera for weed control in rape
The challenging autumn that offered little opportunity for pre-em herbicide applications and subsequent difficult establishment has led to many backwa...
Are you short of spring cropping solutions?
With industry estimates of a 20% reduction in autumn plantings and a further 10% of winter crops at risk of failure due to the winter weather there wi...
Second major US winter storm puts wheat on defensive
Soycomplex Beans closed down, although more than 10 cents off session lows, with weekly export inspections of 27.284 million bushels compared to 40...
Bad weather prompts nitrogen soil fears
High levels of rainfall and the continued bad weather in the first months of 2013 have left many farmers concerned about the level of nitrogen losses ...
Investment funds reduce commodity holdings; Rain delays Brazil harvest
With inflation running at 20%, Argentinean farmers are reluctant to sell the only asset that is retaining its value – $-based soya beans! They are sti...
Wheat 'on the defensive' as major winter storm sweeps US
Soycomplex At day one of the USDA Outlook Forum US 2013 spring soybean plantings were estimated at 77.5 million acres versus the USDA baseline proj...
Phospates production cuts helped 'stabilise prices'
Calum Findlay, Gleadell's fertiliser manager, comments on fertiliser markets: Urea The market remains firm and producers are comfortable for th...
Grains Market Report - 22nd February 2013
Jonathan Lane, Gleadell's trading manager, comments on grain markets: Wheat The market has been supported by rumours of China buying up to 1 mln...
Exports provide 'solid backing' to UK crop after difficult season
The human consumption market is the main support behind bean production, and it is a market that is constant, with the Middle East consuming up to 400...
The US weather outlook for winter wheat improves
Soycomplex Beans got within 8 cents of USD15/bu, a level that has proven to be a tough nut to crack for some time, but failed. Nevertheless, pr...
Chicago grain market report - 20th February 2013
Soycomplex: China and the US were open for business at the same time in more than a week, and the USDA promptly confirmed 120 TMT of old crop soybe...
Muted optimism for farmers following EU budget deal
EU leaders have finally agreed on a budget deal for the years 2014 to 2020 with spending expected to be 3% lower than in the period from 2007 to 2013 ...
EU-US trade deal 'will dismantle GM health protections'
Earth Open Source has warned an EU-US free trade deal would weaken safeguards on genetically modified (GM) crops. The proposed deal wants to tie h...
All to play for in blackgrass battle
With signs of warmer weather, there is still time to get on top of blackgrass, says Dow AgroSciences' Stuart Jackson. Latest monitoring from the co...
Chicago Grains Market Report - 15th February 2013
Soycomplex Beans were back on the defensive, although closing well off session lows, with funds dumping an estimated further 3-4,000 lots of their ...
Outlook for UK crop production 'continues to worsen'
Jonathan Lane, Gleadell's trading manager, comments on grain markets: Wheat The USDA produces bearish for corn and mildly bearish for wheat repo...
EU farm reforms as voted by the Committee
Agriculture Committee MEPs set out their position on EU farm policy reform in texts voted on Wednesday and Thursday, after more than a year's worth of...
Students to compete in barley growing challenge
Aiming to encourage the next generation of agronomists and farmers by offering students a real-time crop to manage and sell, the Cereals Challenge is ...
Rains ease Argentina drought fears
Soycomplex Mar 13 Soybeans closed at USD14.23, up 2 1/4 cents; May 13 Soybeans closed at USD14.13 1/2, up 4 cents; Mar 13 Soybean Meal closed at US...
Russia may remove grains import tax; Argentina in drought
Soycomplex Mar 13 Soybeans closed at USD14.31 1/2, down 21 cents; May 13 Soybeans closed at USD14.17 1/4, down 19 1/2 cents; Mar 13 Soybean Meal cl...
Arable farmers continue to move to minimum tillage crop
Arable farmers are continuing to move to minimum tillage crop establishment, while some early adopters of the system are now at the stage where they a...
Maize 'still the most cost effective feed'
Maize is still the most economic forage, according to a new analysis of Maize Growers Association (MGA) data carried out by Grainseed Ltd. Despite ...
Farmers face tough start to year over feed prices
South West farmers are facing one of their toughest starts to a new year as they battle to keep livestock fed and healthy in the face of poor forage, ...
Wheat Bulb fly egg hatch well underway
The latest Pestwatch report indicates that wheat bulb fly egg hatch is well underway in East Anglia, Lincolnshire and has now started in Yorkshire. ...
Oilseed rape exports benefit from sterling's weakness
The falling value of Sterling has helped raise the competitiveness of UK oilseed rape with exports leaving Openfield's deep water facility in the sout...
CAP concerns discussed at Builth Wells meeting
Concerns over the impact of CAP reforms were highlighted during a meeting at Builth Wells between politicians and farm group officials. "The MEPs c...
Interest in spring cropping drives attendence at roadshow
The winter programme of grower meetings organised by PGRO (Processors & Growers Research Organisation) jointly with Syngenta has attracted big attenda...
Fertiliser Market Report - 8th February 2013
Calum Findlay, Gleadell's fertiliser manager, comments on fertiliser markets: Urea Last week we saw Urea prices move sharply higher, Algeria are...
Grains and Oilseeds Market Report - 8th February 2013
Jonathan Lane, Gleadell's trading manager, comments on grain markets: Wheat Mild weather carries no immediate threat to Ukrainian winter crops. ...
Serious concerns remain for US winter wheat
Soycomplex Mar 13 Soybeans closed at USD14.86 3/4, down 3/4 cent; Aug 13 Soybeans closed at USD14.31 1/2, down 8 cents; Mar 13 Soybean Meal closed ...
Winter bean drilling in the spring
Becky Ward, PGRO principal technical officer, comments on winter bean drilling in the spring and importance of seed testing. A significant area of ...
Repairing pasture a priority this spring
Grassland farmers need to plan remedial field work now to prevent forage shortfalls next winter says Rod Bonshor, general manager for Oliver Seeds. ...
Farmers opt for euro subsidy payment as sterling falls
As the UK economy continues to falter, UK farmers face another challenging year brought on by adverse weather conditions, soaring costs and a weak eur...
Argentine drought threatens corn output
Soycomplex Mar 13 Soybeans closed at USD14.87 1/2, down 8 cents; May 13 Soybeans closed at USD14.77 1/4, down 8 1/2 cents; Mar 13 Soybean Meal clos...
European leaders to meet over CAP budget proposals
European leaders will meet in Brussels this week to try and reach a unanimous agreement on the EU's long term budget for the period 2014-2020. The ...
US winter wheat dryness may break with rainfall
Soycomplex Mar 13 Soybeans closed at USD14.95 1/2, up 6 3/4 cents; May 13 Soybeans closed at USD14.85 3/4, up 5 1/2 cents; Mar 13 Soybean Meal clos...
Poultry producers 'need sustainable protein' as feed price rockets
Poultry producers must have access to a sustainable source of protein as the price of feed increases said Dr Michael Lee at the NFU Cymru Annual Poult...