Crops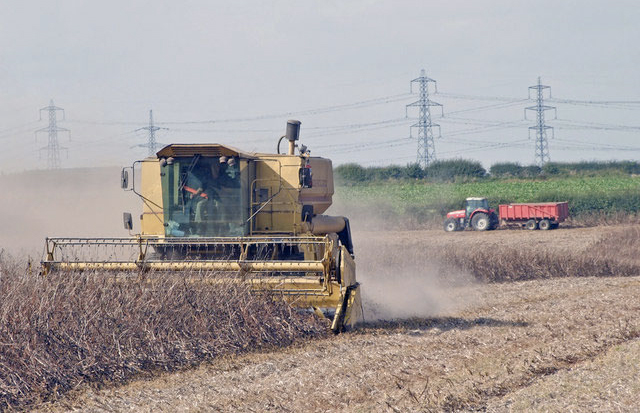 New Defra farm figures 'underline volatility'
New farm business income data from Defra, which focus on income from March 2013 to February 2014, show some significant swings in farm profitability a...
EU grains stage another day of decent gains
EU grains staged another day of decent gains. "Some of the (recent) support has come from a later than usual US maize harvest and drier than normal co...
All is not well with Russia wheat prospects; corn market with strong gains
Soycomplex Beans and meal closed sharply higher once more. "Logistic woes getting meal via railcar into eastern processor market has the feeder dou...
NFU urges farmers to understand new CAP payment scheme
NFU's series of CAP roadshows gets underway in the East Midlands, next week with a strong message from NFU to all farmers and growers: read, understan...
Stop brome creeping into winter barley fields
In parts of Scotland, winter barley growers have been struggling to stop sterile brome creeping further and further into the fields and becoming a sig...
Farmers call for reassurances as Defra publishes new CAP scheme
More details have been unveiled today about how the new CAP will be implemented in England. The latest leaflet, which will also be posted to farmer...
Results of Natural Nitrogen Fixation Trials
Azotic Technologies, the developer and producer of natural Nitrogen-fixation for increased agronomic benefit, today announces the results from the Com...
Satellites to help farmers pinpoint disease and pests
A new mobile app for farmers able to pinpoint and identify disease, pests and weeds within fields, and then integrate this data with precision farming...
Solar can transform agricultural businesses, seminar will urge
Agricultural businesses are being urged to attend a free seminar to learn how solar power can transform their operations and cut their fuel bills. ...
Important label update for users of AstroKerb
Dow AgroSciences is pleased to inform growers and advisors that CRD has granted an approval for AstroKerb to allow the straw from oilseed rape crops t...
NFU concerned over future rural cuts in letter to Chancellor
NFU President Meurig Raymond has written to Chancellor George Osborne outlining how he thinks agriculture would benefit from next year's budget. "A...
NFU 'dismayed' at Defra rejection of EU aid package
Government Ministers have decided not to take advantage of an EU aid package for fruit and vegetable producers impacted by the Russian trade ban, the ...
Concerns over Russian crop quality; US harvest running late
EU grains closed mixed, but mostly higher. Front month Nov 14 Paris wheat closed at a EUR0.75/tonne premium to the Jan 15 contract. A week ago, and th...
Move to ban pesticides 'a threat to UK food security'
Scientists have cast doubt on the European Union's aim to restrict the use of a range of pesticides. They have voiced this view in response to a r...
Adverse weather having affect on Australian crop
Soycomplex Beans closed with small losses, despite the USDA reporting the sale of 419 TMT of US soybeans to China, along with 113 TMT to unknown de...
'Extremely worrying times' ahead for farmers, says NFU
With farmers facing significant challenges heading into the winter, the Government is being urged to come forward with proposals for how they intend t...
Grain markets 'unlikely to see significant rally'
EU grains finished higher across the board, with both London and Paris wheat managing their best closes in 6 weeks. However "although particular facto...
John Deere to unveil new sprayer at CropTech 2014
Aimed at arable farms, speciality crop growers and contractors, the new John Deere R4040i self-propelled sprayer replaces the current 5430i model for ...
UK farmers 'more active in selling wheat'
EU grains closed higher. Nov 14 Paris wheat again posted better gains than the deferred contracts, as seemingly more shorts get squeezed out. The Nov ...
US farmers concentrating on soybean over corn; wheat closes lower
Soycomplex Beans closed lower, but towards the middle of the day's trading range. The USDA reported that the 2014 US soybean harvest was 53% done, ...
British food production 'under threat', says new report
The availability of iconic British foods could be drastically reduced according to an independent report released today. The report, commissioned b...
Bayer commences wheat testing in the UK
Bayer CropScience has announced that it has commenced testing wheat varieties in the UK for the first time. UK Seeds Manager, Adrian Cottey, said: ...
New GrowHow farm adviser for South West and South Wales
Hefin Llywd has joined GrowHow UK as the company's newest field-based Farm Adviser. He took up his new position on 13 October and will cover the South...
Can Galera be used this autumn?
Growers have been asking the Dow AgroSciences' Hotline whether the herbicide Galera (clopyralid + picloram) can be used this autumn where broad-leaved...
Potato supply chain 'in focus' at November conference
'From seed to ware', this year's Seed Industry Event (SIE14) on 25 November, at the Crieff Hydro in Perthshire, widens its' appeal to the whole supply...
Wheat closes with double digit gains
Soycomplex Beans closed higher on short-covering, although there was a general lack of fresh news to get excited about. US weather leans friendly f...
UK wheat plantings up 20%
EU grains closed mixed, but mostly a little easier - doing their best to resist pressure from falling outside markets. Nov 14 London wheat finished...
Wet weather delaying Brazil harvest; US corn crop ratings unchanged
Soycomplex Beans closed sharply higher on what looks like fresh speculative buying. The seasonal lows are in, that seems to be what the market is t...
Sterling weakness supporting London wheat
EU grains traded higher, with sterling weakness particularly supporting London wheat. At the end of the day Nov 14 London wheat was up GBP2.30/tonn...
Falling petrol prices will support London wheat
EU grains closed mixed, but mostly a little easier - although well off the lows of the day - to start the week. Nov 14 London wheat finished down G...
Corn market closes with good gains to erase Friday losses
Soycomplex Beans rallied strongly, regaining all of Friday's losses. Harvest delays were the reason, now that the October WASDE report is out of th...
Scottish CAP details revealed
NSA Scottish Region Development Manager George Milne attended a Scottish Government CAP stakeholders meeting which covered the details of changes unde...
EU harvesting production 'revised upwards'
EU grains ended the day mixed, and with overall little change at the end of a fairly choppy week. The day ended with Nov 14 London wheat up GBP0.45...
US wheat production raised; corn market falls
Soycomplex Beans closed the thick end of 20 cents lower in predictably choppy trade, with the USDA's October WASDE report out mid-session. On the f...
Dual purpose spring barleys offer security of markets
As the breeders of the only two varieties on the recommended list with full IBD approval for brewing and malt distilling, Concerto and Odyssey, Limagr...
Sprays on target to control aphids in OSR
Good growth of oilseed rape crops over recent weeks now gives growers a better chance to target Plenum spray applications to control aphids that risk ...
USDA report prospect weighs on traders; Russia wheat area 'dry'
Soycomplex Beans closed slightly lower. The prospect for higher US yields and production in Friday's USDA report weighs, but the late nature of the...
Wheat production forecast 40% jump on last year
EU grains closed mostly a little lower in more orderly trade than we have seen in the past couple of days. The day ended with Nov 14 London wheat ...
Greening shift to help Scottish farmers
NFU Scotland has welcomed a Scottish Government announcement that makes the growing of Nitrogen Fixing Crops (NFC) a viable greening option for Scotti...
Wheat quality concerns remain around the globe
Soycomplex Beans closed narrowly mixed as traders position themselves where they want to be heading into Friday's WASDE report from the USDA. A Reu...
EU grains end choppy session mixed; UK harvest 99% complete
EU grains ended a choppy session mixed. London wheat jumped out of the starting stalls aggressively, trading GBP3.50/tonne higher in early trade, befo...
More land needed as UK's growing population is 'perfect storm'
By 2030 the UK will need the equivalent of 7 million more hectares of land to support its growing population, according to Agri-Tech Director Dr Belin...
Highest wheat yield on record predicted for 2014
The highest wheat yield ever was recorded by the NFU's harvest survey which was published today. It predicted the average wheat yield for the UK ha...
Winter beans breaking the cycle of black-grass
Winter oilseed rape is the most widely grown break crop in the UK, but as from January 2015 growers will have to abide by several greening measures in...
EU grains begin the week strongly, racing sharply higher
EU grains began the week strongly, racing sharply higher early in the session, although giving up some of those gains by the close. The day ended w...
Delayed US corn crop 'added bullish momentum' to markets
Soycomplex Beans closed sharply higher as talk of possible weekend frost damage in the upper Midwest and northern Plains did the rounds. "With the ...
Postcode Decision Support System for post-em herbicides
The popular and helpful decision support "traffic light" system to aid the timing of both ASTROKerb and Kerb Flo 500 is on the starting grid for the f...
Project underway to fight beetle bests in crops
Pea and bean weevil and bruchid beetle are common pests in UK legumes. Damage caused by the weevil adult is visible as notching around the leaf margin...
End of summer raises threat of slugs
The end of summer and forecasts of much-needed rain will be welcomed by growers hoping to achieve favourable plant populations ahead of winter, but wi...
Sustainable food security needs public awareness, EU commissioner says
One of the big challenges for sustainable food security is public awareness, European Commissioner for Agriculture Dacian Ciolos said in a speech in M...