Cattle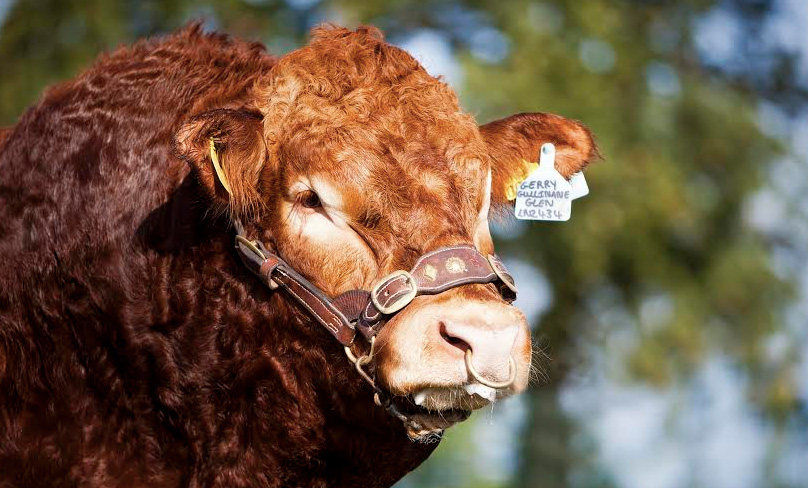 Top 1% EBV Limousin bull joins Cogent Signature Beef
Cattle breeding company Cogent has added a breed-leading Limousin bull to the Signature Beef range, which brings together an almost unparalleled combi...
Beef industry 'needs long term investment', says NFU
The National Farmers' Union is calling on more people to eat British beef as production falls around four percent in recent times. The union is callin...
Pembrokeshire farmers raise TB concerns with Assembly member
The impacts of bovine TB cattle controls on farm businesses in Pembrokeshire was at the forefront of discussions when farmers met with Paul Davies, As...
Changing cows' diet could help tackle heart disease
Adding oilseed to a cow's diet can significantly reduce the harmful saturated fat found in its milk without compromising the white stuff's nutritional...
Farmers face substantial tax bills over TB slaughter
Beef and dairy farmers whose cattle were slaughtered due to TB could face substantial tax bills, according to agricultural accountants. Last year,...
FSA confirms new European horse meat tests
The Food Standards Agency (FSA) has confirmed details of a new round of tests of beef products for horse meat contamination. The tests have been reque...
Scottish beef payments to arrive from 17th April
The Scottish government has said payments under the Scottish Beef Scheme are to start arriving in beef farmers' bank accounts from Thursday 17 April. ...
NFU President: TB destroying farm business and it must be stopped
Today is just one example of what is happening on farms across endemic TB areas, it is a farm with a closed herd; no cattle are brought on to farm. Th...
Lack of urgency in cutting farm regulations - NFU
Following recommendations from the Farming Regulation Taskforce report, the government has reduced regulations to help farmers grow their businesses b...
Farmer's despair as nearly a quarter of dairy herd lost to TB
Dorset dairy farmer Paul Gould is facing the prospect of losing nearly a quarter of his closed dairy herd after the animals reacted positively at his ...
China to lead beef demand
Beef demand growth will continue to come mainly from China as farmers take little interest in expanding production despite strong profits and increasi...
Cogent Supershot dominates global rankings
Cogent Supershot has become the number one available genomic sire on both major indexes in the USA and on Canada's key breeding index. Supershot's...
Mis-stunning 'extremely rare' in British abbatoirs
The British Veterinary Association (BVA) has been calling for an end to the practice of non-stun slaughter on the grounds of animal welfare. The assoc...
Cull must go on, says beef association
Plans for more badger culls in other areas of England this year have been abandoned by Environment Secretary Owen Paterson, who issued a new strategy ...
Farmers 'bitterly disappointed' over badger cull halt
Farmers have expressed great disappointment over Environment Secretary Owen Paterson's plans to abandon a roll-out of the badger cull programme. C...
DEFRA abandons badger cull expansion in England
Plans for more badger culls in other areas of England this year have been abandoned by Environment Secretary Owen Paterson, who issued a new strategy ...
First TB skin test differentiates vaccinated and unvaccinated animals
New field trials have begun of a tuberculosis skin test based on bionanoparticle technology. The PolyBatics Assign-bTB product is a DIVA (Differen...
Don't let coccidiosis prevent spring calf success
With the UK recovering from the wettest winter on record and now basking in the mild spring weather, the perfect conditions are created for coccidiosi...
Dairy industry shows improvement in energy efficiency
The UK dairy industry has shown a significant improvement in its energy efficiency performance. Data collected by Dairy Energy Savings (DES), which...
New Schmallenberg vaccine to offer flexibility for farmers
Options for vaccinating sheep against Schmallenberg have increased, with Merial Animal Health's launch of SBVvax. Spread by midges, SBV was first i...
Livestock event to stage world's first live robotic demonstration
The world's first combined live robotic milking and feeding system demonstration at an exhibition will be staged at the Livestock Event, to be held at...
Wet winter may increase risk of liver fluke in cattle
Merial Animal Health is informing farmers of the increased risk of liver fluke infection when turning out their cattle this spring, following the mil...
Cull the badger cull, says Andrew George MP
If, later this week, the Government decides to carry on with its badger cull they run the very high risk of making cattle TB significantly worse. I f...
Badger colony repairs to cost £35,000 for Norfolk council
Work is underway by Norfolk County Council to repair long distance country paths damaged by badger cull colonies which is expected to cost £35,000. ...
Farmers urged to be vigilant as first case of cattle scab found
The first case of Cattle Scab to be confirmed in Scotland since the early 1980s has been diagnosed by vets at SAC Consulting's St Boswells Veterinary ...
Beef prices - Time for review of abattoir charges?
Concerns over inconsistent and unnecessary charges levied on farmers sending cattle to slaughter were voiced at the recent Anglesey NFU Cymru meeting....
Beef industry should take heart and invest
The latest sets of 2013 farm accounts suggest that an increase in variable costs was one of the factors which pushed the beef industry into a downturn...
Farm groups join dairy growth plan
The Dairy industry sustainable growth plan, Leading the way, took a big step forward this week, as the Royal Association of British Dairy Farmers (RAB...
Countdown to the world's breed-leading Holstein bull begins
The countdown has begun to the launch of semen from Cogent Breeding Limited's world-leading Holstein bull, Cogent Supershot. Cogent Supershot is th...
Meat consumption 'in decline' following rising costs and horsemeat scandal
Rising prices and the exposure of the horsemeat scandal in early 2013 have contributed to a declining demand for meat in the UK, according to a new ma...
Live exports must stop now, says Green MEP
One of South East England's Member's of the European Parliament has reaffirmed his stance against live animal exports as the trade restarted at Ramsga...
90 cattle killed every day due to bovine TB
32,620 cattle were slaughtered in Great Britain due to bovine TB in 2013, new figures released show. This equates to almost 90 cattle being killed ...
New dairy cattle cup remembers late Shropshire dairy farmer
A new cup donated in memory of a prominent Shropshire dairy farmer who died last April aged 81 will be on offer for the best pedigree and commercial d...
Farmers express anger over TB compensation plans
Brecon and Radnor farmers have expressed their anger at Welsh Government proposals to change the way in which farmers are compensated for cattle slaug...
What are the consequences for livestock farmers after the floods?
With much of the UK having seen record levels of rainfall and extensive flooding of pastures and crops, James Ingles, Head of Agriculture at Barenbrug...
Harper Adams conference links farming, science and nutritional food value
Harper Adams University is set to host the 2014 Frank Arden Memorial Conference on 24 April, supported by the Nuffield Farming Scholarships Trust. ...
Eight strategies for efficient and sustainable livestock farming
Eight strategies to make cows, sheep and other cud-chewing, or ruminant, livestock a more sustainable part of the food supply are outlined by Rothamst...
Female sexed semen has higher value than previously thought
Using sexed female semen has gained significant momentum across the UK's dairy herds where the prospect of a valuable replacement heifer and the likel...
'Excellent trade' for quality store cattle at Bishops Castle
An excellent trade was reported by auctioneers Halls at just under 250 store cattle went under the hammer at Bishops Castle & District Quality Cattle ...
Where next for large-scale livestock production?
The potential effects of large-scale livestock systems on animal health and welfare are set to come under the spotlight during a special workshop look...
Major BVD initiative launched in England and Wales
A major new initiative concerning one of the most devastating diseases affecting the cattle industry, BVD, Bovine Viral Diarrhoea - has been launched ...
Government urged to take alternative strategies to combat TB
Following reports that the Independent Expert Panel on badger culls concluded that they were 'ineffective and inhumane', Green Party's animal spokespe...
National Dairy Apprenticeship programme at Plumpton College
National Dairy Apprenticeship programme at Plumpton College Just ahead of National Apprentice Week, Plumpton College and LKL Services Ltd have join...
Plumpton College Open Day
Plumpton College has an Open Day on Saturday 10th May 2014. There will be courses and careers advice, apprenticeships information, business trainin...
Badger vaccination 'not a viable alternative to culling'
The President of the British Veterinary Association (BVA), Robin Hargreaves, has called for government decisions on TB testing and veterinary surveill...
Welsh beef farmers voice price concerns
Welsh Beef producers are voicing concern over the beef price difficulties with farmers calling on the meat trade to recognise how current negative sho...
Farmers express 'despair' at Welsh government TB proposals
Clwyd farmers have expressed their despair and anger at a Welsh Government decision to change the way farmers are compensated for cattle slaughtered a...
Scottish government urged to support chicken sector
Retailers must 'play their part' in securing the future of the Scottish chicken industry, according to the National Farmers' Union. In a letter to ...
Successful second cattle auction at Bishops Castle
A highly successful second store cattle sale of the year was reported by auctioneers Halls at Bishops Castle Auction on February 13. A catalogue en...
UK and Irish unions thrash out livestock concerns
UK and Irish farming unions met this week in Stirling to discuss issues facing the livestock industry. Representatives from NFU, NFU Cymru, Ulster ...