Cattle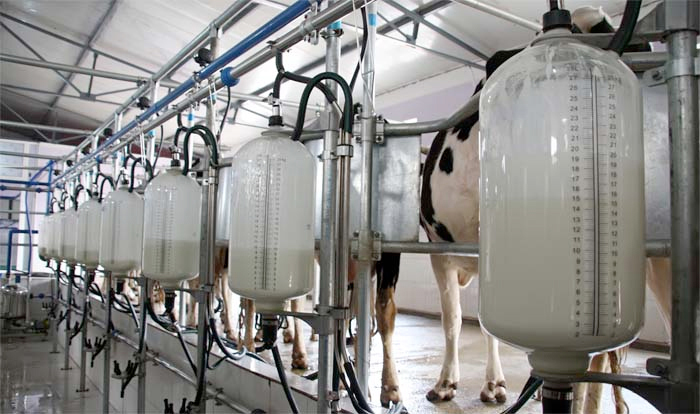 Future of Scottish dairy to be debated at AgriScot
The future direction of the Scottish dairy sector will be debated at next month's AgriScot event, being staged on Wednesday 19 November at Ingliston, ...
Soil Association requests changes to TB compensation bill
Following discussions with licensees and members, the Soil Association has submitted a proposal to request changes to the Cattle Compensation (England...
Badger cull is legal as Trust loses appeal
The Court of Appeal has rejected the Badger Trust's appeal concerning the legality of the government's badger cull. The trust's appeal was based on...
Scottish farmers disappointed over EU calf scheme
The European Union has ruled out Scotland front-loading payments made under the new Beef Calf Scheme that would have supported smaller beef producers,...
Irish beef farmers 'have had enough' as they begin protests
Irish beef farmers are set to protest the prices they are being paid for their cattle, arguing that they are well below the UK and EU averages. IFA...
'Extremely worrying times' ahead for farmers, says NFU
With farmers facing significant challenges heading into the winter, the Government is being urged to come forward with proposals for how they intend t...
Cattle pneumonia could cause long-term costs for farmers
Cattle farmers could have increased costs due to ineffective treatment of calf pneumonia, according to Merial Animal Health. "Past research has sho...
Firm cattle trade as Morris family wins Tom Gittins Cup
An entry of 750 strong store cattle was sold at Bishops Castle Auction on Thursday last week as the trade held firm from start to finish supported by ...
Animal psychology in focus at agricultural workshop
Agricultural workers can get an insight into animal psychology as part of efforts to improve farm safety while handling cattle. Agriculture continu...
Badger cull poll: Nine out of ten want culling to end
Results from a new poll on the controversial badger cull show that nine out of ten people who express an opinion (89%) want the UK government to stop ...
New badger culls are a 'miserable failure' as target missed
The pilot badger culls in Gloucestershire have 'failed to achieve even the minimum number of badgers to be shot,' and have been condemned as a 'misera...
'Exciting opportunities' for Turkey's developing dairy market
Turkey's developing dairy market offers exciting opportunities in its emerging export industry with access to markets that western players have previo...
Liver fluke 'remains a risk for cattle farmers'
Despite a relatively dry summer and early autumn, liver fluke infection remains a risk for cattle and sheep and farmers are being urged to remain vigi...
China's impact on beef industry in focus at EBLEX conference
China's impact on the beef and lamb industry will be among the key topics at this year's EBLEX annual conference. The subject will be presented by ...
Why is the price of milk falling?
British consumers say they want to back dairy farmers after learning that the price they are paid has dropped significantly in the past few months. Bu...
Winner of NFU Dairy Stockperson of the Year announced
Carl Poole, from Meifod, Powys, has been announced as the winner of the 2014 NFU Cymru / NFU Mutual Welsh Dairy Stockperson of the Year Award during t...
Cattle to replace lawnmowers in wildlife havens
Following a successful trial last autumn, a herd of cows will once again replace lawn-mowers to cut the grass at one of Worcestershire's most importan...
Farmers plan further milk protests
"Further protests are planned for the coming week, members and press will be notified," Farmers for Action said after over 500 people attended the pro...
Badger Trust to challenge legality of new culls
The Badger Trust has said it will challenge the legality of the government's badger culls currently being undertaken in Somerset and Gloucestershire. ...
Who are the biggest meat consumers in the world?
Across the globe, meat is a staple food enjoyed by an array of countries and cultures. From tender chicken in traditional Spanish paellas to juicy sau...
Morrisons search for more Beef Shorthorn
The search is on for more Beef Shorthorn sired cattle with a 30p/kg premium at stake to meet with demand from Morrisons for its Traditional Beef Schem...
Keeping up with the next generation of livestock farmers
The NFU has teamed up with Innovation for Agriculture (IfA) and Warwickshire Rural Hub to focus on the potential that precision agriculture has for th...
Russian ban 'will not slow beef market'
Global beef supply is in a 'tightening phase', with most key producers experiencing record tight supplies, according to a new report. Further tight...
Dutch market 'an opportunity for UK beef'
UK beef exports to the Netherlands could capitalise on opportunities being presented in its restaurant sector, according to EBLEX. In 2013, the Net...
First Milk confirms November price cuts
With effect from 1st November First Milk will be cutting the price for its manufacturing pool by 0.3 pence per litre and for its liquid pool by 1 penc...
Testing for TB in the cattle herd
Bovine TB is one of the most complex animal health problems currently facing the farming industry in England and Wales. It is a chronic, infectious di...
New cattle TB controls come into force in England and Wales
New rules for controlling bovine TB in England and Wales have come into force today, the government opened a consultation to develop cattle controls a...
Cost control 'critical' to dairy farm profits as prices slump
Although dairy farmers' income jumped sharply last year, cost control will be critical if they are to weather this autumn's low milk prices, rural acc...
Milk price crisis: 'Cuts getting more severe with more excuses'
'The cuts keep coming' dairy farmers were warned by Farmers for Action group, 'getting more severe each time with more and more excuses' as a number o...
Plans to scrap badger cull a 'populist move', says Hargreaves
On so many welfare issues politicians are 'in danger of taking the view that if it's not popular it's got to be wrong,' said the outgoing British Vete...
Tesco cuts price paid to dairy farmers
Tesco has today confirmed it will cut the price it will pay to British dairy farmers for six months from the 1st November, following an independent co...
TB devastating farming families, say NFU as Labour pledges scrap
The Labour Party would abandon the badger cull should it win the next General Election in May, according to their Shadow DEFRA Minister Maria Eagle. ...
Grazers return to nature reserve
For the first time in many years cattle are roaming the heathland landscape of one of south Devon's top nature reserves. Bovey Heathfield nature r...
Half of farmers have not tested herd for BVD, survey shows
Results from the Farming Against BVD survey have been presented by an independent expert panel at Novartis Animal Health headquarters, giving insight ...
Farmer Survey shows need for more advice on BVD
Results from the Farming Against BVD survey were presented by an independent expert panel at Novartis Animal Health headquarters on 18th September 201...
'Huge turnout' for Berkshire's Have a Go show
They came, they saw – and many of them had a go! The 2014 Royal County of Berkshire Show will be remembered as one which excelled for its particular b...
Winter: Preparing livestock's seasonal housing needs
The days are shortening, harvest and autumn sowing is mostly done, so now is the time to turn your attention to the winter and your stock. You must as...
Planting trees improves lamb and cow health
Farmers discovered ways of improving the health and wellbeing of livestock at a recent event aimed at highlighting how trees can increase a farm's pro...
Antibiotic usage in livestock
With the growing problem of bacterial resistance to antibiotics, antibiotics from the fluoroquinolone and 3rd and 4th generation cephalosporin groups ...
NFU spells out priorities ahead of 2015 General Election
A Government that understands farm businesses, wants agriculture to grow and has the policies that send the right signals to farmers, are the key mess...
Dairy Show 'boasts genetics of the future'
Calf showing can sometimes be seen as a poor relation compared to the excitement of dairy interbreed championships – but it is the foundation on which...
Farmers remain on guard over liverfluke
After last year's fierce fluke challenge and with the wet and warm conditions having continued this year, farmers are right to remain on their guard a...
A health check for your soil
Soil is the basic raw material of farming and fundamental to agricultural productivity. Traditionally soil health has been seen largely as a function ...
Win £1000 off your next fertiliser order
Quality fertiliser is the key to yield and that holds true whether it's applied to grass, other forage or arable crops so this great prize of £1000 to...
Farmers reminded of changes to Bovine TB rules
Farmers were reminded of impending changes to rules on Bovine TB pre-movement testing of cattle moving to and from premises within Sole Occupancy Auth...
Combining solar and livestock farming: New guidance published
A new guidance published today expounds best practice in coupling conventional agriculture and ground-mounted solar electricity generation. The new...
Badger cull expected to begin 'as soon as tonight'
Badger culling in west Somerset and west Gloucestershire is expected to begin as soon as tonight, according to Humane Society International UK. Und...
Dairy farmers risking cows' health with feeding, research says
Dairy farmers are potentially risking their cows' health, fertility and production by inadvertently feeding rations containing mycotoxins and bacteria...
Calving at 2 Years? – Yes say the National Beef Association
"In the modern day beef industry there is little room for calving at 3 years old." This is the message from Charlie Maclaren, newly appointed board me...
Minister's back Food Crime Unit after horsemeat scandal
The UK is to have a Food Crime Unit to fight fraudulent food trade after the recommendations in the Elliott report, commissioned after the horse meat ...