Bees and Beekeeping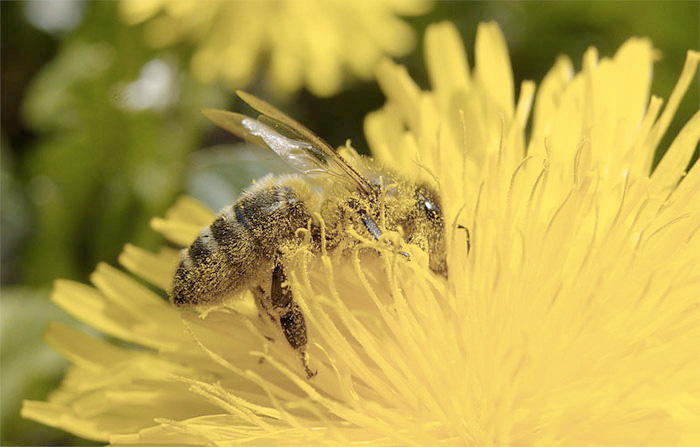 A 'third rate plan': groups react to pollinator strategy
Organisations such as Network Rail, Highways Agency and the National Trust which manage more than 800,000 hectares of land in England have signed up t...
Bee action plan due: Last chance for bees
Environment Secretary Elizabeth Truss is launching the National Pollinator Strategy to support bees and other pollinators. The government is launch...
Neonicotinoid toxicity 'takes your breath away'
Bees and other wildlife are being 'quietly poisoned' by chemicals which are 5000 times more toxic than DDT, according to Professor Dave Goulson of the...
Underestimated effects of neonicotinoid ban
Oilseed rape has been a victim of the growing gaps in control from crop protection products after the autumn sown crop was untreated due to the curren...
FUW brings taste of rural life to Cardiff Country Fair
The Farmers' Union of Wales will welcome visitors to the Cardiff Country Fair at the end of the month with a taste of rural life and food production i...
Make a small change to organic this September, Soil Association urges
The Soil Association is today launching 2014's Organic September campaign – the UK's biggest celebration of all things organic, which takes place in a...
Truss announces new details on CAP implementation
Environment Secretary Elizabeth Truss has today announced further details of what the new CAP greening rules will mean for English farmers, whilst cal...
Farmers 'will be the main losers' of pollinator strategy, NFU warns
The NFU has strongly disagreed with the new Environment Audit Committee report on the National Pollinator Strategy which has called for a refocus to d...
Accept neonicotinoid ban, Defra warned
The government's draft National Pollinator Strategy needs to be transparent if it is to command public confidence, the Environmental Audit Committee h...
Public urged to help support our bees' needs
Five simple actions to help pollinators such as planting more bee-friendly flowers and cutting grass less often were promoted today to protect the vit...
Government must uphold ban on bee-harming pesticides
Ministers must stand up to intense lobbying from the pesticide industry by refusing to allow a banned bee-harming pesticide to be sprayed on Britain's...
NFU keen to work with government on new pollinator strategy
The NFU says it is keen to work with government on its new strategy to help pollinators as the first hearing by the Environmental Audit Committee gets...
Organic farming can help save bees
New evidence is already showing that the loss of bees and other pollinators is affecting farmers. New studies suggest that crops like field bean, ...
Super-early OSR brings forward the Sclerotinia risk
According to Dr Caroline Young from ADAS, this year's oilseed rape crops are up to a month ahead of the same time last year, with some plants flowerin...
New grant aims to support declining bee population
The Duchy of Lancaster has announced a new Beekeeping Grant to encourage its farm tenants to support the country's rapidly declining bee population. ...
Red spider mites in ornamental nurseries
With temperatures rising and day lengths extending, two-spotted spider mites (Panonchyus ulmi) in ornamental nurseries are reported to be coming out o...
Look out for Sclerotinia Outlook
Well-advanced oilseed rape crops plus warm temperatures and lengthening days come together to bring forward the risk of Sclerotinia, according to the ...
Defra announces consultation on pollinators
Defra has announced a consultation on the proposed national pollinator strategy. Pollinators are essential for biodiversity and pollination of essenti...
Managed honeybees linked to new diseases in wild bees
Diseases that are common in managed honeybee colonies are now widespread in the UK's wild bumblebees, according to research published in Nature. The s...
Koppert concentrating its efforts on the production of UK native bumblebees
To satisfy the demand for UK native bumblebees, Koppert expanded its production capacity last year and improved the stability of the production. The e...
Organic farms support more species, says research
On average, organic farms support 34% more plant, insect and animal species than conventional farms, say Oxford University scientists. Researchers ...
EU clarifies labelling rules for honey and GM pollen
The European Parliament endorsed draft rules defining pollen as a natural constituent of honey, rather than an ingredient, in a vote on Wednesday. Thi...
Three-year Bees Abroad project in Kenya wins Government funding
Bees Abroad has secured major funding from the UK Department for International Aid (DFID) for a three-year project to alleviate poverty through advanc...
NFU President's New Year message: Back British farmers
In his final New Year's message before stepping down as NFU President, Peter Kendall has stressed how farming depends on a healthy, stable environment...
Pesticides are 'part of the solution', says CPA as government consults on CAP greening
The Crop Protection Association (CPA) has said the Government must not impose unnecessary restrictions on pesticide use as it implements Common Agricu...
Neonicotinoid restrictions shroud crop future in uncertainty, NFU says
With only days to go before restrictions on crop protection products begin, the NFU has described the lack of an EU impact assessment to determine the...
FUW brings farmyard to Gwledd Conwy Feast
An exhibition of live farm animals at one of Wales' biggest festivals Gwledd Conwy Feast has been organised by the Farmers' Union of Wales Caernarfons...
Battle for the bees
In 2009 it was estimated that services provided by pollinators are worth an annual £510m in crops to the UK. That's why declines in many insect pollin...
Government rejects case for ban on pesticides
The Government has rejected the scientific case for a ban on pesticides linked to bee decline, not only for crop-growing farmers but for people using ...
US study examines 'cocktail of pesticides' that bees consume
A new US study has been released highlighting for the first time the diversity of 'chemical cocktails' bees are ingesting. The Soil Association is cal...
Archbishop becomes patron of Bees Abroad
The Archbishop of Canterbury Justin Welby has agreed to become a patron of Bees Abroad, the charity seeking to reduce poverty in developing countries ...
Action on bees must be based on latest evidence, says NFU
Proposals for future action on bees must be based on all the evidence if they are to deliver real benefits, the NFU has told a major summit aimed at h...
Beekeepers lose one colony a year, says survey
Over three quarters of Scottish beekeepers lost at least one colony last winter, according to the first Scottish bee health survey which is published ...
Pollinators are an important part of our industry - NFU
It is in the agricultural industry's interest to help pollinators as their decline is a complex issue, the NFU have said. The message comes as part...
Crucial habitats for birds and bees created at farm
Crucial habitats for birds and bees are being created at a dairy farm in the New Forest as hedgerows are restored and field borders rich with pollen a...
EFSA assesses pesticide bee risks
The insecticide fipronil poses a high acute risk to honeybees when used as a seed treatment for maize, EFSA has concluded in a report requested by the...
Solitary bees thrive in flowering oilseed rape
Some species of native wild bees are thriving in the UK, largely thanks to the increase in oilseed rape area and the adoption of intensive minimal til...
MEP slams Commission for dunking a 'witch'
The European Commission has today (08.05.13) over-ridden the wishes of the UK government and restricted the use of certain insecticides from the neoni...
Insecticide restrictions 'will have a catastrophic impact'
The decision on Monday to introduce EU-wide restrictions on neonicotinoid insecticides linked to bee decline is 'likely to have catastrophic impacts f...
Studies show no link between insecticide and bee health
Two new pieces of research commissioned by the UK Government have found no evidence of a link between neonicotinoid insecticide use and bee health. ...
Deer cull logic must apply to badgers says FUW
As recent calls have highlighted the dangers of an increasing deer population, the Farmers' Union of Wales have called on scientists to recognise the ...
Neonicitinoids decision must not be rushed - Paterson
Owen Paterson has urged the EU health commissioner not to rush into a decision on the use of neonicitinoids. The Secretary of State wants a decisio...
Commission amending honey law to hide GM pollen
EU Member States are set to discuss the Commission's proposal to amend the Honey Directive in what is widely believed to be an attempt to circumvent t...
Bee population at risk over EU cuts
An already declining bee population could be dealt further blows if cuts to greener farming projects are made at the EU summit. EU leaders are meet...
Restrictions on neonicotinoid 'would put £630m at risk'
A comprehensive review of the value of neonicotinoid seed treatment released today in Brussels has prompted further concerns from UK agriculture about...
Government to combat declining bee population
New plans to prevent a declining bee population by protecting hives from pests and diseases has been unveiled today. Defra and the Welsh Government...
Open Farm Sunday insect survey highlights pollinator activity on farms
The results of a unique insect survey involving a collaboration of general public and scientists has highlighted the wealth of pollinating bees and ot...
Co-operative's habiltat Heroes hailed a success
The Co-operative Group is celebrating the first anniversary of its ground-breaking Habitat Heroes projects, to protect and preserve endangered wildlif...
Eggs from Wheat?
One in three young people who took part in a recent survey did not know that eggs came from hens. The survey was conducted on behalf of Linking Env...
UK faces £1.8bn annual bill without bees
It would cost the UK £1.8 billion every year to hand-pollinate crops without bees – 20% more than previously thought – according to new research launc...