Bees and Beekeeping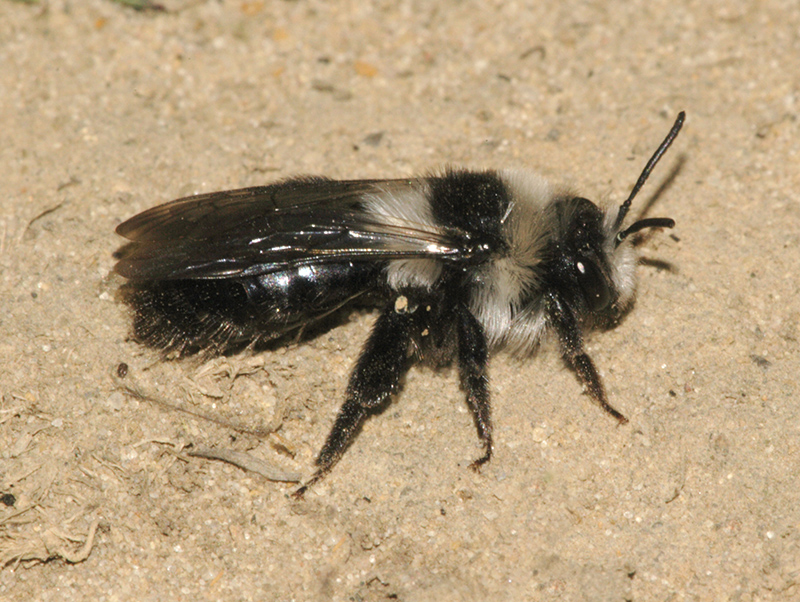 Solitary bees thrive in flowering oilseed rape
Some species of native wild bees are thriving in the UK, largely thanks to the increase in oilseed rape area and the adoption of intensive minimal til...
Insecticide restrictions 'will have a catastrophic impact'
The decision on Monday to introduce EU-wide restrictions on neonicotinoid insecticides linked to bee decline is 'likely to have catastrophic impacts f...
Studies show no link between insecticide and bee health
Two new pieces of research commissioned by the UK Government have found no evidence of a link between neonicotinoid insecticide use and bee health. ...
Commission amending honey law to hide GM pollen
EU Member States are set to discuss the Commission's proposal to amend the Honey Directive in what is widely believed to be an attempt to circumvent t...
Open Farm Sunday insect survey highlights pollinator activity on farms
The results of a unique insect survey involving a collaboration of general public and scientists has highlighted the wealth of pollinating bees and ot...
UK faces £1.8bn annual bill without bees
It would cost the UK £1.8 billion every year to hand-pollinate crops without bees – 20% more than previously thought – according to new research launc...
Scientist's highlights efforts to get bees buzzing
A scientist at the University of Reading has called for immediate action to save pollinating insects crucial to British wildlife and the economy. ...
Will it now be impossible to grow genetically modified plants outdoors?
The European Court of Justice (ECJ) ruled last week that pollen from genetically modified (GM) plants contained in honey counts as a food ingredient a...
Strategy launched to tackle pest and disease threats to Britain's trees
A new strategy for protecting Britain's trees and forests from pests and diseases was launched today. This is an interim strategy, pending an...
The battle against bee diseases continues
Bees risk being exposed to a range of diseases that can be transferred by varroa mites. Scientists from Aarhus University are investigating the intera...
The Get Britain Buzzing Campaign
A major campaign highlighting the crisis facing key British pollinators will be launched in London today. The abundance of bumblebees, hoverflies, ...
Plight of the honey bee!
A steep increase in honey bee colony losses has been reported around the globe in recent years. In the United States (US), a phenomenon called '...
Genetic weapon against bee killer
Researchers have developed a genetic technique which could revitalise the fight against the honeybee's worst enemy - the Varroa mite. The met...
Phacelia attracts too many bees
Phacelia planted at Great Chishill, one of the development farms run by Bayer CropScience, has been so successful in attracting beneficial insects tha...
EU funding increased to boost beekeeping sector
The European Commission has approved the national programmes for all 27 EU member states to improve the production and marketing of apiculture product...
Honeybee decline to be addressed
Nine projects worth a total of up to £10M from the Insect Pollinators Initiative are announced today (22 June 2010), during National Insect Week. ...
Pollination in top fruit can be enhanced
Field trials have proven that the process of pollination in top fruit can be enhanced through the use of a novel pheromone-based product, Pollinus whi...
BCPC joins others in taking the sting out of the Buglife report
BCPC has joined with others in the crop protection industry, in writing to the Secretary of State The Rt Hon Hilary Benn MP to oppose the ban on neoni...
New Patron for Bees for Development Trust
Bees for Development Trust is pleased to announce Sting as a Patron of the Trust. Musician, actor and activist, Sting is a long time supporter of h...
New Holland joins forces with the Beekeepers to save the bees
New Holland, one of the UK's leading agricultural manufacturers, has announced that it has joined the fight to find solutions to the problems wh...
£1m award to address honeybee decline
Scientists at Rothamsted Research and Warwick University have been awarded £1M by the Biotechnology and Biological Sciences Research Council (BBSRC) i...
Evidence on pesticides does not support ban to protect bees
The NFU has today called for an independent and comprehensive assessment of the impact of neonicotinoids after Buglife issued a report implicating the...
Where the global crop production industry means business
"Simply, a great networking opportunity to meet the key decision makers in the crop protection arena for the exchange of ideas globally," is...
Britain's honeybees disappearing
Britain's honeybees are disappearing at an "alarming" rate, yet the government is taking "little interest" in the problem, a...
Beekeepers buzzing as more register on national database
The number of beekeepers has grown over the last year, according to the National Bee Unit, which runs BeeBase, the national beekeepers' database...
Bee Friendly to Bees Day for Family Gardeners
Discover the world of Bumblebees and Honeybees Chipchase Castle Nursery, Wark - Sun 5 July 2009 Free entry. From 10am to 4pm - Talks about ho...
Perk up your Pollinators!
Agri-Nova Technology is launching a novel pheromone- based product, Pollinus, that will enhance and improve the performance of bees as crop pollinator...
Ten million research fund for bee health must be targeted
The £10 million research initiative to tackle bee and pollinator decline announced by Defra today, Tuesday, must be targeted accurately to identify an...
Better news on the bee front
Roger Williams, MP for Brecon and Radnorshire, whose responsibility as a DEFRA Shadow Minister includes Bee Health and Bee Keepers, recently visited t...
Bee keepers urged to register under healthy bee plan
The 'Healthy Bees' plan has been launched which will see £4.3 million of funding into bee health issues. The plan is recognition of a new ...
Jane Kennedy launches plan to halt declining Bee numbers
Defra and the Welsh Assembly Government have today published 'Healthy Bees', a plan to protect and improve the health of honey bees in Eng...
NAO report on safeguarding the future of the honeybee
Safeguarding the future health of the honeybee needs an effective national register to help disseminate good practice and combat disease issues accord...
Bees killed by Neo-nicotinoids in expressed Maize sap
From Karl Maresch - German Professional Beekeeping Association New research by Prof. Vincenzo Girolami of the University of Padova in Italy shows ...
Banning insecticides will not save British bees
Prohibiting suppliers of its own-brand fresh produce from using neonicotinoid insecticides until they are shown to be safe to honeybees is part of the...
DEFRA offers support to National Bee Unit for bee health research
The £4.3 million increase in funding for research into bee health announced by Defra is a step in the right direction and recognition of the sustained...
United Nations-Environment Program.
UNITED NATIONS. The United Nations Environmental Program (UNEP) announced that it will implement a new a new initiative, to better protect bees, ba...
Argentina-Parrot problems for farmers.
ARGENTINA. PARROTS. In Patagonia in the south of Argentina, there are 185,000 parrots, living in 35,000 nests in a small strip on 12km of coastline....
United States-Threat to fruit farming.
UNITED STATES. THE MISSING BEES PART THREE. We have reported on the mystery of the missing bees in England, Argentina and Australia. The United Stat...
Argentina-Honey shortage.
ARGENTINA. WHERE HAVE ALL THE BEES GONE. Argentina is the worlds leading exporter of honey, like many counties in Europe, bee numbers have declined ...
United Kingdom-Mystery of the missing Bees.
UNITED KINGDOM. WHERE HAVE THEW BEES GONE. The most important insect to the farming community, the honey bee is disappearing. Australia and Argenti...
Honey bee crisis threatens English fruit farmers
Where in the United States, fruit farmers pay to have bees trucked thousands of miles to pollinate their crops and in parts of China, humans with feat...
Honeybee Decline Threatens English Apple Orchards
"An apple a day keeps the doctor away" could soon be a saying of the past as English apples are predicted to become the next victim of the h...
£100,000 committed to bee health research
The major stakeholders in the beekeeping industry in the UK (BBKA, BFA, NFU and Rowse Honey Ltd) met to discuss the crisis of the declining bee popula...
A new pest for maize farmers
So far only small numbers of insects have been found, but it is only a matter of time before the Western corn rootworm becomes a problem for maize far...
Worcestershire vegetable farmers find rare bumble bee
Worcestershire vegetable growers Paul and Mike Southall, have miraculously brought back one of the UK's most endangered species of bumblebee to ...
Fungus Foot Baths Could Save Bees
One of the biggest world wide threats to honey bees, the varroa mite, could soon be about to meet its nemesis. Researchers at the University of Warwi...
Lorry carrying 12m bees overturns
Motorists on Canada's biggest highway ended up with a bee in their bonnet after a truck transporting 12m of the insects overturned. The lorr...
UK farmers warn of food crisis if EU tightens pesticide controls
Commercial farming of cereals and vegetables such as carrots, onions and parsnips in Britain will be badly damaged under proposals to curb pesticides ...
Sainsbury's sow the seed for wildlife at home
Sainsbury's customers now have the opportunity to create their own Operation Bumblebee habitat at home to reverse the plight of endangered bumbl...
Borneo - a new acaricide for horticultural crops
A new acaricide based on the active ingredient etoxazole, Borneo has received recent approval for use in protected tomatoes and aubergines as well as ...