Arable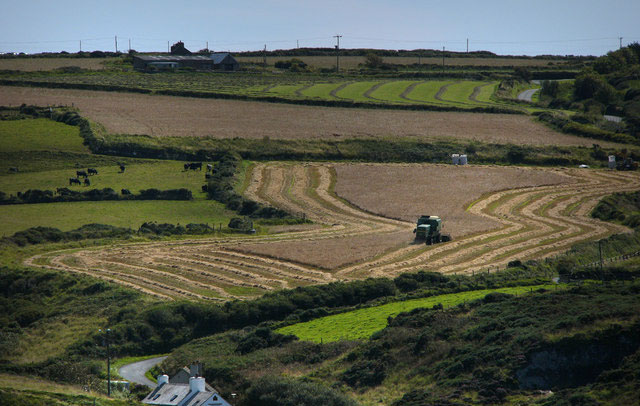 Act now to avoid problems with spring cultivation
A Norfolk land drainage firm has urged landowners to act now to avoid serious problems for spring cultivations and beyond, after experiencing a 25 per...
High crop production set to challenge Brazil's infrastructure
Brazil is expected to have another year of record production for several major agricultural crops in 2014, including soybeans and, depending on weathe...
Livestock farmers facing 'unprecedented threat' due to mild winter
Livestock farmers throughout Scotland and Northern England are facing an 'unprecedented threat' to their livelihood due to the extremely mild winter s...
Rainy winter gives China chance for productive wheat yield
Soycomplex Beans closed lower on the day, but higher for the week, in what was probably a bit of light consolidation ahead of another long weekend ...
Varietal resistance offers hope in battle against Turnip Yellows Virus
Growing oilseed rape in the absence of neonicotinoid seed treatments and the subsequent crop losses from flea beetle and Turnip yellows virus (TuYV) i...
Argentine rains 'may have come too late' to save corn
Soycomplex Beans closed around 8 to 12 cents lower as the USDA finally confirmed some Chinese soybean cancellations. They cancelled 272 TMT of US s...
Nuffield Scholar to research direct drilling in extreme weather conditions
Cambridgeshire-based arable farmer Russ McKenzie has been selected as the next HGCA-sponsored Nuffield Scholar, researching direct drilling in extreme...
Agriculture Committee rejects seed regulation
The Agriculture Committee rejected the Commission's proposed seed regulation by 37 votes to two on Tuesday amid concerns that it would give the Commis...
Rothamsted to change operations at Broom Barn site
Rothamsted Research is to change operations at their Broom's Barn site. Previously a centre exclusively for sugar beet research, the site near Bury St...
Wheat market closes higher for second day
Soycomplex Beans closed higher, with nearby months leading the way, on continued strong demand. The market possibly seems to think that US 2013/14 ...
Service and Support for AD Under The Spotlight At Energy Now Expo
The importance of an established service and support network in the renewable energy sector will be under the spotlight at the Energy Now Expo, accord...
Planning ahead is key for botrytis control
Certis is urging strawberry growers not to rely on another hot summer to prevent disease inoculum transferring from one season's crop to another, but ...
Farmers urged to explore ornamental opportunities
Farmers and landowners across Wales are invited to attend a free evening event later this month to find out how diversifying into ornamental plants ca...
Pasture experts join the PFLA team
Four new directors with extensive grassland experience and knowledge of retailing grass-fed produce have joined the board of the Pasture-Fed Livestock...
Pulse Roadshows provide latest advice for peas and beans
A series of free Pulse Roadshows have given arable farmers and agronomists an essential update on options for profitable pea and bean cropping this se...
Embrace GM crops, campaigner tells consumers
A former campaigner against genetically modified crops has called for politicians and the public to embrace GM food in order to feed the world's growi...
Rodenticide stewardship on course for March decision
The structure of a stewardship regime for second generation anticoagulant rodenticides (SGARs) has been proposed by a comprehensive stakeholder group ...
US drought becomes 'extreme' for wheat; corn market closes higher
Soycomplex Beans closed around 10 cents higher on the day in relatively quiet trade. China are on holiday, which might mean that the much talked ab...
Review flood management, CLA urges after 'wettest January'
Flood management must be looked at urgently according to the Country Land and Business Association following Environment Agency Chairman Lord Smith's ...
Don't overlook arable sector, cabinet secretary urged
As the debate on CAP implementation intensifies, NFU Scotland has written to Cabinet Secretary Richard Lochhead to ensure the challenges faced by the ...
Drought and freeze hit US winter wheat
Soycomplex Beans closed firmer in relatively quiet trade. China is closed for the next few days for the Lunar New Year celebrations, so maybe the m...
Secrets of potato blight could help farmers fight back
Scientists have discovered vital clues as to how the pathogen responsible for the Irish potato famine adapted to spread between different plant specie...
Midwest freeze restricting movement of grains
Soycomplex Beans fell hard on a combination of risk aversion, the impending huge South American crop and yet more Chinese cancellation talk. Argent...
Scientists condemn retraction of GM study
A group of 41 scientists have signed a public statement condemning the retraction of a study on genetically modified crops conducted by Prof Gilles-Er...
Wheat variety resistance could still halt yellow rust infection
Wheat growers are advised to check crops for yellow rust, following widespread reports of infection in crops, but be aware that many crops could still...
Huge turnout for CAP discussion
"If we say we will do nothing, and simply rely on diminishing resource, we cannot take care of the future or invest in the future," said Alun Davies, ...
Union wants Scottish CAP focus on production
Scottish farmers have laid out their priorities for CAP (Common Agricultural Policy) Reform implementation and warned that current Scottish Government...
Farmers must 'consider opportunities presented by wet weather'
Following recent severe wet weather, which has left hundreds of acres of farmland covered by floodwater, farmers have been urged to take a longer term...
Openfield exports oilseed rape to Turkey
A shortage of GM-free oilseed rape amongst the exporters surrounding the Baltic Sea has forced Turkey to come to the United Kingdom in search of suppl...
Argentina rains give corn a boost; wheat market closes lower
Soycomplex Beans closed mixed, up a little nearby and down a little further forward. The nears were supported by huge weekly export inspections of ...
Cereal crops 'facing yellow rust epidemic'
Many cereal crops could be facing a yellow rust epidemic this spring unless early action is taken, according to leading agronomists Hutchinsons. T...
End uncertainty for organic producers - NFU
The Welsh Government must end the uncertainty for organic producers in Wales and support the sector in developing viable, profitable markets for Welsh...
Rothamsted submits GM field trial application
Rothamsted Research has submitted an application to the Department for Environment, Food and Rural Affairs for permission to carry out a GM field tria...
China stepping up wheat purchases; corn market 'modest gains'
Soycomplex Beans closed narrowly mixed. Those hoping for a holiday delayed "Turnaround Tuesday" on a Wednesday were ultimatey disappointed, althoug...
Wheat market attempts 'feeble recovery' from lows
Soycomplex Beans fell hard on weekend rains in Argentina, and the forecast for more to come, along with unconfirmed rumours that China had begun ca...
EU vote to withdraw methiocarb slug pellets
EU Member States have voted to withdraw approval for all methiocarb slug pellets, including Draza forte and Decoy Wetex. The vote means that appro...
New Year campaign reinforces potato health credentials
With television and radio programmes and newspapers and magazines currently packed full of features promoting new year diets and resolutions, Potato C...
Union meets farming minister over CAP
Representatives of NFU Scotland have held their first face-to-face meeting with UK farming minister George Eustice MP, since his appointment to the po...
New initiative aims to help growers protect cereal potential
A new initiative designed to help UK farmers safeguard winter wheat and barley potential, after the last two challenging seasons, is being launched fo...
US winter wheat planting forecast cut
Soycomplex Beans closed with modest gains, which was no mean feat considering the total lack of support from either corn or wheat. Informa forecast...
Welsh farmers have 'no incentive' to produce food
The incentive to produce food and food security has been 'taken away' from Welsh farmers according to newly elected NFU Cymru Chairman Rhys Jones, aft...
Campaign warns farmers over illegal pesticides
A national campaign has been launched to raise awareness of the risks of illegal pesticides. Watch Out! is the message of a year long, nationwide, ...
MEPs reject GM crop for EU market
MEPs called on the Commission not to allow the genetically modified maize crop Pioneer 1507 on the EU market. This insect-resistant crop could be ...
Wheat market reverses losses; Robust corn imports for Europe
Soycomplex Beans closed narrowly mixed with the strong export pace supporting the market despite the notion that another record large South America...
Russia temperatures 'may hurt winter wheat crops'
Soycomplex Beans closed around 12 cents higher on renewed concerns over Argentine heat and dryness. Abiove estimated Brazil's 2013/14 soybean crop ...
EU clarifies labelling rules for honey and GM pollen
The European Parliament endorsed draft rules defining pollen as a natural constituent of honey, rather than an ingredient, in a vote on Wednesday. Thi...
NFU to host summit to discuss crop protection concerns
Leading figures from farming, agricultural chemical manufacturing, and crop protection distribution will hold a summit next week to discuss concerns o...
Corn market posts modest gains; Egypt booking US wheat
Soycomplex Beans closed sharply higher, particularly on front month Jan 14 which goes off the board tomorrow. A hot and dry forecast for Argentina ...
Beef Association warns farmers will lose out over CAP deal
The Scottish Beef Association has warned many upland beef farmers could be "shafted" by the new CAP deal. The association insisted many beef producers...
Key decision made on the distribution of CAP funding
The Minister for Natural Resources and Food, Alun Davies announced how millions of pounds worth of European agricultural funding will be shared betwee...