Arable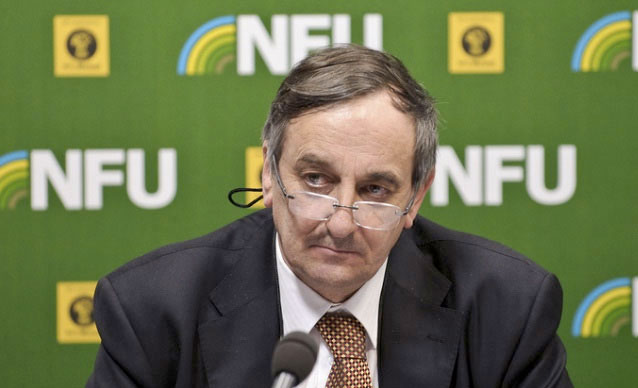 Parts of US winter wheat crop get much-needed rain
EU grains closed with little change. May 14 London wheat 5 pence lower at GBP168.25/tonne, whilst new crop Nov 14 was GBP0.50/tonne easier at GBP159.3...
US weather concerns and Ukraine tensions lift wheat prices
Soycomplex Beans closed slightly lower on continued talk of Chinese crushers selling South American purchases to the US and also cancelling/deferri...
Drought in Kansas grows more severe; wheat market closes lower
Soycomplex Beans closed little changed. A report on Reuters, quoting China's Xinhua News, said that the US has already booked 500 TMT of South Amer...
Look out for Sclerotinia Outlook
Well-advanced oilseed rape crops plus warm temperatures and lengthening days come together to bring forward the risk of Sclerotinia, according to the ...
Focus on cleavers when planning spring weed control
Growers need to focus on weeds that are the most competitive or cause the most problems at harvest. Independent weed experts classify cleavers as the ...
Light leaf spot risk remains high, according to forecast
Risk of light leaf spot is high according to an updated forecast from Rothamsted Research. The latest forecast takes into account winter rainfall from...
Spring barley plays important role on mixed farm
Spring barley plays an important role on WG & TA Manford's mixed farm in Benenden, Kent as a key crop in the arable rotation and also as an important ...
Farmers warned over liver fluke risk this spring
Farmers are being warned of the risk of liver fluke infection when they turn out their cattle this spring following the mild and exceptionally wet win...
Declining US wheat conditions, Ukraine tensions underpin market
EU grains closed mixed with May 14 London wheat unchanged at GBP170.25/tonne, and with new crop Nov 14 GBP0.05/tonne lower at GBP161.50/tonne. May 14 ...
Concerns remain for US winter wheat on the Plains
Soycomplex Beans closed higher to start the week, particularly on old crop as the nearby supply and demand situation remains tight for US beans. Ta...
Light leaf spot risk remains high
Risk of light leaf spot risk is high according to the updated forecast from Rothamsted Research. The latest forecast takes into account winter rainfal...
Don't rush maize establishment
Maize growers have been urged not to rush into drilling crops this spring, despite the mild winter and relatively high soil temperatures. Early-sow...
Grain exports from Ukraine 'continue at a pace'
EU grains closed mostly higher, helped by a stronger US market as Chicago May 14 wheat rose close to last weeks highs - the best levels for the contra...
Arable farmers are backing the CFE
Lowland arable farmers across England are showing support for an invigorated Campaign for the Farmed Environment (CFE) by adopting voluntary environme...
Soil Association to fund innovative farmer-led research
The Soil Association has announced funding for three innovative new research projects to support sustainable agriculture. The three projects, which...
Spray nozzle selection easier to manage with Duo React
A new spraying system developed by Pentair Hypro makes it possible for operators to change from one nozzle to another at the flick of a switch. The...
Fund money flooding into wheat market since Ukraine crisis
EU grains closed a see-saw day mostly lower, with expiring tomorrow Mar 14 London wheat down GBP1.0/tonne at GBP167.35/tonne, and with new crop Nov 14...
US corn plantings may hit four year low
Soycomplex Beans closed higher for a third day despite apparent confirmation that a Chinese crusher has sold Brazilian beans to US buyers on the ea...
Budget: Key points for the farming sector
Mike Harrison, Partner in the Landed Estates and Rural Business Group of UK top 20 Chartered Accountant, Saffery Champness, comments: The doubling ...
Act now to avoid weed menace in cereals this spring
With T1 timing arriving early this spring, Dow AgroSciences is urging farmers to act against broad leaved weeds soon, as weeds and crops romp through ...
Nutrient management can improve farm profitability, research says
Large increases in the price of fertiliser and pressure on the agricultural industry to reduce its contribution to water pollution mean that making be...
Early sown wheats need careful monitoring
Many early sown wheat crops will need careful monitoring to ensure that PGR, fungicides and nitrogen inputs are well timed warn leading plant breeders...
Budget fails to benefit farms, says CLA
The Chancellor's budget speech fails to benefit unincorporated rural businesses such as farms, according to the Country Land and Business Association....
Early maize under plastic gives double cropping options
Producers growing ultra early maize under plastic could harvest their crop up to one month earlier than usual opening up a range of autumn drilling op...
Corn market slumps lower on fund selling
Soycomplex Beans closed with small gains, as the market brushed off talk that China had resold a few cargoes of Brazilian beans to the US. Weekly e...
Farmers pilot new digital mapping service for RPA
Following successful small-scale initial trials, the Rural Payments Agency (RPA) is now rolling out to 1,000 farmers and agents the chance to test a n...
Maize growers face potential plant establishment issues
The loss of Neonicotinoid seed dressings could give maize growers real establishment problems in 2014's wet soils, warns Grainseed's technical directo...
Brazilian non-GM industry targets animal feed sector
Leading organisations involved in the supply of non-GM soy from Brazil are to host a one day industry event in Germany this April specifically for Eur...
Dow AgroSciences commits to fight broad-leaved weed herbicide resistance
Investment in research now is vital to prevent herbicide resistance in broadleaved weeds becoming as big a problem as blackgrass to UK cereal farmers,...
Pollen Beetle on the move as OSR extends
With some warmer days the Pollen Beetles are on the move, at a time coinciding with many oilseed rape crops growing through stem elongation and starti...
Hybrid agricultural model to support China's food demand
A quadrupling in the world's population in the past 100 years has required a fundamental change in soil and crop management to meet growing food deman...
Manage forward grass growth to maximise yields and quality
Grass growth is well ahead of normal after the fifth warmest winter since records began. With temperatures averaging 5.2°C between December and March;...
MEPs object to new labelling rules
Parliament opposed the Commission's proposed definition of "engineered nanomaterials" – tiny particles added to foods – in a vote on Wednesday. MEPs s...
Approve GM crops, adviser urges Cameron
Climate disruption, population growth and rising costs of food staples means the UK must start producing more from the land, the Prime Minister was ur...
'Very severe' drought develops for US wheat
Soycomplex Beans fell sharply on what one observer called "negative macro economic vibes" - which is short-code for "nothing specific". That said, ...
Farmers 'let down' by EU seeds decision
The European Parliament's decision to reject proposed Plant Reproductive Material (PRM) legislation represents a 'backwards step', according to the Na...
No evidence for slowing in Ukraine grain exports
EU grains finished mostly higher on the day, with the exception of rapeseed which fell sharply as US soybean/meal futures caved in. Wheat figured in t...
Concerns remain for US winter wheat; corn market closes higher
Soycomplex Beans ended the day mixed, lower on the nears and higher on new crop. The very large spec long, which is approaching record levels, is s...
MEPs vote to reject seed directive
The European Commission's proposal for plant reproductive material law, also known as the "seed regulation", was voted down by the European Parliament...
Wessex Grain buys haulage business
Wessex Grain has purchased the assets of John Budge haulage. The business will be a 100% subsidiary of Wessex Grain. John and Vera Budge establishe...
NFU welcomes start to vital support payments
The NFU has welcomed the announcement from Scottish Government that lifeline support for those farming in Scotland's Less Favoured Areas (LFAs) will b...
CAP reform: European Commission adopts delegated acts
The European Commission has adopted the first package of delegated acts for the reform of the Common Agricultural Policy (CAP) aiming at making the CA...
Environment groups condemn GM crop plan
Environment groups have written to the Prime Minister and Deputy Prime Minister to condemn Environment Secretary Owen Paterson's support for growing G...
Research call for slug control as potential £100m cost to industry
Work by AHDB's crop divisions has estimated that a lack of slug control products could potentially cost UK crop production £100 million annually. ...
Ukraine tensions may encourage grain 'hoarding'
Soycomplex Beans surged to the best closing levels for a front month since September, and the highest close on nearby Mar 14 ever. Fund money conti...
Survey finds broad support among Europeans for new CAP
Over three-quarters of Europeans believe the common agricultural policy (CAP) benefits all EU citizens and over 90% support the main trends of the new...
Spray responsibly for leatherjacket control in grass and cereals
Scottish growers are being urged to make sure that they spray responsibly against leatherjackets in grass and cereals, especially if pest populations ...
Speculative money 'flooding' into grains sector
EU grains finished mostly higher on the day, with the exception of rapeseed, and sharply higher for the week across all commodities on Ukraine uncerta...
Defra announces consultation on pollinators
Defra has announced a consultation on the proposed national pollinator strategy. Pollinators are essential for biodiversity and pollination of essenti...
Embrace technology to maintain food security - CLA
The CLA has told the Environment, Food and Rural Affairs (Efra) Select Committee that the UK must invest in technology to protect food security. Gi...