Arable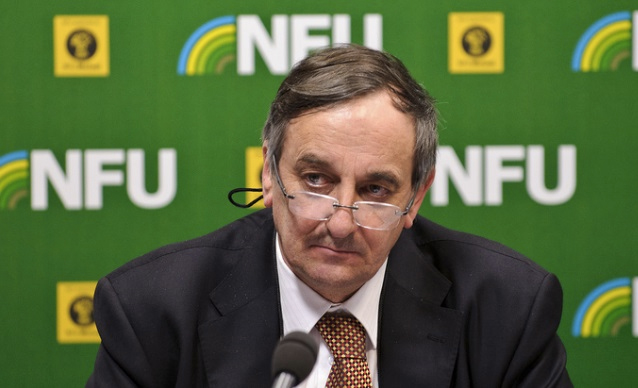 The double life of a genome
Early maize farmers selected for genes that improved the harvesting of sunlight, a new detailed study of how plants use 'doubles' of their genomes rev...
EU grains markets finish mostly lower again
EU grains markets finished mostly lower again, extending the recent theme. Nov 14 London wheat set a fresh contract lifetime low, and also finished at...
China may reject new types of GMO corn due to safety concerns
Soycomplex Beans closed higher, with the best grains on the deferred positions. This could probably be attributed to a correction from Friday night...
More pasture-fed producers wanted
The Pasture-Fed Livestock Association, which certifies farmers producing beef and lamb solely on pasture and conserved forage, is looking for more sup...
UK farming policy needs overhaul to tackle future problems, report says
Major changes are needed to the UK's food and farming policy if it is to combat food poverty, obesity and environmental problems of the future, accord...
European Commission signs memorandum over agricultural development
Commissioner for Agriculture and Rural Development Dacian Ciolos and Vice President of the European Investment Bank (EIB) Wilhelm Molterer signed toda...
Farmers are advised to pause before harvesting wholecrop
Farmers considering harvesting cereals for wholecrop this week are advised to pause and consider their winter feeding stocks before filling another cl...
The common thread is early vigour
Andrew Stilwell of the distributor Bartholomews has been a great supporter of the winter oilseed rape variety Alienor which has been a widely grown va...
The growing importance of Phoma resistance
With Phoma stem canker still being the Number one disease of winter oilseed rape, growers may need to consider their variety selection very carefully ...
EU grains close mixed following recent rout
EU grains closed mixed, attempting a bit of light consolidation/profit-taking following the recent rout ahead of tomorrow's USDA WASDE report. New ...
US could see final corn yields 'close to a record'
Soycomplex Beans closed closed 4 to 10 cents lower. Weekly export sales of 56,300 MT of old crop and 526,500 MT of new crop were towards the top en...
London wheat sets 'lifetime closing low'
EU grains markets finished lower again, in a continuation of the recent theme. Nov 14 London wheat set a fresh contract lifetime closing low, and also...
Wheat market slumps to 'fresh lows'
Soycomplex Beans closed mixed, but mostly lower save for the front end. Non threatening US weather and the outlook for a record large by some consi...
Growth deal announcement 'must benefit rural economy', says CLA
Government allocations from the national growth pot 'must benefit all sections of the economy', the Country Land and Business Association have said. ...
Season extension to boost beet
Lincolnshire sugar beet grower and contractor, Richard Ivatt, has completed the first stage of his fungicide programme this week, with an application ...
Farmers to protest 'threatening' US-EU trade deal
Farmers and growers will protest in London calling for the free trade negotiations between the EU and the US to be scrapped. The Transatlantic Trad...
Ukraine may harvest record corn crop; US weather 'non-threatening'
Soycomplex Beans crashed lower for a seventh straight session, with the front end bearing the brunt of losses. Jul 14 beans have now fallen more th...
Fight resistance in the crop fields, AIC warns
A better approach is needed to crop protection to avoid the threat of significantly reduced food and animal feed, according to the Agricultural Indust...
CLA highlights sharing as key for future of farming
A wider uptake of share farming could enable thousands of young people to get their first foot on the farming ladder according to the CLA. The CLA...
Yorkshire farmer's miscanthus move brings business boost and lifestyle benefits
An East Yorkshire arable farmer has boosted business after swapping combinable crops for miscanthus on half of his land – and is even enjoying more fr...
International collobration aims to protect world's crops
Experts from the UK and India are working together to identify and develop novel environmentally-sustainable strategies to control plant pests, known ...
Groups disappointed by Syngenta oilseed rape decision
The Agricultural Industries Confederation has said it is disappointed that Syngenta has withdrawn its emergency use application for Cruiser OSR on oil...
More farmers keen to boost protein value of crops
As the annual cereal harvest looms, alkasystem feed and forage specialist FiveF is reporting a surge of interest from dairy farmers keen to boost the ...
US wheat yields expected to be down due to drought
EU grains closed mixed, with some light consolidation from recent heavy losses in evidence. The day ended with the thinly-traded and soon to expire...
FAO raises outlook on global wheat crop
Soycomplex Beans closed a holiday-shortened session lower. Weekly export sales came in at 40,600 MT of old crop and 431,200 MT for new crop. Trade ...
Arable farmers warned over CAP greening measures
Arable farmers are being warned about the financial consequences of failing to abide by the Ecological Focus Area (EFA) requirement under next year's ...
China attempt to auction off state-owned corn stocks
Soycomplex Beans closed lower in what looks like consolidation ahead of the long weekend. The market will also only operate a holiday-shortened ses...
Unprecedented demand for Avadex Granules
Contractors and machinery manufacturers are responding to the move in the market towards Avadex Excel 15G (tri-allate) as part of a weed control progr...
New guide from Germinal Seeds provides advice on forage options
A new booklet providing guidance on how to grow, manage and use a wide range of alternative forage crops has been launched by Germinal Seeds at the 20...
EU grains markets 'ended the day almost universally lower'
EU grains markets ended the day almost universally lower, in follow through trade after last night's bearish USDA stocks/acreage data. The day fini...
Corn trade relaxed over US Midwest rains
Soycomplex Beans closed virtually unchanged on front month Jul 14, and up to 10 cents down further forward. Fund selling in beans was estimated at ...
The way forward for Verticillium
As there are no adequate chemical solutions, growers will have to rely on good agronomy combined with resistant varieties in order to control Verticil...
Better preparation for extreme weather key to improving food security, says report
Extreme weather events and increased demand for foodstuffs from emerging economies such as China need DEFRA leadership to guarantee the UK's long-term...
Government must uphold ban on bee-harming pesticides
Ministers must stand up to intense lobbying from the pesticide industry by refusing to allow a banned bee-harming pesticide to be sprayed on Britain's...
High hopes for maize crops
Agronomists are optimistic for high maize yields this year as a result of warm seedbeds, good weed control and plenty of sunlight. Across most of t...
Winter barley likely to take up oilseed rape slack in uncertain seed market
Winter barley could take up the predicted drop in oilseed rape plantings this autumn, says Nidera UK seed manager Russell Frost. And with many grow...
A fresh challenge: addressing the volume decline
The value of fresh potato category is growing with a 3.8% rise over the last year, while the volume of fresh potatoes sold has dropped by 8.0% (Kantar...
EnviTec Biogas UK Reports Positive Performance At UK AD & Biogas 2014
EnviTec Biogas UK will be showcasing the technology and expertise at UK AD & Biogas 2014 that has led the company to secure a range of multi-million p...
Farmer wins prize for spotting illegal pesticide
Lincolnshire farmer David Revill was the winner of the The Voluntary Initiative (VI) "Right One!" quiz run at Cereals 2014. The quiz, sponsored b...
CAP reform process can reduce compliance burden
Scotland's CAP decision-making process can deliver simplification and reduce the red tape burdens at both farm and competent authority levels. With...
Heavy rain on the Plains is slowing winter wheat progress
Soycomplex Beans ended mixed, lower on old crop and higher on the new. The CFTC's Commitment of Traders report shows managed money significantly cu...
Black-grass testing
With black-grass now flowering above wheat crops, it is easy to see where this weed has got the upper hand this season. In the next couple of weeks bl...
EU grains closed mostly a little lower in a subdued session
EU grains closed mostly a little lower in a subdued session. The day ended with the Jul 14 London wheat contract down GBP0.50/tonne at GBP138.75/to...
US record corn production 'could be on the cards'
Soycomplex Beans ended a little lower, despite a supportive NOPA crush number for May. That came in at top end of trade estimates at 128.8 billion ...
The role robotics could play in future food production
A team of computer scientists from the University of Lincoln, UK, is co-organising an international workshop on recent advances in agricultural roboti...
Take every option to tackle grassweeds this autumn
With the current season, one of the worst ever for blackgrass infestations, growers should be planning to take advantage of every option available to ...
Slug threat very real concern
The mild winter, twinned with a season that's so far been conducive to high slug numbers, was a key area for discussion on the Certis stand at Cereals...
GM crops could be planted in the UK next year
The European Union Environment Council have voted yes on a proposal that could see GM crops planted in UK fields next year. The UK Government stron...
Bayer CropScience announces new wheat testing in the UK
Bayer CropScience has announced it will commence wheat variety testing in the UK. Andrew Orme, Managing Director of Bayer CropScience in the UK sai...
CAP statement 'signals way ahead for support'
New regulations that give farmers flexibility over how they implement EU rules have been announced today by Environment Secretary Owen Paterson. Un...