Arable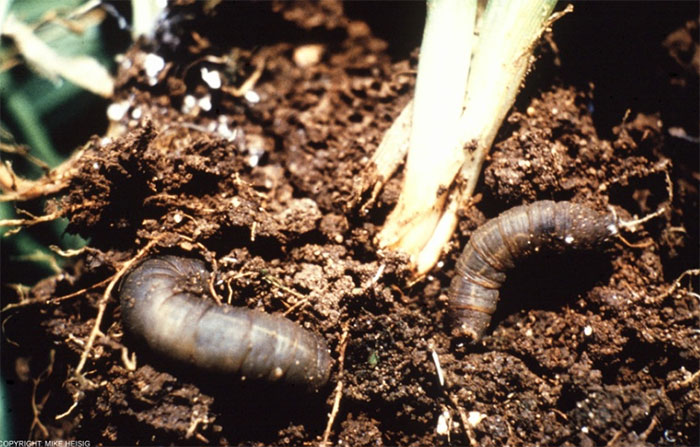 MP questions Ministers over upland farm support
During Defra Questions in the House of Commons, Brecon and Radnorshire MP Roger Williams raised his concerns regarding the reform of the Common Agricu...
Despite weather extremes, EU cereal production 'expected to be higher'
This year total cereal production in the EU-27 is forecast to be well above 2012 levels and above the average of the past five years. This agricultura...
Chicago grain market report - 4th July 2013
Soycomplex For soybeans and meal it was the same old story of tight US old crop stocks and strong world demand pushing prices higher. As ever, the ...
Spring barley's Odyssey and Overture gain distilling recognition
The high yielding variety Odyssey, has been awarded the prestigious accolade of full approval for malt distilling use, and has been granted Provisiona...
RPA opens bid to promote EU agricultural produce
Trade organisations representing agricultural sectors in the UK have a fresh chance to apply for EU funding towards promotion and information programm...
Agco names new senior Vice President
AGCO, a manufacturer and distributor of agricultural equipment, today named Eric Hansotia Senior Vice President, Global Harvesting and Advanced Techno...
Smethwick fire 'shows how dangerous Chinese lanterns are'
Farming group are urging the public to 'think twice' about releasing Chinese lanterns because of the significant risk they pose in causing fires in cr...
Ceredigion farmers meet local AM
CAP Reform and Bovine Tb were the main topics of discussion during a Ceredigion NFU Cymru on-farm meeting with local Assembly Member Elin Jones held a...
Live working machinery at UK's largest potato event
This year's Potatoes in Practice maintains high relevance for growers and the potato industry who will see increased technical content at the event on...
Politicians 'must secure competitive future for agriculture', urge farmers
The future of the agricultural industry in Pembrokeshire was at the forefront of discussions during a recent meeting of Pembrokeshire NFU Cymru office...
CAP Reform and Crop Diversity Can be Springboard for Growth
Linking CAP payments to crop diversity represents a growth opportunity for farmers, according to anaerobic digestion (AD) specialist EnviTec Biogas UK...
Continuous high blight risk demands action
Potato growers are facing a weekend of very high blight pressure, at a time when new growth is expanding rapidly and the protective capability of blig...
Alternaria in potatoes – it's all about timing
Alternaria is already a regular and significant disease in potatoes in mainland Europe and its incidence has recently shown a marked increase in the U...
Dog attacks on livestock reach record levels
With the number of dog attacks on livestock at record levels, farm groups are urging the public to be more responsible when visiting the countryside. ...
Crop Update - 28th June 2013
Becky Ward, PGRO principal technical officer, gives the latest update on pests and diseases for peas and beans. Pests Bruchid beetles in beans ...
Grain Market Report - 28th June 2013
David Sheppard, Gleadell's Managing Director, comments on the wheat markets. Wheat - Harvest continues to move north in the US with reports of b...
Maize growth on the move
"After a slow start due to lower than average temperatures, maize growth is finally on the move. Compared to last year, sowing and establishment are m...
CAP Reform: MEPs, Council and Commission strike deal
More emphasis on environmental protection, mandatory top-ups for young farmers in all member states, stronger farmers' organisations and less red tape...
Tesco accused of 'breaking promises' on GM feed
Anti-GM group GM Freeze have accused Tesco of breaking a promise to phase out GM animal feed, thereby 'breaking commitments made in the company's soci...
CAP Reform: Implementation is the key
NFU Cymru President, Ed Bailey believes that yesterday's political agreement on CAP gives the UK the framework to allow for the implementation of a sc...
Farming unions reject 'more CAP money' calls for Scotland
The NFU has joined NFU Cymru and the Ulster Farmers Union in rejecting calls from the Scottish Government to redistribute UK CAP funds north of the bo...
Chief Scientist to present crop genetics report to EU
A report calling on the European Union (EU) to lead the world in using science to improve agricultural productivity and enhance the environment is to ...
Growers needed for Rothamsted take-all trial
Growers have the chance to work closely with experts from Rothamsted Research on how variety choice affects the disease take-all. Volunteers are n...
New CAP reform 'will penalise English farmers', says group
A new CAP negotiating position agreed late last night by the Agriculture Council will penalise English farmers and make it harder for them to produce ...
CAP Reform: Direct payments explained
The Commission, the Council and the European Parliament (EP) have today reached a political agreement on the reform of the Common Agriculture Policy –...
New herbicide kills difficult grassland weeds
Dow AgroSciences has launched a new formulation of its popular knapsack-applied herbicide Grazon 90, used against a wide range of problem weeds growin...
NFU criticise Defra as UK votes on CAP reform
With a final deal yet to be struck, the UK has supported a mandate for the Irish Presidency to take the revised CAP proposals to Brussels to be passed...
Supermarkets not doing enough for farmers, group says
Supermarkets should do a lot better to support farmers who have been troubled by this year's cold spring coupled with last year's wet seasons, accordi...
Make the most of slow growing grass
Grass quality may have caught up after months of less-than-ideal growing conditions, but slow growth is keeping optimal feed conversion at the forefro...
Spread risk to resist Club Root
Club Root continues to spread across the UK, aided by the wet conditions that exacerbate the disease and shorter rotations practiced by many growers t...
Coveney in Luxembourg as CAP talks enter final stage
Irish Minister for Agriculture Simon Coveney arrived in Luxembourg ahead of talks between EU member states and the European Commission as CAP reform e...
Match up cereal stages and wheat blossom midge pupation
Despite generally low levels of Wheat Blossom midge this year, some crops will be at the vulnerable stage (GS 53 to 59) when the Wheat Blossom midges ...
Flies offer 'highly nutritious' replacement for soya
A biotechnology company is offering what it says is a highly nutritious replacement for soya in animal feed by farming flies. AgriProtein Technologies...
Argentine Ministry raises corn production forecast
Soycomplex Broad-based selling in commodities spilled over into the ag sector. Gold fell to a 2 1/2 year low following Fed Chairman Ben Bernanke's ...
CAP Reform: What remains to be clarified?
The Agriculture Council meeting of June will take place in Luxembourg starting on June 24, under the presidency of Mr Simon Coveney, Irish Minister of...
EU must reject Monsanto crops, says briefing
The EU must not repeat the mistakes that lead to the emergence of US glyphosate resistant "superweeds", according to anti-GM group GM Freeze in a brie...
Grain Market Report - 21st June 2013
David Sheppard, Gleadell's Managing Director, comments on the wheat market. Wheat Old crop It is becoming increasingly apparent that there is...
Farm leaders meet with ministers as CAP reform enters final stage
Farm group members have met with Defra Farming Minister David Heath and Scottish Secretary of State Michael Moore at the Highland Show as the CAP refo...
Potato Council campaign to boost crop at crucial time
Potato Council is seeking to raise awareness for the new season crop, with a TV advertising burst to hit screens in July. The commercial, which is due...
Crop Update: 20th June 2013
Becky Ward, PGRO principal technical officer, gives the latest update on pests and diseases for peas and beans: PESTS Pea moth There have bee...
GM will revolutionise UK agriculture, says Paterson
GM crops offer a 'wonderful opportunity' to benefit human health as they are a safer alternative to conventional plants, according to the Environment ...
Preserving pod integrity pays
Agrii agronomist Andrew Farley says that, with the excellent price of oilseed rape, every pod is worth preserving and growers should be applying an ef...
Global wheat output up 5.3% from a year ago
Soycomplex Beans were little changed despite the USDA announcing the sale of 240 TMT of new crop beans to China. Oil World said that the US will im...
GMO wheat growing in Oregon 'was one-off incident'
Soycomplex Bans were mostly lower on a favourable 1-5 day weather forecast despite the May NOPA crush of 122.63 million bushels coming in above the...
NFU Sugar given mandate to move forward on price negotiations
Over 550 sugar beet growers have given the NFU Sugar board a clear mandate to continue negotiating on price with British Sugar for the 2014/15 beet cr...
Cereals 2013: Home built double press cultivator
There was considerable interest among the visitors to Cereals 2013 who saw the double press which Matt Brown designed and made to work the 500 arable ...
New Incentive OSR delivers highest oil content and yield
With a gross output 108% of control, DSV's new Oilseed Rape variety Incentive is the top performing hybrid with the highest overall oil content in the...
Bale silage quality can be improved
With the silage season underway, two independent surveys carried out across 300 livestock farms in the UK and Sweden reveal silage management practice...
Wheat: UK remains the only 'black spot' in an improving EU outlook
David Sheppard, Gleadell's Managing Director, comments on the wheat market. Wheat - USDA reports corn crop is now 95% planted against 100% last ...
Grain Market Report - 14th June 2013
Soycomplex The soybean market closed sharply lower for a second day, adding to yesterday's losses. Nearby beans bore the brunt as longs scrambled t...