Arable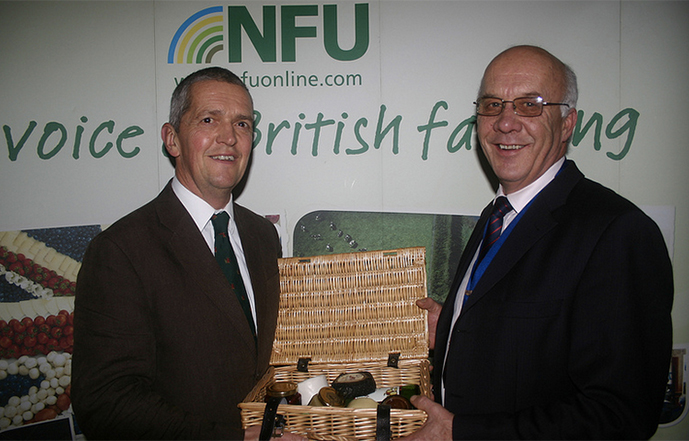 Winter barley likely to take up oilseed rape slack in uncertain seed market
Winter barley could take up the predicted drop in oilseed rape plantings this autumn, says Nidera UK seed manager Russell Frost. And with many grow...
A fresh challenge: addressing the volume decline
The value of fresh potato category is growing with a 3.8% rise over the last year, while the volume of fresh potatoes sold has dropped by 8.0% (Kantar...
EnviTec Biogas UK Reports Positive Performance At UK AD & Biogas 2014
EnviTec Biogas UK will be showcasing the technology and expertise at UK AD & Biogas 2014 that has led the company to secure a range of multi-million p...
Farmer wins prize for spotting illegal pesticide
Lincolnshire farmer David Revill was the winner of the The Voluntary Initiative (VI) "Right One!" quiz run at Cereals 2014. The quiz, sponsored b...
CAP reform process can reduce compliance burden
Scotland's CAP decision-making process can deliver simplification and reduce the red tape burdens at both farm and competent authority levels. With...
Heavy rain on the Plains is slowing winter wheat progress
Soycomplex Beans ended mixed, lower on old crop and higher on the new. The CFTC's Commitment of Traders report shows managed money significantly cu...
Black-grass testing
With black-grass now flowering above wheat crops, it is easy to see where this weed has got the upper hand this season. In the next couple of weeks bl...
EU grains closed mostly a little lower in a subdued session
EU grains closed mostly a little lower in a subdued session. The day ended with the Jul 14 London wheat contract down GBP0.50/tonne at GBP138.75/to...
US record corn production 'could be on the cards'
Soycomplex Beans ended a little lower, despite a supportive NOPA crush number for May. That came in at top end of trade estimates at 128.8 billion ...
The role robotics could play in future food production
A team of computer scientists from the University of Lincoln, UK, is co-organising an international workshop on recent advances in agricultural roboti...
Take every option to tackle grassweeds this autumn
With the current season, one of the worst ever for blackgrass infestations, growers should be planning to take advantage of every option available to ...
Slug threat very real concern
The mild winter, twinned with a season that's so far been conducive to high slug numbers, was a key area for discussion on the Certis stand at Cereals...
GM crops could be planted in the UK next year
The European Union Environment Council have voted yes on a proposal that could see GM crops planted in UK fields next year. The UK Government stron...
Bayer CropScience announces new wheat testing in the UK
Bayer CropScience has announced it will commence wheat variety testing in the UK. Andrew Orme, Managing Director of Bayer CropScience in the UK sai...
CAP statement 'signals way ahead for support'
New regulations that give farmers flexibility over how they implement EU rules have been announced today by Environment Secretary Owen Paterson. Un...
Breakthrough in understanding swarming potato blight spores
Researchers at the Universities of Dundee and Aberdeen have made a breakthrough in understanding how the microbial spores which cause potato blight ar...
Concerns around EFAs acknowledged by Defra
Government proposals for Ecological Focus Areas (EFAs) as required under the greening criteria of the Common Agricultural Policy (CAP) will avoid comp...
UK food production 'flat lining' as EU over-regulation continues
Crop production in the UK will be sent into decline if British farmers continue to lose access to key materials, according to the NFU. "The UK's cr...
Nitrogen fixing crops 'will count' towards greening measures
Farmers have today learned that planting nitrogen fixing crops such as peas and beans will count towards their greening measures under the new Common ...
Defra's septic tank review takes CLA concerns on board
The CLA has said that government proposals to replace the current registration system for septic tanks with a more risk-based system are a step in the...
Revelation provides peace of mind in high disease pressure season
Promising exceptional rust resistance and high yield potential made Revelation the perfect choice for Lincolnshire grower Jim Beeden this spring – and...
Farmers meet MSPs to raise 'serious concerns' over CAP
Farmers from the North East met with MSPs at the Scottish Parliament to raise their serious concerns over the possible threat of an immediate introduc...
CAP reform update June 2014
We have brought together the latest basic information on the current state of play of this round of CAP reform for each country of the UK with specifi...
Targetting all four diseases in sugar beet
Targetting all four foliar diseases of sugar beet – Cercospora, powdery mildew, rust and Ramularia - could result in higher yields and better returns ...
Hungry crops and high disease pressure prove challenging for student teams
A spring of high disease pressure and hungry crops has provided a challenge for the six student teams fighting it out to grow the most profitable crop...
EnviTec Biogas sets out benefits of gas to grid technologies at Cereals 2014
EnviTec Biogas will be on hand to offer visitors the complete picture of emerging biomethane gas to grid technologies at Cereals 2014. From their s...
Early action vital to beat potential blight epidemic
Potato crops are at very high risk from a serious blight epidemic this season and growers will need to begin control programmes early to keep the dise...
UK agriculture 'set for new era of profitability'
UK agriculture is set for a new era of profitability and rewarding career opportunities, according to chartered accountants and lawyers. Andrew He...
US wheat crop may be lower this year
Soycomplex Beans closed higher, in what you might call "Turnaround Tuesday" trade, a day later than normal due to Monday's Memorial Day holiday. Th...
US wheat is still being priced out going forward
Soycomplex Beans finished sharply lower, on anticipated strong progress with US plantings this past week under good sowing conditions. Talk of Chin...
New understanding as to how plants defend themselves against disease
A new understanding as to how plants defend themselves against some pathogens that cause crop diseases is proposed by researchers from the University ...
Need for the right CAP deal for Dumfries & Galloway
As Scotland enters the final stages in deciding how new support schemes will be delivered, NFU Scotland has met with local politicians and councillors...
Scotland must adopt 'can do' attitude on CAP
NFU Scotland has called on Scottish Government to adopt a 'can do' attitude on implementing CAP Reform to ensure precious support funding is focussed ...
Welsh farmers 'left behind' over CAP
Welsh sheep farmers are at risk of being seriously disadvantaged if the Welsh Government does not look at directing funds to upland areas via an Area ...
Mite infestations escalate after warm winter
A prolonged and warm winter has allowed both mites and insect pest infestations to escalate in grain stores and without an effective broad-spectrum tr...
Russian and Ukraine corn exports 'are records'
Soycomplex Beans closed with decent gains. Weekly export inspections came in at 167,953 MT, which was towards the top end of the expected 80-175,00...
Yellow rust threat remains 'extremely high'
With the unsettled weather of late disease pressure from Septoria tritici and yellow rust remains extremely high, and spray intervals and dose rates w...
Corn market crashes to losses of 8-11 cents
Soycomplex Beans closed lower in what looked like "buy the rumour, sell the fact" trade. The monthly April NOPA crush came in right on expectations...
Land rules offer 'precious simplification' in current CAP proposals
Scottish Government is being urged to adopt new land eligibility rules in its future CAP schemes and help reduce the red tape burden on many Scottish ...
Traders 'shy away' from long term Ukraine grain contracts
Soycomplex Beans closed mostly a little higher, save for expiring front month May 14 which went off the board 6 cents lower. This was due to a late...
Canadian wheat areas 'set to see better weather'; Corn market ends higher
Soycomplex Beans finished higher in "Turnaround Tuesday" style, with tight and technical old crop the greatest beneficiary. Prospects for significa...
US to lose place as world's largest wheat exporter to Europe
Soycomplex Beans closed sharply lower, with fund money said to have been a net seller of around 6,000 contracts on the day. Weekly export inspectio...
Ukraine winter crop conditions 'better than last year'
EU wheat markets finished the day sharply lower, with May 14 London wheat closing down GBP2.45/tonne at GBP159.00/tonne, with new crop Nov 14 London w...
Distance dictates 2014 grain haulage costs
Results from AHDB/HGCA's UK Grain Haulage Survey 2014 show a 1.2 per cent decline in average journey costs, compared with last year's survey. The ...
Potatoes emerge to perfect storm of blight pressure
Many potato crops are now emerging well - straight into conditions that pose a high risk of blight. There is a 'perfect storm' of blight risk building...
How can the next UK government boost agricultural production?
How can the next UK Government boost agricultural production? That is the question being asked by the Crop Protection Association (CPA) at its Annual ...
London and Paris wheat 'starting to look weak'
EU grains closed mixed ahead of the release of today's important USDA WASDE report, which will give us a first glimpse into their take on crop product...
US winter wheat conditions 'mixed'
Soycomplex Beans closed with decent gains heading into tomorrow's USDA report. Maybe the trade was enthused by news that China had imported 6.5 MMT...
Spraying innovation to the fore at Cereals 2014
Farmers looking to purchase new or updated sprayers or catch up with the latest spraying technology have an unrivalled opportunity to do so at Cereals...
EU wheat markets closed mostly lower
EU wheat markets closed mostly lower, on what looks like profit-taking and book-squaring ahead of tomorrow's USDA report and an easing of tensions in ...