Arable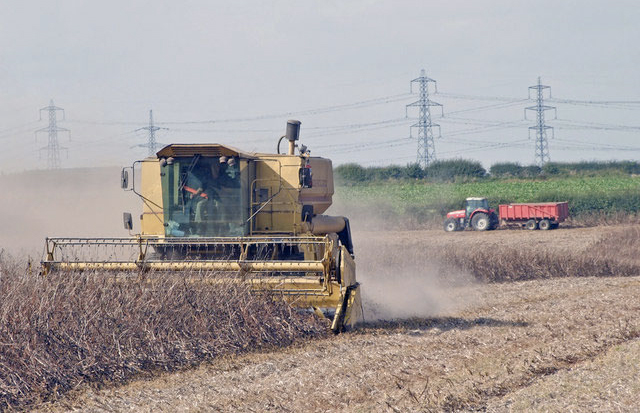 Mite infestations escalate after warm winter
A prolonged and warm winter has allowed both mites and insect pest infestations to escalate in grain stores and without an effective broad-spectrum tr...
Russian and Ukraine corn exports 'are records'
Soycomplex Beans closed with decent gains. Weekly export inspections came in at 167,953 MT, which was towards the top end of the expected 80-175,00...
Yellow rust threat remains 'extremely high'
With the unsettled weather of late disease pressure from Septoria tritici and yellow rust remains extremely high, and spray intervals and dose rates w...
Corn market crashes to losses of 8-11 cents
Soycomplex Beans closed lower in what looked like "buy the rumour, sell the fact" trade. The monthly April NOPA crush came in right on expectations...
Land rules offer 'precious simplification' in current CAP proposals
Scottish Government is being urged to adopt new land eligibility rules in its future CAP schemes and help reduce the red tape burden on many Scottish ...
Traders 'shy away' from long term Ukraine grain contracts
Soycomplex Beans closed mostly a little higher, save for expiring front month May 14 which went off the board 6 cents lower. This was due to a late...
Canadian wheat areas 'set to see better weather'; Corn market ends higher
Soycomplex Beans finished higher in "Turnaround Tuesday" style, with tight and technical old crop the greatest beneficiary. Prospects for significa...
US to lose place as world's largest wheat exporter to Europe
Soycomplex Beans closed sharply lower, with fund money said to have been a net seller of around 6,000 contracts on the day. Weekly export inspectio...
Ukraine winter crop conditions 'better than last year'
EU wheat markets finished the day sharply lower, with May 14 London wheat closing down GBP2.45/tonne at GBP159.00/tonne, with new crop Nov 14 London w...
Distance dictates 2014 grain haulage costs
Results from AHDB/HGCA's UK Grain Haulage Survey 2014 show a 1.2 per cent decline in average journey costs, compared with last year's survey. The ...
Potatoes emerge to perfect storm of blight pressure
Many potato crops are now emerging well - straight into conditions that pose a high risk of blight. There is a 'perfect storm' of blight risk building...
How can the next UK government boost agricultural production?
How can the next UK Government boost agricultural production? That is the question being asked by the Crop Protection Association (CPA) at its Annual ...
London and Paris wheat 'starting to look weak'
EU grains closed mixed ahead of the release of today's important USDA WASDE report, which will give us a first glimpse into their take on crop product...
US winter wheat conditions 'mixed'
Soycomplex Beans closed with decent gains heading into tomorrow's USDA report. Maybe the trade was enthused by news that China had imported 6.5 MMT...
Spraying innovation to the fore at Cereals 2014
Farmers looking to purchase new or updated sprayers or catch up with the latest spraying technology have an unrivalled opportunity to do so at Cereals...
EU wheat markets closed mostly lower
EU wheat markets closed mostly lower, on what looks like profit-taking and book-squaring ahead of tomorrow's USDA report and an easing of tensions in ...
India wheat crop expected to be record; corn market closed weaker
Soycomplex Beans closed weaker on talk that the US will import around 500 TMT per month of Brazilian soybeans in each of May, Jun and Jul. There we...
Collaborative roots could reduce reliance on phosphorus fertilisers
Farmers could improve the efficiency of phosphorus in crop production by coupling plants with complementary traits, which would allow them to harness ...
SGS expands field trial capabilities in Poland
SGS has expanded its field trial capabilities in Poland, adding three new field trial stations, in Zamarte, Cebulki, Swiecice, to its network. Pre...
European wheat crop 'looking in far better shape' than US counterpart
The French grain markets closed with wheat and corn higher and rapeseed slightly lower. London wheat was closed for the May Day bank holiday. Chica...
US winter wheat crop continues to face adverse weather conditions
Soycomplex Beans closed lower, with the current planting delay problems in the Midwest perceived as being more of an issue for corn. Indeed, it cou...
CAP issues discussed as NSA visits Owen Paterson
Moving CAP money up the hill was a major focus for the National Sheep Association (NSA) and Owen Paterson, Secretary of State for Environment, Food an...
Union backs Defra on Three Crop rule challenge
NFU Scotland has given its full support to Defra plans to tackle Europe over the damaging crop diversification element of new CAP Reform requirements....
Corn and wheat markets close lower
General New month, new money is what they say. This was more like new month, no money. Pretty much everything, bar Kansas wheat, took a pasting tod...
EU grain market report - 2nd May 2014
French markets were closed today for the May Day holiday, along with much of the rest of the world, although London and Chicago stumbled on. That brou...
Pulse Crop Update - 2nd May 2014
Insect pests Pea aphid Pea aphids are present at low levels in pea and bean crops following a mild winter and spring. Several aphid-transmitted ...
Last chance saloon for broad-leaved weed control in spring cereals
Grab the last opportunity to get on top of broad leaved weeds in spring cereals, says Stuart Jackson, herbicide specialist at Dow AgroSciences, as spr...
Declining US winter crop conditions and delays for corn
EU grains closed mixed, but mostly a little lower on the day. Once again fresh news was relatively thin on the ground. Declining US winter wheat crop ...
Hype over US planting delays continues to support the market
Soycomplex Beans closed mixed. Even though it's only very early days, some are already fretting over cold and wet Midwest weather and the current p...
56% of fleet operators believe technology will end speeding
Most fleet operators are convinced technology will bring an end to speeding, a poll has revealed. Asked Could technology bring an end to speeding?,...
New varieties on parade at Cereals 2014
Newly introduced varieties will be on show at Cereals along with advice to help visitors choose the ones most likely to maximise returns. Whether t...
Ukraine tensions keep adding support to wheat market
Soycomplex Beans closed mostly up, but off the highs. Weekly export inspections of 254,299 MT were better than 153,963 MT last week. That takes the...
More than £11.5bn will be paid out under new CAP period
Thousands of people involved in farming, wildlife preservation and rural businesses have recently received details setting out how they might benefit ...
Ukraine tensions keeping grain markets nervous
EU grains closed mostly lower, in a quiet, low volume start to the week. The day ended with May 14 London wheat down GBP0.20/tonne to GBP169.80/ton...
Defra to send more money to upland farmers
Moorland farmers who help protect some of England's most treasured landscapes will receive about £26 more a hectare under Common Agriculture Policy (C...
Crop innovations take centre stage at Cereals 2014
New science and technology that will help deliver better yields and quality and make more efficient use of inputs is in plentiful supply at Cereals 20...
US farmers expected to plant record 2014 soybean crop
Soycomplex Beans traded both sides, but ultimately ended lower, on continued worries on demand from China. A Reuters report suggesting that more Br...
Super-early OSR brings forward the Sclerotinia risk
According to Dr Caroline Young from ADAS, this year's oilseed rape crops are up to a month ahead of the same time last year, with some plants flowerin...
Wheat market 'took nosedive' over Ukraine tensions
Soycomplex Beans closed lower, in line with losses across the rest of the complex. News that Barclays was pulling out of commodities trading was se...
China wheat auctions not going well; corn market closes lower
Soycomplex Beans closed sharply higher for the third session in a row. Fund buying continues to support the market, they were in for an estimated n...
Corn import licences outstripped those for wheat imports
EU grains closed mixed with May 14 London wheat up GBP0.85/tonne to GBP170.25/tonne, and with new crop Nov 14 London wheat closing GBP0.20/tonne weake...
Rothamsted granted permission for GM trial
Rothamsted Research submitted an application in late January 2014 to the Department for Environment, Food and Rural Affairs for permission to carry ou...
Farmers urged to take advantage of increased investment allowance
Farmers are being urged to take advantage of the increased rate of Annual Investment Allowance (AIA), which allows businesses to invest in new plant a...
Speculative money moving into grains on back of Ukraine situation
EU grains closed generally firmer, with. May 14 London ending GBP0.15/tonne higher at GBP169.40/tonne, and new crop Nov 14 finishing the day GBP1.30/t...
Stewardship warns growers of increased leatherjacket threat
Growers are being warned that there is an increased threat to grass leys, following a bumper year for the leatherjacket pest in 2013. "Leatherjack...
British Growers Association names Ward as new chief executive
Jack Ward has been appointed chief executive of the British Growers Association (BGA). He will take up his new role on 28 April 2014. Mr Ward was ...
Every single crop of onions would receive pendimethalin
A leading independent consultant specialising in alliums says that every single crop of onions, leeks, garlic and shallots would receive pendimethalin...
Gear up for volunteer potato control in sugar beet
As sugar beet is becoming established, growers should consider the consequences of the recent mild winter with little or no frosts. It is very likely ...
Skimping on T2 spray is not worth the risk
Cutting corners to save a few pounds on the crucial flag leaf spray timing is an unnecessary risk that could jeopardise wheat yields more than ever th...
Pest Management plan launch welcomed
The CLA has welcomed the launch of an Integrated Pest Management (IPM) plan which aims to deliver sustainable pest and weed control. The organisat...