Arable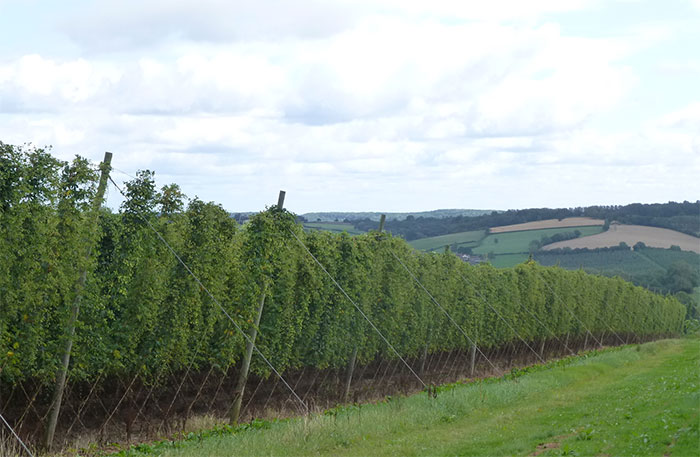 Australian farmers expect bumper harvest this year
US Weather, from Martell Crop Projections: Indian summer weather is coming to a halt with a cold wet forecast in central United States. The first fros...
Chicago grain market report - 10th October 2013
Soycomplex Beans closed lower on harvest pressure and continued reports of better than expected yields. The weather looks favourable for increased ...
Crop physiologist Dr Eric Ober joins NIAB
IAB has appointed Dr Eric Ober as a senior research scientist and crop physiologist. Dr Ober will provide specialist technical expertise in crop physi...
Talk of China buying US corn as prices dip to 3-year low
Soycomplex Beans closed mostly around the middle of the day's trading range, 1-6 cents higher. With no official USDA crop progress data to go on th...
Union calls for fair CAP deal as deadlines loom
As the deadline for crucial UK decisions on CAP loom, the National Farmers' Union have written to Defra Secretary Owen Paterson reiterating its belief...
Every little bit helps – in the battle against black-grass
Interagro's technical manager Alan East is of the view that farmers should adopt an integrated approach to black-grass control involving cultural and ...
Regional variation in wheat bulb fly risk
Results from the annual HGCA autumn wheat bulb fly survey suggest that overall risk in England remains relatively low, but the risk in northern Englan...
Leatherjackets warning for grass and cereals
The Dow AgroSciences Technical Hotline is being inundated with queries about leatherjackets. Many advisors are seeing very high levels of the adult cr...
Topling Director named Green Energy Farmer of the Year
Topling Ltd co-founder and Director John Seed has been named the Green Energy Farmer of the Year at a gala event at the Grosvenor House Hotel in Londo...
BCPC wins approval with return of its Congress to Brighton
After an absence of nearly a decade, the BCPC Congress 2013 – Focus on EU Regulatory Affairs – received a vote of approval when it returned to the Hil...
SynTech Research establishes branch in China
SynTech has announced the registration of a new facility in China. This is located at Hainan Institute of Tropical Agricultural Resources, Chengxi, Ya...
Fertiliser Market Report - 7th October 2013
Urea Egyptian urea has traded at $330/t FOB, which is an increase of around £10/t against values quoted last week. European buyers are starting to ...
EU prices follow global wheat markets higher
- The USDA report puts US corn stocks above trade expectations, while wheat stocks were lower. Increased domestic feeding of wheat is replacing high p...
Autumn PGR could be key to building yield
Including a growth regulator with the imminent phoma fungicide could pay dividends on forward oilseed rape crops this season, according to leading agr...
Seize CAP window of opportunity, says NFUS
Scotland's agricultural industry and politicians in Holyrood and Westminster must seize a brief opportunity to make the most of the EU's recent CAP de...
Perfect start to the new season for crop establishment
Whilst drilling continues unabated in near perfect conditions across the country, many crops are yet to be sown and growers are urged not to forget to...
Grain markets 'relatively relaxed' over ongoing US shutdown
General Comment The market continues to seem relatively relaxed about the ongoing partial US government "shutdown" and the lack of data forthcoming...
Time to take advantage of low fertiliser prices and restore soil reserves
As market prices for phosphate and potash fertilisers fall to their lowest for nearly four years growers are being urged to take advantage of the oppo...
'Grasp chance to axe EU soil directive', says CLA
The CLA said its continued lobbying of Brussels to drop the EU Soils Directive will save the UK £5billion implementation costs if it is successfully b...
Supplement low dry matter autumn grass and cut high straw bedding costs
The late summer grazing conditions have been typically good around the UK this year because of timely summer rainfall and plentiful sunshine hours. Bu...
Apprenticeship scheme aims to increase upland farm base
An apprenticeship scheme which aims to increase the upland farming skills base in the North York Moors has been granted £49,968 by The Prince's Countr...
Humphrey Feeds Commodity Report - 2nd October 2013
November wheat futures prices hit a bottom of £150.75 in mid-August and again touched £150.00 in mid-September, otherwise the average price during Aug...
Corn market 'takes nose dive' as USDA raises ending stocks
Soycomplex Having steadfastly stood by a 2012/13 US soybean carryout estimate of 125 million bushels for months, the USDA decided to go one better ...
NFU provides member support for AWB transition
A change in the way terms and conditions for agricultural and horticultural workers in England are governed will come into force today following the a...
MEPs endorse CAP deal as reform clears key hurdle
Legislation for the new Common Agricultural Policy (CAP) was endorsed by the Agriculture and Rural Development Committee on Monday, following last wee...
Don't forget BYDV control especially with no seed treatment
Warmer conditions will increase aphid numbers and so increase Barley Yellow Dwarf Virus (BYDV) risk in cereals. This together with early drilling and ...
Managing early silver scurf challenge
Following a dry, hot summer; potato growers in Scotland and Northern England are facing very different conditions to last year, with silver scurf bein...
Insect pests enjoy autumn warmth
Early autumnal temperatures well above the seasonal norm have been excellent for strong oilseed rape establishment in good soil conditions, but it has...
Farming is part of the climate change solution, says NFU
Farmers in Britain are already providing part of the solution to the growing threat of climate change, with agriculture set to meet its greenhouse gas...
London conference discusses crop protection
Combating future pest, weed and disease threats to UK agriculture was the subject of a scientific conference held on Wednesday in London, which was at...
Reverse decline in agriculture spending, NFU warns government
Farmers who battled against the elements to ensure the English wheat crop survived the torrid weather conditions of 2012 have seen high quality from t...
Chinese supply crisis to delay price adjustment
Faced with a local supply-side crisis China is buying huge quantities from the internationally traded market – squeezing out many other buyers. As a r...
Proactive treatment to tackle Light Leaf Spot risk
Oilseed rape growers are going to have to find new ways to tackle the increasing risk of Light Leaf Spot (LLS), with news that the active ingredient, ...
Global issues facing ornamental horticultural production
Over 90 delegates from around the world took part in strategic planning sessions, committees and professional tours during the 65th AIPH Annual Congre...
Rural economy 'on the up,' says survey
The CLA said today that its survey for the Second Quarter of 2013 shows the rural economy is picking up. The Rural Economy Index, researched in con...
Wheat market jumps as funds decided to bank profits; Midwest rainfall
US Crop Weather "Midwest rainfall is expected to be heavy over the next few days due to an influx of tropical moisture from Mexico in an already un...
Lower acreage 'will not greatly affect the US balance sheet'
David Sheppard, Gleadell's Managing Director, comments on the wheat market WHEAT US analysts believe lower acreage will not greatly affect the...
Eastern EU countries 'likely to increase grain exports'
Countries in the eastern European Union are likely to increase exports by up to 12 million tonnes between 2012/13 and 2020/21, making it an attractive...
High yielding wheats stay at the top
With the majority of the 2013 HGCA official wheat sites harvested, results for Limagrain UK's three wheat varieties up for recommendation this autumn ...
Lincolnshire accountants support calls for UK to become more self-sufficient
Lincolnshire-based agricultural accountants Moore Thompson are supporting calls for the UK to become more self-sufficient in food. Recently the Na...
Grain warehousing demand expected to grow in India
Demand for grain warehousing in India is expected to grow in the coming five years, according to a new report, driven by an envisaged grain-storage de...
Brazil will begin harvesting its own wheat crop next month
Soycomplex It was a choppy session for beans, with front month Nov 13 trading 18 cents higher at one stage as traders grappled with the latest data...
Oilseed rape growers must act quickly to address major threats
Oilseed rape producers must act now to address the twin threats of unusually low dormancy in blackgrass and high populations of aggressively growing S...
Maize performance more dependent on location
Maize growers should focus much more on choosing varieties for specific locations rather than using regional averages, suggest trials carried out by f...
Livestock farmers should 'seize the opportunity' for more forage
A leading expert is urging livestock farmers to seize the opportunity and take advantage of conditions to help replenish depleted winter feed stocks. ...
Farmers' views on the neonicotinoid ban
In the wake of the UK governments published view that the ban of the neonicotinoids is "unnecessary and unjustified", the views of farmers in Great Br...
Farmers 'see a sharp recovery' in the quality of wheat
David Sheppard, Gleadell's Managing Director, comments on the wheat market. WHEAT USDA raises global 2013/14 wheat production/stocks. US corn yi...
Agrii appoints Jim Carswell as R&D Manager
Agronomy, technology and strategic advice company Agrii has appointed a prominent industry figure to head up its R&D Team in the north of England. Jim...
Plan for flexibility in blackgrass fight, advises Dow AgroSciences
Cereal farmers planning their campaign against blackgrass this autumn should aim for flexibility in the programmes they adopt, advises Dow AgroScience...
SAWS decision 'a major blow' to UK horticulture sector
Britain's horticulture industry has expressed concern that long-term prospects for sustainable growth and investment within the UK's £3.7bn fresh prod...