Arable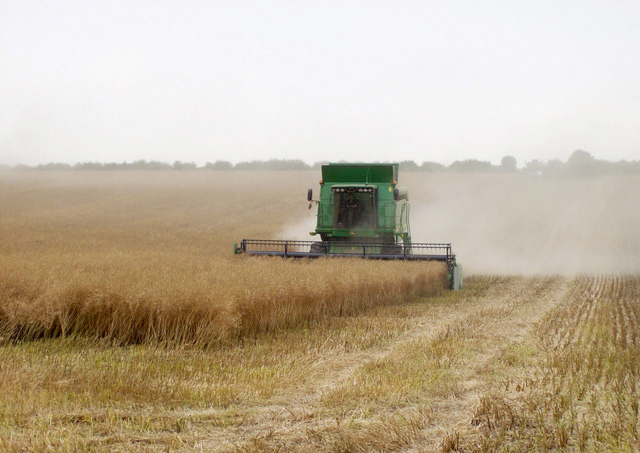 Preserving pod integrity pays
Agrii agronomist Andrew Farley says that, with the excellent price of oilseed rape, every pod is worth preserving and growers should be applying an ef...
Global wheat output up 5.3% from a year ago
Soycomplex Beans were little changed despite the USDA announcing the sale of 240 TMT of new crop beans to China. Oil World said that the US will im...
GMO wheat growing in Oregon 'was one-off incident'
Soycomplex Bans were mostly lower on a favourable 1-5 day weather forecast despite the May NOPA crush of 122.63 million bushels coming in above the...
NFU Sugar given mandate to move forward on price negotiations
Over 550 sugar beet growers have given the NFU Sugar board a clear mandate to continue negotiating on price with British Sugar for the 2014/15 beet cr...
Cereals 2013: Home built double press cultivator
There was considerable interest among the visitors to Cereals 2013 who saw the double press which Matt Brown designed and made to work the 500 arable ...
New Incentive OSR delivers highest oil content and yield
With a gross output 108% of control, DSV's new Oilseed Rape variety Incentive is the top performing hybrid with the highest overall oil content in the...
Bale silage quality can be improved
With the silage season underway, two independent surveys carried out across 300 livestock farms in the UK and Sweden reveal silage management practice...
Wheat: UK remains the only 'black spot' in an improving EU outlook
David Sheppard, Gleadell's Managing Director, comments on the wheat market. Wheat - USDA reports corn crop is now 95% planted against 100% last ...
Grain Market Report - 14th June 2013
Soycomplex The soybean market closed sharply lower for a second day, adding to yesterday's losses. Nearby beans bore the brunt as longs scrambled t...
Protect OSR from late Sclerotinia infection
Oilseed rape crops are not yet safe from the yield robbing scourge of Sclerotinia, warns Jon West, Senior Plant Pathologist at Rothamsted Research. Ne...
Industry-wide commitment has made the best of harvest 2012
An industry-wide commitment to work together matching supply and demand and placing the right crop in the right home has delivered the best possible o...
New campaign promotes Lincolnshire farming
A new campaign to highlight the importance of farming and horticulture to Lincolnshire will be launched at the Lincolnshire Show on Wednesday 19 June....
Grandfather Rights for pesticide users 'bitter-sweet' says CLA
Changes to so-called "grandfather rights" - exemptions to pesticide use for people above a certain age - are 'bitter-sweet,' the CLA said today. A ...
Seed quality will aid growers' oilseed rape management
Pharmaceutical-like care will be taken to produce the highest quality seed for Bayer CropScience oilseed rape varieties. But the benefits would be...
Uralchem confirms commitment to the UK at Cereals 2013
URALCHEM has successfully exhibited at its fourth Cereals event in Lincoln, UK. The company's new water soluble products are well received by the part...
Wheat market dragged lower by USDA forecast
Soycomplex The eagerly awaited WASDE report re-affirmed that the USDA will not cut US soybean ending stocks for 2012/13 any lower than 125 million ...
Farming leaders in talks with Ministers ahead of CAP 'crunch time'
Ahead of CAP talks reaching their climax in the next few weeks, NFU Scotland's President, Nigel Miller and staff have met with Defra minister, Owen Pa...
Grain Market Report - 12th June 2013
Soycomplex The volatility continues. This time it was old crop months that saw the biggest gains on ideas that the USDA might be forced to reduce l...
Plant breeders highlight key role of biodiversity
Contrary to environmentalists' frequent claims that modern agriculture is eroding our plant diversity and crop genetic heritage, the British Society o...
GM feed harming pig health, says new research
A new study claims that pigs were harmed by the consumption of feed containing genetically modified (GM) crops. GM-fed females had on average a 25%...
Poor weather affected farm business cash flow, says HSBC
HSBC Head of Agriculture Allan Wilkinson has stressed the importance of budgeting and forecasting as farmers deal with the effects of unprecedented we...
Arable farmer confidence 'at new low' says NFU
A new snapshot member poll has revealed this year's wheat harvest is likely to be smaller than last year, while short-term confidence among arable far...
Fquare launch 'distressed farmers' loan
Fquare, a New York-based company, which enables investors to design custom investment portfolios around U.S. farmland online, has announced the launch...
Better balance in the chain 'will sow seeds for success'
The NFU will call for a grain chain that rewards risk-takers and those investing in the future at an industry-led conference today. NFU combinable ...
HGCA helps growers adjust to restricted neonicotinoid use
HGCA has published a review of the implications to the cereals and oilseeds sector following a recent decision by the European Commission to restrict ...
Crop Market Report - 7th June 2013
Becky Ward, PGRO principal technical officer, gives the latest update on pests and diseases for peas and beans. Pests There have been no re...
Grain Market Report - 7th June 2013
David Sheppard, Gleadell's Managing Director, comments on the wheat market Wheat - USDA reports corn crop is 91% planted against 100% last year ...
Fungicide used to treat potato blight detected in groundwater
New results from the Danish Pesticide Leaching Assessment Programme (PLAP) show that the fungicide metalaxyl-M used in the agent Ridomil Gold MZ Pepit...
Report seen as 'game changer' for future UK food production
Faced with the need to find a 'game-changing' solution to secure the future competitiveness of UK farming, a number of leading industry organisations ...
US spring wheat planting up just one point from last week
Soycomplex Last night's crop report showed 57% of the crop was planted, in line with market estimates and up from 44% last week. The crop was 93% p...
Pollinators are an important part of our industry - NFU
It is in the agricultural industry's interest to help pollinators as their decline is a complex issue, the NFU have said. The message comes as part...
FSA board urged to support GM-free labels
In an open letter to Food Standards Agency (FSA) Board members GM Freeze urged the agency to recommend that the Government backs moves to harmonise GM...
Revelation demonstrat​es consistenc​y and reliabilit​y
The last two seasons have demonstrated the value of growing consistent varieties that will perform under a range of conditions. Growers need to know t...
Organisations challenge Rothamsted on GM testing aims
An alliance of 27 organisations today issued a statement challenging Rothamsted Research, the Government and funding bodies 'to be more open about the...
Grain Market Report - 3rd June 2013
Soycomplex The soybean market closed higher on the day and higher on the week. Weekly soybean export sales came in at net reduction of 108,000 MT f...
Sainsbury's test egg producers for GM feed
Free range egg producers supplying eggs for Sainsbury's supermarkets have been subjected to tests for the presence of GM content in feed. Sainsbury...
Make the most of narrow T3 window
Early timing of the T3 ear spray will be critical this season if cereal growers are to maximise the value and efficacy of treatments used, according t...
Backward crops vulnerable to pest attack
Arable pests taking advantage of the late season and a lack of natural predators, could still cause an epidemic, if conditions allow. That's the wa...
Grain Market Report - 1st June 2013
David Sheppard, Gleadell's Managing Director, comments on the wheat market. Wheat - USDA reports corn crop is now 86% planted against 99% last y...
Don't mow first cut silage too low
Livestock farmers desperate to re-fill empty silage stores, should not be tempted to lower the mower when taking first cut, warns Oliver Seeds general...
BGS visit focuses on nutrient-wise farming
Grassland farmers keen to learn how to manage nutrients to achieve greater profits while protecting the environment, are invited to join the British G...
High level lobby event brings CAP concerns to the fore
A group of influential farming leaders are to lobby the Chairman of the Agricultural Committee and the President of the Agriculture Council on CAP ref...
Oilseed rape breeding programme produces leading varieties
After many years of successful oilseed rape breeding on the continent, Limagrain UK has adopted a UK bespoke approach for its oilseed rape breeding pr...
Adverse weather affecting farm profits says MP
Roger Williams, MP for Brecon and Radnorshire, said he was concerned for the financial viability of a number of farmers following droughts, floods and...
British Society of Plant Breeders elects new chairman
Dr Richard Summers, cereal breeding and research lead at RAGT Seeds, has been elected chairman of the British Society of Plant Breeders (BSPB) for a p...
Defra minister backs plant breeding campaign
Defra science minister Lord de Mauley has given the Government's formal backing to an industry-led campaign to highlight the critical role of plant br...
Hunt begins for this year's potato industry award winner
Potato Council is seeking industry's nominations for this year's British Potato Industry Award. This prestigious honour is awarded to an individual re...
British produce display at Chelsea Flower Show gets gold
Chelsea Flower Show judges and visitors alike have praised the NFU and Waitrose's new display aimed at giving people the chance to walk through a tunn...
Former Monsanto employee put in charge of GMO papers
Just months after a study was published showing that two Monsanto products, a genetically modified (GM) maize and Roundup herbicide, damaged the healt...
Spring oats offer good opportunity at £180/tonne
Historically oats have suffered in the shadow of wheat and barley, this has changed however as the market is expanding for human consumption and to so...