Arable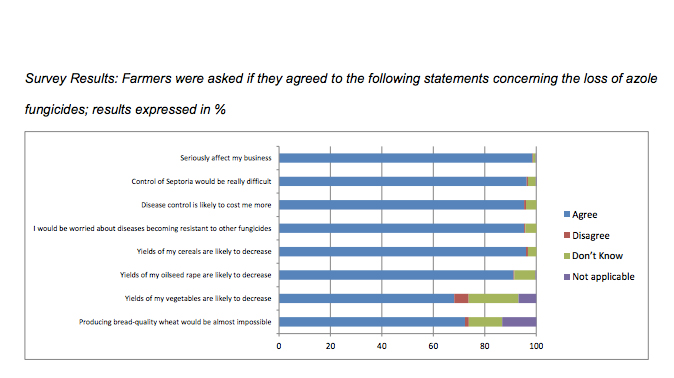 Farm experiment could lead to 'dramatic changes' in countryside
A bold experiment on a Hampshire farm could lead to better food and dramatic changes to the British countryside. There'll be more wildlife, less pollu...
Chinese buyers cancelling US corn purchases
Soycomplex Beans closed with modest gains, supported by another week of robust export sales. These came in at 943,400 MT for 2013/14 delivery - up ...
CAP 'greening' measures concern at Shrewsbury
The environmental or 'greening' elements of the Common Agricultural Policy (CAP) reform were the main topics of concern expressed by farmers at two we...
Farming groups welcome CAP implementation
Farming, wildlife, rural businesses and the wider economy in England are set to benefit from £15 billion from the next Common Agricultural Policy (CAP...
Wheat slumps to fresh lows; China rejects US corn since November
Soycomplex Beans closed sharply lower on fund selling, possibly linked to year-end profit-taking and long liquidation, and as weather forecasts for...
EnviTec Biogas Takes On Apprentice
With the renewables energy sector on a growth curve, EnviTec Biogas UK has taken on its first apprentice to support its service delivery for farmers, ...
Electric technology could transform agriculture, partnership announces
Researchers at Harper Adams University have partnered with global engineering experts GKN Land Systems to explore how electric technology could transf...
Potato growers among the first to meet in 2014
With Christmas upon us, many growers are taking stock of the year nearly over and thinking about the 2014 crop. January is an ideal time to meet up wi...
Growers show interest in HGCA Monitor Farms
HGCA's recent call for new Monitor Farms has prompted an enthusiastic response from cereals and oilseeds growers. In November HGCA began a search f...
New research to shed light on leaf spot
New research at Scotland's Rural College is seeking to discover better ways to predict an outbreak of light leaf spot in oilseed rape crops. Light lea...
Report which urges farmers to focus on farm inputs welcomed
A report which urged farmers to shift their focus from maximising yields, to optimising inputs has been welcomed by agricultural accountants. Acco...
Wheat market 'couldn't manage a rally'; Drier outlook for S America
Soycomplex Beans closed around 8-9 cents higher, on the nears at least, on talk of hot and dry conditions developing for Argentina over the next we...
UK refusal to reverse funding decision 'deeply unsatisfactory'
Following today's meeting with DEFRA Minister Owen Paterson, to discuss Scotland's CAP budget allocation, Rural Affairs Secretary Richard Lochhead sai...
Arable industry must work together to crack input management challenges
The arable industry must work together more effectively if the UK is to respond to input management challenges, was the clear message to delegates at ...
Malting barley 'likely to remain most attractive spring crop' for 2014
Malting barley is likely to remain the most attractive spring cropping option in 2014, but growers must match variety to market demand, according to B...
2014: A Pivotal point for Scottish agriculture
NFU Scotland's President, Nigel Miller, has described 2014 as a pivotal point for Scottish agriculture. Extreme weather events of 2012 and 2013 hav...
Growers face threat from crop eating pigeons
Sprout growers are facing an increasing and unexpected threat to their livelihoods from hungry wood pigeons. Their appetite for Christmas sprouts h...
CAP: Reforms approved by the Council
Today, the Council adopted the common agriculture policy (CAP) reform package following a first reading agreement with the European Parliament. Th...
Regulation tops farmers' concerns for 2014
A new survey has revealed regulation, high input costs and the impact of CAP reform top the list of things farmers' believe will have negative impacts...
Plenty of time to control black-grass in rape
Growers are being urged not to close the gate on their oilseed rape crops yet, as there is still plenty of time to control black-grass by applying the...
Agrovista announces new appointment
Agrovista UK, one of the leading agronomy specialist, crop protection, agricultural and horticultural product distributor, has announced a new appoint...
US corn shipments 'held up' in China; Wheat market nominal gains
Soycomplex Beans reversed yesterday's losses, closing around 4-6 cents firmer on the day, on continued strong demand. The trade is expecting anothe...
Lochhead and Paterson to discuss CAP
Scotland's Rural Affairs Secretary Richard Lochhead is due to meet DEFRA Minister Owen Paterson this coming Monday in Brussels, to discuss Scotland's ...
Rural economy recovers as last year's pessimism fades
The rural economy is firmly in recovery as growth has spread from non-farming businesses to the farming sector, according to the latest data from the ...
USDA report raises global corn and wheat production estimates
Soycomplex The much-awaited USDA report was neutral to a little friendly for beans, subsequent modest losses may have been down a bit of pre-year e...
Action needed to beat 'unprecedented' leatherjacket threat
Exceptional numbers of leatherjackets in crops this winter will cause significant damage to yields if left unchecked, warns leading agronomy firm Hutc...
US cold weather raising prospect of winterkill in wheat
Soycomplex Beans and meal posted sharp gains, led by nearby months, heading into tomorrow's USDA report. That is expected to show 203/14 US soybean...
Powys farmers crowned 'cream of the crop'
A farming family from Powys is celebrating after being crowned champions at a national milk quality awards for the second year running. David, Ala...
AIC to support legal cases on neonicotinoid ban
The Agricultural Industries Confederation has confirmed that it is seeking to back two crop science companies in their challenge in the European Court...
Farming union backs red tape report
An interim report looking to tackle the level of red tape in Scottish agriculture has been welcomed NFU Scotland. The interim report: "Doing Better...
Corn market finishes lower after disappointing weekly exports
Soycomplex Beans finished the day narrowly mixed. Weekly soybean export sales of 805,200 MT for delivery in 2013/14 were pretty strong given that t...
Wheat market crashes lower; Brazil rains 'might be too much of a good thing'
Soycomplex The market closed higher, but is still trying to reconcile strong nearby demand for US beans and meal against projected record South Ame...
Agency makes payments to highest number of English farmers
The Rural Payments Agency has paid the highest ever number of customers in England on the first banking day of this year's payment window – some 95,60...
Corn market closes higher despite concerns over Chinese rejections
Soycomplex Beans closed slightly lower on old crop, and at around the middle of the day's trading range, whilst prices for the 2014/15 harvest were...
Corn market slumps to fresh lows
Soycomplex Beans slumped on a combination of strong US producer selling, beneficial South American weather, fund selling and spillover weakness fro...
CAP consultation anger over modelling delays
Failure by successive Welsh Governments to instigate modelling work early enough has made it impossible to respond definitively to the Welsh Governmen...
Pesticides are 'part of the solution', says CPA as government consults on CAP greening
The Crop Protection Association (CPA) has said the Government must not impose unnecessary restrictions on pesticide use as it implements Common Agricu...
Redesigned packaging aids efficient application
A leading farmer in Oxfordshire sees the benefits of the new formulation and new packaging for the residual herbicide Kerb Flo 500, whilst effectively...
Take a zero tolerance approach to blackgrass
Cereal growers with blackgrass that has escaped autumn control strategies need to seriously consider re-drilling badly affected areas rather than plac...
Greater choice for growers on new HGCA Recommended Lists
New varieties on the 2014/15 HGCA Recommended Lists will help growers target specific markets and assist with pest and disease control. In total, 2...
94% of Welsh farmers receive single payments on first day
94% of Welsh farmers received their Single Payments on the first day of the payment window, Alun Davies, the Minister for Natural Resources and Food a...
New potato nozzle technology gets sprays on target
New Syngenta potato application trials have identified potential innovative design features that could further enhance consistent spray deposition thr...
Minimise disruption to farming businesses, NFU urge
Minimising disruption to farming businesses the length and breadth of Wales and ensuring Welsh farmers remain competitive in UK, EU and global markets...
Allocate CAP to rural development, CPRE urges
The Campaign to Protect Rural England has urged the government to allocate £3.8bn of the EU's Common Agricultural Policy to rural development measures...
Pressure for fair CAP deal mounts
NFU Scotland made representation in Westminster in support of a debate raised to fight for a better deal for Scottish farmers following the CAP budget...
Barenbrug launches three new varieties in 2014
Leading seed producer Barenbrug has announced to the UK livestock industry three new varieties which will be launched next year. · Clanrye – a late...
Farmers invited to review Common Agricultural Policy
Farmers are being urged to take part in a consultation on how the Common Agricultural Policy (CAP) should shape the future of farming and the rural ec...
New Purpose-Built Soil Testing Laboratory Opens in Norfolk
A new state-of-the-art soil testing laboratory was officially opened by Sir Ben Gill last Thursday, 21 November 2013. The new laboratory has been purp...
Plant ageing gene key to food supply
Breakthrough science with the ability to control the life-cycle of plants could be the solution to increasing food production as population exceeds ni...
Halls to hold CAP briefing events
The rural professional team from Halls in Shrewsbury and Kidderminster is inviting farmers and landowners to CAP reform briefing events in December. ...