Arable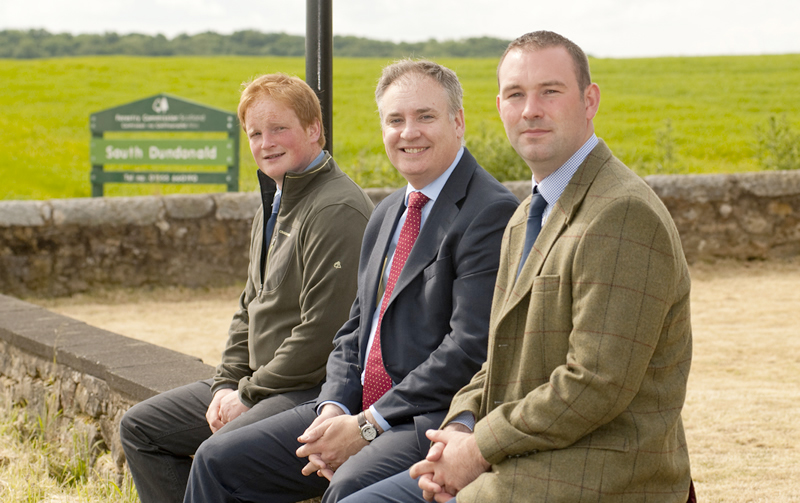 Trials highlight the benefits of strip tillage in 2014
Independent trials conducted by leading seed breeder Saaten Union have again confirmed the benefits of establishing crops using the Claydon Strip Till...
Growers call on Secretary to pause greening proposals
Scottish growers are to meet with Richard Lochhead to discuss the damage that current greening proposals will have on their business and to urge the C...
Conference tackles sustainable agriculture and growing global demands
The challenges of delivering sustainable agriculture while meeting growing global demands for food will feature high on the agenda for this year's AIC...
Single Payment exchange rate a further blow for Welsh farmers - FUW
The fall in the Euro-Sterling exchange rate for Single Payment calculations to its lowest level in seven years could not have come at a worse time, sa...
Emergency use of insecticide granted but 'will be too late for some'
Emergency use of the crop protection product Insyst has been authorised to protect winter oilseed rape from further damage by cabbage stem flea beetle...
Public perception of farming 'increasingly positive'
More of the British public think positively about farmers and farming than last year according to a recent OnePoll survey commissioned by the NFU. ...
Exchange rate hits support payments for 2014
The Scottish Government has confirmed that the exchange rate to be used to calculate support delivered through the 2014 Single Farm Payment (SFP) Sche...
Russian wheat in decline; US corn progress less than forecasted
Soycomplex Beans closed higher on month/quarter-end short covering. There may also have been some book squaring going on ahead of tomorrow's quarte...
EU grains close mostly higher
EU grains closed mostly higher in what looks like month-end and quarter-end consolidation and profit-taking. The day ended with Nov 14 London wheat...
Black-grass: The magic number
Black-grass populations of more than 30 black-grass plants/m2 are unlikely to be adequately controlled by herbicide programmes alone, Bayer CropScienc...
EU announces new measures for farmers affected by Russian ban
The European Union has adopted new emergency measures in the wake of the Russian ban on EU agricultural imports, the Commission announced. Worth up...
CAP Reform: Dual use will continue to be allowed in 2015
Farmers and landowners in England with Environmental Stewardship agreements will be able to maintain their existing dual use arrangements in 2015. ...
Underestimated effects of neonicotinoid ban
Oilseed rape has been a victim of the growing gaps in control from crop protection products after the autumn sown crop was untreated due to the curren...
Don't overlook the threat from Mycotoxins this winter
Dairy producers are being warned not to overlook the very real threat posed by mycotoxin contamination of feedstuffs this winter. Analysis of UK forag...
'Significant rise' for US corn yields
Soycomplex Beans closed lower, setting contract lows and ending at the worst level for a front month since Feb 2010. The US harvest is expected to ...
EAMU for SumiMax in winter oats
Winter oats have few grass-weed and broad-leaved herbicide options but growers are able to use the residual and contact-acting herbicide SumiMax which...
Paris grains supported by weak euro; Rains slow Ukraine plantings
EU grains closed mixed. The day ended with Nov 14 London wheat down GBP0.25/tonne to GBP109.50/tonne, Nov 14 Paris wheat closed EUR2.50/tonne higher a...
Put farmers at the centre of global talks, Kendall urges
Peter Kendall, President of the World Farmers' Organisation (WFO), joined the UN Climate Summit in New York this week to ensure that farmers are no lo...
Recent Ukraine rains creat 'excellent conditions' for winter wheat
Soycomplex Beans closed with little change. Oil World estimated the 2014/15 global soybean crop at 310.8 MMT versus a previous estimate of 306.7 MM...
Aphids on the wind spread virus risk
Aphids that are the primary transmitters of Turnip Yellows Virus (TuYV) to oilseed rape plants have been caught in traps in all key arable growing are...
Heavy rain stalling Russian grain harvest; EU grains crash to fresh lows
EU grains crashed to fresh lows with Nov 14 London wheat down GBP1.05/tonne at GBP110.50/tonne, and Nov 14 Paris wheat closing down EUR2.25/tonne to E...
China turns to non-traditional corn suppliers
Soycomplex Beans fell to fresh 4-year lows as the US prepares to bring in a record 2014 soybean crop. Nearby cash premiums have "collapsed" accordi...
Farmers 'losing out' over CAP uncertainty as NFU heads to Brussels
Lack of detail on CAP implementation and the Russian trade ban will be top of the agenda for the heads of farming unions as they travel to Brussels to...
EU grains closed mostly lower
EU grains closed mostly lower, as the old adage "big crops get bigger" continues to bite. The day ended with Nov 14 London wheat down GBP0.75/tonne...
Wheat market closes at new 4-year lows
Soycomplex Beans closed lower despite strong weekly export sales and the USDA announcing 110,000 MT of US beans sold to China for 2014/15 shipment....
Growers join forces to promote the humble hop
If you thought that hop picking was the preserve of the Kent countryside, then you might be surprised to learn that more than half of the hops grown i...
Bird control decision will help farmers and growers, says NFU
Natural England's decision not to complicate rules for farmers and growers who need to protect their crops from certain bird species is a sensible dec...
Do's and Don'ts of applying Avadex Granules
With the unprecedented high demand for Avadex Excel 15G (tri-allate) as an integral part of a successful black-grass control programme, it is importan...
3x3 Driving OSR Forward Initiative
BASF, Monsanto and Yara have developed a technical partnership to address some of the key challenges UK farmers face when growing oilseed rape. The th...
Effective BYDV control planning
The 2014 harvest is almost complete and the new crops are either drilled or just about to go in. The end of summer has generally been dry and warm, tr...
High yielding biscuit wheats stay in contention at the top
With the majority of the 2014 HGCA official wheat sites harvested results for Limagrain UK's two biscuit wheat varieties up for recommendation this au...
NFU spells out priorities ahead of 2015 General Election
A Government that understands farm businesses, wants agriculture to grow and has the policies that send the right signals to farmers, are the key mess...
New John Deere combine developments for 2015
John Deere is introducing the new five-walker W330 and six-walker W440 entry level combine harvesters for the 2015 season. Offering reliability and si...
Financial pressures growing on farmers
The UK farming sector is coming under financial pressures on multiple fronts, an agricultural expert has warned. Farm gate milk prices have been cu...
A health check for your soil
Soil is the basic raw material of farming and fundamental to agricultural productivity. Traditionally soil health has been seen largely as a function ...
Win £1000 off your next fertiliser order
Quality fertiliser is the key to yield and that holds true whether it's applied to grass, other forage or arable crops so this great prize of £1000 to...
Fertiliser prices look set to 'rise steadily'
Fertiliser prices look set to rise steadily over the coming months as new crop returns remain sufficient to sustain global demand. With the price o...
Russia's harvest juggernaut rumbles on; wheat market closes lower
Soycomplex Beans closed mixed ahead of tomorrow's upcoming USDA report. It looks like most have positioned themselves where they want to be heading...
EU suspends Russian trade ban emergency measures
The European Commission has today suspended the emergency market measures for perishable fruit and vegetable markets announced on August 18 in the wak...
Variety choice is key to maintaining high outputs
Wheat yields have generally been impressive, but performance between varieties has been highly variable. "Crops have generally out-performed their...
Global demand for US corn remains limited by strong competition
Soycomplex Beans closed below $10/bu on the benchmark new crop Nov 14 contract, and indeed on the Jan 15 as well, to set fresh contract lows. So to...
Farmers reminded of harvest survey deadline
To help answer important questions about the 2014 harvest NFU Cymru is reminding members to complete this year's Harvest Survey, before the end of the...
Plant diversity in China 'vital for global food security'
With climate change threatening global food supplies, new research claims the rich flora of China could be crucial to underpin food security in the fu...
Crop future at risk in conflict zones, say scientists
Wild species related to our crops which are crucial as potential future food resources have been identified by University of Birmingham scientists, ho...
Learn more about managing weeds effectively
Farmers are invited to come along and meet up with their local BASF Agronomy Manager to learn more about managing both grass and broad-leaved weeds ef...
Carbon stored in world's soils more vulnerable to climate change
The response of soil microbial communities to changes in temperature increases the potential for more carbon dioxide to be released from the world's s...
UK crop yields 'above average' while quality remains good
EU grains closed mostly lower, extending the recent slide and slumping to new historic lows for the move, although a weak euro did manage to support P...
Corn market closes at 4-year low; Ukraine wheat 'lack of quality'
Soycomplex Beans closed lower on the outlook for a huge US crop now being just around the corner. Even the recently well supported Sep 14 sunk to a...
Smallholders urged to plan for important CAP changes
The Rural Payments Agency (RPA) is contacting smallholders throughout England this week to help give them plenty of time to decide what to do next abo...
2014 Ukraine corn harvest 'spluttering into life'
EU grains closed with little change, in what felt like a repeat performance of yesterday's trade. You would have been forgiven for thinking that US ma...