Appointments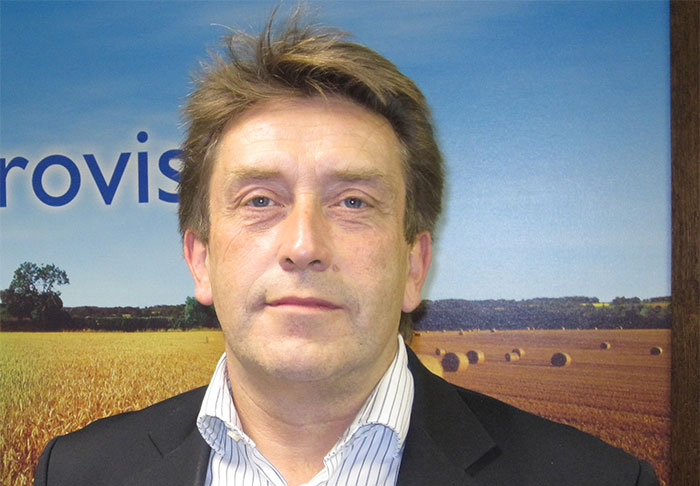 New director of technology and innovation at Hutchinsons
Hutchinsons has announced the appointment of Jeremy Macklin as Director of Technology and Innovation. He will join the company on 3rd June and will be...
Food Standards Agency announces board appointments
The Food Standards Agency has announced the appointment of Roland Salmon to its Board and as Chair of the Welsh Food Advisory Committee; the reappoint...
Andrew Large joins the British Poultry Council as chief executive
Andrew Large joins the British Poultry Council (BPC) today as Chief Executive, following the retirement of Peter Bradnock after a 22-year tenure. ...
Sercombe elected chairman of sheep and goat advisory group
NFU livestock board chairman Charles Sercombe has been elected chairman of the European Commission Advisory Group for sheep and goat meat. Sercombe...
Geese 'an excellent way into farming', says new chairman
The new chairman of British Goose Producers is John Franklin who has been rearing geese for Christmas on his farm in Bedfordshire for the past 25 year...
Donated animal feed arrives for snow-hit farmers
Fifty-five bales of donated fodder were delivered to the hill farmers of south Cumbria who lost thousands of sheep in snow blizzards and are seriously...
New McCormick tractor dealer in East Yorkshire
A Yorkshire agricultural engineering business that specialises in supplying sophisticated materials handling machinery is expanding by selling tractor...
Muller confirms Commercial Director appointment
Dairy products producer Müller Dairy has confirmed the appointment of Bill Mathieson (42) as Commercial Director Currently European Vice President ...
Rural affairs expert returns to Honiton law firm
Solicitor Carinna Parsons has returned from maternity leave to resume her post as head of rural and agricultural affairs at the Everys office in Honit...
AIPH appoints new Secretary General
The Executive Committee of the International Association of Horticultural Producers (AIPH) has confirmed the appointment of Tim Briercliffe as the new...
Muller confirms new managing director
Müller UK & Ireland Group has confirmed the appointment of Carl Ravenhall as Managing Director of Müller Wiseman Dairies, its fresh milk business. ...
New man in Scotland for Landini and McCormick
A Scottish farmer's son whose career has given him years' of experience in retail farm machinery sales is now finding out what life on the other side ...
DairyCo appoints new board members
The Agricultural and Horticulture Development Board (AHDB) has appointed three members to its DairyCo board. Dairy farmers Janette Prince, David Co...
New industry reps to join Horticulture Development board
Three new industry representatives are to join the Horticultural Development Company (HDC) Board. Marion Regan, a soft fruit grower from Kent, ind...
New team assembled ahead of Kenilworth Show
A new chairman and secretary team have been appointed as preparations get underway for Coventry and Warwickshire's biggest one day agricultural show. ...
Ufac appoints Egyptian distributor
Ufac-UK has appointed Unitrade Egypt Company as a new distributor for their dairy and poultry supplements for the whole of Egypt. This was marked ...
Interfarm appoints new Business Development Manager
Stewart Woodhead has been appointed Business Development Manager for Interfarm UK Ltd., the agricultural supply company. "We are delighted that Ste...
Four growers elected to NFU Sugar Board
NFU sugar board chairman William Martin and current board member John Goodchild have both been re-elected to the board for a further three year term. ...
Quality Equipment recruits new sales representative
James Romp has joined Suffolk-based Quality Equipment as sales representative for the whole of the UK. Having graduated from Northampton University...
Kendall in second term as EU food chairman
NFU President Peter Kendall has been endorsed for a further two year term as chairman of the Copa-Cogeca Food Chain Working Party that represents EU f...
Michelin appoint new technical manager
Gordon Brookes, 53, has returned to Michelin's agricultural division in Stoke-on-Trent, taking over the role of Technical Manager for the UK and Repub...
Delacon appoints new operations and finance director
Producers and distributors of phytogenic feed additives, Delacon Phytogenic Feed Additives, have announced the appointment of Joerg Niebelschuetz as D...
NFU appoint new Cheshire county chairman
Cheshire has a new NFU chairman who will serve a term of two years from 2013 through to 2015. Dairy farmer Richard Fair of Brookside Farm in Poult...
NFU gets new Lancashire County chairman
Arable farmer Fred Ollerton of Home Farm in Standish is the new NFU Lancashire County Chairman, succeeding dairy farmer Graham Young. Potatoes, ce...
New commercial manager appointed for Adjuvant
Will Ramsay has been appointed as Commercial Manager for Interagro UK Ltd, a newly created appointment for the adjuvant company. Ramsay secured a t...
DEFRA plans to attract new talent to farming
A drive to encourage more young people to work in the food and farming industries has been unveiled by Farming Minister David Heath. The Future of ...
Mike Hambly appointed EU cereal vice-chairman
European cereal farmers have elected NFU member Mike Hambly as vice-chairman of the Copa-Cogeca cereals working group to represent all EU farming unio...
National Beef Association appoints new Director
The National Beef Association has appointed Chris Mallon to take over as National Director. He will replace Interim Operations Manager Ali McKnight...
Shifting seasons puts pressure on temporary labour
Barker Ross Agricultural has urged farmers to plan ahead more when booking temporary labour as existing booking patterns are breaking down due to unre...
AB Vista recruits new business manager for Europe
Michael Noonan has become AB Vista's new Business Manager in Europe, the Middle East and Africa (EMEA). Noonan has been with AB Vista since 2010, p...
New crop committee members appointed
Following the launch of the Recommended Lists 2013/14 on Monday, HGCA has announced four appointments to its Crop Committees, responsible for assessin...
National Beef Association appoints new board members
The National Beef Association members are to appoint five new members for the Board of Trustees. The co-options come as a result of nominations fro...
New recruitment service for global agri food businesses
Specialist support service provider for the global agri-food business, Red River People, is now moving into recruitment with two new appointments. ...
Leominster farmer elected as CLA Herefordshire chairman
Richard Corbett, who runs a family farming business, has been elected as Chairman of the CLA's Herefordshire Branch. "I am delighted to accept the ...
Agrovista changes management team
Agrovista UK Ltd, an agronomy specialist and product distributor has announced changes in the senior management of the business. James Robertson, ...
European role for NFU livestock board member
NFU livestock board member Andy Foot has been elected vice chairman of the European agricultural umbrella organisation's beef working party. Foot,...
Rural employers 'need to be ready for RTI'
Farmers who employ casual labour for their businesses will need to upgrade their systems to cope with new requirements from HMRC that come into force ...
AB Vista to open Singapore office
AB Vista is to open a new office in Singapore, part of the company's drive to adopt a business structure around the world. The company said it woul...
Chester farmer elected as CLA Cheshire Chairman
David Rowlands, who farms rare breed Red Poll cattle at Mickle Trafford, has been elected as Chairman for the CLA's Cheshire Branch. Edward Clark,...
New Holland appoints new Network Development Manager
New Holland has appointed a new Network Development Manager for the UK and Ireland. Michael Staunton joins New Holland after 14 years with Hyundai ...
Competition key to livestock success - LAA chairman
The newly appointed chairman of the Livestock Auctioneers Association says he is looking forward to working hard to ensure livestock producers will co...
Bradnock named poultry person of the year
BPC Chief Executive Peter Bradnock was named BPC-BOCM PAULS poultry person of the year at the 2012 Egg and Poultry Industry Conference. Mr Bradnock...
Jeremy Hill elected as Dairy Federation president
Dr. Jeremy Hill was elected President of the International Dairy Federation at its General Assembly during the IDF World Dairy Summit, 4-8 November 20...
Liam Condon to become Bayer CropScience CEO
Liam Condon (44) has been appointed Chairman of the Executive Committee of the Bayer CropScience subgroup and Chairman of the Board of Management of B...
BASC appoints new chief executive
A new Chief Executive has been appointed to lead the British Association for Shooting and Conservation (BASC). Richard Ali will join in February ...
Openfield and Warburtons in pursuit of better bread
Britain's leading grain co-operative Openfield has created two new roles dedicated to helping producers 'grow better bread'. The new positions – ad...
NFU's Bourns elected as EU poultry advisory chairman
NFU poultry board member Charles Bourns has been elected chairman of the European Commission's poultry advisory group. The advisory group brings t...
New Director General joins NFU
The new NFU Director General Andy Robertson has said that the issues facing the businesses of farmer and grower members will be his main focus as he s...
European role for NFU livestock board chairman
NFU livestock board chairman Charles Sercombe has been elected vice chairman of the European agricultural umbrella organisation's sheep working party....
Board changes at NIAB
Jeremy Lewis, former head of agriculture at accountants Grant Thornton, has been elected new Chairman of the NIAB Board. He succeeds Tony Pexton, who ...