Appointments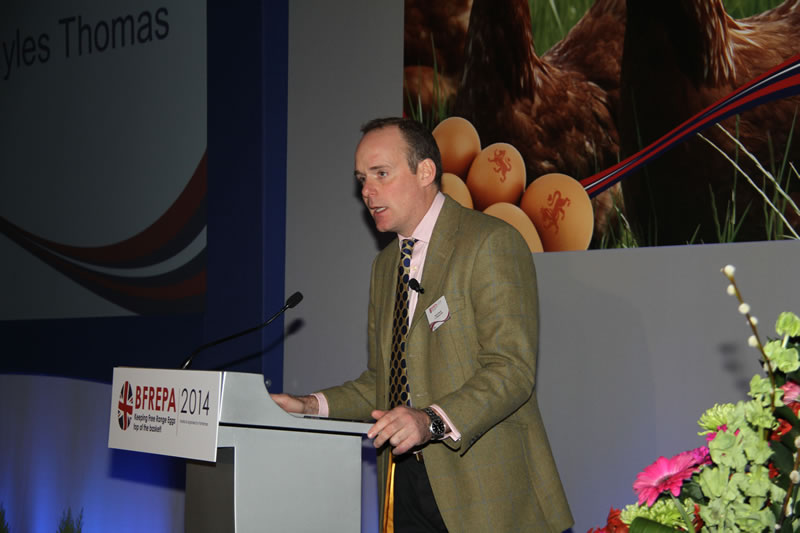 Horsch expands sales team
Horsch has restructured its sales operation, increasing the number of sales regions and taking on two new area sales managers. Martyn Hall will take c...
Dr Leon Broom joins Anpario and senior R&D scientist
Anpario the international manufacturer and supplier of natural products that enhance animal health, has made an appointment to strengthen the technica...
Syngenta appoints new Field Technical Manager for vegetables
Syngenta has appointed Pete Saunders as the company's new Field Technical Manager for vegetable crops. Based in Cambridgeshire, he will provide te...
NFU Cymru Council elects New President and Deputy
Stephen James, a dairy farmer from Pembrokeshire, has been elected to become the President of NFU Cymru and John Davies, a beef and sheep farmer from ...
Chair of APPG appointed UK trade envoy
George Freeman, MP for Mid-Norfolk and Chair of the APPG on Science and Technology in Agriculture, has been appointed a UK Trade Envoy by the Prime Mi...
New Chairman for farming union in North East
NFU Scotland's North East region chairman Charlie Adam has stepped down after serving three years. At the regional AGM in Lochter on Tuesday night,...
Hamish Mulcock joins NIAB as new certification manager
NIAB has appointed Hamish Mulcock as its Technical Manager for Certification within the Agricultural Crop Characterisation team. Based at Cambridg...
Claydon appoint Guy Leversha to evaluate dealer distribution
Claydon have appointed well-known industry figure Guy Leversha in a consultancy role to investigate the options for taking the business forward, both ...
Kuhn announces management changes
Agricultural machinery group Kuhn has announced that Michel Siebert will retire at the end of September 2014, and that Thierry Krier, the long-term Pr...
New Chair for farming union in the Highlands
NFU Scotland's Highland Region has a new chairman. At the recent regional AGM in Nairn, Tain farmer Jim Whiteford stepped up from vice-chairman to cha...
HSE appoints new farm safety boss
The Health and Safety Executive has appointed a new head of agriculture. Rick Brunt leaves his position as head of field operations for the North W...
Dairy UK appoints new communications manager
Dairy UK announced today it has appointed Caroline Leroux to lead its communications team. Caroline has significant international experience in th...
EnviTec Biogas Takes On Apprentice
With the renewables energy sector on a growth curve, EnviTec Biogas UK has taken on its first apprentice to support its service delivery for farmers, ...
Rothamsted Research announce new appointment
Rothamsted Research has announced the appointment of Professor John Crawford. He joined Rothamsted Research at the beginning of November 2013 and he w...
Agrovista announces new appointment
Agrovista UK, one of the leading agronomy specialist, crop protection, agricultural and horticultural product distributor, has announced a new appoint...
Two new appointments for New Holland's marketing team
New Holland has appointed two new members to its UK and ROI marketing team with the dual appointments of Nicolas Ferrara and Mark Crosby. Nicolas ...
MSD Animal Health appoints new poultry business manager
Rosie Booth has been promoted to UK Poultry Business Manager replacing Jonathan Perkins who is moving to take up a Global position within MSD based in...
Henry Robinson elected CLA President
Henry Robinson, who farms 1,000 acres in Gloucestershire and previously served as the Association's Deputy President and Vice-President, was elected a...
NFU Mutual board member joins Farm Safety Partnership
John Calver, Regional Manager at NFU Mutual, the UK's leading rural insurer has recently joined the Farm Safety Partnership board to help promote a cu...
Kuhn appoints J Riley Agri as new Norfolk dealer
J Riley Agri has been appointed as the Kuhn Farm Machinery (UK) Ltd dealership for Norfolk with immediate effect. Based at purpose-built premises ...
New GrowHow farm adviser for Eastern region
Mark Riches has joined GrowHow UK as the company's field-based Farm Adviser for the Eastern region. GrowHow is the UK's market leader offering high qu...
Soil Association announces new chair of trustees
The UK's leading membership charity campaigning for healthy, humane and sustainable food and farming, the Soil Association, has elected Dennis Overton...
British Veterinary Association appoints new chief executive
The British Veterinary Association, the UK's largest veterinary association, has appointed David Calpin as its new Chief Executive. Calpin joins t...
Johnston Carmichael creates new senior role
Scottish accountancy and business advisory firm Johnston Carmichael has announced the appointment of Alex Martin as head of the firm's fishing divisio...
Bryan Hoggarth dealership switches to McCormick
The launch of new high horsepower tractors and a preview of several new ranges to come have convinced Lancs-based dealer Bryan Hoggarth to switch bran...
Crop physiologist Dr Eric Ober joins NIAB
IAB has appointed Dr Eric Ober as a senior research scientist and crop physiologist. Dr Ober will provide specialist technical expertise in crop physi...
New recruit for Certis
Certis UK has appointed Matthew Goodson to take on the role of Technical, Regulatory and Product Management Assistant, based at the crop protection fi...
National Beef Association welcomes new chairman
At the fourteenth Annual General Meeting of the National Beef Association the current chairman, Hamish McBean stood down on rotation rules. He has be...
Keane re-elected as Dairy UK chairman
Billy Keane has been re-elected to serve for a two year period of office as Chairman of Dairy UK. In his Chairman's Address to the Dairy UK AGM, Mr...
Meat company appoints supermarket specialist
Yorkshire Dales Meat Company has appointed food and drink sales specialist Jennifer Carling to its team. Carling, who has more than 30 years' exper...
Paul Edwards appointed as James Dawson Ltd Managing Director
James Dawson & Son Ltd - the engineer of bespoke advanced silicone and organic rubber products whose key customers include Caterpillar, JCB and Cummin...
New Business Development Manager appointed
Emma Ralph has been appointed Business Development Manager for Interagro UK Ltd, a newly created appointment for the leading adjuvant company selling ...
Agrii appoints Jim Carswell as R&D Manager
Agronomy, technology and strategic advice company Agrii has appointed a prominent industry figure to head up its R&D Team in the north of England. Jim...
New director joins Anglia Farmers Board
A new director has been appointed to the board of agricultural purchasing group Anglia Farmers (AF). Robert Alston will bring years of corporate f...
Chief Financial Officer appointment at Fiat Industrial
Fiat Industrial S.p.A. and CNH Global N.V. today announced that Chief Financial Officer (CFO), Pablo Di Si, has resigned to pursue other interests. ...
Richard Wood appointed Innovis chairman
Richard Wood, former chief executive of Genus plc, has been appointed chairman of Innovis, the UK's leading supplier of sheep genetics. He succeeds Ra...
Martin Shipp returns to Bunn Fertiliser
Less than a year after he left the company Martin Shipp has been brought back by Bunn Fertiliser Limited as regional sales manager in the south west. ...
SunConnex appoints new CEO
International PV distributor SunConnex today announces Steven Pleging as newly appointed Chief Executive. Steven Pleging is well known in the PV in...
Bigger McCormick territory and new salesman for HJR Agri
A farm machinery business set up just five years ago is already expanding thanks to the standard of parts and service back-up it provides customers. ...
Farmer cooperative's CEO named Director of the Year
Richard Anscombe, Chief Executive Officer of AtlasFram Group, the UK's foremost farmer-owned cooperative, has been named Director of The Year by the j...
Kiotechagil makes appointments for its international team
Kiotechagil has made two recent appointments to strengthen its International team. Kiotechagil is a well-established, reputable UK company that offer...
New venture for McCormick tractors in Aberdeenshire
Two independent agricultural engineers hope that taking on a new tractor franchise for the first time will give a significant boost to their businesse...
Bunn Fertiliser appoints new Crop Nutritionist
Boosting its intellectual capital for further innovations, Bunn Fertiliser Limited has today appointed Stuart Staples to a new position of UK Crop Nut...
Case IH appoints new Harvesting Sales Manager
Case IH has appointed Robin McArd as Harvesting Sales Manager for the UK and ROI. In his new role Robin has responsibility for sales of Case IH combin...
Dairy UK appoints Dr Judith Bryans as new CEO
The board of Dairy UK has announced today the appointment of Dr Judith Bryans as the new Chief Executive of the organisation. Dr Bryans is currentl...
Female principal to head-up Berkshire College of Agriculture
The Board of Berkshire College of Agriculture has appointed Gillian May as its Principal and Chief Executive with effect from 1st September 2013. M...
Alasdair Houston re-elected Charolais chairman
Ralph Needham has been elected Charolais society president. A former chairman who joined the British Charolais Cattle Society in 1968 farms a mixed fa...
Teenager lands dream role at JCB
A teenager whose childhood nickname was 'Digger' has landed his dream role – as an apprentice at JCB. He has joined the company this week as part of a...
Quality Equipment makes new appointments
Quality Equipment has strengthened its sales and marketing departments with two new appointments, Bill Diaper and Henry Stark. Bill Diaper, who sta...
BVA Scotland and Wales elect new Presidents
The British Veterinary Association (BVA) Branches in Scotland and Wales have elected Ronnie Soutar and Rob Davies as their new Presidents. As part...