Appointments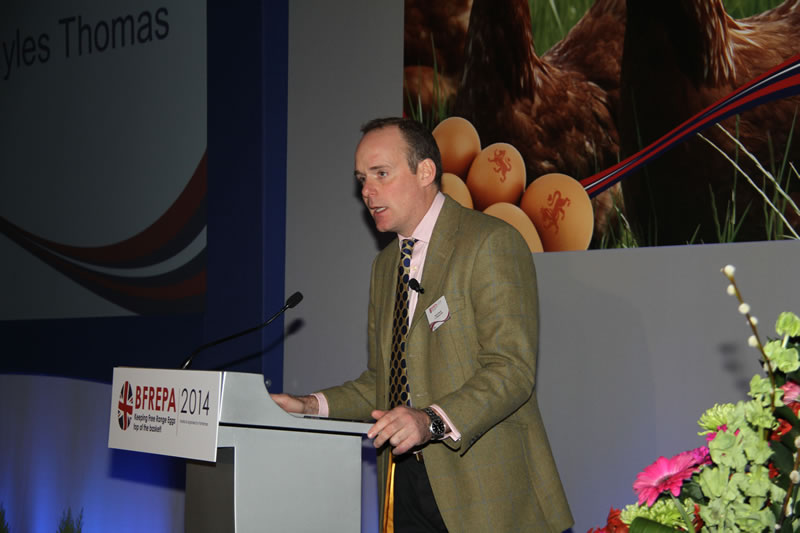 Association elects new chairman
The British Free Range Egg Producers' Association (BFREPA) has a new chairman, following the election of Myles Thomas to the association's top positio...
WNSC Introduces New Agricultural Apprenticeships Team
Walford and North Shropshire College (WNSC) is introducing a new team to assess agricultural apprentices, Graham Holt and Gill Coleman are bringing a ...
Mansel Raymond re-elected European milk chairman
Welsh dairy farmer Mansel Raymond has been re-elected to lead dairy discussions in Brussels for the next two years. Re-elected Copa Dairy Chairman...
Apprenticeship scheme celebrates matching 300 placements
An industry-led apprenticeship scheme which is encouraging young people into careers in agriculture have now matched over 300 young people in apprenti...
New Technical Manager for Gowan UK and Ireland
Robert Plaice has been appointed Technical Manager UK and Ireland for the American company Gowan, a new position reflecting the company's commitment a...
Derbyshire CLA elects new chairman
Edward Marshall, a Chartered Surveyor whose family has three generations' experience of Derbyshire's rural economy, has been elected Chairman of the C...
Put employment contracts in place, farmers urged
Agricultural employers are being reminded to ensure they have an up to date contract of employment in place for employees. The plea comes on the da...
New marketing manager at John Deere
Chris Wiltshire has been appointed the new branch tactical marketing manager at John Deere, from 1st October 2014. Chris replaces Gordon Day, who ...
Graduate joins the rural professional team at Halls
The rural professional team at leading Shropshire-based company Halls has been further strengthened with the recruitment of a graduate from Ludlow. ...
Hogan named as new EU Agriculture Commissioner
European Commission President-elect Jean-Claude Juncker today unveiled his new Commission and named former Irish Environment Minister Phil Hogan as th...
John Mercer starts as NFU Cymru Director
John Mercer starts as the new Director of NFU Cymru, following the recent retirement of Mary James. John Mercer started with NFU Cymru in 2004 as a...
AB Vista strengthens support in Europe and Russia
In response to continuing growth in Central and Eastern Europe (CEE) and Russia, AB Vista is pleased to announce that Dr Dimcho Djouvinov will provide...
Used equipment specialist now a fully-fledged dealership with Landini
An agricultural engineering business specialised in trading used equipment has 'come of age' by becoming a fully-fledged dealership handling the Landi...
Dairy Council makes two appointments
The Dairy Council has announced the appointments of Dr Anne Mullen as Director of Nutrition and Lydia Cooper as their new Nutrition Scientist. Dr A...
New chairman for CLA Warwickshire branch
A leading agricultural lawyer and rural business expert has taken over as chair of the Warwickshire branch of the CLA. Paul Rice, a partner at Leam...
New venture with McCormick for Agri-Hire in Suffolk
A successful agricultural equipment hire and manufacturing business in Suffolk is adding a third string to its bow by taking on sales, service and par...
Agricultural student awarded first Henry Sale bursary
An agricultural student from Somerset has been awarded the inaugural Henry Sale Graduate Bursary. Henry was joint managing partner of Fisher German u...
New branch manager at John Deere
Antony Scott has been appointed managing director for John Deere Limited in the UK and Ireland. He replaces Richard Johnson, who has been appointed ma...
Reaction: Owen Paterson's sacking
Country Land and Business Association CLA President Henry Robinson said: "Mr Paterson served with great integrity. He operated in a tough climate, ...
Borderway Agri Expo unveils 2014 livestock judges
Borderway Agri Expo 2014 has revealed a line-up of top-quality judges from around the UK for this year's event. This Harrison & Hetherington-organi...
Paterson sacked as Defra Secretary in cabinet reshuffle
Owen Paterson has been replaced by Liz Truss as Secretary of State at Defra as part of Prime Minister David Cameron's reshuffle. Paterson came unde...
TRP chooses McCormick for new tractor franchise
Farm machinery engineering business TRP Ltd has committed two of its branches to supporting McCormick tractor users with essential parts and service b...
RHASS confirms appointment of Royal Highland show manager
The Royal Highland and Agricultural Society of Scotland (RHASS), the membership organisation responsible for promoting the interests of Scotland's far...
Lord Curry of Kirkharle to Chair Cawood Scientific Group
Cawood Scientific Limited, the holding company for NRM Laboratories, Sciantec Analytical Services and Sci-Tech Laboratories, is pleased to announce th...
Case IH appoints Advanced Farming Systems Specialist
Case IH, which is at the forefront of developments in Advanced Farming Systems (AFS®), has appointed Ross Macdonald as AFS Specialist/Training Coordin...
George F White welcomes CAP Reform expert as a new partner
Leading rural land agents, the George F White Group, will be broadening its already extensive rural consultancy offer with the help of new partner Sim...
New chairman for Anglian Turkey Association
Jim Strathern, who has been producing Christmas turkeys in Essex for more than 50 years, has been elected chairman of the Anglian Turkey Association. ...
New panel to advise on animal health and welfare in Wales
Natural Resources Minister, Alun Davies, has appointed a group of specialists to support the introduction of a new Animal Health and Welfare Framework...
Lantra announces appointment of new Chief Executive
Lantra has announced the appointment of Marcus Potter as its new Chief Executive. Having started his early career in finance, Marcus gained experie...
National Pig Association appoints chief executive
Having urged its members to pay greater attention to succession planning, National Pig Association is putting its own house in order, by promoting gen...
Soil scientist appointed President of the Institution of Agricultural Engineers
Mark Kibblewhite, Principal of MK Soil Science based in Beaminster, Dorset, and an Emeritus Professor at Cranfield University, is the new President of...
British Growers Association names Ward as new chief executive
Jack Ward has been appointed chief executive of the British Growers Association (BGA). He will take up his new role on 28 April 2014. Mr Ward was ...
Rumenco Group appoints hygiene specialist
Rumenco has appointed dairy hygiene specialist Barry Heaton to develop sales of the Nettex range of Progiene dairy chemicals in the North of England a...
Suzuki appoints new Sales and Marketing Manager
Suzuki GB has announced the appointment of George Cheeseman as the new Sales & Marketing Manager for its ATV and Marine Divisions. This is an inter...
New chairman for NFU legal board
Northamptonshire farmer Trevor Foss has been elected the new chairman of the NFU legal board. Mr Foss, who runs a mixed farm of around 200 acres an...
New leadership at Potato Council
Fiona Fell has taken on the challenging and exciting role of Chairman of Potato Council and member of the AHDB Board. Now based in Northumberland, ...
British crop council appoints new managing director
The British Crop Production Council (BCPC) has announced that Chris Todd, Managing Director will be retiring and that Julian Westaway has been appoint...
Kendall named new President of World Farmers Organisation
Former NFU President Peter Kendall has been named the new President of the World Farmers Organisation (WFO). Mr Kendall was elected during the fina...
Duncan Priestner re-elected as NFU poultry board chairman
South Manchester-based egg producer Duncan Priestner has today been re-elected as chairman of the NFU's national poultry board. Mr Priestner farms on ...
New chairman announced for NFU horticulture and potatoes board
Yorkshire vegetable grower Guy Poskitt has today been elected as the new chairman of the NFU national horticulture and potatoes board. Mr Poskitt ...
Charles Sercombe back in the NFU livestock chair
Leicestershire farmer Charles Sercombe has been unanimously re-elected chairman of the NFU's national livestock board. Mr Sercombe, who has 2,000 shee...
NFU appoints Rob Harrison as dairy board chairman
Gloucestershire farmer Rob Harrison has been elected as the new chairman of the NFU national dairy board. Mr Harrison, who farms 430 acres near Mo...
2 Sisters Food Group appoints new managing director
2 Sisters Food Group is pleased to announce the appointment of Dominic Turner as the new Managing Director of the red meat division, effective immedia...
New Group Secretary in Llanwrst
Sioned Lloyd has this week started as the new NFU Cymru Group Secretary in Llanrwst, following the departure of Paul Williams who left to pursue his a...
Alltech appoints new UK Poultry Technical Manager
Alltech, the animal health and nutrition company, has appointed John Cooper as Poultry Technical Manager for the UK. Mr Cooper, who replaces Judd C...
Leading organic body appoints new CEO
The new chief executive of one of the UK's leading organic bodies has been revealed. Roger Kerr has taken the reigns (reins) at Shropshire-based Or...
Duo boost Kenilworth Show team
Two faces familiar to the Midlands rural fraternity are to play major roles behind one of Coventry and Warwickshire's biggest and well established one...
Wool board members re-elected for three years
Three British Wool Marketing Board (BWMB) Board Members have been re-elected unopposed for a further term of three years in recent elections. The ...
Miller, Bowie and Livesey lead the Union team
Borders livestock farmer Nigel Miller has entered his final year as President of NFU Scotland. Mr Miller, who was first elected to the post in Februa...
Pasture experts join the PFLA team
Four new directors with extensive grassland experience and knowledge of retailing grass-fed produce have joined the board of the Pasture-Fed Livestock...