Animal Health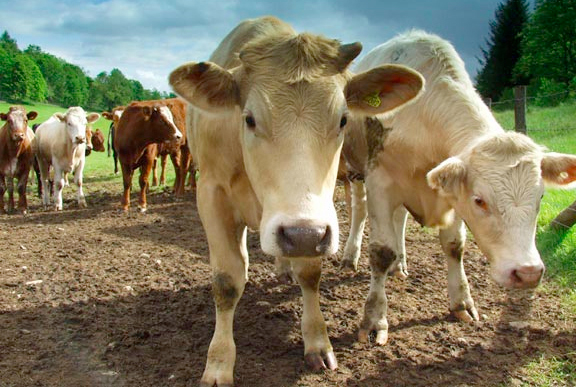 Farmers express anger over TB compensation plans
Brecon and Radnor farmers have expressed their anger at Welsh Government proposals to change the way in which farmers are compensated for cattle slaug...
Pig industry moves to red alert over transatlantic killer
The British pig industry is on red alert, in a bid to prevent a virulent pig disease from entering the country. Until more is known about transmis...
Female sexed semen has higher value than previously thought
Using sexed female semen has gained significant momentum across the UK's dairy herds where the prospect of a valuable replacement heifer and the likel...
Major BVD initiative launched in England and Wales
A major new initiative concerning one of the most devastating diseases affecting the cattle industry, BVD, Bovine Viral Diarrhoea - has been launched ...
Government urged to take alternative strategies to combat TB
Following reports that the Independent Expert Panel on badger culls concluded that they were 'ineffective and inhumane', Green Party's animal spokespe...
National Dairy Apprenticeship programme at Plumpton College
National Dairy Apprenticeship programme at Plumpton College Just ahead of National Apprentice Week, Plumpton College and LKL Services Ltd have join...
Badger vaccination 'not a viable alternative to culling'
The President of the British Veterinary Association (BVA), Robin Hargreaves, has called for government decisions on TB testing and veterinary surveill...
Receding flood waters pose new dangers, warn vets
Animal owners in flood-stricken areas should be aware of new dangers posed by receding flood waters, according to the British Veterinary Association. ...
Farmers express 'despair' at Welsh government TB proposals
Clwyd farmers have expressed their despair and anger at a Welsh Government decision to change the way farmers are compensated for cattle slaughtered a...
No food from cloned animals, MEPs tell Commission
The health and food safety committee in the European Parliament have voted on a resolution criticising two proposals by the Commission on the cloning ...
Concerns raised over Welsh bovine TB policies
Concerns about a number of planned changes by the Welsh government to bovine TB policies were expressed at a recent meeting of Rembrokeshire NFU Cymru...
Live export trade is 'inherently cruel' says RSPCA chief after Ramsgate
The 40 sheep that died when a consignment was unloaded at a port in Ramsgate were 'badly let down by all those responsible', according to Gavin Grant,...
Badger welfare concerns raised amid flooding
Badgers could be falling victim to the severe flooding affecting the west and south of England, according to the Humane Society International. The ...
Genetic discovery could lead to TB resistant cattle
Scientists have identified genetic traits in cattle that might allow farmers to breed livestock with increased resistance to bovine tuberculosis (TB)....
Bristol veterinary society hosts national student congress
What farmers will want from their veterinary surgeon in the future was one of the subjects discussed at the Farm Annual Veterinary Society's 2014 cong...
Keep Dogs On Leads During Lambing, Say Bva Vets
Vets are asking dog owners to keep their dogs on leads when walking near sheep as the annual lambing season gets underway. Ewes are particularly vulne...
Treat housed dairy cattle for fluke before turnout
Dairy herds struggling with liver fluke should consider a pre-turnout, flukicide-only lactating cow treatment to clear out adult flukes. "If fluke ...
Enhanced management for long-term TB herds
Herds suffering long-term bTB breakdowns will in future be considered for a more tailored management approach by AHVLA, in partnership with farmers' p...
UK's top animal health students named
The UK's top three animal health advisors, known as SQPs (Suitably Qualified Persons), have been named at the AHDA (Animal Health Distributors Associa...
Dr Leon Broom joins Anpario and senior R&D scientist
Anpario the international manufacturer and supplier of natural products that enhance animal health, has made an appointment to strengthen the technica...
Pig farmers call on government to improve defences against swine fever
The National Pig Association is calling on Government to step up defences against African swine fever, which is harmless to humans but fatal to pigs. ...
Chronic fluke disease reaches peak level in cattle and sheep
Farmers should be alert for ill-thrift in animals as levels of chronic liver fluke disease in cattle and sheep peak in late winter/early spring, accor...
Europe 'failing consumers over animal welfare'
Efforts at enforcing recent animal welfare legislation means that Europe is 'ill-serving' its consumers, according to farming unions. At a European...
'England at risk' as charities welcome Welsh horse legislation
A Welsh Bill that provides local authorities with the tools to combat fly grazing, abandonment and the straying of horses has received Royal Assent an...
Defra to publish consultation on TB-free England
Defra is planning to publish a summary of responses to the consultation on a strategy for achieving officially bovine TB-Free Status for England. T...
UK pig producers urged to review defences against disease
BPEX has urged pig producers to review biosecurity to protect their herds against devastating diseases, including African Swine Fever (ASF) and Procin...
Horsemeat scandal triggers local produce boom
Meat producers are reporting a significant increase in sales over the last year as consumers continue to buy locally, one year on from the horsemeat s...
Natural England preparing for next badger cull
Natural England have said potential applicants for badger control licenses for 2014 onwards 'should now begin to prepare information for the Expressio...
What's changed since the horse meat scandal broke?
One year ago consumers were shocked to find out that what they thought was beef – was actually horse. The horse meat scandal gave charities a chanc...
MEPs call for measures to stop food fraud
Recent food fraud cases, including the sale of horse meat as beef, should prompt the EU to review the functioning of the food production chain, step u...
Isle of Man introduces cattle controls over BVD
The Isle of Man Department of Environment Food and Agriculture is brining forward a Bovine Viral Diarrhoea Order (BVD order) to control the prevalence...
New livestock rules will save farmers £70m, says Paterson
Changes to livestock movement rules will save farmers and taxpayers £70 million over 10 years, Owen Paterson announced today. Speaking at the Oxfor...
No magic bullet for improving lamb production, FUW farm visit told
Improving the efficiency of lamb production was the main topic of discussion during a Farmers' Union of Wales-organised visit to independent sheep con...
Revise feed programmes for free range hens this winter, farmers warned
With cold weather conditions threatening to inhibit the ability of free range hens to self-regulate their body temperature, nutritional experts at ABN...
Moonray sets the PLI standard for all genomic bulls
Cogent has topped the genomic rankings launched earlier this week by DairyCo with a wealth of young sires now featured in the stud's updated portfolio...
Benefits for all herds in moving to early hyopneumonia vaccination
Early vaccination of pig herds against enzootic pneumonia - as young as seven days of age - is recommended by veterinary surgeon John Hayden, who is s...
FUW welcomes ASA ruling against RSPCA
The Farmers' Union of Wales has welcomed the Advertising Standards Authority's (ASA) decision to uphold a complaint by the union about an RSPCA advert...
Action needed to beat 'unprecedented' leatherjacket threat
Exceptional numbers of leatherjackets in crops this winter will cause significant damage to yields if left unchecked, warns leading agronomy firm Hutc...
Sci-Tech Laboratories acquired by Cawood Scientific
Sci-Tech Laboratories is the latest company to become part of the Cawood Scientific Group, joining the well-known analytical businesses, NRM Laborator...
Livestock sector at risk from animal health cuts, Royal College warns
Plans to reduce farm animal health surveillances could put the health of cattle, sheep and pigs at risk, according to the Royal College of Pathologist...
Farm welfare rising up the business agenda, says report
A report on farm animal welfare, which assessed 70 leading companies from across Europe and the USA, have noted marked improvements made in their welf...
Improved approach to detecting animal disease welcomed
The needs of Wales have been recognised by the Animal Health and Veterinary Laboratories Agency (AHVLA) with regards to its new approach to scanning s...
Full backing from vets for NI BVD scheme
British Veterinary Association (BVA) has given its full backing to the announcement that compulsory testing for Bovine Viral Diarrhoea (BVD) will be i...
Improved approach to surveillance for animal disease threats
The Animal Health and Veterinary Laboratories Agency has announced an approach to scanning surveillance to better detect new and re-emerging animal di...
University secures grant for bovine tuberculosis research
A collaborative project between academics in the UK and India aims to develop a revolutionary new control strategy for bovine tuberculosis (TB), with ...
Increased risk of scour in cattle this winter
The dry summer followed by significant rain in October and November has led to a large late gutworm challenge. The NADIS December Parasite Forecast, h...
Badger cull operations to cease in Gloucestershire
The cull company in west Gloucestershire and Natural England have agreed to end culling operations tomorrow. In October, Natural England granted an...
Pig campaign underestimates health risks, warns vet association
Celebrity campaigners championing the use of swill as an environmentally-friendly food source for pigs are 'underestimating the disease risks' which s...
AHVLA wins Gates Foundation grant for brucellosis research
AHVLA, in collaboration with the University of Alberta (Edmonton, Alberta, Canada), have been awarded a research grant from the Grand Challenges Explo...
Coccidiosis treatment can support heifer development, research says
Coccidiosis is often not treated until clinical signs are evident; but new research shows that long term implications can be avoided by carefully timi...