Animal Health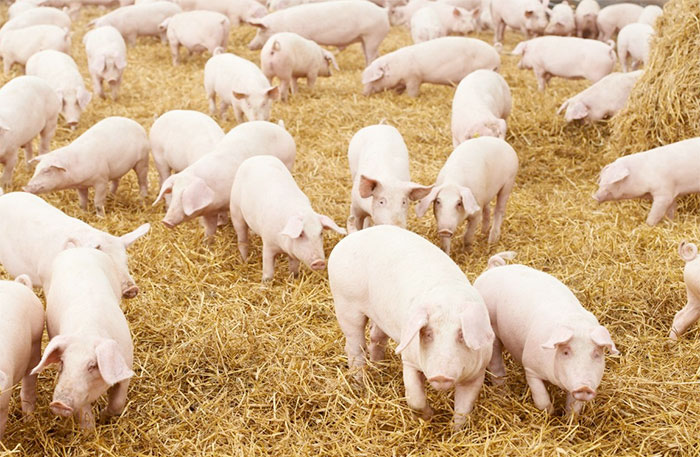 Isle of Man introduces cattle controls over BVD
The Isle of Man Department of Environment Food and Agriculture is brining forward a Bovine Viral Diarrhoea Order (BVD order) to control the prevalence...
New livestock rules will save farmers £70m, says Paterson
Changes to livestock movement rules will save farmers and taxpayers £70 million over 10 years, Owen Paterson announced today. Speaking at the Oxfor...
No magic bullet for improving lamb production, FUW farm visit told
Improving the efficiency of lamb production was the main topic of discussion during a Farmers' Union of Wales-organised visit to independent sheep con...
Revise feed programmes for free range hens this winter, farmers warned
With cold weather conditions threatening to inhibit the ability of free range hens to self-regulate their body temperature, nutritional experts at ABN...
Moonray sets the PLI standard for all genomic bulls
Cogent has topped the genomic rankings launched earlier this week by DairyCo with a wealth of young sires now featured in the stud's updated portfolio...
Benefits for all herds in moving to early hyopneumonia vaccination
Early vaccination of pig herds against enzootic pneumonia - as young as seven days of age - is recommended by veterinary surgeon John Hayden, who is s...
FUW welcomes ASA ruling against RSPCA
The Farmers' Union of Wales has welcomed the Advertising Standards Authority's (ASA) decision to uphold a complaint by the union about an RSPCA advert...
Action needed to beat 'unprecedented' leatherjacket threat
Exceptional numbers of leatherjackets in crops this winter will cause significant damage to yields if left unchecked, warns leading agronomy firm Hutc...
Sci-Tech Laboratories acquired by Cawood Scientific
Sci-Tech Laboratories is the latest company to become part of the Cawood Scientific Group, joining the well-known analytical businesses, NRM Laborator...
Livestock sector at risk from animal health cuts, Royal College warns
Plans to reduce farm animal health surveillances could put the health of cattle, sheep and pigs at risk, according to the Royal College of Pathologist...
Farm welfare rising up the business agenda, says report
A report on farm animal welfare, which assessed 70 leading companies from across Europe and the USA, have noted marked improvements made in their welf...
Improved approach to detecting animal disease welcomed
The needs of Wales have been recognised by the Animal Health and Veterinary Laboratories Agency (AHVLA) with regards to its new approach to scanning s...
Full backing from vets for NI BVD scheme
British Veterinary Association (BVA) has given its full backing to the announcement that compulsory testing for Bovine Viral Diarrhoea (BVD) will be i...
Improved approach to surveillance for animal disease threats
The Animal Health and Veterinary Laboratories Agency has announced an approach to scanning surveillance to better detect new and re-emerging animal di...
University secures grant for bovine tuberculosis research
A collaborative project between academics in the UK and India aims to develop a revolutionary new control strategy for bovine tuberculosis (TB), with ...
Increased risk of scour in cattle this winter
The dry summer followed by significant rain in October and November has led to a large late gutworm challenge. The NADIS December Parasite Forecast, h...
Badger cull operations to cease in Gloucestershire
The cull company in west Gloucestershire and Natural England have agreed to end culling operations tomorrow. In October, Natural England granted an...
Pig campaign underestimates health risks, warns vet association
Celebrity campaigners championing the use of swill as an environmentally-friendly food source for pigs are 'underestimating the disease risks' which s...
AHVLA wins Gates Foundation grant for brucellosis research
AHVLA, in collaboration with the University of Alberta (Edmonton, Alberta, Canada), have been awarded a research grant from the Grand Challenges Explo...
Coccidiosis treatment can support heifer development, research says
Coccidiosis is often not treated until clinical signs are evident; but new research shows that long term implications can be avoided by carefully timi...
Safeguard antibiotics for animal health, says veterinary association
The British Veterinary Association (BVA) is reminding animal owners that the rules for safeguarding antibiotics in humans also applies to animals. ...
Scientists in 'call for action' on farm antibiotic use
A newly published report has highlighted for the first time the link between the overuse of antibiotics in agriculture and the bigger issue of overuse...
Farmers warned over treating liver fluke infection
Treating cattle for liver fluke infection at or soon after housing is the best strategy to increase feed conversion rates and improve productivity ove...
Veterinary association supports BVD eradication plans for Scotland
The British Veterinary Association (BVA) has given full support for the new control measures being introduced as part of the Bovine Viral Diarrhoea (B...
Treat any lame sheep before winter housing
Wet and muddy underfoot conditions are exacerbating sheep foot problems and flockmasters are being urged to implement the five-point disease reduction...
RSPB livid over 'destruction of farmland'
The RSPB has sent a formal letter of complaint to Devon NHS bosses concerning the destruction of farmland near Exminster. The site, Hillcrest, is ...
Badger cull extensions 'justified', says veterinary association
The pilot badger cull in Somerset ended on Friday 1st of November. An extension period for the Gloucestershire badger cull granted by Natural England ...
British Veterinary Association appoints new chief executive
The British Veterinary Association, the UK's largest veterinary association, has appointed David Calpin as its new Chief Executive. Calpin joins t...
Commission welcomes US BSE legislation
The European Commission has welcomed the United States Department of Agriculture's (USDA) announcement to bring the US legislation in line with intern...
Phytase can add value to European poultry production
In a recent presentation made during this year's Union of Poultry Breeders of Ukraine annual conference, which took place in Sudak, Ukraine, between 2...
Bad weather prompts badger cull concerns
Recent heavy storms across southern England have prompted concerns that badgers caught in traps could suffer unnecessarily during the badger cull in G...
Farmer responsibility 'key to TB control', says beef association
Farmers must take responsibility for TB control on their own farms, the chairman of the National Beef Association's TB committee Bill Harper said, mai...
Fluke disease 'could be more widespread than anticipated'
Overwintered fluke disease is forecast to be significant in all regions of the UK, except eastern England and the Midlands, according to the November ...
Badger cull extension granted as welfare charity writes to Paterson
Natural England confirmed on Wednesday that it had granted an extension to the Gloucestershire badger cull for a period of eight weeks. Animal welfare...
30 percent of local badgers removed, says Defra
As the badger cull in Gloucestershire ended this week, the cull company has applied for an extension to Natural England. In the six weeks of the pi...
Farming unions back Paterson as cull extensions sought
The Country Land and Business Association has welcomed Environment Secretary Owen Paterson's commitment to the badger cull extension as the pilot prog...
Split in responsibilities 'led to confusion' at height of horse meat scandal, says report
A report by the National Audit Office has found that, while arrangements for identifying risks to food safety are effective, similar arrangements for ...
Put vets at heart of expansion, says Veterinary Association
Vets must be at the heart of initiatives to expand the food supply chain in Northern Ireland, according to the President of the British Veterinary Ass...
Green light for reform of pig inspections
The Food Standards Agency has welcomed the European Parliament's endorsement of proposals to change the regulations governing official controls in pig...
Irish livestock markets support BVD eradication programme
Ireland's programme to eradicate BVD from the cattle industry has received a positive response from the country's livestock markets. Following a v...
Farmers urged to be alert for lungworm disease in cattle
Farmers are urged to remain alert for lungworm disease in cattle as the peak period for infection continues into October, according to the latest Para...
New project will deliver bTB-resistant breeding for dairy cows
Dairy farmers will be able to genetically select for bovine tuberculosis (bTB) resistance within two years, due to a new joint research project funded...
FSA investigating 'peculiar' salmonella case
The Food Standards Agency, with Public Health England and local authorities, is investigating an outbreak of a particular strain of salmonella, called...
Labour Party decision on badger cull 'wrong,' says Kendall
The Labour Party has said it would halt the badger cull policy if it won the general election. But National Farmers' Union President Peter Kendall sai...
E. coli cattle vaccine could cut human cases by 85%
E. coli vaccinations for cattle could cut the number of human cases of the disease by up to 85%, but they are being delayed by conflicting responsibil...
High risk from liver fluke in cattle this autumn
Farmers should be alert for liver fluke disease in their cattle according to the latest Parasite Forecast from NADIS. The September forecast warns...
Badger cull 'failing' says veterinarian
Following the news that shooters involved in the badger cull in Somerset are failing to kill the numbers of badgers required to fulfil their quotas, M...
New project aims to end tail docking
A project which aims to end tail docking of pigs was launched this month. A group of seven European research institutions, including Scotland's Rural ...
Government strategy 'will not stop excessive farm use of antibiotics'
The rapid spread of multi-drug resistant bacteria means everyday infections or diseases may be harder to prevent or treat, according to a new report s...
Heath accused of misleading MP about badger cull
The Humane Society International UK has accused Farming Minister David Heath of 'misleading' a Member of Parliament about the transparency of badger c...