Animal Health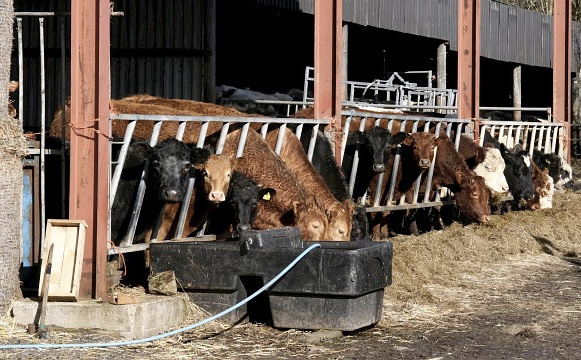 Irish livestock markets support BVD eradication programme
Ireland's programme to eradicate BVD from the cattle industry has received a positive response from the country's livestock markets. Following a v...
Farmers urged to be alert for lungworm disease in cattle
Farmers are urged to remain alert for lungworm disease in cattle as the peak period for infection continues into October, according to the latest Para...
New project will deliver bTB-resistant breeding for dairy cows
Dairy farmers will be able to genetically select for bovine tuberculosis (bTB) resistance within two years, due to a new joint research project funded...
FSA investigating 'peculiar' salmonella case
The Food Standards Agency, with Public Health England and local authorities, is investigating an outbreak of a particular strain of salmonella, called...
Labour Party decision on badger cull 'wrong,' says Kendall
The Labour Party has said it would halt the badger cull policy if it won the general election. But National Farmers' Union President Peter Kendall sai...
E. coli cattle vaccine could cut human cases by 85%
E. coli vaccinations for cattle could cut the number of human cases of the disease by up to 85%, but they are being delayed by conflicting responsibil...
High risk from liver fluke in cattle this autumn
Farmers should be alert for liver fluke disease in their cattle according to the latest Parasite Forecast from NADIS. The September forecast warns...
Badger cull 'failing' says veterinarian
Following the news that shooters involved in the badger cull in Somerset are failing to kill the numbers of badgers required to fulfil their quotas, M...
New project aims to end tail docking
A project which aims to end tail docking of pigs was launched this month. A group of seven European research institutions, including Scotland's Rural ...
Government strategy 'will not stop excessive farm use of antibiotics'
The rapid spread of multi-drug resistant bacteria means everyday infections or diseases may be harder to prevent or treat, according to a new report s...
Heath accused of misleading MP about badger cull
The Humane Society International UK has accused Farming Minister David Heath of 'misleading' a Member of Parliament about the transparency of badger c...
England's water vole population declines 'by a fifth' since 2011
England's population of water voles could have declined by a fifth since 2011, the Environment Agency and the Wildlife Trusts have revealed. New ma...
Public come out in numbers to protest Gloucestershire badger cull
Members of the public and the media descended on parts of rural Gloucestershire following the confirmation by police that badger culling was scheduled...
Gloucestershire police confirms badger cull go-ahead
Police in Gloucestershire have confirmed that the government's badger cull has commenced in the designated cull zone, following a week after shooting ...
Lifting ban on waste feed for pigs 'risks causing next FMD epidemic'
Environmental activists who want to see a lifting of the European Union ban on feeding catering waste to pigs may be sending confusing signals to hobb...
FUW supports ram information day
A genetics showcase and field day for lamb producers organised by Farmers' Union of Wales Carmarthenshire county chairman Catherine Nakielny will take...
Trial shows potential of active live yeast to alleviate acidosis
Supplementing dairy cows fed an acidosis-inducing diet with an active live yeast improved dry matter intake (DMI), milk yield and rumen pH, according ...
Liver fluke treatment re-introduced by MSD
The flukicide drench ZANIL has been re-introduced into Great Britain by MSD Animal Health as a treatment against chronic liver fluke in cattle and she...
RSPCA says badger cull farmers will not be named after NFU complaint
Farmers involved in the badger cull will not be named and shamed by the RSPCA as a result of an investigation by the Charity Commission. The NFU r...
Gloucestershire police deployed as badger cull begins
Police have been deployed in parts of Gloucestershire to provide 'reassurance' to communities at risk of disruption as the badger cull pilot schemes a...
Survey shows continuing improvement in udder health
A continuing trend of improvement in udder health in British dairy herds is the positive headline from the fifth annual National Mastitis Survey compl...
Farmers win injunction over badger cull protesters
A High Court judge has granted the NFU and a number of other claimants an interim injunction to protect farmers in and around the pilot cull areas fro...
No room for complacency over Schmallenberg, says NFU
Livestock farmers have been warned against complacency after the ongoing surveillance for Schmallenberg virus (SBV) found new cases this year. NFU ...
Zoetis and The Roslin Institute collaborate to control Salmonella
Zoetis and The Roslin Institute at the University of Edinburgh, today announced a collaboration for research of Salmonella in cattle. Researchers a...
Now's a good time to start 'stamping out lameness'
The current post-weaning period is the perfect time to start culling out persistent lameness offenders from sheep flocks. That's the message from shee...
Thousands sign badger cull e-petition
An e-petition opposing the planned badger cull programme which was signed and promoted by various organisations, has broken the record for the largest...
Rapid response could halt bird flu outbreak, says research
Researchers at the University of East Anglia (UEA) have identified a rapid response which could help halt infectious diseases such as bird flu, swine ...
Research shows how to boost lameness treatment success
Applying a foot block and using anti-inflammatory drugs have proven benefits when treating lame cows with a sole ulcer, sole haemorrhage or white line...
Heath announces new rules to halt spread of bovine TB
New rules to stop the spread of bovine TB, including more targeted support for badger vaccination are being introduced. Stamping out infection in a...
Cameron makes badger cull pledge
A fresh commitment has been made by Prime Minister David Cameron to eradicate bovine tuberculosis (bTB) at the North Devon Show. Speaking at the sh...
Liver fluke project backed by Scottish government
A pilot project aimed at preventing and controlling liver fluke in sheep and cattle is being backed by the Scottish Government. The disease causes ...
Vet associations cautious as TB tendering plans revealed
Veterinary associations have reacted cautiously to the announcement by AHVLA outlining details of a new model for the supply of veterinary services to...
Scientists quantify human deaths due to antibiotic use in chickens
Approximately 280 people are dying every year in the UK from blood infections caused by a highly antibiotic-resistant E. coli superbug, acquired from ...
Humid conditions bring further blowfly warnings
New and emerging diseases, parasite epidemics, blowfly strike and the wet and humid conditions are causing concern within the sheep industry, accordin...
Wildlife trust to attempt badger vaccination programme
The Hampshire and Isle of Wight Wildlife Trust will begin staff training in August and September to prepare for a programme of badger vaccinations on ...
Singaporean visit 'aimed to increase confidence in UK beef'
A delegation led by Dr Chew Siang Thai, Director General of the Agri-Food and Veterinary Authority (AVA) of Singapore has visited the AHVLA to learn a...
Strategy aims to keep low risk of TB in Cumbria
A Government strategy which aims to keep Cumbria at low risk of bovine TB and eventually free of the disease entirely is to be discussed in Carlisle n...
Scottish hopes for BVD eradication 'can be achieved'
Initial BVD testing results show that Scotland's ambition to eradicate the costly cattle disease Bovine Viral Diarrhoea (BVD) can be achieved, accordi...
Mastitis tube re-launch
A broad spectrum intramammary treatment for clinical mastitis, effective against common causative pathogens, has been re-launched by Zoetis (formerly ...
Belgium prohibits wild animals in circuses
Belgian Federal Ministers today ratified the bill introduced by the Minister for Animal Welfare, Laurette Onkelinx, banning the use of wild animals in...
Teat tampering: BVA highlights importance of welfare plan
In light of investigations into the suspected cases of teat tampering at the Great Yorkshire Show the British Veterinary Association (BVA) is highligh...
New method to age cattle from their teeth
Ageing animals from their teeth goes back to the time that man first started keeping animals. New research has applied modern statistical techniques ...
New pig disease 'could be as bad as PMWS'
Porcine Epidemic Diarrhoea virus has been present in this country in a mild form for over 40 years. But new strains which have spread from China to th...
Newcastle disease - the forgotten pest?
The poultry industry in Cyprus has been devastated by an outbreak of Newcastle disease, which has resulted in the loss of more than 250,000 birds so f...
Farm groups welcome government TB strategy
A plan to rid England of bovine TB within 25 years has been set out today by Environment Secretary Owen Paterson. The strategy sets out action in a...
Industry group set up to stop Cheshire TB spread
A cross industry group has been brought together in Cheshire with a view to arresting the spread of TB in the county. The group consists of farmer...
Fluke affecting one in five cattle, according to figures
One in five British cattle that were sent for slaughter in 2012 had their livers condemned as a result of damage caused by liver fluke, according to t...
BVA President Champions vet role in surveillance
The President of the British Veterinary Association has stressed the need for the veterinary profession to be involved in decisions about the future o...
Meat from TB infected cattle 'being eaten widely' by consumers
Meat from more than 20,000 cattle per year infected with bovine TB (bTB) has been allowed into the food chain by the government, posing an unnecessary...
Livestock 2013: Ventilation, a key component in healthy livestock
Hydor will be demonstrating its wide range of solutions for ventilating agricultural environments at the 2013 Livestock event (Stand LE-365), with vis...