Animal Health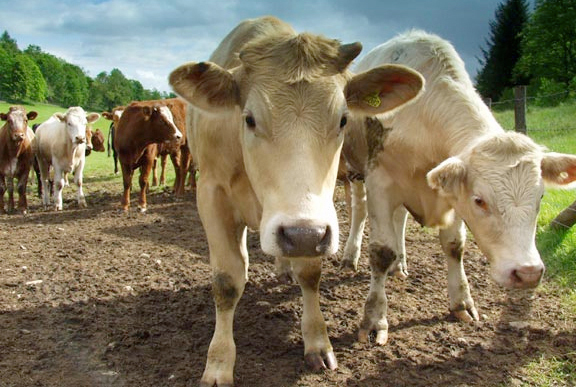 Vets warn farmers over liver fluke risks
Sheep farmers are being warned that while liver fluke epidemics may have failed to hit the headlines during the recent winter, they have not disappear...
Lungworm immunity could be developed without vaccine
Farmers unable to obtain lungworm vaccine for young cattle this spring are being assured that some strategic worming options can allow the development...
TB breakdowns 'have devastating effect on farming businesses'
The effect a TB breakdown can have on farming businesses was the main topic of discussion when a delegation of NFU members met with their local Assemb...
Sheep producers urged to vaccinate against killer threats
With 2014 lamb prices running ahead of 2013 levels, sheep producers are being urged to realise full value for this year's crop by making sure young la...
Lilly to acquire Novartis Animal Health
Eli Lilly and Company today announced an agreement to acquire Novartis Animal Health for approximately $5.4 billion. Upon completion of the acquis...
Pembrokeshire farmers raise TB concerns with Assembly member
The impacts of bovine TB cattle controls on farm businesses in Pembrokeshire was at the forefront of discussions when farmers met with Paul Davies, As...
Farmers face substantial tax bills over TB slaughter
Beef and dairy farmers whose cattle were slaughtered due to TB could face substantial tax bills, according to agricultural accountants. Last year,...
FSA confirms new European horse meat tests
The Food Standards Agency (FSA) has confirmed details of a new round of tests of beef products for horse meat contamination. The tests have been reque...
Wet winter causing explosion of worm cases in pig units
The wet and mild winter has been ideal for causing an explosion in the worm population on pig units, making it vital to deworm all pigs on units this ...
Experts warn sheep farmers of Nematodirus risk
Farmers are being warned by sheep experts to act now to protect vulnerable lambs against Nematodirus. The vast majority of cases occur in the spring ...
NFU President: TB destroying farm business and it must be stopped
Today is just one example of what is happening on farms across endemic TB areas, it is a farm with a closed herd; no cattle are brought on to farm. Th...
96% of sheep worrying incidents cause stress of injury
With reported cases of sheep worrying on the rise, the National Sheep Association (NSA) has launched a new online resource providing information and g...
Farmer's despair as nearly a quarter of dairy herd lost to TB
Dorset dairy farmer Paul Gould is facing the prospect of losing nearly a quarter of his closed dairy herd after the animals reacted positively at his ...
EFSA updates scientific advice on African swine fever
The risk that African swine fever is endemic in Georgia, Armenia and Russian Federation has increased from moderate to high since 2010, when EFSA carr...
Meet EU animal welfare laws, German agricultural ministers urge
The Conference of German State Agriculture Ministers adopted a resolution calling on the German federal government to ensure that International Financ...
Cull must go on, says beef association
Plans for more badger culls in other areas of England this year have been abandoned by Environment Secretary Owen Paterson, who issued a new strategy ...
Farmers 'bitterly disappointed' over badger cull halt
Farmers have expressed great disappointment over Environment Secretary Owen Paterson's plans to abandon a roll-out of the badger cull programme. C...
DEFRA abandons badger cull expansion in England
Plans for more badger culls in other areas of England this year have been abandoned by Environment Secretary Owen Paterson, who issued a new strategy ...
First TB skin test differentiates vaccinated and unvaccinated animals
New field trials have begun of a tuberculosis skin test based on bionanoparticle technology. The PolyBatics Assign-bTB product is a DIVA (Differen...
Don't let coccidiosis prevent spring calf success
With the UK recovering from the wettest winter on record and now basking in the mild spring weather, the perfect conditions are created for coccidiosi...
Producers urged to vaccinate against Swine Influenza
Following an announcement by the AHVLA at the end of 2013 regarding an increase in Swine Influenza diagnoses in the UK, Merial Animal Health is urging...
New Schmallenberg vaccine to offer flexibility for farmers
Options for vaccinating sheep against Schmallenberg have increased, with Merial Animal Health's launch of SBVvax. Spread by midges, SBV was first i...
Wet winter may increase risk of liver fluke in cattle
Merial Animal Health is informing farmers of the increased risk of liver fluke infection when turning out their cattle this spring, following the mil...
Anupco turns its focus on UK pig market
A new range of medicines and complementary feeds are available to the UK pig industry from an East Anglian-based company, Anupco, which has just turne...
Cull the badger cull, says Andrew George MP
If, later this week, the Government decides to carry on with its badger cull they run the very high risk of making cattle TB significantly worse. I f...
Badger colony repairs to cost £35,000 for Norfolk council
Work is underway by Norfolk County Council to repair long distance country paths damaged by badger cull colonies which is expected to cost £35,000. ...
Lambs face production set-back if coccidiosis left untreated
Managing coccidiosis at the right time and with the benefit of veterinary advice is paramount for farmers who want to stay in control of this challeng...
BVA concern at call for sick animals to be slaughtered
The British Veterinary Association is calling for a clarification of remarks made by the Chief Medical Officer in which she called for sick animals to...
Porcine virus to cause shortfall in American hog market
Porcine Epidemic Diarrhea Virus (PEDv) has impacted about 60% of the US breeding herd, 28% of the Mexican herd and is beginning to develop in Canada, ...
Farmers urged to be vigilant as first case of cattle scab found
The first case of Cattle Scab to be confirmed in Scotland since the early 1980s has been diagnosed by vets at SAC Consulting's St Boswells Veterinary ...
New approach to veterinary scanning surveillance
In December 2013, AHVLA and the Welsh Government announced plans to introduce an improved approach for surveillance for new and re-emerging animal dis...
Europe asses control measures to prevent African swine flu spread
Artificial feeding of wild boar is increasing rather than reducing the spread of African swine fever (ASF) virus and fencing could be used as a contro...
Live exports must stop now, says Green MEP
One of South East England's Member's of the European Parliament has reaffirmed his stance against live animal exports as the trade restarted at Ramsga...
90 cattle killed every day due to bovine TB
32,620 cattle were slaughtered in Great Britain due to bovine TB in 2013, new figures released show. This equates to almost 90 cattle being killed ...
Farmers express anger over TB compensation plans
Brecon and Radnor farmers have expressed their anger at Welsh Government proposals to change the way in which farmers are compensated for cattle slaug...
Pig industry moves to red alert over transatlantic killer
The British pig industry is on red alert, in a bid to prevent a virulent pig disease from entering the country. Until more is known about transmis...
Female sexed semen has higher value than previously thought
Using sexed female semen has gained significant momentum across the UK's dairy herds where the prospect of a valuable replacement heifer and the likel...
Major BVD initiative launched in England and Wales
A major new initiative concerning one of the most devastating diseases affecting the cattle industry, BVD, Bovine Viral Diarrhoea - has been launched ...
Government urged to take alternative strategies to combat TB
Following reports that the Independent Expert Panel on badger culls concluded that they were 'ineffective and inhumane', Green Party's animal spokespe...
National Dairy Apprenticeship programme at Plumpton College
National Dairy Apprenticeship programme at Plumpton College Just ahead of National Apprentice Week, Plumpton College and LKL Services Ltd have join...
Badger vaccination 'not a viable alternative to culling'
The President of the British Veterinary Association (BVA), Robin Hargreaves, has called for government decisions on TB testing and veterinary surveill...
Receding flood waters pose new dangers, warn vets
Animal owners in flood-stricken areas should be aware of new dangers posed by receding flood waters, according to the British Veterinary Association. ...
Farmers express 'despair' at Welsh government TB proposals
Clwyd farmers have expressed their despair and anger at a Welsh Government decision to change the way farmers are compensated for cattle slaughtered a...
No food from cloned animals, MEPs tell Commission
The health and food safety committee in the European Parliament have voted on a resolution criticising two proposals by the Commission on the cloning ...
Concerns raised over Welsh bovine TB policies
Concerns about a number of planned changes by the Welsh government to bovine TB policies were expressed at a recent meeting of Rembrokeshire NFU Cymru...
Live export trade is 'inherently cruel' says RSPCA chief after Ramsgate
The 40 sheep that died when a consignment was unloaded at a port in Ramsgate were 'badly let down by all those responsible', according to Gavin Grant,...
Badger welfare concerns raised amid flooding
Badgers could be falling victim to the severe flooding affecting the west and south of England, according to the Humane Society International. The ...
Genetic discovery could lead to TB resistant cattle
Scientists have identified genetic traits in cattle that might allow farmers to breed livestock with increased resistance to bovine tuberculosis (TB)....
Bristol veterinary society hosts national student congress
What farmers will want from their veterinary surgeon in the future was one of the subjects discussed at the Farm Annual Veterinary Society's 2014 cong...
Keep Dogs On Leads During Lambing, Say Bva Vets
Vets are asking dog owners to keep their dogs on leads when walking near sheep as the annual lambing season gets underway. Ewes are particularly vulne...