Agri Safety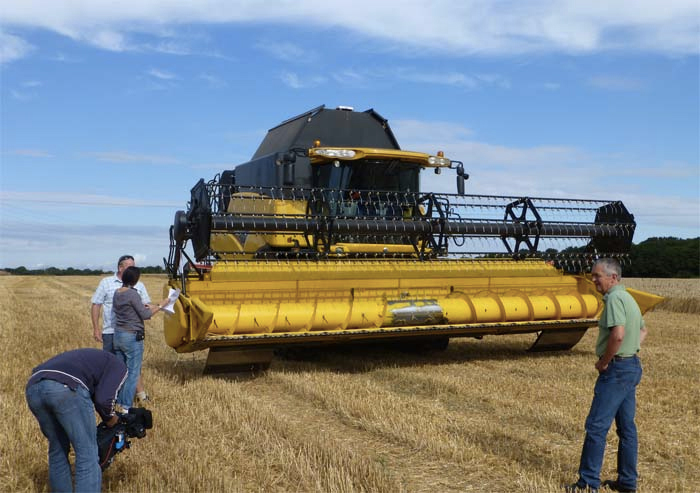 Unions express shock over farm death increases
Farmers are being warned to adhere more closely to health and safety initiatives after it emerged that 31 people were killed as a result of farming th...
Farmers warned of risks during winter
A safety message launched by the NFU and the Health and Safety Executive (HSE) is urging farmers and their staff to take 'extra care' this winter. ...
Farmers warned over oil theft rise
With the onset of winter and longer, dark nights, now is the ideal time for thieves to target oil tanks. Farmers are being urged to ensure its fuel is...
New flood defence spending 'worrying', says CLA
The government's announcement on how £2.3 billion will be spent on flood defence in England is not enough to stem the risk of future flooding, accordi...
Vets welcome Defra avian flu publication
Wild birds are one possible source of the H5N8 avian flu outbreak in East Yorkshire. That is why Defra are advising poultry keepers to follow good pra...
Farmers warned of Christmas fraud risks
Farmers are being warned of the increased threat of fraud in the run up to Christmas as criminals deliberately target the agricultural sector. With th...
Home Secretary endorses agricultural crime initiative
Home Secretary Theresa May MP has praised an agricultural industry led crime initiative which brings farmers, auctioneers and the police together in a...
Animal Medication Market -Research Report
Over the last couple of decades, livestock health has been gaining popularity as a result of growing awareness backed by compelling scientific evidenc...
Staffordshire pig pen attracts worldwide customer base
A pioneering pig birthing pen designed and created by a Staffordshire farmer is now being sold across the globe, it has been revealed. Orders for t...
Lack of engineers a 'ticking time bomb' for agriculture
A lack of engineers, not enough people promoting the land-based industries and a lack of apprentice opportunities for students is a 'ticking time bomb...
Food businesses warned over supply chain Ebola risks
There are widespread accounts of farm workers abandoning their jobs in Ebola ravished regions. In Sierra Leone, approximately 40% of fields and farmla...
Agriculture remains one of UK's most dangerous industries
Agriculture has remained one of the industries in which workers are most likely to be injured, according to new figures released today. Injury and ...
Animal psychology in focus at agricultural workshop
Agricultural workers can get an insight into animal psychology as part of efforts to improve farm safety while handling cattle. Agriculture continu...
Pig breeders warned over virus
Pig breeding companies are being urged to keep free from a virus that has had a devastating impact in the United States and Canada. As many as thre...
Livestock rustling boosts rise in cost of rural crime
The cost of rural theft rose in the UK in 2013, according to NFU Mutual. The results of the insurer's 2014 Rural Crime Survey show the value of items ...
Farmers encouraged to have health checks
Farmers in Devon are being encouraged to have a free NHS Health Check to minimise their risk of developing common lifestyle-related conditions such as...
NFU to urge for farm safety at Glamorgan Show
With agriculture being one of Britain's most dangerous industries, the NFU will be using next week's Vale of Glamorgan Show to remind farmers and thei...
New partnership aims to reduce farm deaths
A new partnership is looking to significantly reduce the toll of people who are killed or seriously injured on Scotland's farms and crofts each year. ...
Scientists in 'call for action' on farm antibiotic use
A newly published report has highlighted for the first time the link between the overuse of antibiotics in agriculture and the bigger issue of overuse...
NFU Mutual board member joins Farm Safety Partnership
John Calver, Regional Manager at NFU Mutual, the UK's leading rural insurer has recently joined the Farm Safety Partnership board to help promote a cu...
Workplace injuries hit 'all time low'
Figures published today by the Heath and Safety Executive show an 11 per cent drop in major injuries compared to 2011/12. The provisional statisti...
Farmers urged to prepare for new buildings legislation
Farmers Urged to Prepare for New Buildings Legislation Farmers planning new buildings on their land must ensure they are CE marked – or risk findin...
Scientists quantify human deaths due to antibiotic use in chickens
Approximately 280 people are dying every year in the UK from blood infections caused by a highly antibiotic-resistant E. coli superbug, acquired from ...
Farmers reminded of safety as school holidays start
NFU Cymru will use this week's Eisteddfod to remind farmers and their families to remain safe. With the school holidays just starting, farmers are bei...
Motorists warned after farm vehicle accident
Tractor drivers and motorists have been warned of the dangers of farm vehicles driving with their buckets down after a farm insurance inspector was in...
Royal Welsh Show: 'Everyone has a part to play in farm safety'
NFU Cymru will use next week's Royal Welsh Show to remind farmers and their families to remain safe. With the Royal Welsh Show being the biggest li...
Uralchem registers its calcium nitrate in accordance with REACH
URALCHEM has registered its anhydrous calcium nitrate with the European Chemicals Agency in accordance with the European Community Regulation on chemi...
Employers urged to take care of young people starting summer jobs
Workers are far more likely to be injured in workplace accidents during the first few months of a new job than at any other time says the British Safe...
Agriculture remains industry with highest fatal injuries
The number of workers killed in Britain last year has fallen, official statistics published today show. Provisional data released by the Health and Sa...
Dairy farmers: Your health and safety matters to GEA
In light of recent statistics by the Health and Safety Executive highlighting agriculture as the sector having the highest injury and death rates in t...
Lyme disease needs more awareness, study shows
Potentially deadly to humans, Lyme disease is a high-profile vector-borne infection that is increasing in significance in the UK and consequently impa...
Proterra Foundation's 2013 conference to be held in Netherlands
The ProTerra Foundation, the not for profit organisation set up to support the European food and feed industries in sourcing sustainably produced, non...
NFU attacks RSPCA over badger warning
The National Farmers' Union has said the RSPCA 'overstepped the mark' over comments made about 'naming and shaming' people involved in the badger cull...
Fracking should proceed 'with caution' warns CIWEM
The government should proceed with caution over fracking warns the Chartered Institution of Water and Environmental Management (CIWEM), in its new pol...
Agriculture related injuries up from last year
Figures published today show slight falls in a number of key areas of workplace ill-health and injury but the agricultural sector recorded 362 major i...
Lancashire growers face ruin after drainage floods
Thousands of acres of valuable potatoes, vegetables and salads in the West Lancashire area have had to be written off after drainage ditches overflowe...
Swine influenza affecting large number of herds
The incidence of swine influenza in pig herds in the UK and Ireland could be higher than expected if the results of a recent survey are replicated acr...
Wet summers lead to barn blazes
Wet summer weather over the last two years has led to at least five major farm blazes caused by spontaneous combustion worth a total of £130,000, acco...
RSPCA accused of bullying after badger cull threats
The NFU has accused the RSPCA of hypocrisy after farmers were warned they could lose their valued Freedom Foods status if they supported or allowed ba...
FUW urges farmers to use rodenticides correctly
Farmers' Union of Wales' land use and parliamentary committee chairman Gavin Williams today urged farmers to consider their on-farm rat control measur...
Scottish farmers 'to help clear roads' this winter
Transport Scotland, the National Farmers Union and local authorities have agreed a national code of practice to make better use of farmers' support th...
Mexican avian flu 'nightmare' as 25m birds lost
Two leaders of the Mexican egg industry have spoken of their "nightmare" after an estimated 25 million laying birds were lost in an outbreak of avian ...
Air pollution 'is a forgotten public health crisis'
Poor air quality has been found to cause 29,000 premature deaths in the UK each year. Meanwhile the Government is failing to recognise the impact of i...
Farm fire checks launched after claims triple
Montgomeryshire NFU Cymru has joined with Mid and West Wales Fire Service to launch a new free service to reduce the number of farm fires. The camp...
Beware of dangers of working with slurry, unions warn
Farming associations are warning of the dangers of working with slurry following the deaths of three members of a farming family in Northern Ireland. ...
Workplace accident scheme could cost firms £43.7m
New laws designed to recover the estimated £44 million annual cost of investigating workplace accidents could cost Scottish businesses thousands of po...
Liver fluke prevalence at very high levels
Farmers are being warned about a "very high" prevalence of liver fluke disease across the UK in the latest National Animal Disease Information Service...
Cuts could leave council vulnerable to animal diseases
Data on animal movement that may be essential in the event of a disease outbreak such as food and mouth, will no longer be kept on file by Cumbria cou...
Urgent action needed on phosphorus, urges CIWEM
Urgent action is needed to reduce the rate of phosphorus depletion said The Chartered Institution of Water and Environmental Management (CIWEM) in its...
Law Commission seeks views on wildlife laws
In a consultation opening today, the Law Commission is seeking views on how wildlife law should be modernised. The current law regulating wildlife ...